Thanksgrilling: Our Low-Key, Outdoor Take on the Most-Anticipated Meal of the Year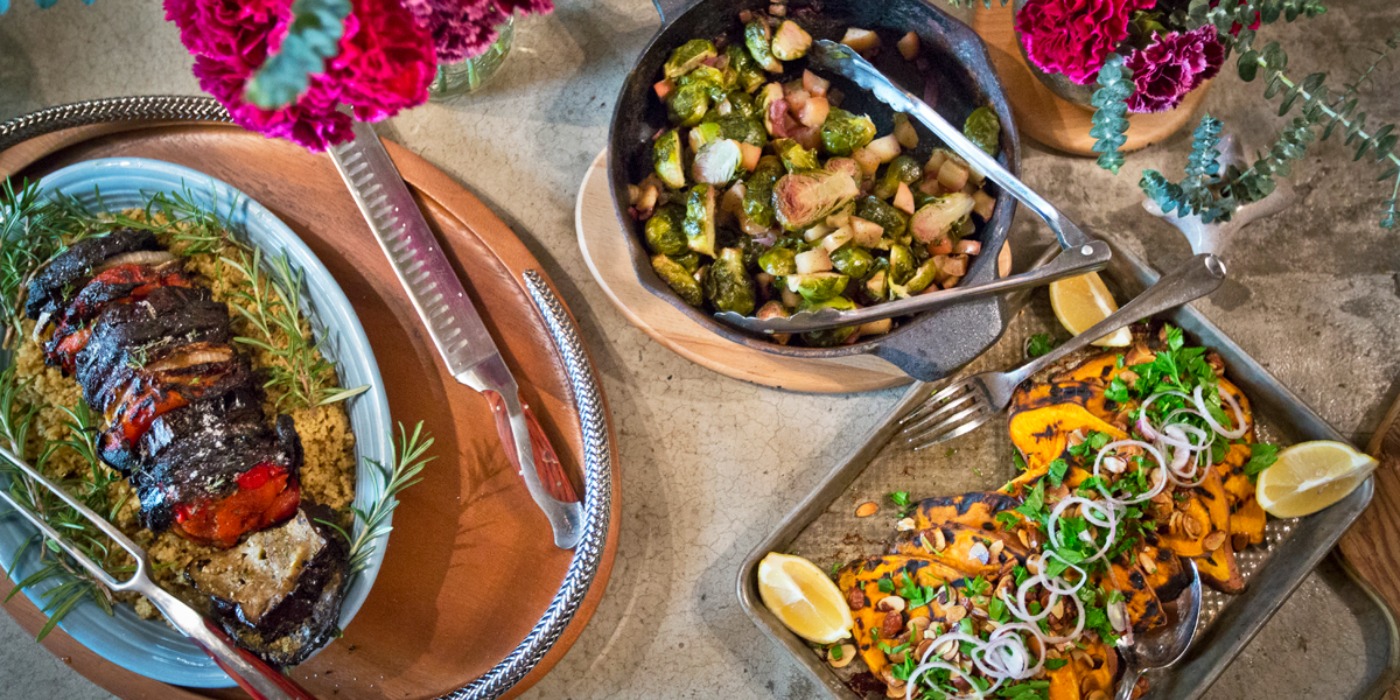 You never know what the weather will be like on Thanksgiving in the South. One year, we'll be huddled up inside and praying the temps rise above freezing, and then the next year, we're blissfully soaking up the sun in the backyard.
On the years when it's nice out — and please let's all keep our fingers crossed for 2015! — it's a crying shame to be stuck inside cooking the same old things. So, in anticipation for an outdoor get-together this Thanksgiving Day, we've created a lightened-up and super-easy vegetarian feast that's prepared on the grill and in the smoker.
For all of us home cooks, there's just a bit of pressure associated with this particular holiday, but buying into that isn't at all necessary. We try to get all of the "perfect Thanksgiving" marketing tricks and images out of our heads and attempt something not so cookie cutter. Here's our plan: slow down and enjoy time spent with good people, cook whatever the heck we want, and decorate with any colors we like. With these recipes and a brand-new plan, we're banishing the expectations of our usual Thanksgiving and envisioning something more modern and fun this year.
We start the meal with one of the biggest hits from our cookbook, The Southern Vegetarian: 100 Down-Home Recipes for the Modern Table (Thomas Nelson, 2013): smoked dates stuffed with goat cheese and pecans and topped with green onion and pink pepper. Next, a wonderful sweet potato almondine inspired by Chef Kelly English of Restaurant Iris and Second Line in Memphis and also some roasted Brussels sprouts and apples accompany the star of the show. For this main dish, which we've dubbed Roast Beast, we took inspiration from the infamous turducken. "What in the world would a vegetable version of that be like?" we pondered. What we came up with was a giant and flavorful stack of eggplant, portobello mushrooms, tomatoes, roasted red peppers, onions, provolone, and pesto with a dramatic presentation that steals the show.
Even though we're going pretty rustic and causal for everything else, we still feel that the main dish, especially if it's vegetarian, really needs to shine. It's not that we're vying to have our creation compete with the turkey; it's that a sharp presentation speaks volumes about the care that was put into making the dish. Nambé's Braid Serving Tray not only makes the main attraction look stylish, its sturdy handles also make for easy transport from countertop to table.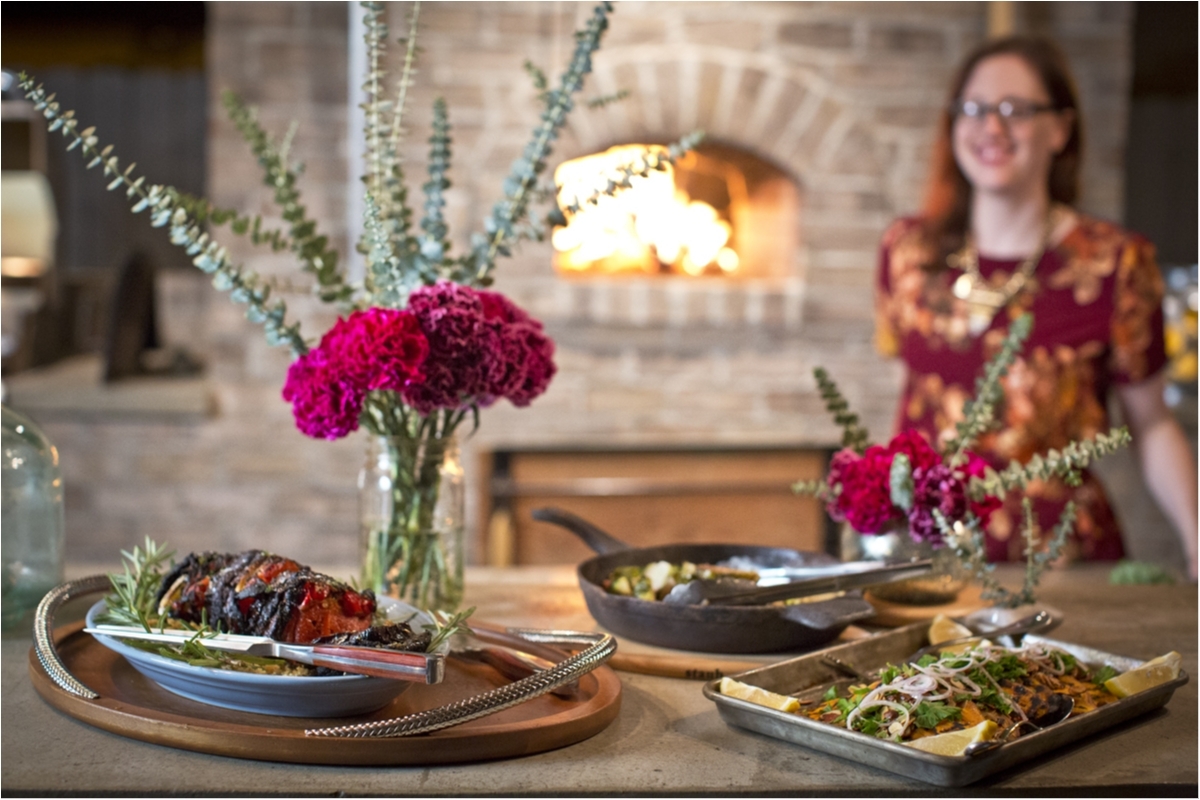 We like to go non-traditional for the table settings and always choose color combinations that are unexpected. In the past, we've dreamt up some fun themes: fluorescent-neon brights with towering green orchids; blush pink, metallic silver, and cream with all-white flowers; huge sprays of branches and no flowers, just an array of all types of usually-neglected greenery with kraft-paper brown runners and birch accents. Purple and maroon plus plenty of silvery-green eucalyptus is the theme this Thanksgiving.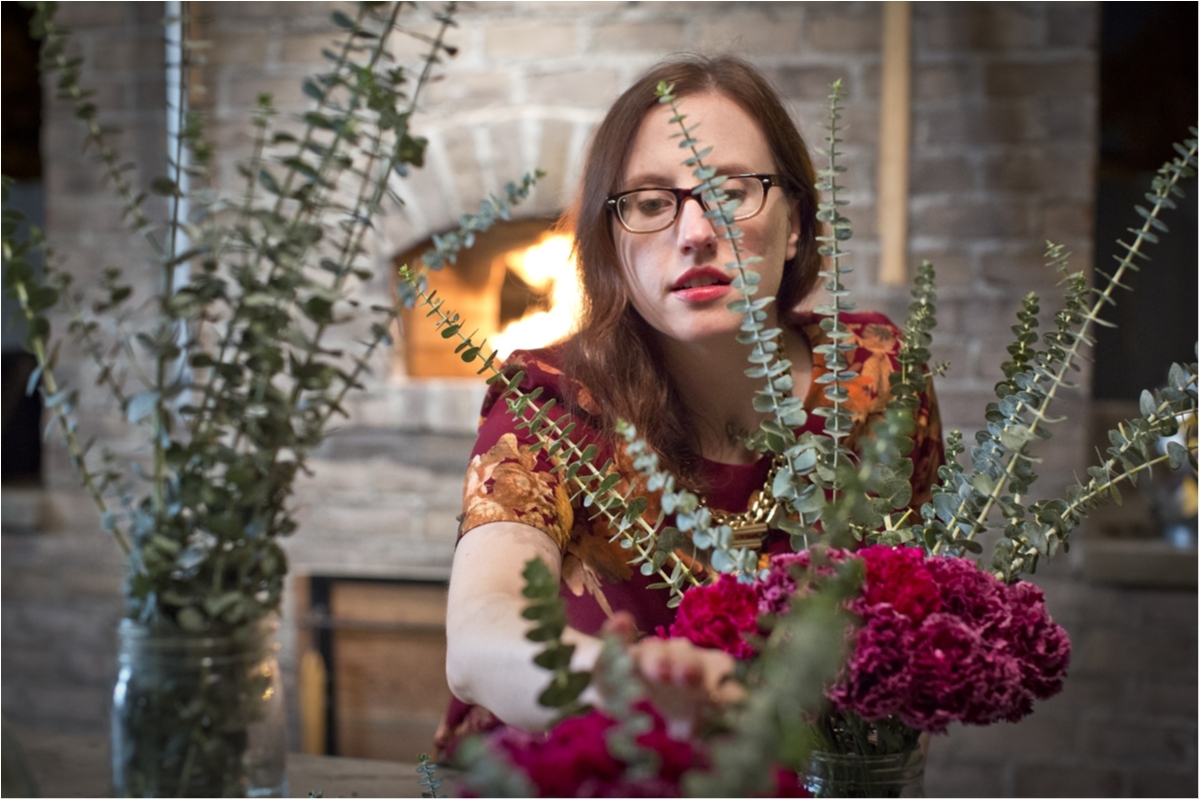 Navy linen napkins from Chilewich complement the lush jewel tones of the flowers and stay crisp and presentable throughout the meal; they strike a good balance between dressed-up and casual. We plan to break them out again for casual dinners at home after Thanksgiving, too, because it's just plain silly to reserve a set of stylish napkins for only one day a year. Fiestaware by the Homer Laughlin China Co. is a mainstay at our house — we are pretty rough on everything in the kitchen, and this has been the only dinnerware even the two of us cannot chip or break. Nothing shows off the brilliant colors of fall produce better than their sturdy and classic white dinner plates. We'll top each place setting with a small succulent in a dish for each guest to take home and think back to the good time we all had.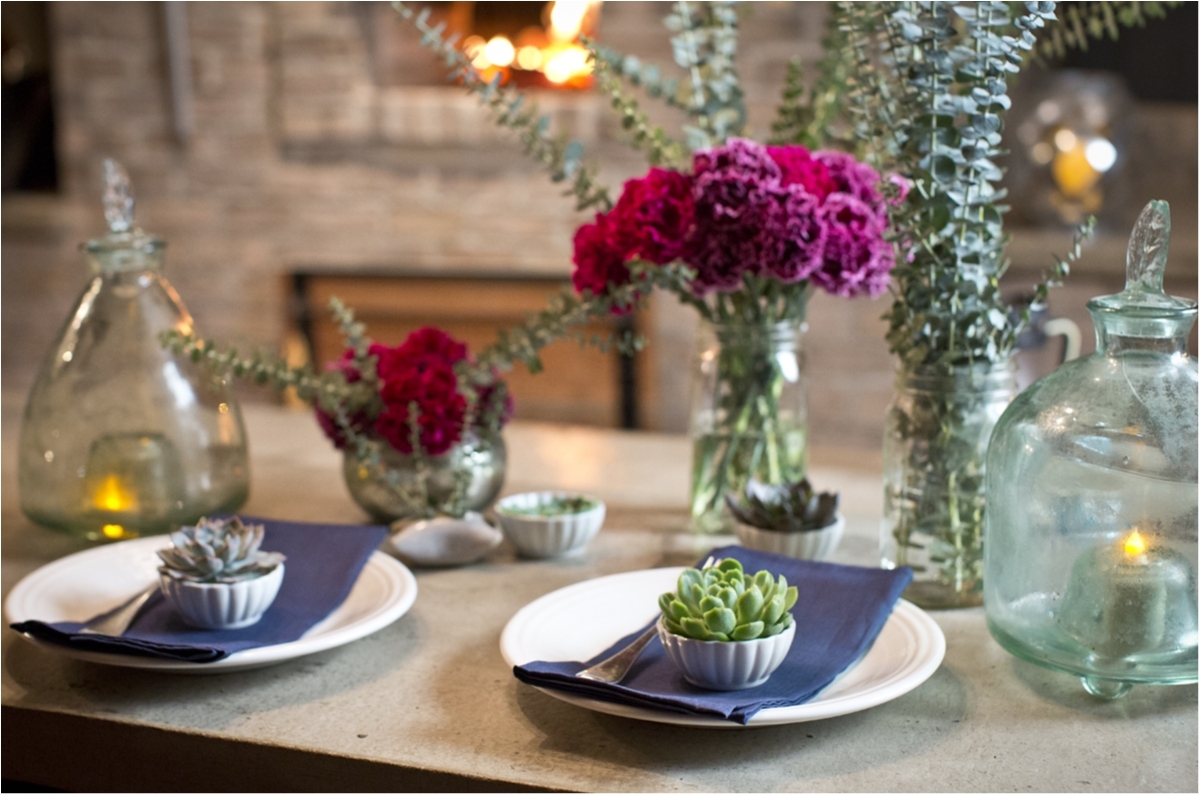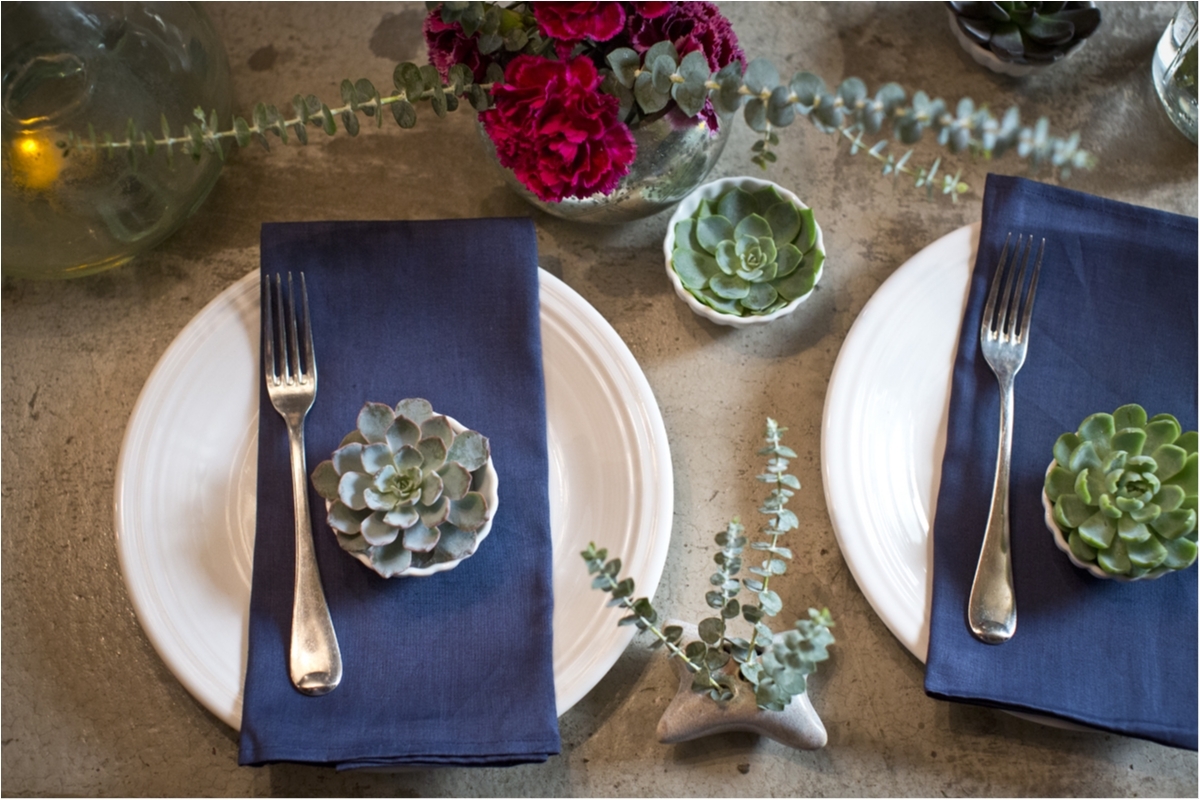 Our dealing-with-many-hot-pans-at-one-time situation has vastly improved this year since we discovered Staub oval trivets with magnets inside them; the trivets latch onto the bottom of metal skillets and make it easy to move stuff around for the most pleasing arrangement without damaging our unfinished, just oiled-and-waxed cherry butcher block countertops. We're going casual this year, so everything save for the main dish is going to be served family-style on the concrete countertops outdoors and out of Lodge cast-iron skillets and grill pans.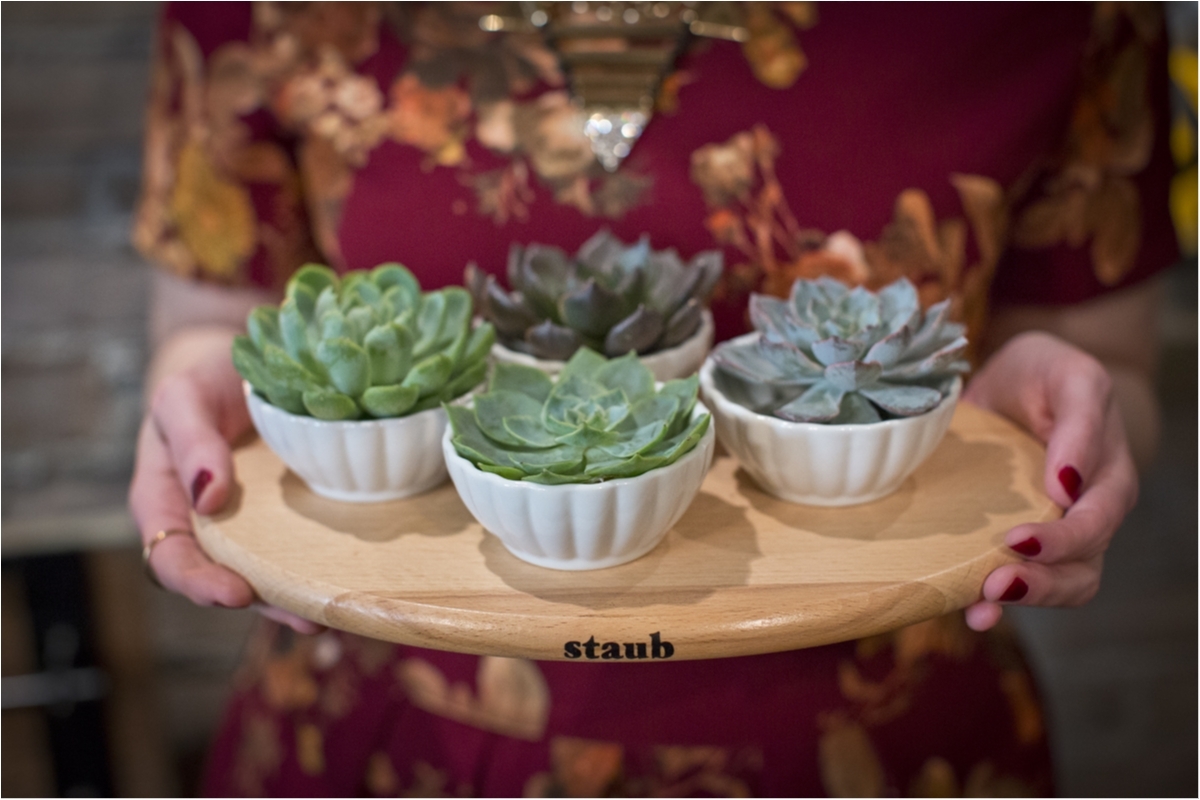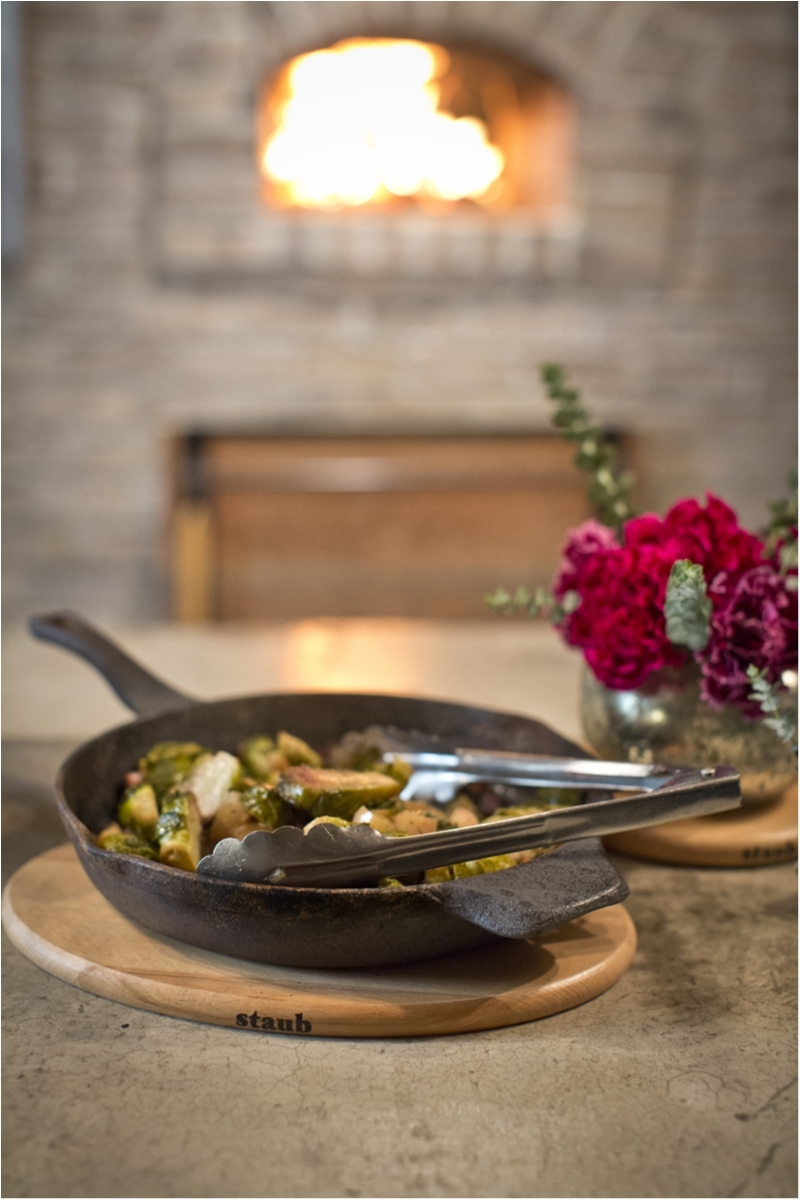 So whether you have a few vegetarians on the guest list, or you just want new and interesting ways to prepare fall's bounty, you'll love this easier take on the holiday. We're (maybe? hopefully!) looking forward to wearing sandals, chilling at the grill, and relaxing around an outdoor fireplace this Thanksgiving. We hope that this year, you're inspired to venture outside of the parameters a bit with us!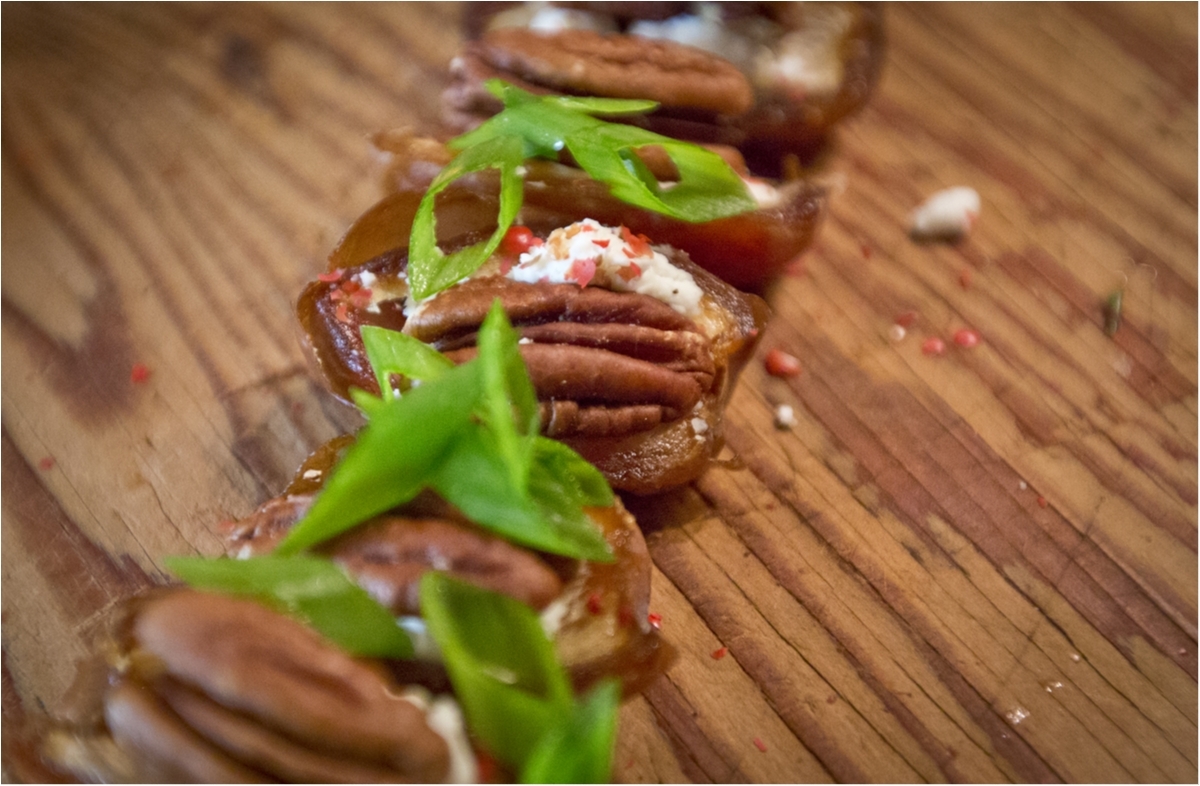 Smoked Dates Stuffed with Goat Cheese and Pecans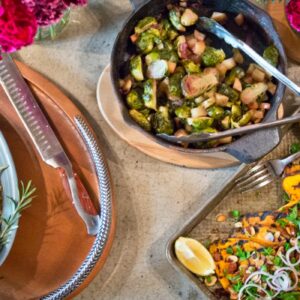 INGREDIENTS
12 whole, dried Medjool dates (smoked in the smoker for 15 minutes)
2 ounces soft goat cheese
1/2 cup pecans (chopped, toasted)
Maldon sea salt and pink pepper (to taste)
2 tablespoons chopped chives (to garnish)
INSTRUCTIONS
Using a sharp paring knife, split each date lengthwise much the same as you would an avocado.
Remove the pit and discard it.
Next, roll about 1/4 teaspoon of the goat cheese between your fingers to form a tiny ball; insert one goat cheese ball into the cavity of each date half.
Add about 1/4 teaspoon of the chopped pecans to each half and then garnish with salt, pepper, and chopped chives.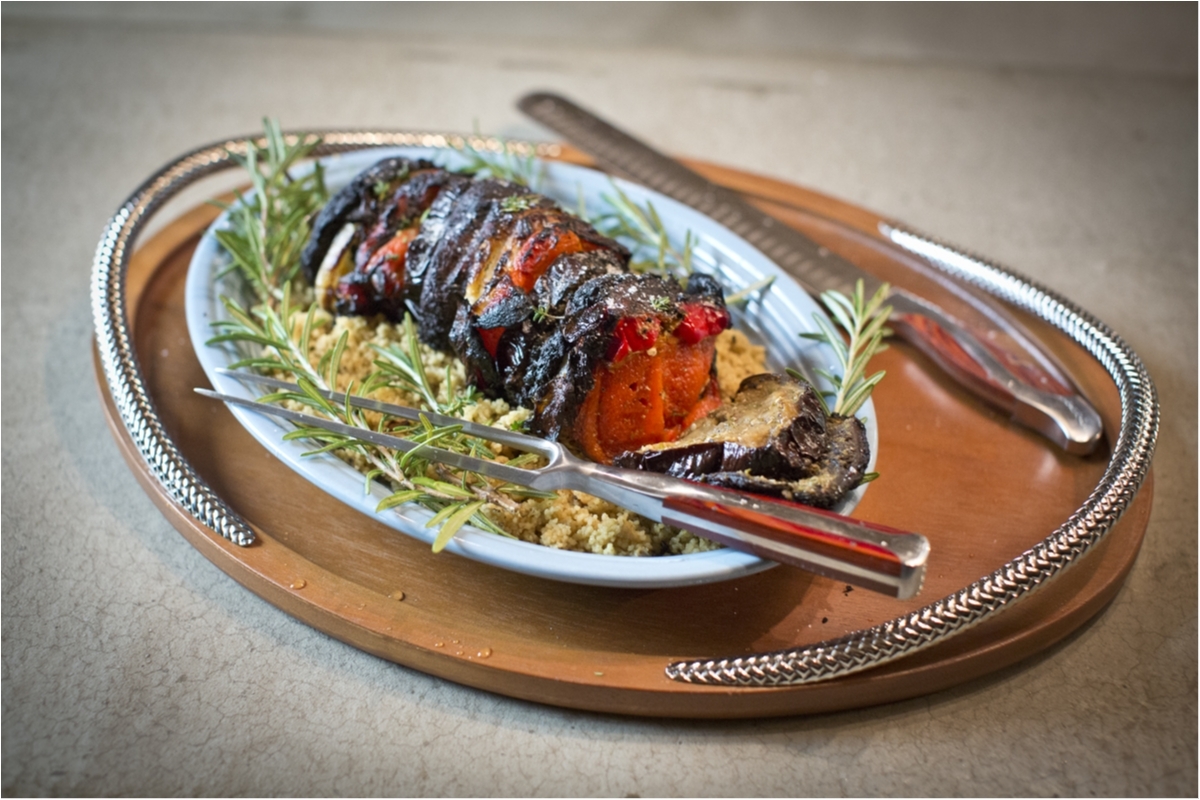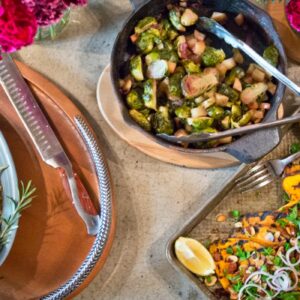 INGREDIENTS
2 large red bell peppers (roasted and peeled)
1/2 cup olive oil
1 head garlic (peeled, about 10 cloves, smashed)
1/4 cup toasted pine nuts
2 cups parsley (about one bunch)
1/4 cup champagne vinegar
4 large portobello mushrooms
1 medium Italian eggplant (sliced into 1/2-inch rounds)
1 large white onion
4 slices of provolone cheese
1 1/2 cups cooked orzo or couscous
Balsamic vinegar (for drizzling)
INSTRUCTIONS
Preheat your outdoor grill to high. Prepare the roasted red peppers by charring the skins, letting them rest, then peeling and seeding them. Set aside until ready to assemble the dish.
In a small frying pan over the grill grates or on your side burner, heat the olive oil and add the smashed garlic. Cook until just browned. Into the work bowl of your food processor add the olive oil, garlic, pine nuts, parsley, and vinegar.
To make the pesto, process ingredients until well-incorporated, but still a little chunky. In a large bowl, toss the portobello and eggplant in with the pesto until well-coated. Reserve the pesto left in the bottom of the bowl.
Add salt and pepper to taste to all ingredients. Thread the vegetables onto a skewer: start with a mushroom and then add a slice of eggplant, half of a roasted red pepper, a slice of provolone, and a slice of onion. (You basically will be making a giant kabob.) Repeat this pattern four times. Press the stack tightly together and pierce it at an angle with the two other skewers.
Grill on a rack positioned slightly above the grill grates for 40 minutes and turn every 10 minutes. Some of the cheese will drip out, but that's fine. Much of it will melt into the vegetables and add a ton of flavor.
Remove the Roast Beast and allow it to rest for 10 minutes while tented in foil. Serve on top of a bed of orzo or couscous.
Drizzle with the leftover pesto and some balsamic vinegar.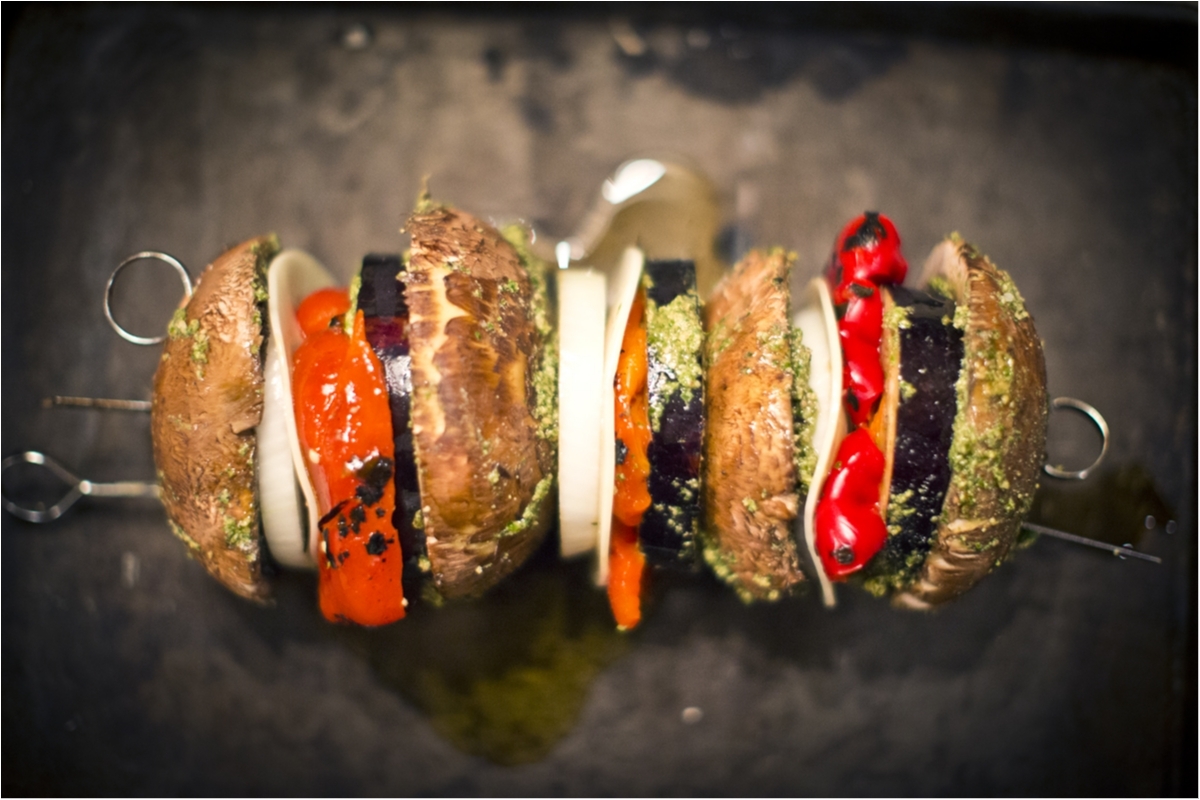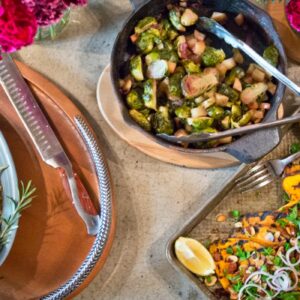 INGREDIENTS
2 large sweet potatoes
1 tablespoon olive oil
1 teaspoon apple cider vinegar
Kosher salt and cracked black pepper (to taste)
2 tablespoons unsalted butter
1 cup sliced almonds
1 peeled shallot (thinly sliced)
1/4 cup torn parsley leaves (to garnish)
Lemon (quartered)
INSTRUCTIONS
Preheat your outdoor grill to high. Using a sharp knife or a mandolin, slice sweet potatoes into 1/4-inch slices. In a large bowl, toss the sweet potato slices with the olive oil and the vinegar. Add salt and pepper to taste. Grill slices of sweet potato for 5 minutes per side or until well-marked by the grill grates. Remove and cover.
In a large frying pan over medium heat, melt the butter and add the almonds. Cook until fragrant. Remove from heat and set aside.
Assemble the dish by shingling the sweet potatoes on a large platter and topping with the buttery almonds. Garnish with shallot and parsley. Squeeze lemon over the dish and season with salt and pepper to taste.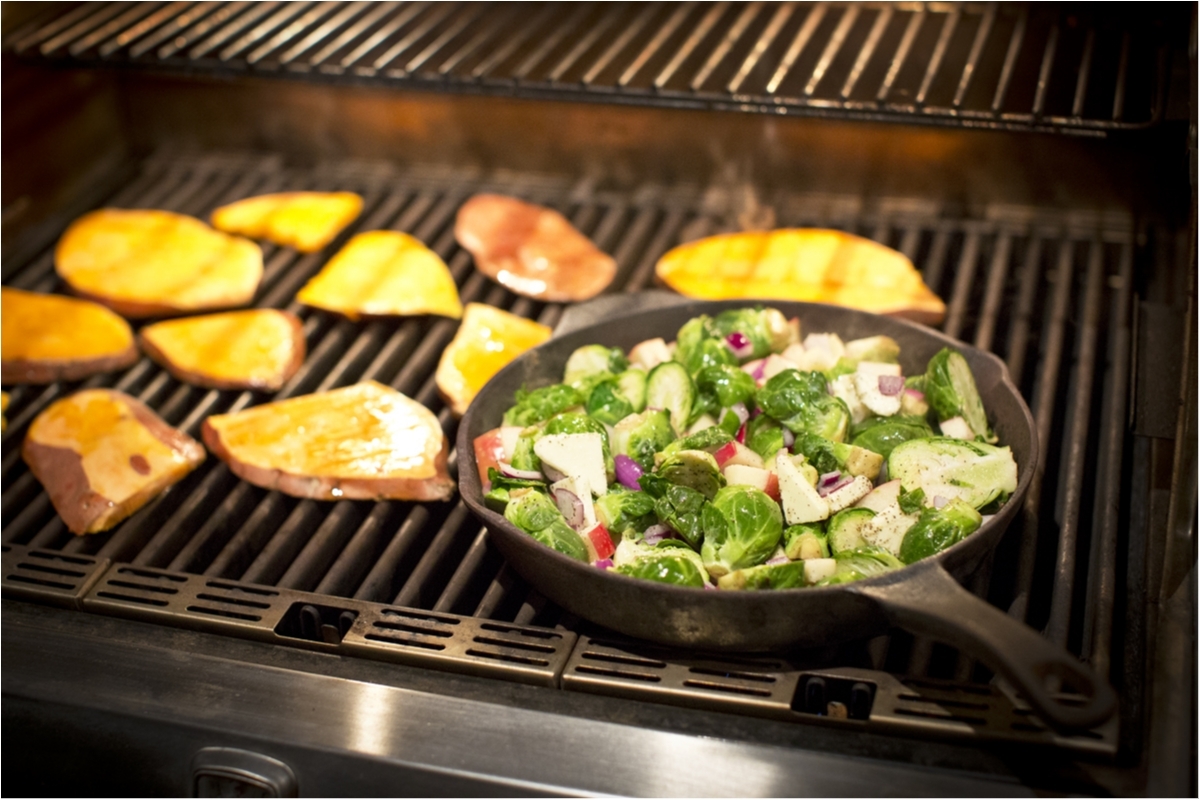 Cast-Iron Brussels Sprouts and Apples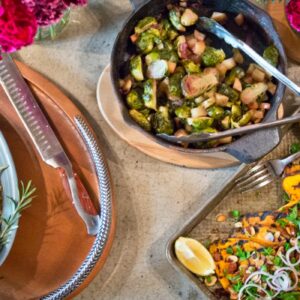 INGREDIENTS
1 pound Brussels sprouts (halved)
1 apple (like a Pink Lady or Honeycrisp, diced)
1 tablespoon apple cider vinegar
1 small purple onion (diced)
1 1/2 tablespoons unsalted butter (small dice)
Kosher salt and cracked black pepper (to taste)
INSTRUCTIONS
Preheat your outdoor grill to high and place the Lodge cast-iron skillet on the heat. In a large bowl, toss Brussels sprouts, diced apple, onion, vinegar, butter, salt and pepper together in a large bowl.
Once the skillet is smoking hot, add the vegetable mixture.
Cook stirring often until Brussels are caramelized, about 10 minutes.