Tahini Swirled Fudge Brownies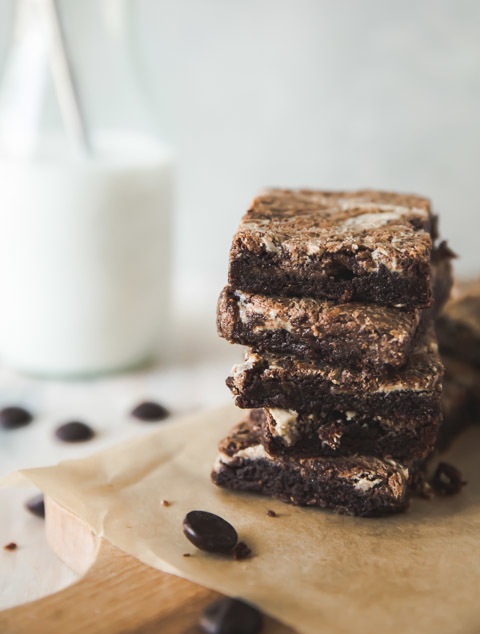 I originally created this recipe for my personal blog almost a year ago, but have continued to tweak it every time I've made it since. I'm excited to present to you my best version yet; the ultimate fudgy brownie with tahini swirl.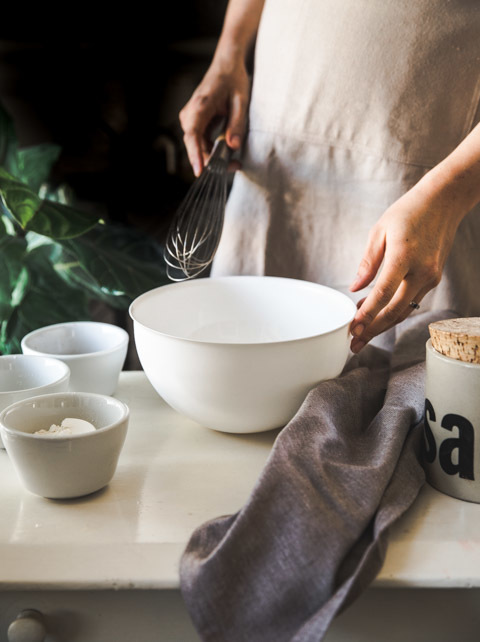 Alaska Mini Bowls

By Tuxton Home

Shop Now
It's funny, I used to be a boxed brownie girl all the way. What's not to love? Chewy, fudgy, and honestly, just super easy-to-make. I never really thought to make them from scratch, and it took years after I went to culinary school for it to even dawn on me to do so. "If it ain't broke, don't fix it", they say and I wasn't about to try… Until I did.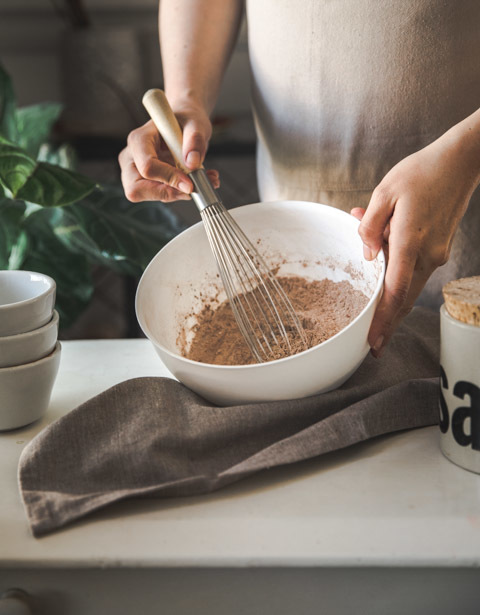 I suddenly found myself thinking, if I want to get closer to becoming a confident baker with a recipe box full of tried and trues, shouldn't I start with the basics and go from there?
So suddenly, I took interest in brownie making. It's funny, it's not too hard to make a brownie, but there are about a million different ways to do it. I've seen so many variations that range vastly and it's amazing how a brownie is always still, well, just a brownie.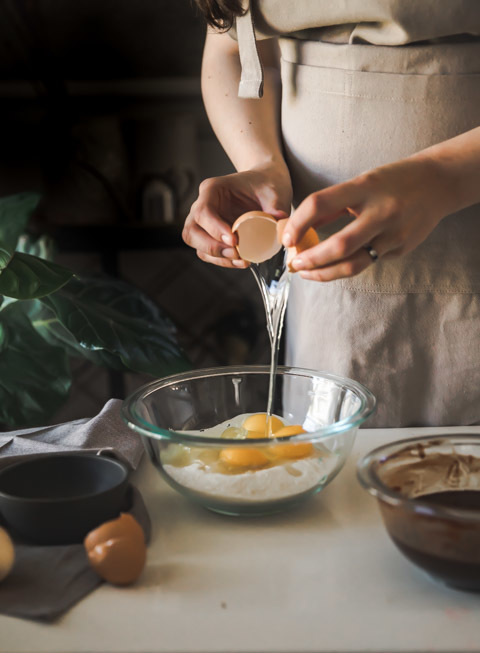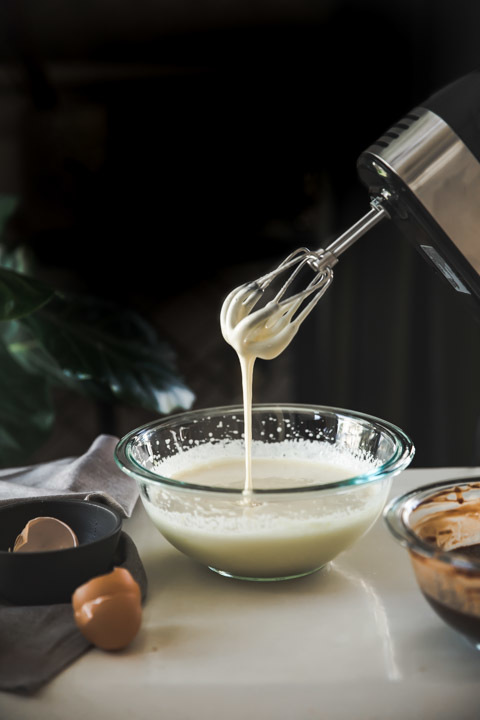 If nothing else I hope it's proof, and thus peace of mind to you, that brownies are pretty easy to make. Recipes and quantities vary greatly, but I have yet to try a homemade brownie that wasn't delicious. One of my favorite things to bring to a dinner party is the makings for homemade brownie sundaes bar.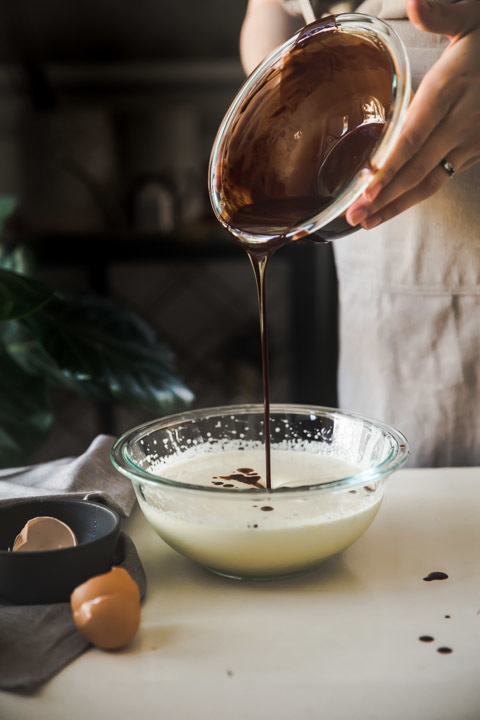 Everyone loves a classic brownie sundae, and who doesn't love to create their own with their personal favorite yummies; homemade whipped cream, chopped walnuts, fudge and caramel sauce, and of course classic vanilla bean ice cream served over a piping hot, salty brownie. Pop it in the oven when everyone sits down for the meal, and when you're ready for dessert you've got a real winner. Your dinner party contribution will suddenly become the best contribution.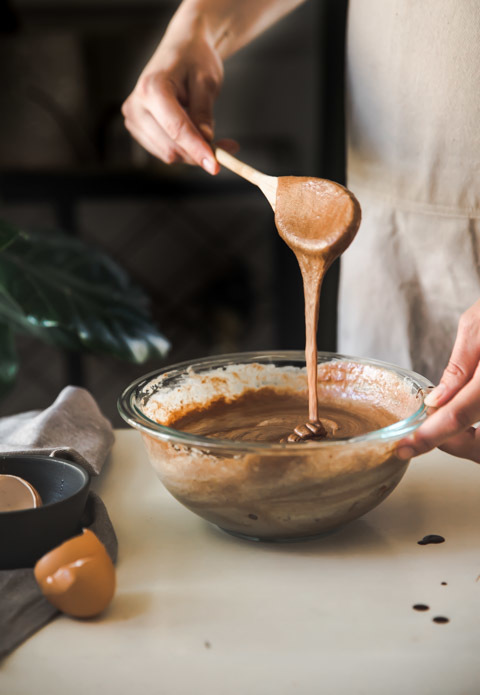 This recipe is my favorite because it's super simple, but calls for a few techniques that really amplify the finished product.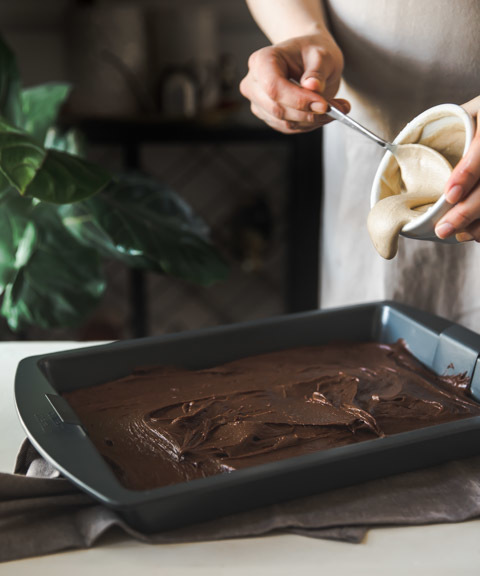 One technique is the double boiler. This is when you take a heat proof bowl, place it over the top of a small saucepan with water, and steam melt chocolate (and butter). This keeps everything from burning which can happen easily if done any other way. Anyone who wants to make something with chocolate should learn this method.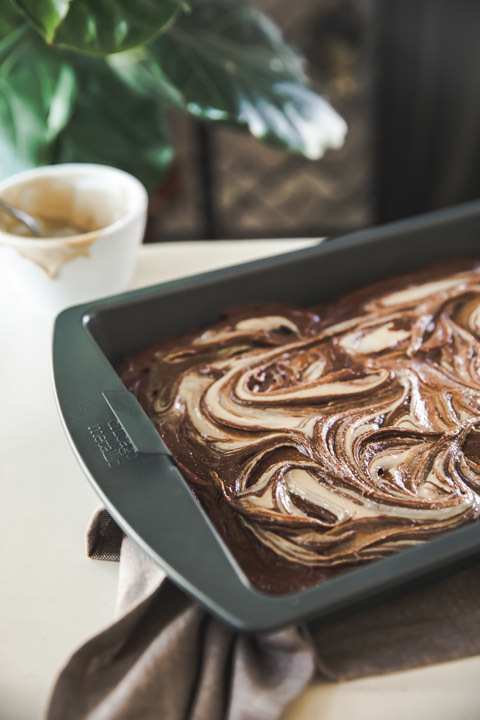 Another technique I call for is using a handheld mixer to mix the eggs and sugar. This helps give brownies a shiny crust that you get from a box. When you add the tahini swirl you do lose it a little, but it's important for texture, too.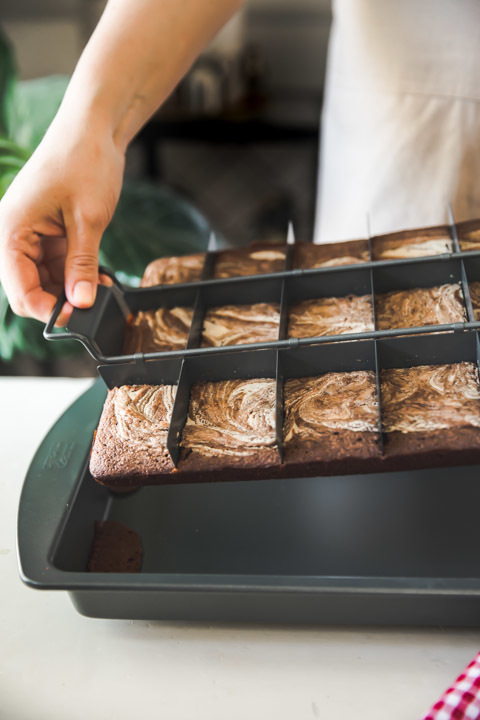 Slice Solutions 2-Piece Brownie Pan Set

By Chicago Metallic

Shop Now
Recipe Notes
Salted Butter. If you don't have this on hand, just add a pinch more salt to give it the salt this brownie needs.
Tahini. If you don't love tahini, I understand. Feel free to use any nut or seed butter. You may not need confectioners sugar if you do use a substitution. It just depends on the bitterness of the variety you land on.
Pans & Cooking Times. I love this Chicago Metallic brownie pan. It's a 9×12 so the brownies are a bit thinner and cooking time a bit faster, but the easy removable bottom and perfect cut insert makes life a total synch, especially when feeding a crowd. However, if you want thick brownies, definitely don't go beyond an 8×8, or double the recipe.
Handheld mixer. I find a handheld the best for this recipe and I LOVE the KRUPS mixer I use in the photos above. It's super sleek and efficient, and has silicone lined whisks that make it safe to use in any material bowl (even metal), and helps scrape the sides as you mix. I highly recommend!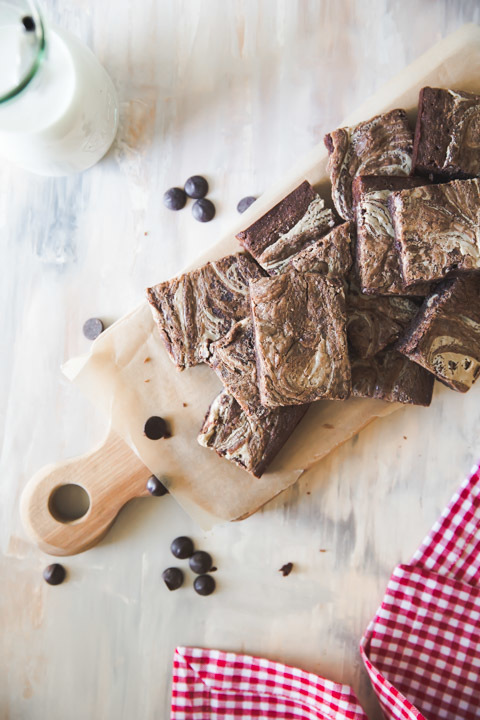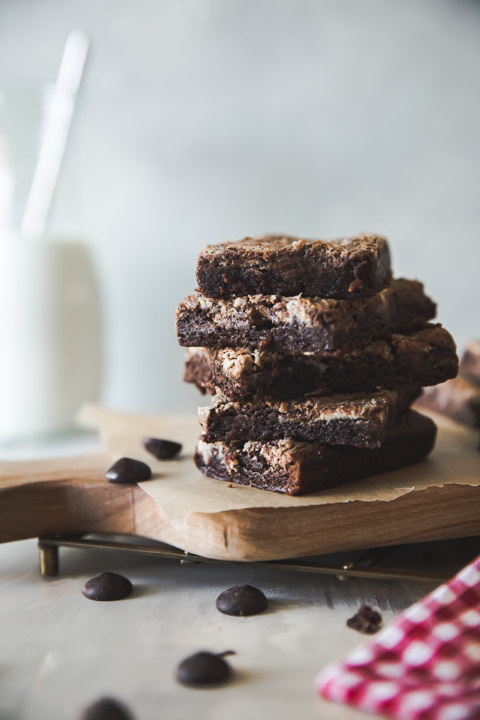 Tahini Swirled Fudge Brownies
This is the ultimate fudgy brownie recipe with a great tahini swirl. Throw your boxed mix out the window, and make this delicious twist on a classic brownie. Chewy, fudgy, and super easy to make.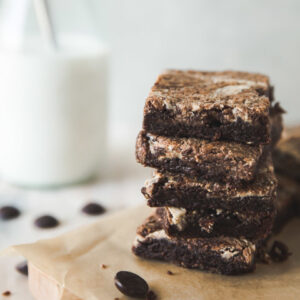 Ingredients
.75

cups

salted butter (1.5 sticks)

.5

cups

dark chocolate chips

.5

cups

flour

2

tbsp

cornstarch

.25

cups

cocoa

1

tsp

salt

1.25

cups

granulated sugar

3

large eggs

.5

cups

light roasted tahini

3

tbsp

confectioners sugar
Instructions
In a double boiler, melt chocolate and butter together and set aside to cool. Then, preheat oven to 350 degrees and line an 8×8 pan with parchment or use a non-stick brownie pan with a removable bottom.

In a medium bowl mix flour, cocoa, cornstarch and salt. Set aside.

Using a handheld mixer on high speed, mix granulated sugar and eggs in a large bowl until light in color and silky ribbons are formed. About 1-2 minutes.

Pour cooled chocolate and butter mixture into the sugar and eggs and mix to combine.

Gently fold flour mixture into liquid mixture until just combined. Pour into prepared pan.

In a small bowl, vigorously mix tahini and confectioner's sugar with a spoon until smooth. Dollop tahini mixture onto the brownie batter in the pan in a grid pattern of about 10 or 12 dollops. Using the spoon, swirl to connect and combine all sections while mixing lightly into the brownie batter.

Bake for 15 minutes, rotate and bang/drop the pan against the oven rack, and continue to cook another 15-20 minutes until cooked through the center.

Let the brownies cool for about 5-10 minutes, and remove from the pan. Continue to cool for about 30 minutes before cutting.
Nutrition
Serving:
1
g
Calories:
345
kcal
Carbohydrates:
24.5
g
Protein:
7.5
g
Fat:
25.3
g
Saturated Fat:
8.6
g
Cholesterol:
58
mg
Sodium:
222
mg
Fiber:
3.5
g
Sugar:
17.8
g