May Day Baskets with Vanilla Mint Drop Chip Cookies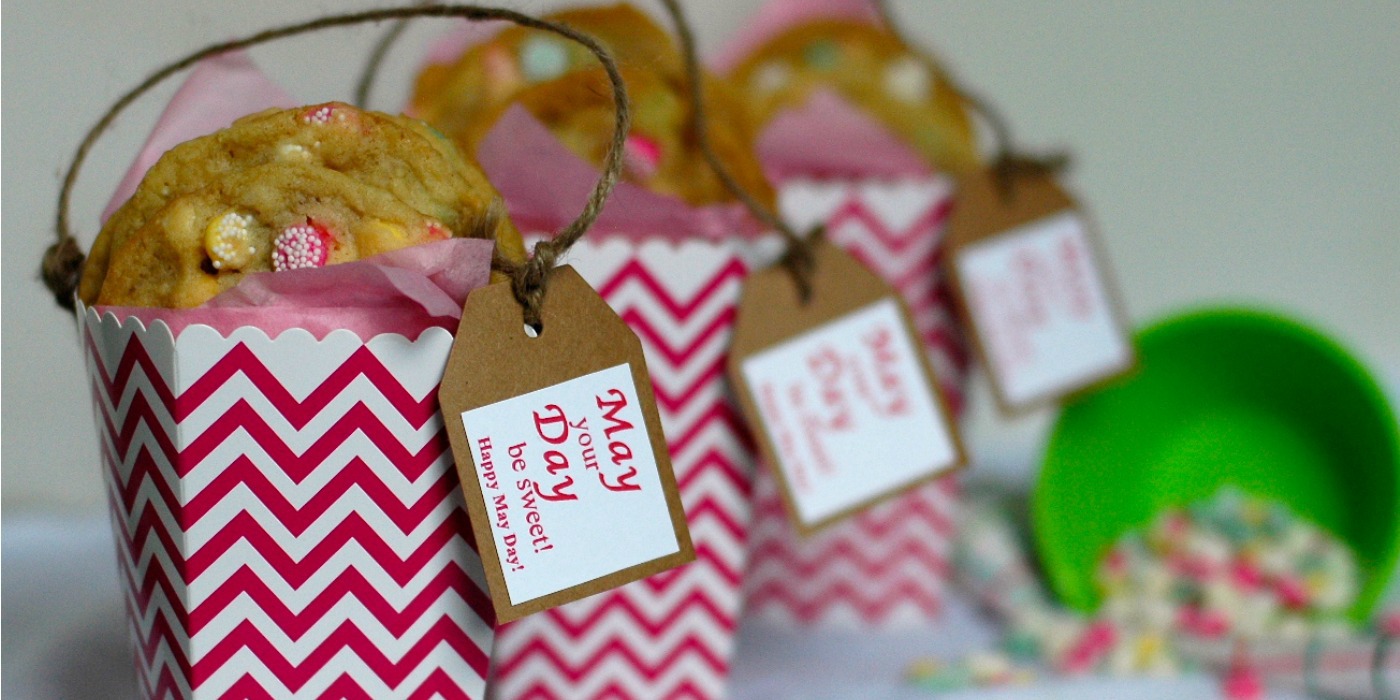 During the 19th and 20th centuries, May 1st was widely celebrated as "May Basket Day." On May 1st, it was customary to hang baskets of flowers, candies, baked goods or other trinkets on the doorknobs of friends, neighbors and loved ones. After hanging the basket, the hanger knocks or rings the doorbell and runs away, leaving the basket for the residents to discover.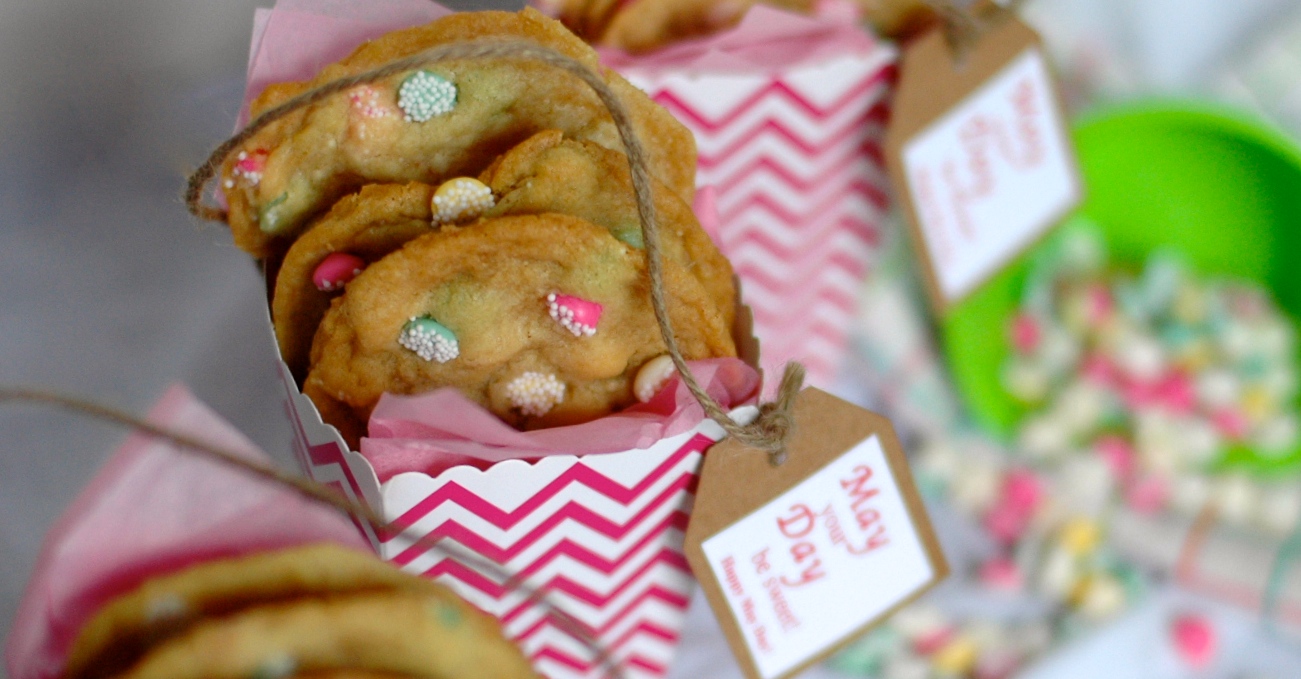 While the tradition has mostly been forgotten, I can remember making May Day Baskets with my mother and sister as a kid. When I shared this memory with my daughter recently, we immediately decided it's a tradition we need to bring to our current neighbors.
In our current culture of online-everything, the May Day Basket tradition seems like a wonderful way to get outside, foster community with those around us and generally celebrate life's simple pleasures.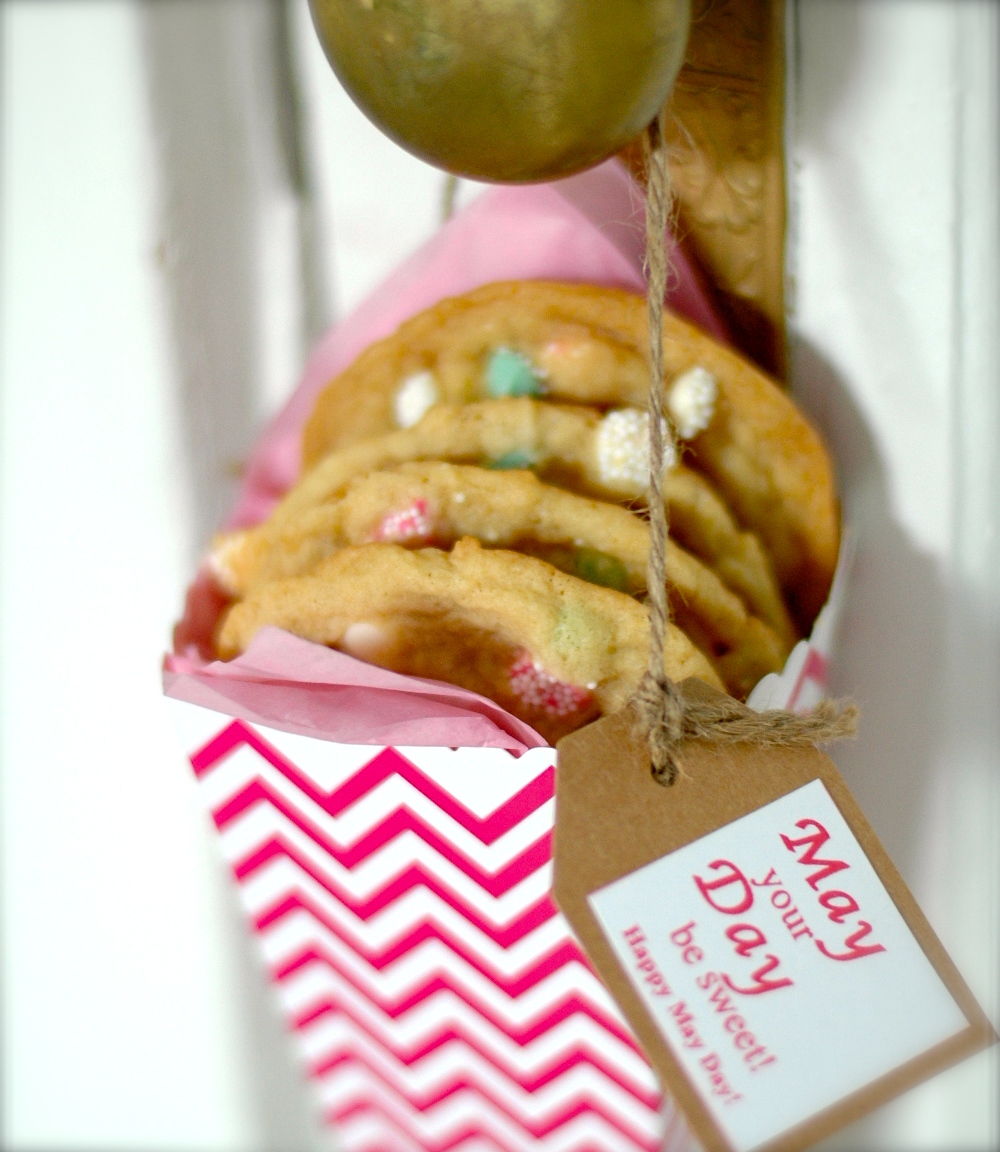 Instead of flowers, we decided to fill our baskets with some very spring like homemade treats. Vanilla Mint Drop Cookies are so colorful and delicious. I started with my favorite chocolate chip cookie recipe and simply swapped in Wilton Mint Drops for the chocolate chips. The resulting cookies are buttery and rich with a refreshing hit of mint — and the colors are just so pretty!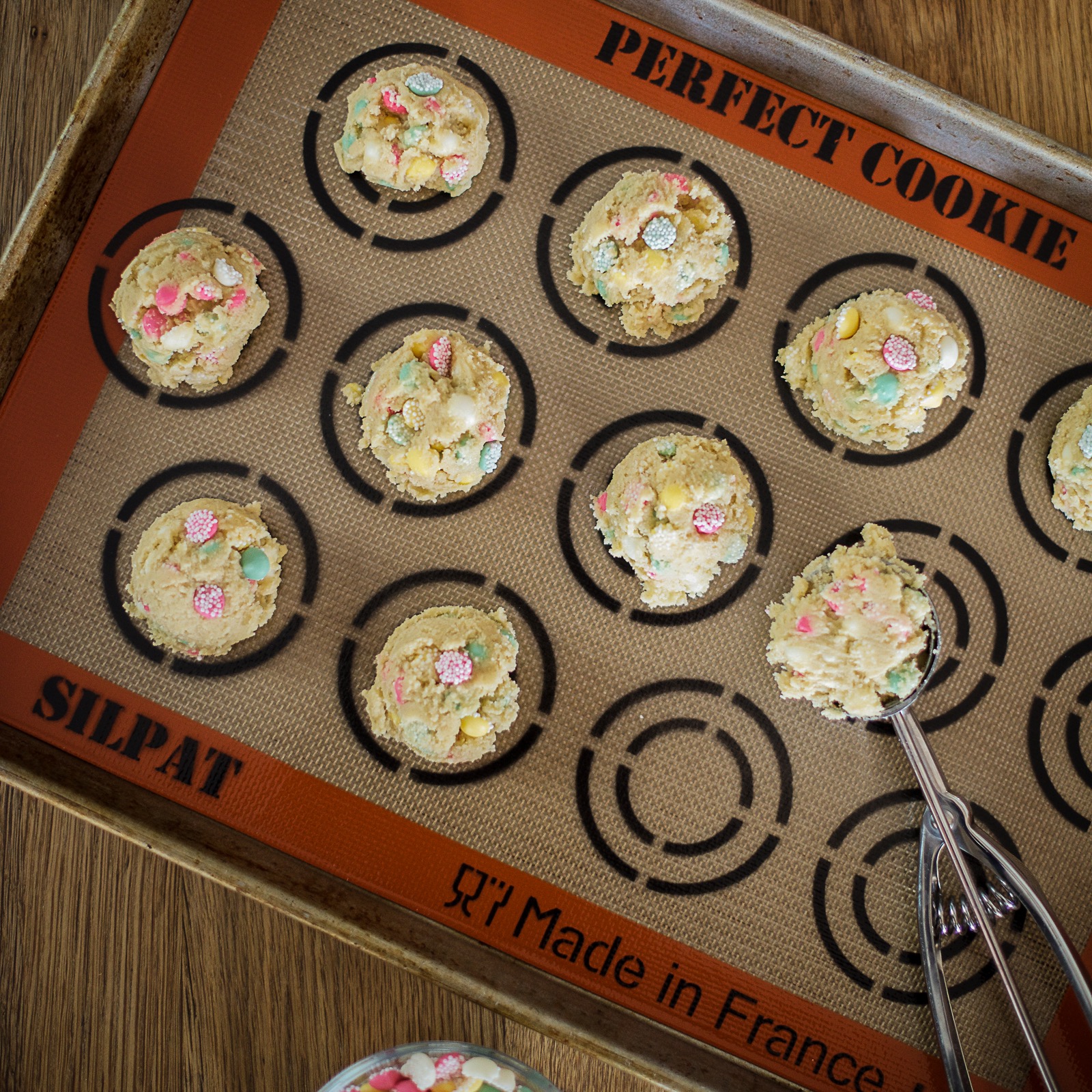 To ensure the cookies were uniformly sized and didn't stick to the pan, I lined my baking pan with a SILPAT Perfect Cookie mat.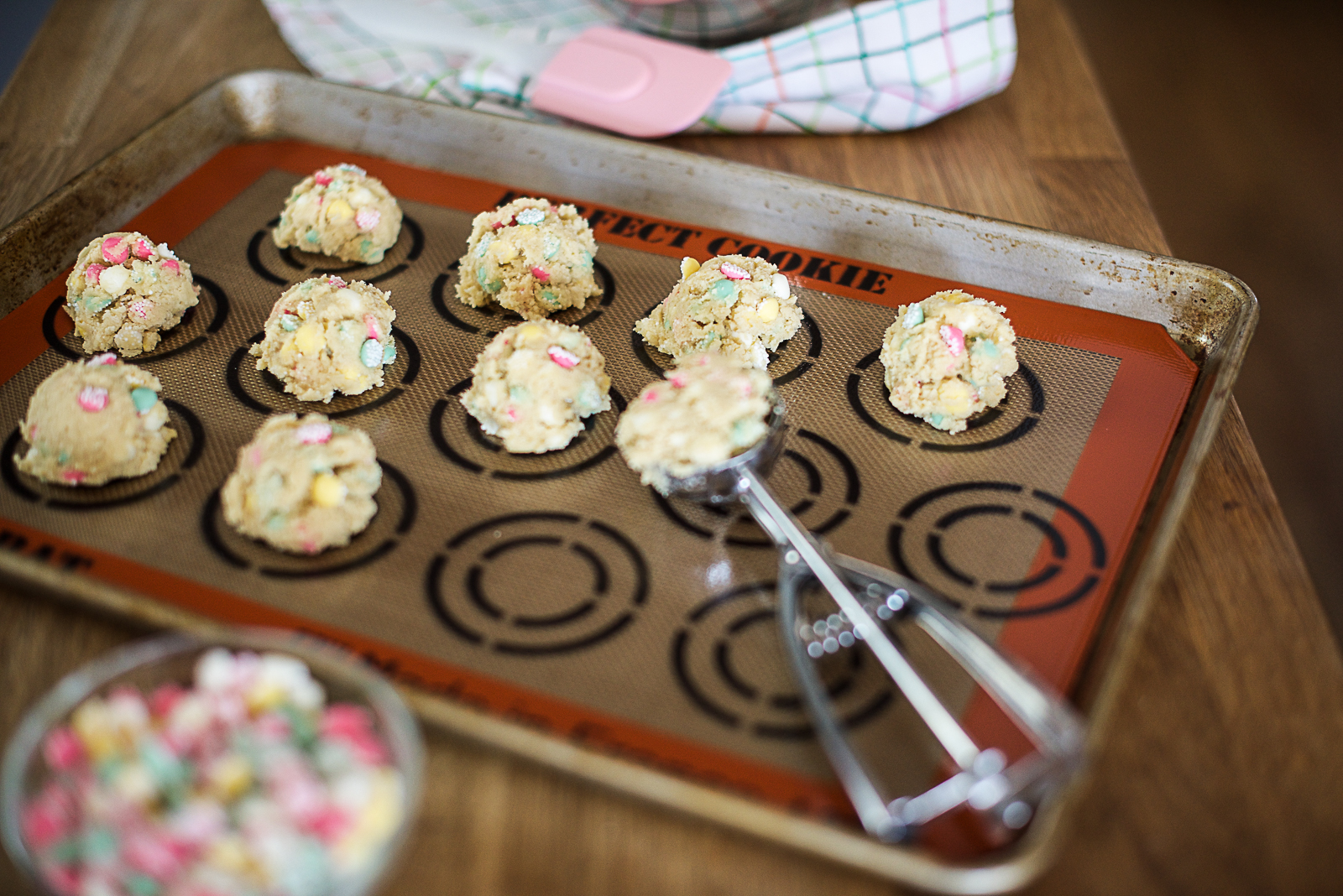 The mats feature an outline to indicate the exact size and spacing of your cookies. They are non-stick and easy to clean too. The cookies came off so easily! Plus the mats are reusable and they don't slide around the way parchment paper can. I am a convert!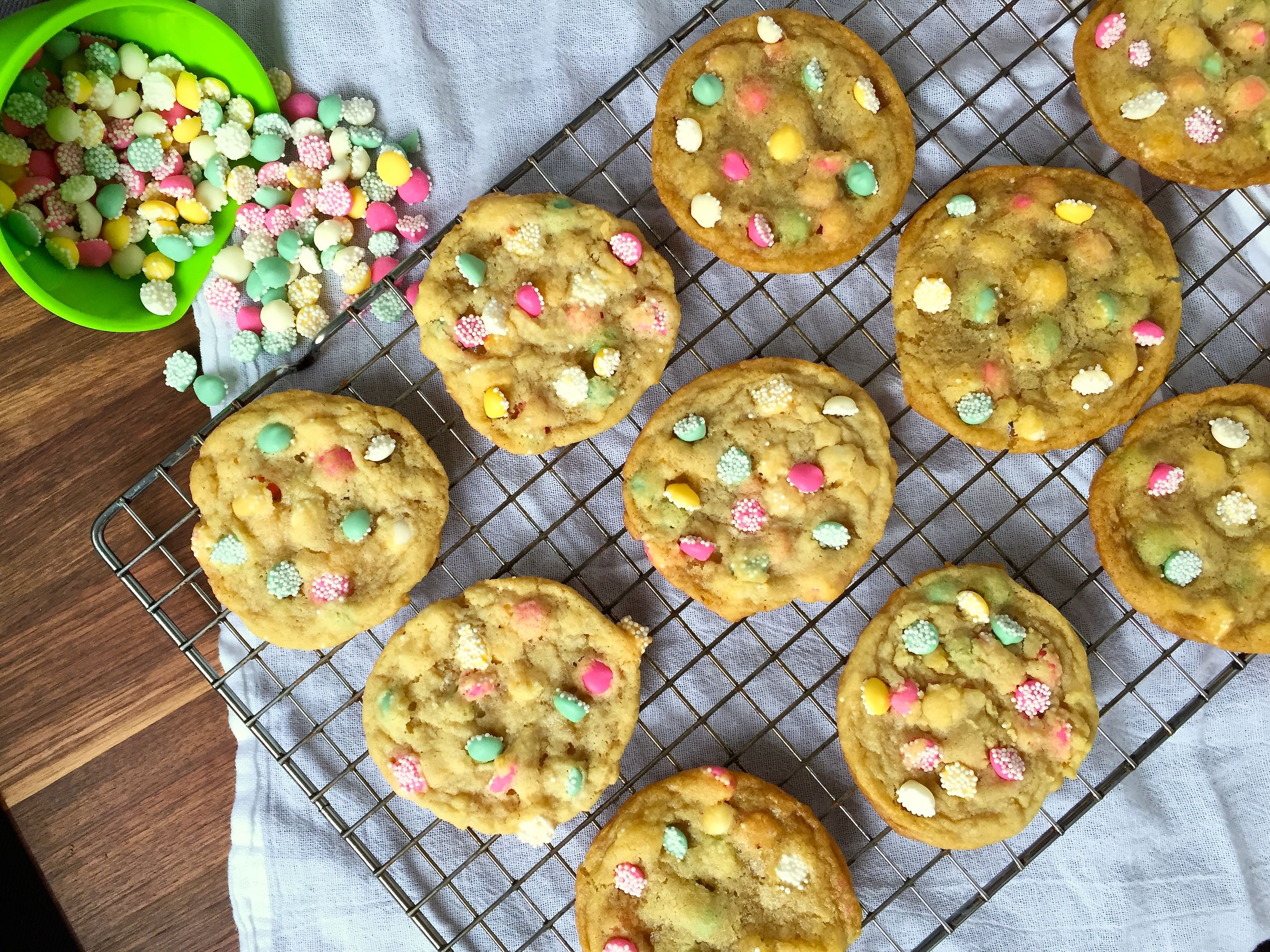 The May Day baskets themselves can be made from anything — Pinterest has some wonderful ideas using everything from Mason Jars to small potted plants to construction paper.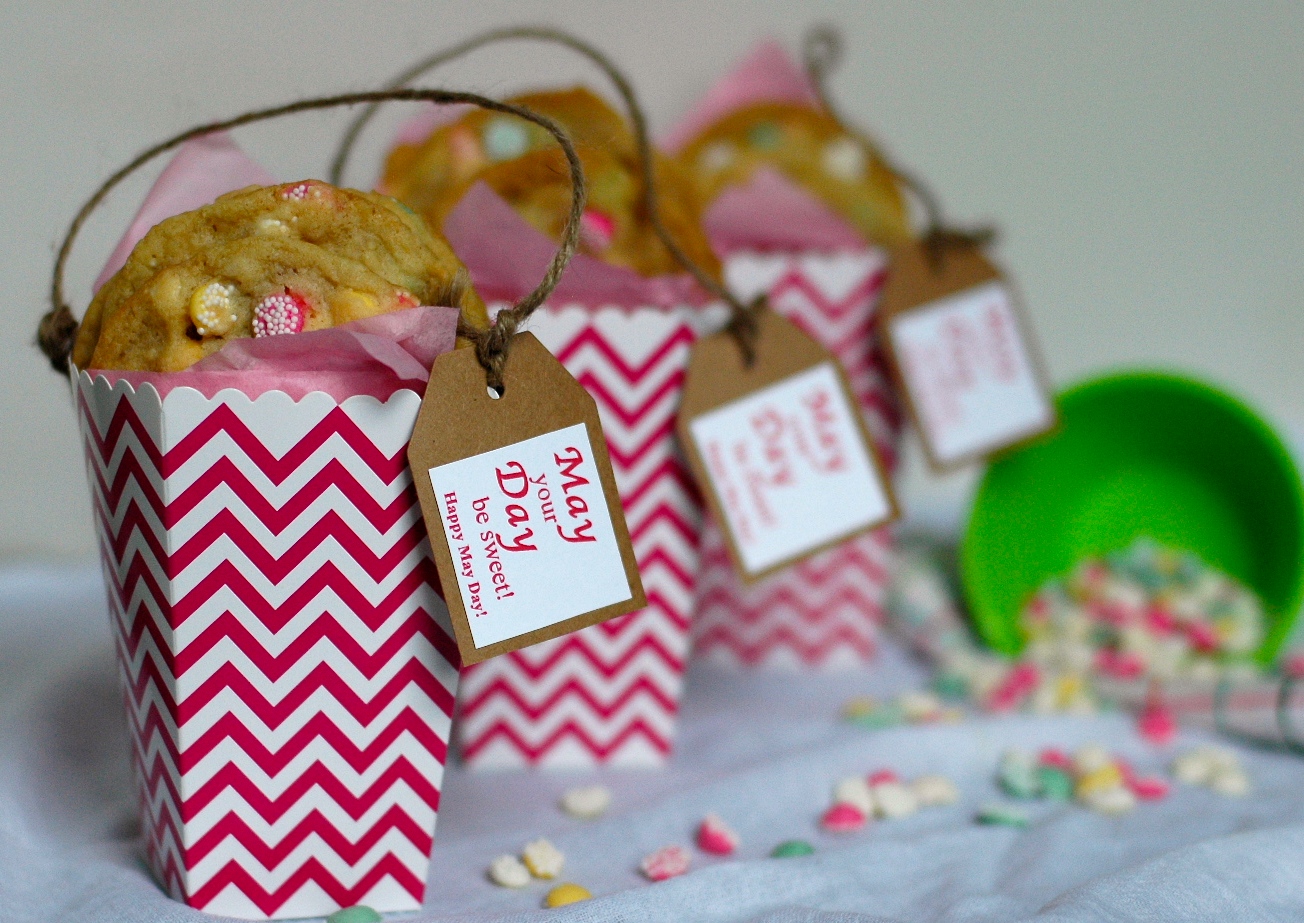 Since May Day Baskets are traditionally fashioned from paper, we created ours using small cardboard popcorn boxes from Dress My Cupcake. Visit my blog for details on how we created the boxes, a printable of my May Day gift tag and a roundup of other awesome May Basket ideas!
Vanilla Mint Drop Chip Cookies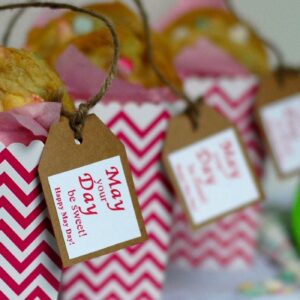 INGREDIENTS
1 ¼ cups unbleached all-purpose flour
1 tsp. baking soda
½ tsp. salt
½ cup (1 stick) unsalted butter, at room temperature
½ cup firmly packed light brown sugar
6 Tbs. granulated sugar
1 large egg
1 tsp. vanilla extract
1 ½ cups Wilton Mint Drops
INSTRUCTIONS
Preheat oven to 350 degrees F. Line two baking sheets with Silpat Perfect Cookie Baking Mats.
Sift together flour, baking soda and salt in a small bowl and set aside.
Cream together butter, brown sugar and granulated sugar in a mixing bowl on medium speed for about two minutes. Scrape down sides of bowl.
Add egg and vanilla and beat on low speed until mixed.
Slowly add the flour mixture and beat on low speed just until blended. Switch to a spatula or wooden spoon and stir in Mint Drops.
Use a small cookie scoop or tablespoons to drop batter onto prepared baking sheets.
Bake cookies, 1 sheet at a time, until edges of cookies are just turning golden, about 10 minutes. Remove from oven and let stand on cookie sheet for 1 minute before transferring to a wire rack to cool completely.