These Sweet & Savory Ebelskivers Will Bring Out Your Danish Side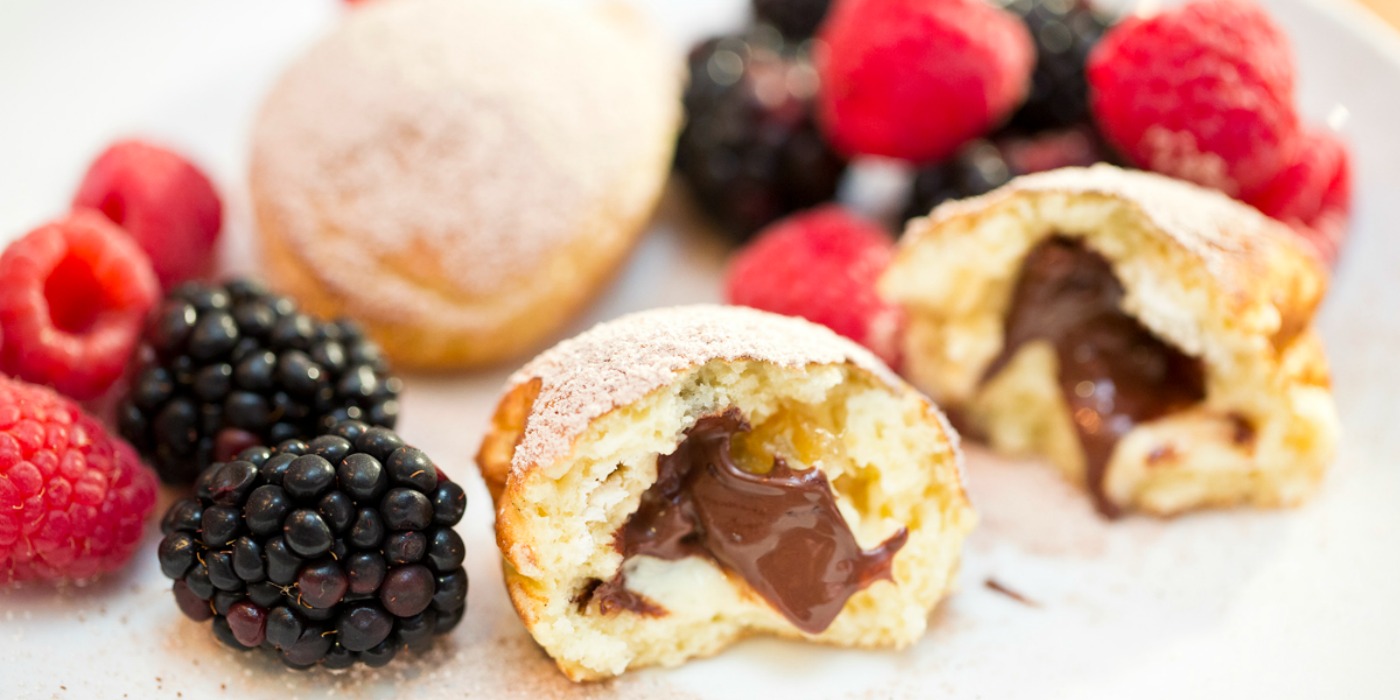 What's inside these ebelskivers seriously makes them even better than regular old pancakes… and maybe even better than doughnuts! That's high praise. Just give them a shot, sweet or savory ebelskivers, you'll see–it's definitely warranted.
We never had an ebelskiver pan up until recently, and well, now we realize that we've pretty much been missing out on a key part of life. There just isn't anything that beats stuffed pancake-type spheres for Sunday brunch or a holiday event. They look fancy and seem complicated, but they're not that difficult to make; in fact, we found the nonstick Nordic Ware Danish Ebelskiver Pan easy to use and a breeze to clean.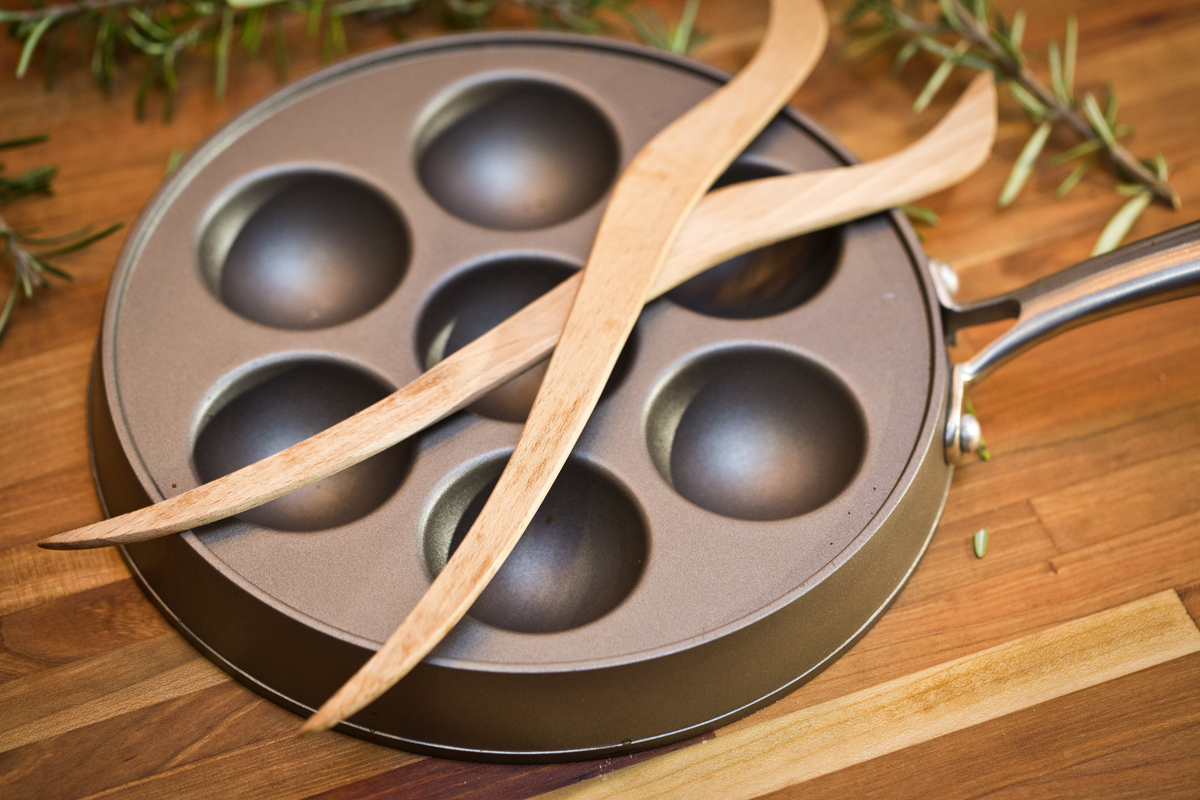 So we decided one chilly afternoon to make two different recipes, one sweet ebelskiver and one savory ebelskiver. It was tough to narrow down our list of possible fillings, which included flavors such as mozzarella and tomato sauce; garlic and parmesan; faux meatball; cream cheese and cucumber; and Memphis BBQ. However, pimento cheese ebelskivers, and for dessert, sea salt and almond dark chocolate plus crystallized ginger won out. We set out to make our little afternoon snack amazing and found a good start with a recipe on the Nordic Ware website.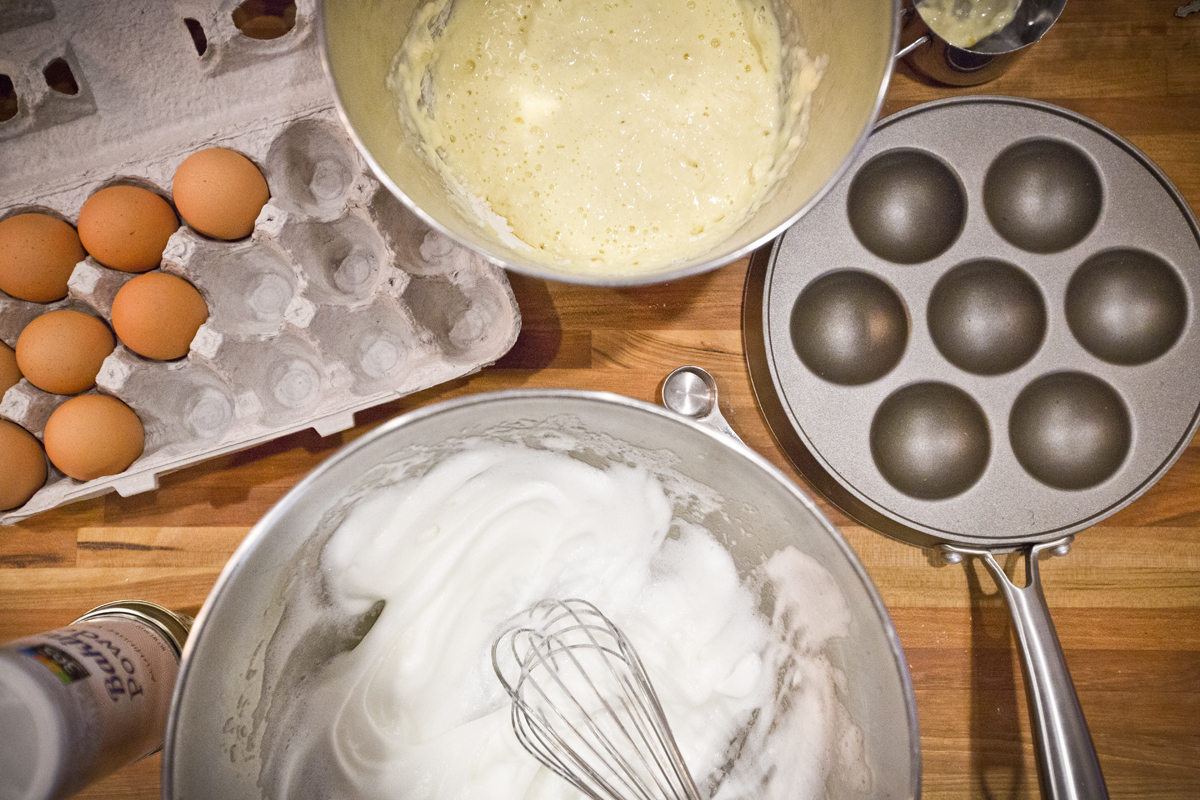 We don't often buy buttermilk, but it's a must for these. The acidity of it gives these treats a pleasing sour kick that wakes up the old tastebuds and gets them prepped for the delicious filling. This is a pretty typical batter, similar to what you'd find in a traditional waffle recipe (save for the lemon zest), but the method of cooking is what makes ebelskivers special.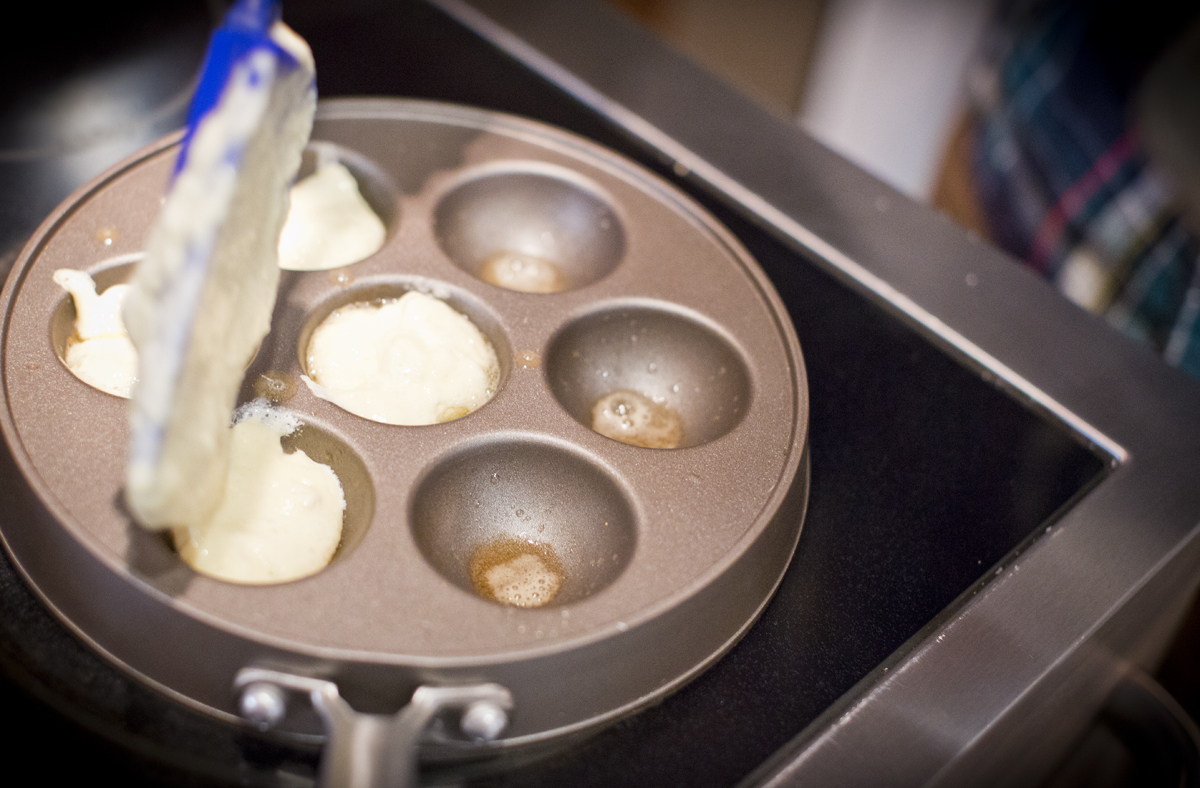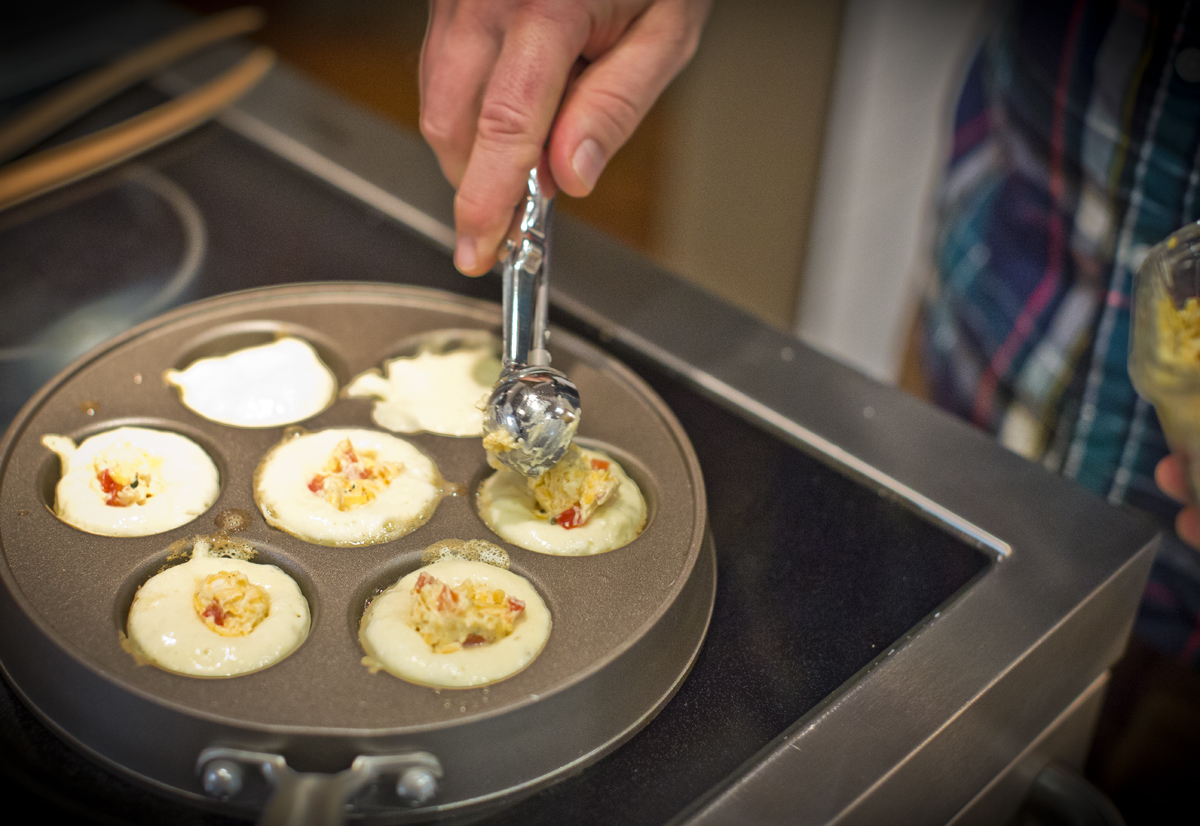 Ebelskivers are a cute, different thing to offer your family or guests for breakfast. On the outside, they look like little pastries, but like a fortune cookie, the surprise is on the inside. Most folks aren't too familiar with them yet, so think about cooking some up in style yourself one morning this season.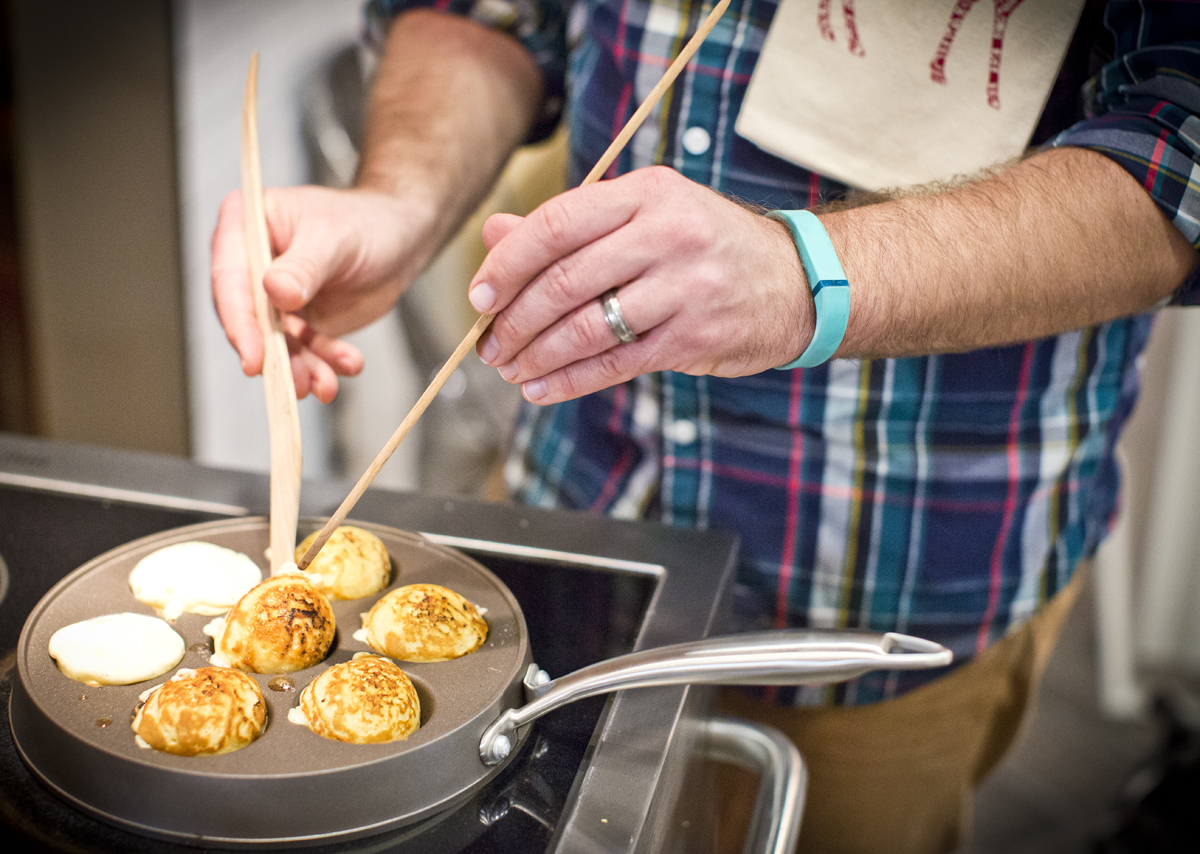 Sweet or Savory Basic Ebelskiver Batter (Recipe adapted from nordicware.com.)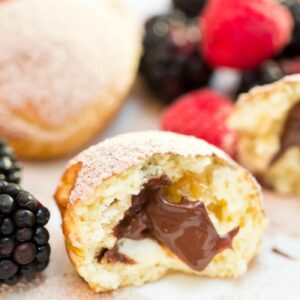 Equipment
Ebelskiver Pan

Medium Mixing Bowl

Small Mixing Bowl

Whisk

Electric Mixer

Silicone Spatula
INGREDIENTS
2 cups all-purpose flour
3/4 teaspoon baking soda
1 teaspoon baking powder
1/2 teaspoon salt
1 tablespoon finely grated lemon zest
3 large eggs (separated)
1 3/4 cup buttermilk
4 tablespoons butter, melted and cooled
INSTRUCTIONS
In a medium bowl, whisk together flour, baking soda, baking powder, salt, and lemon zest. In another bowl, lightly whisk the egg yolks with buttermilk and then add mixture to the dry ingredient bowl. Batter will be lumpy at this point; do not over-mix.
Using an electric mixer (or an impressive amount of energy!) whisk the egg whites until stiff but not dry peaks form, for 2 to 3 minutes. Using a silicone spatula, gently fold the egg whites into the batter until incorporated, taking care not to deflate the egg whites by over-stirring.
Preheat a Nordic Ware cast aluminum Ebelskiver pan over medium heat. Using a pastry brush, generously coat each well with butter. Fill each cavity with batter, approximately ¾ full. Using a spoon, drop a teaspoon-sized scoop of filling of your choice into each well, and be sure that the filling sinks into the batter completely so that it is not visible. Cook 2 minutes, then use wooden skewers to rotate each ebelskiver 180 degrees so that the top side inverts to the bottom of the pan and cooks the interior. The result will be a round, filled pancake. Repeat with remaining butter and batter until all ingredients have been used.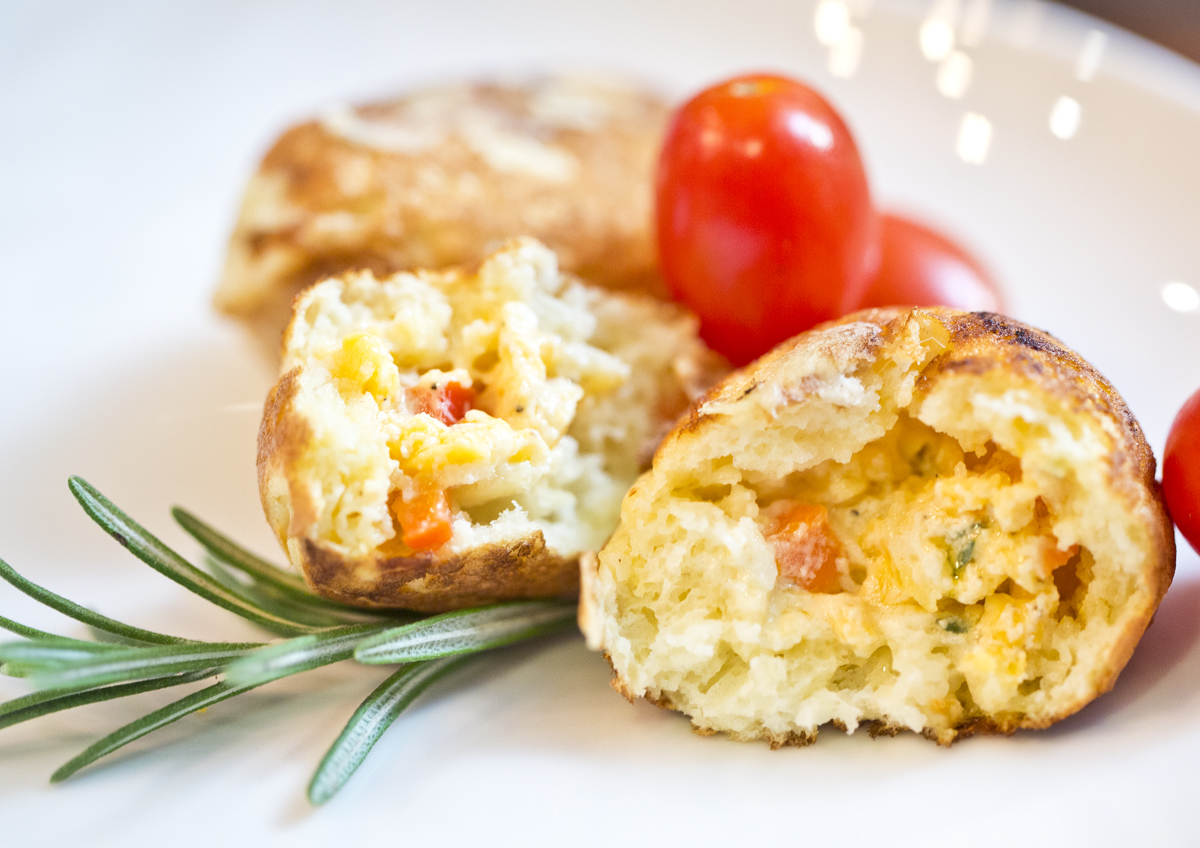 Lemon Zest and Thyme Pimento Cheese Savory Ebelskiver Filling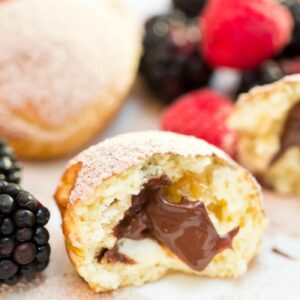 INGREDIENTS
1/2 pound sharp cheddar cheese (shredded)
4 ounces soft goat cheese
4-6 sprigs fresh thyme (stems removed)
zest from one lemon
1/4 cup mayo (We like vegan mayo or olive oil mayo.)
1 medium red bell pepper (peeled, finely diced)
splash of champagne vinegar
1 small shallot* (minced)
black pepper and sea salt (to taste)
INSTRUCTIONS
Follow directions for the ebelskiver batter and set aside. Mix all pimento cheese ingredients until incorporated; it's as simple as that! Use the pimento cheese as the filling for each ebelskiver as outlined in the batter recipe. The leftover pimento cheese may be served with crackers, spread onto bread for a great-tasting sandwich, or frozen in order to serve later.
*Place the shallot into a mesh strainer; you'll only need about a tablespoon. Run the minced shallot under cold water for a few seconds. This will take away any raw onion flavor and keep the shallot from overpowering the dish.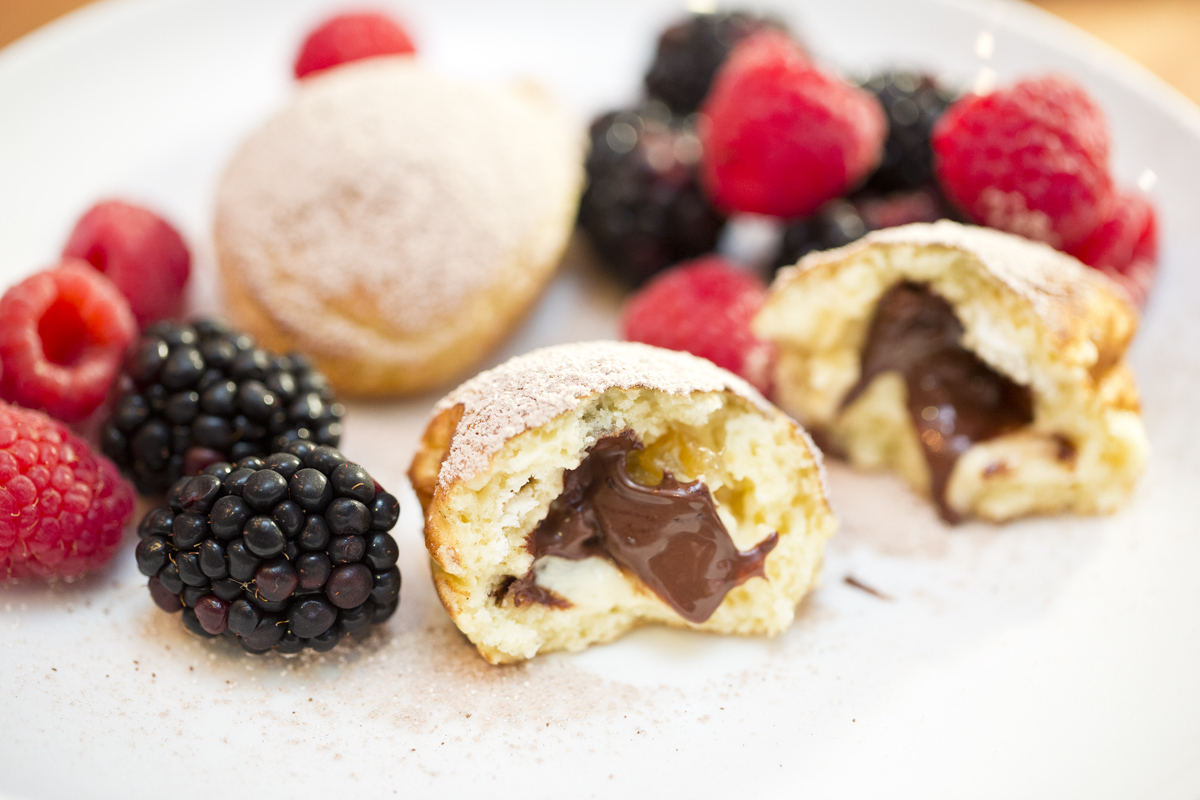 Sea Salt Chocolate and Ginger Dessert Ebelskiver Filling
This recipe is the sweet filling for Ebelskiver - a Danish snack.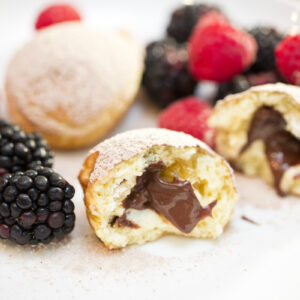 Ingredients
.25

cups

chopped chocolate

2

tbsp

diced crystalized ginger
Instructions
Follow directions for the Ebelskiver batter and set aside. For this filling, in a small bowl mix the two ingredients together. Use these ingredients as the filling for each Ebelskiver as outlined in the batter recipe.