Strawberry Lemon Surprise Cake Recipe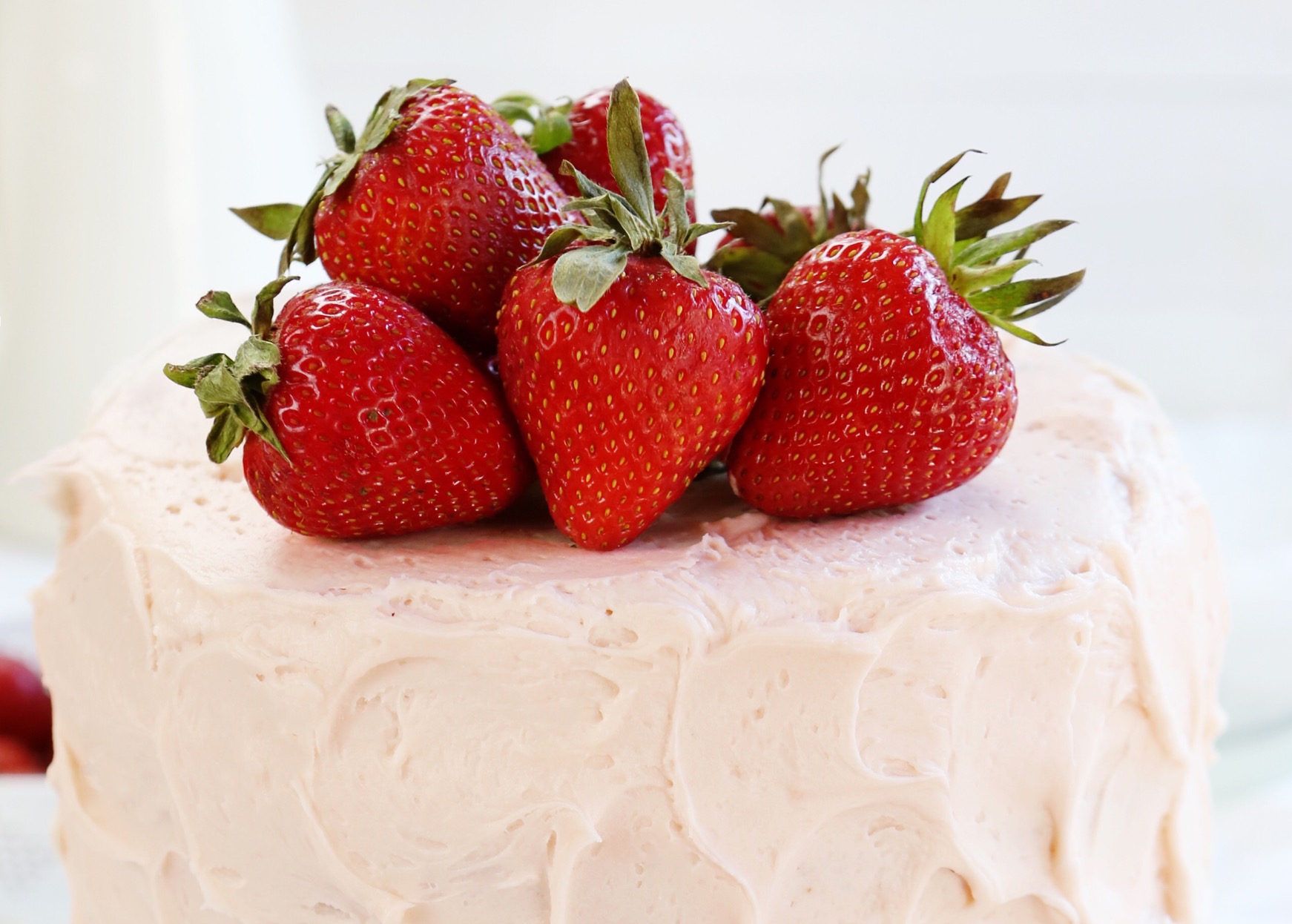 Creating a cake with a surprise on the inside is a fun way to delight your family!
The technique is easy to do and when paired with delicious summer flavors like strawberry and lemon, this is sure to be your new favorite cake!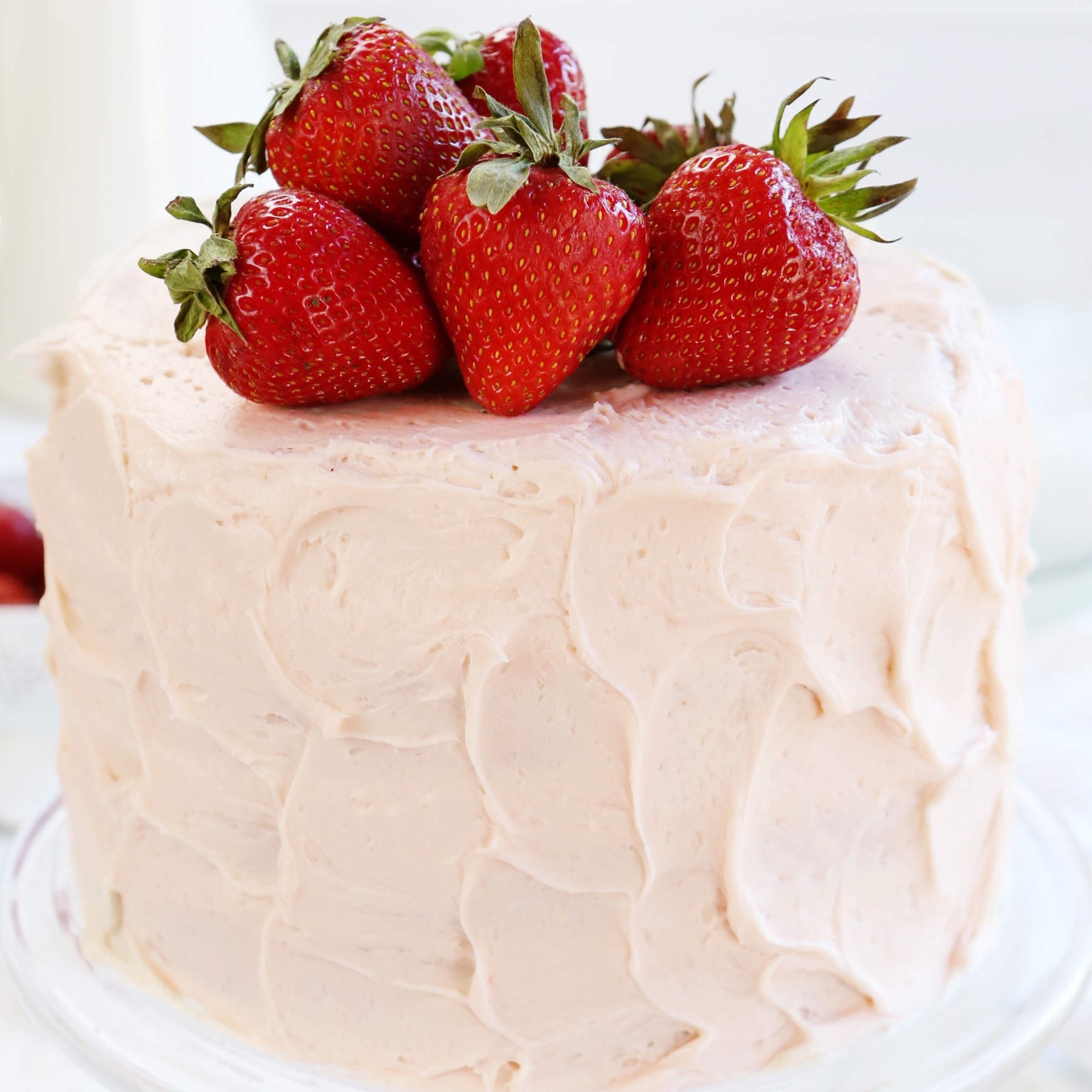 This cake has 4 layers of lemon cake with a strawberry buttercream in-between the layers. There is also a wonderful strawberry surprise in the middle which is a delightful way to add additional flavor as well as beauty.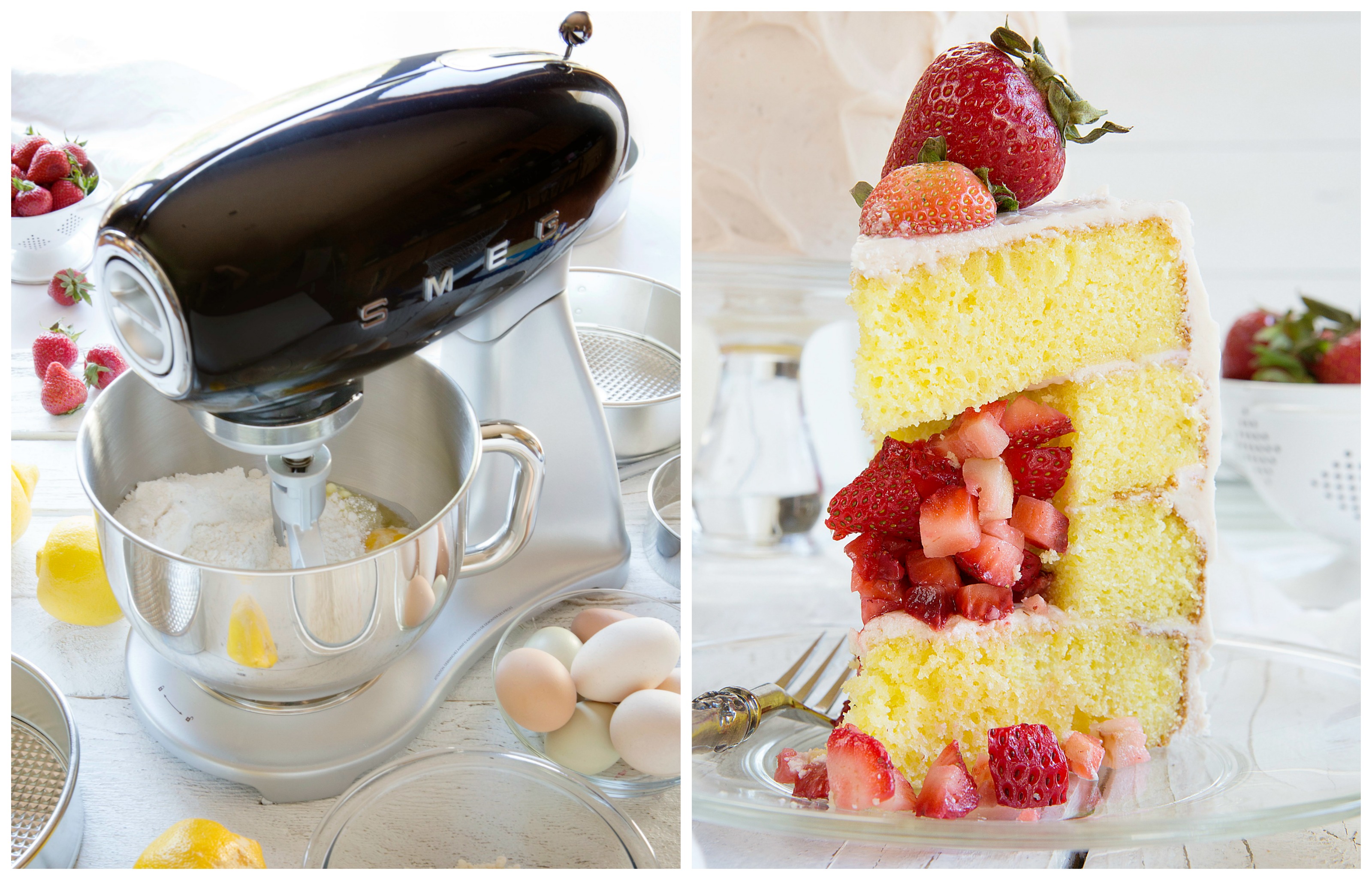 Begin by preparing the lemon cakes. This is a big recipe as you are making 4 full layers.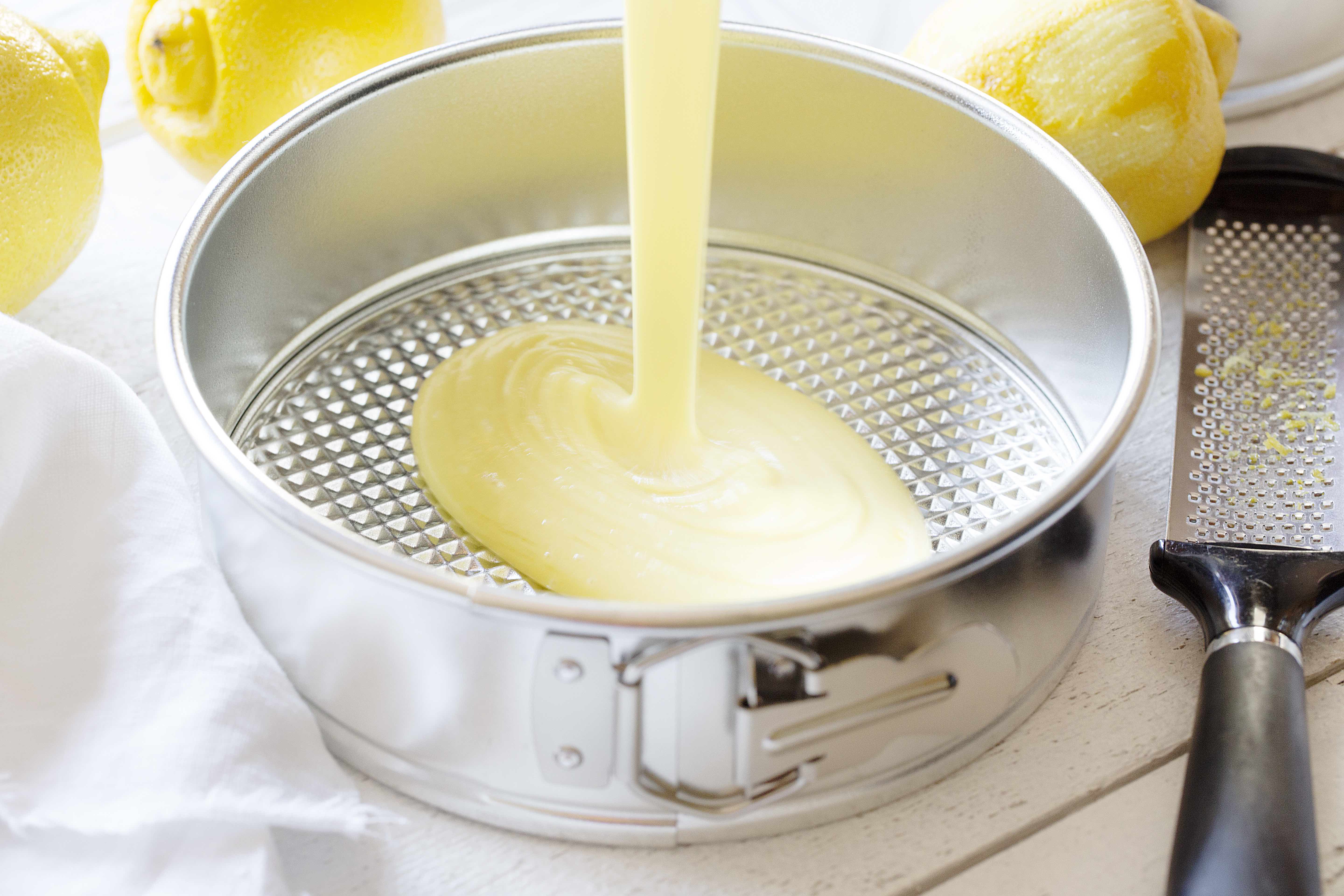 Fill each pan about a 1/3 way full and no more than 1/2 way full. Bake according to recipe instructions.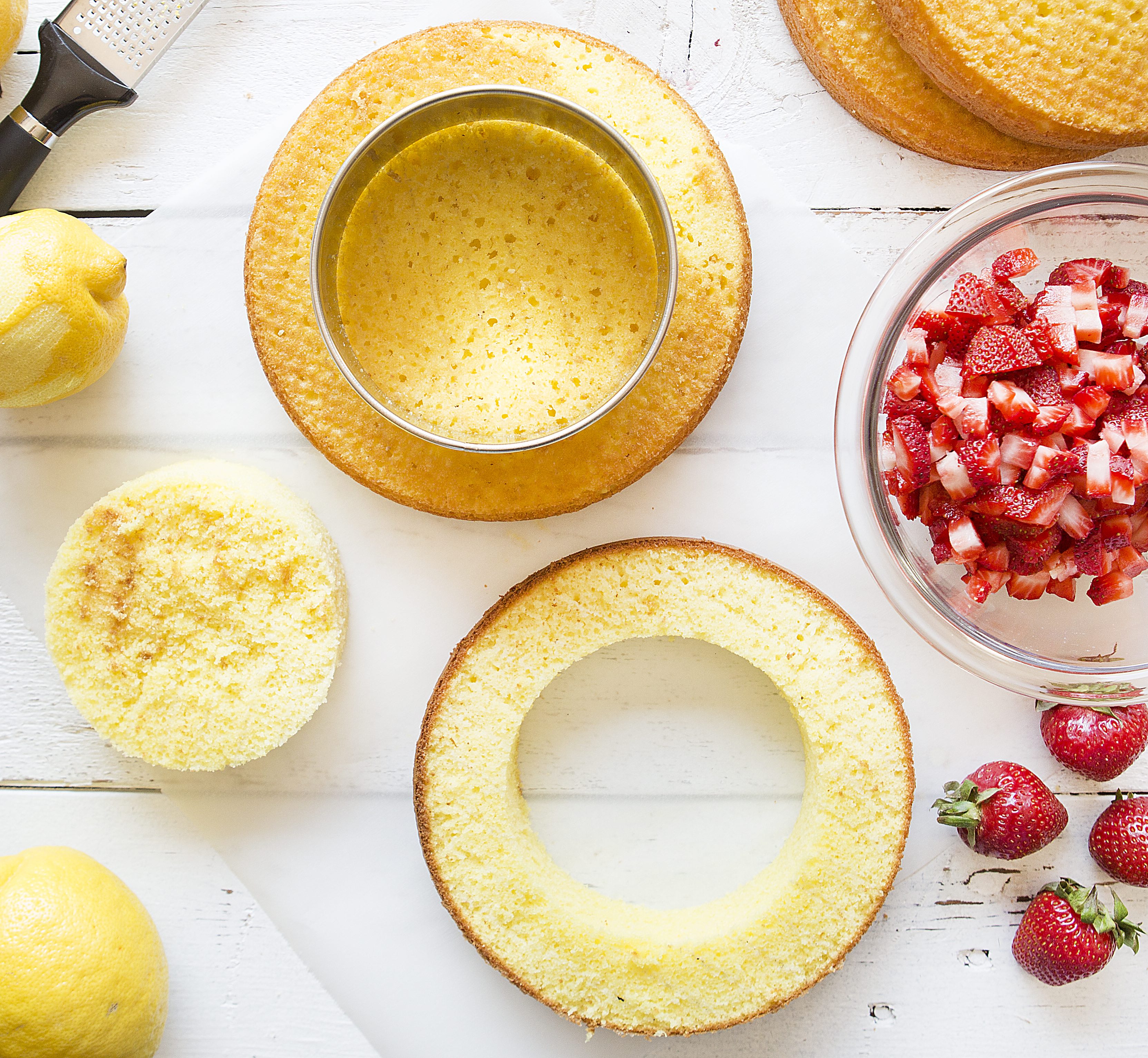 Once cakes have baked and cooled, level each cake to the same height. Using your round cookie cutter, remove the center portion on two cake layers. This will hold our strawberries once the cake is assembled. (and feel free to make a trifle with the cutout sections!) You can also use a small side plate as a guideline for removing the sections of cake; just center it on the cake and then use a sharp knife to cut around.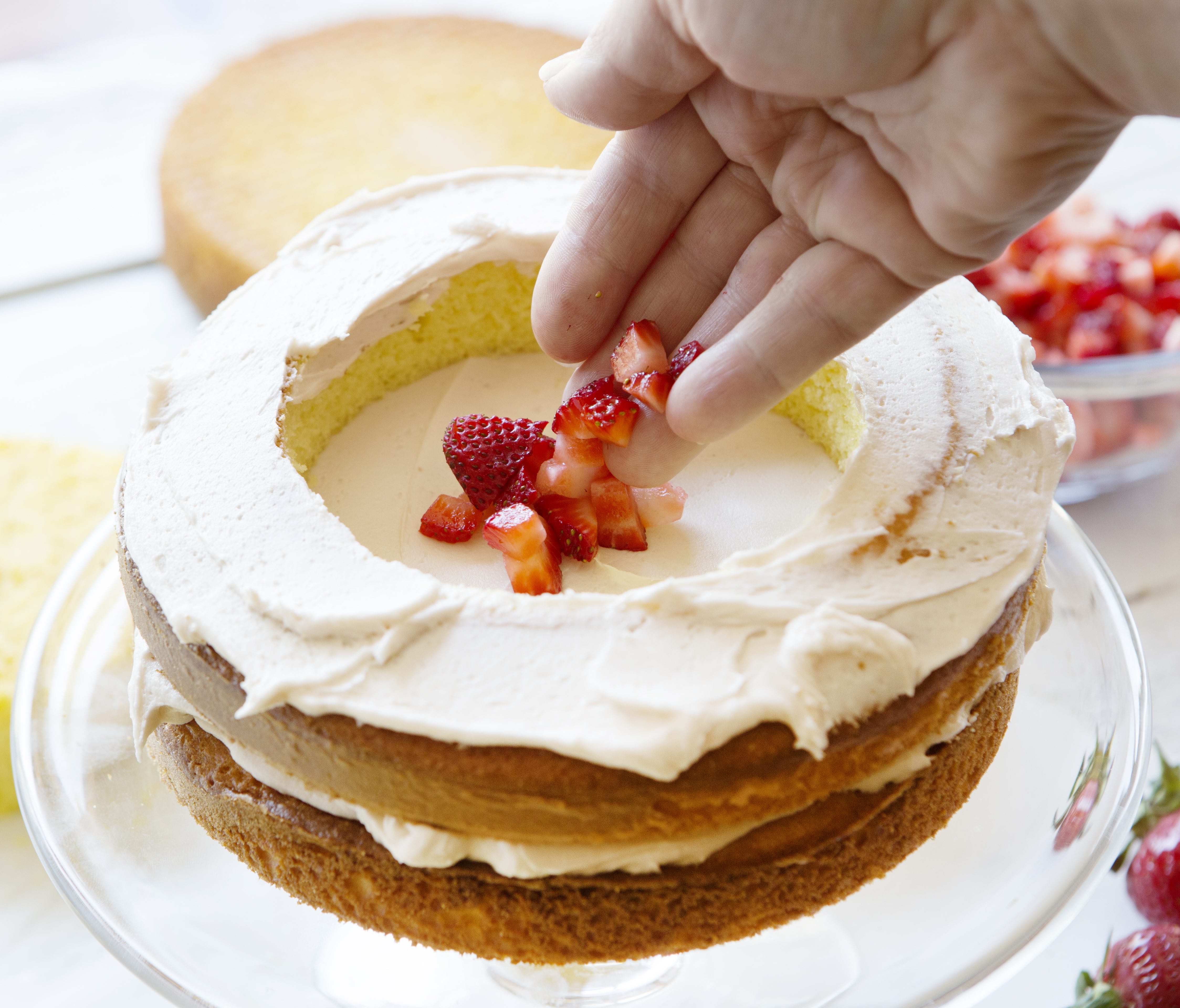 Being by placing a whole layer on your cake stand and covering with about 1/3 cup strawberry buttercream. The next layer is a cutout section. Be sure to spread the strawberry buttercream around the edges of each layer. Add the next cutout layer then fill with chopped strawberries. (or you can add chopped strawberries as you go). Place the final full layer on top.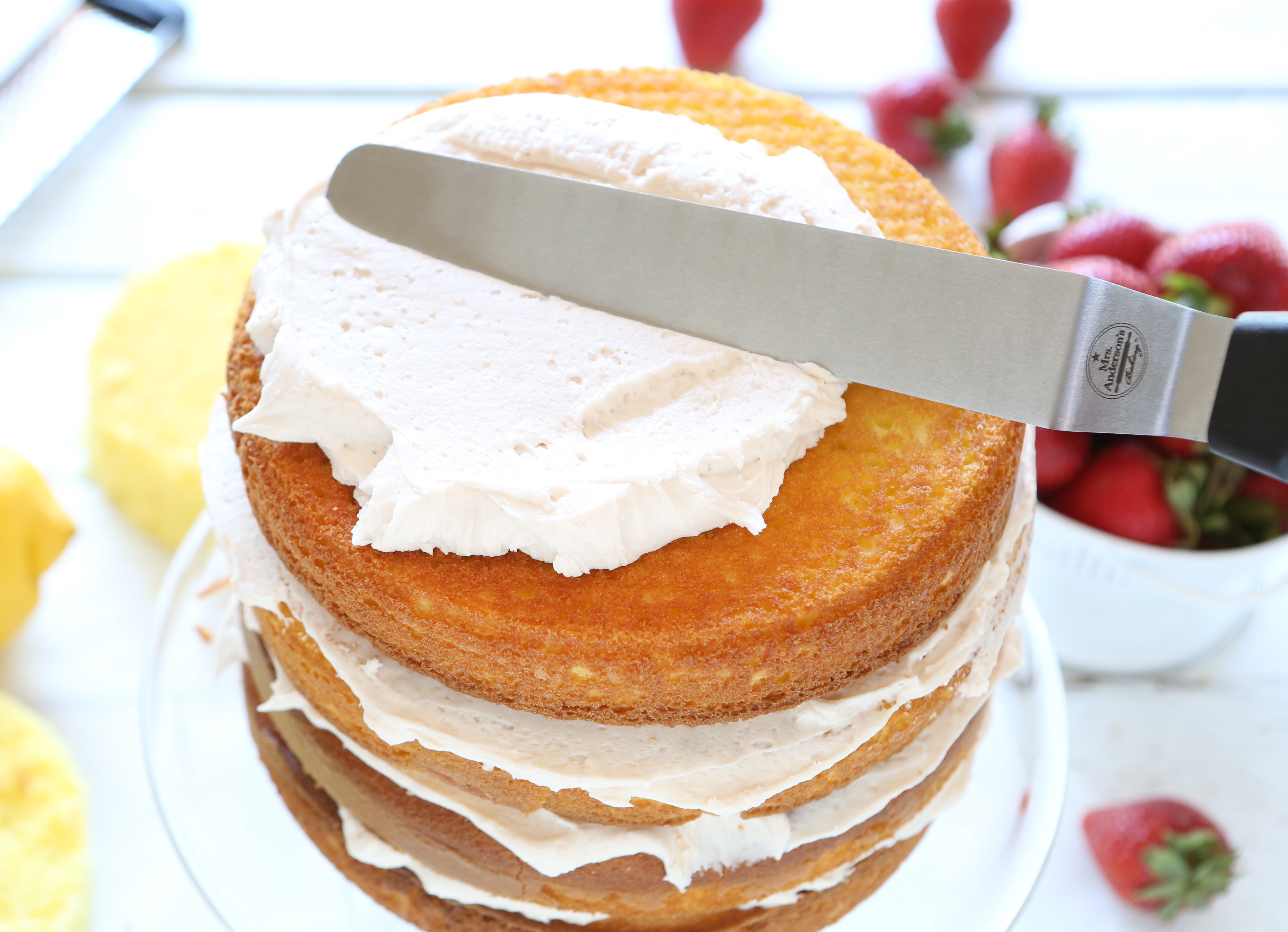 Cover cake with remaining strawberry buttercream. To create the rustic design, simply use your offset spatula to make "C's" in the frosting. It's also called "swoops" through the frosting.
Cover top of cake with strawberries and chill until ready to serve. (Up to 48 hours refrigerated).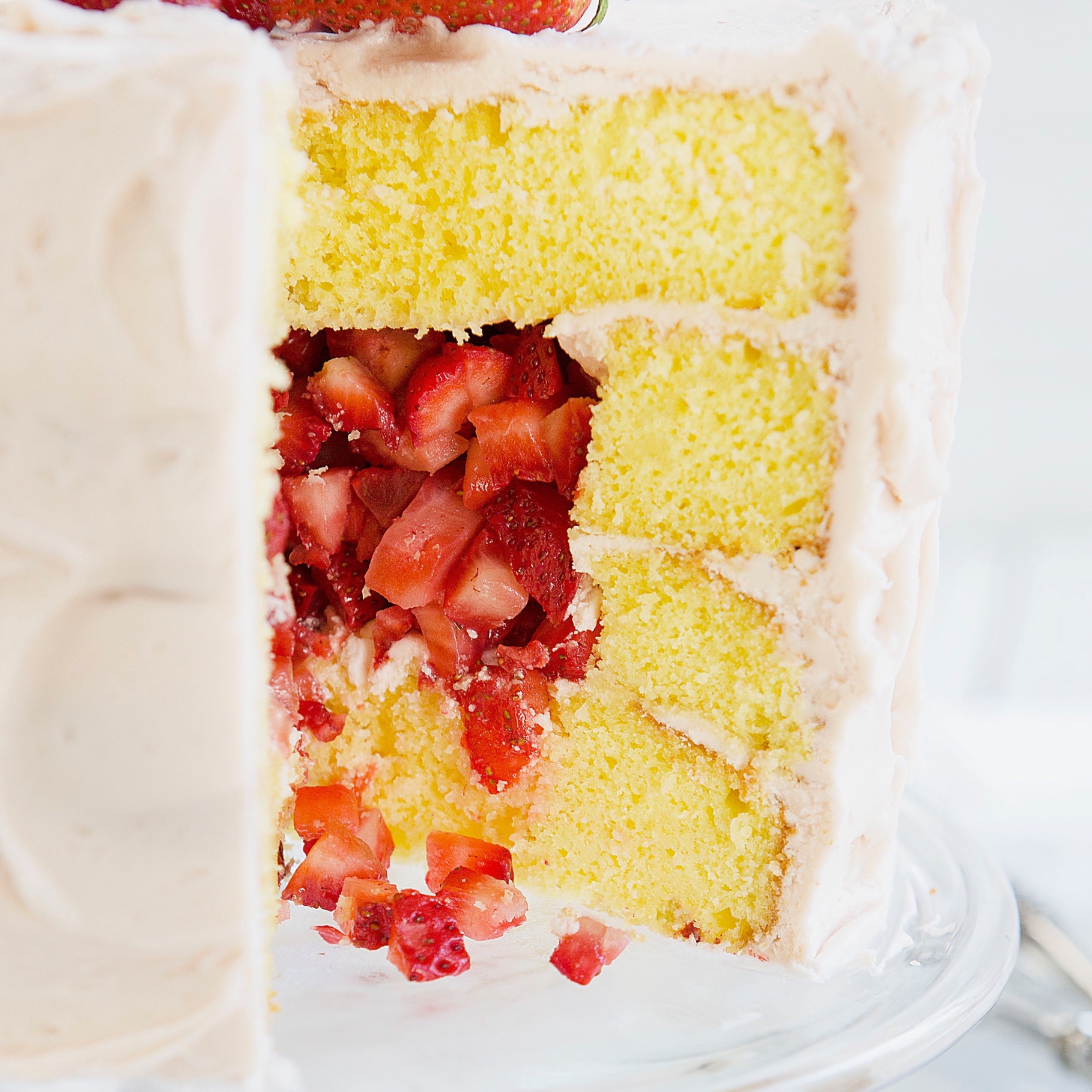 Cut cake as you normally would, but be prepared for oohs and aahs!
Strawberry Lemon Surprise Cake Recipe Recipe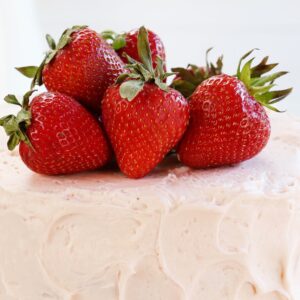 INGREDIENTS
For the Cake:

5 cups sifted cake flour
1 tablespoon + 1 teaspoon baking powder
1 teaspoon salt
1 cup (2 sticks, 226g) butter
2 tablespoons lemon zest
3 ½ cups white sugar
6 eggs, room temperature
2 ¼ cups whole milk, room temperature
2 cups chopped strawberries plus more strawberries for garnish
For the Easy Strawberry Buttercream:
½ cup (1 stick or 113g) butter, room temperature
1 teaspoon vanilla
1/3 cup strawberry jam or preserves
4 or 5 cups confectioners sugar
1 tablespoon whole milk
INSTRUCTIONS
For the Cake:
Line four 9-inch round pans with parchment paper. Preheat oven to 350 degrees F (175 degrees C).
Measure sifted flour, baking powder, and salt: sift together.
Cream butter and lemon rind together in the bowl of a stand mixer or hand-held mixer for about 3 minutes.
Gradually add sugar, creaming until light and fluffy.
Add eggs one at a time, beating thoroughly after each addition.
Add sifted ingredients alternately with milk to the creamed mixture, a small amount at a time; beat after each addition until smooth.
Bake for 25 to 30 minutes or until an inserted toothpick is removed clean.
Cool on wire racks.
For the Easy Strawberry Buttercream:

Place butter, vanilla and jam in stand mixer with whisk attachment. Whisk on medium-high for 1-2 minutes, or until fully incorporated.
With the mixer on low, add in sugar, one cup at a time. When mixer starts to struggle, drizzle in milk one tablespoon at a time.
After all milk as been added whisk buttercream on high for 1-2 minutes.