You Need to Throw This Sushi Night Party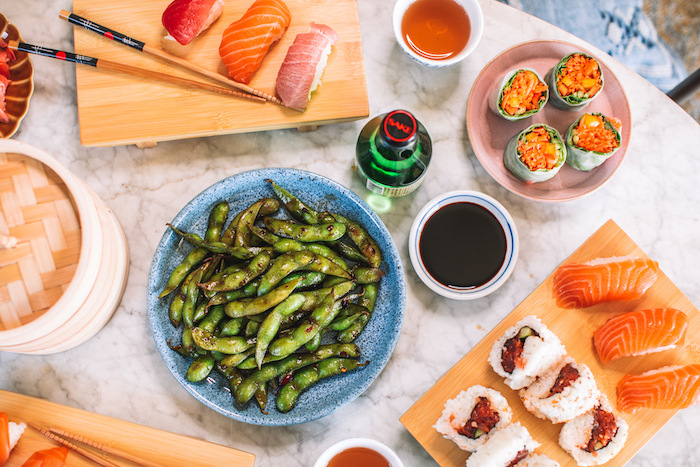 Host sushi night for your close family or friends and bring the charm of your favorite sushi restaurant right into your home! Learn how to make your own sushi, order in, serve hot sake, or sip green tea — there are so many possibilities for your very own sushi night at home.
Whether you're throwing a sushi tasting dinner or a sushi-making party, you can't go wrong with hosting your very own sushi night at home. Easy to throw together by ordering in or a fun learning experience with family and friends, this kid-friendly dinner party will become an annual event in no time!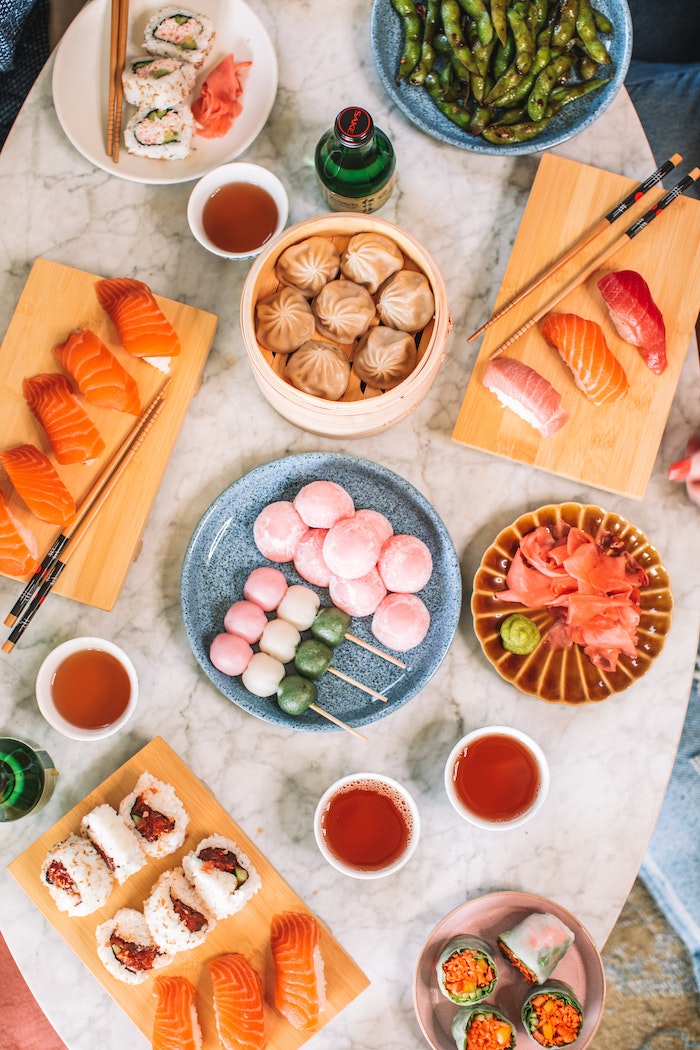 All you need to host sushi night is the atmosphere, food, and fun — and there are so many possibilities in the mix. Create a casual dining experience in your living room by arranging the beautiful sushi rolls on a coffee table. Then sit around with your guests and learn about Chinese culture, the history of sushi, or just catch up on life in general! Good food and good company are all you need for sushi night to be an absolute success.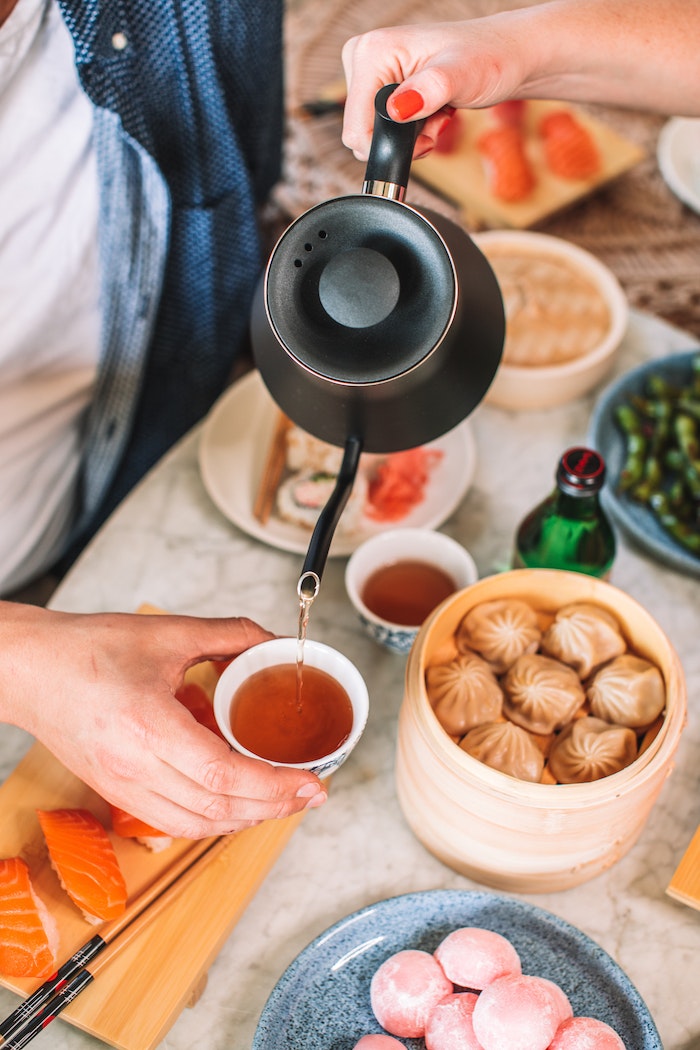 Why You'll Love Sushi Night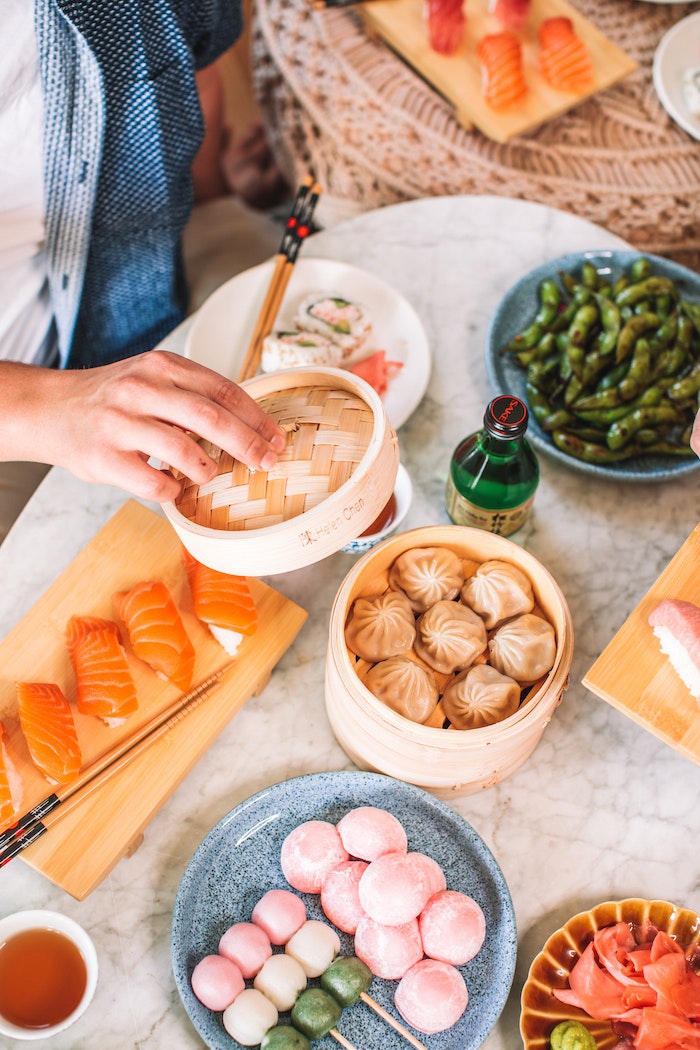 It brings the restaurant home. Why go out when you can stay in? I'm all about small, intimate and casual dinner parties these days. Gather with your closest family or friends and host a sushi night complete with sake, maki, and all your favorite sides!
Stagg EKG + Electric Kettle

By Fellow

Shop Now
It's super easy to put together. Sushi night can be as simple or elaborate as you'd like! Go all the way and learn how to make your own sushi, or order in different types of sushi rolls from your favorite local restaurant. Just set the mood and welcome the guests for a fun-filled dinner party.
Helen's Asian Bamboo Steamer with Lid

By Harold Import Company

Shop Now
It serves different dietary needs. Whether you're making your own sushi or ordering in, sushi can be made with all types of ingredients. If you're hosting guests with different dietary needs, you can easily accommodate by specifying which types of rolls are which.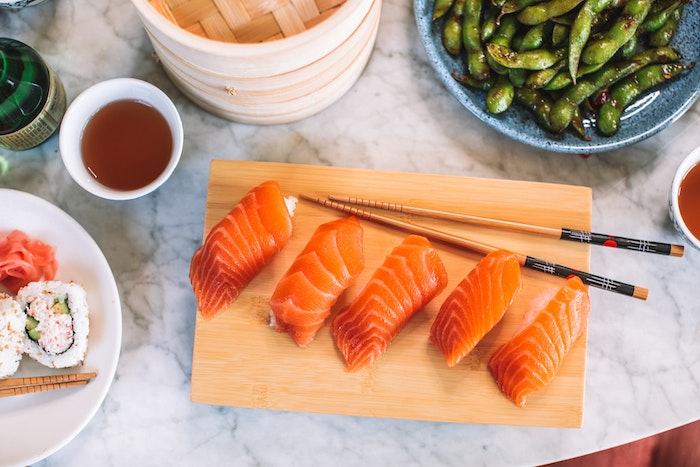 It's perfect for any season. Maybe it's just me, but I crave sushi all year long. It can be freezing outside or a sunny summer day, I'll still crave a delicious sushi roll with some comforting miso soup. Keep sushi night in mind whenever you're craving a fun dinner party with close family and friends!
Helen's Asian Kitchen Sushi Tray

By Harold Import Company

Shop Now
What You Need for Sushi Night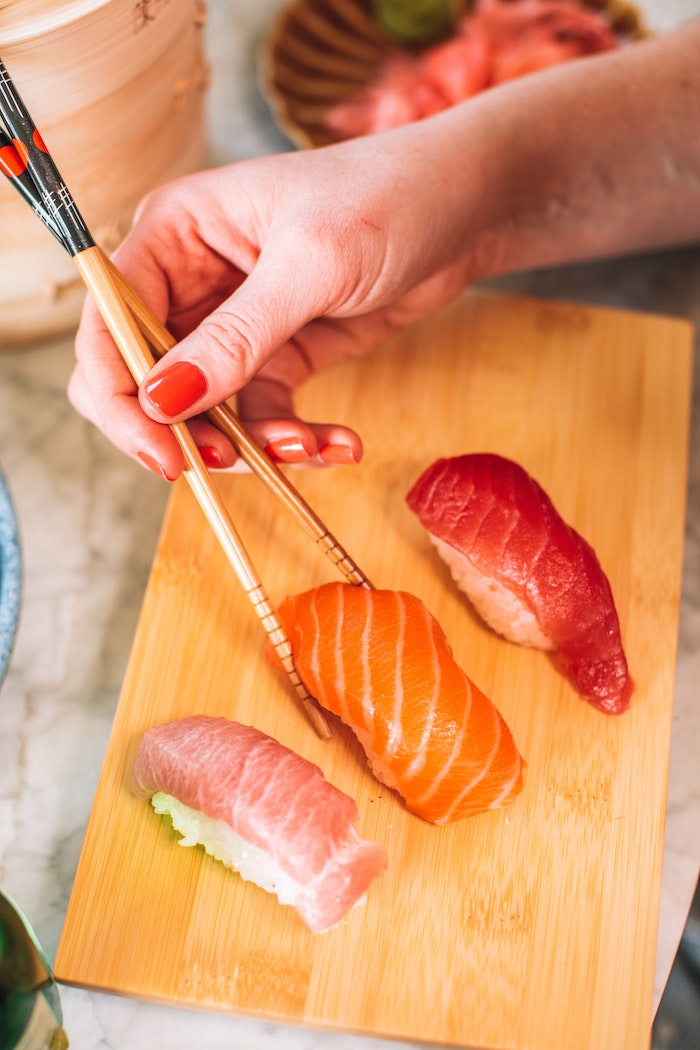 Food: Obviously, you can't have a dinner party — regardless of the theme — without tons of delicious food! For sushi night, you should focus on serving different types of sushi, like nigiri, sashimi, and maki. If you're making your own homemade sushi rolls, I'd recommend trying a type of maki roll, which is when the filling is wrapped in rice and seaweed. Regardless, it wouldn't be sushi night without an array of colorful options!
Helen's Asian Kitchen Sushi Chopsticks

By Harold Import Company

Shop Now
Drinks: Sushi pairs well with so many different drinks. Green tea or matcha would definitely add a flair of authenticity to your sushi dinner party, plus hot sake and beer for the adults.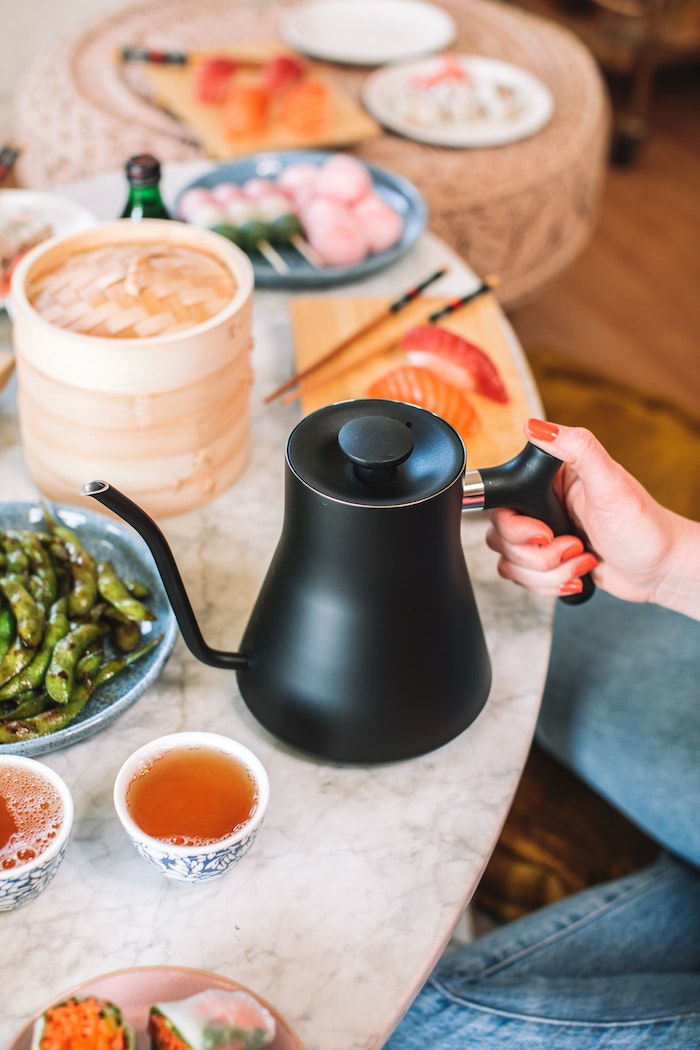 Tea Mugs Cast Iron

By Gourmet Kitchenworks

Shop Now
Fun: I'm always a fan of having an activity or two planned for my dinner parties. Whether that means conversation starters, fun facts about sushi history, or learning how to make sushi rice or sushi rolls from scratch, it's always a good idea to have a crowd-pleasing game in your back pocket.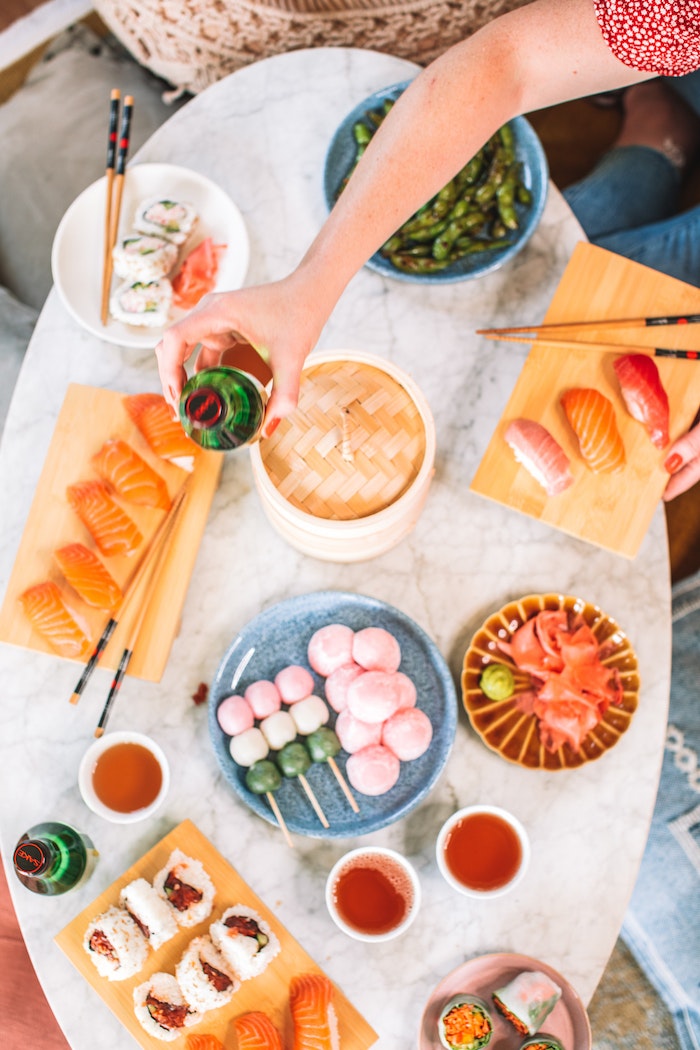 How to Make Sushi Night Happen
First things first, you need to decide what kind of sushi night you want to have! Are you hosting a sushi tasting dinner or planning a sushi-making party?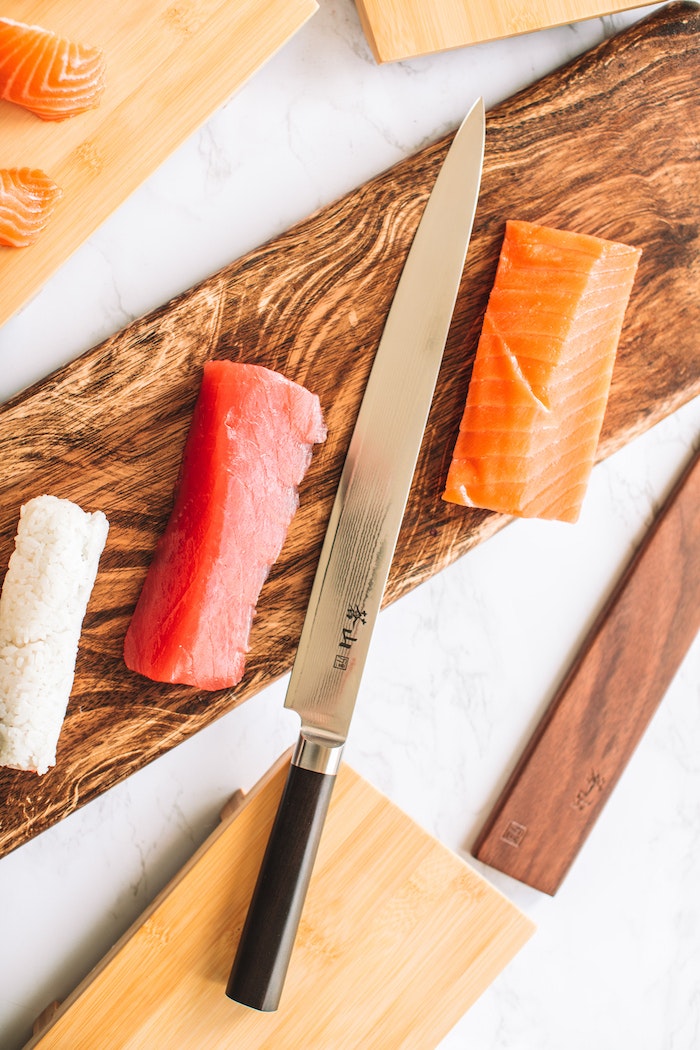 Sushi Making Tips:
Keep it simple! Aim for making maki with a few, simple ingredients.
Watch lots of videos. The Internet can teach you so many things. Having a good idea of the process before you try to make your own sushi rolls will be a huge lifesaver!
Invest in a good sushi roller. Yes, it really is worth it, especially if you or your guests are first-time sushi makers.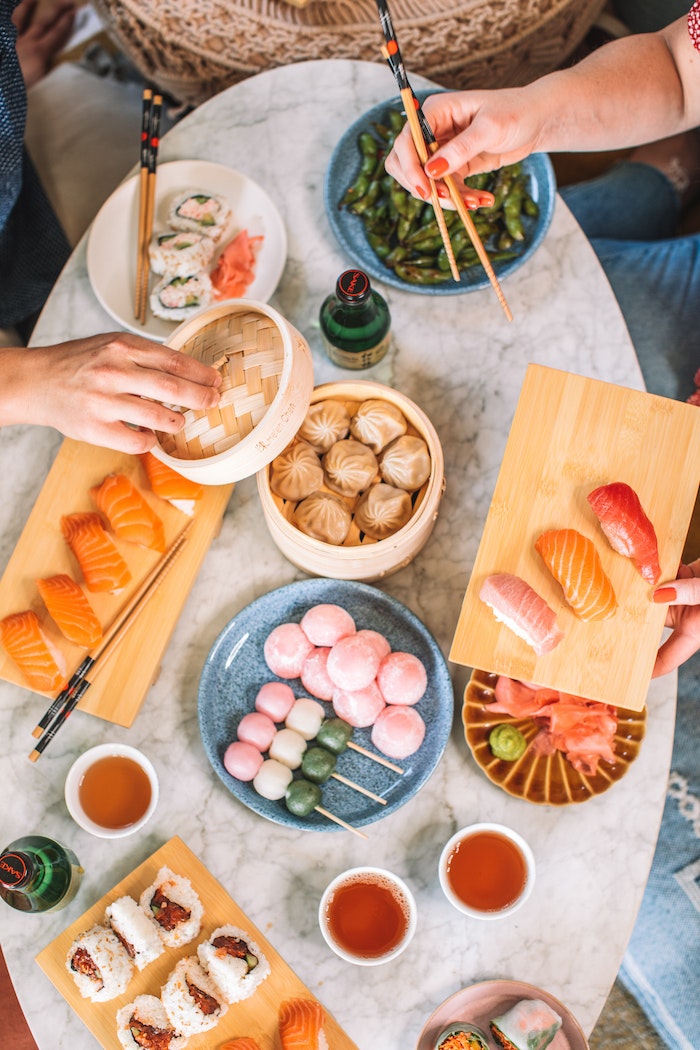 J Series Steel Sashimi Chef Knife

By Cangshan Cutlery

Shop Now
Sushi Tasting Tips:
Variety is key. Vary the types of sushi rolls you serve, from spice level to ingredients.
Label everything. Because there are so many levels of heat and different possible ingredients, it's always a good idea to label each roll so your guests know exactly what they're in for.
Don't overdo it. How many leftovers do you really want? Make sure you get a mixture of familiar and new so you don't end up with crazy amounts of leftover rolls.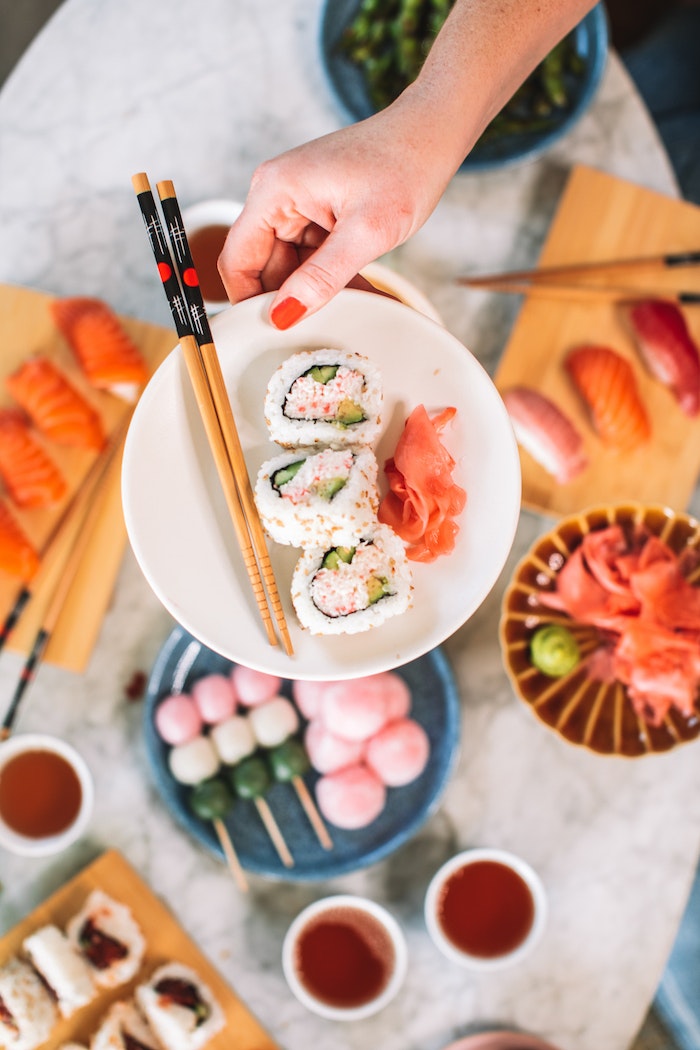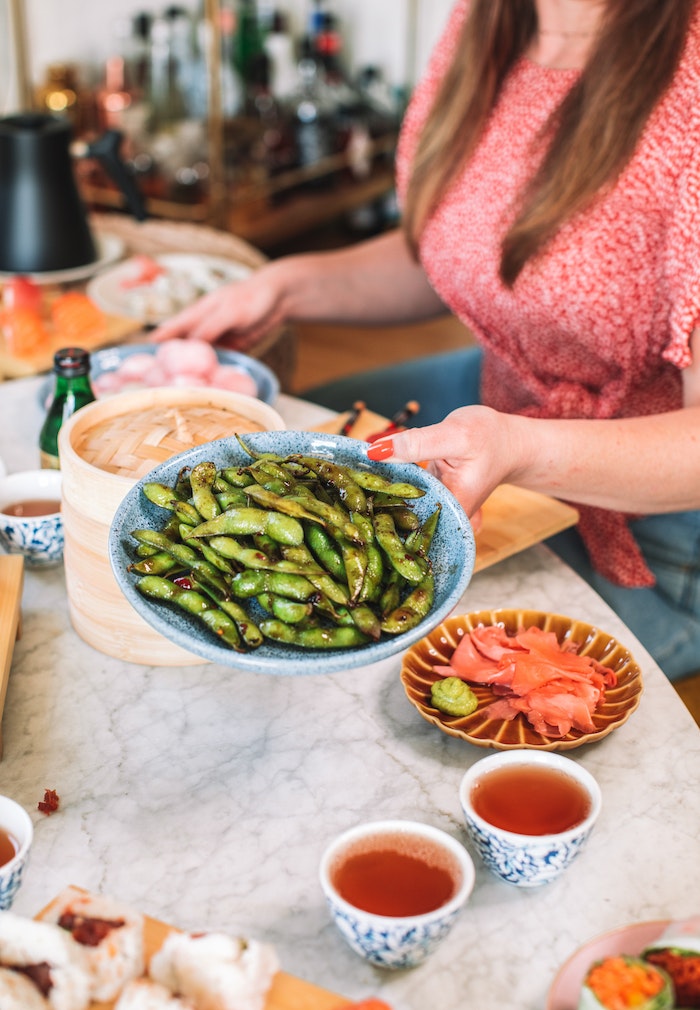 How to Throw the Best Sushi Night
Set the scene.
Think about your favorite sushi restaurant and try to recreate the overall vibe! Dim the lights, play soothing background music and make the environment comfortable. Consider presenting your sushi rolls on a coffee table and turning the space into a small, intimate gathering space.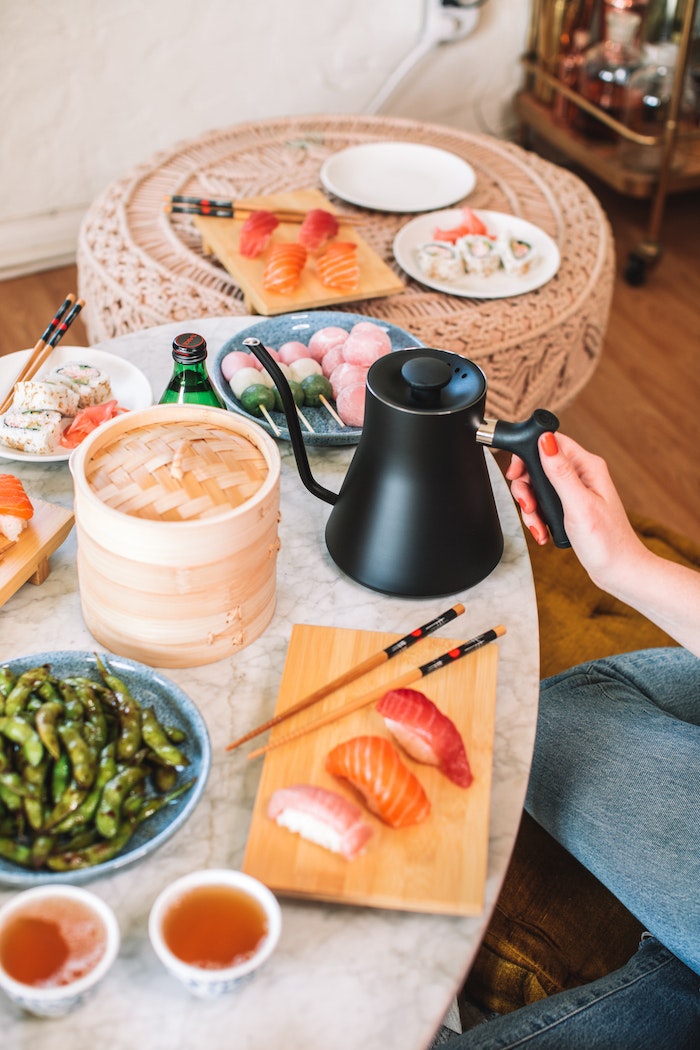 Focus on the food.
We've already covered diversifying the sushi rolls served, but there are so many other side options! Grab or prepare fun pre-made snacks and sides, like some of these favorites:
Don't forget the drinks.
I'm always a fan of hot sake! Serve alongside your favorite beer and have green tea on hand to cleanse the pallet.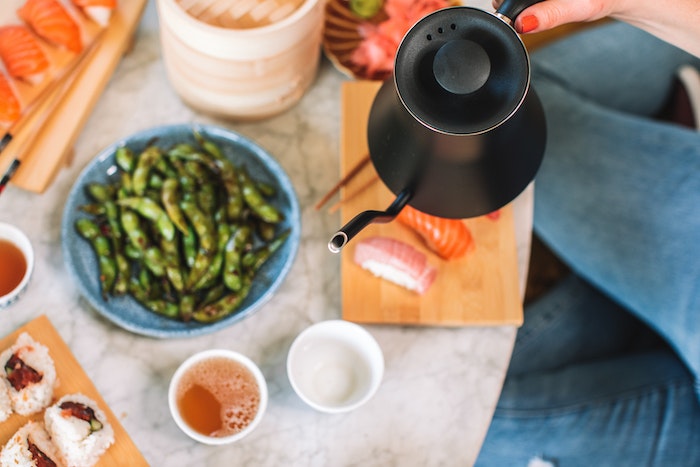 Final Tips for Sushi Night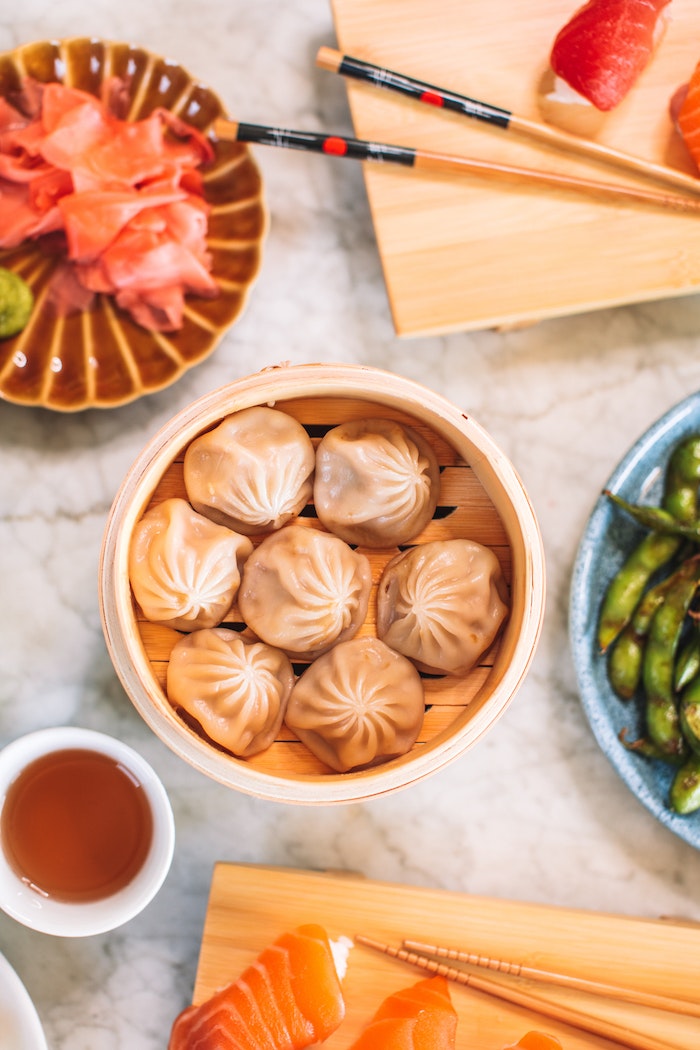 Make it kid-friendly.
Make sure the kiddos are included in the sushi fun! Order or prepare special kid-friendly maki rolls made of avocado, cucumber, or sweet potato. You can even make a few kid-friendly chopsticks with a little rolled paper and a rubber band — and hey, maybe a few adults will need some too.
Recycle your chopsticks.
Keep things green either by using reusable chopsticks or finding a creative way to recycle wooden ones! You can reuse wooden chopsticks as stirrers or even for homemade popsicles. Some cities even have recycling programs that specifically search for chopsticks! See if there's one near you.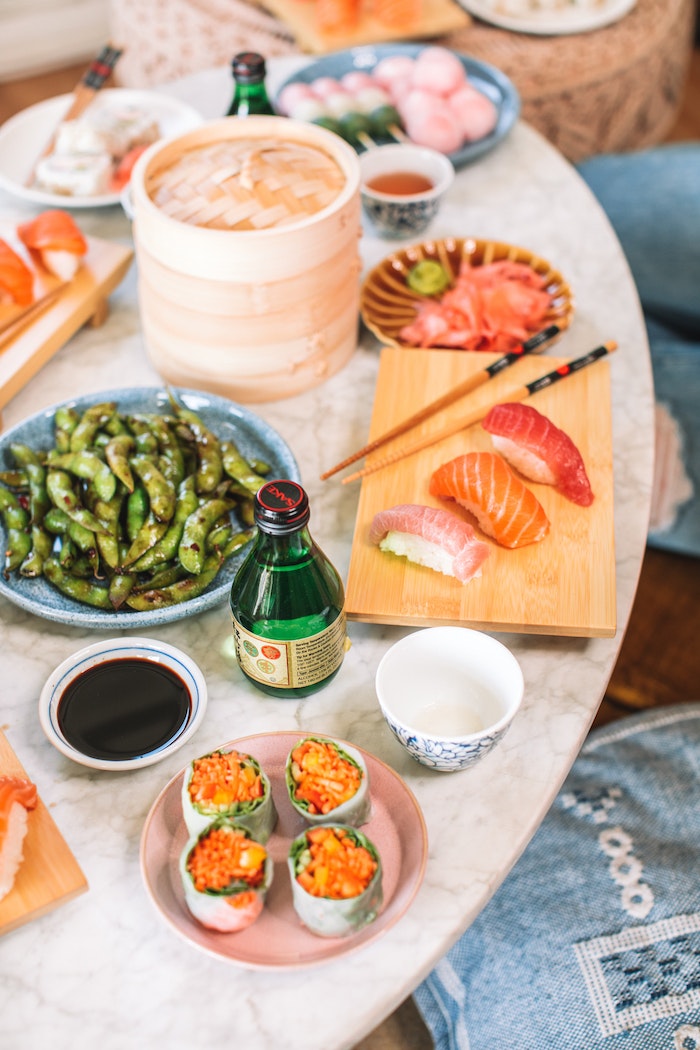 Prepare for leftovers.
I don't know about you, but every time I throw a dinner party, no matter how well I plan and portion, I always end up with tons of extra food. Save yourself some time (and cleanup) and plan ahead! Buy a few Chinese-style take-out boxes and let your guests create their own take-out meals to enjoy later.