Sham-ROCK Your St. Patty's Day with a Pot of Gold Rainbow Surprise Cake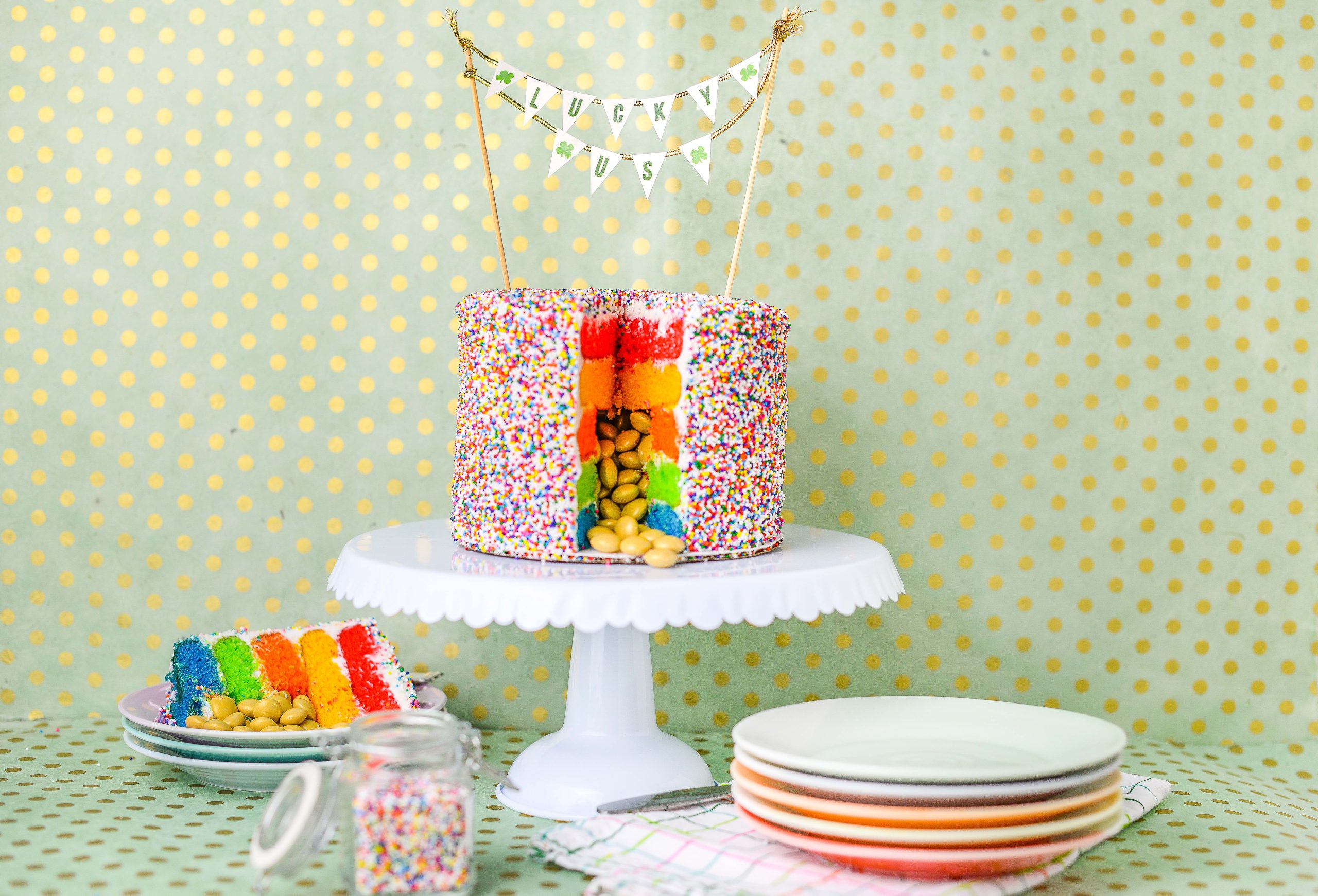 A leprechaun lives at our house! Just ask my 6-year-old. She'll tell you all about the silly tricks he pulls every St. Patrick's Day. Our kids love following a trail of shamrocks through the house, looking for signs of mischief. They usually discover that our leprechaun has dyed our milk green and left bits of glitter on the floor. Of course, their favorite tricks are always the candy related ones. This rainbow surprise cake is no exception.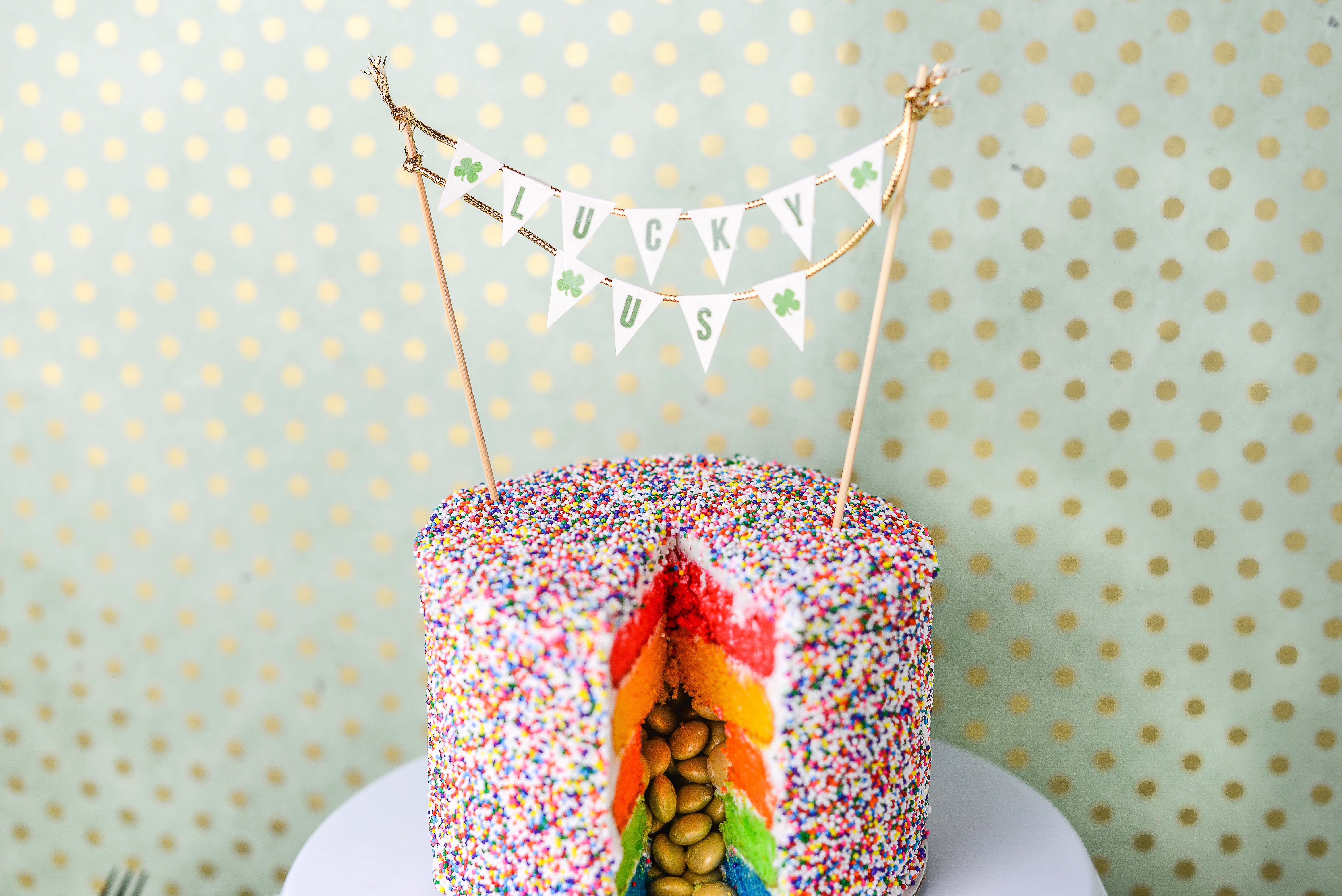 Hidden beneath a thick layer of sprinkles, tucked inside five brightly colored layers of fluffy vanilla cake lies a hidden surprise: a treasure trove of golden M&Ms candies.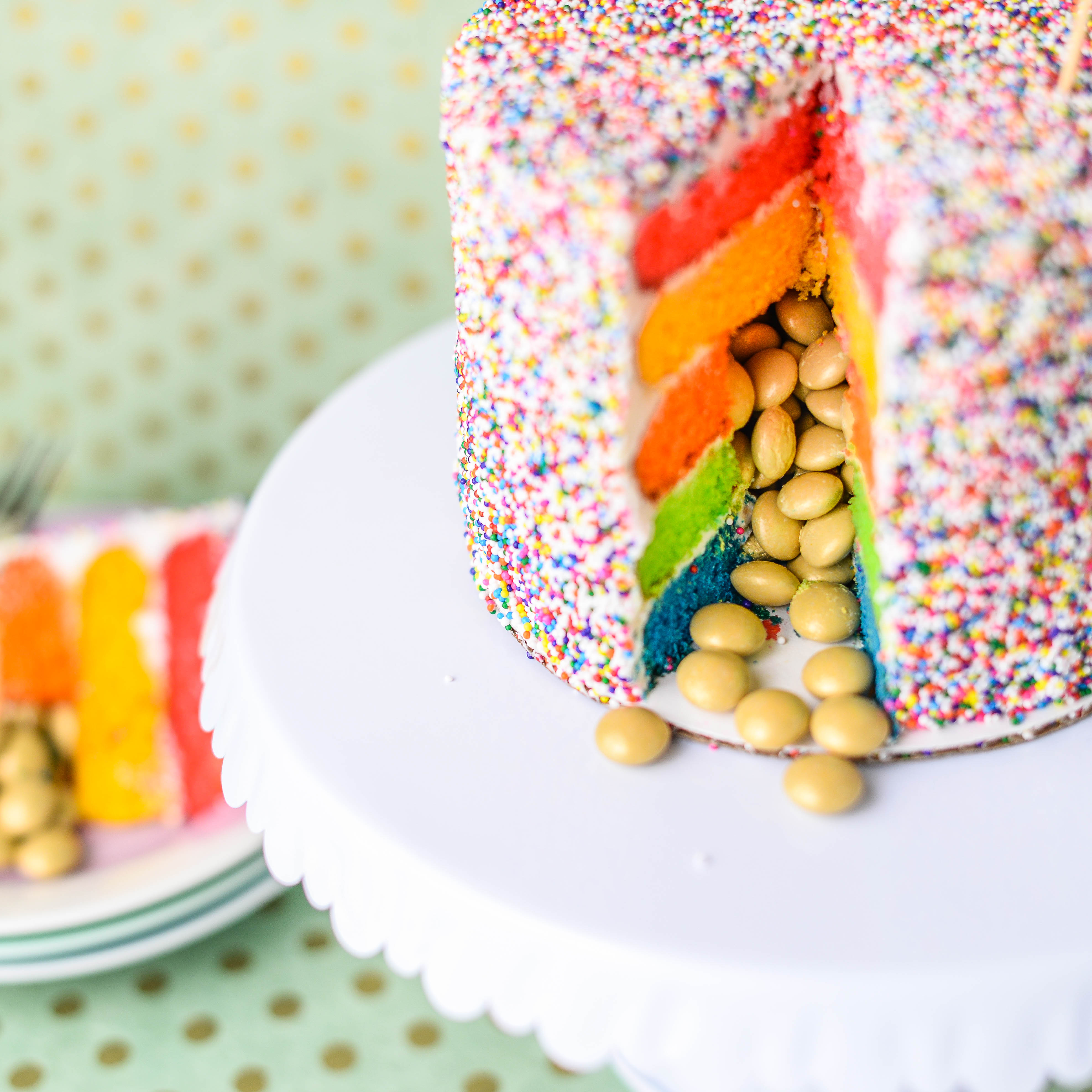 This is such a fun, happy cake. It's the perfect way to celebrate Saint Patrick's Day and the start of Spring. Even better, it's surprisingly easy to make!
After mixing up a standard vanilla cake, I divided the batter into five separate bowls. The key to getting those vibrant colors is to use gel colors designed for baking. The Wilton Color Right system makes it easy to achieve vivid, rainbow hues with just a few drops.
Surprisingly, despite its height, this 5-layer cake can be made using just one standard recipe cake mix.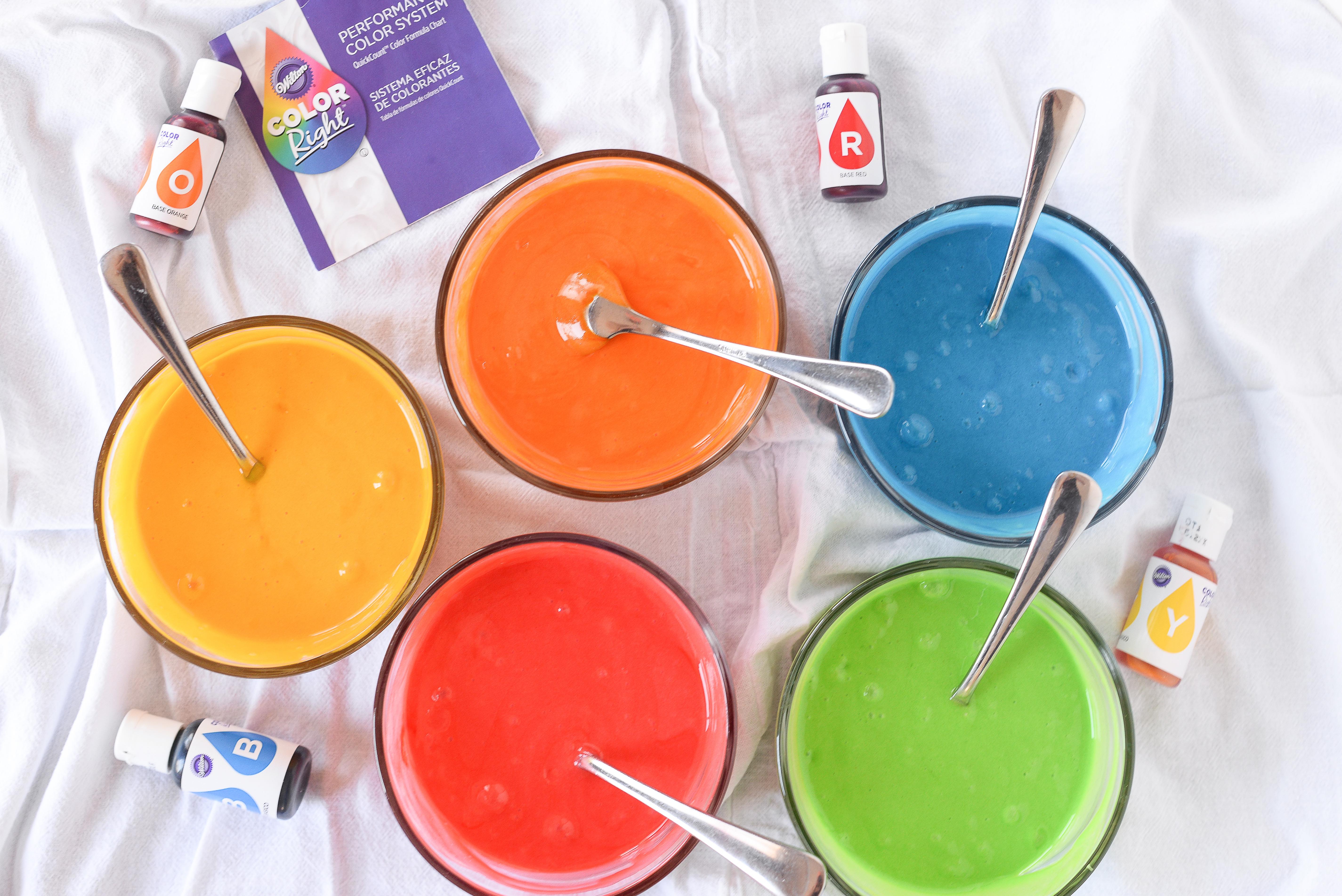 Wilton's Easy Layers Cake Pan set includes five perfectly-sized pans. They're sized to fit one cake recipe and can all fit in the oven at the same time, making simple work out of creating layered cakes.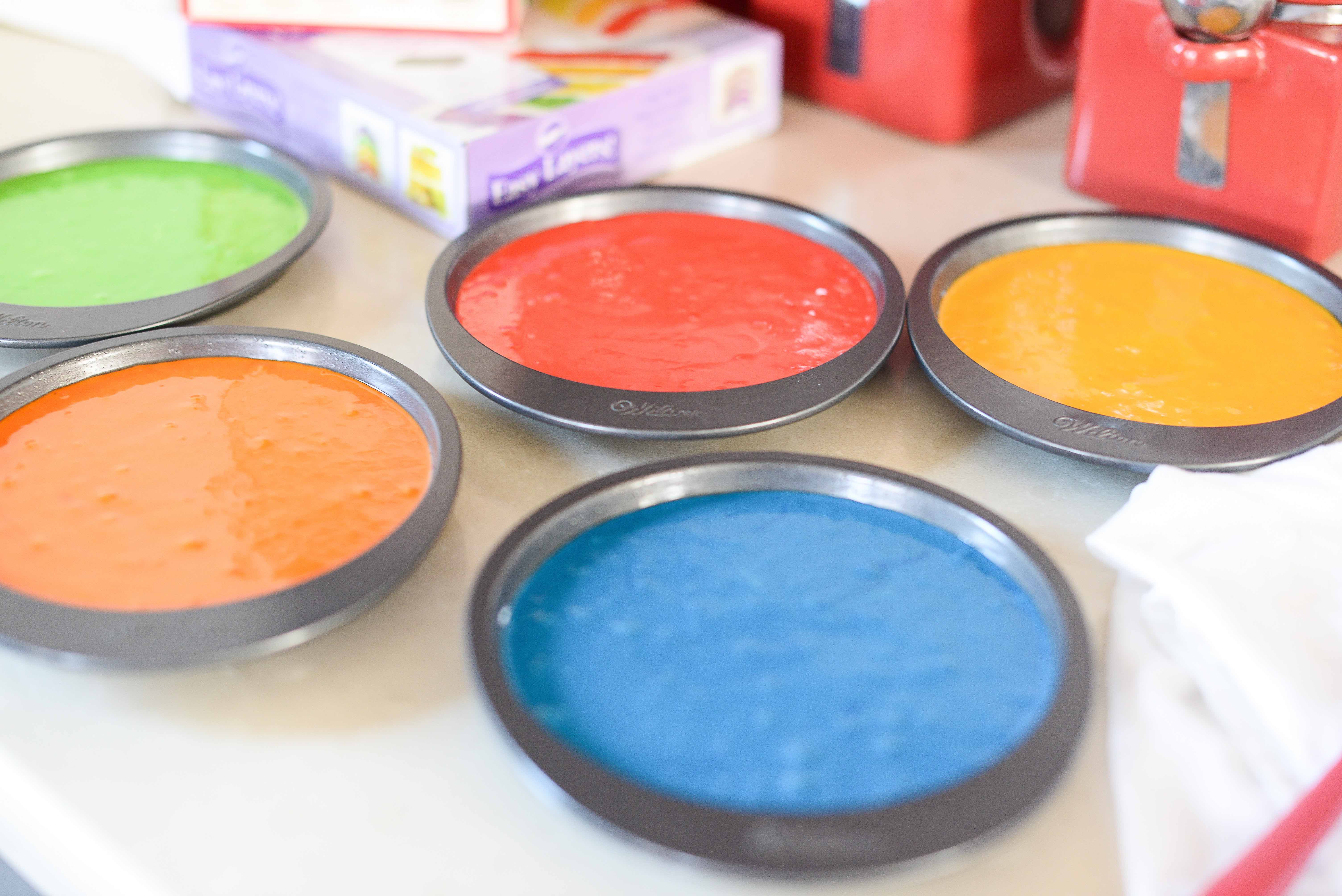 Once they cakes are baked and cooled, I used a biscuit cutter to cut the center out of the bottom three layers, then filled them with golden candies.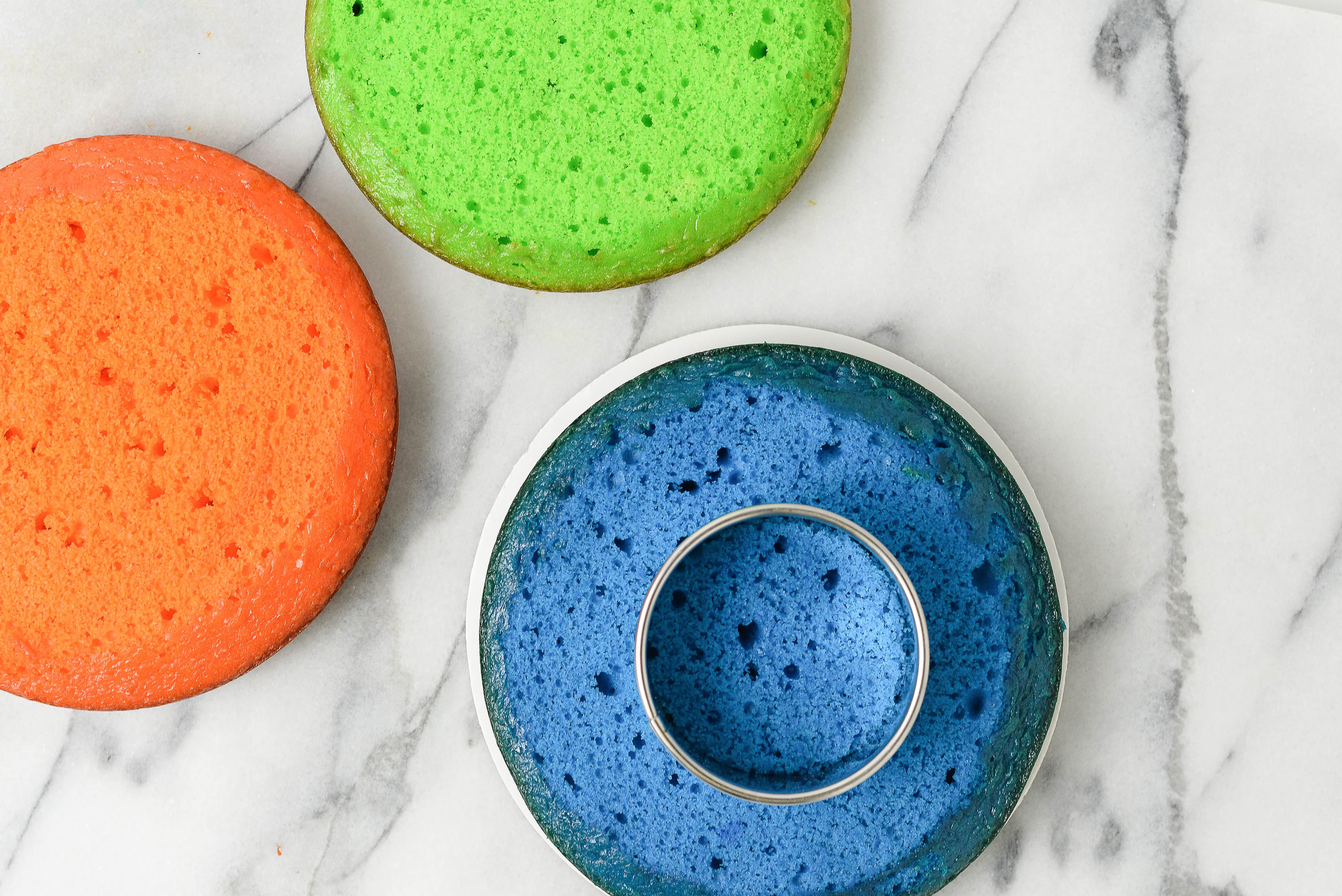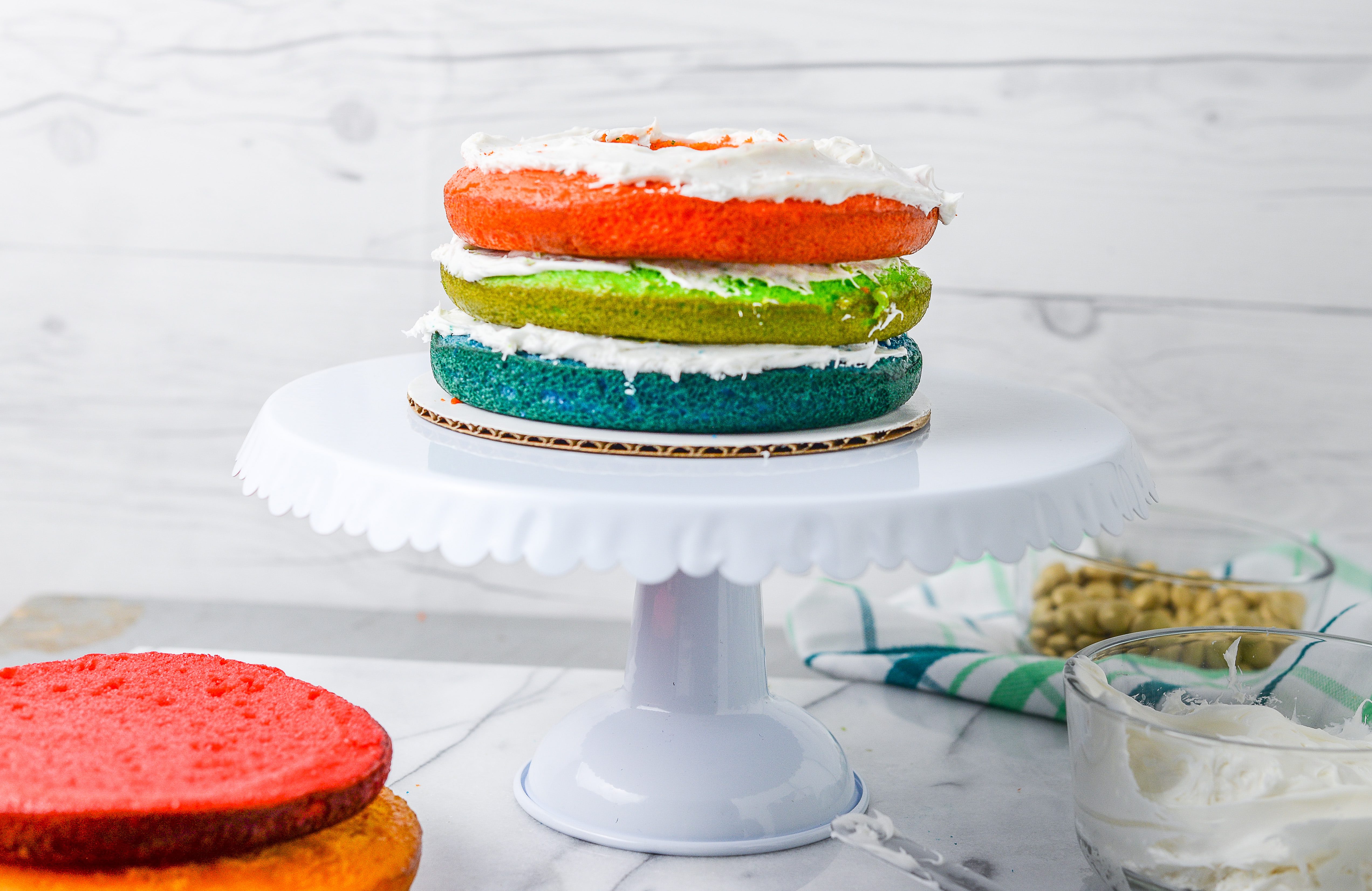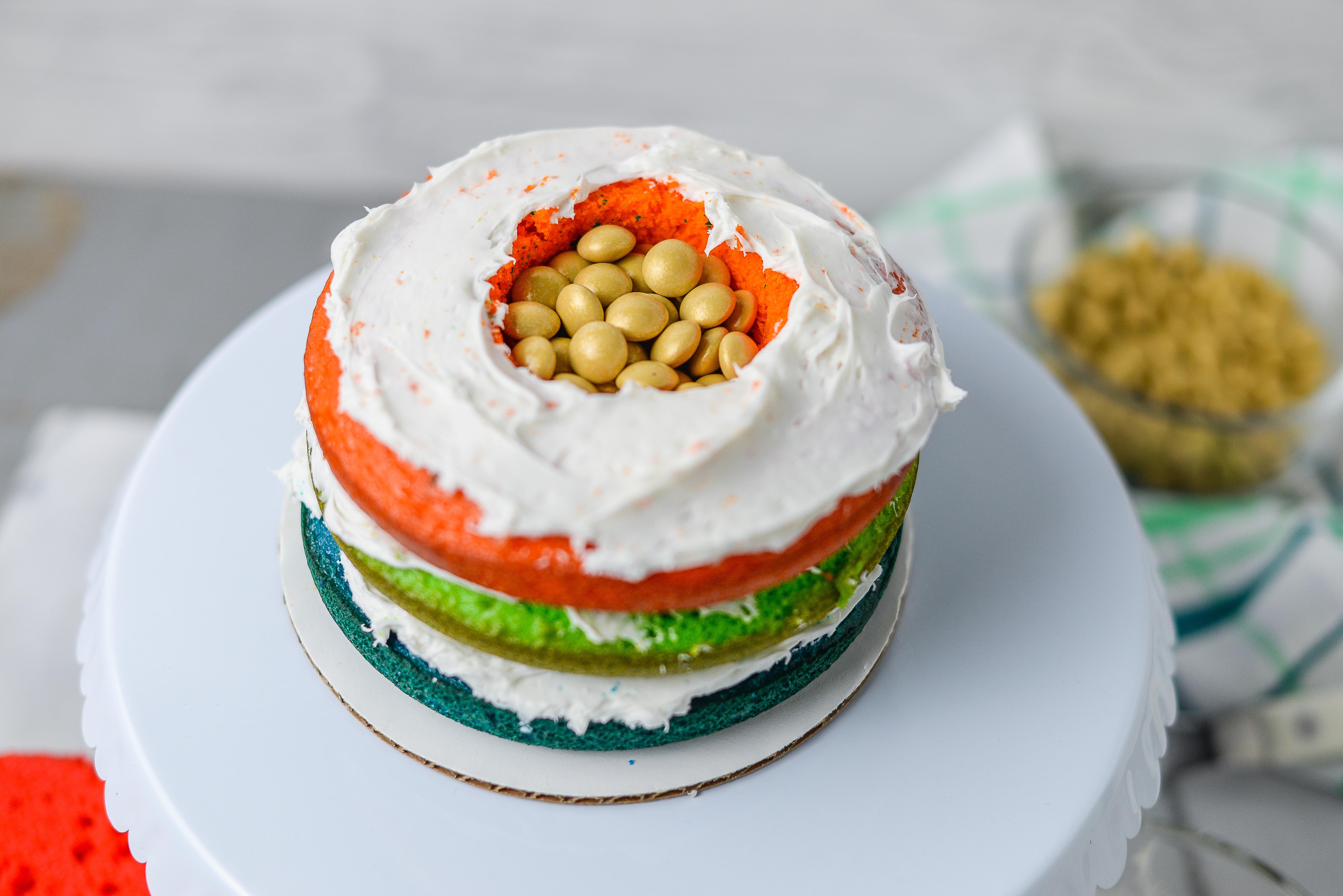 Creating the all-over sprinkle look is easy too. Just fill a rimmed baking sheet with sprinkles and use your hands to gently draw them up the sides of your frosted cake. It's a great way to hide any imperfections in your frosting layer (not that I'd know anything about that.…). From there just stick it on a cake stand, slice this sucker open and serve.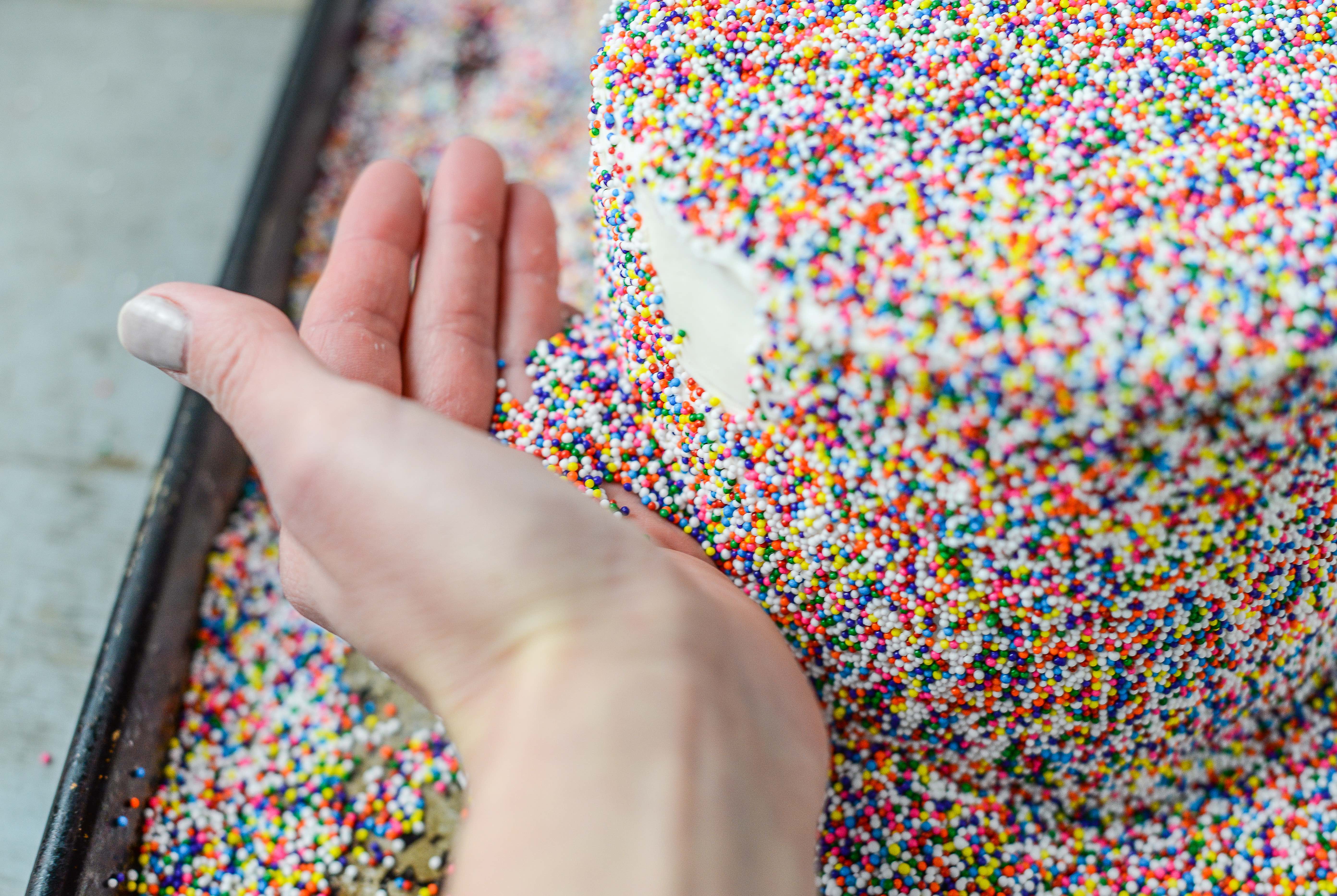 The results, are simply magical. Just ask the leprechauns.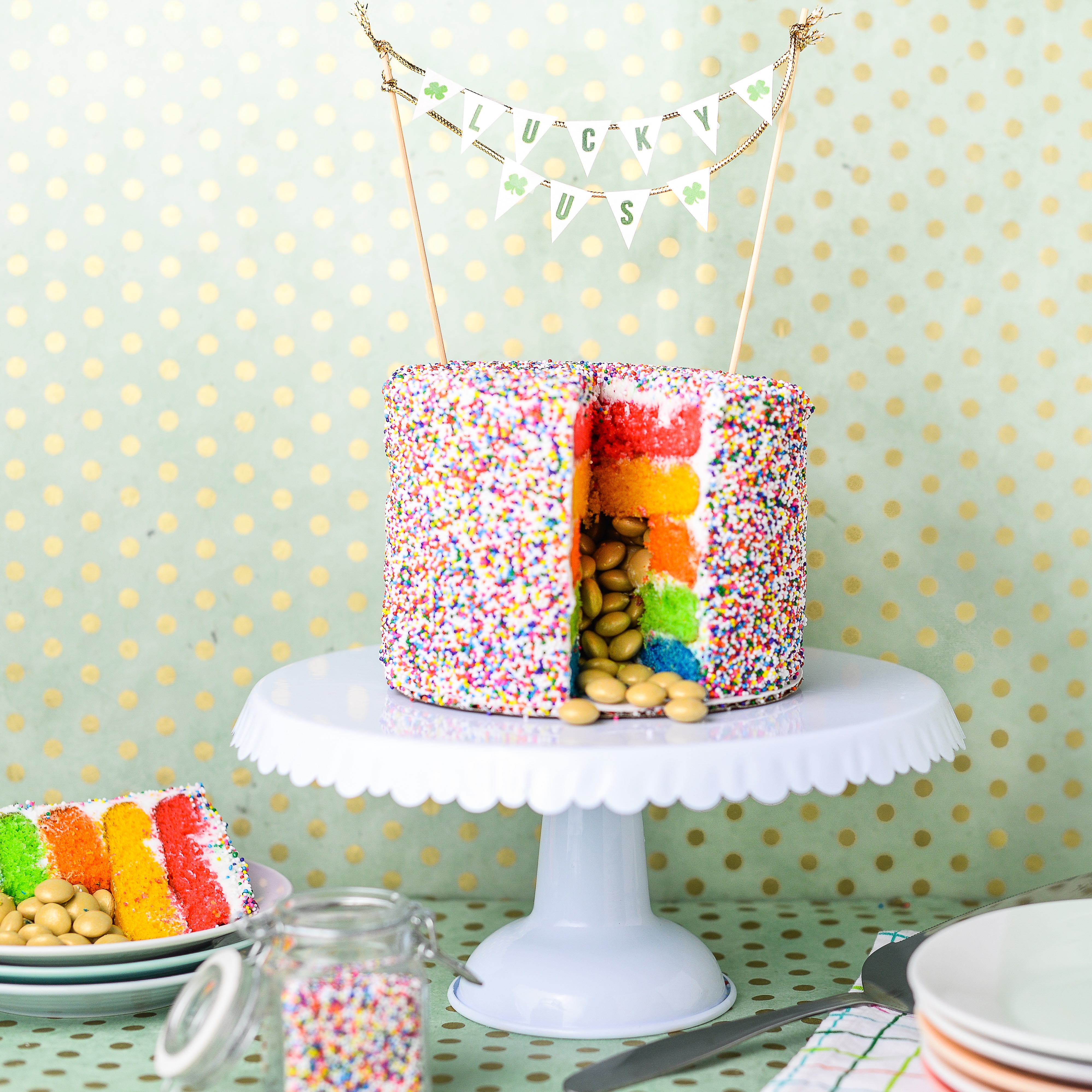 Pot of Gold Rainbow Surprise Cake
This is such a fun, happy cake. Even better, it's surprisingly easy to make!
Ingredients
1

store-bought white cake mix plus ingredients listed on back of box Wilton Color Right Food Gels is Red, Orange, Yellow and BlueDouble batch of Super Simple Vanilla Frosting

Double batch of Super Simple Vanilla Frosting

2

cups

Golden M&Ms Candies

20

oz

Rainbow Nonpariels or other multicolored sprinkles
Instructions
Preheat oven to 325 degrees F. Spray baking pans with cooking spray and set aside.

Prepare cake mix according to package instructions.

Divide cake mix evenly between 5 small bowls or large ramekins. Dye each bowl of batter as follows: Red: 12 drops red food gel, Orange: 5 drops orange food gel, 5 drops yellow food gel, 1 drop red food gel, Yellow: 5 drops yellow, 1 drop orange, Green: 5 drops yellow, 1 drop blue, Blue: 10 drops blue

Pour each bowl of cake batter into a separate cake pan. Place cakes in oven on center rack. Bake 15 minutes, rotating pans halfway through cooking time.

Remove pans from oven and allow cakes to cool completely.

Using a 3-inch biscuit cutter, cut a circle from the center of the yellow, green and blue cakes.

Use frosting to stack the the blue, green and yellow cakes together on a cake circle. Fill the hole in the center of the cakes with M&Ms. Add remaining two layers of cake and frost cake completely.

Allow cake to chill in the refrigerator for at least 30 minutes.

Place sprinkles in a large, rimmed baking sheet. Place chilled, frosted cake in the center of the pan. Using your hands or a spoon, spread sprinkles evenly over the top and sides of the cake until completely coated in sprinkles.
Nutrition
Serving:
1
g
Calories:
1058
kcal
Carbohydrates:
168.5
g
Protein:
3.5
g
Fat:
40.7
g
Saturated Fat:
10.5
g
Cholesterol:
8
mg
Sodium:
479
mg
Fiber:
2
g
Sugar:
154.9
g