Spring Tabletop Inspiration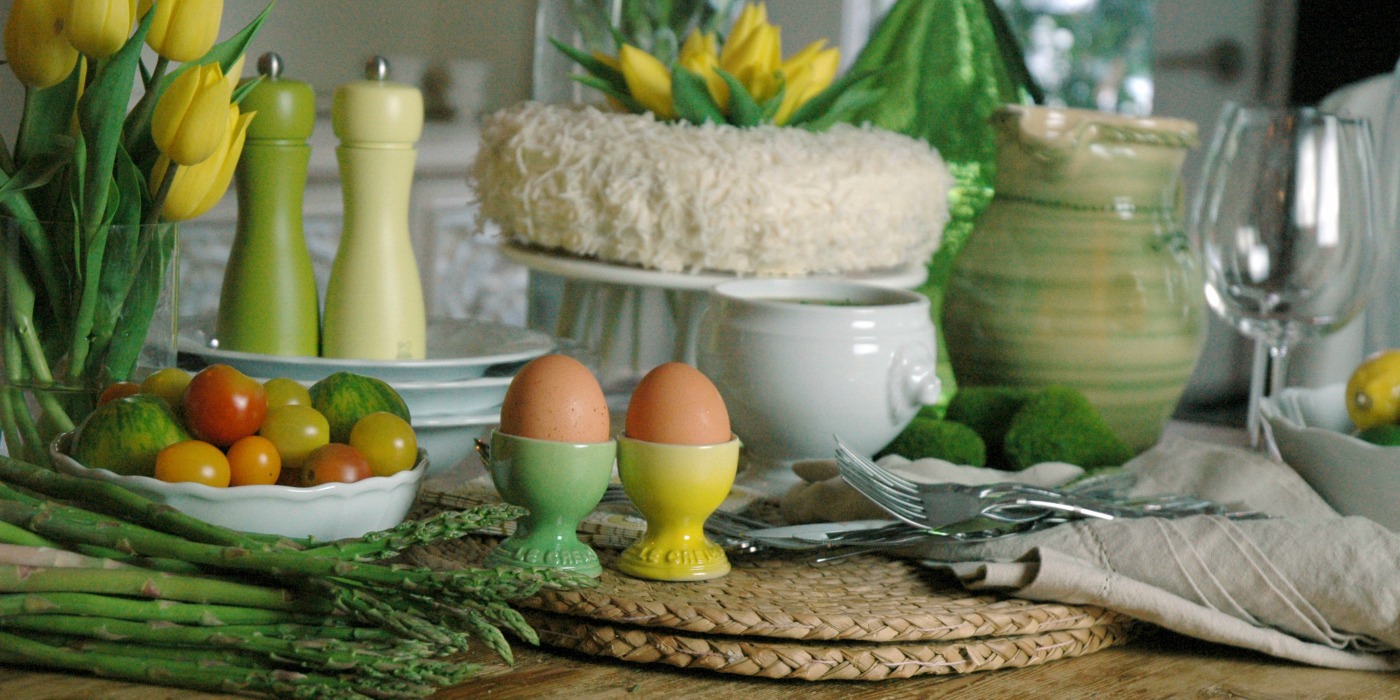 Spring has sprung all across the country and there is no better way to celebrate the season than by setting the table and hosting a weekend brunch for friends and family. On the menu: Chilled Spring Pea Soup garnished with Crème Fresh and Pea Shoots, Soft Boiled Eggs in the Shell, Blanched Asparagus with Citrus Vinaigrette, Early Cherry Tomatoes with Sea Salt Flakes and for dessert, a gorgeous Coconut Cake – a feast for the eyes as well!
Once my RVSPs are sent out, I immediately move on to the fun stuff — selecting the items I will use to set my table. For this particular gathering I wanted a fresh feel, using spring greens and sunshine yellows as my accent colors in various tableware items and napkins, as well as the food to be served. White porcelain bowls filled with citrus, fruits and vegetables do double work by adding texture and color, all while displaying items from the menu. Stack your serving plates and bowls to add height to your presentation — mix in additional textures by using woven sea grass placemats, neutral colored linen napkins and fun faux moss covered rocks.
The feel of this tablescape is fresh and pretty but not formal or stuffy, setting out flatware with a whimsical touch such as polka dots, or a floral pattern, extends this feeling. Continue the clean lines when it comes to your floral arrangements — select one or two colors and bundle them in clear glass vases so they will not detract from the overall look of the table. Yellow tulips are the perfect reminder that spring is here both at the table and in the garden, use them in multiple areas on the table — even as an accent on your pretty Coconut Cake dessert.
Remember, while I LOVE setting a beautiful table, the beauty is really in the connections you make with others around it. Entertaining is ultimately about bringing people together — it's a lost art, let's bring it back.
Spring Pea Soup with Crème Fresh and Pea Shoots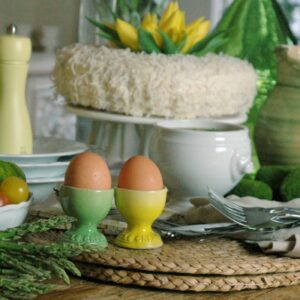 INGREDIENTS
2 tablespoons unsalted butter
3 cups coarsely chopped onion
Coarse salt and freshly ground pepper
4 cups vegetable broth
2 cups water
6 cups fresh peas
3 cups packed flat-leaf parsley leaves
1 cup packed mint leaves
2 tablespoons fresh lemon juice
1/4 cup crème fraiche, for garnish
Pea shoots, for garnish
INSTRUCTIONS
Melt butter in a large pot uncovered over medium heat. Add onion and 2 teaspoons salt; cook, stirring occasionally, until onion is translucent, about 5 minutes.
Add broth and water; bring to a boil over high heat. Stir in peas and return to a boil. Remove from heat and stir in roughly chopped parsley and mint. Puree soup in a blender or using an immersion blender, until very smooth. Transfer to a clean bowl and stir in lemon juice. Season to taste with salt and pepper.

Chill soup in refrigerator for 1-2 hours or overnight. Serve in soup bowls and garnish with crème fraiche, and pea shoots.