Spinach Noodle Pasta with Fresh Asparagus, Peas, Pesto and Parmesan Cheese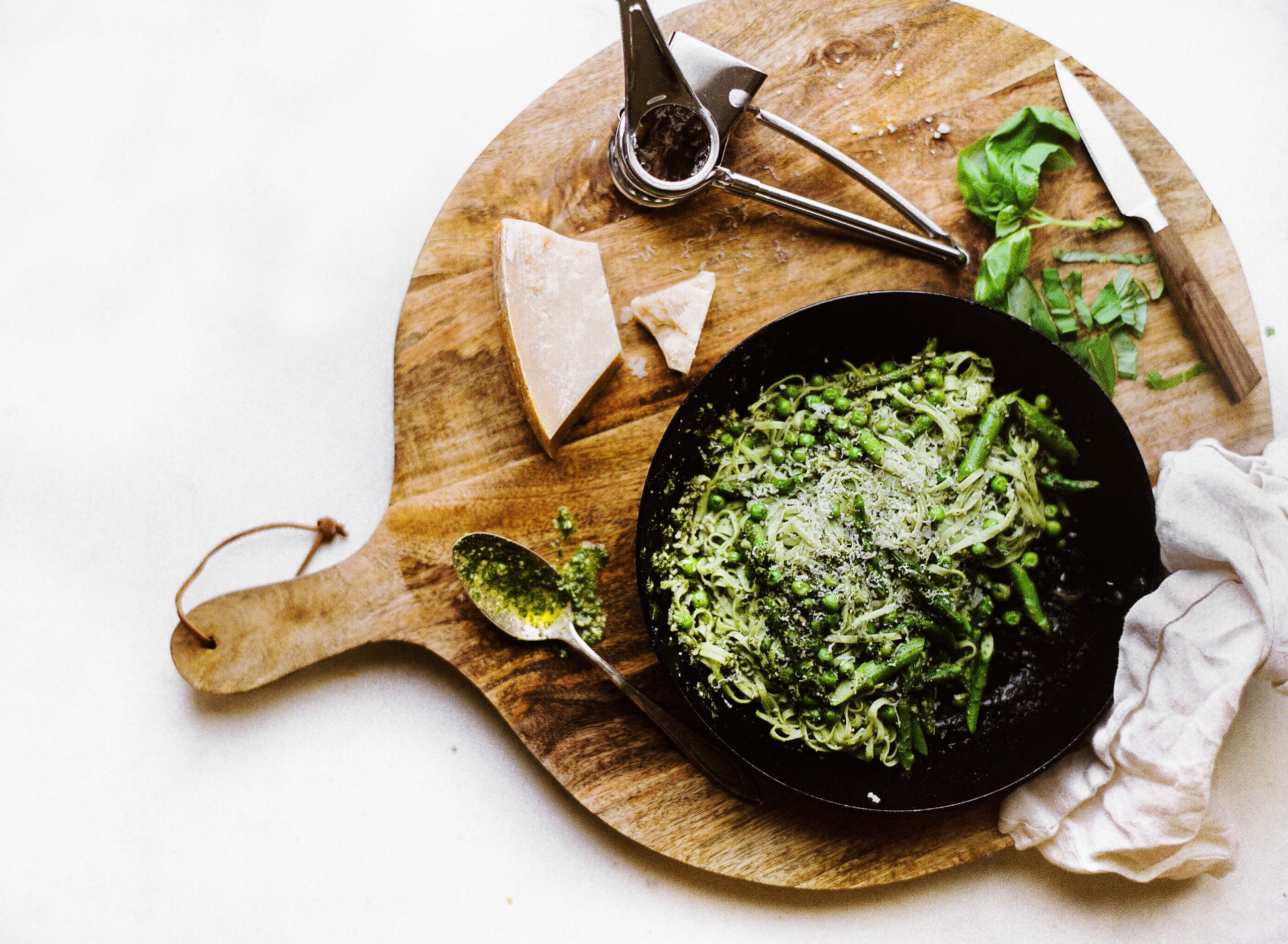 We're mastering pasta making with Chef Billy Parisi. This Spinach Noodle Pasta is the perfect fresh spring pasta.
Homemade pesto is all about consistency: Too thin, you lose flavor; too thick, you get clumpy, overpowering bites of basil and garlic. Drizzle in the olive oil slowly as you're pulsing the food processor, and you'll avoid this problem. Periodically stop the drizzle-pulse process to check on the pesto's consistency. The final product should be thin and paste-likem with the olive oil visible throughout.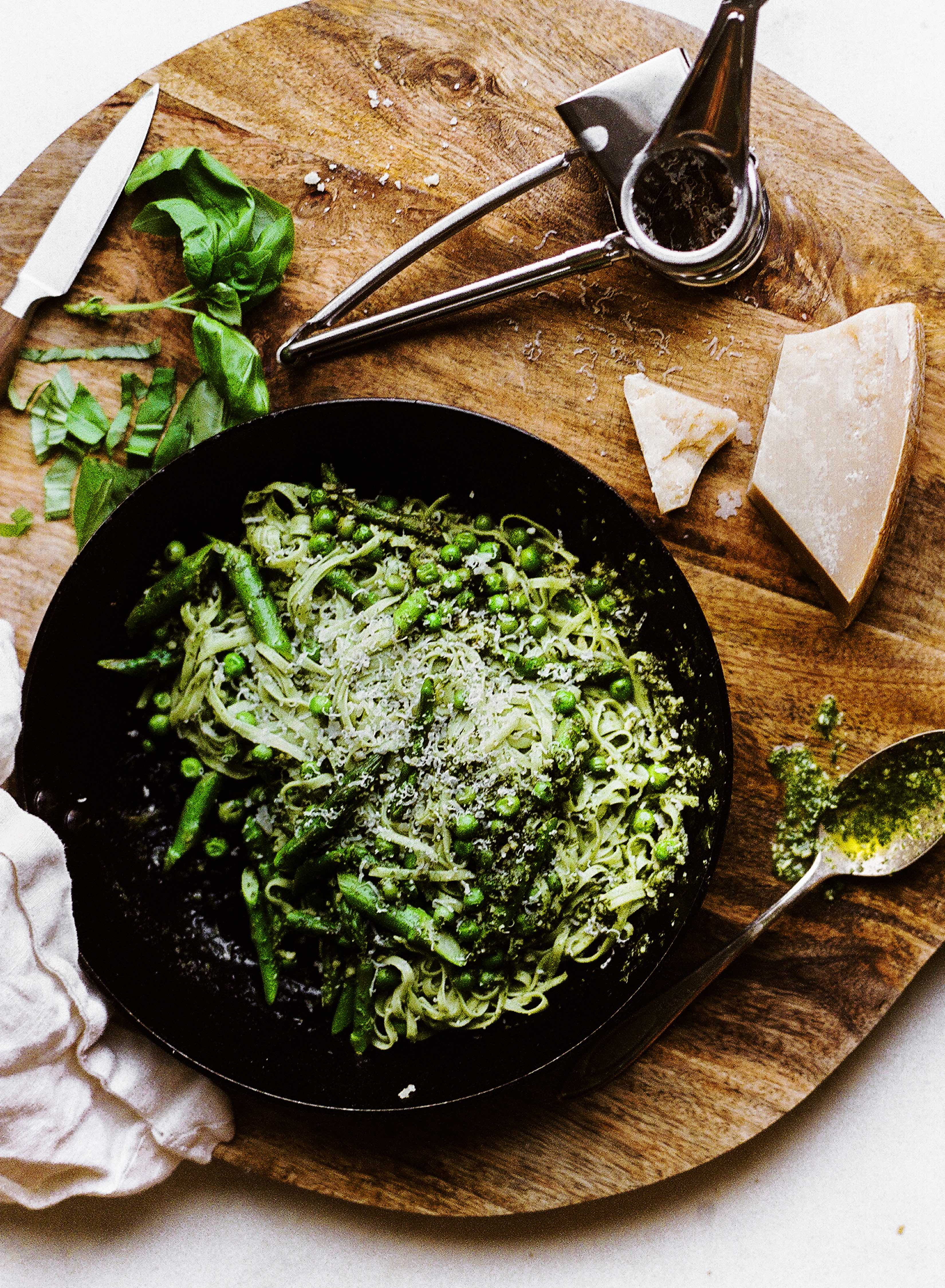 Spinach Noodle Pasta with Fresh Asparagus, Peas, Pesto and Parmesan Cheese Recipe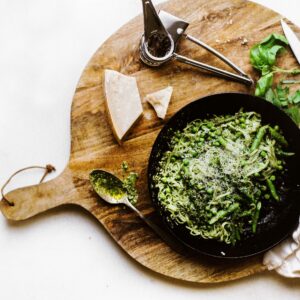 INGREDIENTS
For the Pesto:
2 bunches of fresh basil leaves
¼ cup of toasted pine nuts
juice of 1 small lemon
1/3 cup of finely grated parmesan cheese + ½ cup of garnish
2 to 3 tablespoons of extra virgin olive oil
For the Pasta:

1 cup of packed baby spinach, stems removed
2 tablespoon of olive oil
1 ¾ cup flour, sifted
½ teaspoon of Kosher salt
3 eggs
water as needed
For the Toppings:

1 bunch of asparagus, trimmed and cut into 2" long pieces
½ cup of fresh spring peas
Kosher salt and fresh cracked pepper to taste
INSTRUCTIONS
Add the basil, pine nuts, lemon juice and 1/3 cup of parmesan cheese to a food processor and pulse on high until it becomes roughly chopped.
Next, drizzle in the olive oil while processing on low speed until it becomes a runny paste. Season with salt and pepper and set aside.
Cook the spinach in a medium size pot of boiling salted water until wilted, about 1 minute. Drain immediately and reserve a few tablespoons of the water.
Add the spinach, water and eggs to a food processor and process on high speed until it becomes smooth. Set aside.
Add the flour and salt to a clean cutting board and using your hands make a well by pushing the flour with the backside of your hand from the inside out.
Next, add the spinach-egg mixture and tomato paste to the center of the well and whisk them with a fork until combined.
Gradually add the flour to the center of the well with the fork while continuing to whisk until it is combined. Optional: Use a bench knife to scrape the cutting board to make sure and get all of the flour and eggs.
With your hands, knead the dough for 5 to 7 minutes. Wrap in plastic and refrigerate for 1 hour.
Next, divide the dough into 3 chunks and dust each with flour on both sides. Gently roll the dough to slightly flatten them so they will be able to fit into the Marcato pasta roller.
Set the roller to 0 and using the crank feed the dough through it. Dust with flour and fold the outer 1/3's of the dough in and run through the roller again. Dust again but do not fold.
Change the roller setting to 6 and again feed the flattened dough through. Note: it will become a long flat pasta dough so be sure to have enough room to set it on a clean dusted surface.
Cut the dough into 3 parts using a knife.
Add the linguine attachment and feed each cut rolled out dough 1 at a time until all 3 have been made into linguine pasta.
Hang the pasta on a drying rack for 30 to 45 minutes or until it has slightly dried out.
While the pasta is drying cook the asparagus and peas in a large pot of boiling salted water just until al dente, about 3 to 4 minutes, drain immediately and set aside. Note: Time it with the cooking of the pasta.
Cook the pasta in a large pot of boiling salted water for 3 to 4 minutes or until al dente, or slightly crunchy.
Combine the pasta, pesto, cooked asparagus and peas and toss. Garnish with the remaining ½ cup of parmesan cheese.
Check out some of Chef's other pastas:
Red Beet Ravioli Stuffed with Goat Cheese, Shallot Reduction and Brown Butter
Egg Noodle Pasta with Roasted Vine Tomatoes, Burrata, Extra Virgin Olive Oil and Fresh Oregano
Squid Ink Pasta with Smoked Salmon, Fresh Dill and Cherry Tomatoes
Tomato Noodle Pasta with Fresh Arugula, Ricotta Cheese, Lemon and Extra Virgin Olive Oil