Spicy Garlic Roasted Bok Choy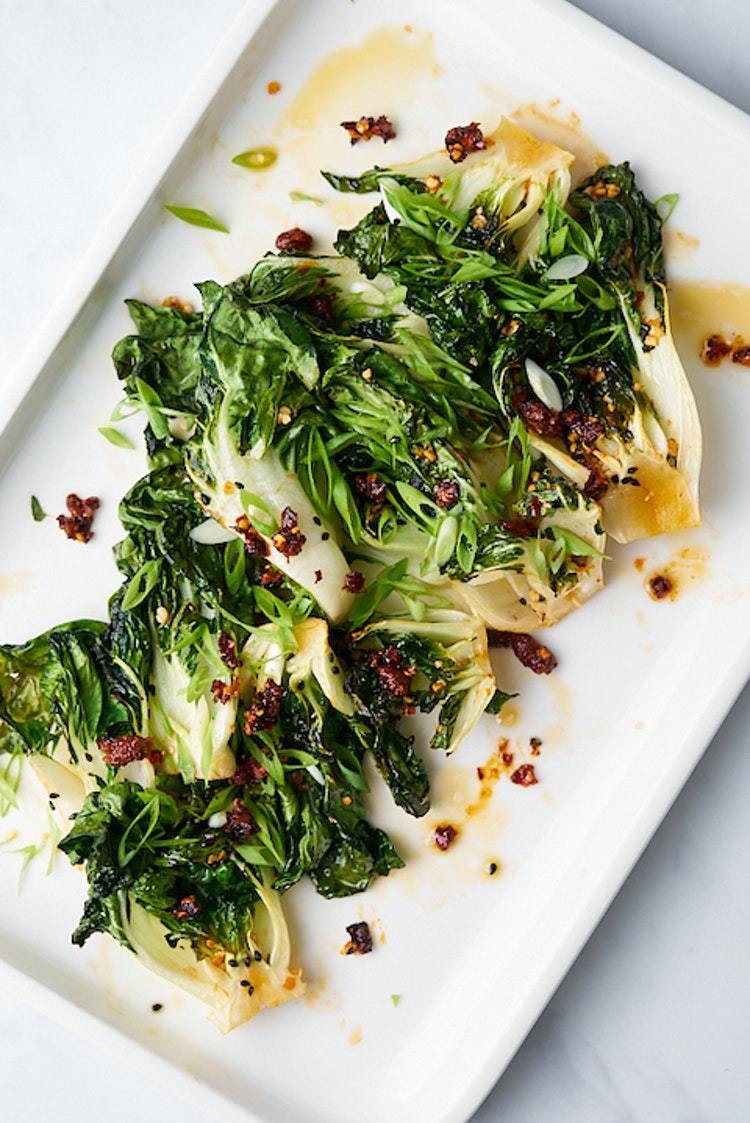 If you've made dinner or meal prepped over the past year, you've no doubt roasted veggies on a sheet pan. It's easy, healthy, and generally more enjoyable than steaming produce (truly, I can't remember the last time we steamed broccoli in our house but if we roast it we finish two heads in a day).
But as good as sheet pan veggies are, it's easy to fall into a rut. Broccoli, sweet potato, cauliflower, repeat.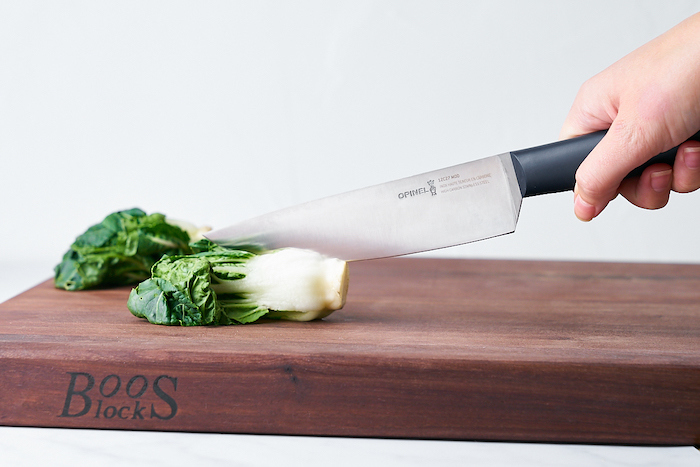 Intempora Full Tang 6″ Chef Knife

By Opinel

Shop Now
To keep vegetables exciting, sometimes you have to step outside your comfort zone. Bok choy, aka Chinese cabbage, is a member of the same family as broccoli and the standard cabbages you know from coleslaw.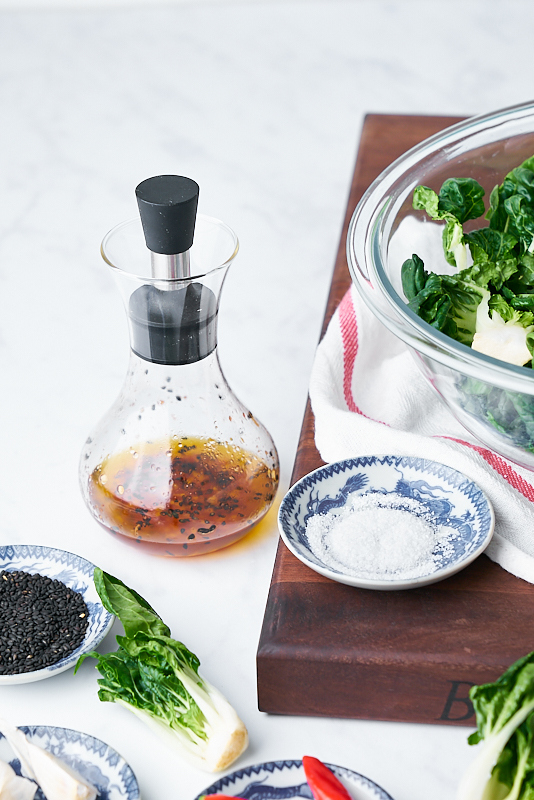 With leafy tops and a stalk base reminiscent of Napa cabbage, these beautiful vegetables are great at filling a platter and catching and holding seasoning between their layers. High in vitamin A (which promotes eye health), vitamin C (good for healthy skin) and minerals, bok choy is a nutritious addition to your sheet pan vegetable repertoire.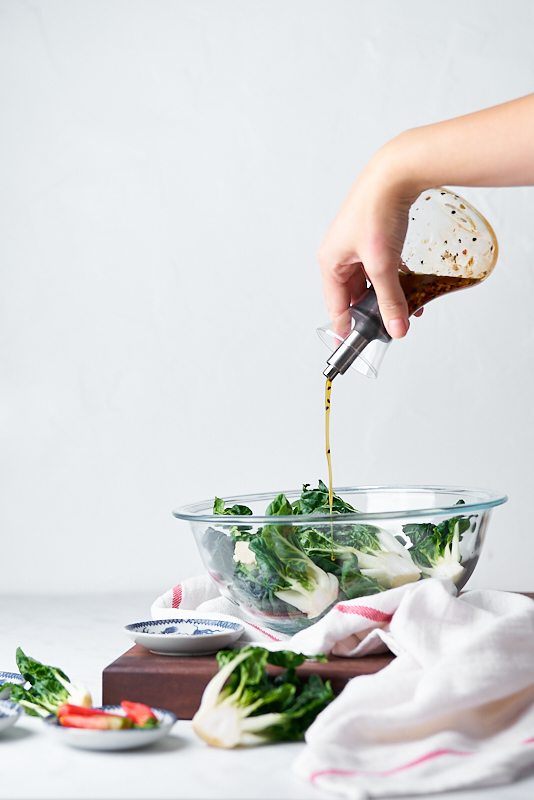 When shopping for bok choy, look for perky, dark green leaves and rigid white bases. Once you bring it home, store it in a loose bag in the crisper drawer and use within a few days.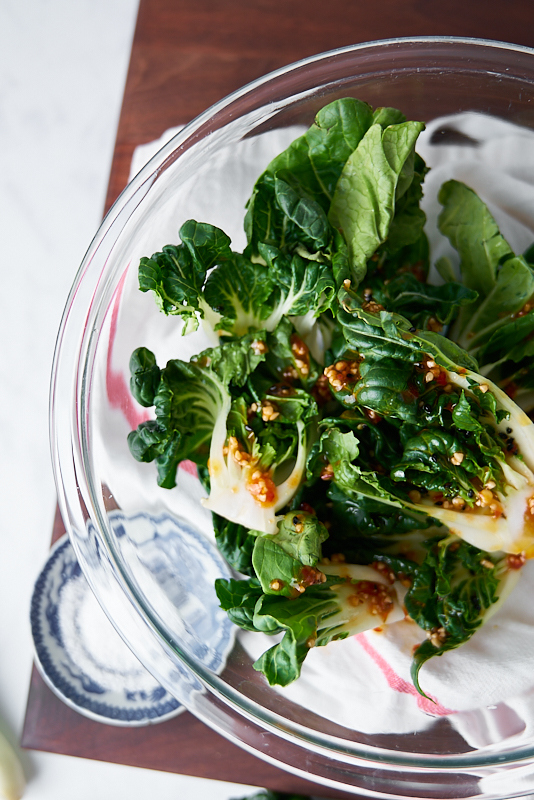 Black Walnut R Board

By John Boos

Shop Now
This recipe for Spicy Garlic Roasted Bok Choy is packed with salty, spicy, and umami flavors that pair well with chicken or beef. Most of the seasonings are sauces and spices you might already have left over from other recipes you might have given a try while attempting to recreate your favorite takeout dishes. So use them up!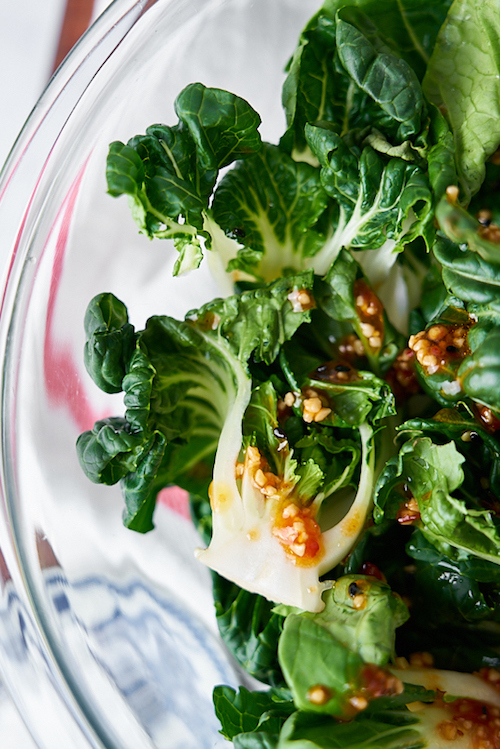 To make it super efficient, it's being roasted and served on the same dish (the Villeroy & Boch Clever Cooking Series which you can also freeze and throw in the dishwasher).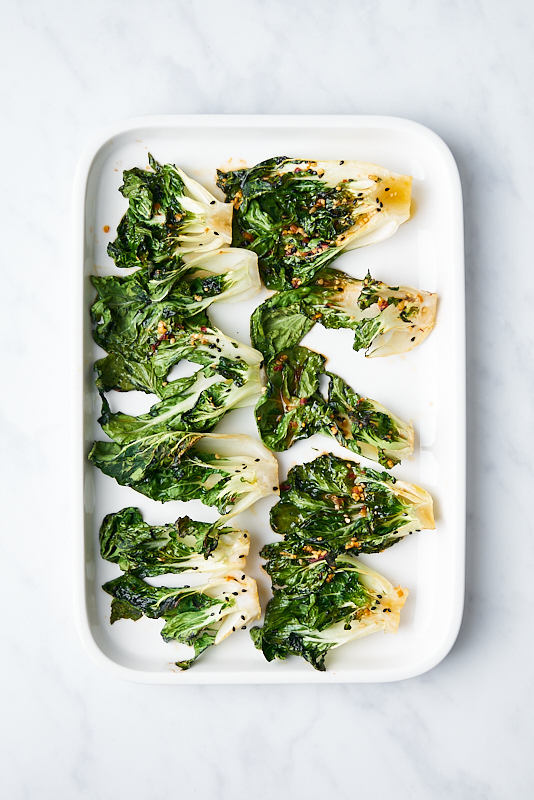 Clever Cooking Rectangle Serving Plate

By Villeroy & Boch

Shop Now
You can easily scale this recipe up. You'd be surprised how many you can fit on a pan! Since the leaves wilt pretty quickly, you can pack them in, alternating directions (leaves toward the top, then toward the bottom).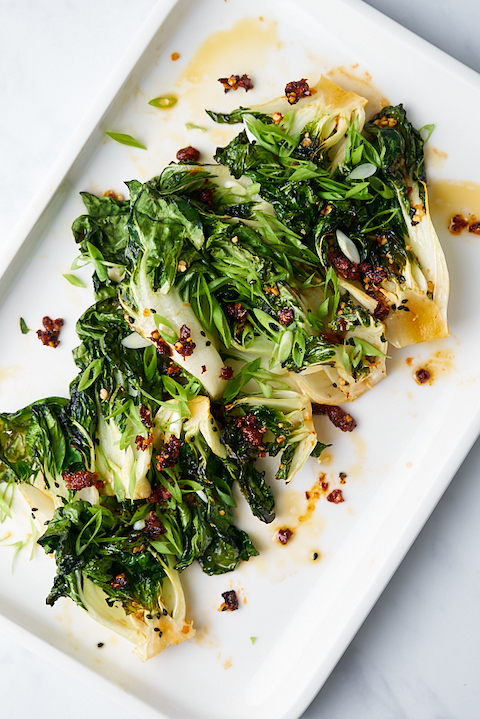 Spicy Garlic Roasted Bok Choy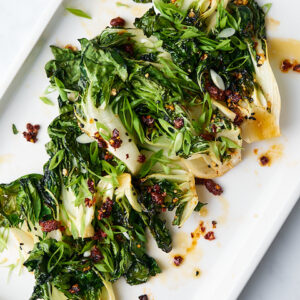 INGREDIENTS
½ pound baby bok choy
2 Tablespoons extra virgin olive oil
1 teaspoon sesame oil
¼ teaspoon kosher salt
1 teaspoon sesame seeds
1 teaspoon minced garlic
1 teaspoon chili garlic sauce (sambal oelek)
2 green onions, thinly sliced
½ Tablespoon chili crisp
1 teaspoon low sodium soy sauce
1 teaspoon clover honey
½ teaspoon freshly grated ginger
INSTRUCTIONS
Wash bok choy and pat dry.
Pre-heat to oven to 425 F with a rack in the middle of the oven.
Add olive oil, sesame oil, salt, sesame seeds, minced garlic, and chili garlic sauce to dressing bottle and shake to combine.
Slice bok choy down the middle lengthwise. Place in a large bowl and drizzle with dressing blend and toss with hands to coat evenly.
Place cut side up on an oven safe dish and roast for 10 minutes. Bok choy is ready once the white can be pierced with a fork and the leaves are slightly wilted.
Top with green onion and crispy chili.
Stir soy sauce and honey together in a small bowl. Drizzle over top.