Slow Cooker Italian Beef with Homemade Giardiniera Recipe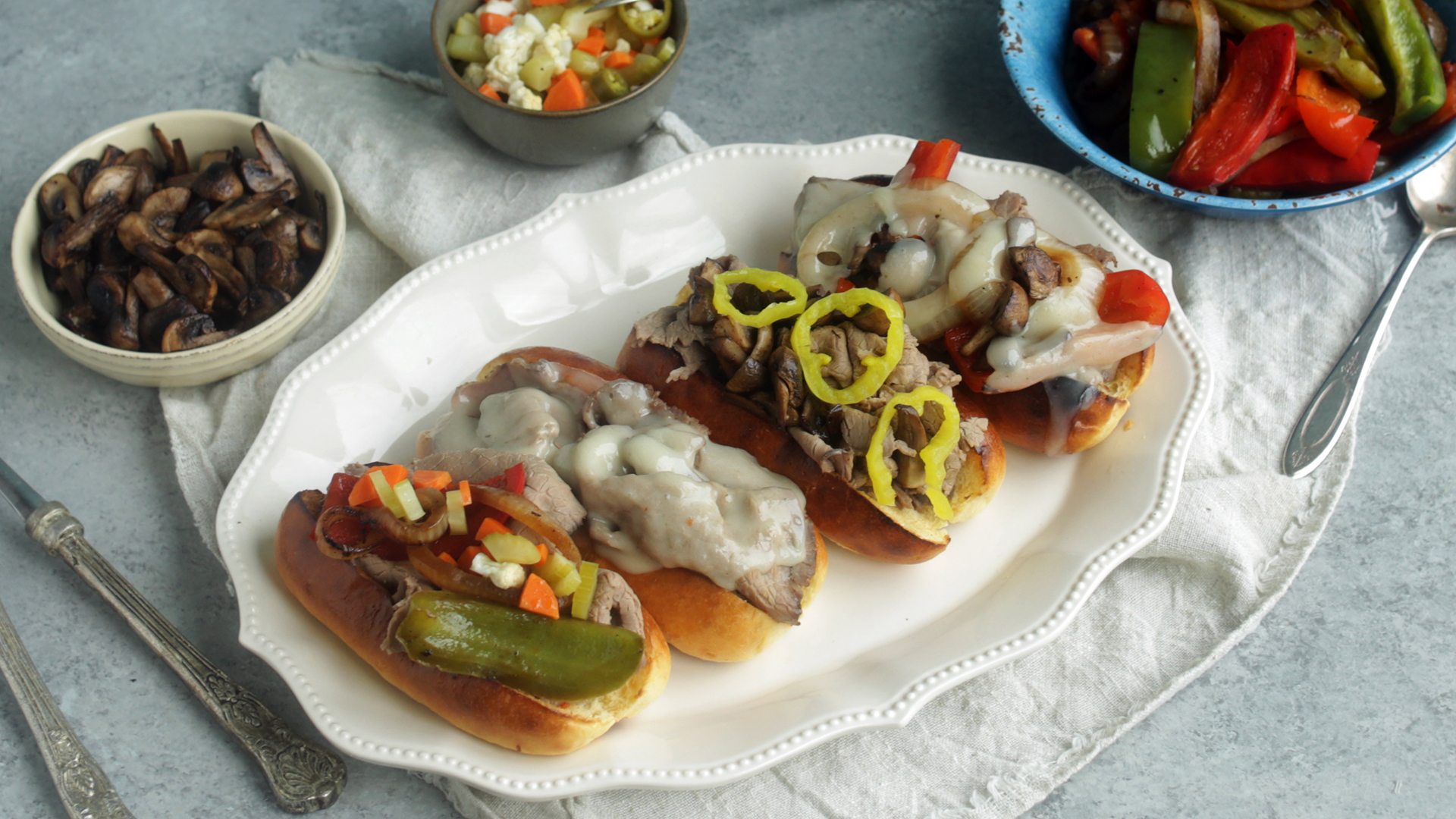 Man oh man oh man, football is back, and I couldn't be any more excited!! I'm much more into college football than professional which means my Saturdays are jam packed with games, friends, family and a whole lot of football food.
At least once during the season, I set aside a Saturday to have the fellas over for some football and a feast. I used to do this quite a few Saturdays out of the season but marital and fatherly duties have postponed these manly shindigs for at least a few more years. Regardless of how many of these get-togethers I get to have, they are always a great time and always loaded with staple foods.
Since moving to Chicago I've become obsessed with Italian beef. You may have had this in your city or state, but no one does it like Chicago. We are the true pioneers of this delectable sandwich and it can be had in a few different ways. I've seen it served up as a brisket that is slow cooked and cut up into chunks or thinly shaven prime rib, which is the one I prefer.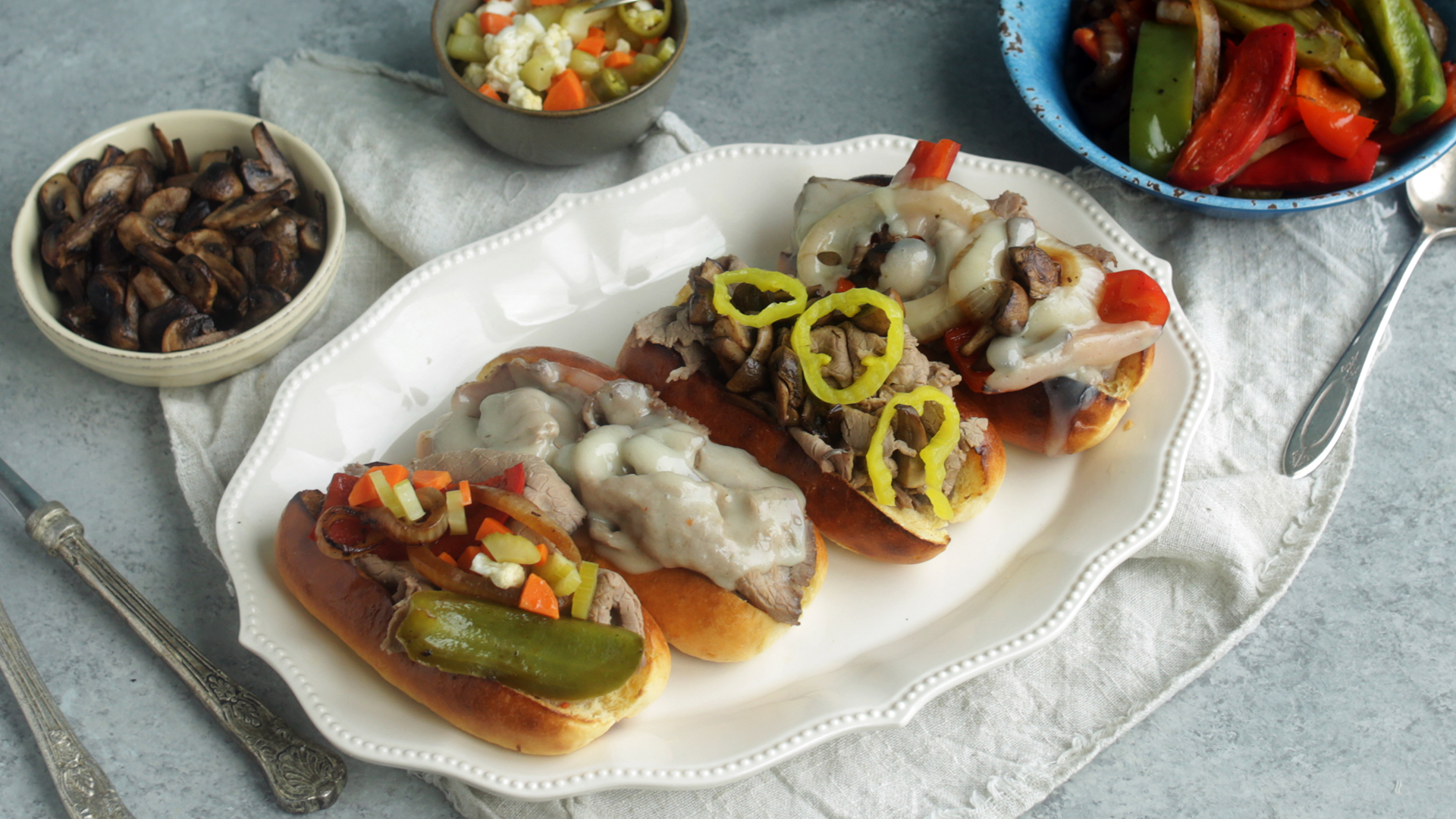 Regardless of which one you've had one thing is always a constant: Giardiniera. If you've never had Giardiniera, don't worry you're not weird, but you are missing out! Giardiniera is a salty pickled veggie mix that is bursting with flavor and can literally enhance anything. It usually has a bit of kick to it, but I try to keep that to a minimum as I am not one to pack on the heat.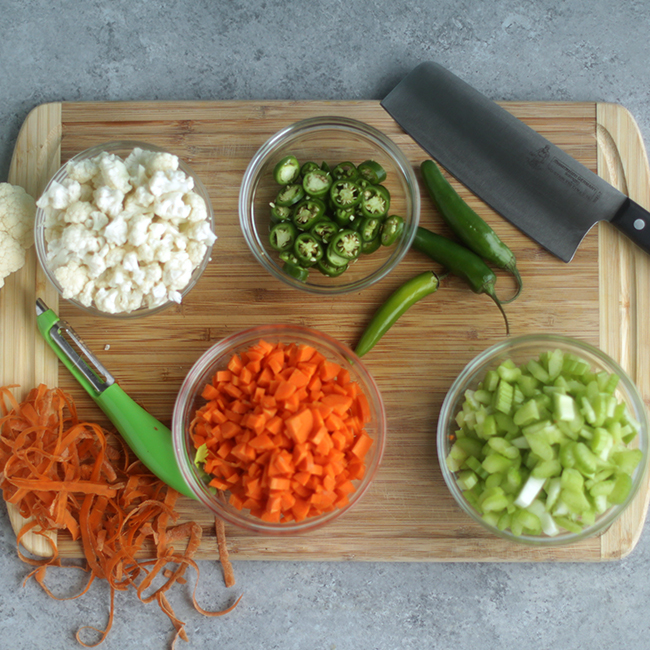 There are a few different ways to make Giardiniera, but I have to be honest I like mine the best. It's the easiest to make and to me the most flavorful. Start by slicing up some carrots, celery, cauliflower and some Serrano peppers, pith removed.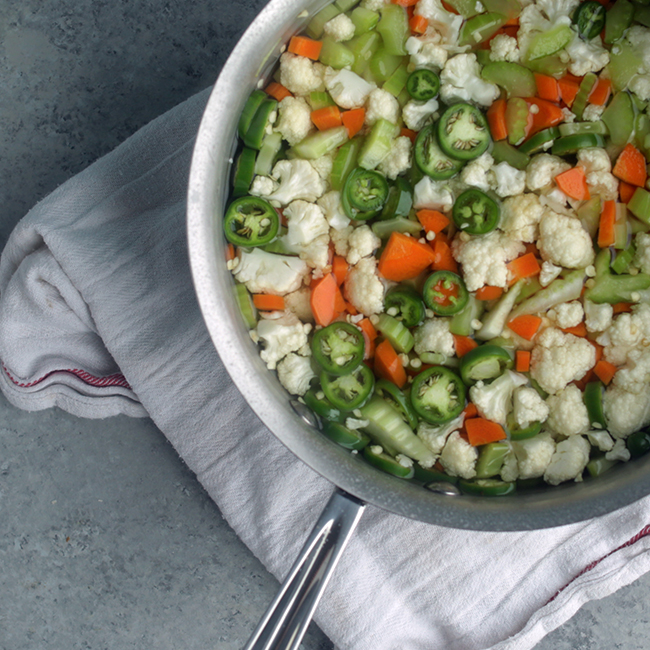 Next, boil together some vinegar, water, sugar and salt and then add in the vegetables. From there transfer it to a container and let it soak in all that vinegary salty flavor for about 6 hours. Strain the veggies, rinse them, and add them to a jar along with some sliced olives, oregano and olive oil. That's all it takes for a topping that is loaded with flavor.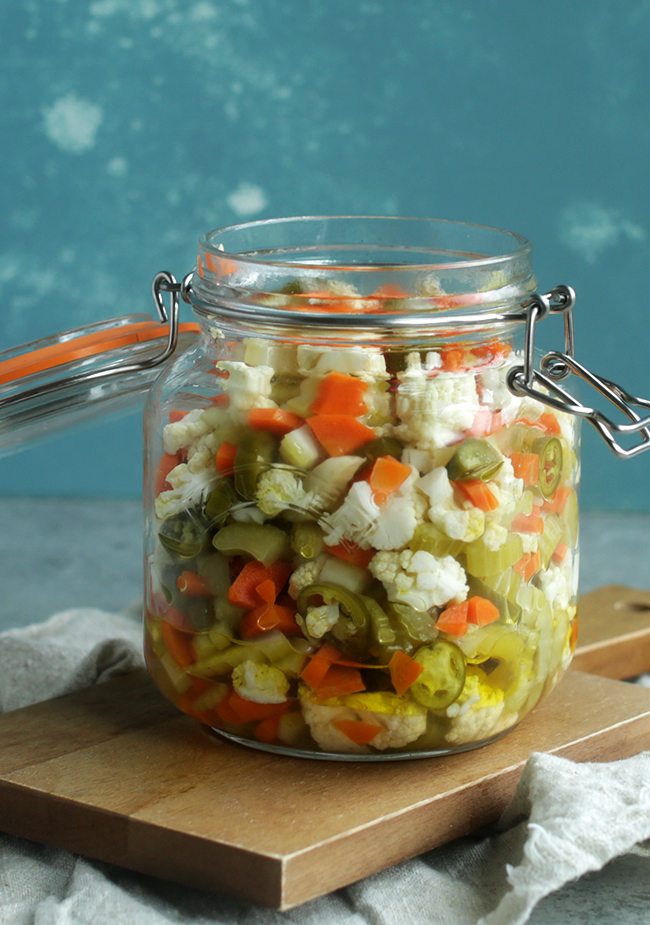 The Italian beef is incredibly easy to make thanks to the slow cooker. As I mentioned earlier, I prefer the thinly sliced prime rib instead of the brisket chunks, but it's just preference. Whichever one you like, you still have to have a delicious braising liquid. The easiest way to do this is with some beef stock, some dry Italian dressing packets, Giardiniera peppers, sport peppers and banana peppers. Give those all that a little whisk with your desired amount of salt and you are ready to roll.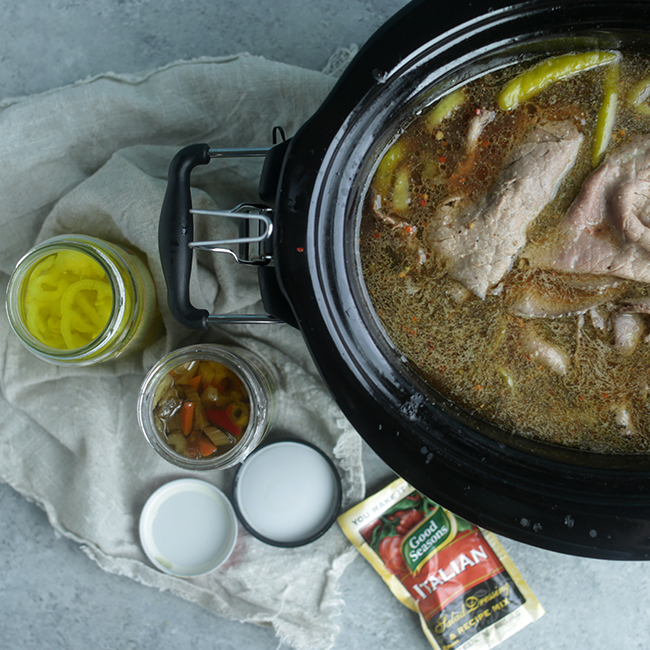 Once your braising liquid is hot, you can add in your brisket or your thinly sliced prime rib and cook it as long as the day is filled with football games. The prime rib will obviously be ready quicker since it is so thin, so be sure to get to that quick. If you aren't worried about eating right away, then you can let your brisket cook all day.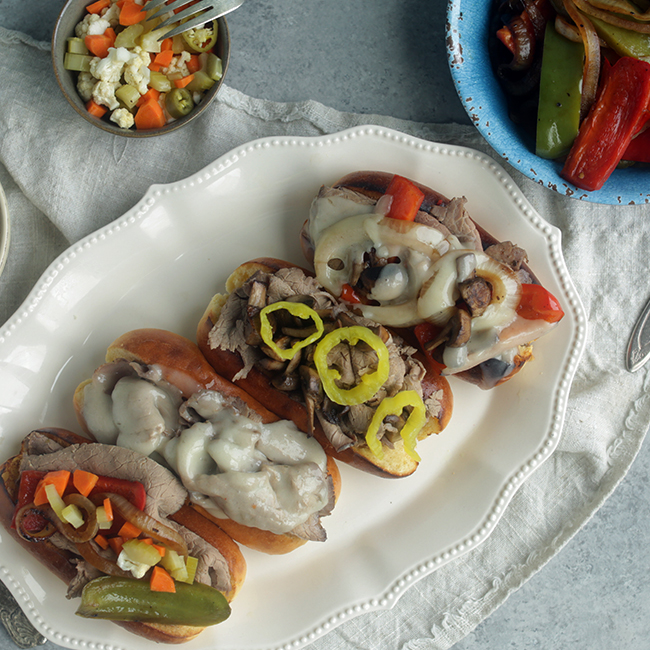 It's funny because before I moved to Chicago I would have easily done chili, or even grilled hot dogs, but thanks to this great city I've made slow cooked Italian Beef a yearly staple on game day in my house and no matter where you live, so should you!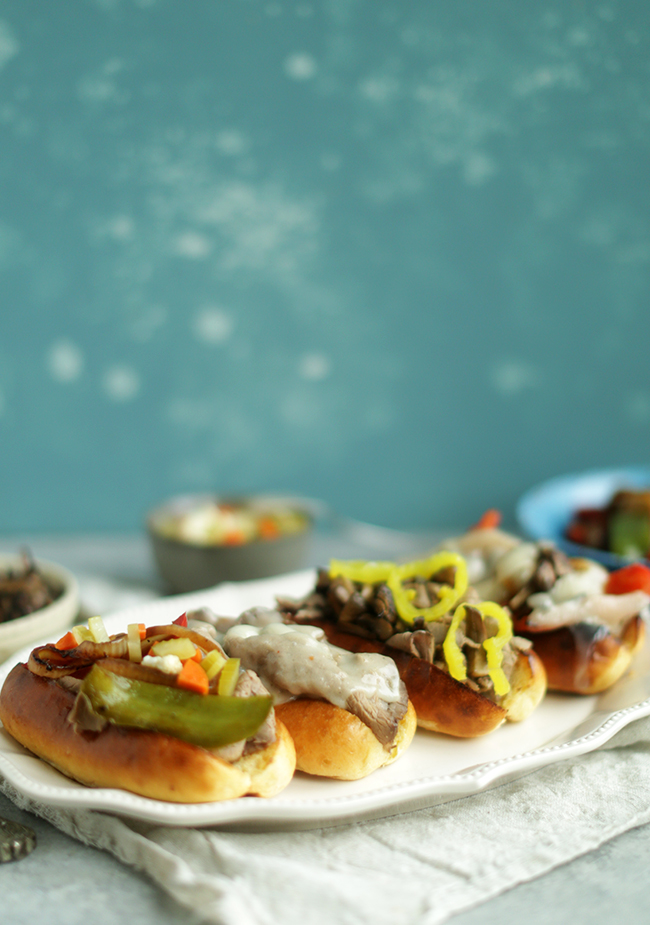 Slow Cooker Italian Beef with Homemade Giardiniera Recipe Recipe
Slow Cooker Italian Beef with Homemade Giardiniera? These recipes are must-trys! For football games, easy dinners or anytime, you don't want to miss this!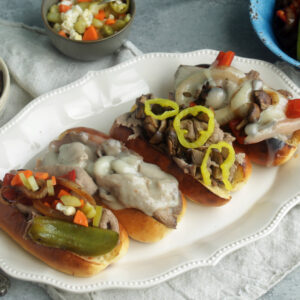 Ingredients
2

cups

White vinegar

2

cups

Water

1

tbsp

Sugar

.25

cups

Kosher salt

4

Peeled and medium diced carrots

4

Medium diced stalks of celery

.5

Head of cauliflower cut into small florettes

2

Thinly sliced serrano peppers, piths removed

.5

cups

Thinly sliced green olives

1.5

tsp

Dry oregano

1.5

cups

Olive oil

64

oz

Beef stock

1.4

oz

Italian dressing

1

cups

Giardiniera

.5

cups

Mild sport peppers

.5

cups

Banana peppers

3

lb

Thinly sliced prime rib

Kosher salt to taste

Buns
Instructions
1. Giardiniera: Add the vinegar, water, sugar and salt to a medium size pot and bring it to a boil. 2. Once it is boiling add in the carrots, celery, cauliflower, and peppers and chill in the refrigerator for 6 hours. 3. Once it is done chilling drain the vegetables and rinse with water. Transfer them to a jar and add in the olives, oregano and olive oil. Keep cool before serving. 4. Beef: Add the beef, Italian dressing packets, giardiniera, sport peppers, banana peppers and salt to a slow cooker on high heat. 5. Once the liquid is hot add in the prime rib and turn the heat to low and cook for at least 1 hour before serving on buns. 6. Optional toppings: sautéed bell peppers, onions, mushrooms and provolone cheese.