Simplify Feeding Time with These Kid-Friendly Mealtime Products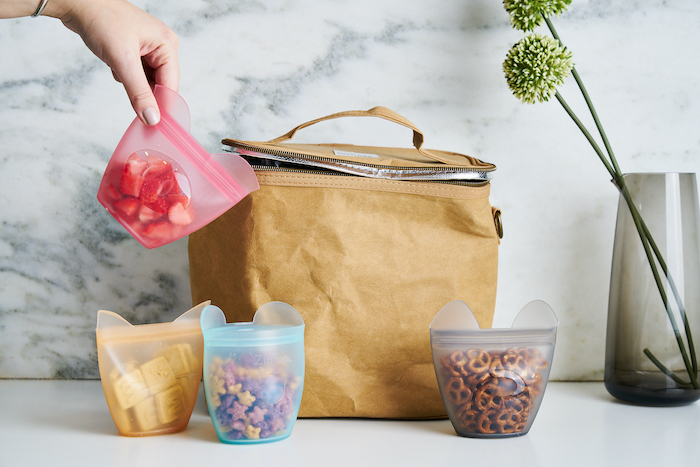 You don't pay a lot of attention to kid things until you have one. During pregnancy, one of the first things my husband and I got excited about what the prospect of introducing our kid to foods. Sure, we're only a couple of weeks into a newborn (and months away from actually feeding solid foods), but nonetheless, we're looking forward to it.
Whether your kids are only a few months old and just starting to explore solid foods, or a few years old and learning to try new and different foods, there are so many ideologies of feeding and tools to help. To be honest, I haven't researched enough myself to know exactly what our plan is for starting to introduce solids to our own child. I know the basics from my background as a dietitian, and a feeling of what I'll be doing from French and Nordic child-rearing books… but the reality is a whole different story.
I think all of us want the same things when it comes to child feeding: give nutritious options they'll actually eat, whether it's at home or on the go (non-COVID times that is). While you could look at this process as frustrating and time-consuming, I encourage you to think of it as a bit fun. For us, we've never had the pleasure of making fun food shapes and cute animals out of produce (except for work photoshoots). Will we be doing this every day? Absolutely not. Will we make food art a special once a week thing? Yes!
Here's what I'll be using to make the process easier.
1. ZipTop Animal Bags
They're adorable, but more importantly, they're easy for small hands to use. The animal ears help kids hold the bags and open the tops. Unlike other bags, these actually stay open for reaching into. The sizing makes them just right for cup holders in car seats or strollers. And yes, even your kids can easily close the bags themselves.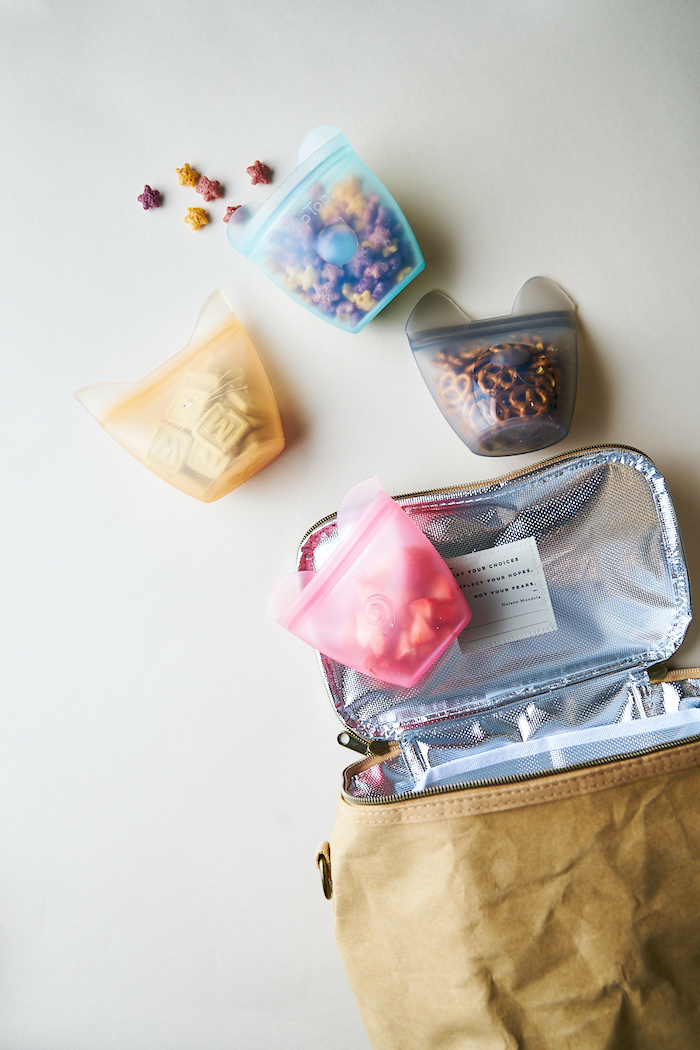 Baby Set Silicone Bags

By ZipTop

Shop Now
They're dishwasher safe (the bags, not the kids) and can be microwaved or frozen. If you're not on the go right now, stock your pantry or fridge with these to create a 'snack station' that's parent-approved. This gives your kids a place where they can go for you-approved snacks giving you time to actually finish your work-from-home conference call.
2. Stackable, Small, Non-Breakable Dishware
My personal feeling on kid dishes is a hard pass on anything 'character' based. I'm not anti-fun, I just don't want visual clutter when colorful food is fun enough (but also I honestly don't want that visual clutter in my own kitchen space).
Connect Organic Small Plate

By Koziol

Shop Now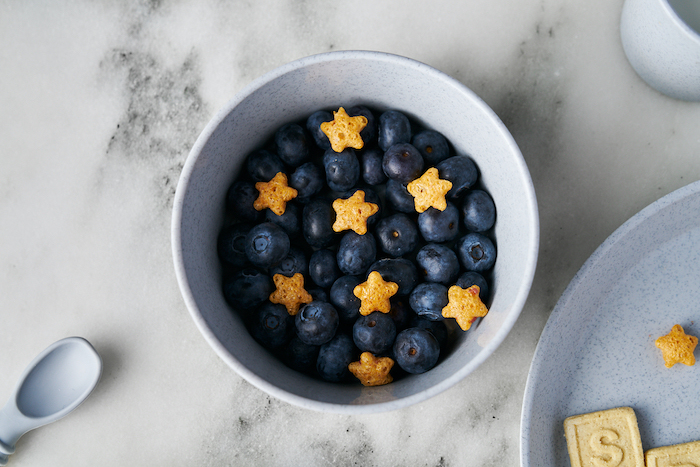 These pieces are super stackable and come in lots of colors and sizes so you can opt for adult versions for picnics and outdoor eating too! There's no need to worry about breaking them and they're dishwasher safe while being BPA and melamine free.
3. Washable To-Go Insulated Bag
As someone who has never really understood why diaper bags are a thing (Why not use a bag that you can use after the newborn phase?), this incredibly good-looking insulated bag is great for food on the go. The Kraft Paper exterior is hand washable which gives me packed lunch vibes from my childhood but in a reusable way.
Kraft Paper Lunch Poche

By So Young

Shop Now
Don't worry, there's also an easy to clean removable insert plus a detachable messenger strap to keep you hands-free and a back pocket for utensils, notes, or anything you need quickly.
4. Suction Cup Base Plate
This plate has a suction cup base that makes it easy for kids who are learning to self-feed. No dishes on the floor. No dishes sliding around. With a straight edge, it makes it easy for kids to get close and with less mess.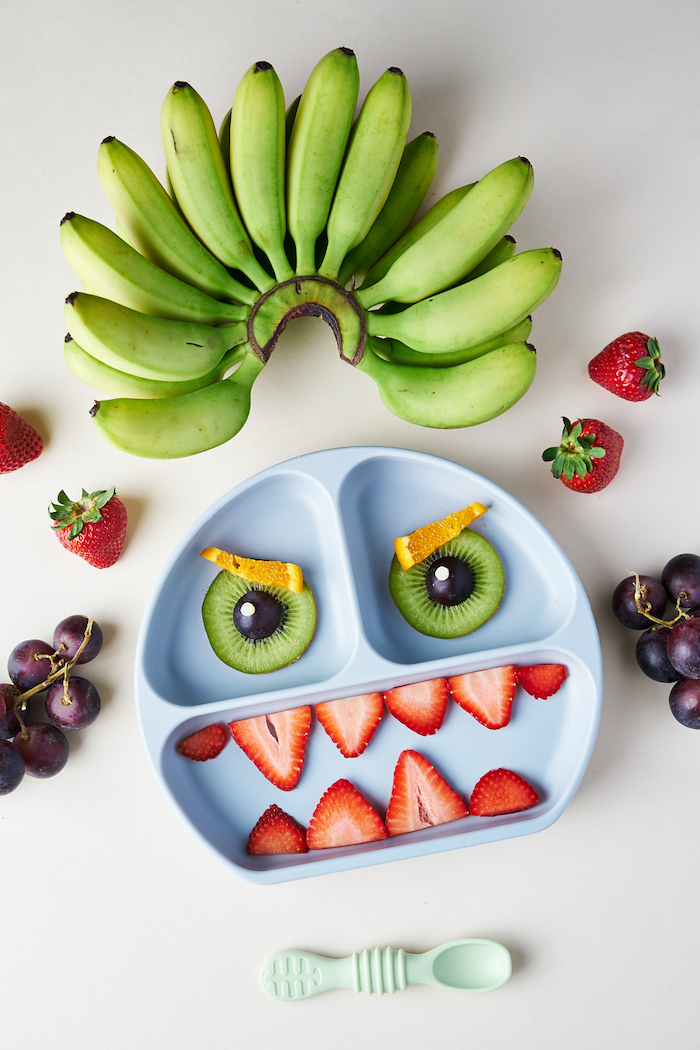 Silicone Grip Dish with Lid

By Bumkins

Shop Now
Made from silicone, it's naturally bacteria, mold, and fungus resistant while being dishwasher, microwave, oven (up to 375 F), and freezer safe. You can also get a silicone stretch lid to save leftovers for later.
5. Self-Feeding Starter Spoons
Gentle on gums, the double-sided spoon makes it ideal for dipping into purees to learn how to use utensils while the other side allows for more advanced scooping. Since they come in a set of three there's no spoon power struggle happening during meals.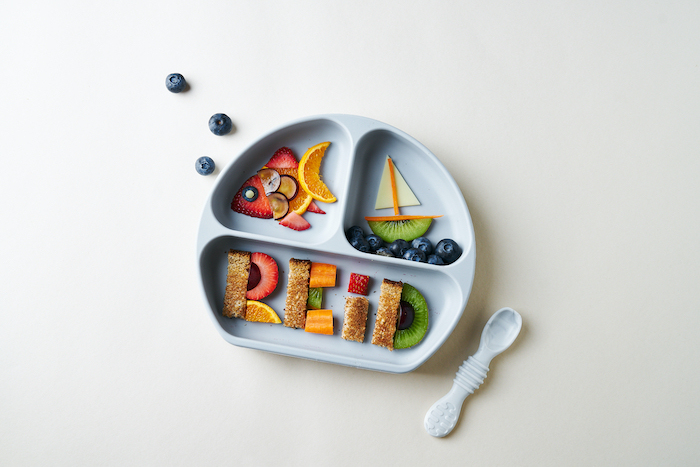 Silicone Dipping Spoons

By Bumkins

Shop Now
Most importantly, make mealtimes enjoyable, fun, learning experiences for the whole family. It's easy to feel overwhelmed, but I encourage you to not let perfection get in the way of family time.