Shrimp Scampi in Homemade Linguine Pasta
Call me a purist, call me overdoing it, or call me Italian because man, do I love rolling out my own pasta. Now there is nothing wrong with using some trustful friends to help roll out your dough, but there is just some sort of deep connection that is formed when you roll it out by hand. Sure it takes a bit longer and is more tedious, but I love being able to tell how thin the pasta is getting as I roll it out.
Let's first start with making the noodles.
I like using a nice combination of finely ground semolina flour and regular all-purpose flour. I sift them together and then I create a well and drop in a few eggs. The standard pasta ratio I use is 2 eggs to 1 cup of flour, whether that be ½ cup each semolina and AP or just all 1 flour. Using a fork, you whisk the eggs and then you slowly begin to bring in the flour from the outside and combine it in. You will need a few tablespoons of water to help moisten up the dough because it will be tad dry.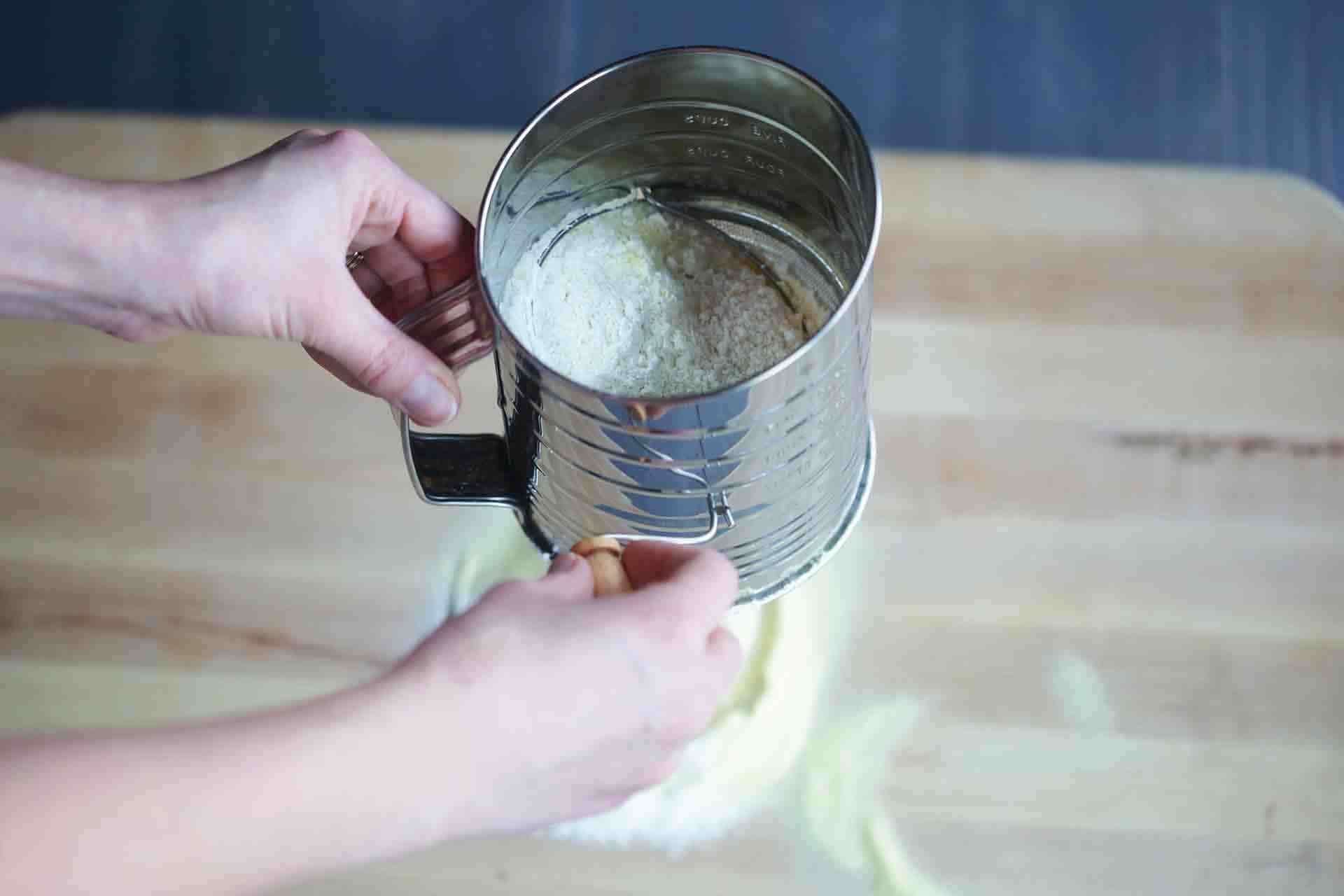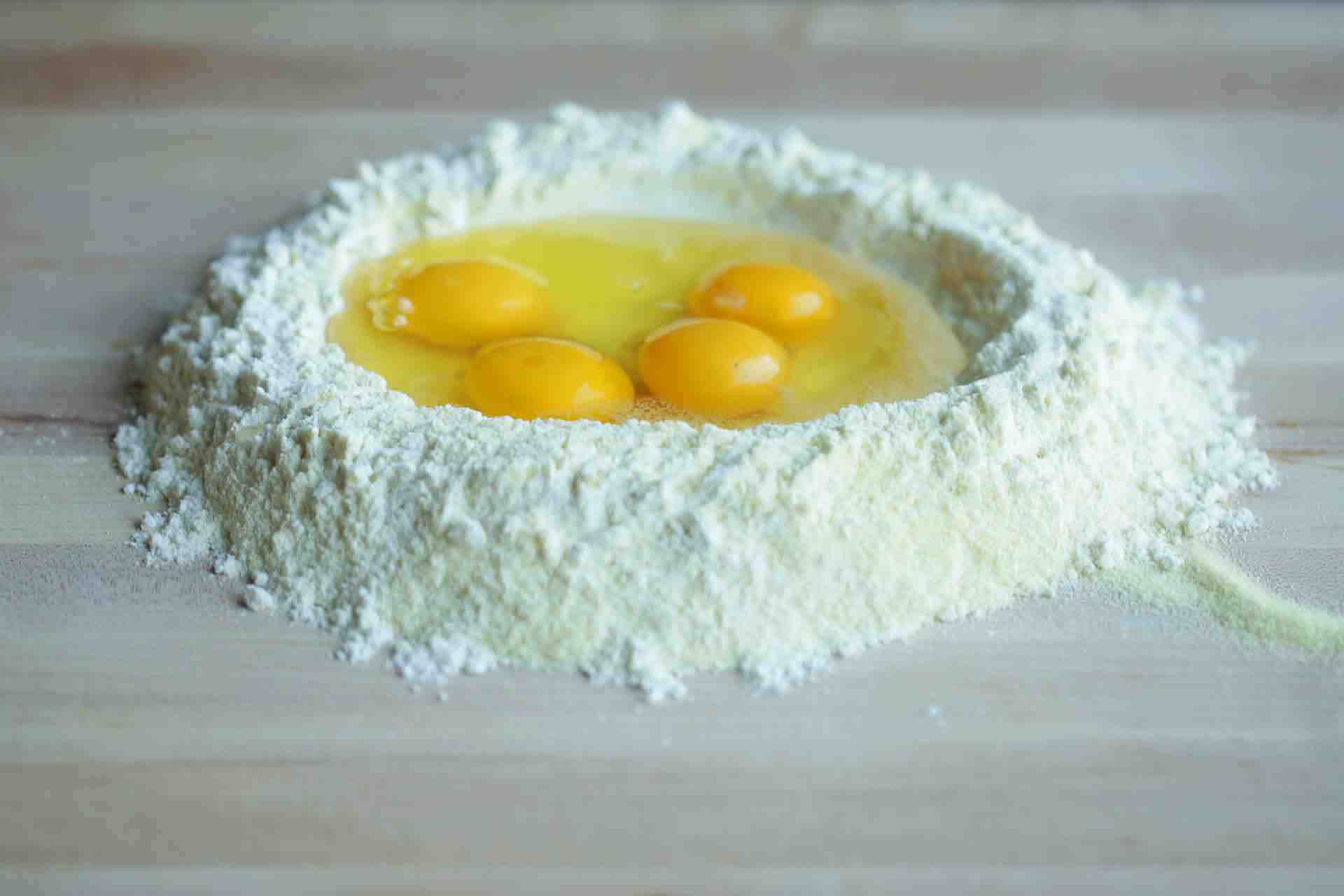 From there, work the dough in your hands kneading it back and forth for 4 to 6 minutes. You can sprinkle on a little flour if it's too dry at this point, but just keep it moving. Even at this point you will start to feel the love and the passion for your own dough because already it is taking some work. Let the dough rest for about 20 to 30 minutes before rolling it out.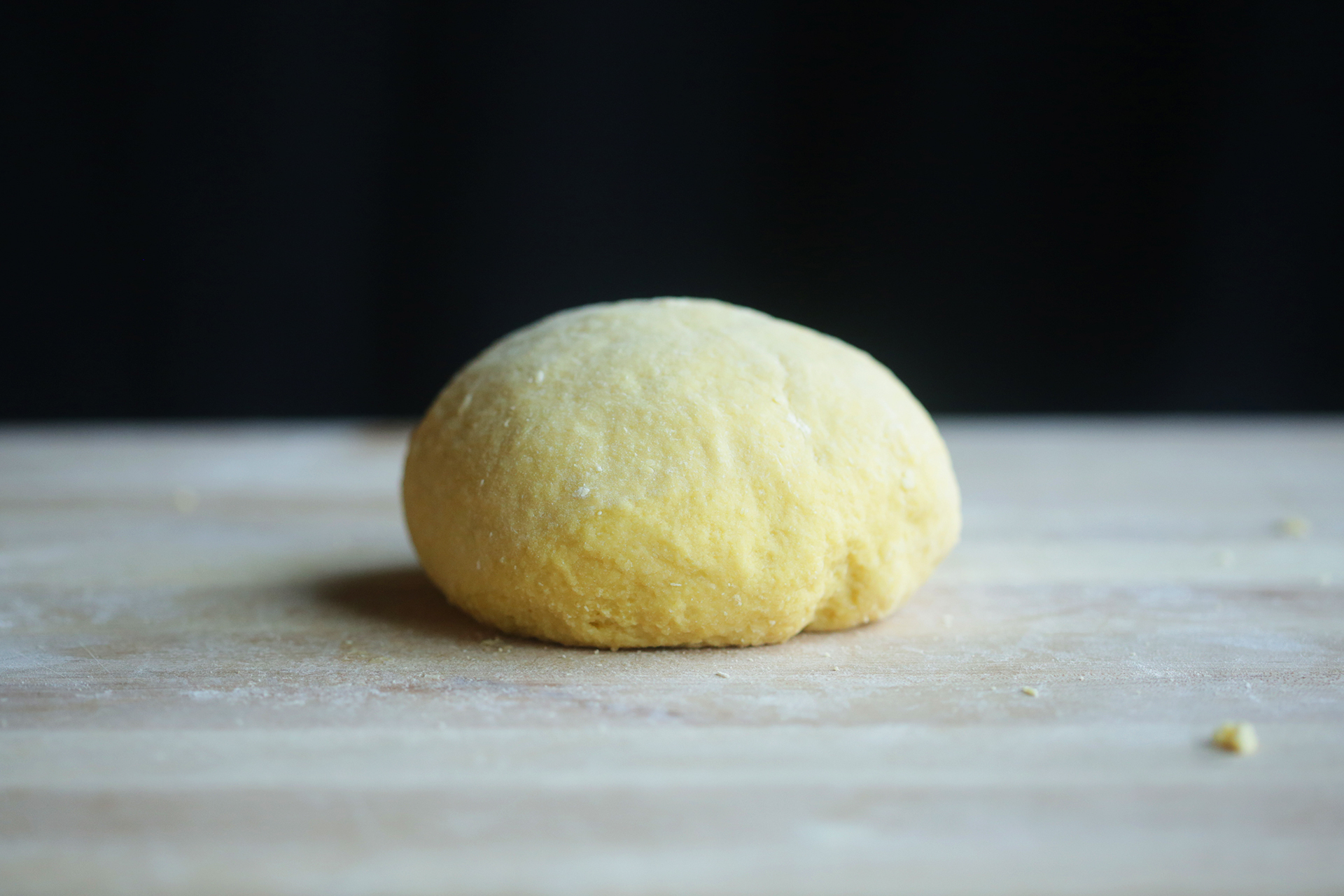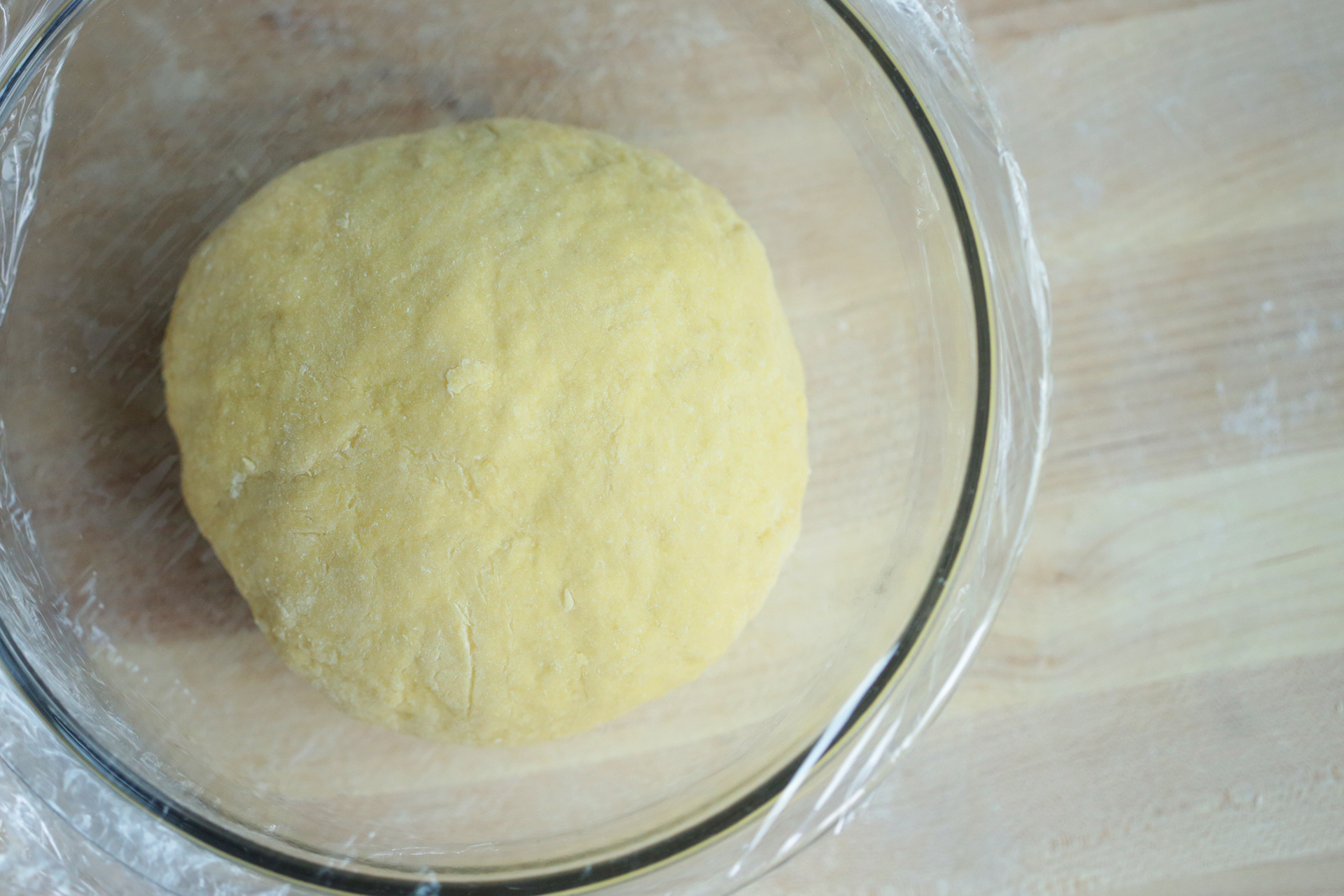 This next part is probably the most crucial so listen up! Divide the dough in 3 parts, dust a clean surface with flour and roll out 1 of the chunks of dough at a time. This is going to take a few minutes of rolling it back and forth but the ultimate goal is that it should be about as thick as resume paper and you should be able to see through the dough a little bit. If you aren't that thin yet then sorry but keep it rollin! I can get 1 of those pieces of dough to extend to the size of my cutting boards which is 18×24.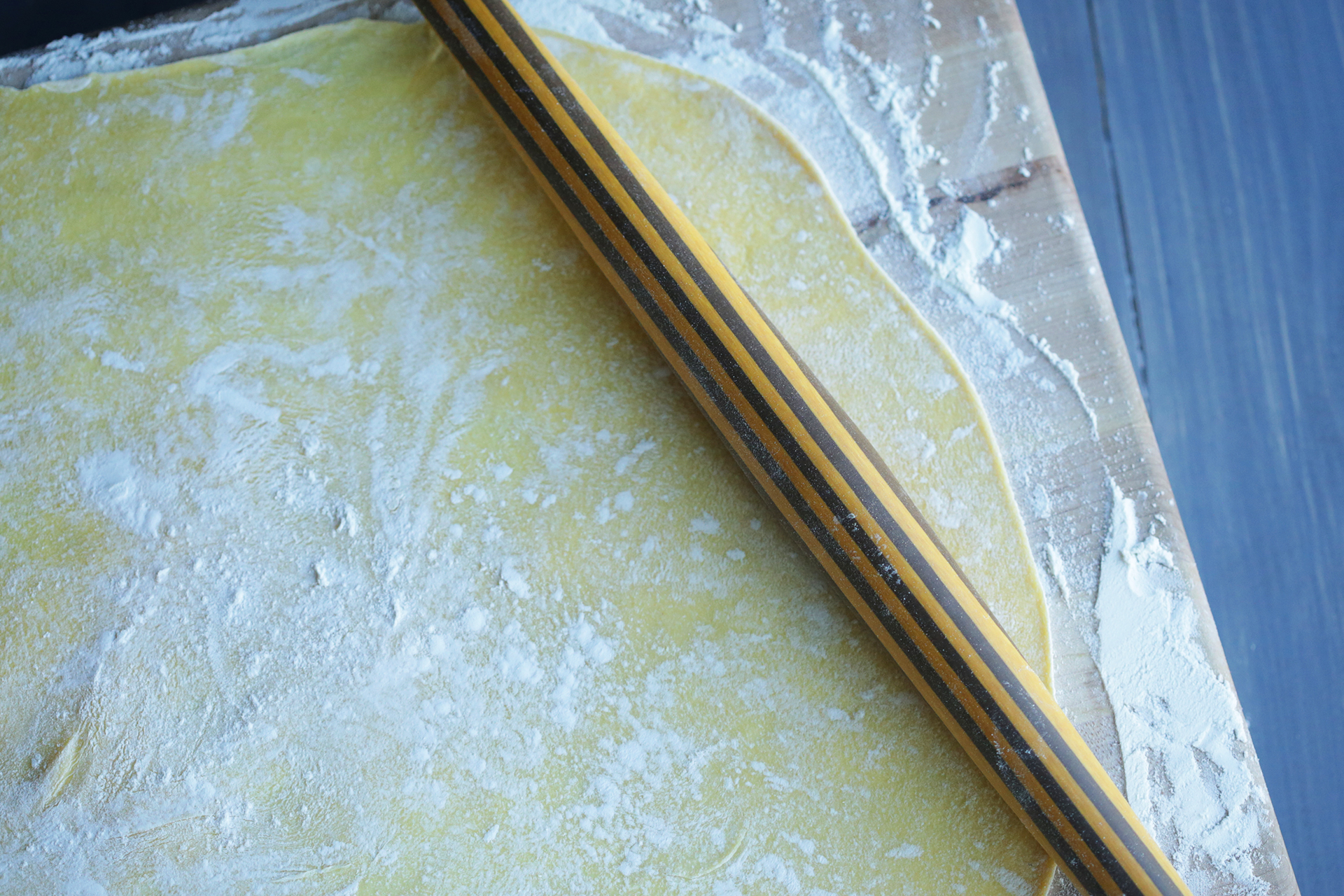 The dough needs to dry out so let it sit stacked up on parchment paper or on one of those fancy fresh noodle hangers for 30 more minutes. From there you roll it up and slice it as thin or as thick as you want using a knife. You can make pappardelle or spaghetti, it's up to you. For this recipe I need linguine so I will be cutting it on the thinner side but still a little thicker then what you would see in the grocery store. So sprinkle your cut noodles over a large sheet pan lined with parchment paper and let it sit until you are ready to cook.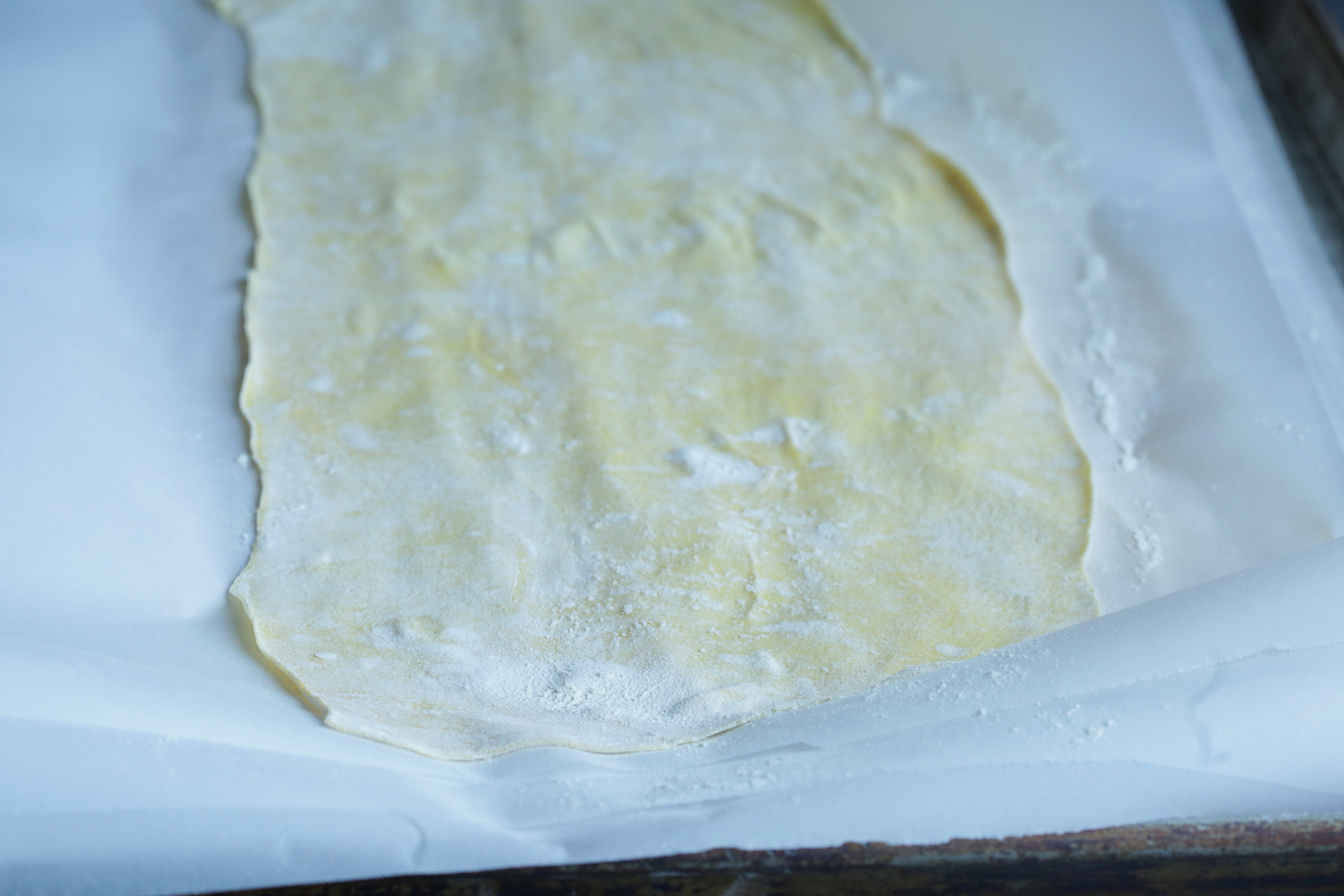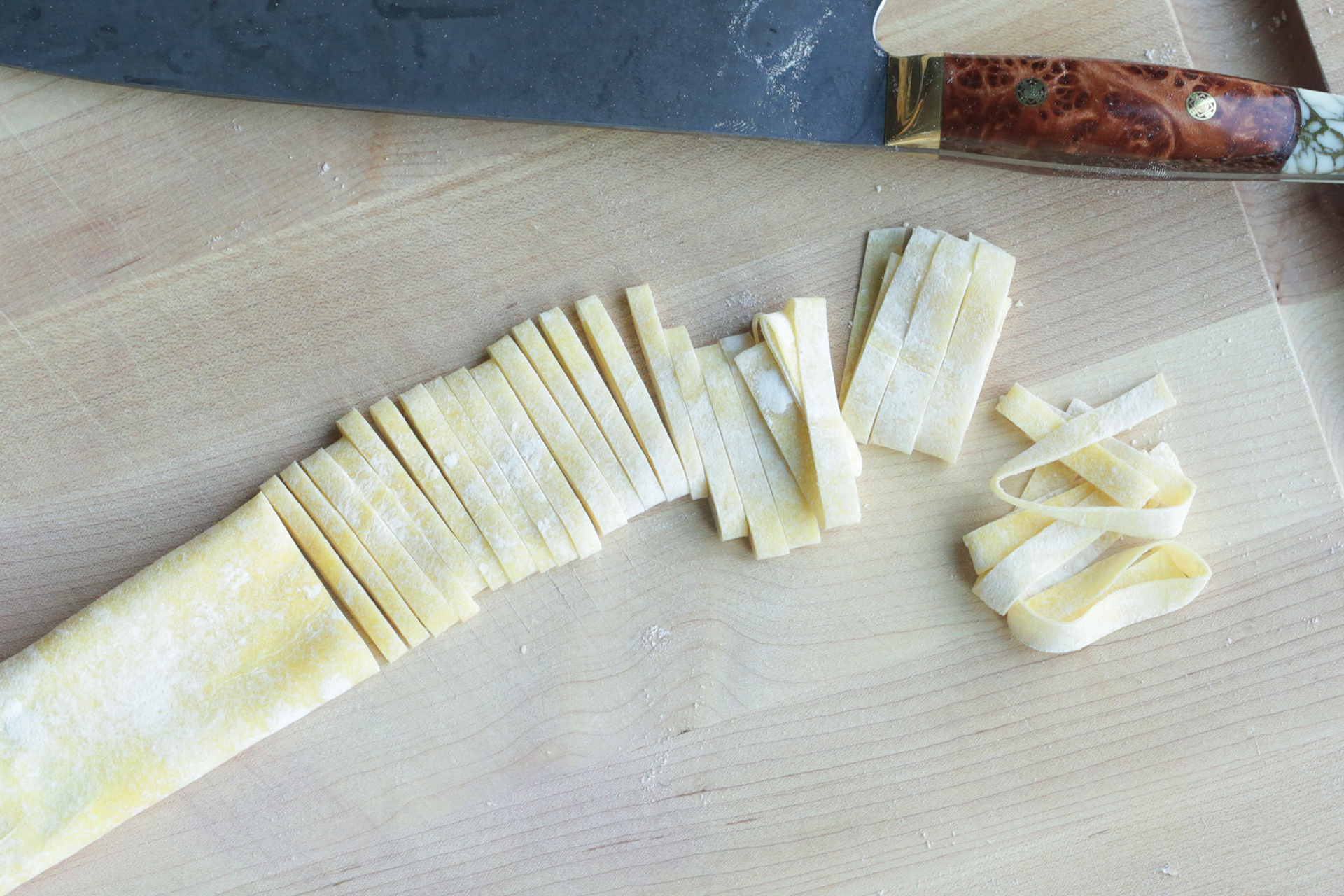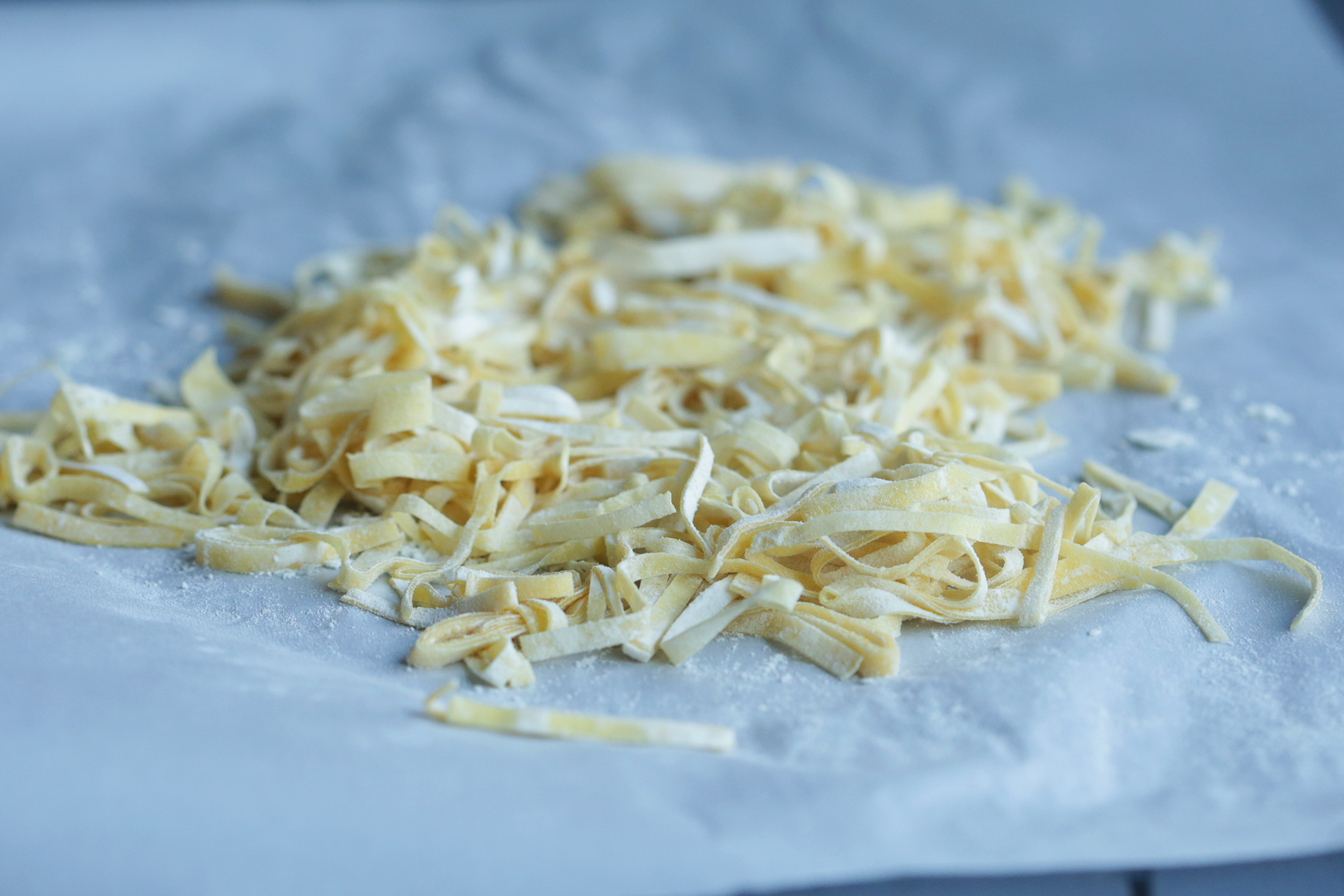 On to the Shrimp! I like a little big bigger shrimp so I used 21-25 shrimp which means you should get that many pieces in 1 pound of total shrimp. Feel free to use bigger or smaller, really it's all about price and how much or how little you want to spend! I like to buy shrimp with the shell on it and take it off myself. I feel like they hold more flavor that way and you take it off just before you cook it. Maybe I'm just crazy, which is possible, but that's just my train of thought.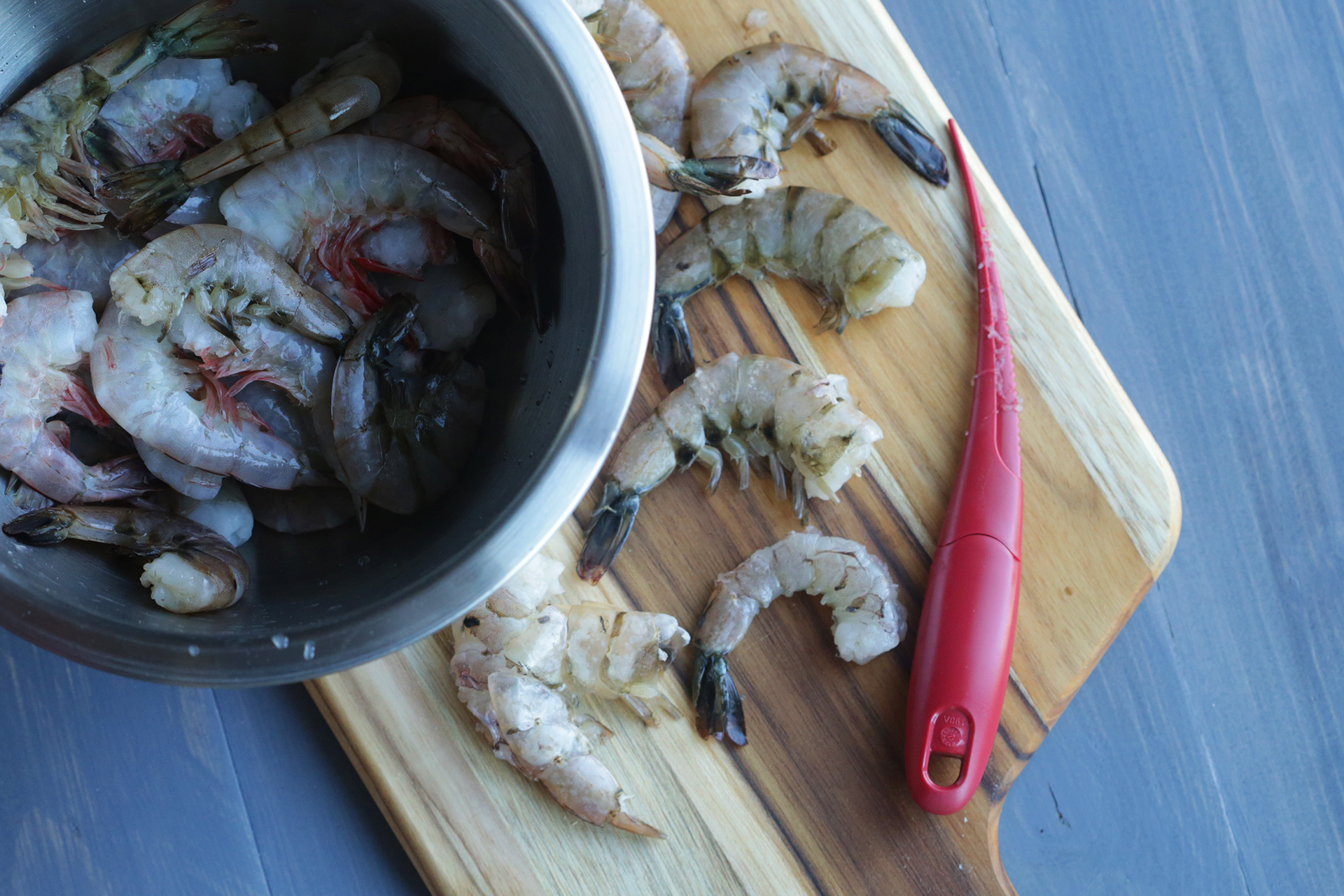 To sauce it up you roast up some garlic and shallots, cook your shrimp, season, deglaze with wine and add butter. It's slightly more detailed than that, but it's really an incredibly easy sauce to make for just how much flavor comes out of it. Cook your pasta and add it the shrimp butter pan, toss it around and you've got yourself one delicious meal, and it will taste that much better because you did it all by hand!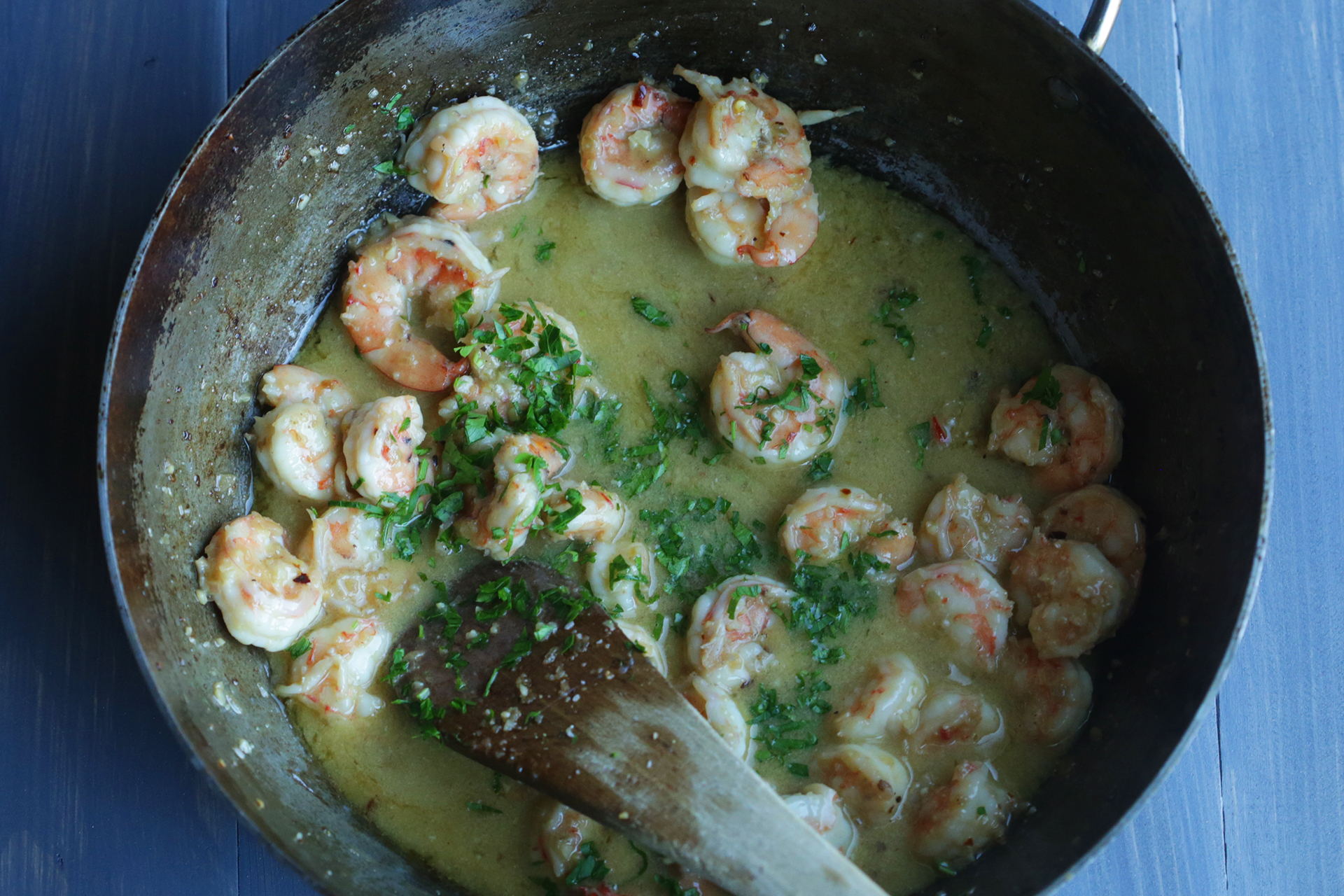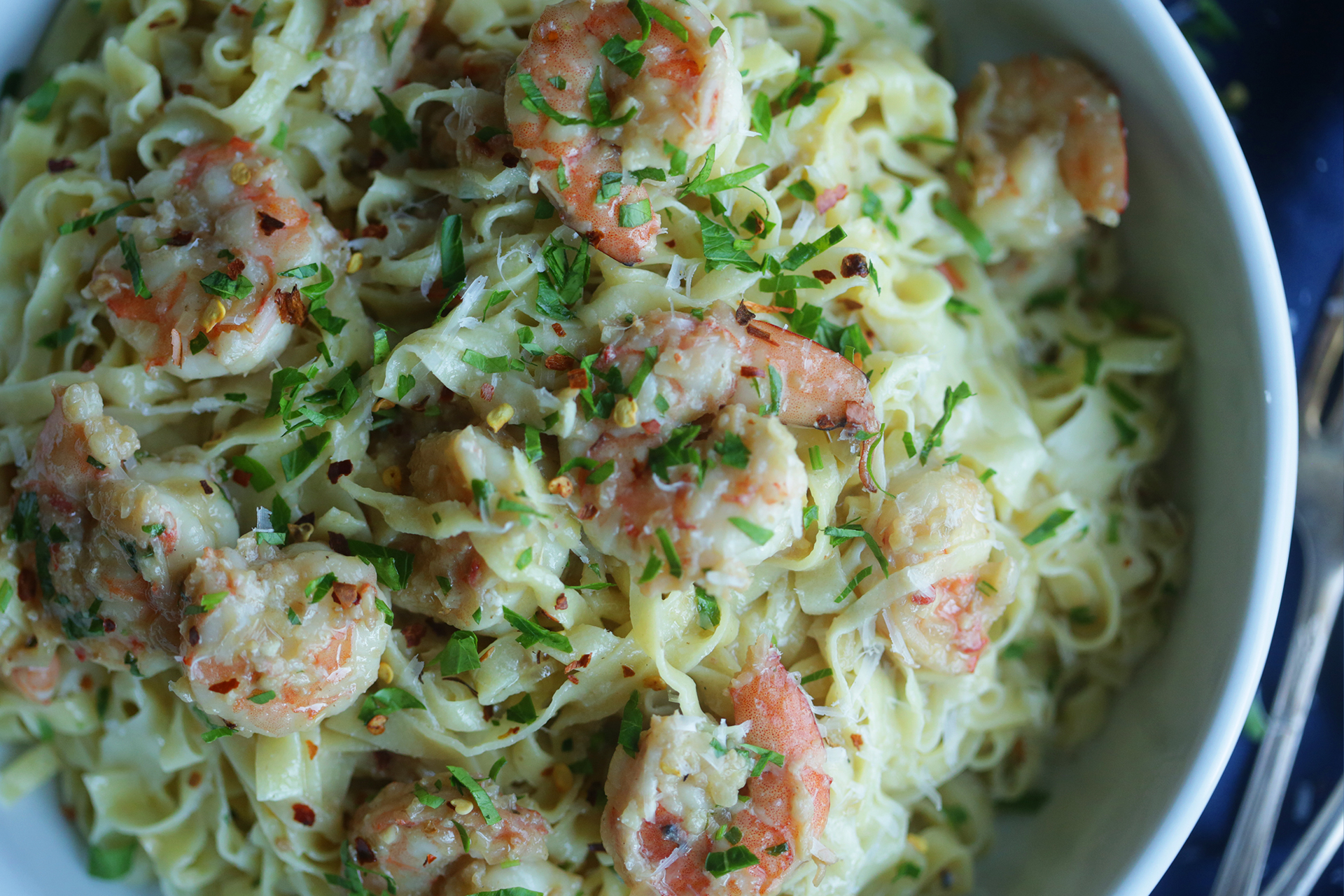 Just as a note, the pasta will hold about 2 to 3 days in the refrigerator before it really dry's out and needs to be tossed so be sure to use it up as quickly as possible. You know where to find me if you have any questions… Enjoy!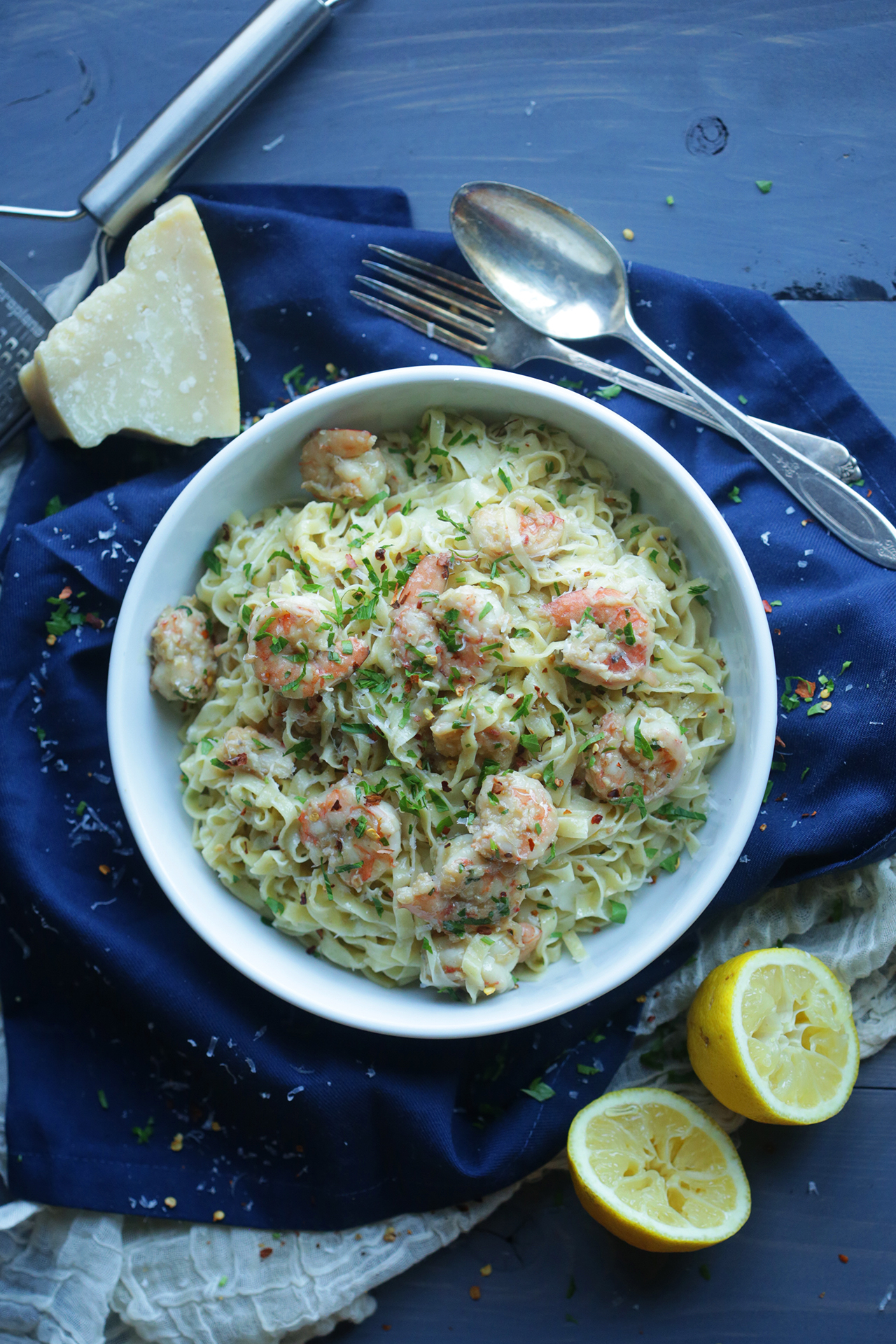 Shrimp Scampi in Homemade Linguine Pasta Recipe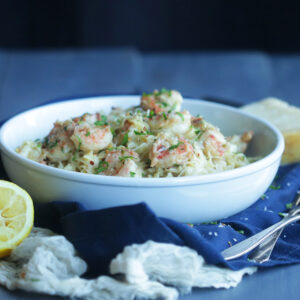 INGREDIENTS
For the Pasta:
1 cup and 2 tablespoons of Bob's Red Mill® All-Purpose Flour
1 cup and 2 tablespoons of Bob's Red Mill® Semolina Flour
4 eggs
¼ cup of water
For the Shrimps:
3 tablespoons of extra virgin olive oil
¼ cup of finely minced garlic
¼ of finely minced shallots
1 stick of unsalted butter cut up
1 pound of peeled and deveined 21-25 shrimp
juice of 1 lemon
1 cup of chardonnay
1 tablespoon of chopped fresh parsley
crushed red pepper flakes to taste
Kosher salt to taste
Fresh grated Parmesan cheese to taste
INSTRUCTIONS
Pasta: Sift both flours onto a clean surface and make a well.
Next, crack your eggs in the well and mix them with a fork until they are beaten. Start combining the eggs with the sifted flours until they are combined.
Add ¼ cup to a 1/3 cup of water because the dough will be pretty dry. Once the flour, eggs and water are combined kneed with it with the palm of your hands for 2 to 5 minutes and place it in a plastic bag and let it rest for 20 to 30 minutes.
Dust a clean surface with flour and roll out a 1/3 of the dough at a time until it is very thin. You should be able to see through the dough, and be the consistency of Resume Paper.
Let the dough set out on a flour dusted surface after it's been rolled out for about 30 minutes.
Then, fold it over and slice it as thin or thick as you'd like! Place them on a sheet pan lined with parchment paper, sprinkle on some flour and toss to coat, and spread out.
Boil the noodles in a large pot of boiling salted water until al dente or cover and store in the refrigerator up to 2 days.
To Cook Pasta: In a large pot on high heat with olive oil cook the bacon until crispy and then remove it and set it aside.
Shrimp: Add the oil to a large saute pan on high heat and brown the garlic and shallots. Half way through the browning process add 2 tablespoons of butter.
Next, add in the shrimp and saute until they are cooked through out and then remove the shrimp from the pan.
Deglaze the pan with lemon juice and chardonnay and cook until the liquid is reduced by one half.