Parmesan Crusted Salmon with Lemon and Veggies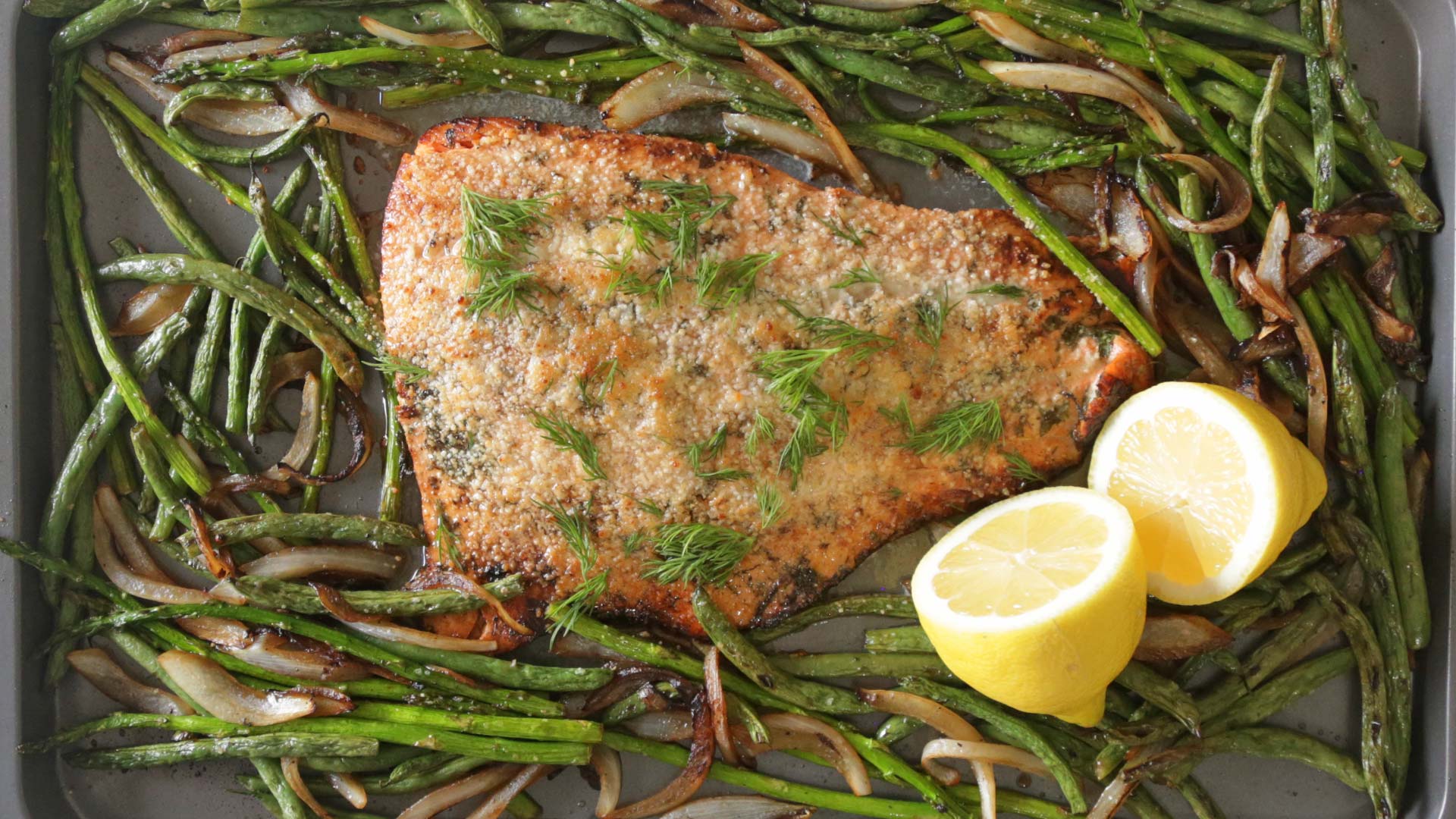 If you are constantly on the go, just as I am, then it can definitely be a struggle to try and get something tasty and nutritious onto the dinner table…
Well in light of trying to get more omega 3 pumped into my daughter I came up with this super easy to make and delicious Parmesan Crusted Salmon with Lemon and Veggies. I wasn't trying to reinvent the wheel or anything, I just wanted something tasty, simple and quick, and this recipe delivered.
Now you can absolutely put everything on a sheet tray and put it right into the oven and bake it, however, you may not get that wonderful caramelization on your fish and veggies like I did. I would recommend browning both the salmon and the vegetables in a skillet before transferring it to the sheet tray and then into the oven. It literally took me no longer in 10 minutes total to do both, and it's well worth the benefit in the flavor department!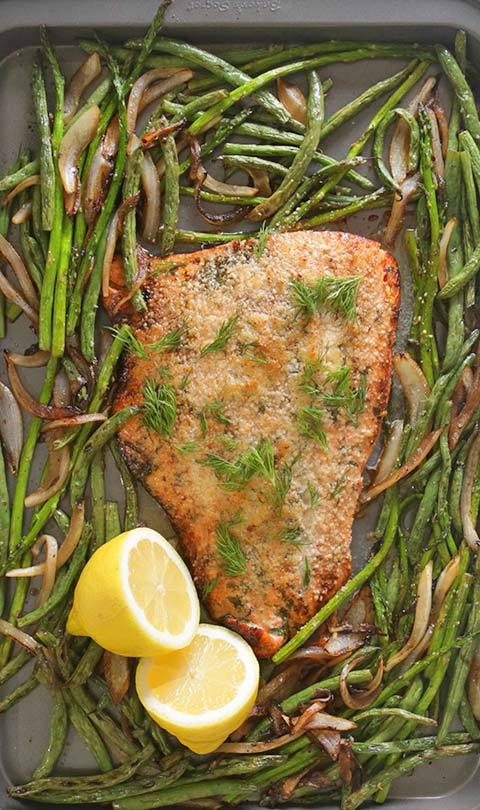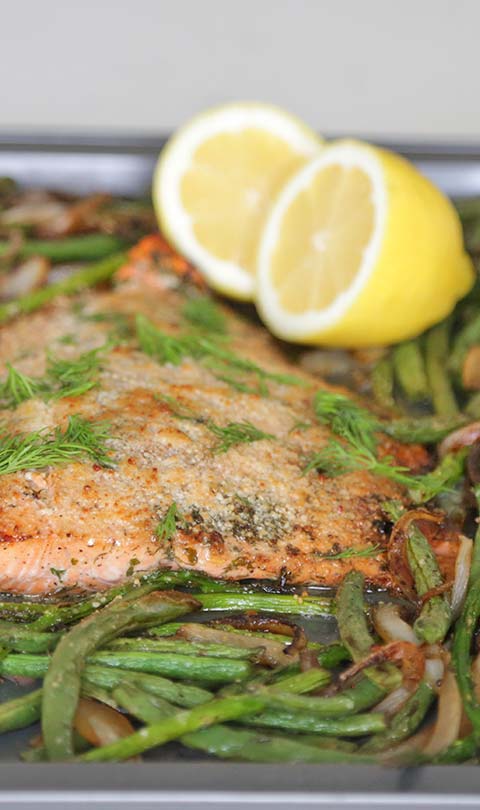 One of the more important aspects of this recipe is the marinade. I am a huge fan of letting something marinate overnight since it will take just about that long to infuse all of the delicious flavors from the marinade, but like you, I need to get something on the table faster than that. You can also change up the marinade by swapping out herbs to change up the flavors, and in addition, you could add in some chopped garlic as well. Well, that's all I got – enjoy!!
Parmesan Crusted Salmon with Lemon and Veggies Recipe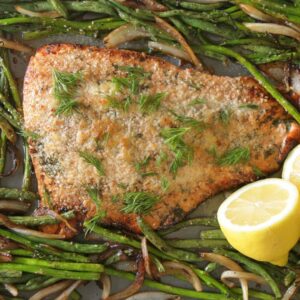 INGREDIENTS
1 tablespoon each chopped fresh dill & parsley + more for garnish
Juice of 1 lemon
¼ cup of olive oil
2-pound fresh salmon fillet, skin removed
1 peeled and sliced sweet onion
½ pound of trimmed green beans
½ bunch of trimmed asparagus
1/3 cup of grated parmesan cheese
3 tablespoons of melted unsalted butter
Kosher salt and fresh cracked pepper to taste
INSTRUCTIONS
Preheat the oven to 400°.
In a bowl whisk together the dill, parsley, lemon juice and olive oil and then pour it all over the salmon and marinate in the refrigerator for at least 1 hour.
Remove the salmon from the marinade and season well on both sides with salt and pepper.
Place the salmon in a large frying pan over medium-high heat and cook for 2 to 3 minutes on each side or until browned.
Transfer the salmon to a sheet tray and return the pan to the burner over high heat.
Add the onions, beans, and asparagus to pan and saute for 5 minutes or until lightly browned. Season with salt and pepper and transfer the vegetables to the pan with salmon and spread around the fish.
Sprinkle the cheese over top of the salmon and bake the pan in the oven at 400° for 15 minutes.
Remove and pour the butter over top of the salmon and garnish with leftover fresh herbs and lemon.