Shaved Cauliflower Salad with Smoked Whitefish, Mayo, Lemon, Radicchio & Herbs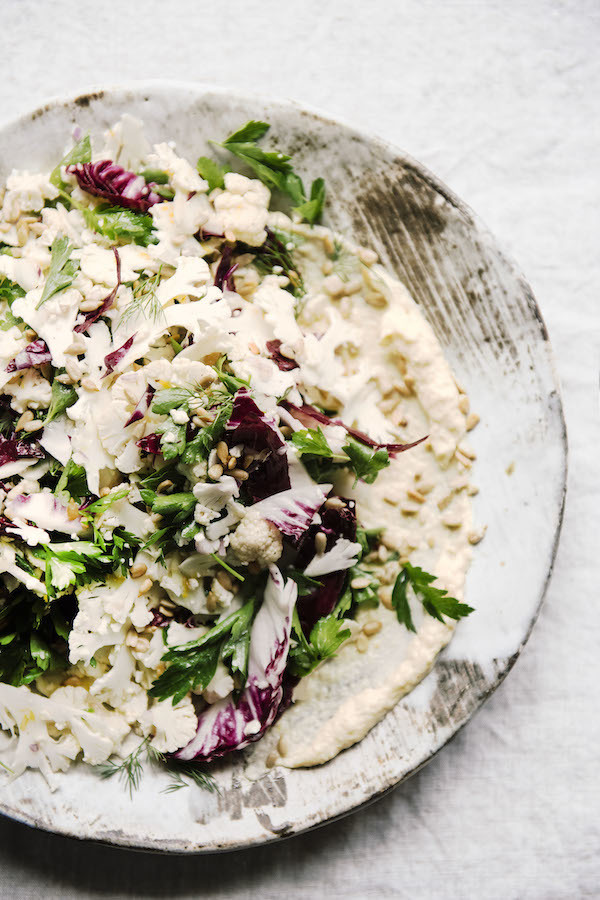 Reprinted from Ruffage by Abra Berens with permission by Chronicle Books, 2019
There is no right or wrong way to cut a vegetable as long as it feels good in your mouth. Here you could cut the cauliflower into florets, shave into thin cross-sections with a knife or mandoline, or grate to make a tabbouleh-like texture. I'm partial to shaving cauliflower so you can see the shape of the cauliflower and keep a nice wafer-like texture, but it is simply a matter of preference. If you don't want to use the whole head of cauliflower, use as much as you like; just reduce the other ingredients in proportion.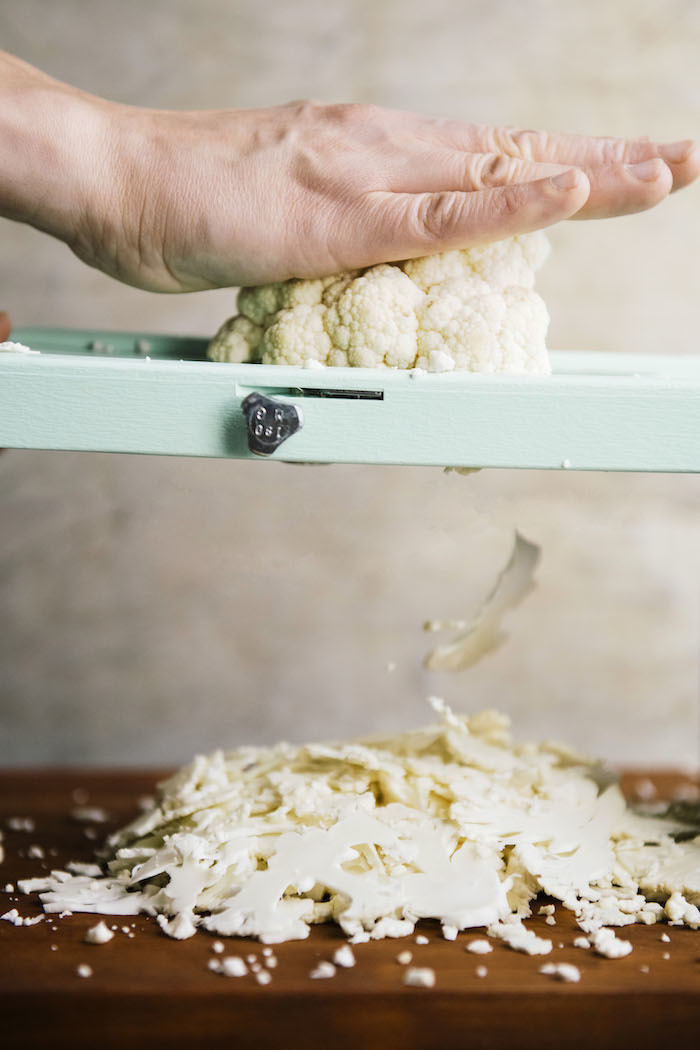 I regularly use smoked fish, as it's a large part of the food culture in the Northern Midwest, but it is not always available in every grocery store. Always feel free to substitute canned tuna. I also use roasted fish (often as a leftover from last night's dinner) as a replacement. You won't get the smoky flavor, but that's OK.
If you can't find radicchio, use arugula or any other green you like. It won't have the same bitterness or pretty purple color, but that's fine. Same if you don't feel like making mayo; use a cup of store-bought, and blend in the fish and lemon in the same way. If you don't have sunflower seeds, use garlic bread crumbs (page 48) or any other nut you like, chopped finely.
Swap herbs in and out as you like. I also like this recipe with mint, but then I leave out the dill. The key is to use their fresh hits of flavor to lighten the richness of the mayo and the creamy one-note-ness of the cauliflower.
Finally, this salad is plenty hearty to be a meal on its own but plays well with others as a side dish.
– Abra Berens
Shaved Cauliflower Salad with Smoked Whitefish, Mayo, Lemon, Radicchio & Herbs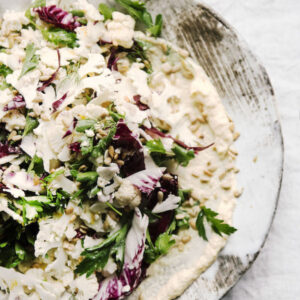 INGREDIENTS
1 egg
½ tsp (3 g) salt, plus more for seasoning
2 lemons (3 fl oz | 90 ml), zested and juiced separately
10 fl oz (300 ml) neutral oil
4 oz (115 g) smoked whitefish, deboned and flaked
1 small (4 oz | ½ cup | 115 g) red onion or shallot, cut into thin slices
Freshly ground black pepper
1 head (2 lb | 8 cups | 910 g) cauliflower, cored, cut into quarters, cut into thin slices
1 head (½ lb | 230 g) radicchio, cut into quarters and cored leaving the leaves as big petals
½ bunch parsley (1.2 oz | ¾ cup | 34 g), stemmed, leaves left whole
5 sprigs dill, stemmed, leaves left whole (optional)
½ cup (70 g) sunflower seeds, toasted

INSTRUCTIONS
In a food processor, whiz the egg, ½ tsp salt, and the zest and juice of 1 lemon. Slowly drizzle in the oil to make mayo. Add the white­fish to the mayo and blend until mostly smooth.
Combine the onion with the zest and juice of the second lemon, a big pinch of salt, and several grinds of pepper.
Toss the cauliflower, radicchio, parsley, and dill with the onion-lemon mixture and a pinch of salt.
Drizzle with the whitefish mayo and top with the sunflower seeds.
Check out more recipes, ideas, and tips from Abra Berens' Ruffage Cookbook.