Set a Fall Harvest Table for Your Friendsgiving or Thanksgiving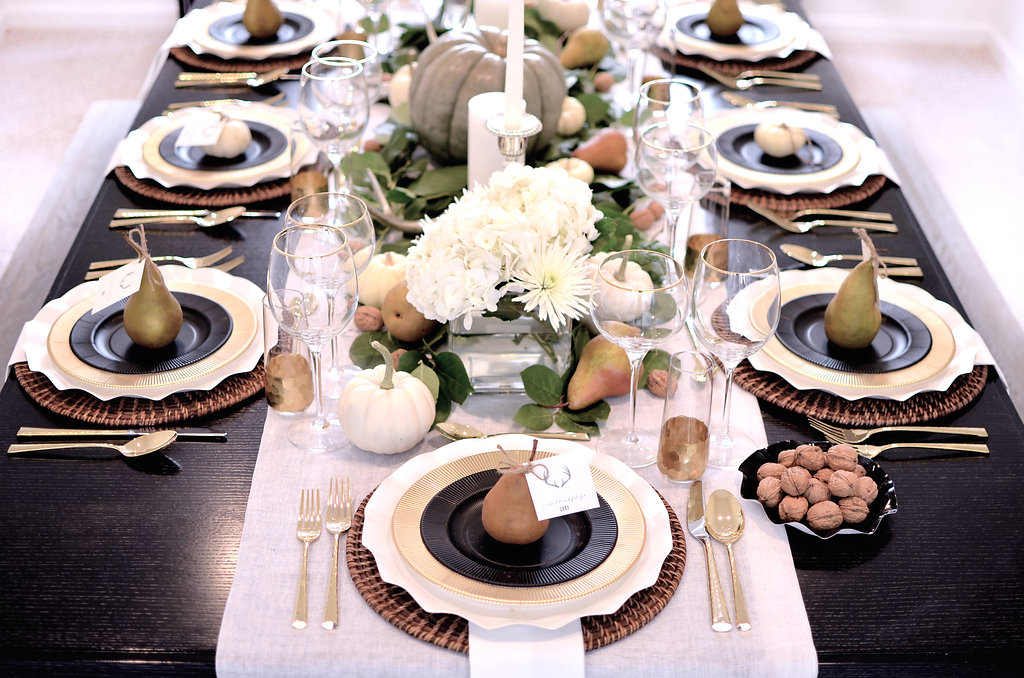 So, what will it be at your house this year? Friendsgiving for your emoji texting friends with a menu of roasted lamb and butternut kale squash, a family Thanksgiving with the traditional turkey, moms' stuffing, mashed potatoes and gravy fare or both?
Thanksgiving is hands-down my favorite holiday of the year. It's the Super Bowl of family dinners. That time of year to break out your favorite dinnerware, flatware, stemware, linens and accessories. The kick off to the holiday season and the best leftovers of the year. There's a ridiculous amount of amazing food, the day is festive, and most importantly, there is a celebration with family and friends around the table. Nothing beats that.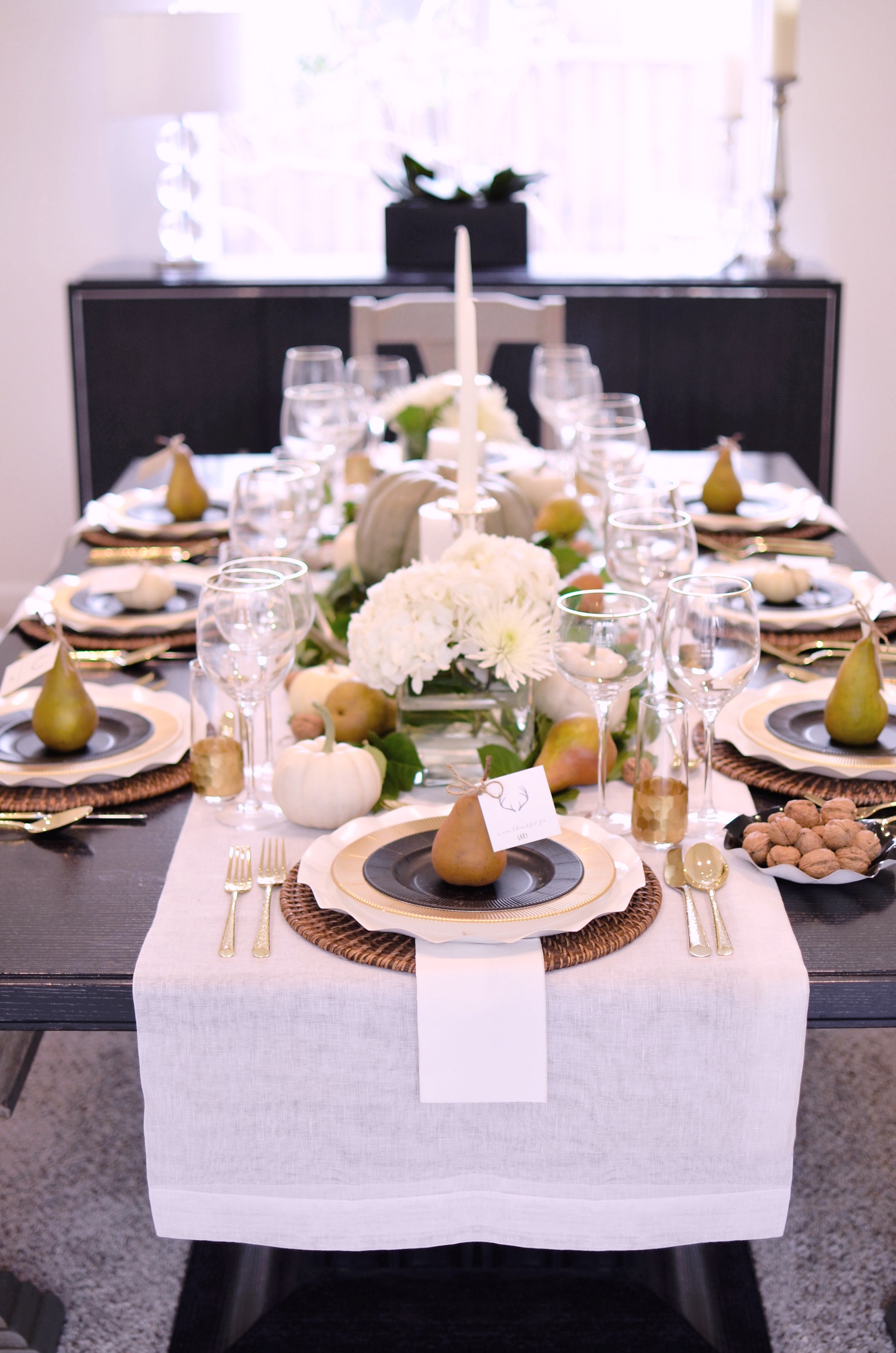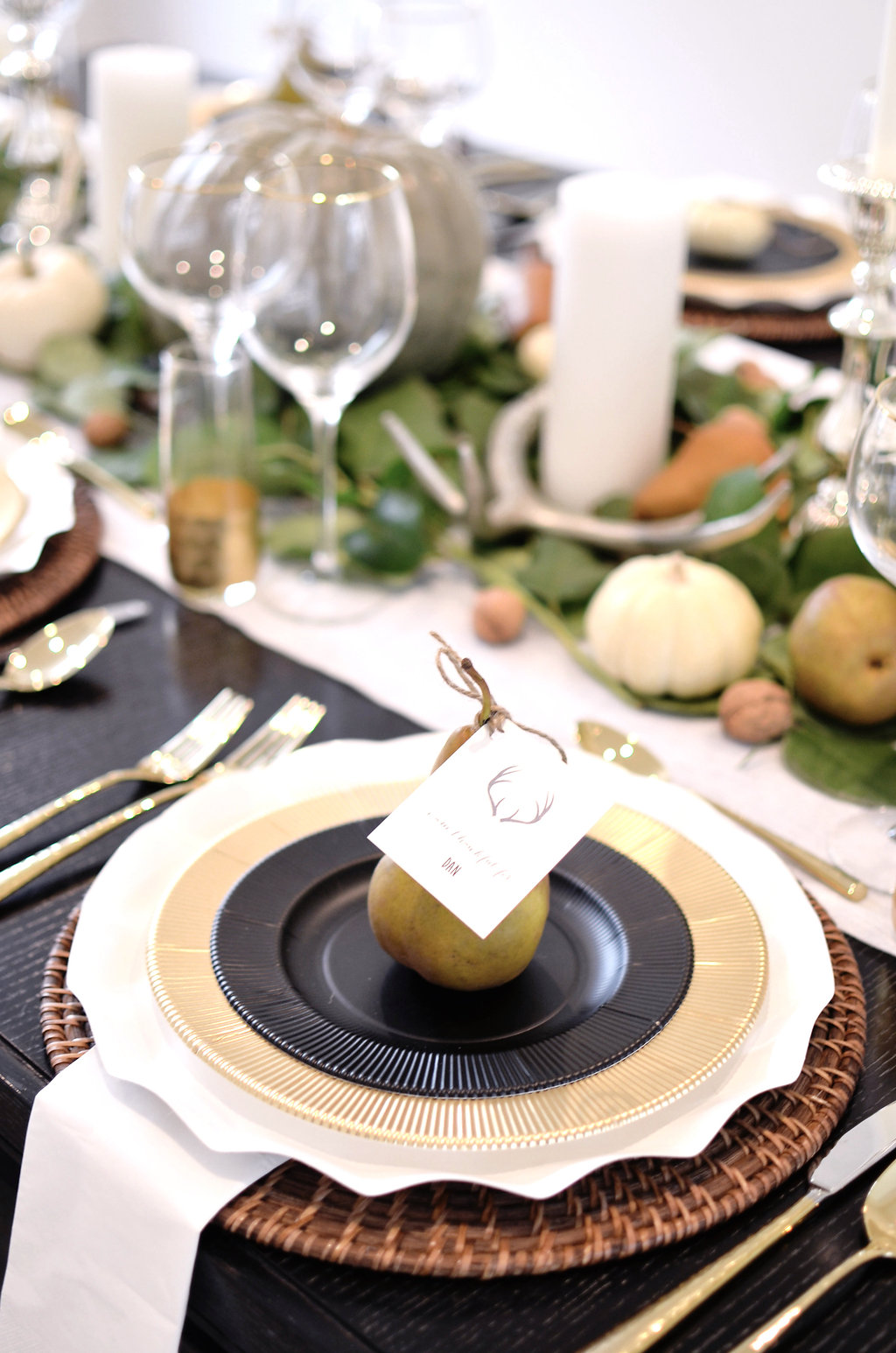 The next best thing for me about Thanksgiving is that I get to set one great-big, beautiful table with all the thoughtful and thankful inspiration I've been collecting for months. Here's a bit of fall inspiration to steal and what I have planned for this years' Thanksgiving Table.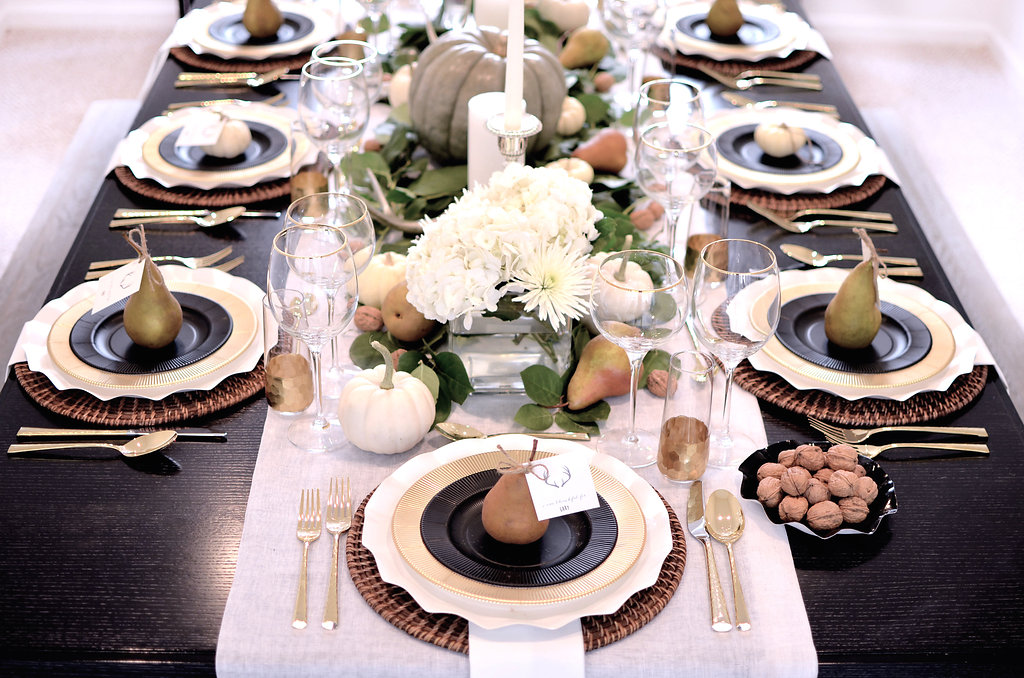 I've been all about white pumpkins since just about the minute fall arrived, and I love fresh fruits and vegetables on my table. I caught "gold fever" sometime last year and I love the mix of black, white and gold on the table. I think the trio strikes a good balance between sophisticated and casual, so this combination, mixed with mini white pumpkins, pears and walnuts will be the theme for year's table.
How would you like to set a beautiful table for Thanksgiving, toss all the dishes away when it's all over and sit with your guests to enjoy dessert? Well, here's how. Just introduced in the U.S., Sophistiplate is a new line of pretty paper for your table (you thought it was fine china, right?) and is perfect for those who love easy entertaining with style. Made in Italy and designed to mix + match, we took the Sophistiplate challenge and the results are in… er, here, and simply beautiful!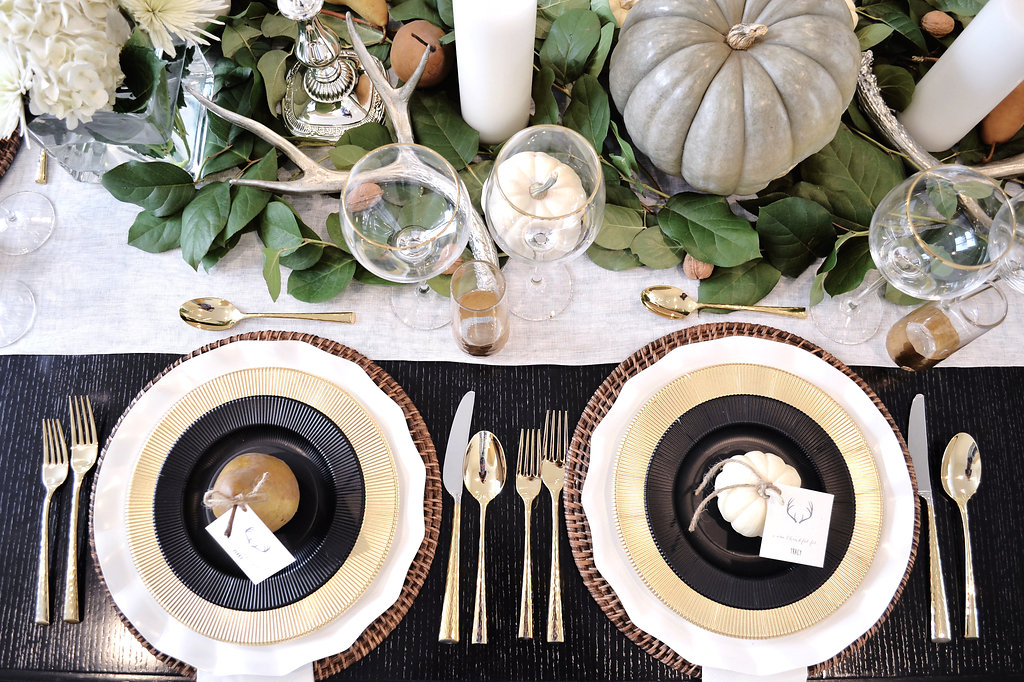 In lieu of floral arrangements, I decided to go with greenery this year to bring a real fall harvest mood to the table. Because I wanted a bright and light look, I used a white linen table runner with a bit of a "sheer factor" to it, topped it with a thick layer of lemon leaf (check your local florist or market), and placed an Heirloom pumpkin in the center of the runner.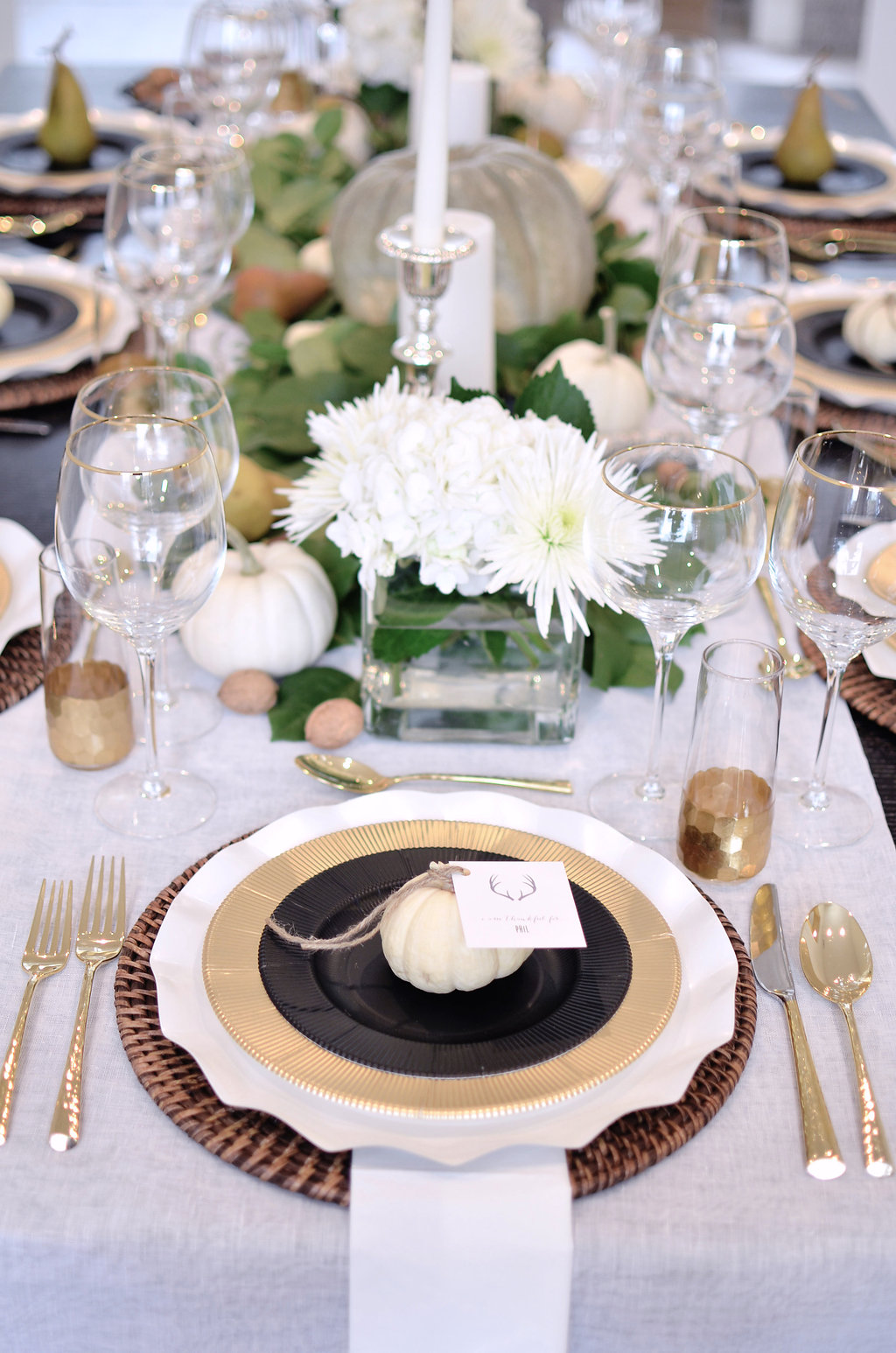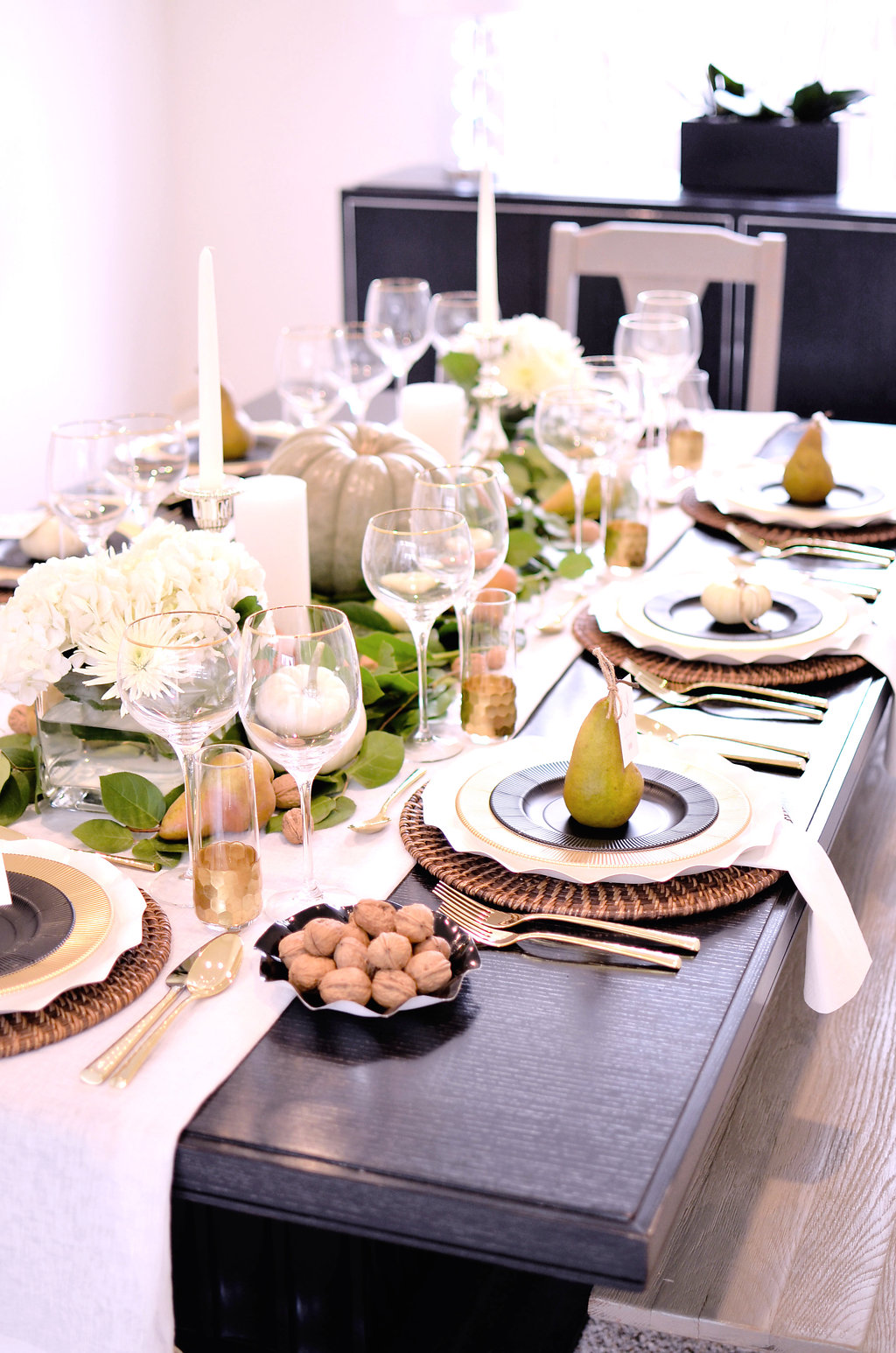 To create the look, I worked my way out from each side of the pumpkin, adding white pillar candles, silver candlesticks with white tapers, silver painted antlers, and square medium sized vases filled with white hydrangeas (my favorite!) and spider mums, fresh from the floral market.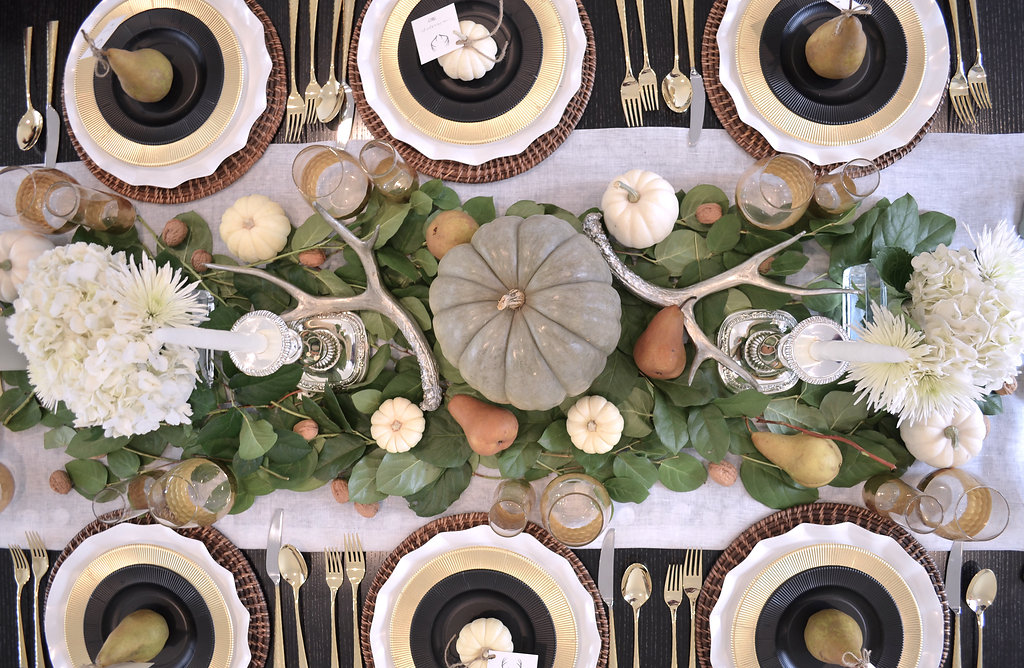 I built each place setting using The French Chef Rattan Round Placemats by Lenox for a bit of dimension, and layered it with the black, white and gold Bellezza Collection from Sophistiplate. To get the look, I used a Petalo Pearly White Charger Plate, topped with a Solid Gold Righe Dinner Plate, an Opaque Black Righe Salad Plate and tucked a simple White Napkin underneath the charger.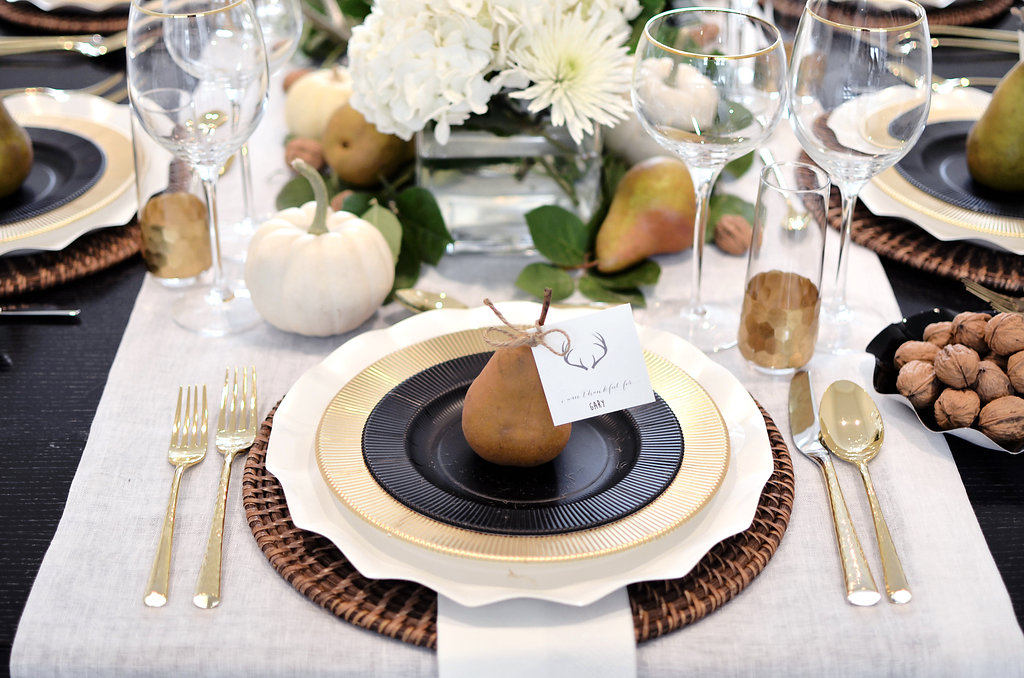 What I love about this disposable dinnerware? It's fun to mix + match, there are stylish serving pieces (appetizer bowls and deep bowls, and more) and, it's just really pretty. This set is a just a bit special to me, because I designed it and it's my very first collection.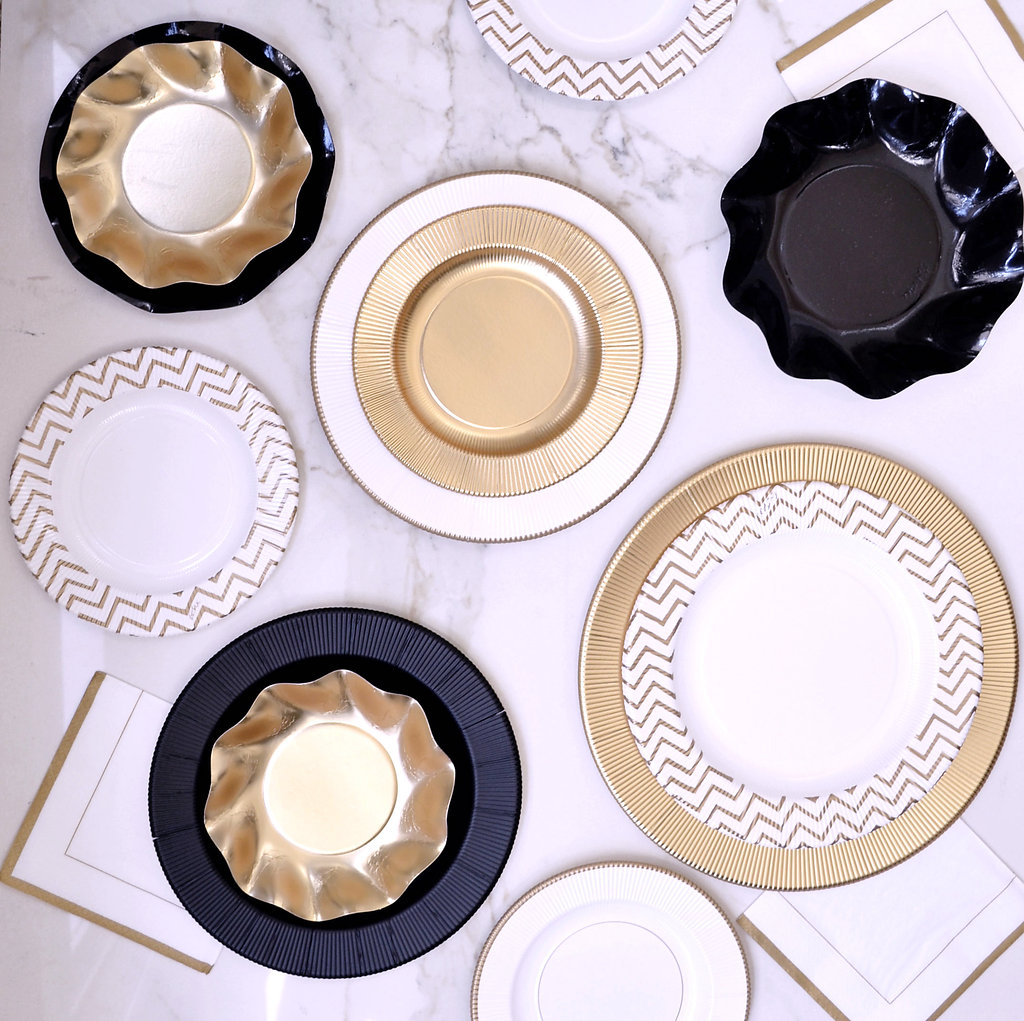 While you could create a completely disposable table, I preferred to mix the dinnerware with my favorite flatware and stemware and I love how the Marchesa Imperial Gold Caviar Flatware by Lenox and Lenox Eternal Gold Stemware complements the tableware. Both have pretty much become a staple at my tables and as of our last get-together at our house; the All-Purpose Glass and Wine Goblets are officially guest favorites. For an extra touch of just a little sparkle, I added Gold Stemless Glassware, similar to these from Fitz & Floyd.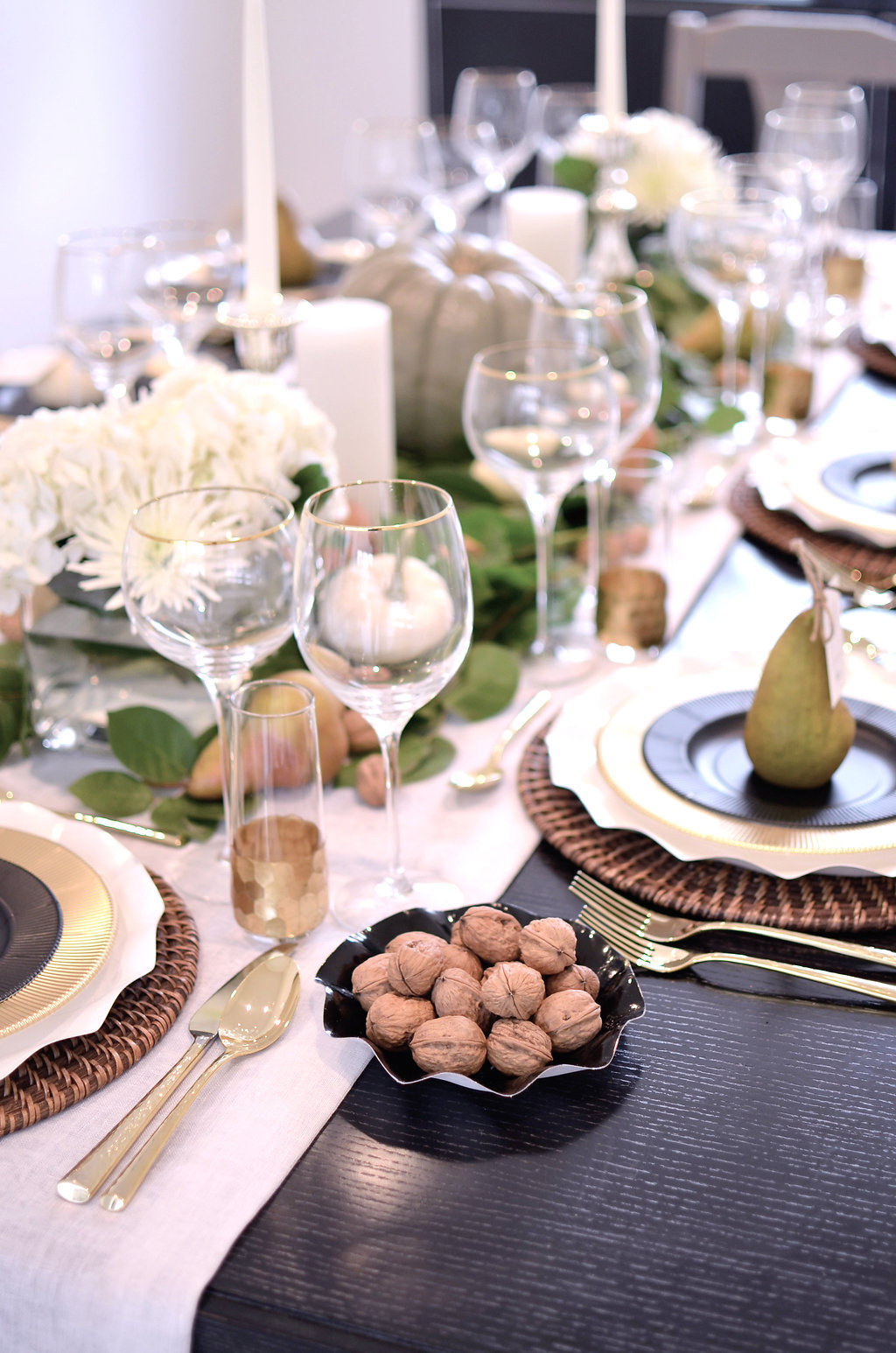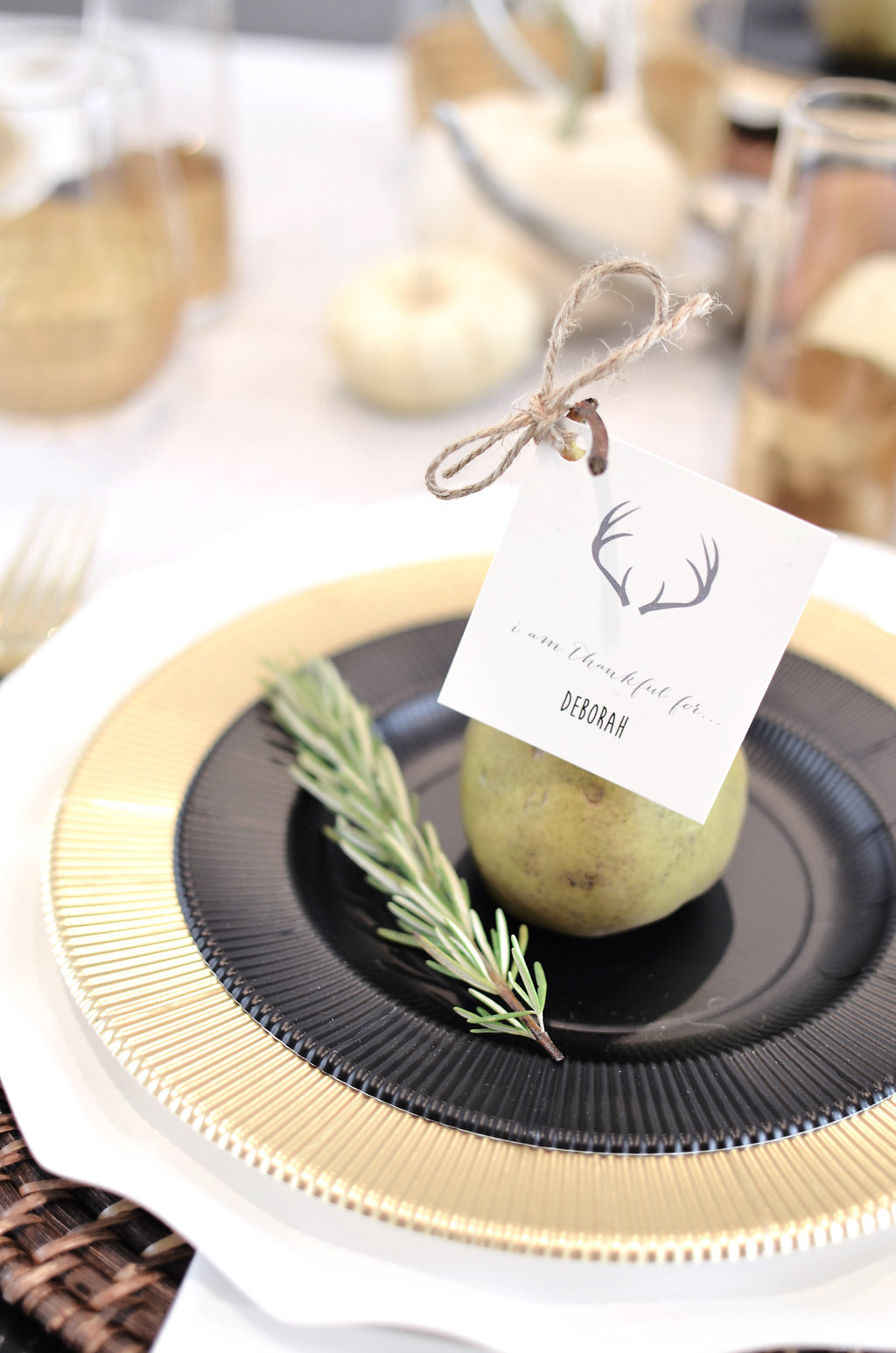 Lastly, I topped each salad plate with alternating pears and mini-white pumpkins, using them as place cards. I created simple "I am thankful for" name tags with antlers to pair with the fall table decor, added guest names in a script font and printed six per page on an off-white pearlized heavy weight card stock. I cut the cards into 2" x 2" squares, with a hole punch, I punched a hole in the left corner of each tag, and tied them to the stems of the pears and pumpkins with a medium weight twine. It's a simple DIY that adds a personal touch to your table, will make your guests feel extra-special and can be done weeks ahead of time.
I'm a firm believer guests should be greeted with a glass of champagne or a signature cocktail. After that, it's fun to set up a self-service bar with recipe cards for your signature drink and other fall-inspired cocktails, so that guests can help themselves. Include ice, mixers, the perfect glasses, oh, and the booze. Our signature go-to cocktail this year is Apple Cider & Champagne Sangria. Don't worry, we didn't leave you hanging. The recipe is below.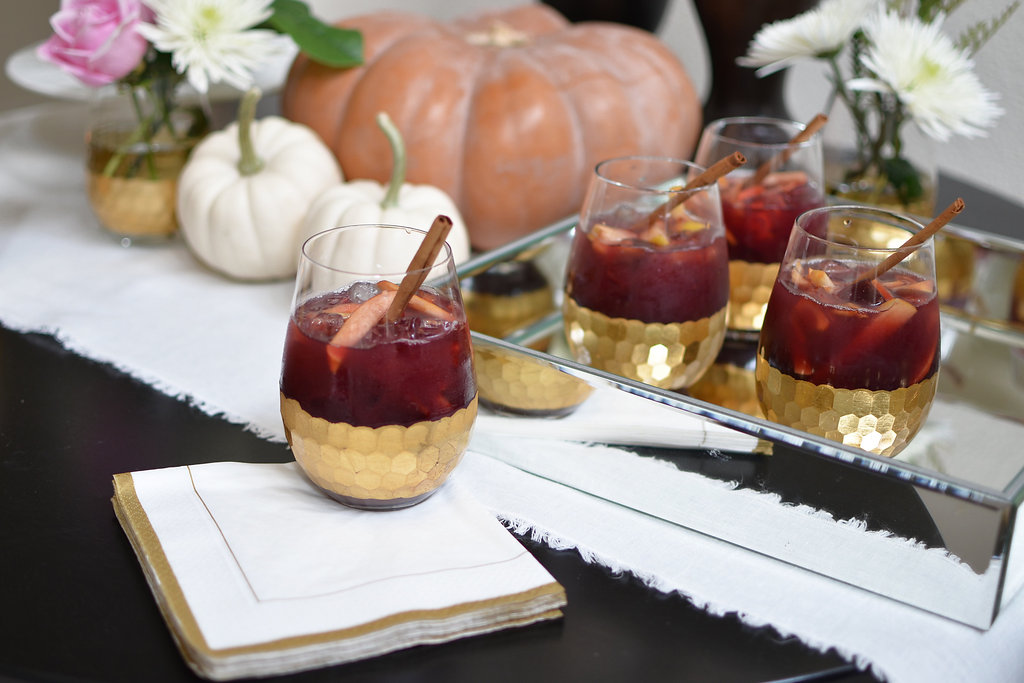 Whether you're hosting a Friendsgiving feast for 20 or your immediate family for the big day, if you celebrate Thanksgiving anything like our family, you'll want to start planning your day and your table right now. Invite your guests, prep or buy new linens, order your rentals, give some thought to the florals, plan your menu, and enjoy this harvest inspiration and easier take on entertaining.
Last but not least, once you're finished setting your table, take a moment to give a BIG thanks for the food on your table and your family and friends. Before your guests arrive, light the candles, set the mood with your favorite tunes, and remember to have fun and enjoy!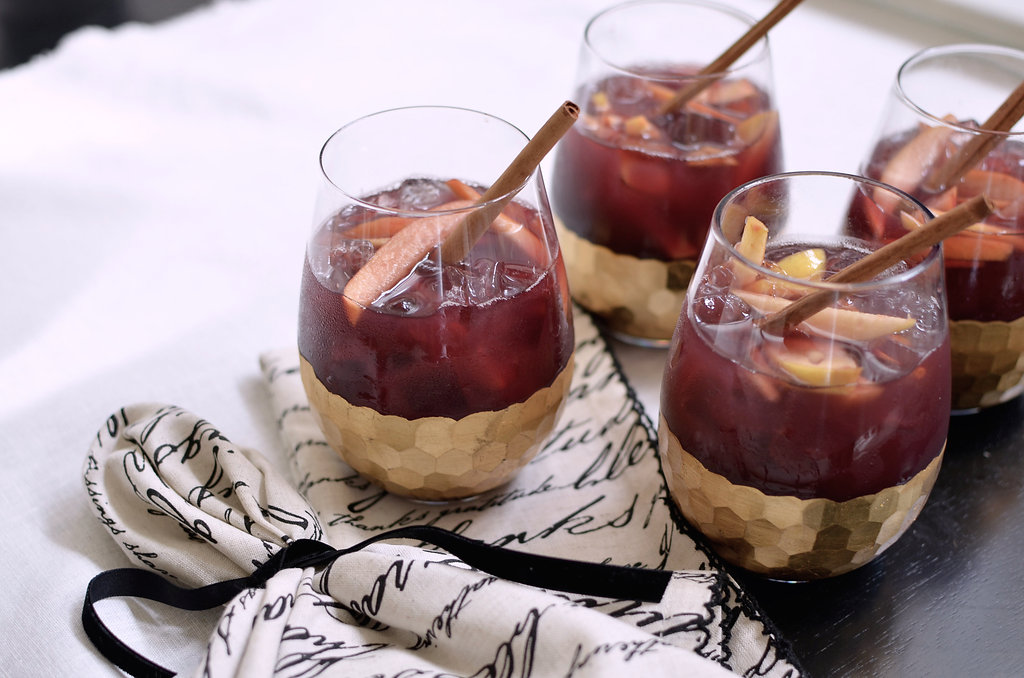 From our table to yours, we hope your holiday feast is unforgettable and we wish you a very Happy Thanksgiving. If you're in the neighborhood, stop by!
Sparkling Apple Cider Sangria Recipe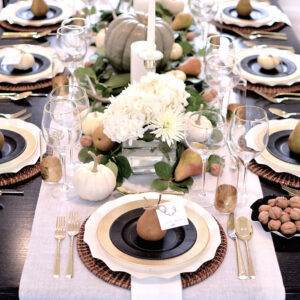 INGREDIENTS
3 crisp red apples, thinly sliced
1 cup pomegranate seeds
2 cups apple cider
1 bottle Cabernet Sauvignon - or any fruity red wine
4 whole cinnamon sticks (extra if garnish is wanted)
½ TBSP whole cloves
1/8 TSP grated nutmeg
1 bottle dry sparkling wine, chilled
INSTRUCTIONS
Mix all ingredients in a tall pitcher, hold the champagne! Refrigerate overnight.
When ready to serve, pour Sangria into a pretty glasses (be sure each glass gets some fruit!), top with chilled champagne and add a cinnamon stick for garnish.
Sounds easy, right? It sure is, and you're going to love it.