The Holiday Detox "Cocktail" to Cure All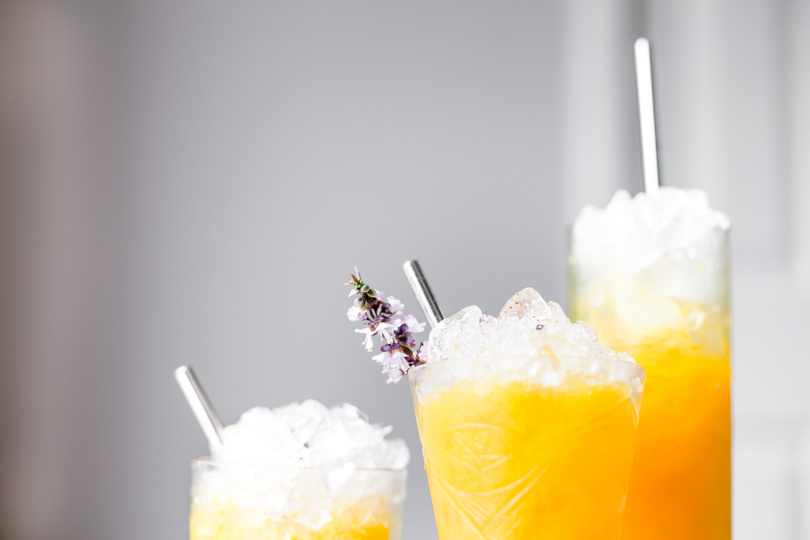 After the holidays, a little turmeric and ginger go a long way – and the combo is so delish you'll want to sip these even when you're not under the weather.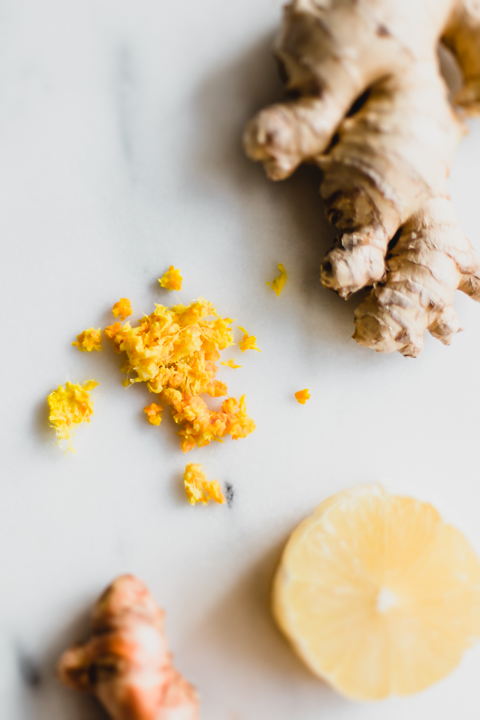 I'm always guilty of a little overindulgence during the holiday season. Faced with an endless parade of rich, heavy, sugar-laden but oh-so-delicious treats, I'm definitely not the girl to pass up a second helping (and sometimes even a third!). It all seems so innocent while you're listening to your favorite Christmas playlist and washing down your second slice of pie with a second mug of eggnog. But by the next morning, the whole body crash is very, very real.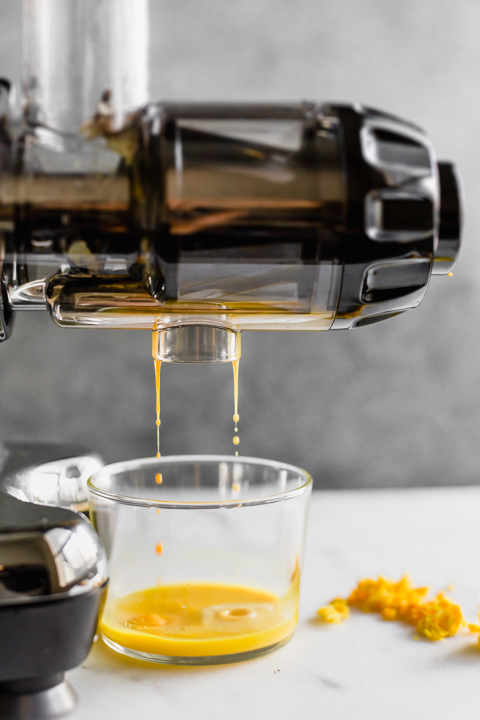 Enter the Detox "Cocktail" (really a mocktail, but feel free to add a skosh of vodka if you need some hair of the dog that bit you). People always ask me for my go-to hangover cure — hazard of the trade — and this is it. But it's also so much more than that. Got the flu? This is what I drink. Car sick? Same deal. Gassy? You bet. I literally make this whenever I'm feeling less than 100%, and I can honestly say that while a true cure-all is simply impossible, this comes pretty darn close.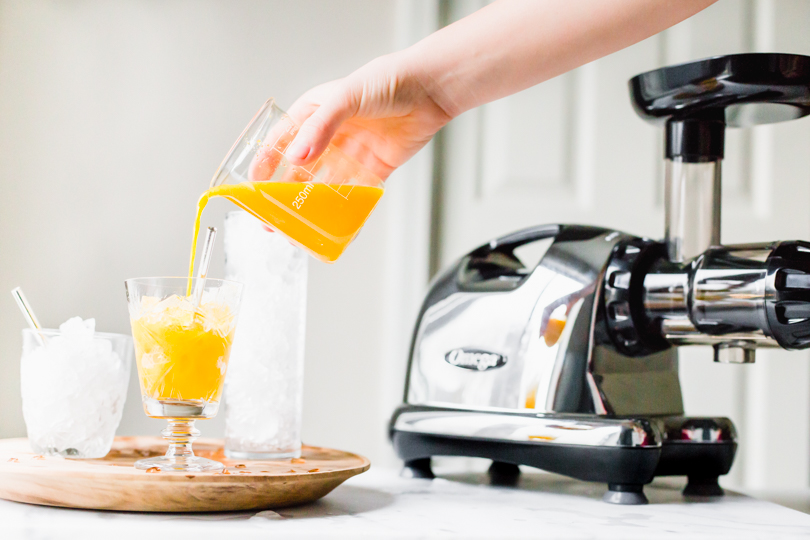 So what's in my favorite elixir? Ginger, which is well known for its efficacy in treating nausea and other gastrointestinal complaints. Turmeric, which is loaded with curcumin, which may have anti-inflammatory, antioxidant, and even anticancer properties. Honey, which has natural antibacterial qualities and can soothe a sore throat. And lemon, which is loaded with Vitamin C. These are all chosen to make you feel less icky, but also because they taste great together — this is not a pinch-your-nose-and-get-it-down situation. It's extremely bright and flavor-forward, with a spicy kick from the ginger and the bitter tang of turmeric, all mellowed out by the sweet and soothing honey.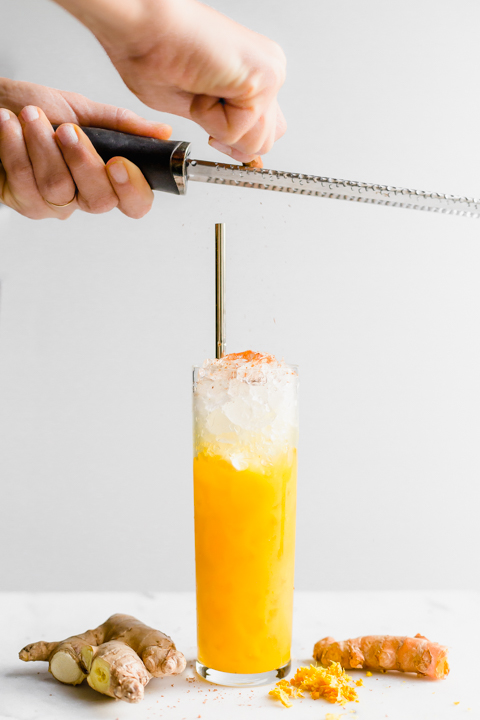 Here's the thing though: you're gonna need a juicer. If you read my post on Fresh Pressed Juice Cocktails, you know I was hesitant to commit to home juicing, but now that I have one I wonder what I ever did without it. You just can't capture the fresh zing of ginger, the bitterness of turmeric, the earthiness of carrots or even the vegetal tang of kale by any other method. I use it to dream up new fresh, seasonal flavor combos for cocktails (that happen to be loaded with nutrients) all the time.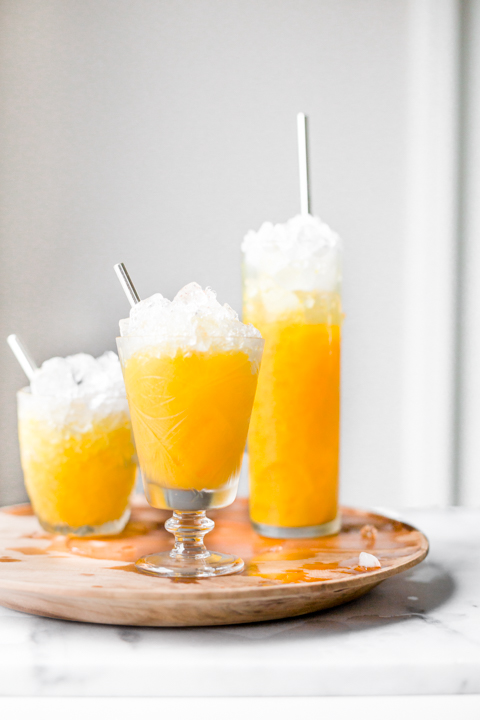 If you need to make this without one, it's still possible. Grate the ginger and turmeric with a Microplane into a fine mesh sieve and press out the juices. Messy and time consuming, but definitely effective.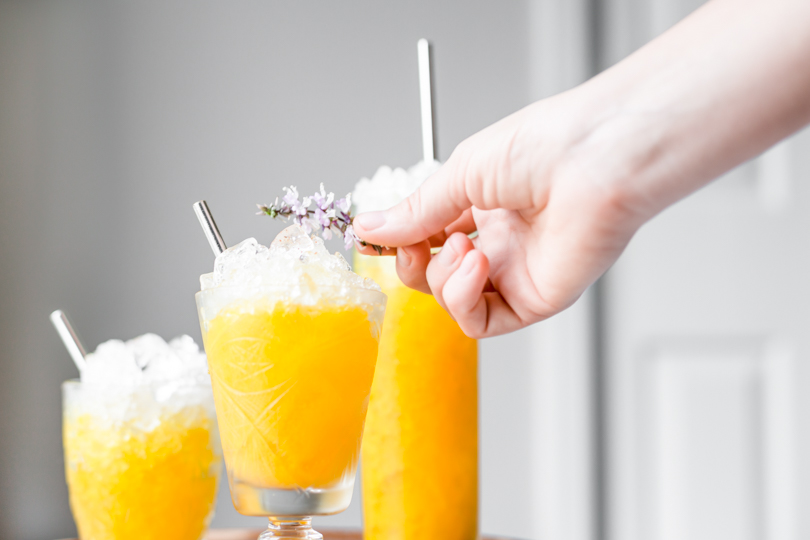 Honey Turmeric Ginger Cure All
The combo is so delish you'll want to sip these even when you're not under the weather.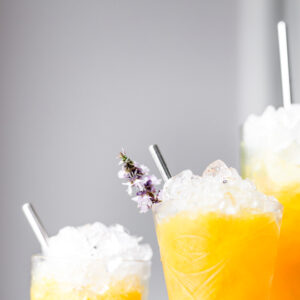 Ingredients
1

one inch nob of peeled ginger

1

one inch nob of peeled turmeric (should be much thinner than the ginger nob)

1

thick slice of lemon (about half an inch), peeled

2

tsp

honey

1

tsp

very hot water

Tiny pinch of salt
Instructions
Combine the honey and very hot water in the bottom of a cocktail shaker, and stir rapidly until the honey is fully dissolved.

Juice the ginger, turmeric, and lemon in that order.

Add the juice to cocktail shaker with the honey, then add ice and shake well for 10 seconds.

Pour over crushed ice and stir well. Top with additional crushed ice and (optional) freshly grated cinnamon.
Nutrition
Serving:
1
g
Calories:
252
kcal
Carbohydrates:
50.2
g
Protein:
4.4
g
Fat:
0.7
g
Saturated Fat:
1.7
g
Sodium:
26
mg
Fiber:
12
g
Sugar:
13.5
g