Savory Fall Galette with Sweet Potatoes, Fuji Apples & Goat Cheese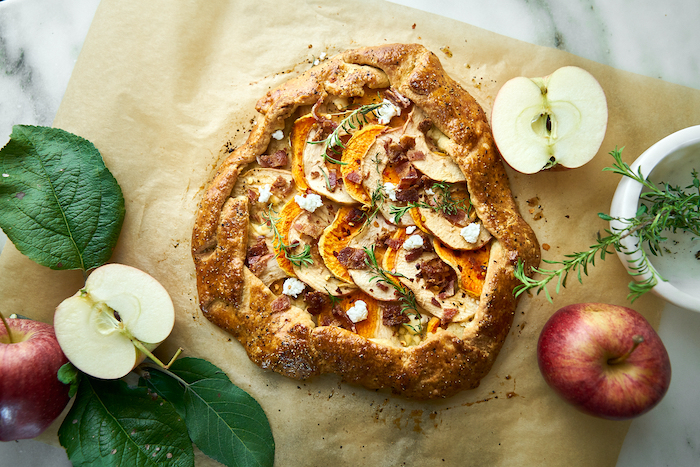 The first few months of the pandemic, everyone was feeling particularly motivated to bake. Friends I never thought would bake bread at home became attached to sourdough starter. I think we've all seen that trend wane (because I also have friends I thought I would never see use meal prep delivery services waiting for their packages with bated breath). But a lot of us are somewhere in the middle. We are still cooking and baking, but we wouldn't say no to easier.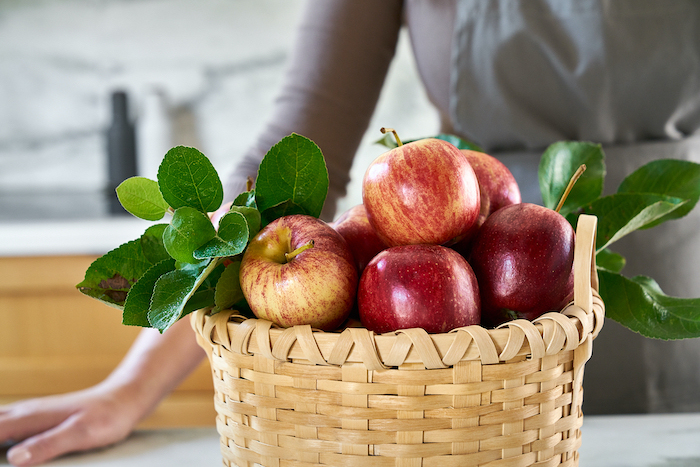 A galette is a freeform tart that can be made with sweet or savory fillings. I like to use seasonal fruit tossed in a bit of sugar or switch to savory and mix potatoes and root vegetables or even sautéed greens and chicken with onions. By definition, a galette is a rustic single-crust tart. There are no rules about fillings except, don't make it too full and don't make it too wet.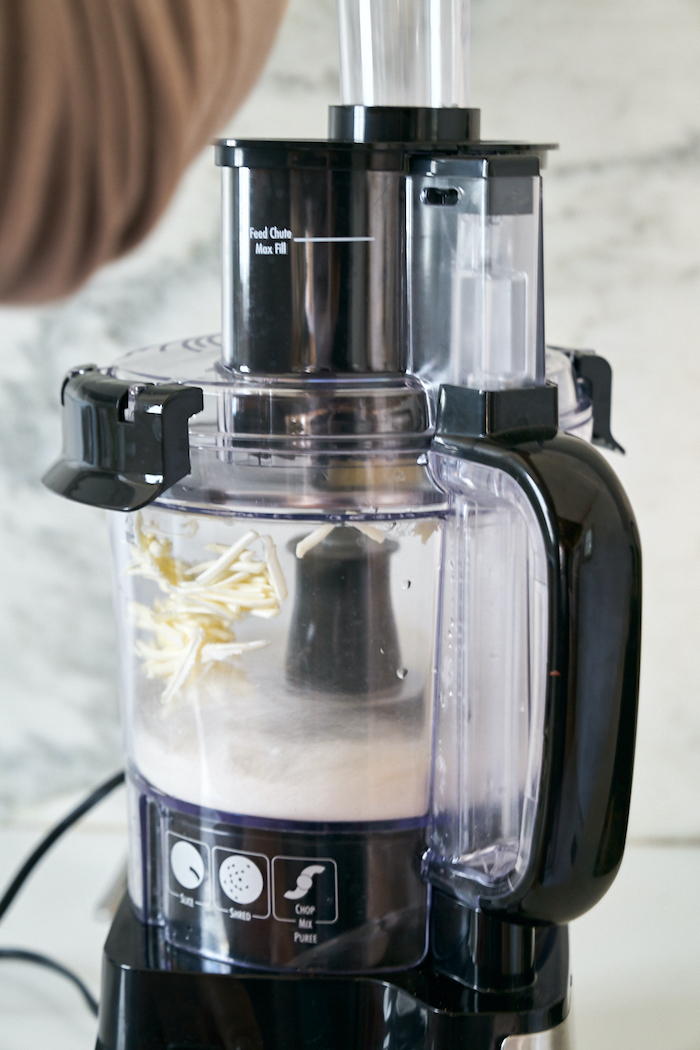 The dough I use is one I can't even take credit for (I used Bon Appétit's "Basic Tart Dough"), only that when we make it at home we use a food processor to accomplish it. That means there's no hand cutting in butter. No mixing. It's whacking a grating attachment on your food processor, pushing the butter through in three seconds, and then adding the egg. Twenty pulses or so later you have dough.
Stack & Snap Food Processor

By Hamilton Beach

Shop Now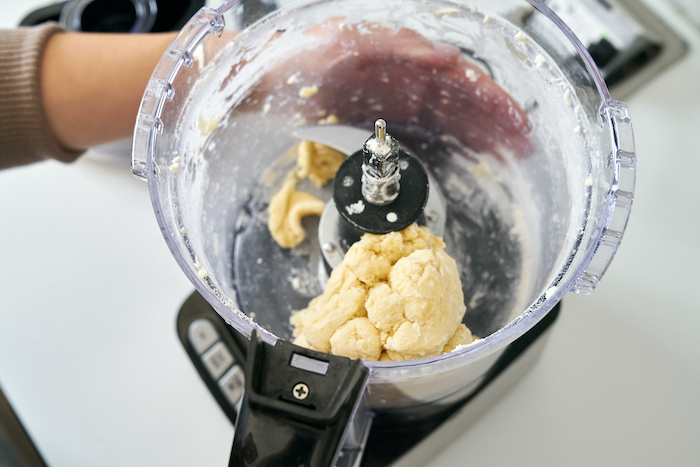 Once you have your dough chilled and rolled out, you'll need a sturdy bench scraper to help you transfer your dough onto a galette pan. A sturdy scraper will help provide stability in the transfer. Some scrapers that are ultra handy even have measuring guides on them to help you see how thin you've rolled your dough, or how wide/long your tart is.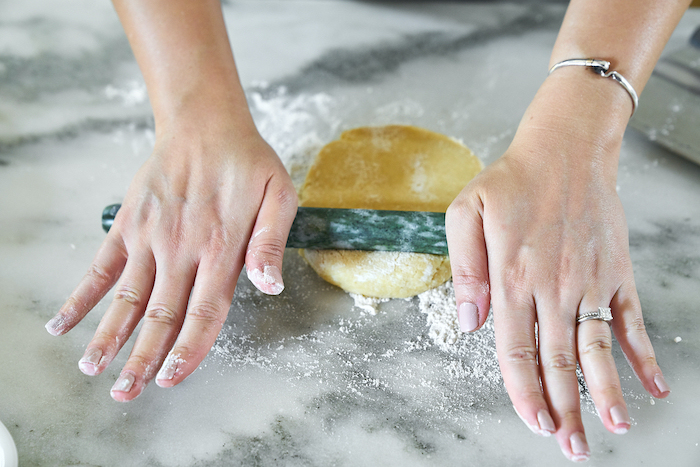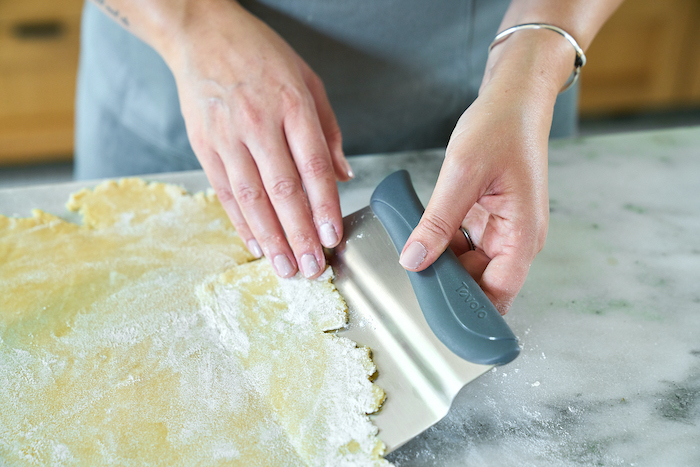 This is less important for a free-form tart, but if you're a croissant or pastry lover, this will be incredibly convenient for you instead of whipping out your desk ruler.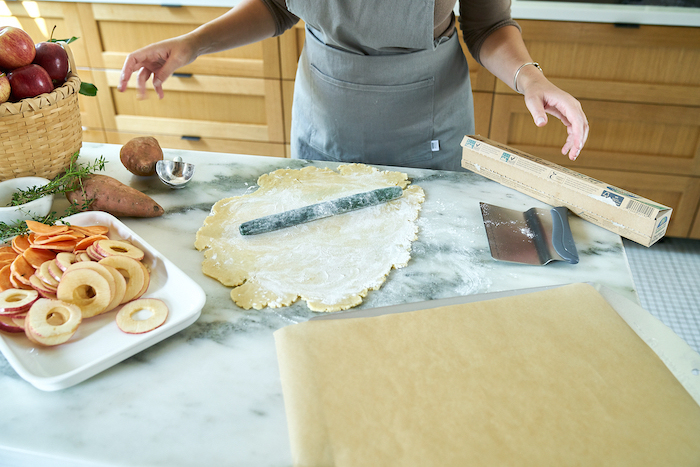 When selecting a pan to bake on, you want consistent results. An aluminum pan like this one from Nordic Ware comes with a no-rust, lifetime guarantee. It's sturdy which you wouldn't think would be a problem, but I've seen surprisingly flimsy sheet pans that have a disconcerting bend to them in my day…
Large Classic Cookie Sheet

By Nordic Ware

Shop Now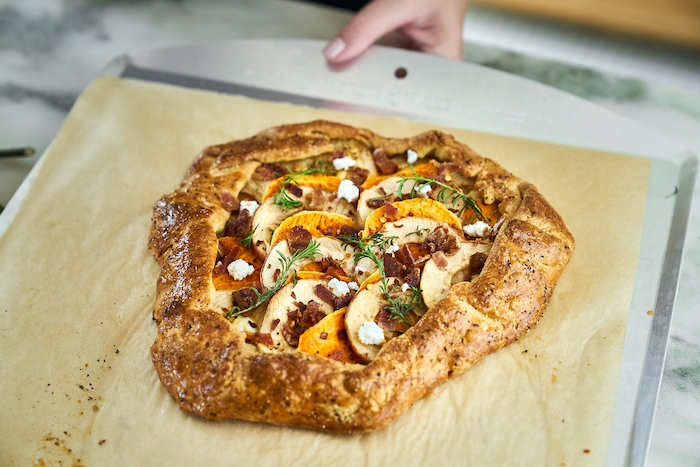 To make your assembly flawless, I recommend using a mandolin ahead of time to keep your produce cuts even (whether you're using zucchini or butternut squash or apples and sweet potatoes like I did).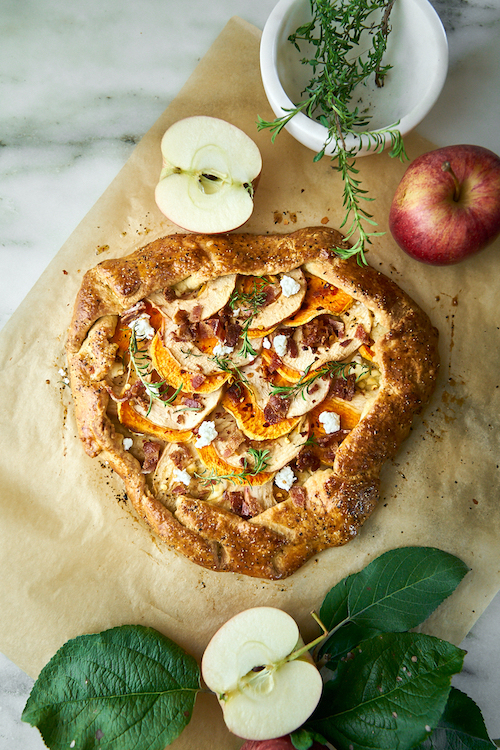 By definition, a galette is a rustic single-crust tart. There are no rules about fillings except, don't make it too full and don't make it too wet. We used apples, goat cheese, and sweet potato for delicious fall flavors!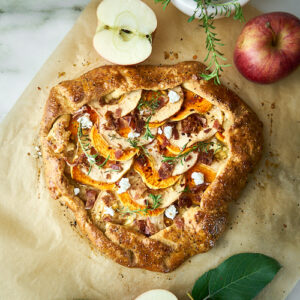 Ingredients
2

tbsp

goat cheese

1

small sweet potato, peeled and thinly sliced

2

small Fuji apples, thinly sliced with core removed (a pastry tip is perfect for cutting out the center)

1

large egg, whisked

black pepper, to taste

thyme, to taste

reduced balsamic vinegar, for drizzling
Instructions
Make or buy your tart dough. Form into a disc, cover and chill for 30 minutes to an hour. See link in article above for a suggested recipe.

Prepare produce in thin, even slices.

Preheat oven to 350 F. Roll out tart dough so it's 1/8 inch to 1/4 inch thick in a round-is shape. Transfer to a baking sheet with parchment paper.

Add goat cheese in crumbles in the first layer. Top with alternating slices of sweet potato and apple. Fold tart dough about an inch into the filling, overlapping the previous fold. Brush the dough with a whisked egg. Top with black pepper. Bake 40 minutes until crust is golden brown.

Serve with fresh thyme and reduced balsamic vinegar.
Nutrition
Serving:
1
g
Calories:
410
kcal
Carbohydrates:
48
g
Protein:
8
g
Fat:
22
g
Saturated Fat:
13
g
Cholesterol:
131
mg
Sodium:
477
mg
Fiber:
4
g
Sugar:
17
g