Brie Stuffed Burgers with Sweet Chili Mayo & Corn Salsa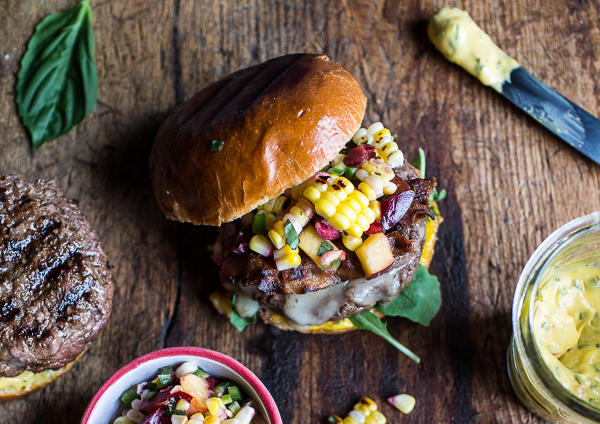 I'm back and I've brought a killer burger along with me that is perfect for all of your upcoming summer outings. And guys, I do mean KILLER.
Growing up, my family lived in the Cleveland, Ohio area. My parents didn't take the family out a whole lot; having seven kids tended to make Friday and Saturday night outings a bit more of a rare event. But when we did get out, we would pretty much always go to a restaurant in Lakewood, OH called The Rush Inn. It's not a fancy restaurant or anything, but they do have really incredible food, and especially awesome burgers.
My dad always ordered the blue cheese burger and since I was just a little kid at the time, my dinner would consist of a few bites of his burger. I know, what kid eats and likes blue cheese?!? Well, me, but then again I used to eat carrots instead of chips too. I surely was an odd one.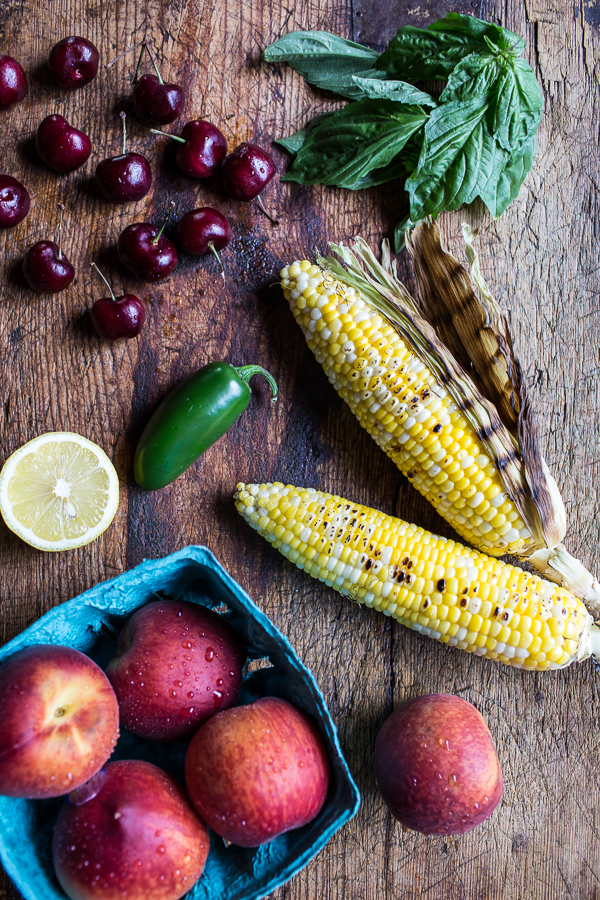 Anyway, I remember this burger tasting amazing, and I have always wanted to recreate it. So when I started cooking, I had to try creating my own blue cheese stuffed burgers. They're actually so easy to make and they always turn out amazing. For this burger though, I swapped the blue cheese for brie (oh my gosh, yes!) and made things even easier by using the Cuisinart 3-in-1 Burger Press. If you don't own this press, you should. It makes the perfect stuffed burger, slider or even a regular patty. It's such a helpful gadget, so awesome!
Equally awesome are the flavors going on in this burger. For one, it's stuffed with melty brie. Really, does a burger get any better than when it is stuffed with brie? I mean, come on! I also added a sweet chili mayo and corn salsa for some spice, sweetness and texture.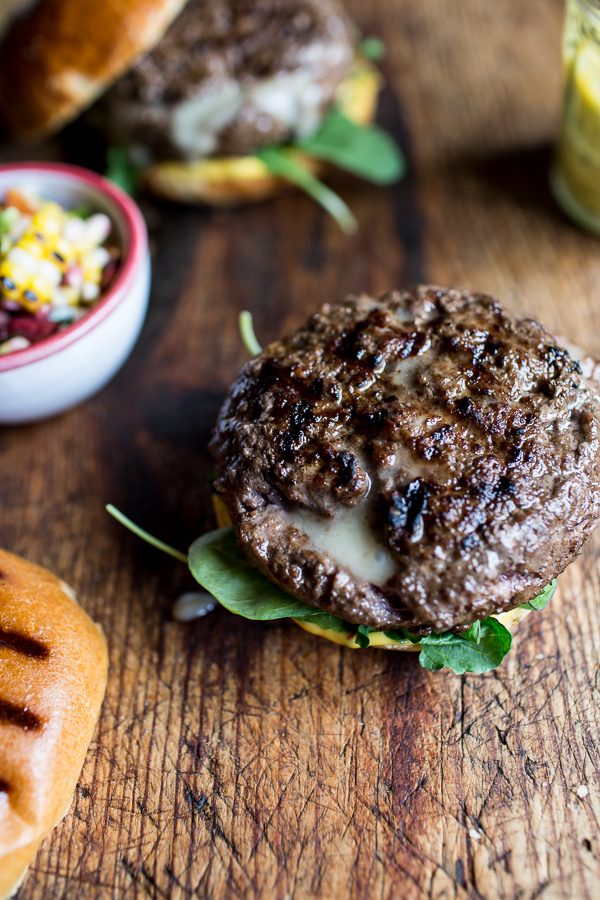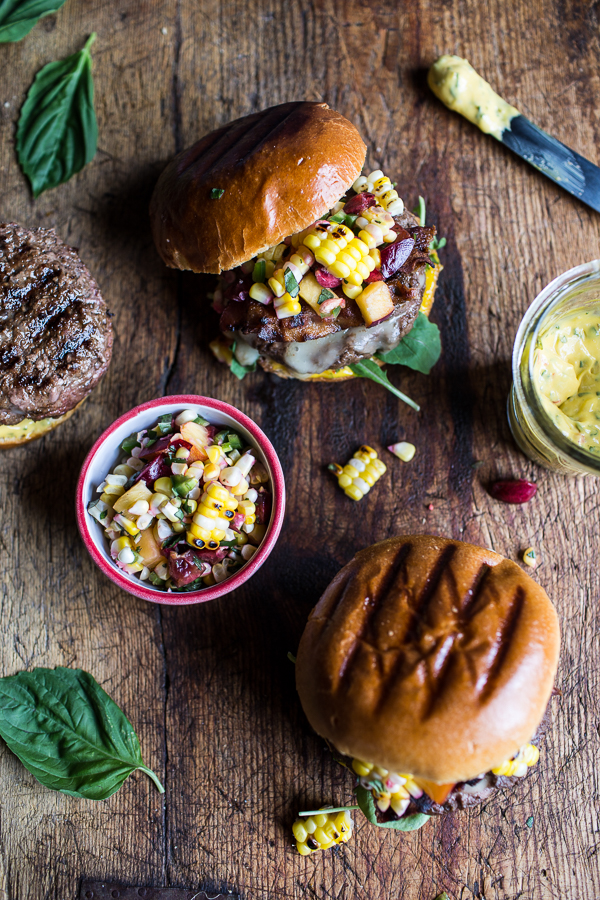 I promise guys, this is the burger for all of your cookouts. Did I mention the bacon? If you're a bacon lover, make sure to top off this brie stuffed burger with your favorite type of bacon for extra juiciness and flavor. So good!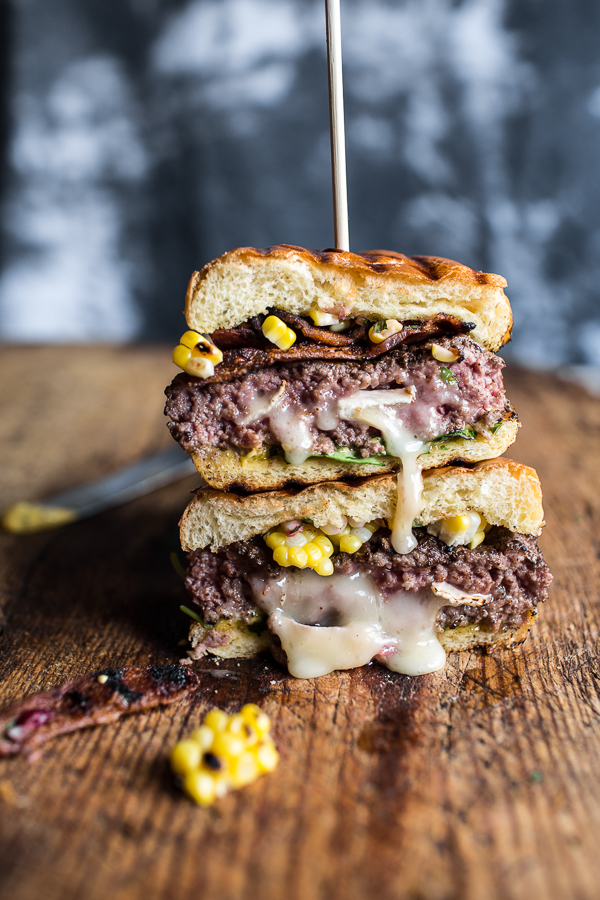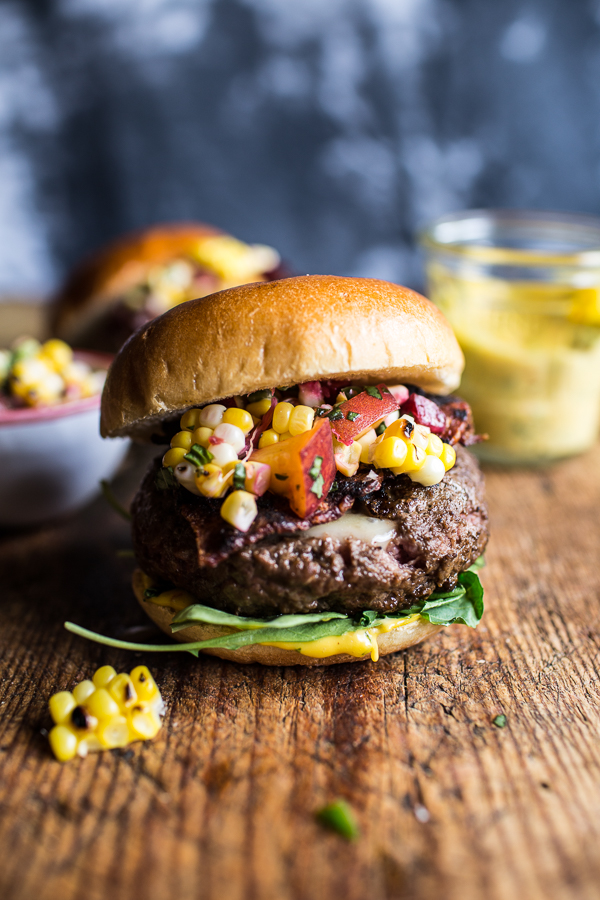 Brie Stuffed Burgers with Sweet Chili Mayo + Corn Salsa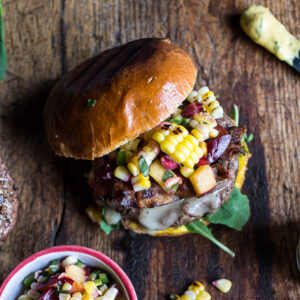 INGREDIENTS
Burger
1½ pounds ground beef
6-8 ounces Brie, rind removed if desired + cubed
1 tablespoon Worcestershire sauce
4 slices cooked bacon (optional)
4 hamburger buns, toasted
Sweet Chili Mayo
½ cup good quality mayo
1 tablespoon fresh lemon juice
2 tablespoons Thai Sweet Chili Sauce
2 tablespoons fresh basil, chopped
Pinch of salt + pepper
Grilled Corn Salsa
2 ears grilled corn
1 peach, diced
4-8 cherries, pitted + diced (optional)
1 jalapeno, seeded + diced
juice of half a lemon
1/3 cup fresh basil, chopped
Pinch of salt
INSTRUCTIONS
To make the burger patties, place about 1/3 pound of meat into the base cup of the Cuisinart 3-in-1 Burger Press. Using the press top, push down firmly and centered into the meat in the base cup. Remove the press top from the base cup; you should have a burger patty with an indent in the center. Fill the indent in with a few cubes of brie. Now take about 1/6 pound of beef and spread it over top of the brie. Reattach the press cap to the press top and press down on the stuffed burger. Make sure the edges of the burger are sealed and then remove the burger from the press and place it on a plate. Repeat with the remaining burgers.
Drizzle each patty with Worcestershire sauce. Cover and place in the fridge while you prepare the mayo and salsa.
To make the mayo: combine the mayo, lemon juice, sweet Thai chili sauce, basil and a pinch of salt + pepper. Mix to combine. Keep covered in the fridge until ready to serve.
To make the salsa: add the corn, peach, cherries (if using), jalapeno, lemon, basil and a pinch of salt to a bowl. Toss well to combine.
When ready to cook the burgers, preheat the grill to medium high heat. Once hot, grill your burgers until they reach your desired done-ness. Just remember that these are pretty big patties and they will take a little longer to cook than most. I cooked my burger for about 8 minutes per side.
To serve, spread a little mayo on the bottom of your toasted buns. Top with the burger patty, bacon and then add the salsa. Add the top half of the bun and enjoy!