Spice Up Your Cinco with Salted Jalapeño Tequila Shots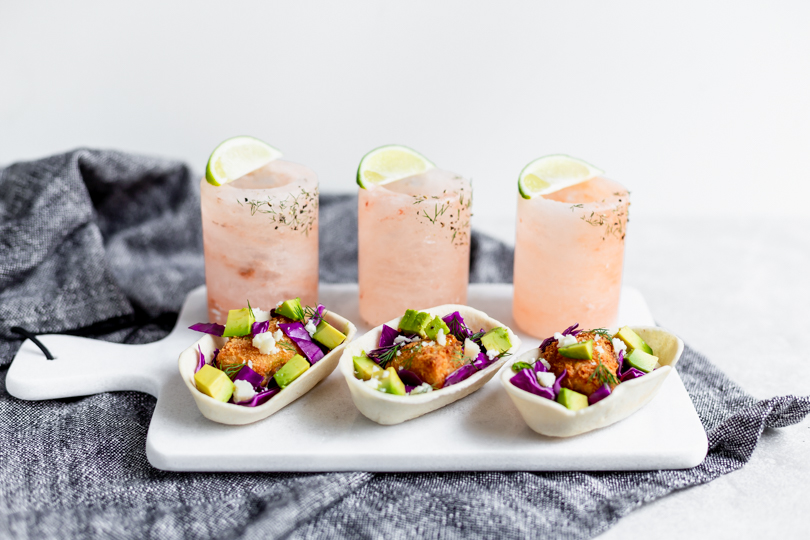 Get ready for a seriously eye catching party starter – jalapeño infused tequila served up in Himalayan salt shot glasses. And if you're feeling really festive, serve them up paired with mini bite sized tacos (so much better than just sucking on a lime)!
First, let's talk about the glasses, because they're kind of the star of the show here. In addition to their stunning range of pale, marbleized pink hues — think rose quartz — these completely unique vessels (no two are the same) have a couple of advantages over traditional shot glasses, especially where tequila is concerned. Number one: no rimming the glasses with salt (time consuming), or licking it off your hand (kind of gross).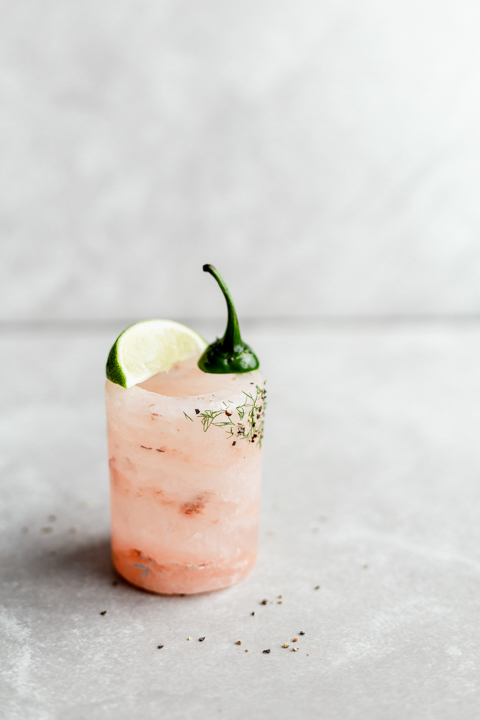 But number two is my favorite feature: you can freeze these vessels in advance, and they stay ice cold far longer than glass. Since I prefer to sip my tequila, not throw it back like a sailor (I'm here for the flavor, not to get tipsy as quickly as possible), this is a game changer. Just don't sip too slowly, since the salt flavor these glasses impart increases over time, and might become overpowering if you let it sit around. For this reason, I also pour out the shots right as I'm serving them — not in advance. I like to store my infused tequila in the fridge and my salt glasses in the freezer, then pull them out when I'm ready to serve.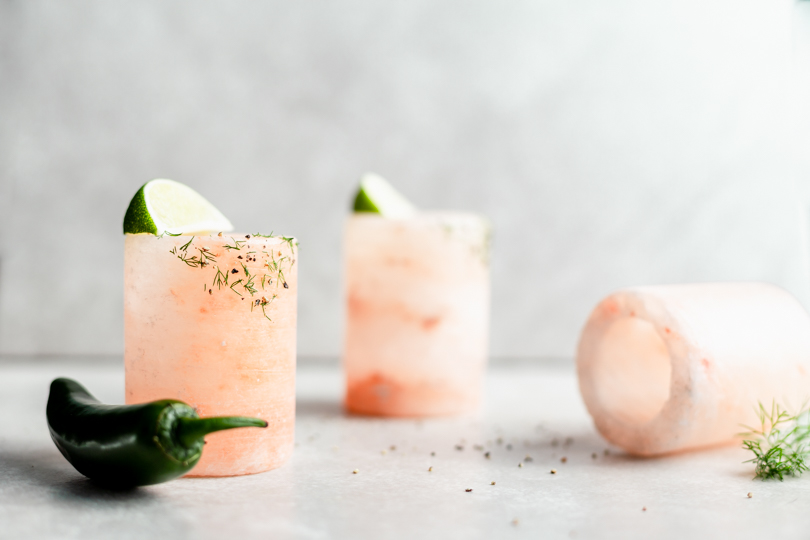 Now, I'm going to present not one, but two jalapeño infusions, since I have two tried-and-true methods I use for two very different flavor profiles. The first — rapid infusion — results in a very vegetal jalapeño flavor that's low on spice and high on green peppery garden goodness. You can actually taste the jalapeño, not just the heat. You can read all about the method and get the recipe here in my rapid infusions post, but you'll need an iSi cream whipper to do the job (which I highly recommend having in your kitchen if you like infused spirits).
The second method is all about the heat, baby. Depending on my audience and my mood, a spicy infusion might be more fitting than a vegetal one. In this case, I ditch the whipper and use the most low-fi infusion method out there: putting things in a jar and letting them sit. In this case, I follow Death and Company's method of using more seeds and spine than jalapeño flesh, and taste it frequently to check the heat level until it's just right. Don't worry, the infusion takes less than an hour, so you're only checking in on it for minutes, not days (scroll down for the full how-to).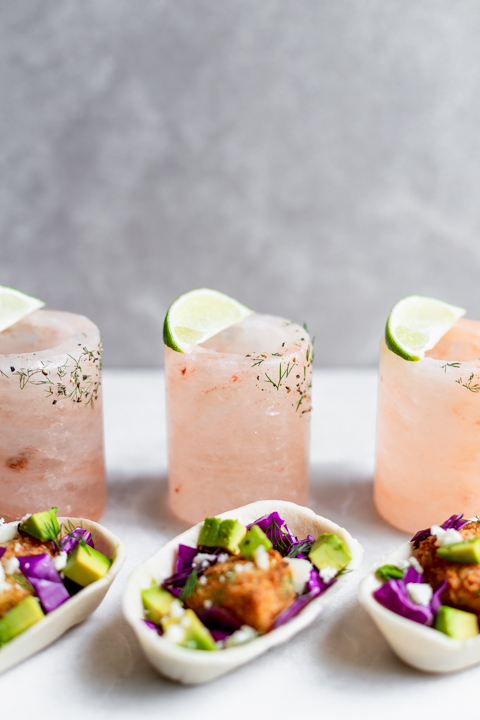 Finally, my favorite way to serve these is with a slice of lime, a dill and pepper rim (optional but attractive and tasty), and mini tacos. Pictured here are my go-to lazy tacos: mini taco boats filled with avocado, queso blanco, chopped red cabbage, and a hunk of fried fish. Drizzle the whole thing with lime, tuck in some fresh herbs, and you're good to go.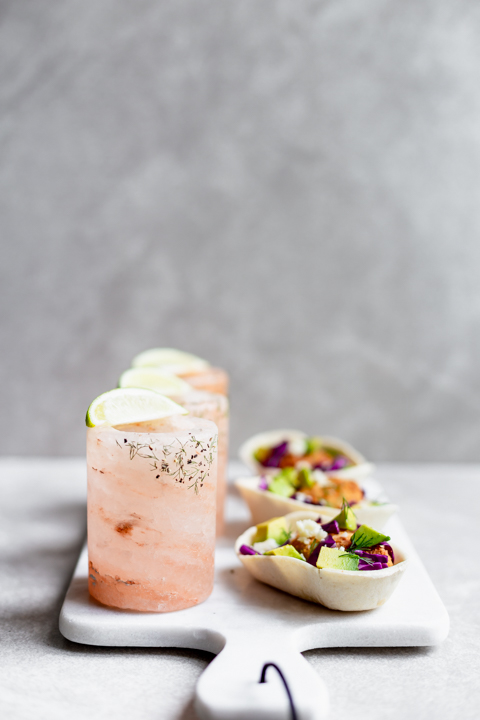 These salted jalapeño shooters are perfect for Cinco de Mayo of course, but for those who don't celebrate the holiday, it's also a great way to start any summer shindig. There's just something about sipping tequila that puts me in mind of sunny skies and long summer evenings spent mostly outside. Party weather in a (salt) glass, if you will
Get ready for a serious eye-catching party starter – jalapeño infused tequila served up in Himalayan salt shot glasses.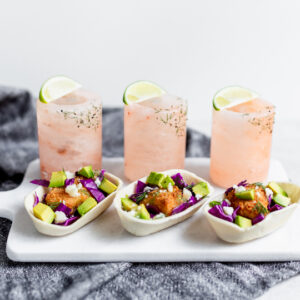 Ingredients
750

ml

good quality blanco tequila

4

jalapeños

Himalayan salt glasses
Instructions
Remove the ribs and seeds from all four jalapeños, and roughly chop the flesh of one jalapeño.

Add the ribs, seeds, and chopped flesh to the tequila in a large container and let sit at room temperature for 20 minutes. Taste. If you like the spice level, strain through a fine mesh sieve and store in the fridge. If you want more spice, let sit for another five minutes and taste again. Continue until you reach your desired heat level.

Pour into pre-chilled salt glasses and serve immediately with a slice of lime.
Nutrition
Serving:
1
g
Calories:
65
kcal
Carbohydrates:
0.1
g
Fiber:
0.1
g
Sugar:
0.1
g