Get Your Halloween Party Started with These Push Pop Jello Shots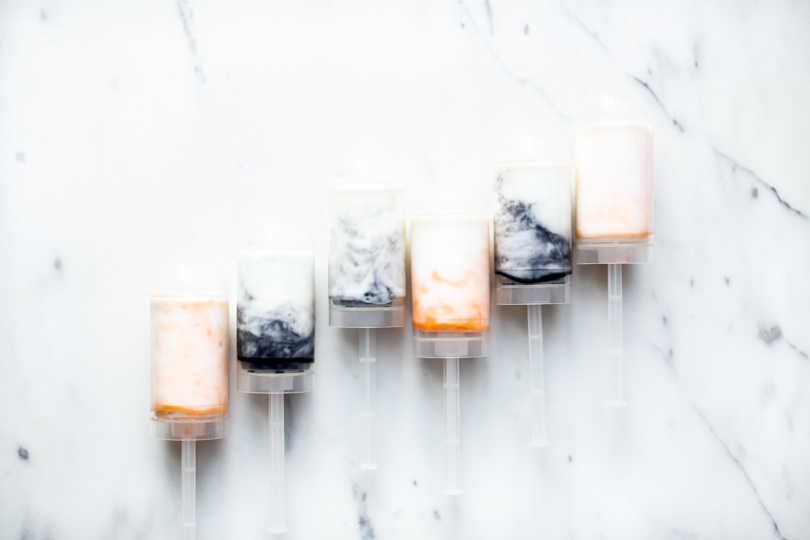 For some, Jello shots will forever stay the stuff of frat house nightmares, a fluorescent ode to tasteless debauchery. But can I let you in on a little secret? I actually love serving a more refined version of Jello shots at parties because they can be made ahead – playing bartender at your own party is never as fun as it sounds. And if you can't let your hair down a bit at Halloween, when can you?
My table may look tasteful and refined for Thanksgiving, but on Halloween you can bet it will be covered in cobwebs and bat confetti, and to me that is a WIN. A little kitsch and drama (hello, mandatory costumes) never hurt anyone, and it's a good reminder that entertaining doesn't always have to be refined — it can be just plain fun, instead.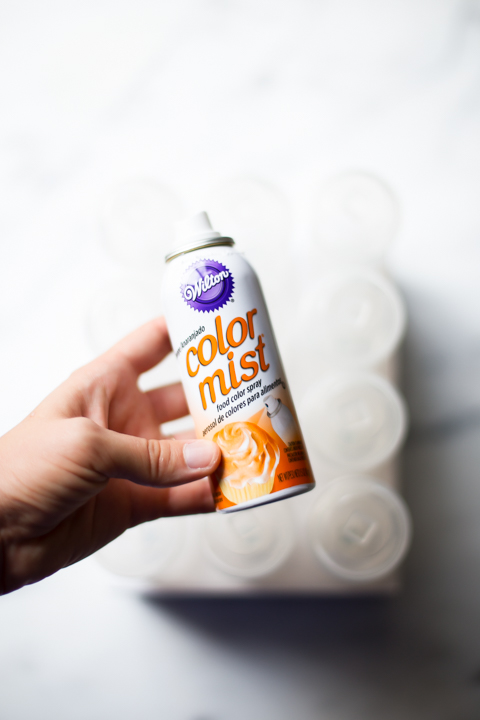 Nothing says Halloween like a party (even if it's just a sweatpants and scary movie night), and nothing says party like holiday-themed drinks. These Push Pop Jello Shots taste like an actual cocktail (not just some vodka thrown into Jello mix, eek!), because they are — I even shake ingredients to get the perfect level of cocktail dilution. A bit creamy, a bit citrus-y, and very refreshing, these Jello shots taste almost like sherbet, but not quite as sweet.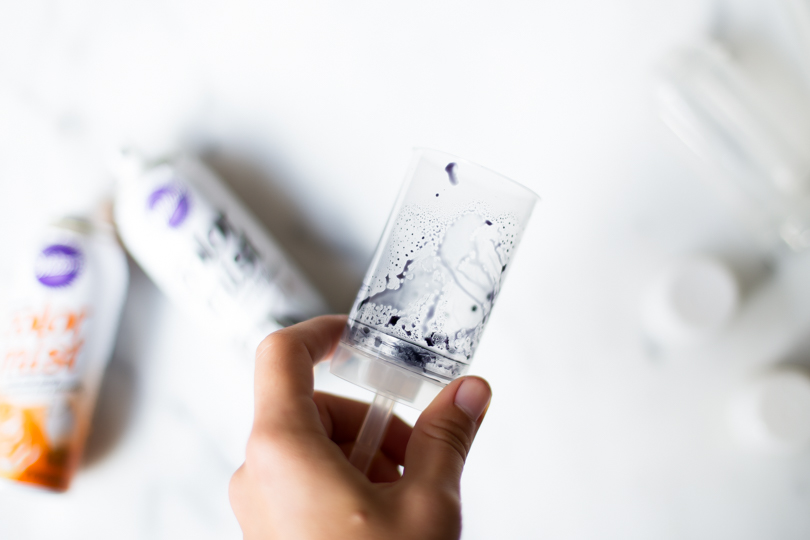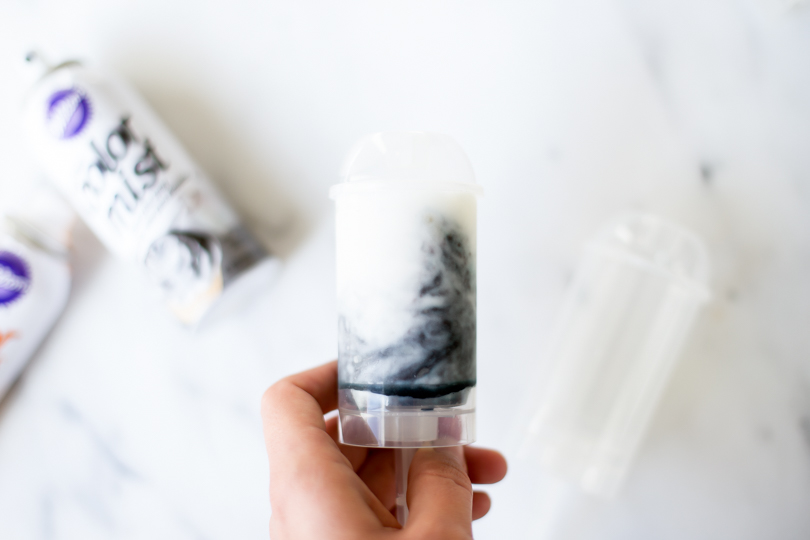 I loved playing with the Wilton Color Mist to get a gorgeous ombre marble effect, which I first spotted on the A Kailo Chic Life blog. Just spray a bit inside in one or two spots near the bottom of the pop, pour in the partially set Jello (Wilton push pops have small holes in the bottom, so be sure not to pour in the jello while it's totally liquid!), and swirl with a cocktail stirrer, chopstick, or the back of a spoon.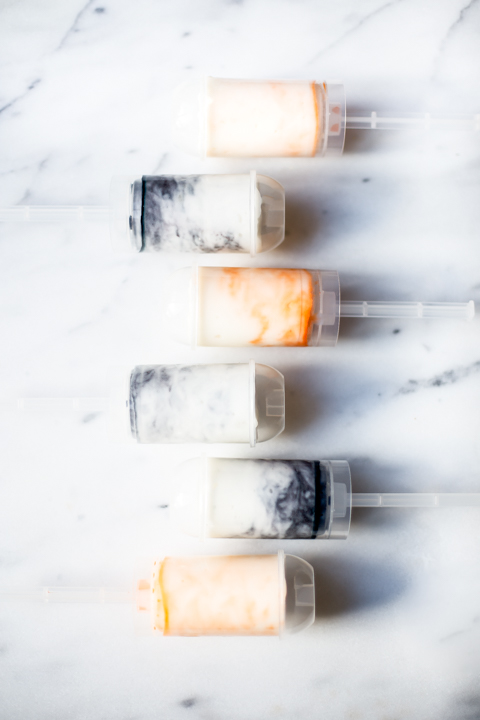 I'm not at all an artist when it comes to paint, dyes, or icing (I have a folder full of my own Pinterest fails on my hard drive), but the swirls in these shots came out gorgeously with minimal effort on my part. And I love that all the decorating happens way ahead of time, so I can settle into my party vibes (and you know, wash my hair and vacuum) before the main event.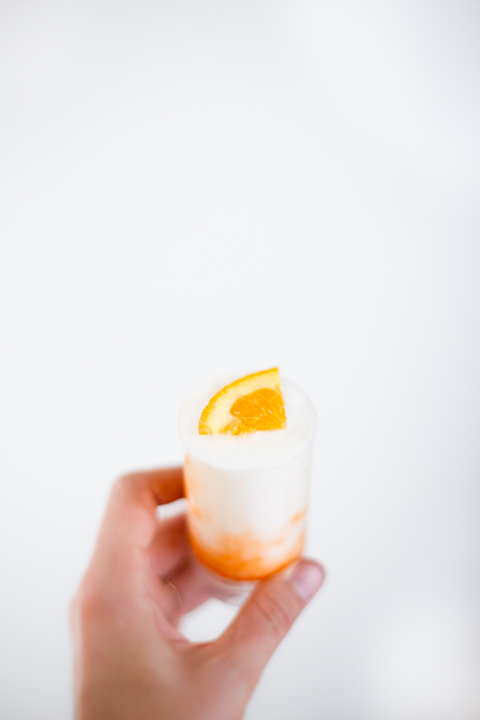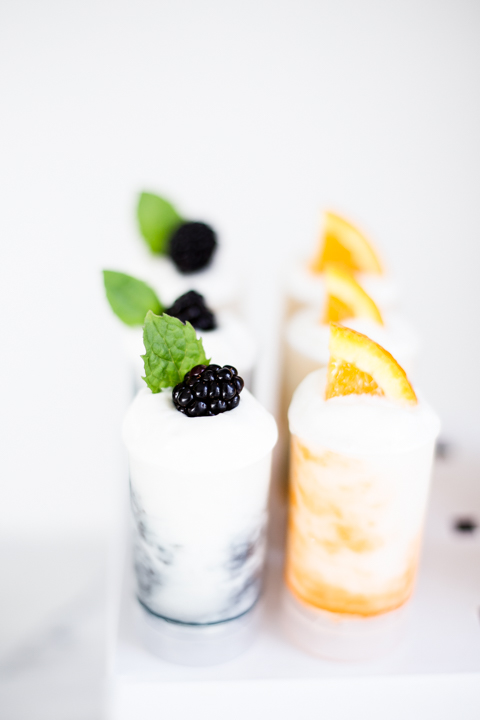 Halloween Push Pop Jello Shots
These marbled ombre Push Pop Jello Shots will be the hit of your next party!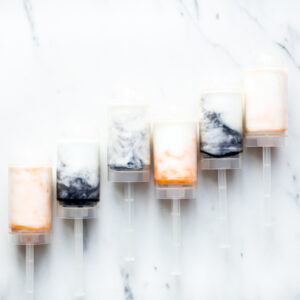 Equipment
Wilton Push Pop Molds

Wilton Color Mist in Orange and Black
Ingredients
1.5

cups

Gin or vodka

1

cups

Heavy cream

1

cups

Simple syrup

4

oz

Fresh squeezed/strained lemon juice

4

oz

Fresh squeezed/strained lime juice

4

Envelopes Knox unflavored gelatin

1

tsp

Orange blossom water
Instructions
Combine the simple syrup, lemon and lime juice in a cocktail shaker filled with ice. Shake well, then pour into a medium saucepan and sprinkle with gelatin.

Allow the gelatin to soak for two minutes, then heat over very low heat, stirring constantly, until the gelatin is fully dissolved (about 5 minutes – it will still be a little cloudy, but no longer gritty). Remove from heat and stir in the gin or vodka and optional orange blossom water (adds a great floral note if you can get it, but it can be hard to find – I order mine online).

Whisking rapidly, slowly pour in the heavy cream to prevent curdling. Let set for about 10 minutes, until the jello reaches a pudding-like consistency.

Spray a small amount of Wilton Color Mist in one or two spots near the bottom a push pop mold, then spoon in the jello over top. Swirl with a chopstick, stirring stick, or the back of a spoon to create a marbleized effect and remove any air bubbles.

Repeat for each push pop, stirring the jello mixture occasionally to keep it from getting too solid to work with (it will be lumpy at times, which is fine). Cover push pops with lids, then store them on the included display box in the fridge until completely set, about two hours.