Roast Beef, Smoked Salmon, & Blue Cheese Smørrebrød Recipes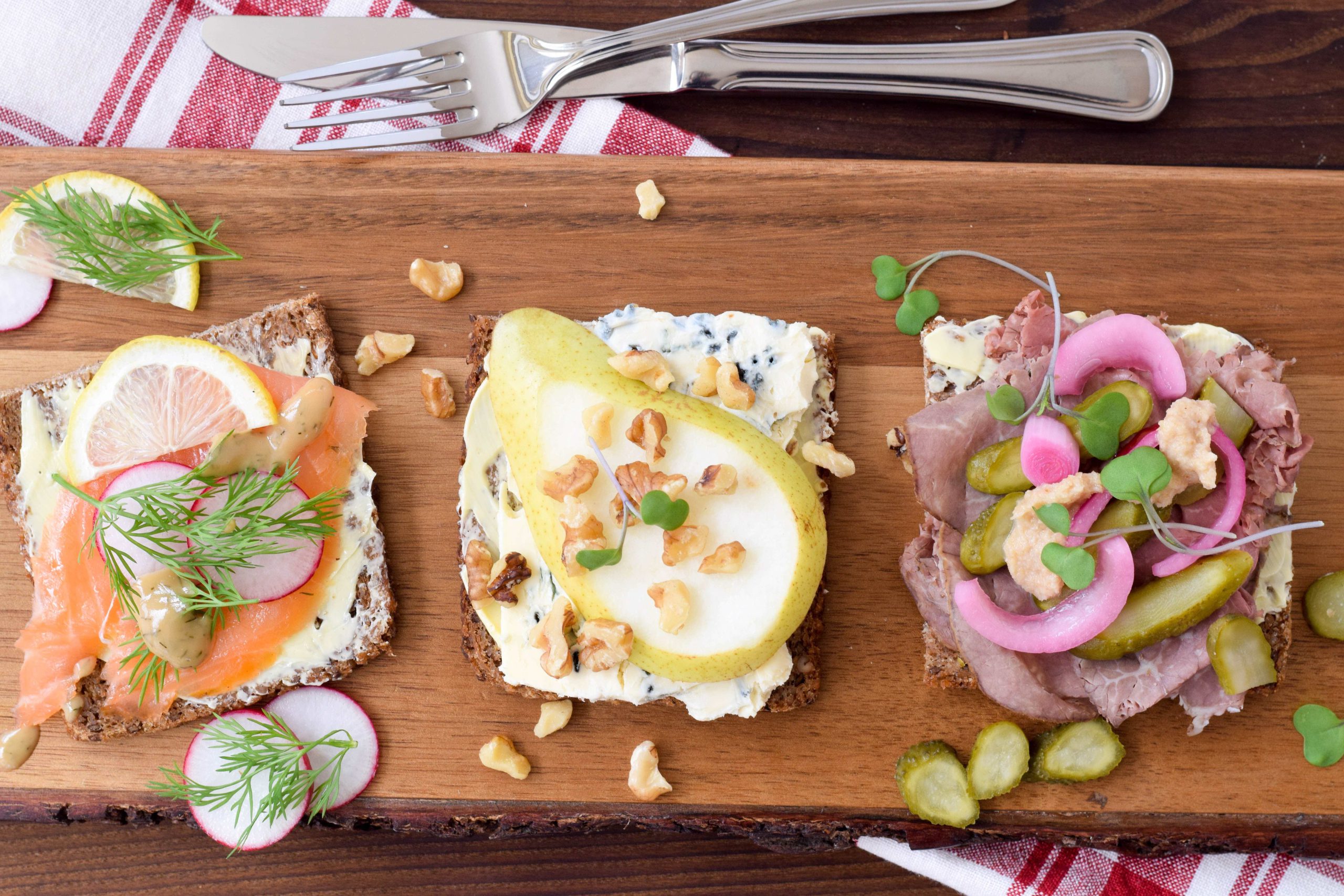 What is Smørrebrod?
Danish smørrebrød, open-faced sandwiches on buttered rye bread, are the hottest new trend in lunch.
But there's no need to book a flight to Copenhagen. You can create your own smørrebrød spread at home, and below you'll find the 3 best recipes.
Everything Scandinavian is super trendy right now. Remember how, just a few months ago, everyone was talking about hygge, the Danish idea of coziness and well-being? And before that, there was fika, the Swedish custom of taking the time to enjoy coffee and pastry with a friend.
Nordic cuisine has been hot for years, led by the fame of Copenhagen's Noma, what some consider to the best restaurant in the world. And just last year, the Great Northern Food Hall, a food court dedicated solely to showcasing Scandinavian cuisine, opened in New York City's Grand Central Terminal.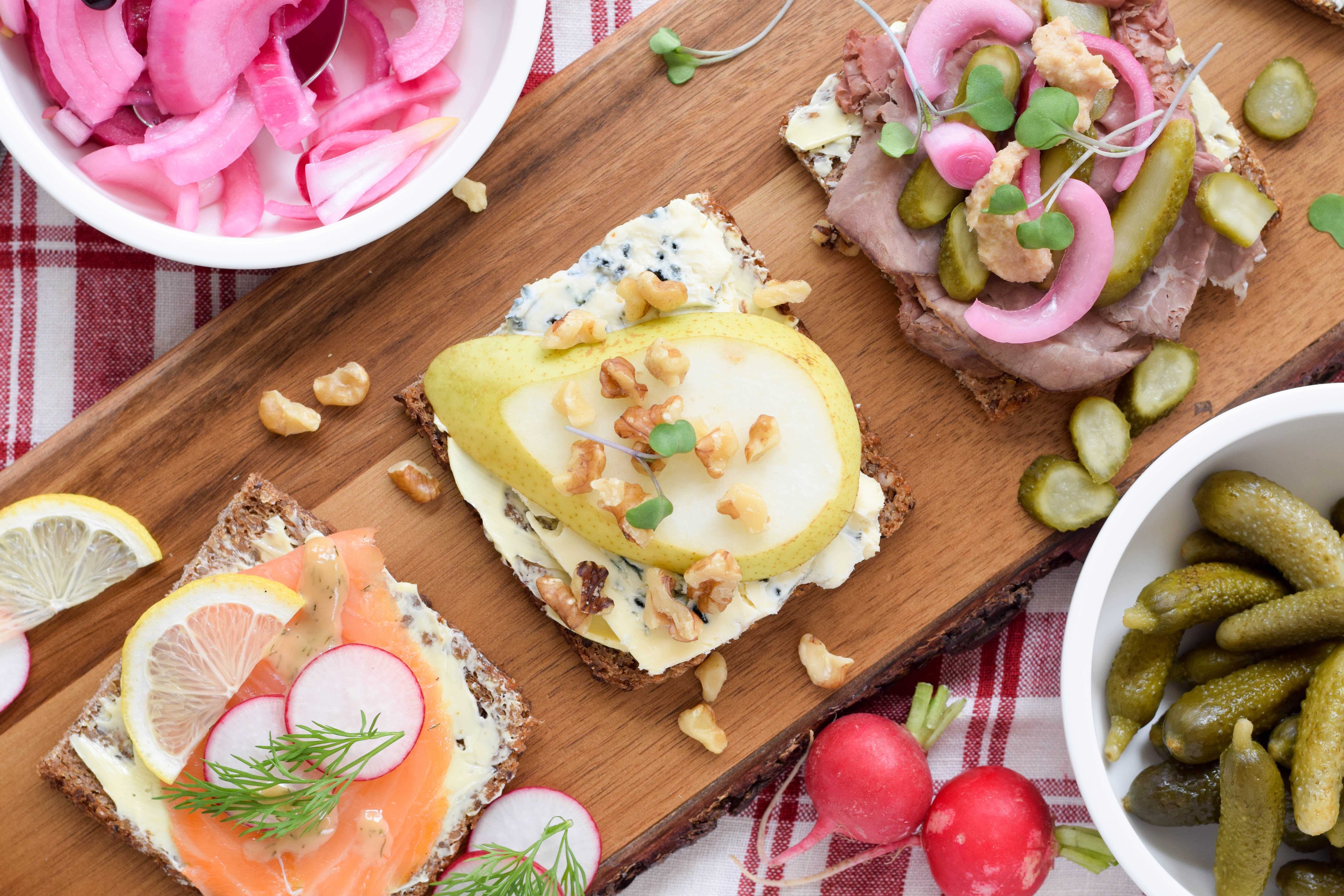 Smørrebrød is a Danish Tradition
One of the dishes you will find at the Great Northern Food Hall is smørrebrød, open-faced sandwiches built on slabs of buttered, dark rye bread. An iconic Danish dish, smørrebrød began as a 19th-century workingman's lunch — leftovers piled on bread that could be packed up and taken to work — and have evolved into high art. All over Copenhagen, you will find bakery windows filled with beautifully constructed smørrebrød topped with meat, fish, and cheese, all to be washed down with shots of fiery aquavit.
I first discovered smørrebrød on a family trip to Stockholm in 2015. One of the highlights of our trip was a visit to the Ostermalms Saluhall, Stockholm's historic food hall. Among the many restaurants and shops, I found a stand selling smørrebrød. Overwhelmed by a menu as long as my arm, I opted for two of the most 19th-century scoreboard, roast beef and smoked salmon, and a vegetarian one with potatoes and beets. Each one was more beautiful and delicious than the last. My love of smørrebrød was born.
Rules of Eating Smørrebrød
On that trip, I also learned some of the rules of eating smørrebrod. First, smørrebrod are not finger food. These are sandwiches that you eat with a knife and fork, thank you very much! (As strange as this sounds, it probably makes sense. If you tried to pick up one of these carefully constructed open-faced sandwiches, the toppings would likely spill down your shirt.) And, if you are sampling multiple smørrebrod, begin with fish, move on to meat and end with cheese.
Just like hygge, smørrebrød is a Danish tradition that we Americans should think about adopting. A simple smørrebrød or two is a delightful, out-of-the-ordinary weekday lunch. And a lavish smørrebrød buffet is an easy and fun way to entertain at home. Lay out a selection of toppings and garnishes, gather your friends around the table and pass the bread!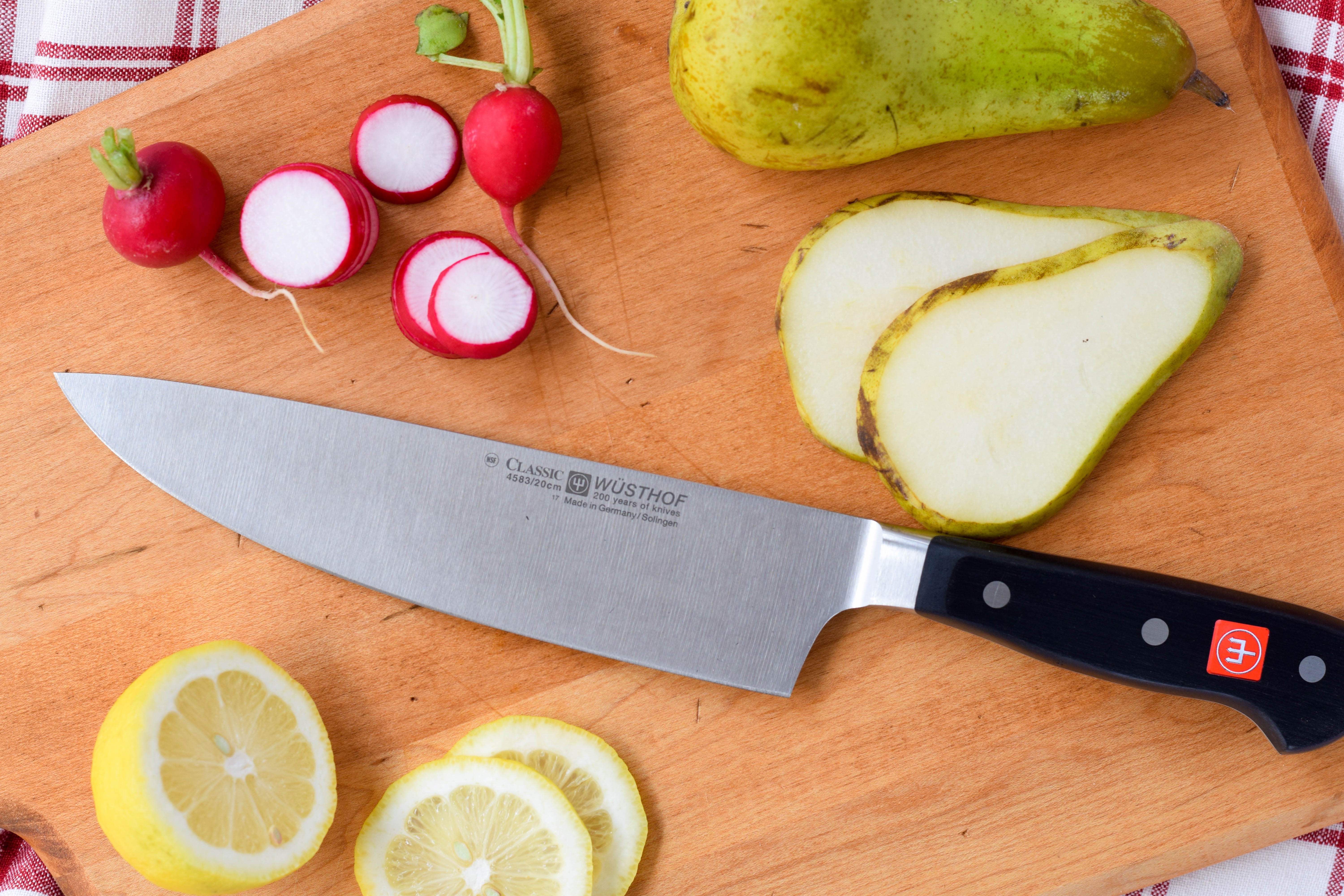 How to Make Traditional Danish Smørrebrød
Step 1: Find the Perfect Bread
The beauty of smørrebrød is in the combination of bread, butter, the protein, and the garnishes. Starting with the bread, the most authentic choice would be a dark, seedy sourdough rye. I recommend finding a European bakery in your area for the best selection. Where I live, in Chicago, Polish bakeries offer multiple kinds of sourdough rye. In a pinch, any dark rye or pumpernickel will do. If you are really ambitious, you could even try making your own. Slice the bread thinly but not too thin using a sharp, serrated knife.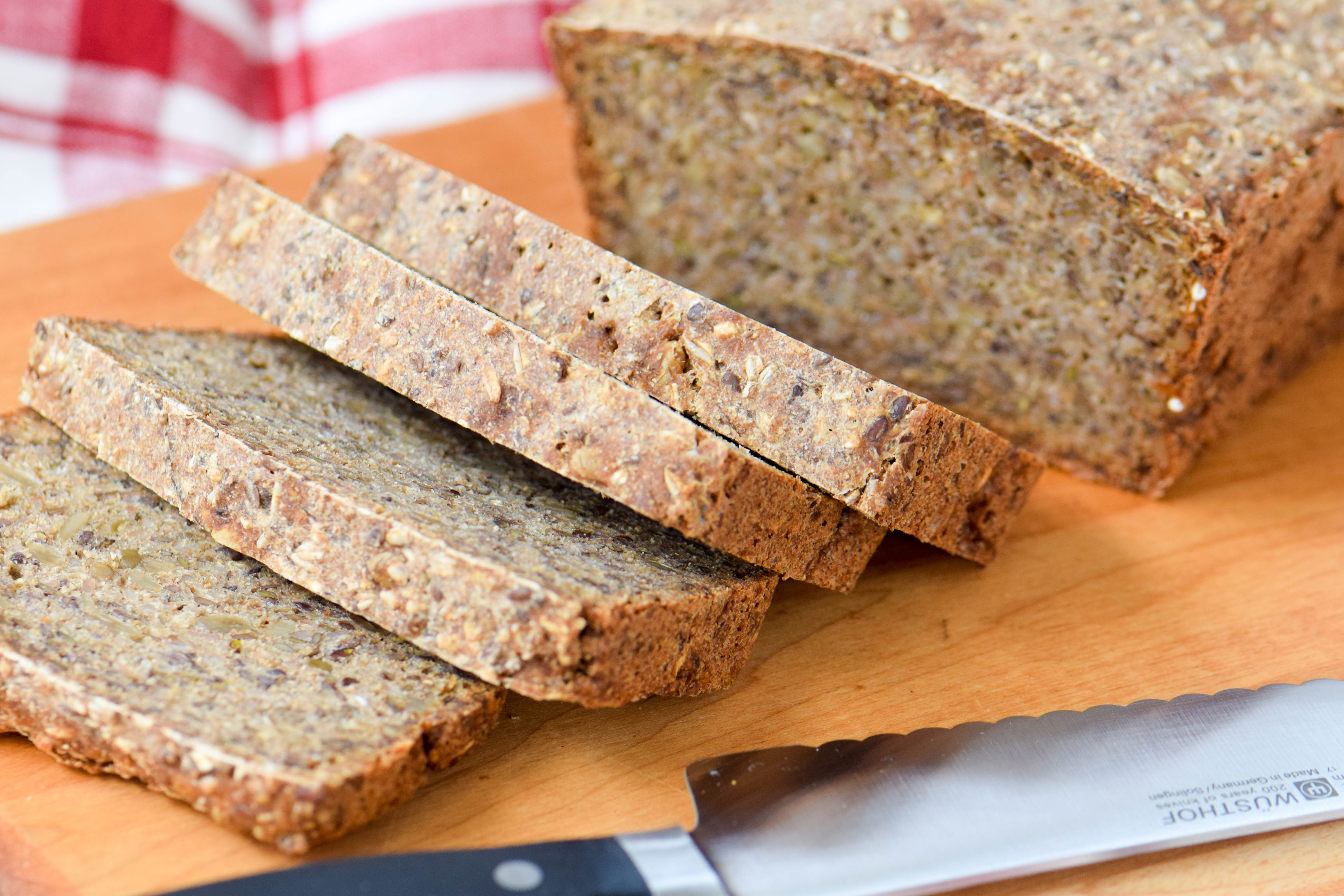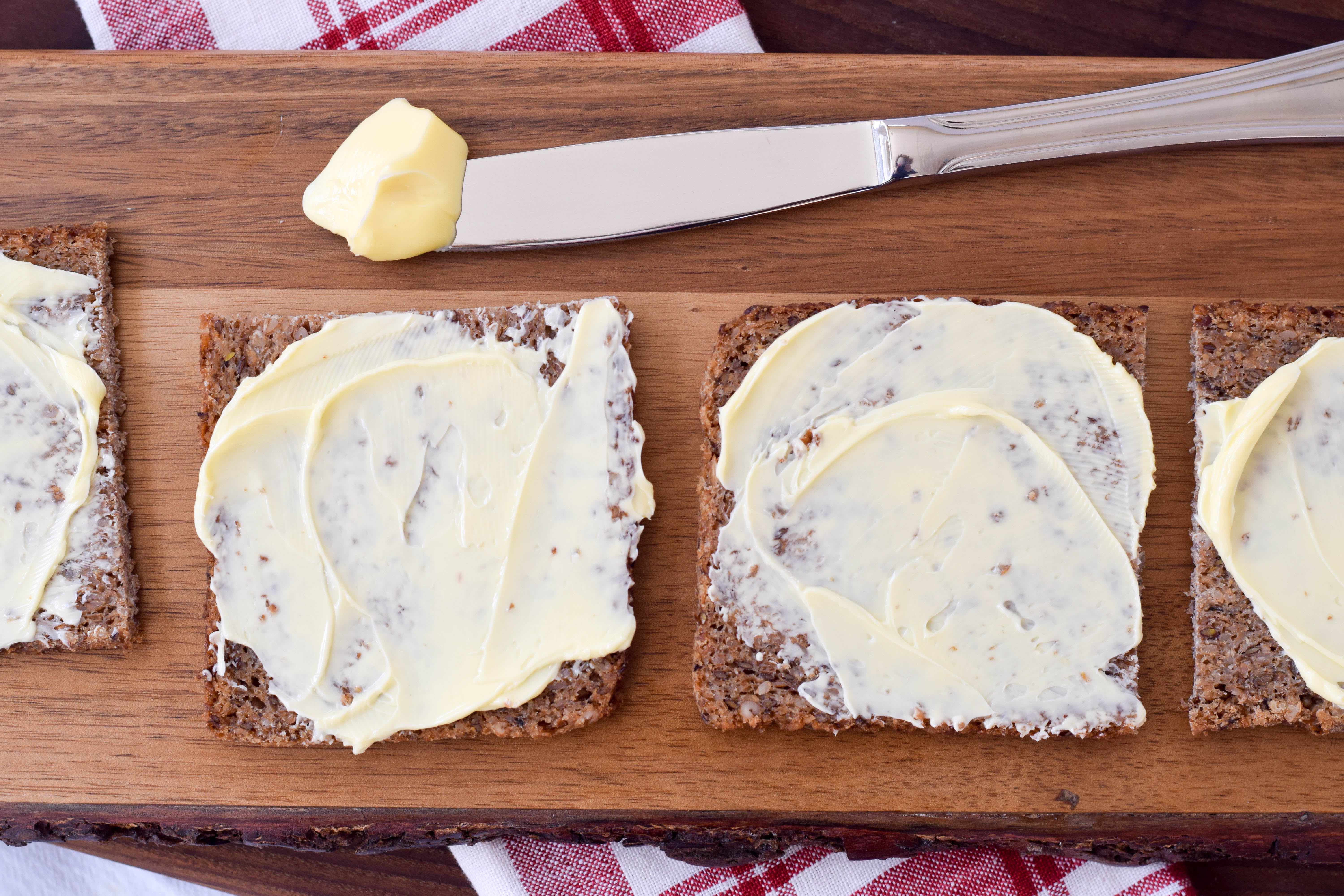 Step 2: Spread a Generous Amount of Butter on the Bread
Next, smear the bread lavishly with softened butter. This step is not optional! Smørrebrød literally translates to "butter-bread." The butter prevents the toppings from making the bread soggy and provides a foundation for them to stick to. For fun, seek out a Scandinavian butter like Lurpak from Iceland or Finlandia from Finland.
Step 3: Assemble the Smørrebrød
Then it's time to assemble your sandwiches. Stick with one kind of protein per smørrebrød. This is not an American Dagwood sandwich with piles of different meats and cheeses! Match the sauces and garnishes to the protein, such as mustard and dill with salmon or horseradish and onion with roast beef. Be sure to add some crunch, such as slices of radish or tangy pickles, and pops of color. Looks count, so make your smørrebrød Instagram-worthy by arranging the toppings with care.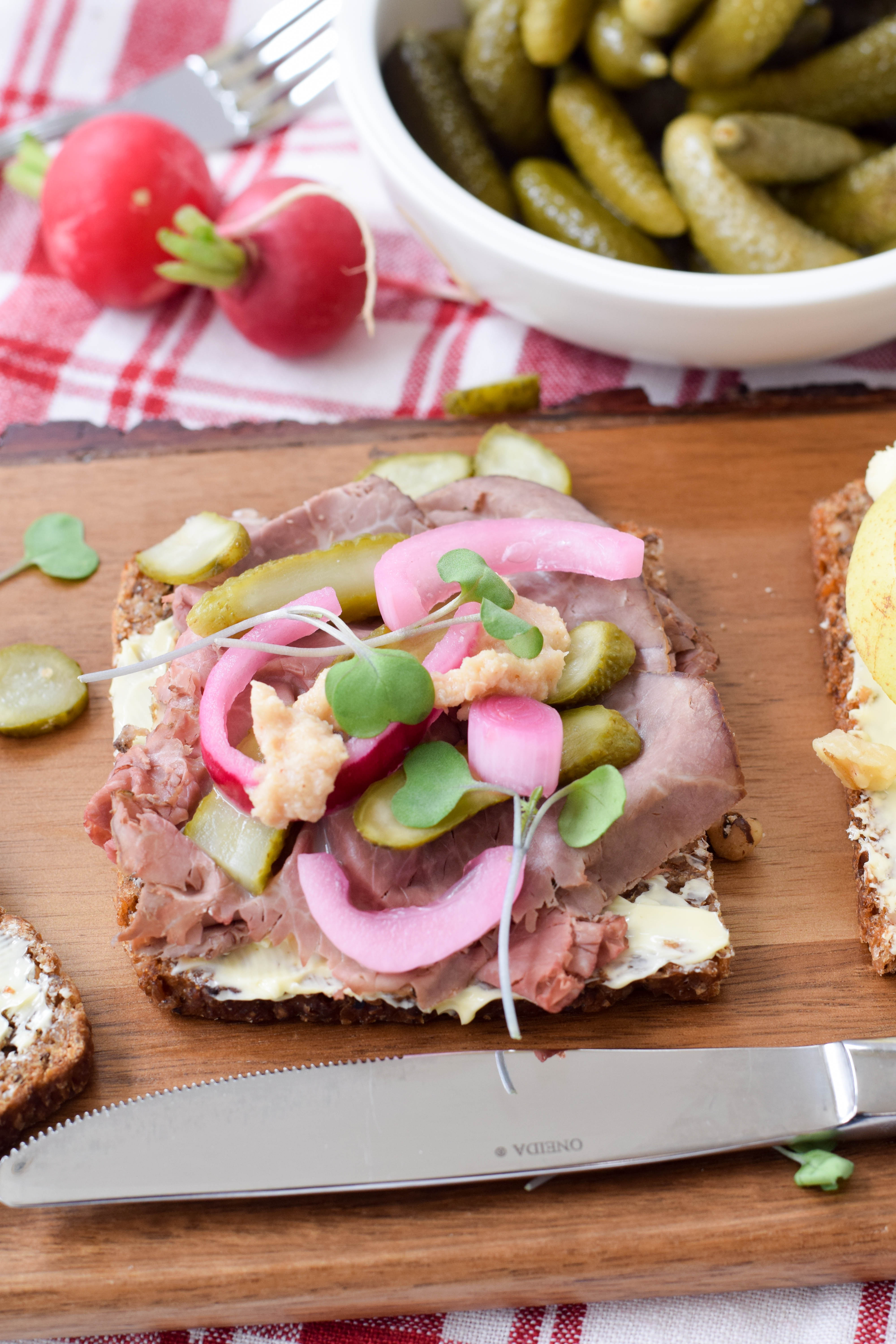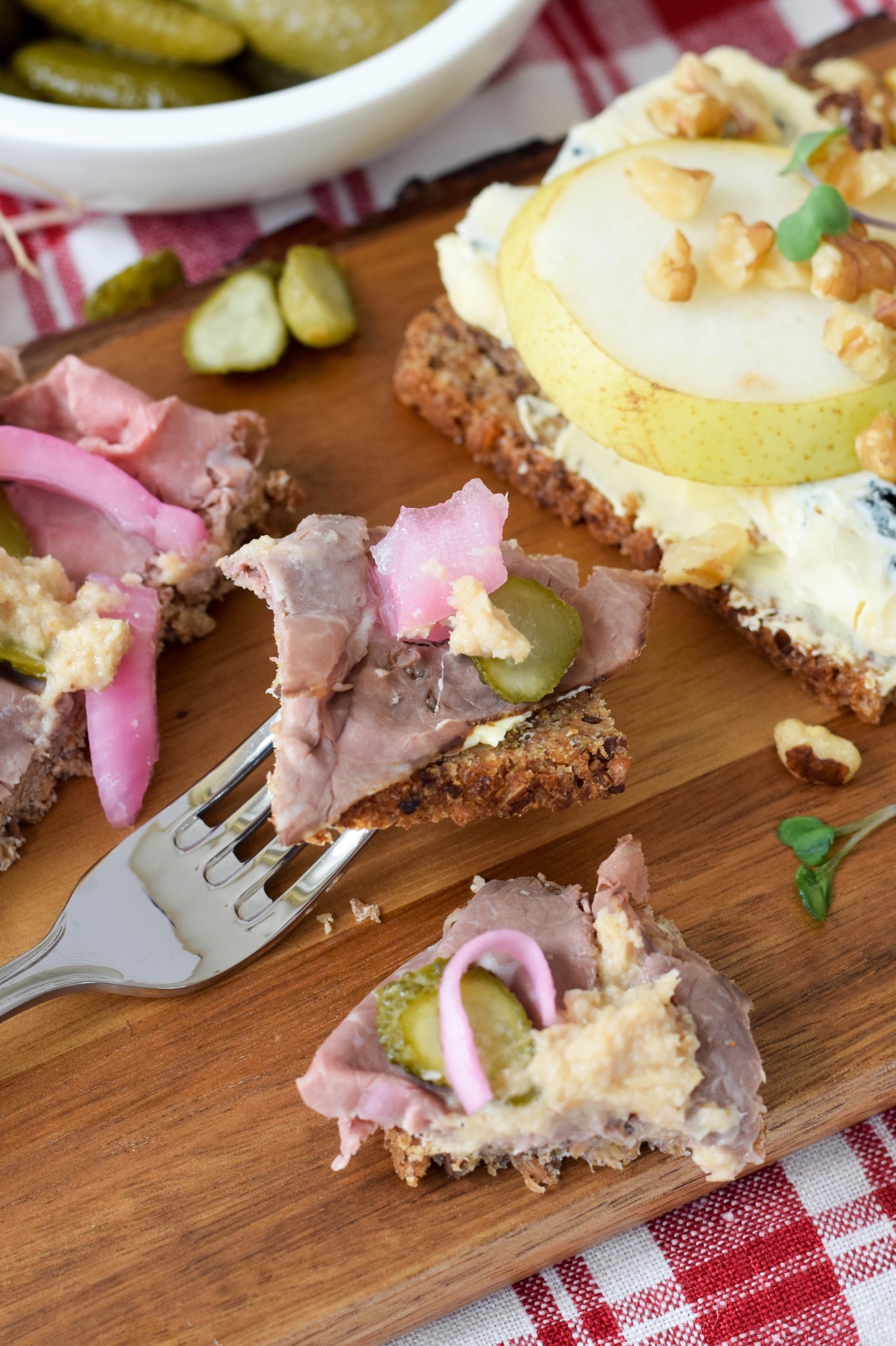 I give you ideas for three classic smørrebrød here, but there are dozens of authentic combinations to try from pickled herring to paté to egg salad. Or make up your own version. There is no wrong way to make a smørrebrød. Just don't eat it with your hands!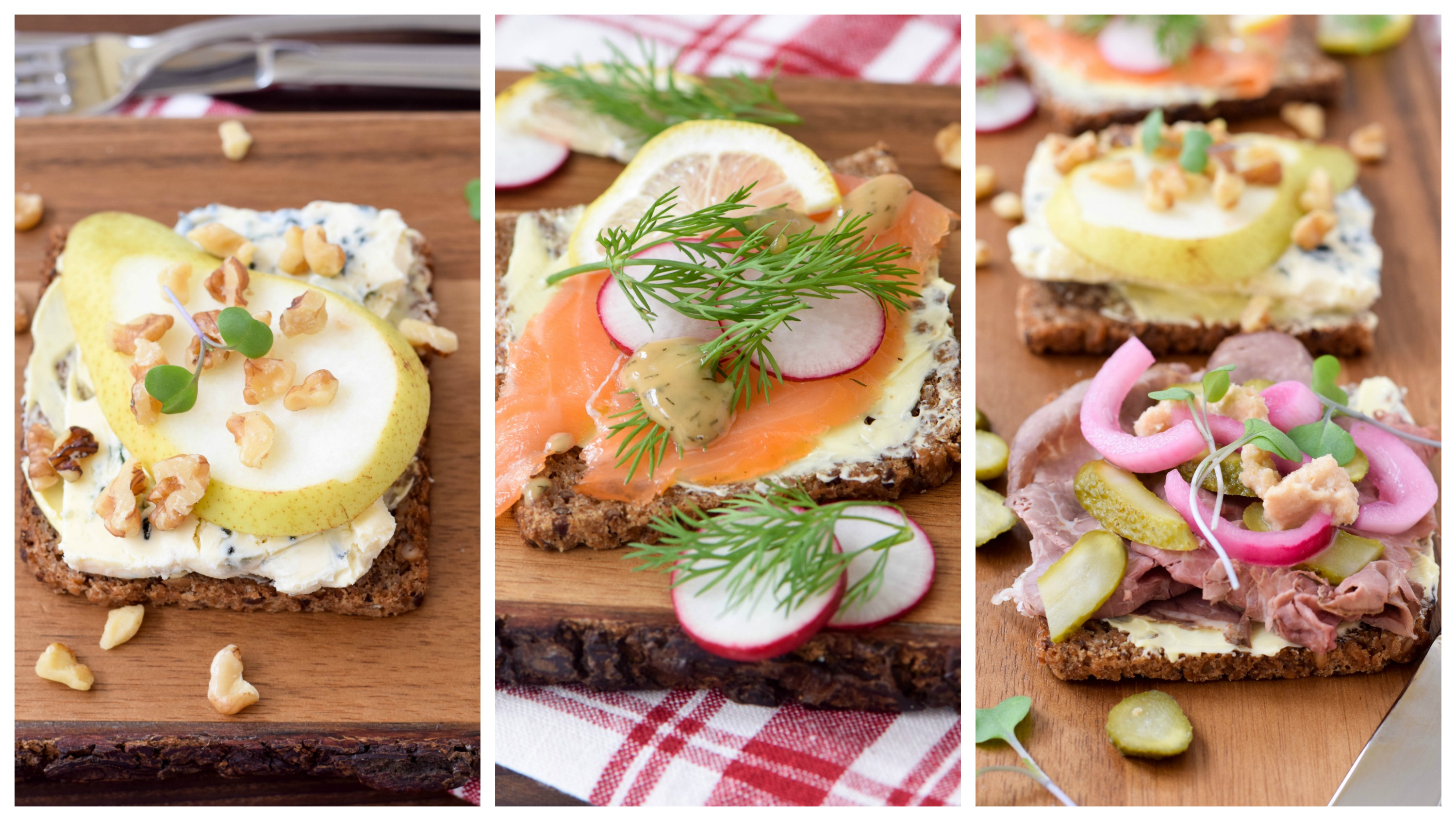 Roast Beef, Smoked Salmon, and Blue Cheese Smørrebrød Recipes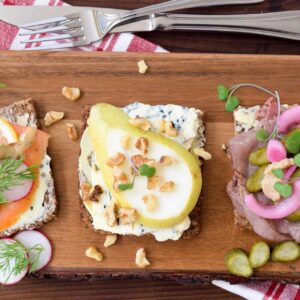 INGREDIENTS
1 loaf dark, seedy rye bread
8 oz butter, softened
½ lb. roast beef
8 oz smoked salmon
4 oz bleu cheese
1 red onion, sliced
1 jar cornichons, sliced
1 lemon
1 bunch fresh dill
2 radishes, thinly sliced
1 pear, sliced lengthwise
½ cup chopped walnuts
Horseradish
Mustard
INSTRUCTIONS
Spread butter on rye bread.
For a roast beef smørrebrød: Top bread with two slices of roast beef. Add cornichons and slices of red onion. Top with horseradish.
For a smoked salmon smorrebrød: Top bread with two slices smoked salmon. Add two to three slices of radish and several sprigs of fresh dill. Top with a squeeze of lemon juice and mustard.
For a blue cheese and pear smørrebrød: Spread bleu cheese on top of the butter. Add a slice of pear. Garnish with chopped walnuts.