Pumpkin Sweet Potato Pierogis with Marshmallow Sauce & Pecans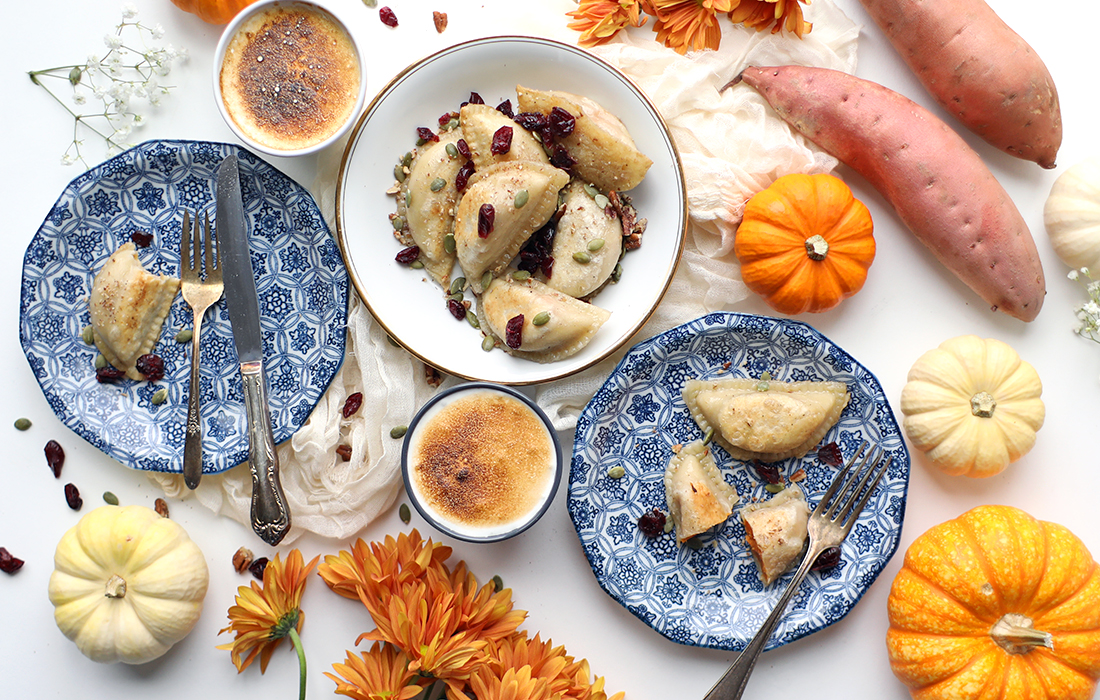 One of the coolest things about making pierogis is the opportunity to get super creative with the filling. While the traditionalist in me always wants to use the classic cheese and potato pierogi filling, I've learned to break out of my shell and have fun with what's inside these little half-mooned dough pies. In the spirit of fall, I thought it would be really cool to make some Pumpkin Sweet Potato Pierogis with Marshallom and Pecans. It's a combination of October and November marrying together pumpkins and sweet potatoes, along with casserole and pie, into some tasty little dumpling treats.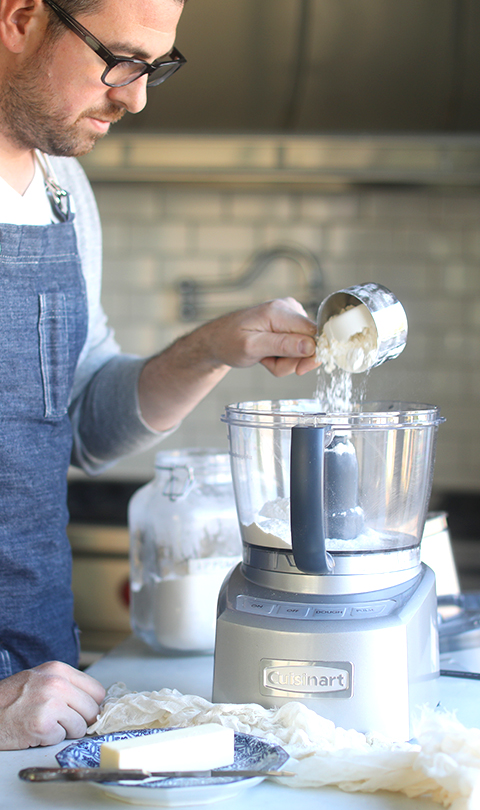 The pierogi dough is a simple pie dough recipe which can honestly be made from your favorite pie crust recipe. Some folks have pie dough recipes that date back longer than I've been alive, so I don't want to get in the way of tradition or something that you know works. When it comes to making any pie dough recipe I find it's always easiest to prepare it in a food processor. It's hassle free and seriously takes about 30 seconds. It's important to chill the dough for a bit before working with it because the butter needs to cool back down so that the dough doesn't become overly stretchy, because then it has a tendency to rip.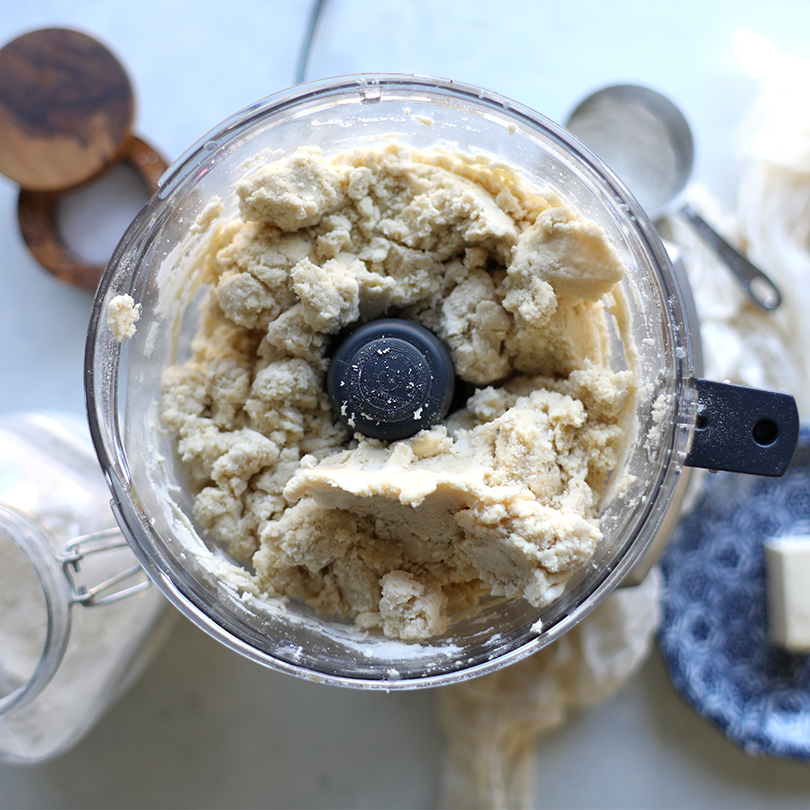 When it comes to potato pierogi filling I like to bake them instead of boil them. I find that boiled mashed potatoes tend to leak water since they are boiled and this can cause a runny gross pierogi. If you bake it you can add in moisture like sour cream and butter just until they're to that perfect consistency, and then you chill it. Once you start making mashed potatoes from baked potatoes I'm pretty sure you won't go back, it's that much better!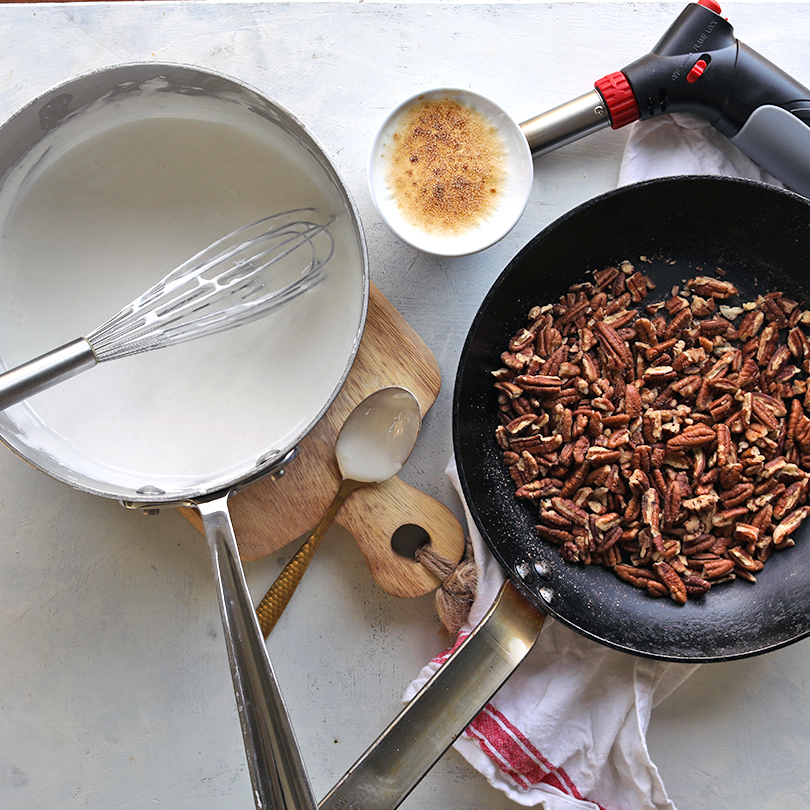 I usually make a really tasty sweet potato casserole for Thanksgiving, so in that spirit, I used some of those same concepts when making these fall-flavored pierogis. I made a really simple marshmallow sauce which consists of a bit of milk, butter, and marshmallow fluff that you can either dip the pierogis in or drizzle a little in before wrapping it up tight. If you love all things sweet, then I recommend adding a little drizzle to the inside of each pierogi, but if you're not sure, then I would serve it up on the side just to be safe. In addition to the sweet potatoes and marshmallows, pecans are an excellent topping to add into the filling for a nice complimentary crunch to the pierogis.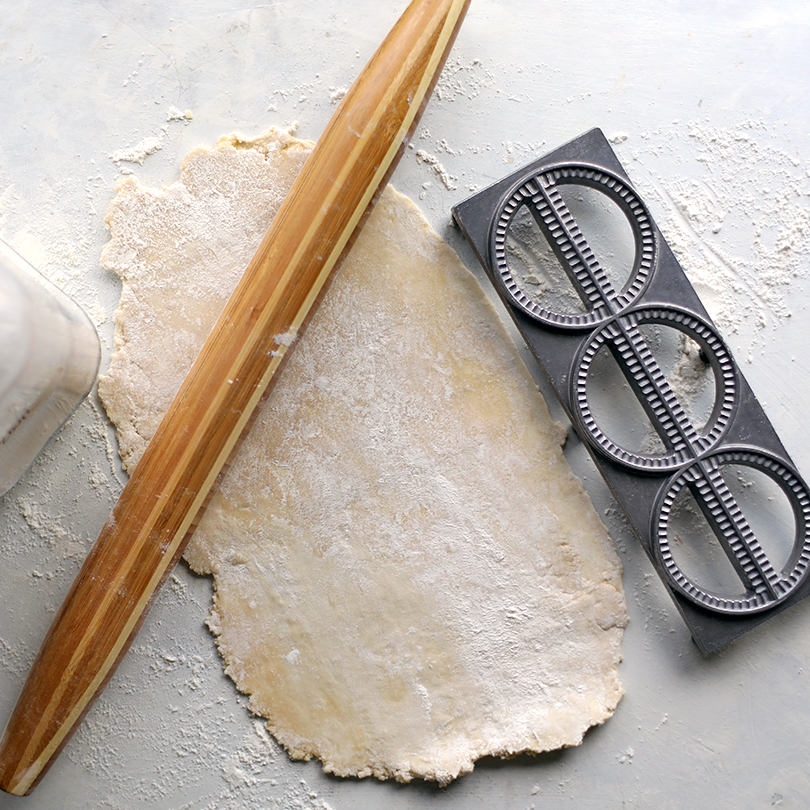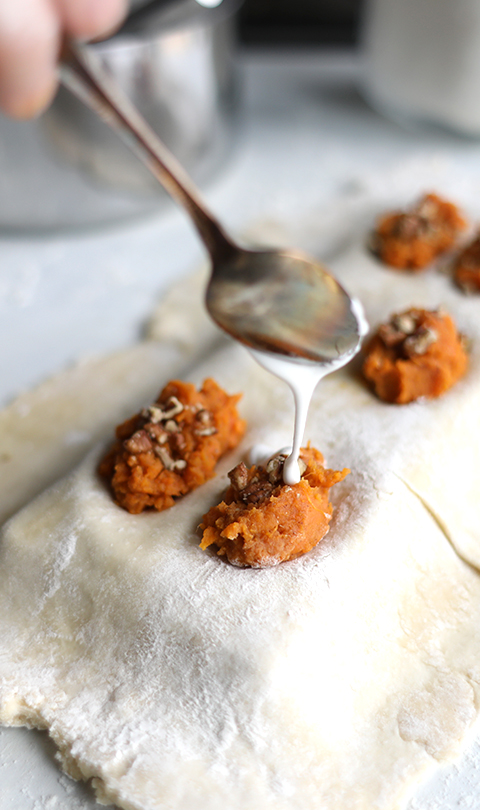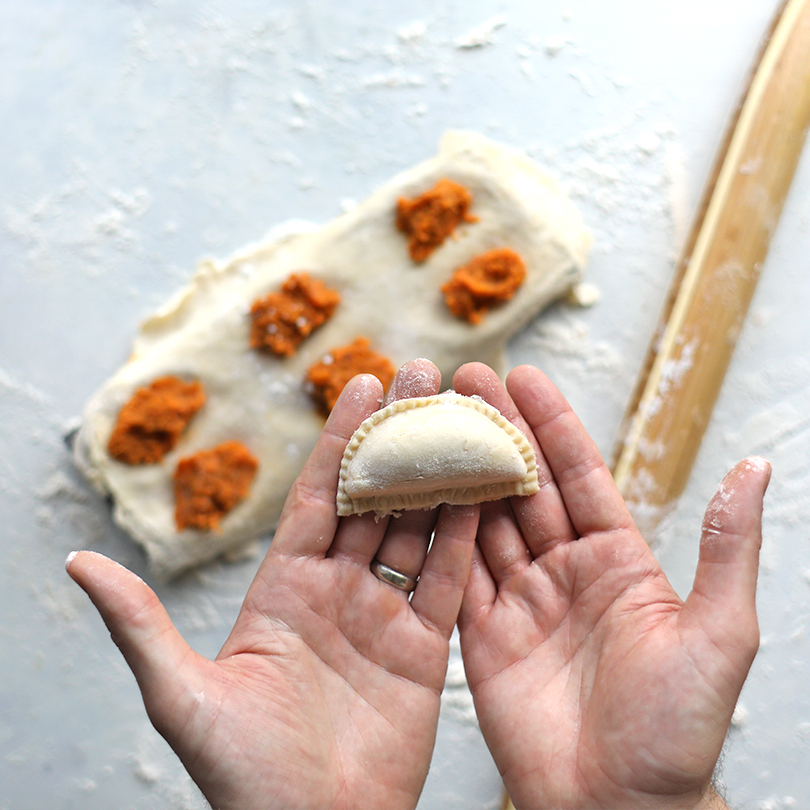 Once the pierogis are made, I like to let them rest for a bit before boiling them for 2 to 3 minutes. They can be enjoyed right out of the boiling water, but of course you know I'm going to take it to another level by browning them up in a pan with a bit of butter, as I like a little toasty outside. It's even cool if you let the butter brown for a bit for an extra delicious nutty flavor. For a little color, I garnished the pierogis with a bit more pecans, pepitas and some dried cranberries for a seasonal touch.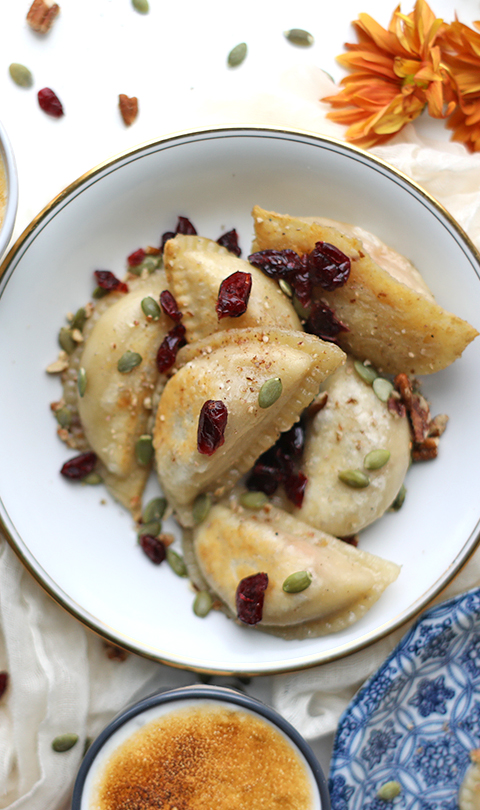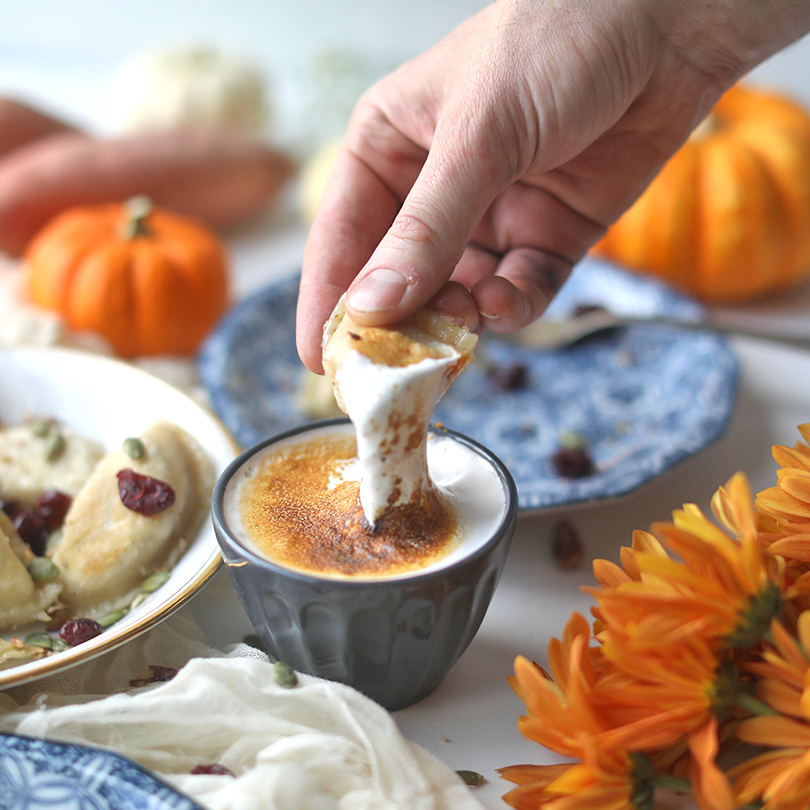 Pumpkin Sweet Potato Pierogis with Marshmallow Sauce and Pecans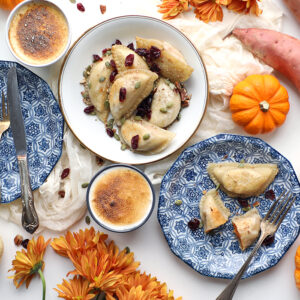 INGREDIENTS
For the Filling:
2 baked sweet potatoes
1 cup of canned pumpkin
2 ounces of unsalted butter + 2 ounces for cooking
1 teaspoon of ground cinnamon
1 jar of marshmallow whip
¼ cup of milk
½ cup of roughly chopped toasted pecans
Salt to taste
For the Dough:

6 cups of flour
1 cup of cold unsalted butter
1 teaspoon of salt
1 ½ cups of cold water
Garnishes: pepitas, pecans and cranberries
INSTRUCTIONS
For the Filling: Remove the skin from the sweet potatoes and run them through a hand food mill into a bowl and mix with pumpkin, butter, cinnamon and salt. Chill.
In a medium size bowl over medium-low heat whisk together the marshmallow whip and milk until it is smooth and like a sauce. Keep warm.
For the Dough: Add the ingredients to a food processor and process on high speed until the mixture becomes like a meal. Add to a bowl and chill for 45 minutes.
Cut the dough into 6 individual pieces and then cut them in half. Roll out each piece of dough on a clean surface dusted with flour until is long and wide enough to fit over the Honey-Can-Do pierogi maker.
Place 1 rolled out sheet over the pierogi maker and place a small amount of the chilled sweet potato mixture into each pierogi. Optional to add on some pecans and marshmallow sauce.
Place a rolled out piece of dough over top and use a rolling pin to pinch together. Repeat until all of the dough has been used up. Should make 36 total pierogies.
Cook the pierogis in a large pot of boiling salted water for 2 to 3 minutes then drain immediately.
Melt the 2 ounces of butter in a large sauté pan over high heat and add the boiled pierogis and cook for 2 minutes or until lightly browned on 1 side.
Serve the pierogis with optional garnishes.