Gruyère Cheese Popovers with Garlic & Herb Butter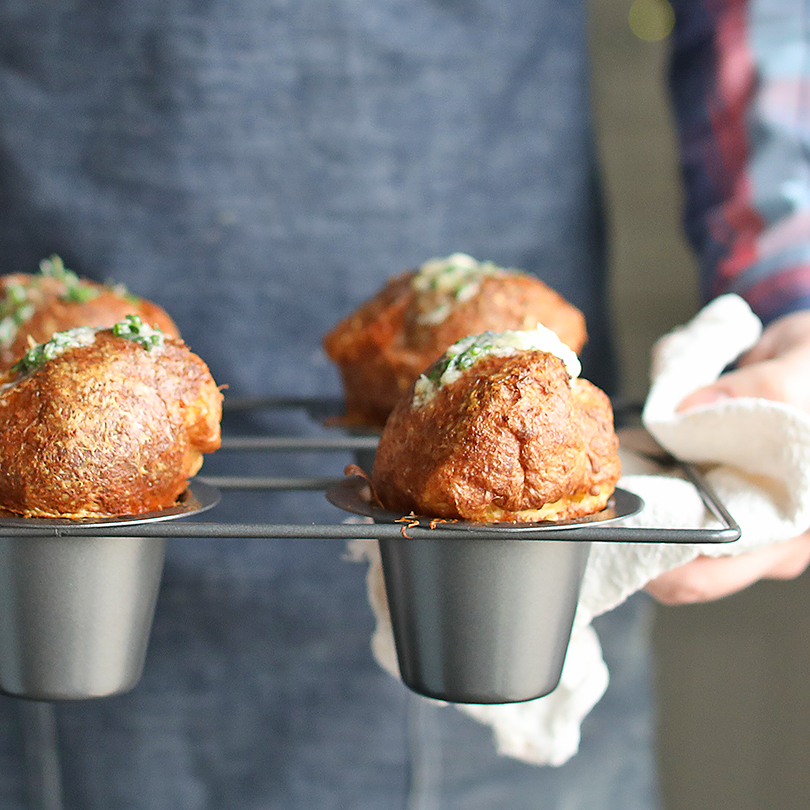 When I was 15-years-old, I used to work at a country club and every week for our "Steak Dinner Sundays," I would make a gigantic batch of popovers, or as we would call it, "Yorkshire pudding." There is a subtle difference between the two and that is the use of rendered beef fat that acts as the non-stick spray in popovers. Using the beef fat gives it a very meaty taste, which is why you serve it alongside steak. However, popovers can be served as is, and can be manipulated to serve just about any taste buds.
Most commonly, popovers are made and eaten as plainly as they are with just five ingredients. As I said earlier, the recipe is malleable so that it can be tweaked to later the flavor. When I was digging looking for that old recipe I used to make every Sunday for 10 years, I discovered so many different flavors of popovers. I saw sweet cinnamon and sugar popovers, prosciutto and cheese popovers, cranberry popovers; you name it and it's been made!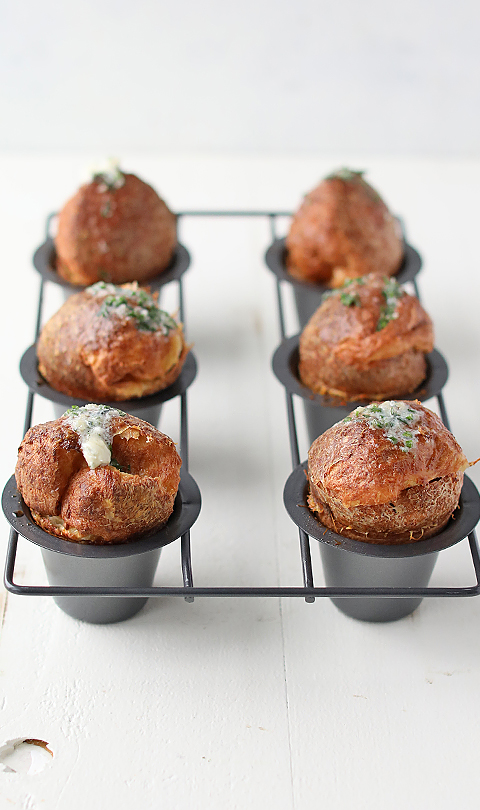 I wanted to stick with my savory palette so I made this recipe for gruyère cheese popovers and served them with garlic and herb butter. These popovers would go EXCELLENTLY alongside a prime rib roast or a roasted turkey that you may be making for a Sunday night dinner. It's got an awesome blend of salty and savory, combined with the buttery dough that allows it to stand up to just about anything.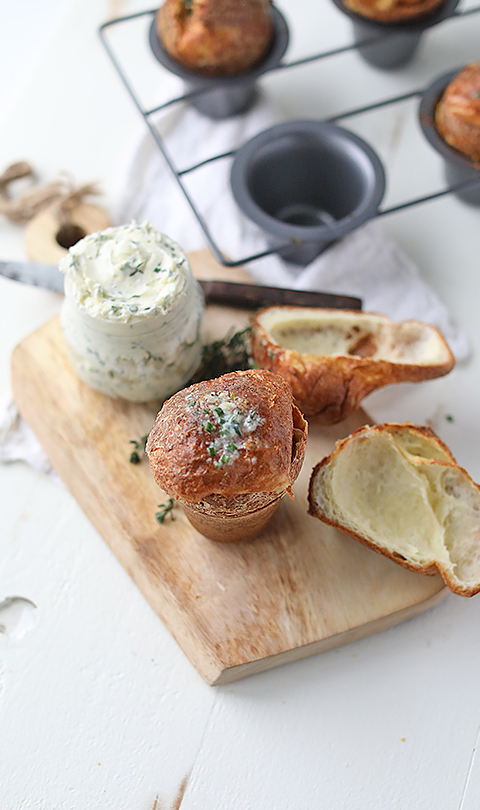 Perhaps my favorite thing about popovers, and I hinted at it earlier, is that it consists of five ingredients. Flour, milk, eggs, salt and butter. That's it. Now from there you can take it to wherever you want it to go, but if you're a bit of a traditionalist, then eating them in their base form is still a wonderful idea because they're absolutely delicious.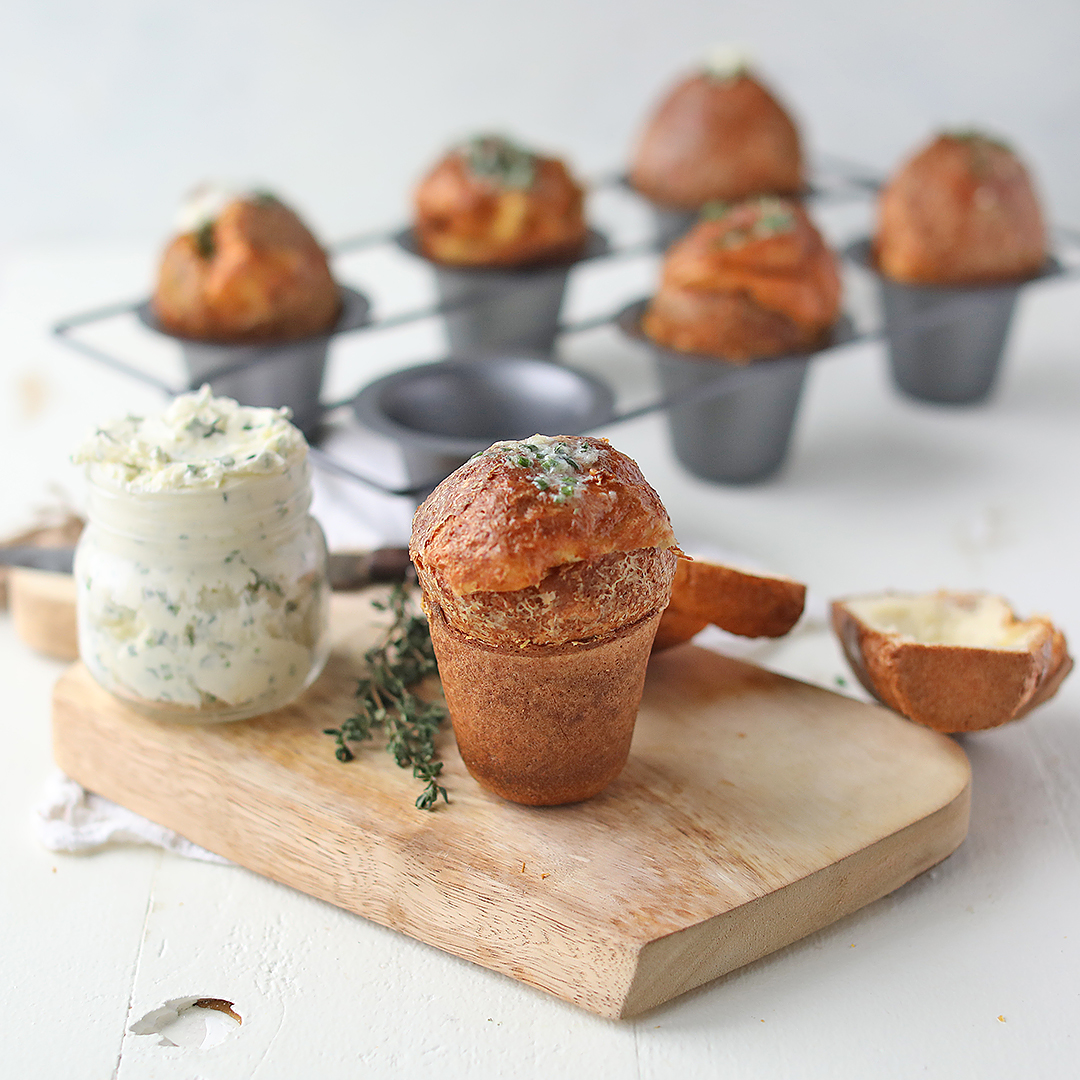 You could swap out a few of the ingredients I used to make it your own, for example. Use cheddar or swiss instead of gruyère, or make a sweet compound butter using maple syrup. In fact, I actually wanted to make a compound butter consisting of dried cherries, vanilla, mint and honey instead of the garlic and herb butter because I'm all about flavor of balance and I thought the sweet butter would complement the savory popover. I'm simply giving you some options of things you could do and just how easy it is to change up this recipe to make it your own.
Gruyère Cheese Popovers with Garlic & Herb Butter Recipe
Enjoy this tasty and savory popover recipe that will leave you wanting more!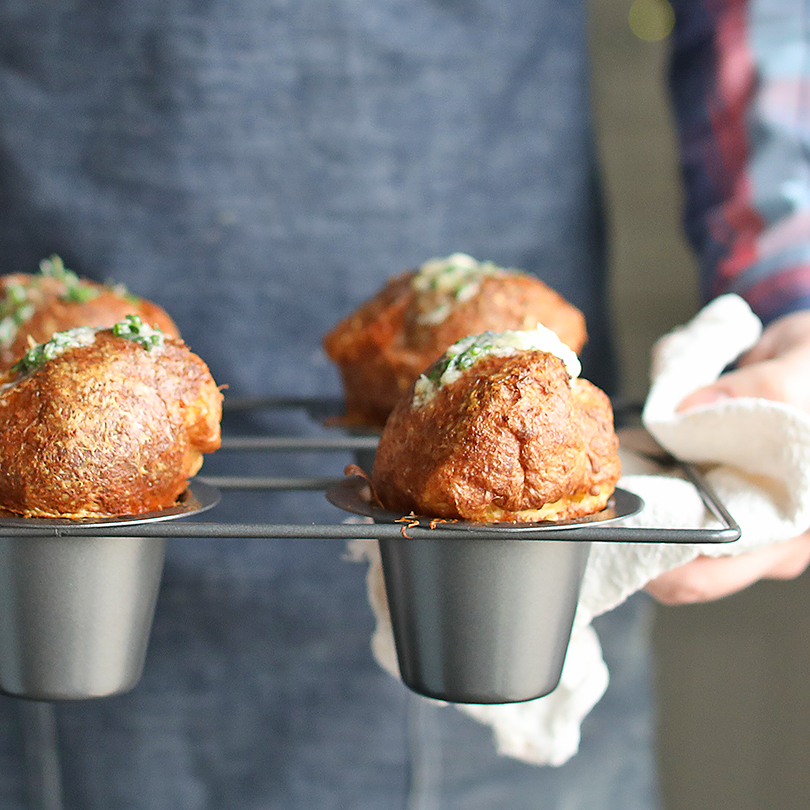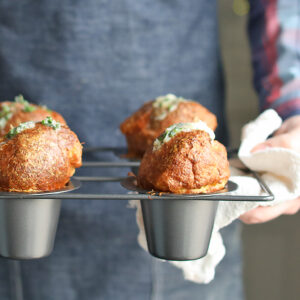 Ingredients
For the popovers:

6

eggs

2.25

cups

whole milk

3

tbsp

melted unsalted butter

2.25

cups

all-purpose flour

.5

tsp

Kosher salt

.5

cups

finely shredded gruyère cheese

For the Butter:

8

oz

unsalted butter

3

finely minced cloves of garlic

2

tbsp

chopped fresh chives

1

tbsp

fresh thyme leaves

Kosher salt to taste
Instructions
Add two popover pans to an oven and preheat to 425° and let sit for 10 minutes.

In the meantime, whisk together the eggs, milk and butter in one bowl and set aside.

In a separate large bowl, whisk together the flour and salt and then pour the liquid mixture into the flour and salt bowl and whisk until completely combined.

Remove the popover pans from the oven and spray with non-stick spray and evenly divide the batter between 10 popover cups in the pan.

Top off with finely grated gruyère cheese and bake at 425° for 20 minutes.

Turn the heat down to 325° and bake the popovers for 10 more minutes and serve immediately.

While the popovers are in the oven add 8 ounces of butter to a standing mixer with the paddle attachment and whip on high speed until light and fluffy, about 5 to 7 minutes.

Finish off the butter by adding in the garlic, herbs and salt.

Serve the butter alongside the hot gruyère cheese popovers.
Nutrition
Serving:
1
g
Calories:
368
kcal
Carbohydrates:
25
g
Protein:
8.6
g
Fat:
26.4
g
Saturated Fat:
15.6
g
Cholesterol:
161
mg
Sodium:
308
mg
Fiber:
0.9
g
Sugar:
3.5
g