Pumpkin Cheesecake with Brandy Caramel Sauce
Looking for your next favorite cheesecake recipe? This Pumpkin Cheesecake with Brandy Caramel sauce is sure to be it!
Pumpkin Cheesecake with Brandy Caramel Sauce Recipe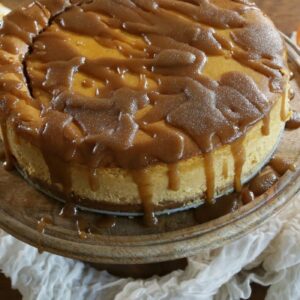 INGREDIENTS
For the Crust:
2 cups of graham cracker crumbs
6 tablespoons of melted butter
1 teaspoon of ground ginger
For the Cheesecake:
2 pounds of cream cheese
1 1/2 cups of sugar
5 eggs
15 ounce can of pureed pumpkin
1/2 teaspoon of cinnamon
1/4 teaspoon of nutmeg
1/4 teaspoon of ground cloves
For the Caramel:
1 cup of brown sugar
1/4 cup of heavy cream
4 ounces of butter
1/2 teaspoon of salt
2 tablespoons of brandy
INSTRUCTIONS
For the Crust:
Add the graham cracker crumbs, butter and ginger to a food processor and pulse until combined.
Form the crumbs to the bottom of a spring form pan that is wrapped on the outside with foil. Press the crumbs down to form a crust.
For the Cheesecake:
Whip the cream cheese in a standing mixer on high with the paddle attachment until it is light and fluffy and then mix in the sugar until completely combined.
Add one egg at a time until combined and then mix in pumpkin and spices.
Pour the pumpkin cheesecake batter on top of the graham cracker crust in the foil wrapped spring form pan and place the pan into a large baking dish and place it on the center rack of the oven.
Fill a pot with water and pour into the pan until the water is 1/2 way up on the spring form pan and bake at 375° for 60 to 75 minutes or until the center is almost firm and the cake is lightly browned.
Remove the cake and cool completely before serving.
For the Caramel:
In a large pot over high heat, whisk together the brown sugar, cream, butter and salt until the brown sugar is melted and dissolved.
Remove the pot from the burner and whisk in the brandy until combined and set aside.
To Serve:
Drizzle the brandy caramel over the cheesecake and serve.