How to Make a Beautiful and Delicious Mother's Day Cake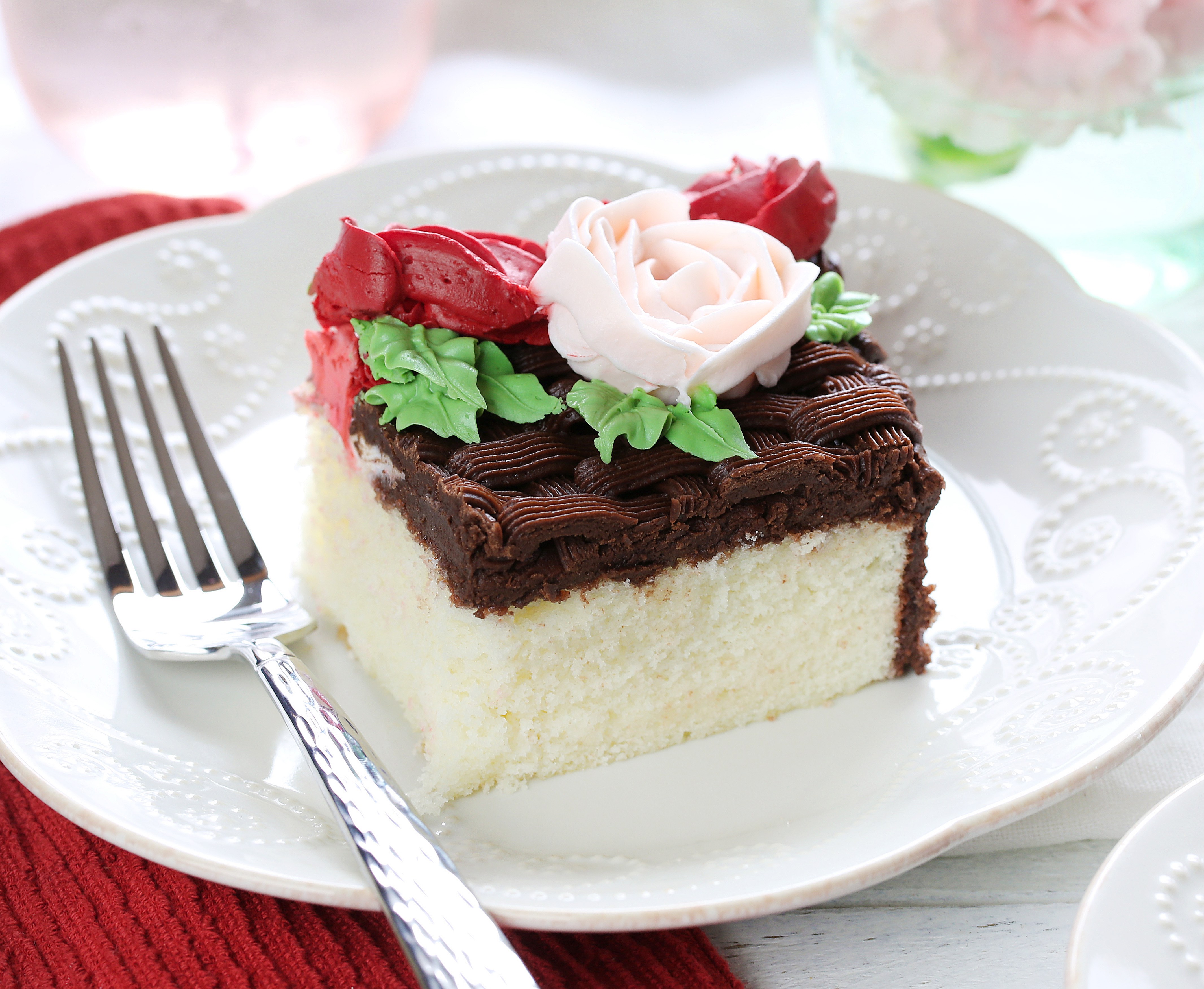 Buttercream flowers in pretty reds and pinks create a basket of sweetness on this cake that's perfect for Mother's Day.
Showcase your decorating skills using just a few basic tips to recreate this stunning cake.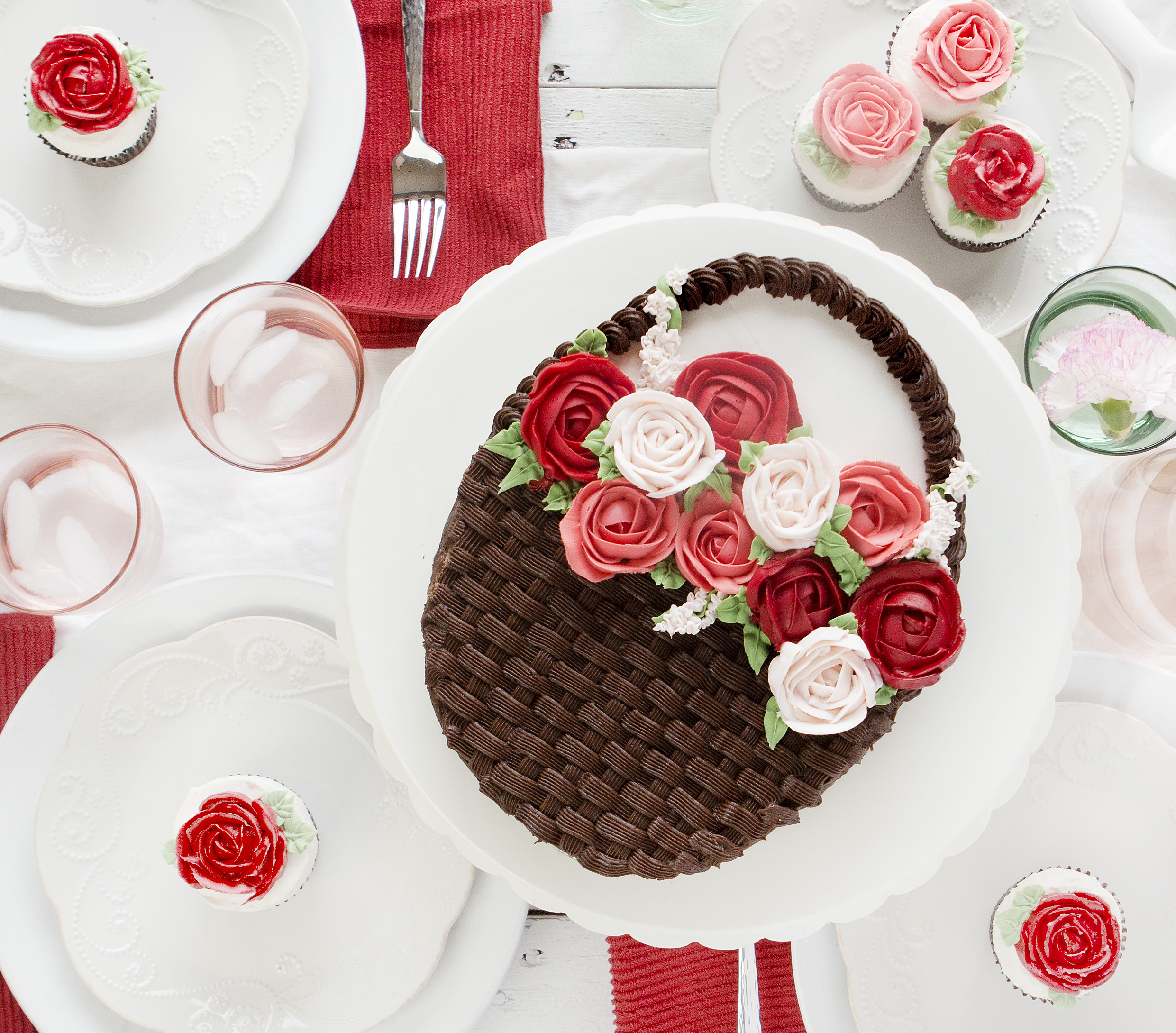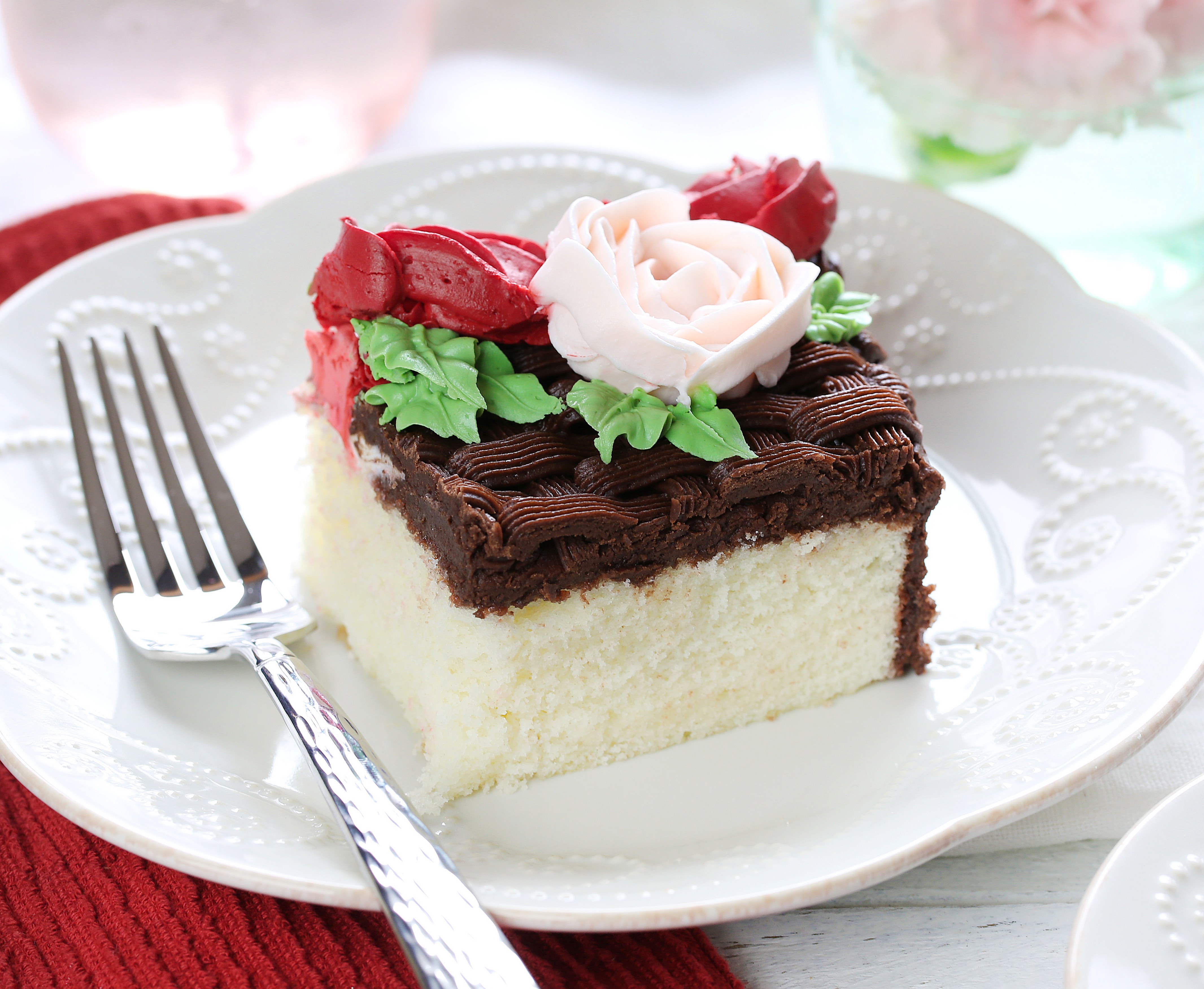 Buttercream flowers in pretty reds and pinks create a basket of sweetness on this cake that's perfect for Mother's Day.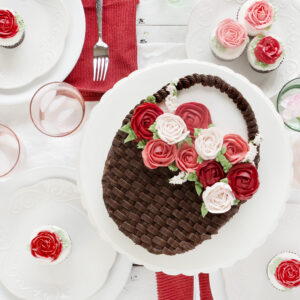 Ingredients
16

tbsp

(226g) unsalted butter 2 sticks

2

cups

(400g) granulated sugar

1

cups

Egg (210g) whites

1

cups

(237ml) whole milk

2

tsp

Vanilla extract

1.5

cups

(195g) all-purpose flour

1.5

cups

(180g) cake flour

1

tbsp

Baking powder

.5

tsp

Salt

1

Stick butter (113g), softened

3

cups

(330g) confectioners sugar

.5

cups

(55g) cocoa

.33

cups

(43g) milk

2

tsp

Vanilla

1

cups

(226g) butter

7

cups

(1000g) confectioners sugar

1

tbsp

Vanilla

.25

cups

(32g) milk

Dash salt
Instructions
For the White Cake: Cream the butter and sugar in a stand mixer until light a fluffy, about 5 minutes on high speed.

While that is creaming, combine the egg whites, milk, and vanilla in a medium bowl and set aside.

In another bowl, sift together the all-purpose and cake flours, baking powder, and salt.

With the mixer on low, add in about ⅓ of the sifted dry ingredients to the creamed butter mixture.

Next add egg white mixture slowly while continuing to mix on low speed. (you may need to scrape the sides of the bowl).

Repeat the same pattern; add your dry ingredients and then the remaining liquid. Add in the remaining flours.

Pour immediately into 9x13 baking pan that has been prepared with pan release.

Bake in preheated 350° F oven for approximately 30 minutes or a toothpick inserted is removed clean.

Allow cake to cool completely.

For the Chocolate Buttercream: Place butter in a bowl and beat until creamy.

Add sugar and cocoa, mixing well.

Stir in milk in portions, stirring each time.

Add vanilla.

Spread on cooled cake or other items needing frosting.

For the Vanilla Buttercream: Put room temperature butter, vanilla, and salt into mixer. Add in powder sugar one cup at a time, alternating with the milk until you have used it all.

If your frosting is too thick you can certainly add more milk.

To Assemble & Decorate: Separate vanilla buttercream into 3 bowls. One will remain white, one will be tinted red, and the other will be pink. Remove about 1/4 cup of the white and tint that green.

When cake is cooled, cut out a rough oval shape for the basket design.

Place the oval cake on your cake plate or cake stand and cover in a thin layer of chocolate buttercream. Chill for about 15. min. Around the top half of the oval, add some vanilla buttercream.

Place chocolate buttercream into a pastry bag fitted with #47 tip. Pipe out a basket weave on the lower portion on the cake. (You can see more about how to pipe a basket weave here.)

Remove the #47 tip and add a #32 tip to the chocolate frosting bag. Around the upper edge of the cake, pipe out a border, this border is meant to look like a basket handle. (You can see more about how to pipe a buttercream rose here.)

With a #104 tip, pipe out five red roses. Then switch to pink and pipe out five pink roses. Then pipe out 5 white roses. Place all the roses on a parchment paper lined cookie sheet and freeze until ready to assemble the cake.

When the roses are frozen, remove them and start to place them on the cake. I used 4 red, 3 pink, and 3 white, but you can use whatever combination of colors you prefer.

After you have placed your roses on the cake, go back in and pipe some green leaves with a #67 tip. (You can learn more about piping leaves here.)

If you have any buttercream left over, feel free to pipe more roses onto cupcakes to decorate your table!

This simple and stunning Mother's Day Cake is the perfect way to create something beautiful AND delicious for mom!