16 Plant-Based Sheet Pan Recipes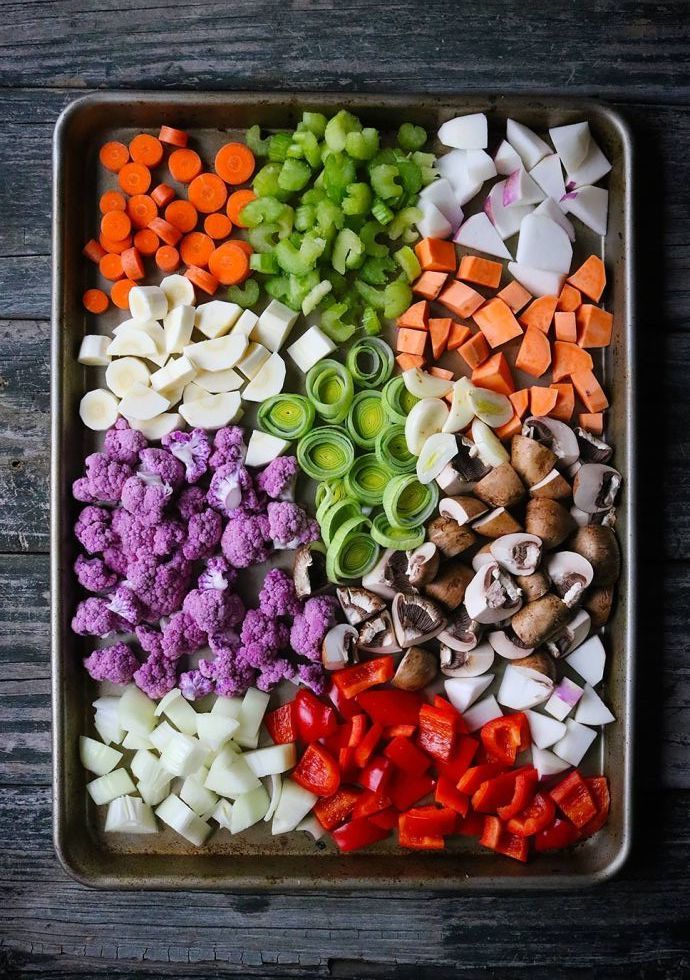 Every year at the beginning of autumn, I feel an overwhelming desire to revisit my New Year's resolutions. Apparently I'm not alone as this phenomenon has been written about in The Wall Street Journal and Forbes and recently covered by NBC News.
Now that my kids and I are getting settled into the new school year and new routines, I am recommitting to two goals I set for myself earlier this year. The first one is making sure to meal plan every Sunday so that our family can have nice, healthy dinners together as often as possible. I have three kids in three different sports so sometimes this feels like an impossible feat… but I haven't lost hope yet! The second is eating a more plant-based diet both for health and the planet.
After doing a bit of research, I've decided that sheet pan meals are the way to go during especially hectic weeks. As I'm sure you know, sheet pan dinners have been all the rage for a while since you basically just throw some healthy veggies and protein on a sheet pan with some sauce, spices, or herbs for flavor and roast in the oven. It couldn't be easier.
Here's my round-up of plant-based sheet pan dinner recipes for easy (and healthy) go-to weeknight meals.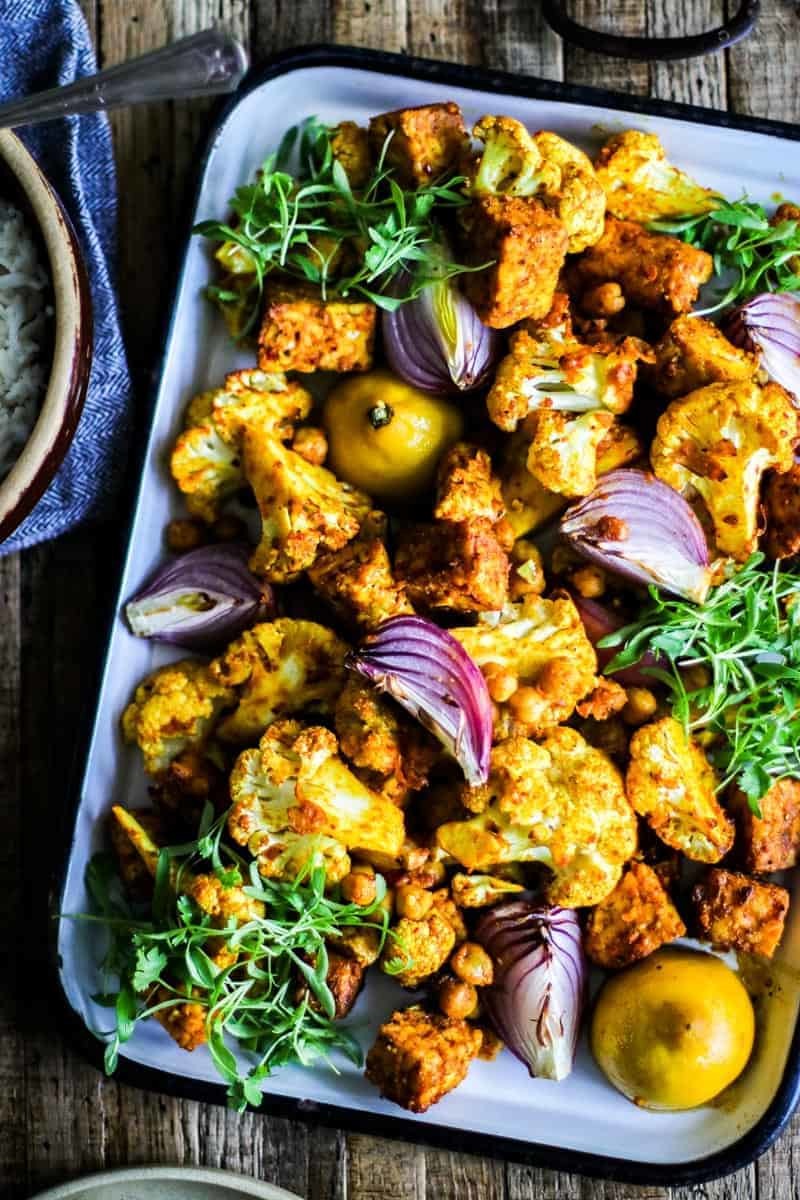 This vegan sheet pan shawarma takes 20 minutes of hands-on prep time and is packed with Middle Eastern-inspired flavor. It's perfect alone, with rice or paired with hummus.
These Veggie Sheet Pan Fajitas are dinner guest-worthy — especially when paired with this homemade guacamole bar.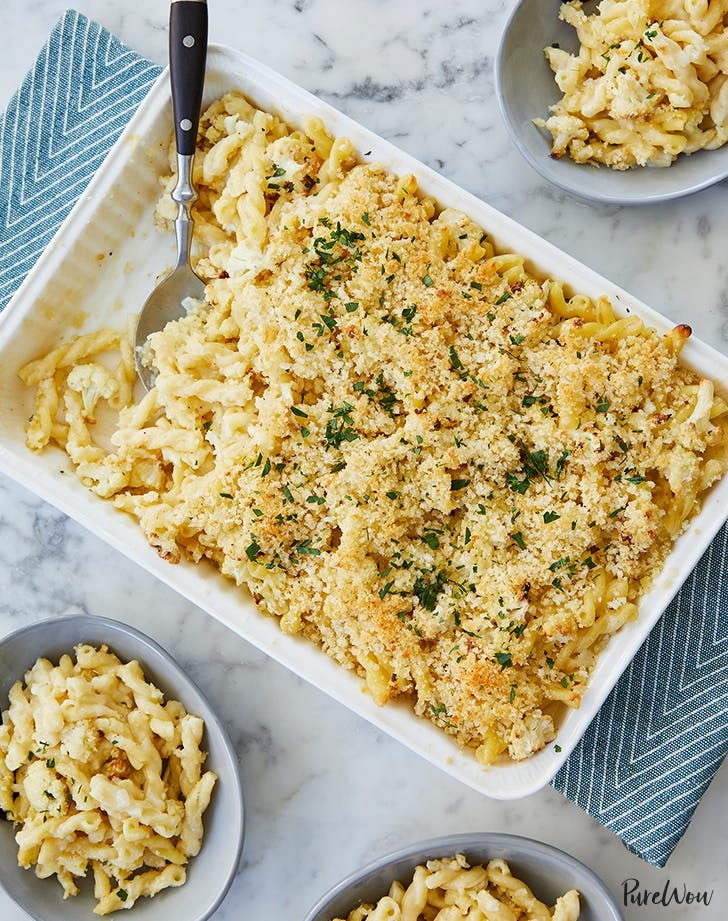 Okay, so technically this doesn't fall under the exceptionally healthy category. BUT for the times when you just have to have a comforting bowl of mac and cheese, this does the trick. Pasta is my favorite thing in the world but I don't miss it at all in this Cauliflower Macaroni and Cheese recipe.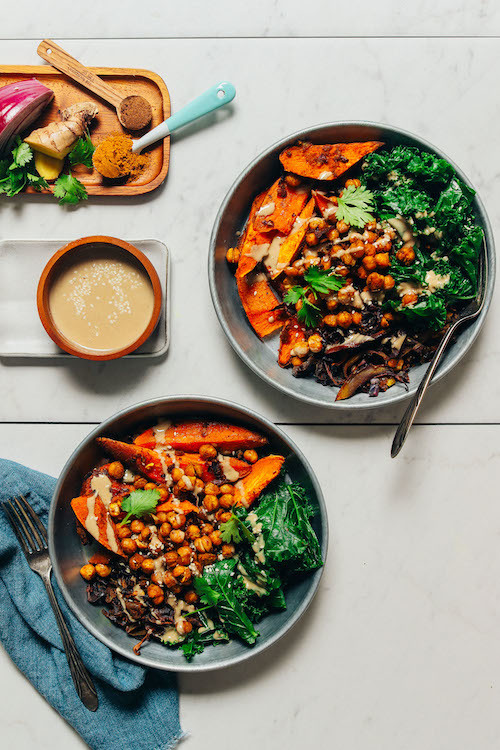 I made a batch of this Curried Sweet Potato and Chickpeas on Sunday and I brought it for lunch three days in a row. Yep, it's that good. Probably not something my kids would be huge fans of (they are super picky) but I love the combination of kale, sweet potatoes, and a vegan protein.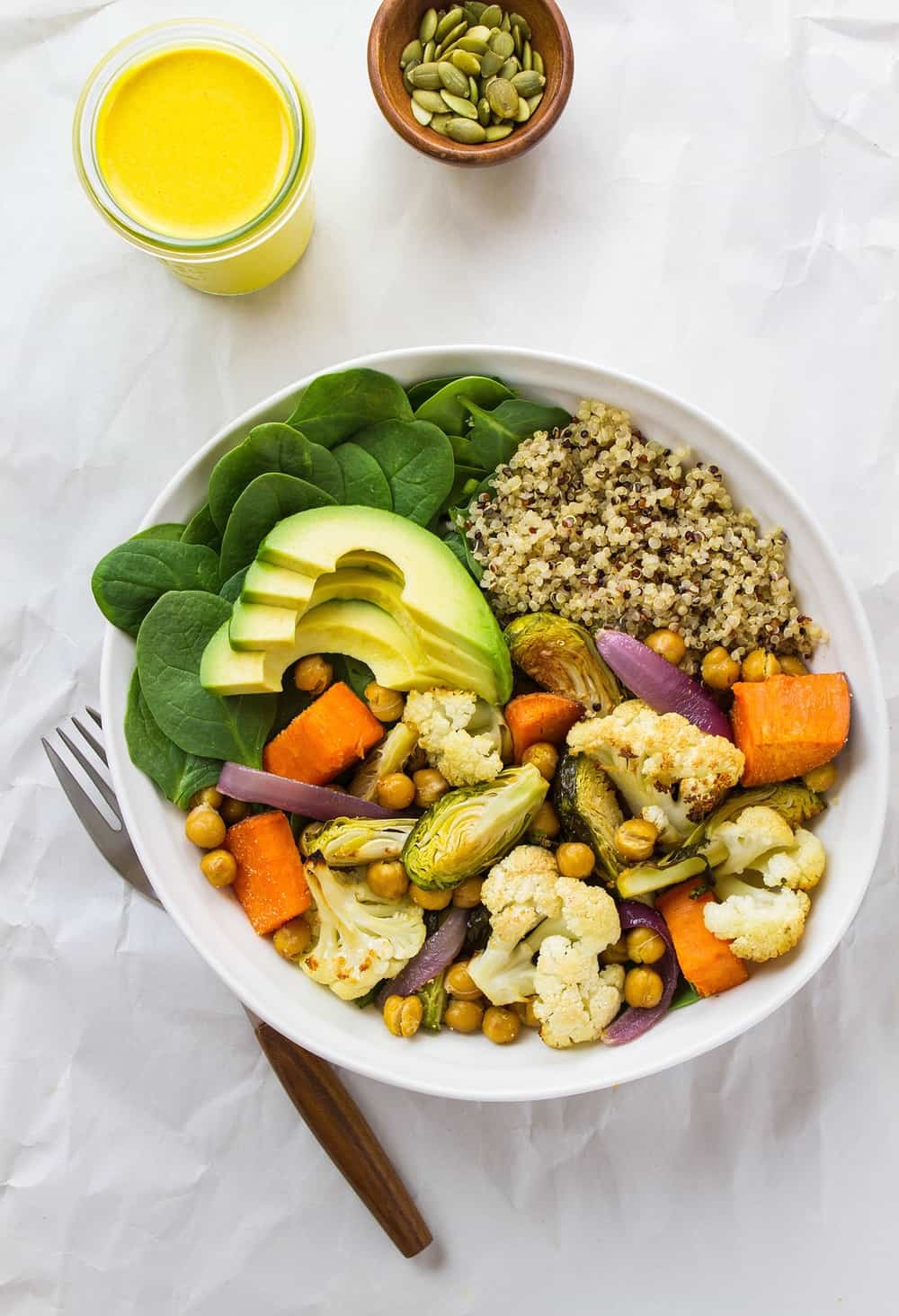 You can never have too many "nourish" or grain bowls in your rotation and this Roasted Cauliflower and Sweet Potato Nourish Bowl is one of my favorites. It has lots of roasted vegetables, cauliflower, and sweet potato, all drizzled with a turmeric tahini dressing.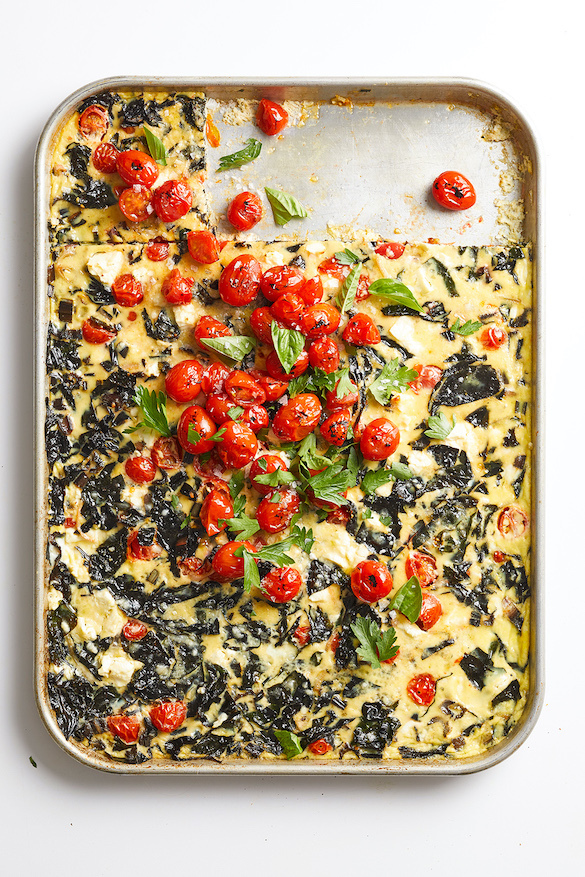 We have breakfast for dinner every Wednesday night and this Sheen Pan Greens and Veggie Frittata is a nice departure from our usual waffles or pancakes. Perfect for Sunday brunch too.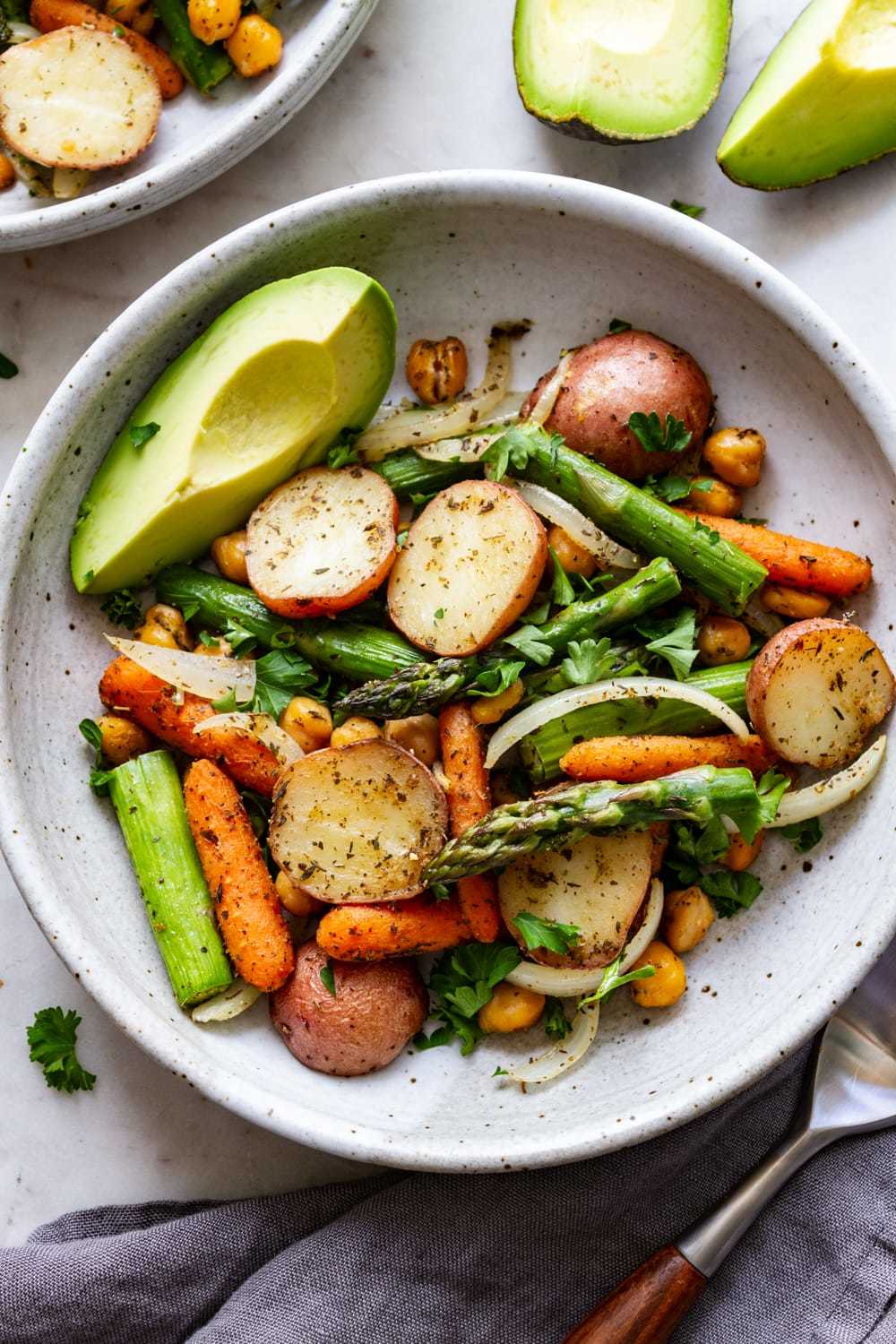 This herbed potato, asparagus and chickpea sheet pan recipe is ideal for the springtime when asparagus is in season. And while I typically try to buy locally-grown produce (and by definition, in season) I sometimes make an exception for asparagus since it's one of the few vegetables my kids actually ask for. This recipe is super simple and has loads of flavor.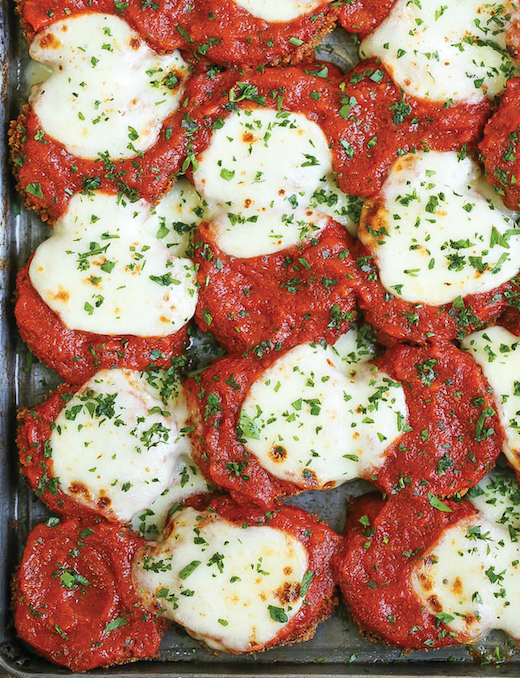 This Sheet Pan Zucchini Parmesan is a healthier and way less time-consuming spin on chicken parmesan. Use zucchini instead of chicken and bake it to perfection with marinara and cheese! When I'm staying away from dairy I'll swap out the cheese with So Delicious shreds.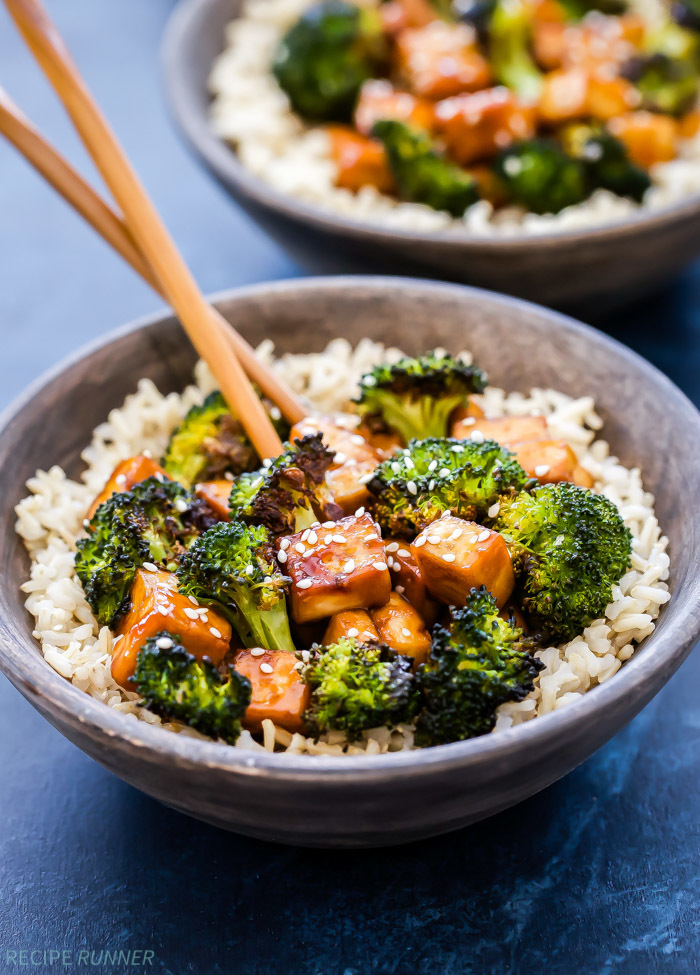 We are getting our first cold spell of the season here in Chicago, and for me, that means cozy sweaters and take-out Chinese food (weird, I know). Since I'm trying to go easy on the DoorDash deliveries, I found this Sheet Pan Crispy Teriyaki Tofu and Broccoli that curbs my cravings. Even the non-tofu lovers in our house approved of this one.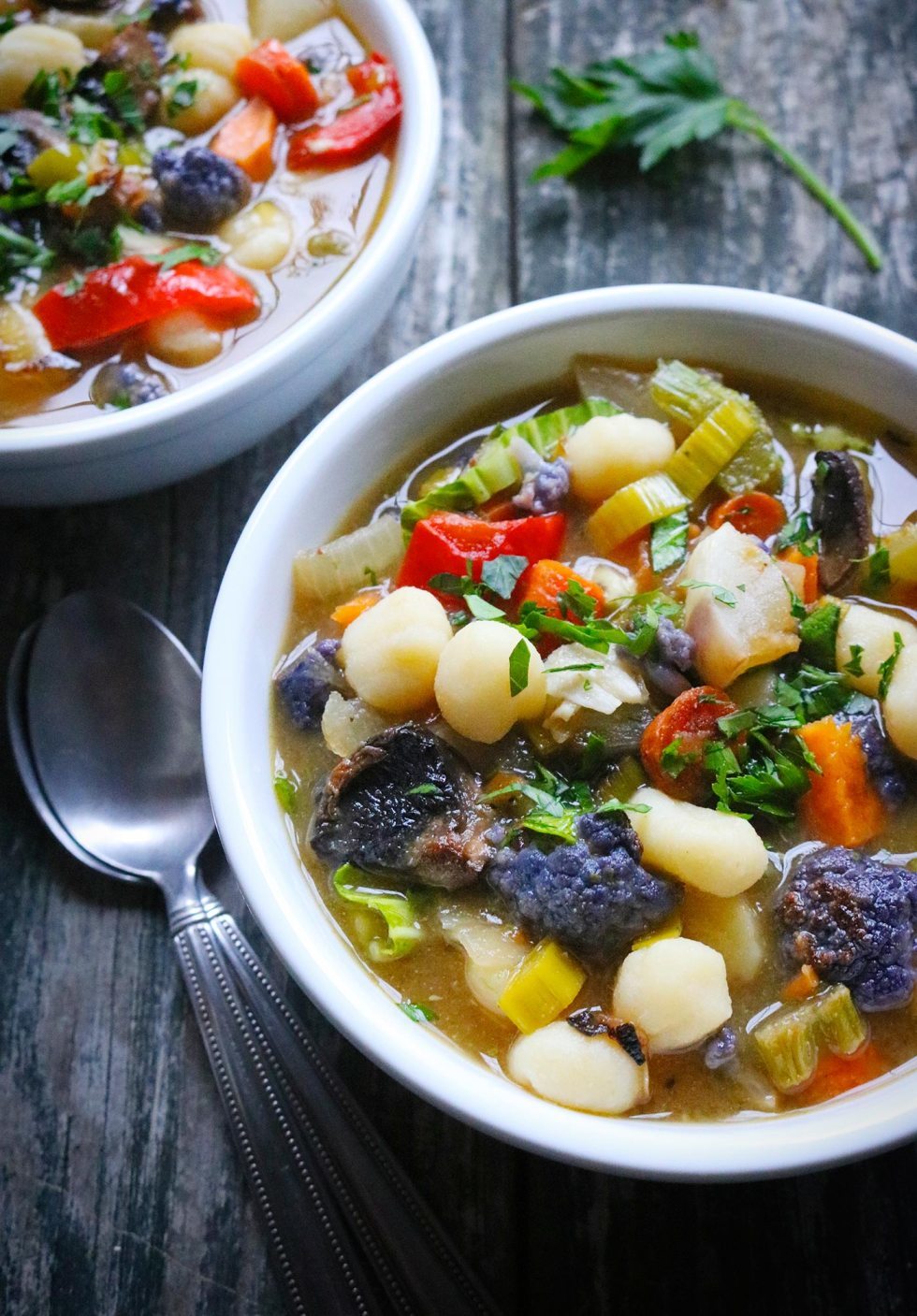 This vegan and dairy-free Sheet Pan Roasted Vegetable Soup with Gnocchi is big on flavor without a lot of work. Simply roast some vegetables, heat up some broth, add gnocchi, pesto, and greens and enjoy.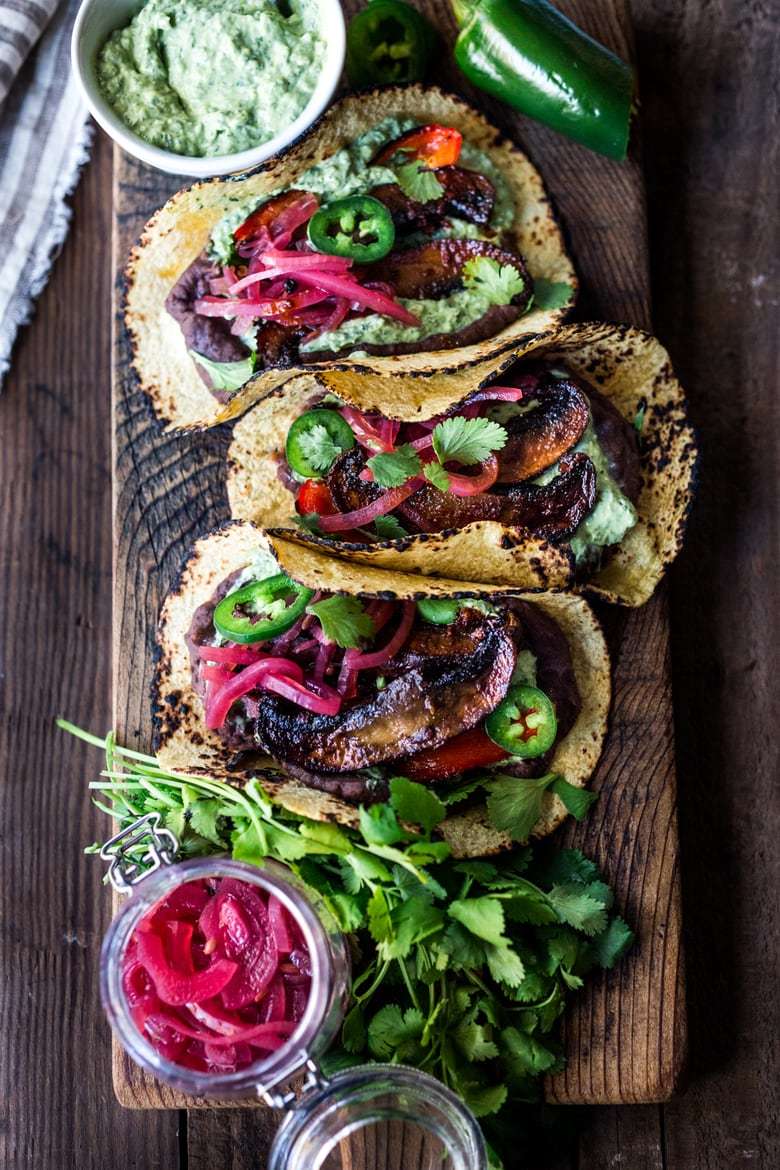 This Chipotle Portobello Tacos Sheet Pan Recipe is one of my "fancier" sheet pan favorites and one that I recommend to friends that are trying out a more plant-based diet. If you are short on time you can swap out the Vegan Cilantro Crema and Pickled Onions with guacamole and roasted onions. But I have to say, it's the crema and pickled onions that puts these tacos over the top.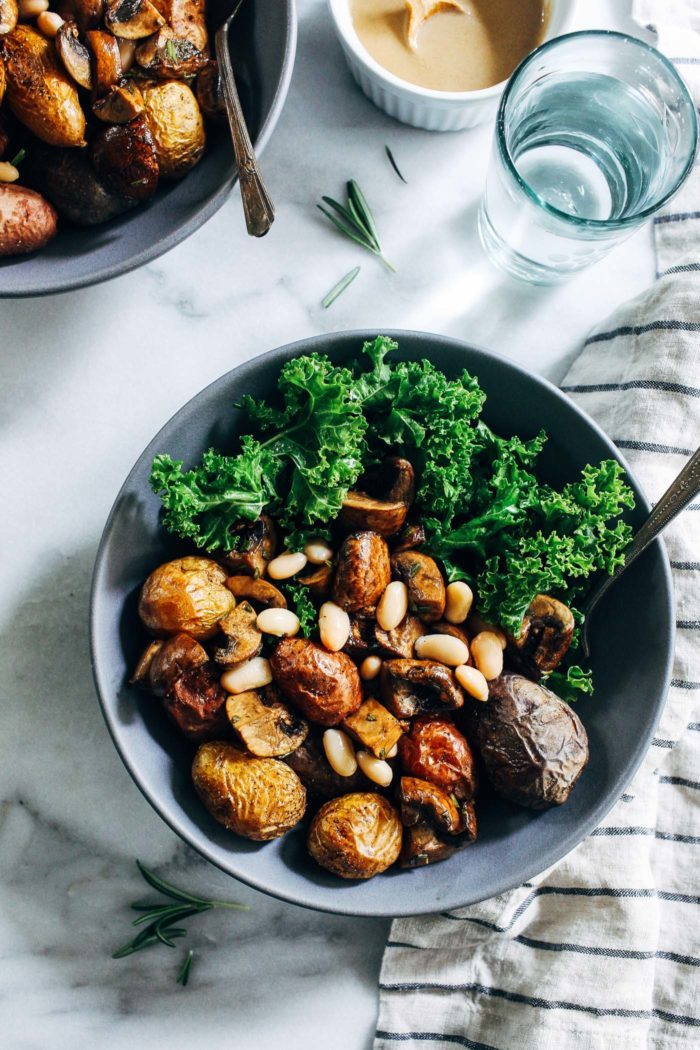 I'm obsessed with these sheet-pan rosemary potatoes with mushrooms, white beans, and kale. Simply marinate the mushrooms in a balsamic rosemary sauce while the buttery fingerling potatoes are roasting. Prep your kale, add the mushrooms and white beans to the potatoes on the roasting pan until warm and dinner is done.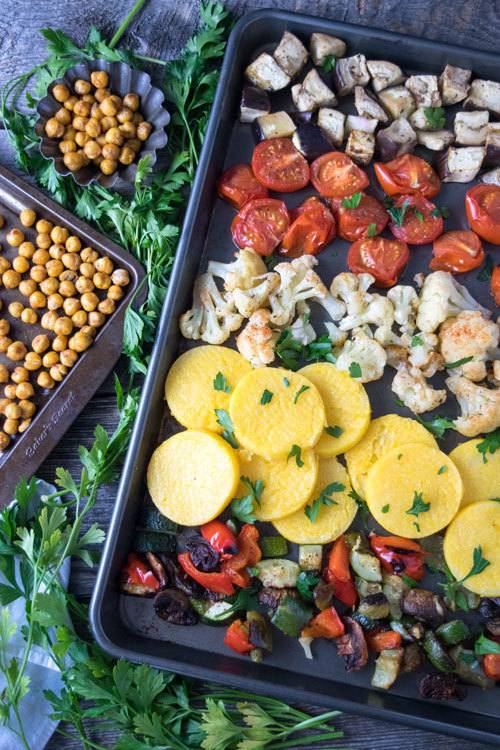 This Roasted Greek Vegetables with Polenta recipe is perfect for my meal prepping on Sundays because it's easy to make a big batch and divide into containers – and holds up well during the week. I use a tube of polenta when I have it on hand since it's so easy, but I've also used quinoa if I'm trying to up my protein intake.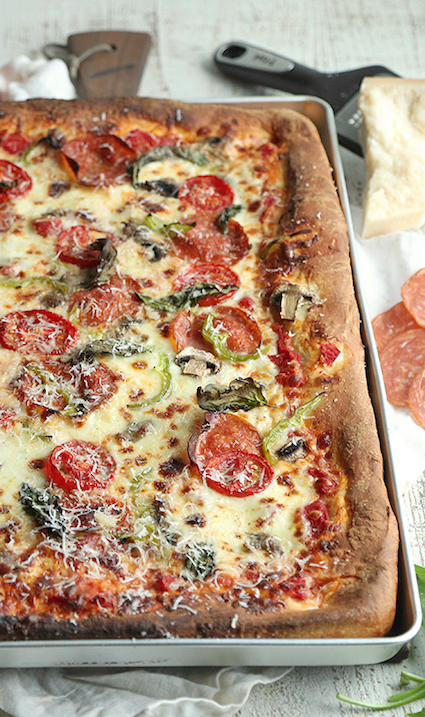 So by now, you have probably figured out that I really like routines (it saves my sanity). Taco Tuesday, breakfast for dinner on Wednesday, and pizza on Friday. I learned this insanely delicious Sheet Pan Pizza recipe from Chef Billy Parisi and it makes me feel like I'm winning at life when I make it (I just use vegetables instead of the meat toppings). When the kids have friends over I make it into an activity and they customize their own.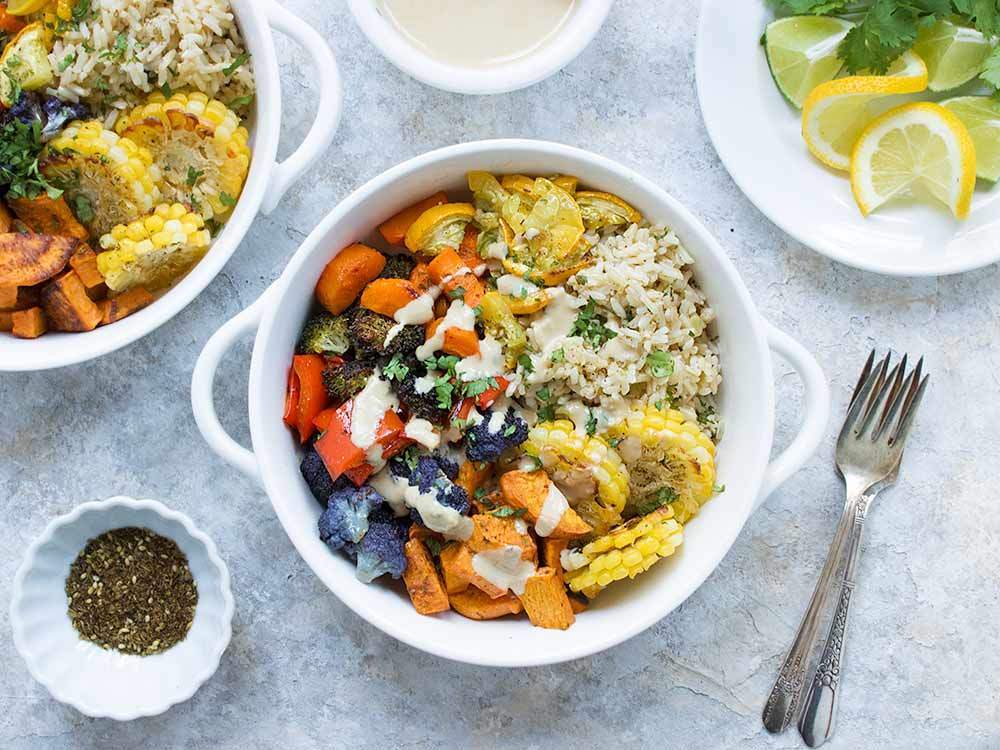 Keep this za'atar-spiced veggie sheet pan recipe on hand whenever you need to empty out the veggie bin since the tahini miso sauce is delicious on pretty much any kind of vegetable.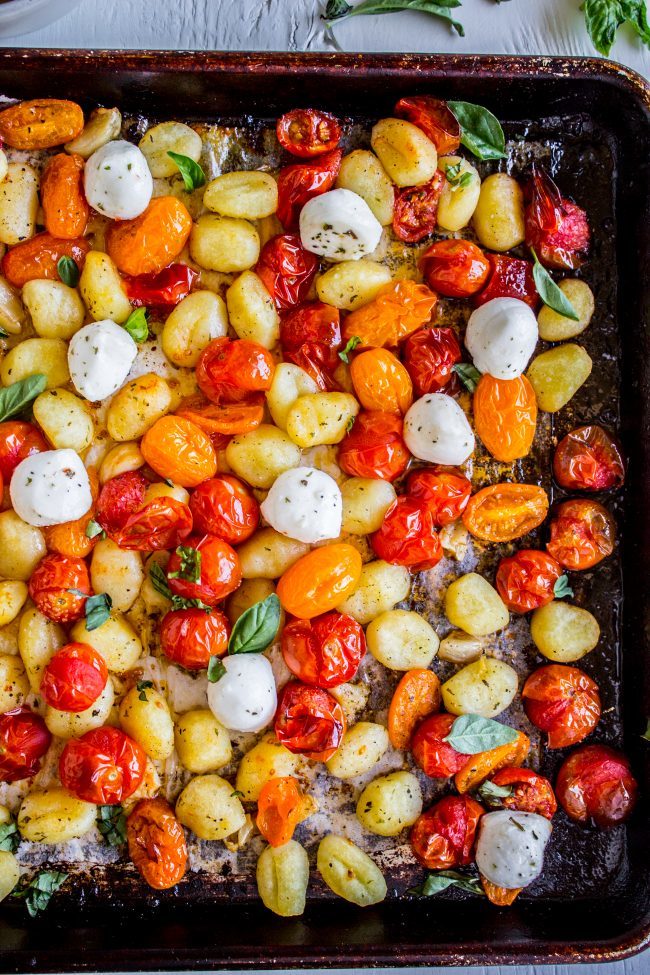 Four ingredients and on the table from start to finish in under 30 minutes. I always thought you had to boil gnocchi so I like them even better cooked in the oven. Add some fresh basil to this Sheet Pan Gnocchi with Cherry Tomatoes and Mozzarella and you've got yourself the perfect weeknight meal.