Planning a Gold Themed Bridal Shower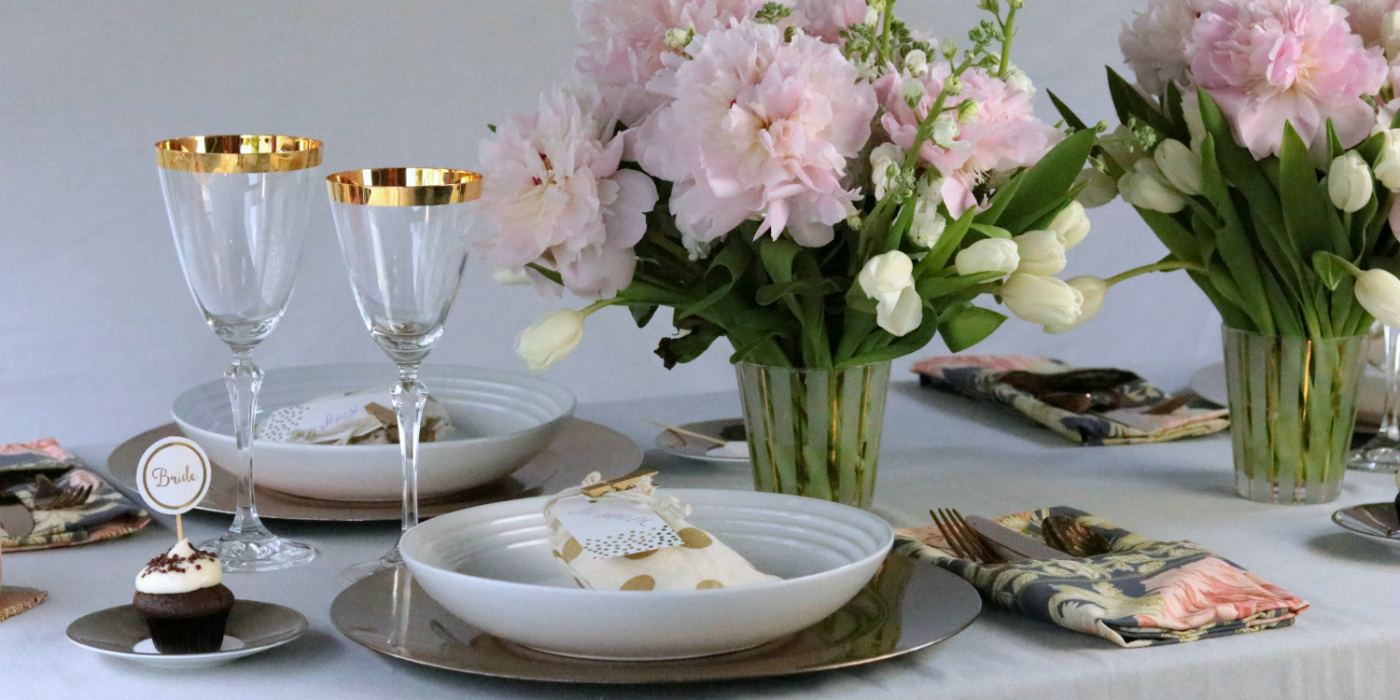 Gold, Rose Gold and Copper metals have made their way into our home decor, closets and
tableware with full force over the last few years, so it is only fitting that they begin to take center
stage on bridal shower tablescapes this wedding season.
Planning a gold themed bridal shower
can be fun but slightly overwhelming at times! However, with just a few key elements your table
can become the talk of your gathering. These party planning tips and decor ideas are sure to inspire a gorgeous bridal shower, fit to honor the beautiful bride to be!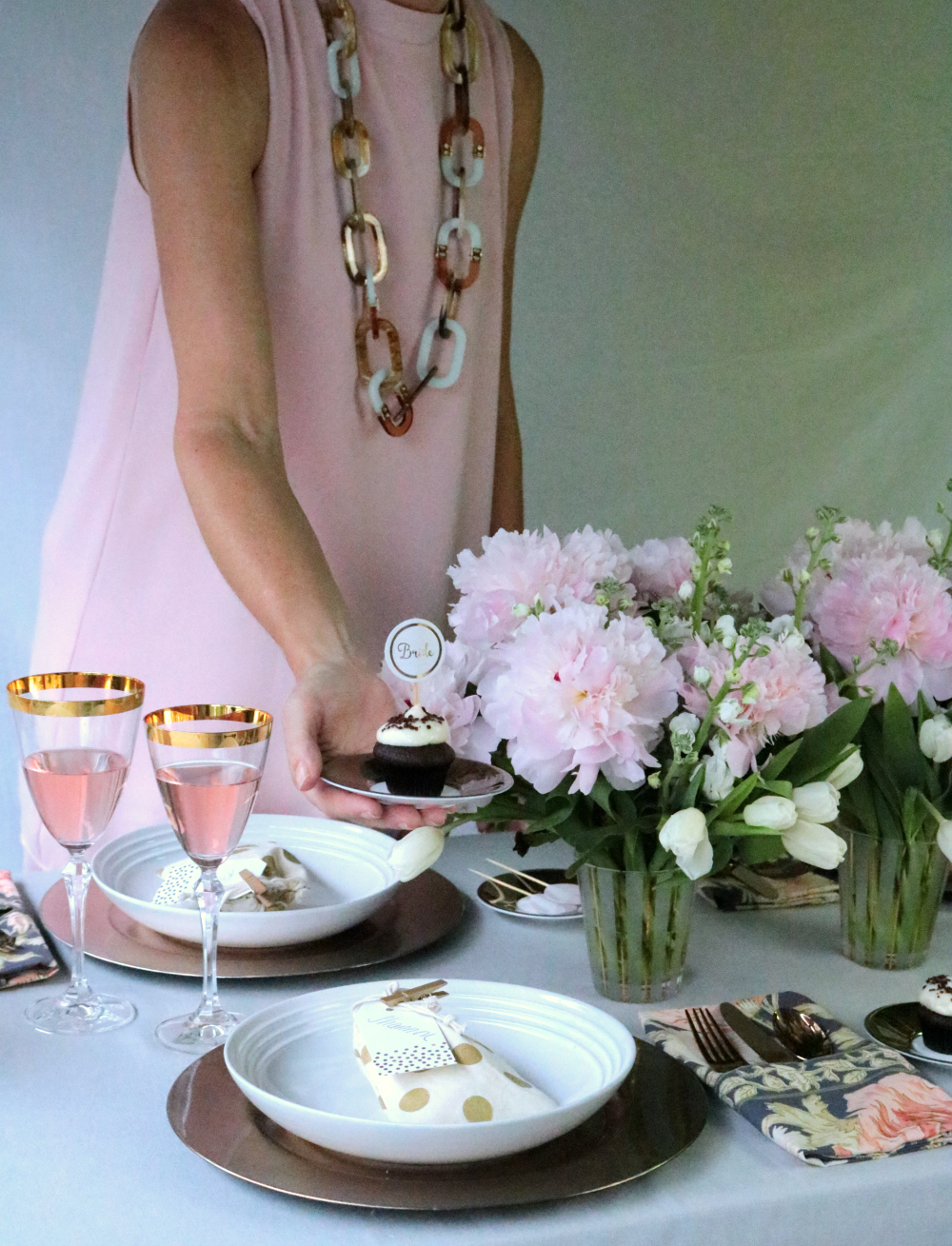 My #1 Tip for Planning Your Gold Themed Bridal Shower Tablescape
Flowers. Flowers. Flowers. If there is one tip I can give you when planning a bridal shower, or
any gathering for that matter, is when in doubt add flowers. A few of my favorite can't-go-wrong-with flowers are Peonies, Tulips and Hydrangeas. You can find each of them most times of the
year, prices may vary during their peak vs non-peak growing seasons but over all they are
available year round in the U.S. most months.
If you can find flowers in the theme colors of your bridal shower even better however, I don't
think you can go wrong with pink or white Peonies for a spring or summer bridal shower,
especially when planning a rose gold inspired bridal shower tablescape. Add a few white Tulips
to your vase filled with Peonies to bring another textural element to the table as well as a variety
of shapes. In fact if you find Peonies are hard to locate, beginning with Tulips then add just two
or three Peonies will give you a similar effect on a more reasonable floral budget.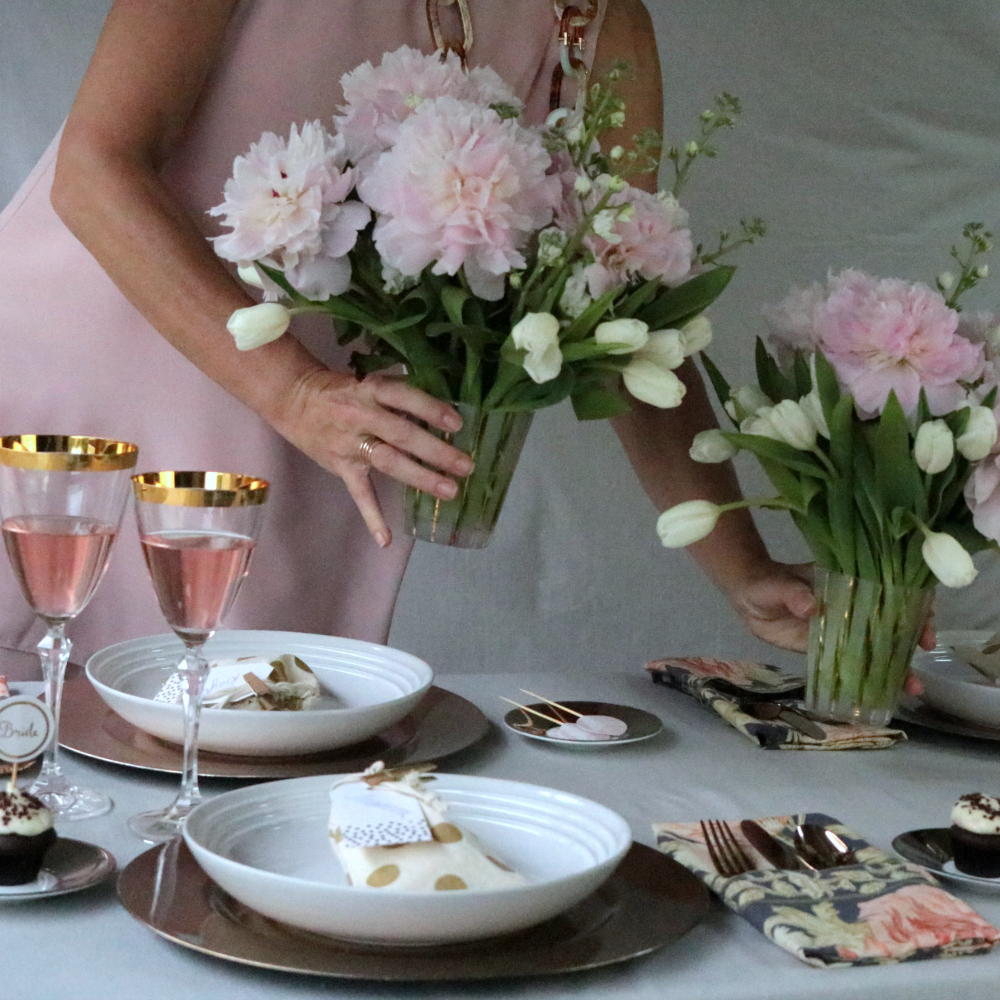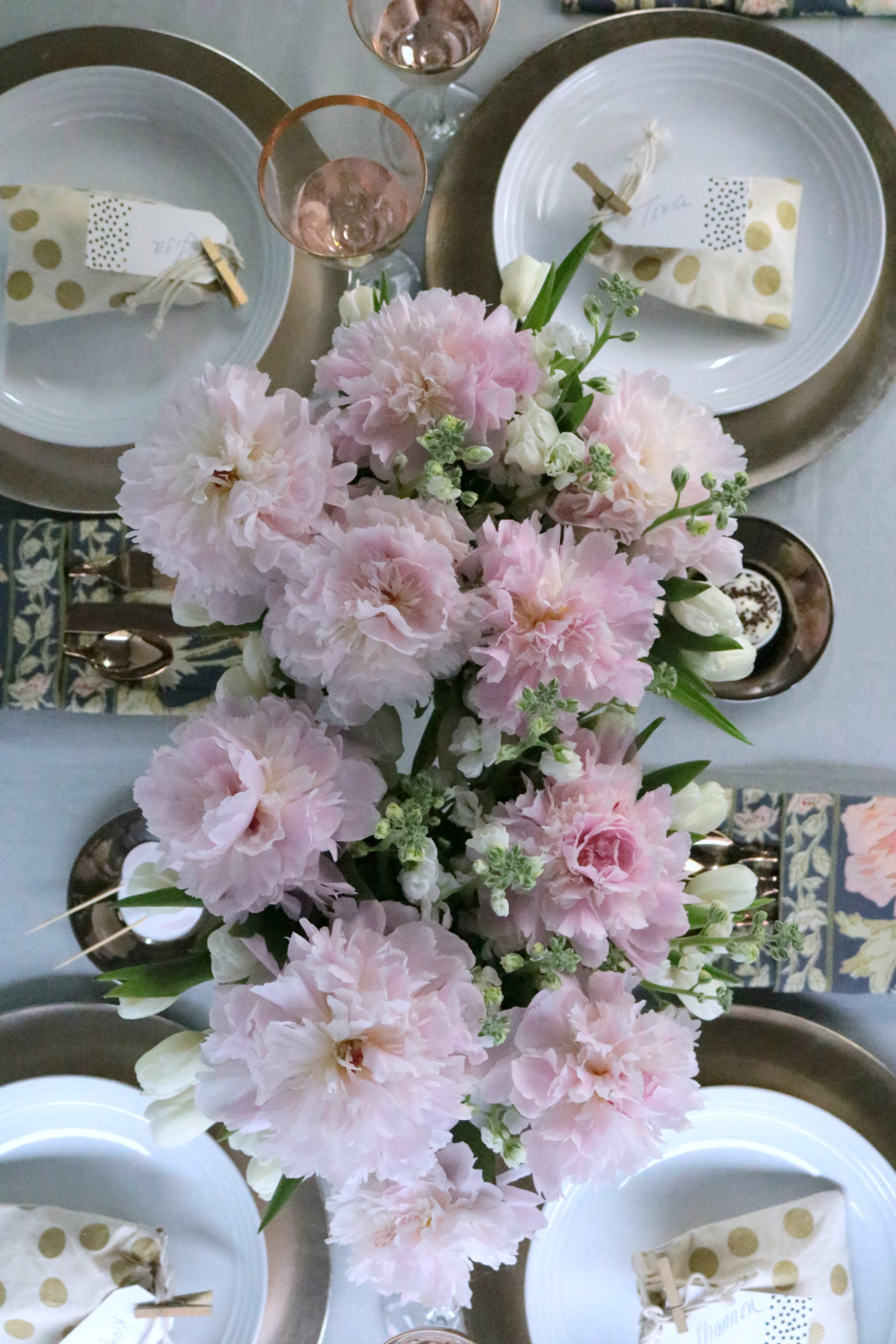 Tip #2 for Planning a Gold Themed Bridal Shower :: Go for the Gold
If gold is your theme, go for it! Jump all in and don't hold back!
Pure white plates with a simple banded accent from Le Creuset's tableware collection sit atop gold chargers creating the perfect frame for a small shower gift personalized with each
guest's name. The shower gifts, also on theme, tucked inside gold dotted linen bags tied with
gold confetti name tags all from a local craft store, serve a dual function as a place card letting
guests know where to sit.
And don't stop there! Gold-rimmed stemware like these red and white wine versions from
Mikasa's Serenity Stemware collection look uber feminine filled with rosé or your favorite
bubbles.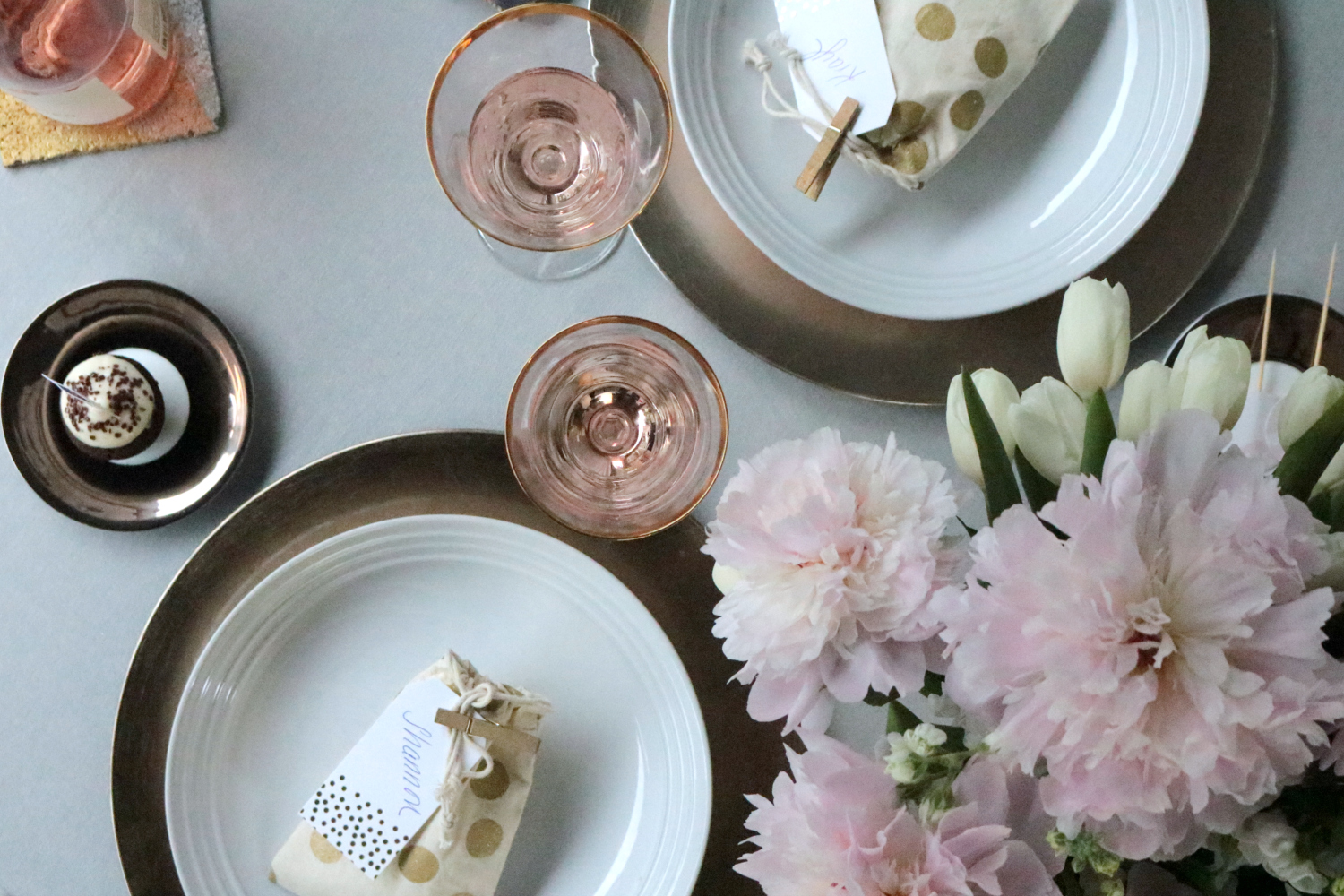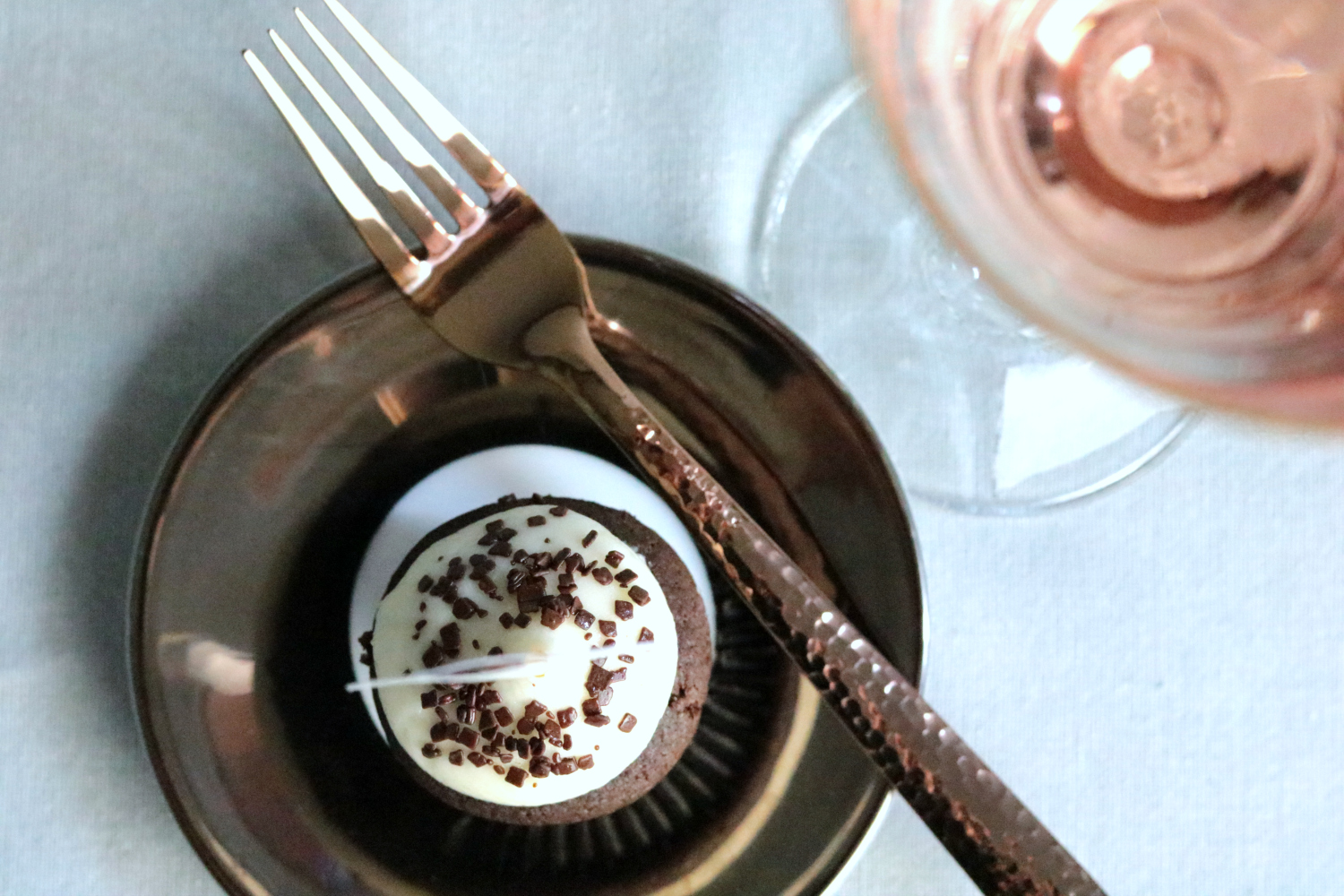 Tip #3 for Planning a Gold Themed Bridal Shower Table :: Special Touches Make All the Difference
We have the theme, we have the flowers… next up are the little touches that really make your
bridal shower table feel special. Mini Cupcakes in the brides favorite flavor are served on coordinating tiny saucers with Hampton Forge Copper Paris flatware.
Each place setting is tucked into the guests napkin using a simple pocket fold. Here I have
thrown out the traditional place setting format and tucked the fork, knife and spoon together in a
Rose Nouveau cloth napkin by April Cornell – perfectly pretty in dusty amethyst.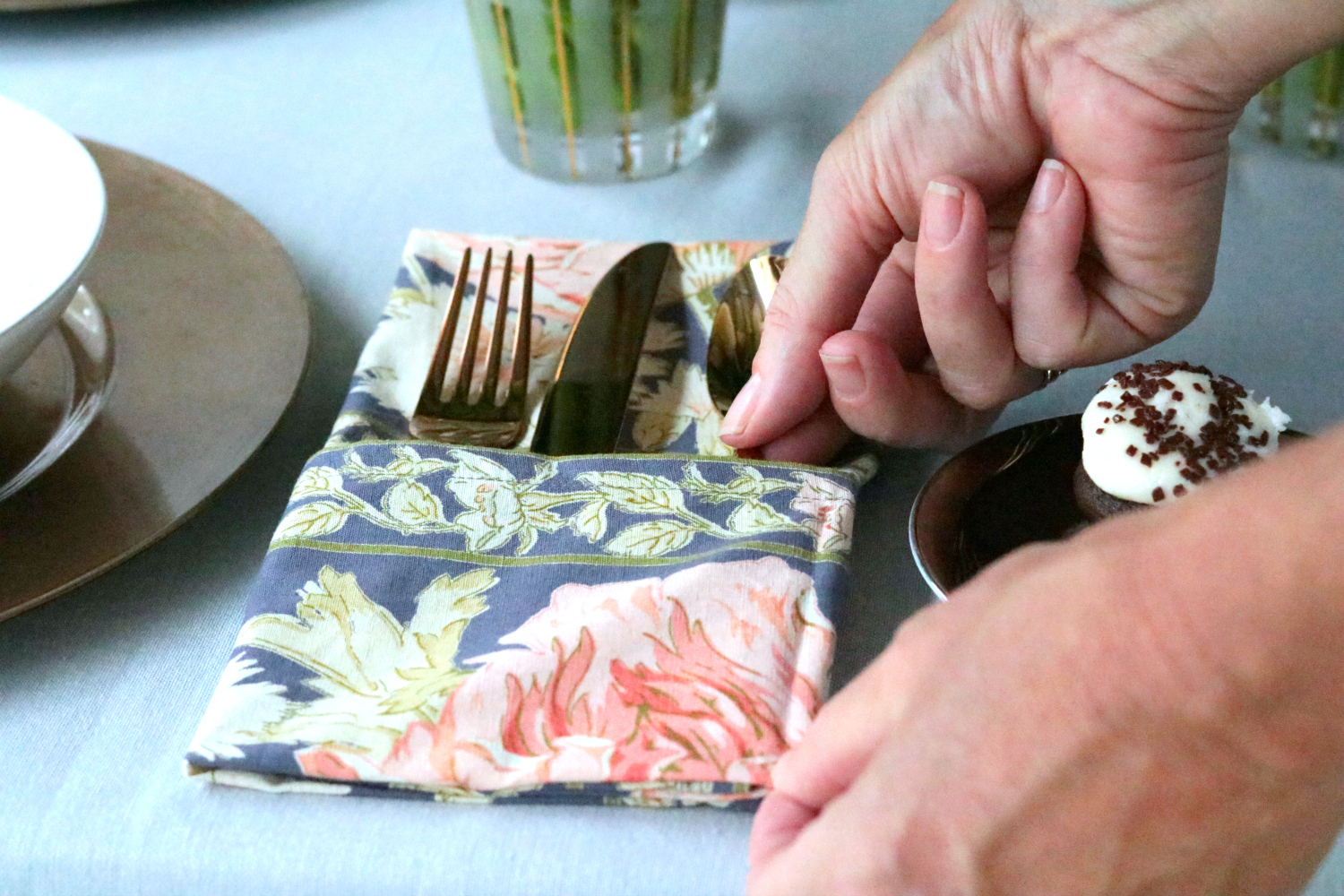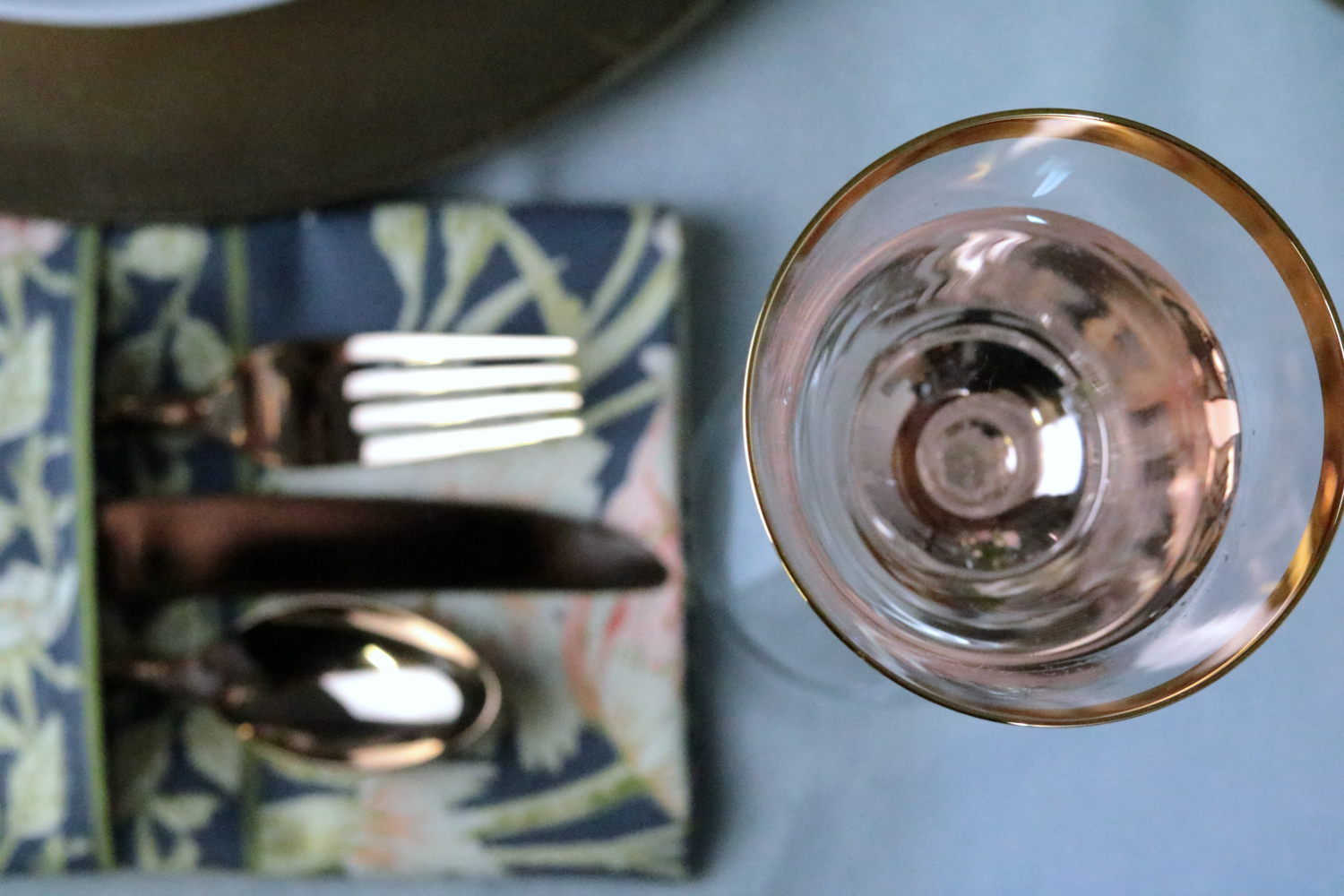 Tip #4 for Planning a Gold Themed Bridal Shower Table :: Let the Bride Shine
Your table is set and you are ready to welcome your guests. My final tip for planning your gold
themed bridal shower… Let the bride shine! A bridal shower is such a lovely time for the bride to
spend time with her closest friends and loved ones, cater to her needs. Offer to get her another
glass of wine or to get her a plate of food, she is under quite a bit of stress these days and
deserves a day to be surrounded by family and the beauty of your tablescape.
Have a sip of that rosé and relax. You have planned, prepped and your shower is going to be a
huge success! Cheers!