Spring Orecchiette with Shrimp & Peas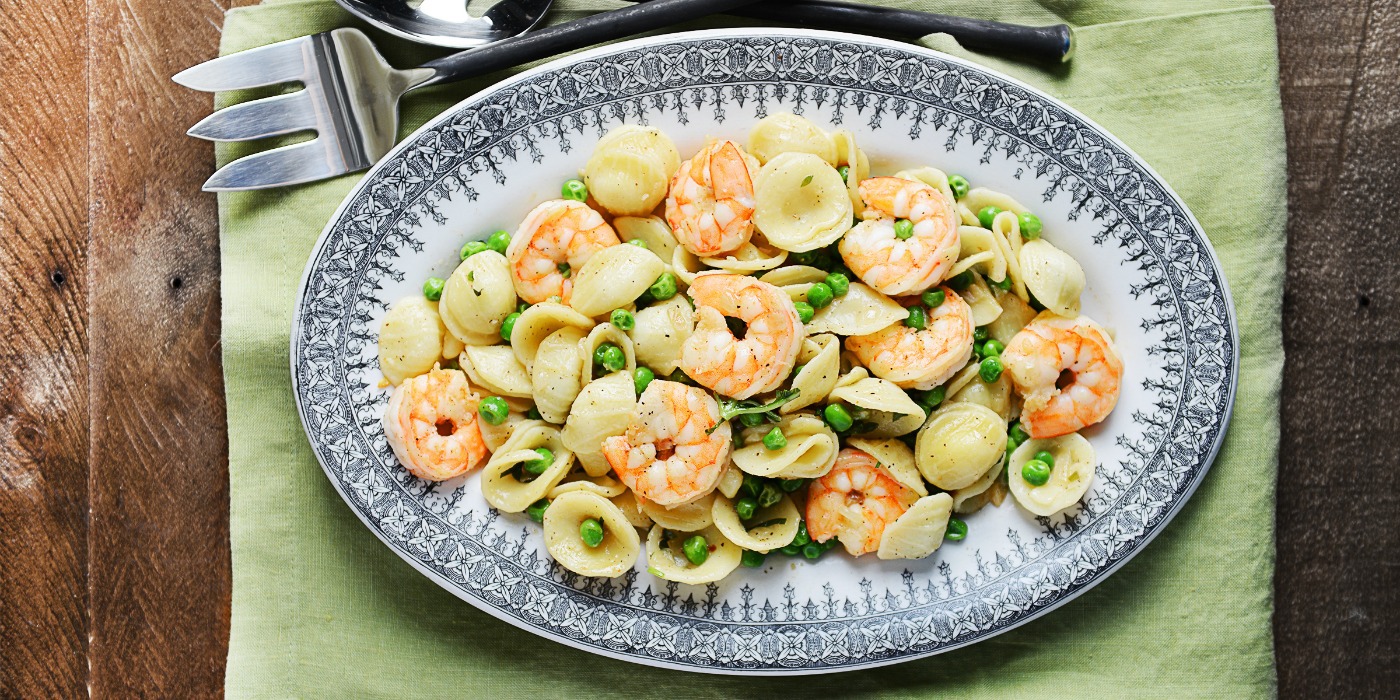 This Orecchiette Pasta with Shrimp and Peas dish is the perfect meal to celebrate the arrival of Spring.
This is a great dish to transition from the heavy winter meals to light and fresh ones for Spring.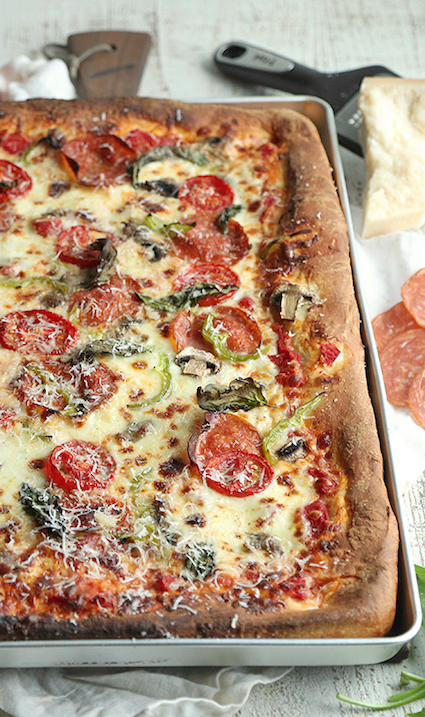 It's a warm dish but there are no heavy sauces involved which makes it light and healthy. The peas and basil give it a fresh taste plus the protein from the shrimp rounds out the meal.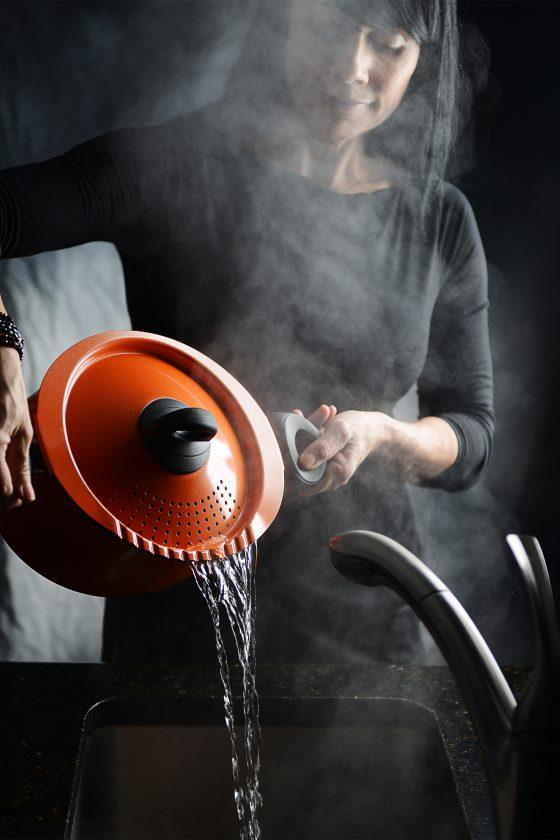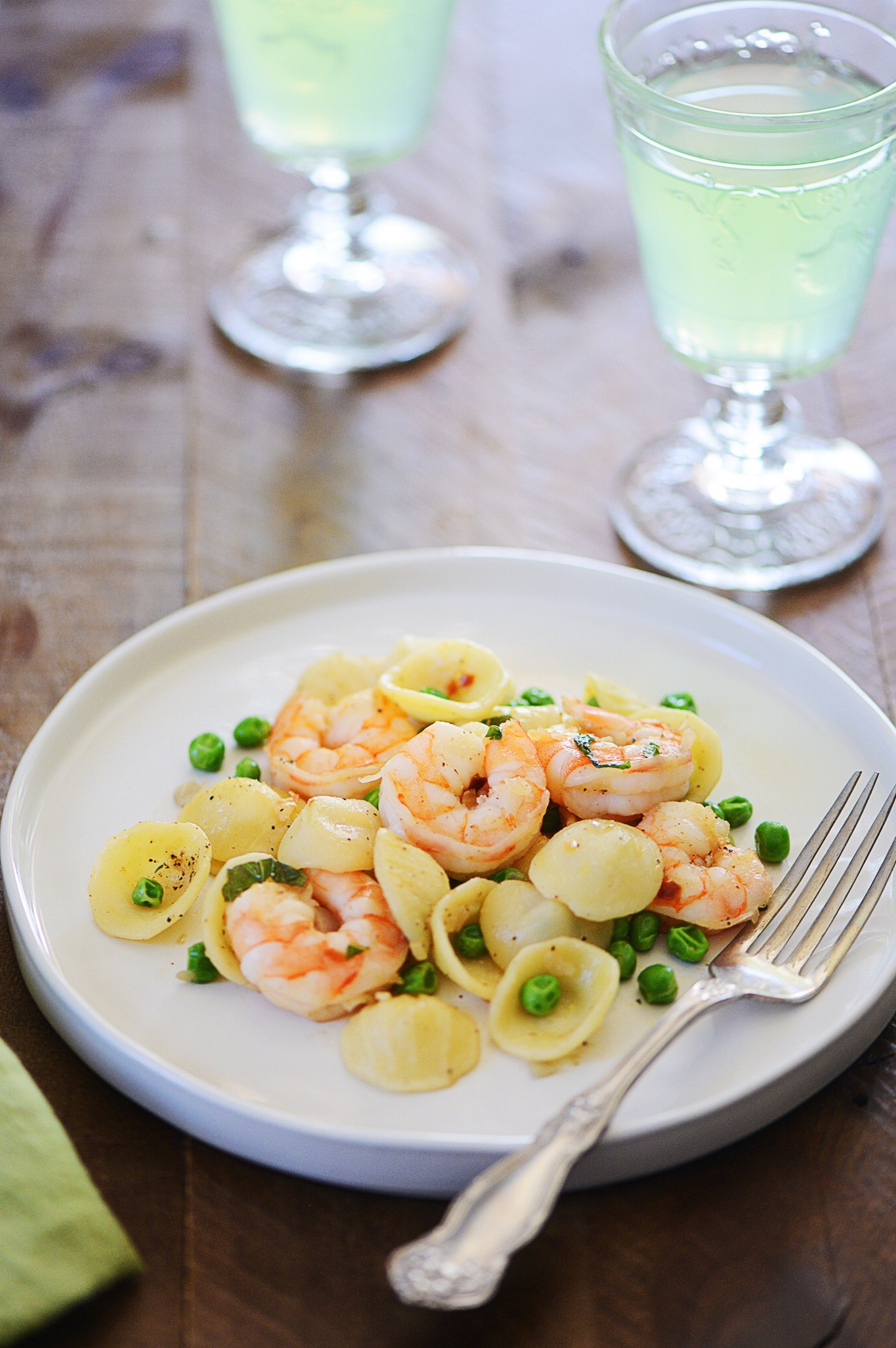 This dish is perfect for when you don't have a lot of time
to prepare dinner. The key is to multi-task. While the water is heating up
and the pasta is cooking, you can prepare all of the other ingredients.
Cooking the shallots, garlic & shrimp only takes a few minutes and your
dinner will be ready in no time.
Using a pasta pot like this one from Bial etti will save you lots of time as you don't have to dig for a colander to drain your pasta and you'll have less dirty dishes!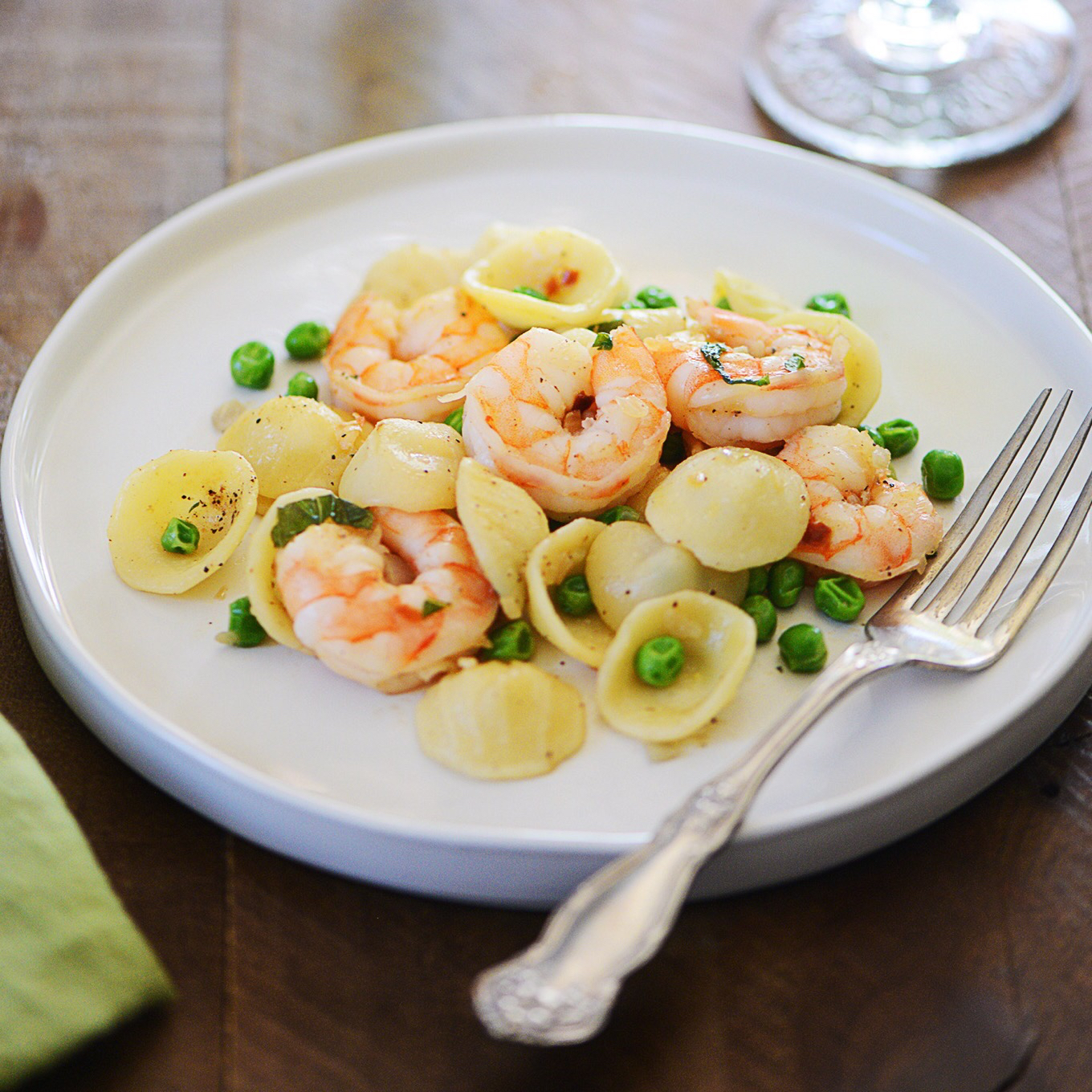 Most of the ingredients in this dish are things you keep
stocked in your pantry (pasta, olive oil), freezer (peas + shrimp) and
fridge (garlic, shallots + basil) making it very easy to put a quick dinner
together. This gives you extra time to enjoy this fabulous spring weather!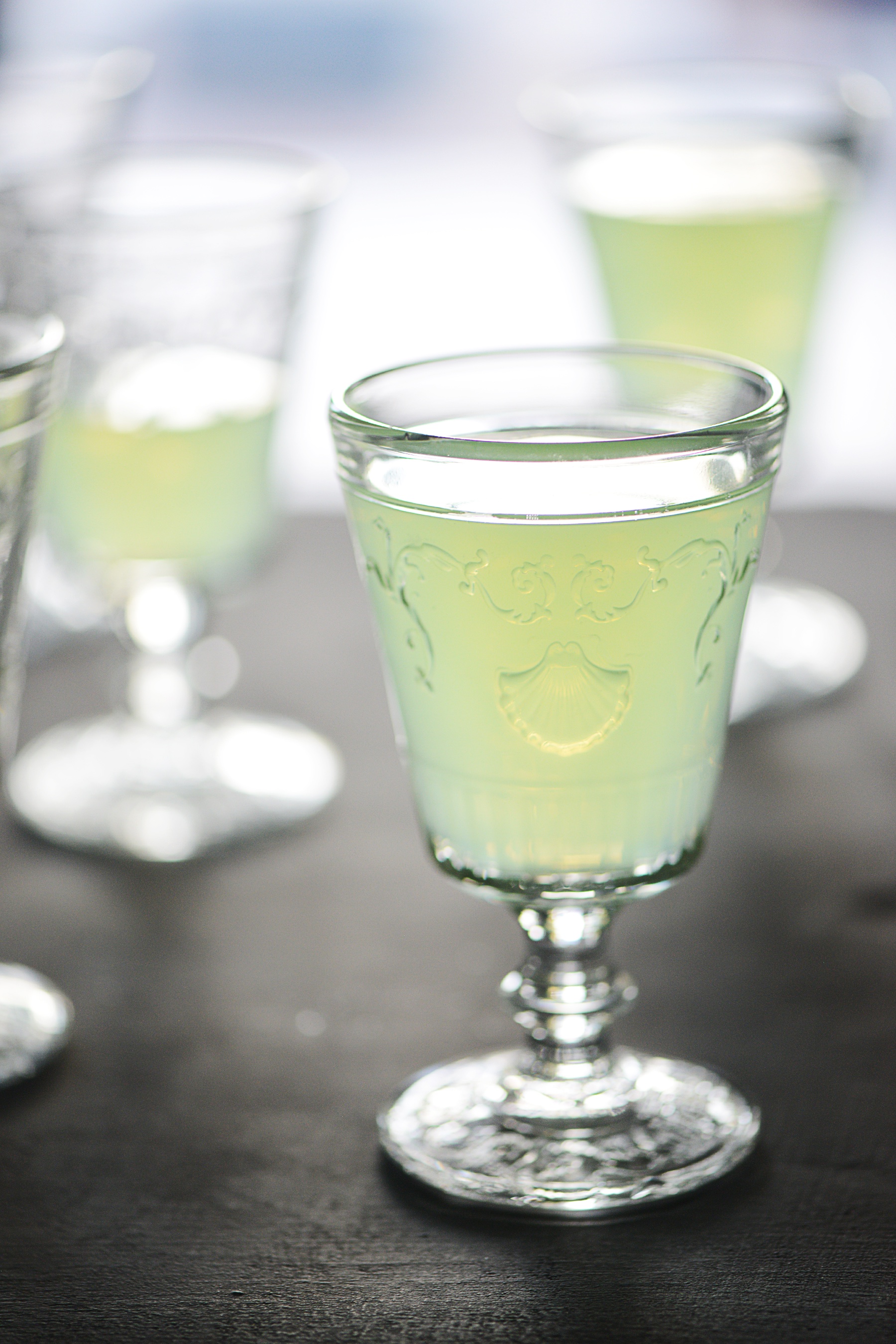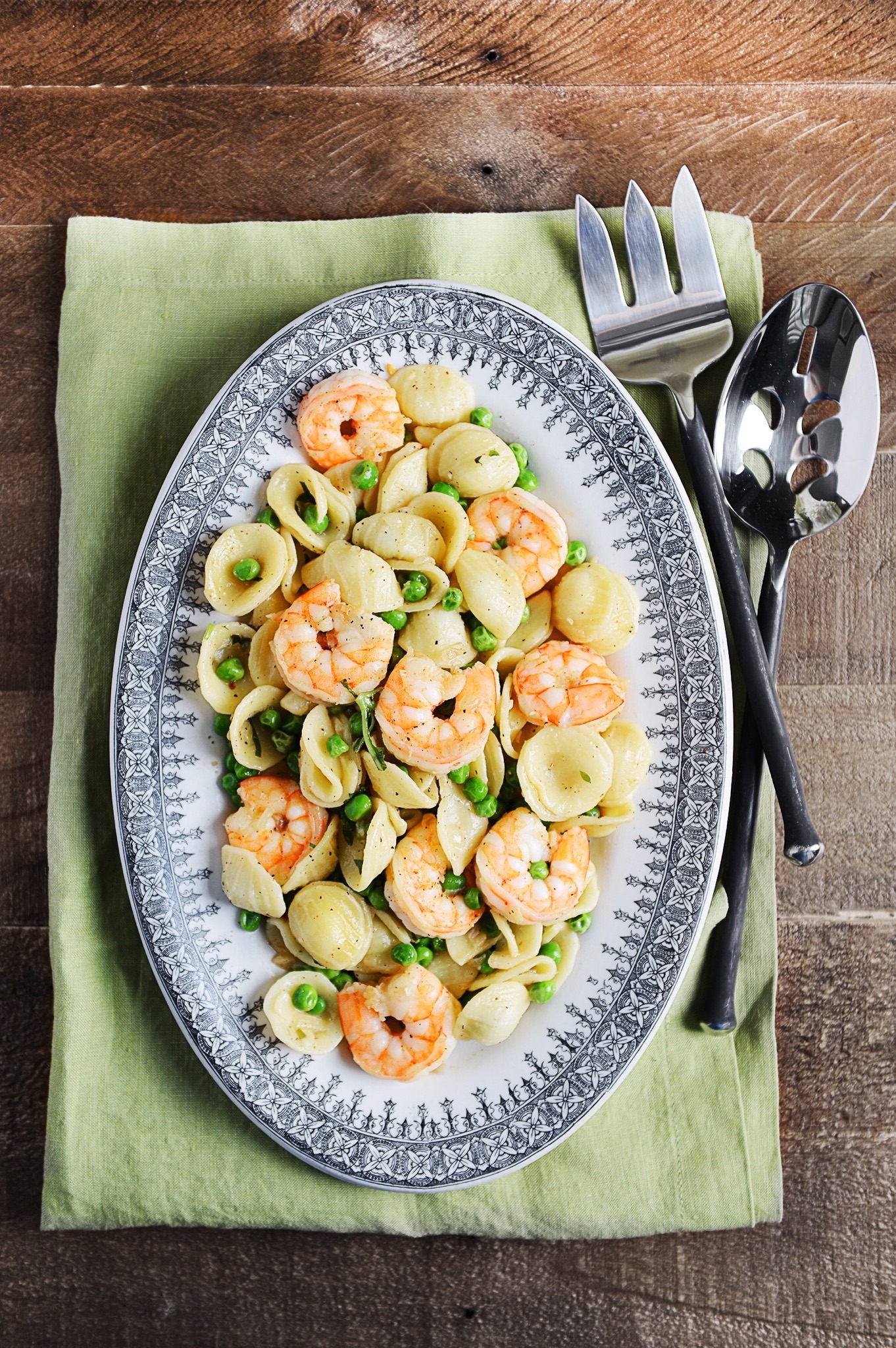 Orecchiette with Shrimp & Peas Recipe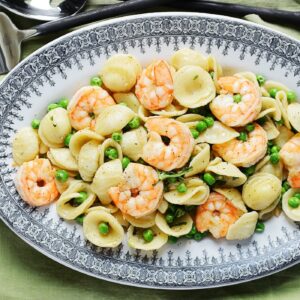 INGREDIENTS
1 ½ lb. shrimp, peeled and deveined
6 Tablespoons extra virgin olive oil, divided
1 Tablespoon grated lemon zest
16 oz. Orecchiette pasta (penne pasta will work well too)
1/3 cup shallots, finely diced
1 teaspoon minced fresh garlic
1 ½ cups peas, thawed
½ cup fresh basil, chopped
½ teaspoon crushed red pepper
Kosher salt and pepper to taste
INSTRUCTIONS
In a medium bowl, toss the shrimp, 2 tablespoons of the olive oil, and lemon zest. Cover and refrigerate for about 30 minutes.
Bring a large pot of salted water to a boil and cook the pasta following package instructions. Reserve ½ cup of the cooking water when you drain the pasta.
Remove shrimp from fridge and season with salt and pepper
In a large skillet, heat the other 3 tablespoons of olive oil over medium heat. Add the shallots and garlic. Cook until soft, about 2 minutes.
Add the shrimp and cook, stirring, until the shrimp have turned pink. About 4 minutes.
Add the peas, basil, and the pasta plus ¼ cup of the pasta water. Add more pasta water if you feel it needs to be more juicy. Cook over medium heat until the shrimp are cooked through.
Season with salt and pepper to taste.
Serve immediately.