These Fall Shandies Are the Perfect Way to Celebrate Oktoberfest All Season Long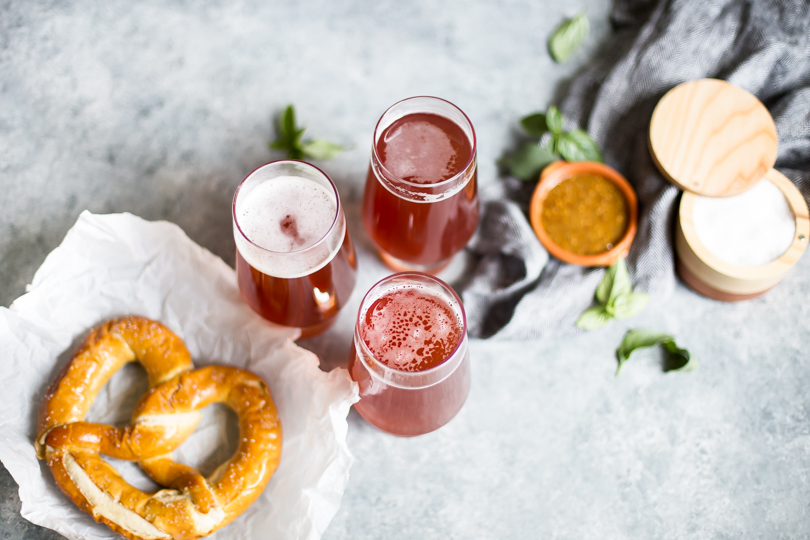 Oktoberfest actually starts in September, but it's not too late to break out the beer and bratwurst. This two ingredient Hibiscus Hefeweizen Shandy is the perfect way to keep the party going well into October.
Here's why I love Oktoberfest. First of all, any celebration known for beer and pretzel consumption is a celebration I will definitely show up for. Secondly, I'm pretty smitten with its origin story. The festival actually started back in 1810 at a wedding — the marriage of Bavarian Crown Prince Ludwig to Princess Therese von Sachsen-Hildburghausen. Basically, the party they threw was so epic that people were like, "We totally have to do this again next year." And they did! Again and again and again, founding a tradition that's now more than 200 hundred years strong.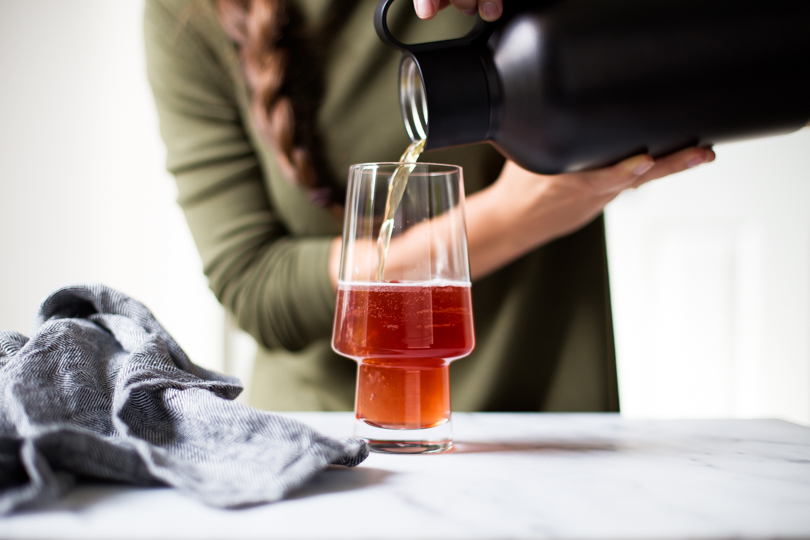 Now here's why I love a good shandy recipe. While I'll never turn down a plain, unadulterated, ice-cold beer, I'm always looking for opportunities to infuse a little unexpected flavor or seasonal touch to a beverage. Shandies are a great way to change things up every once in awhile, and have the added benefit of lowering a beer's ABV, which makes them a great addition to daytime parties or any low key gathering. Plus, many shandy recipes — this one included — are so easy you can barely even call them recipes. I mean, is pouring two things into your glass a recipe? I like to think of it more as a hot tip on a good flavor combo.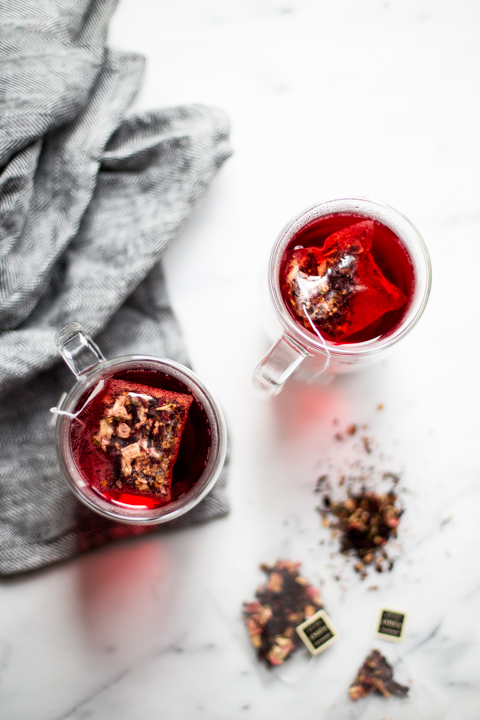 We're starting with a Hefeweizen beer because its' crisp drinkability, wheaty profile and lack of hoppy bitterness make it easy to layer in additional flavors, particularly those in the citrus family. You'll often see it served with lemon, the way Blue Moon gets an orange slice. Also: German. Because we couldn't celebrate a Bavarian royal wedding with a beer from somewhere else.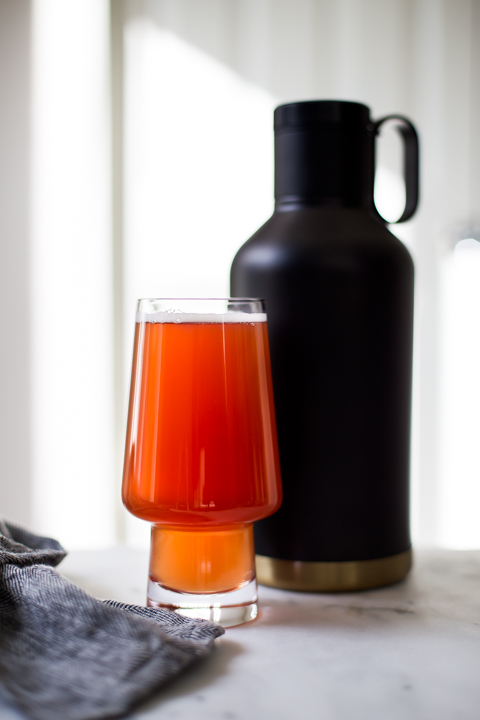 Hibiscus tea comes from a flower, but isn't really all that floral. Its bright red hue seems to indicate juicy berry notes and maybe even sweetness, but the flavor is actually quite tart — closer to a cranberry. Since Hefeweizen loves a bit of added acid (like a lemon slice), hibiscus tea makes for a perfect pairing. I use a local Portland brand called Steven Smith Tea (which is fantastic if you ever get a chance to try it) which has notes of ginger and honey as well, but you can try your own favorite blend. Tazo's Passion Tea is a great option that seems to be available pretty much everywhere.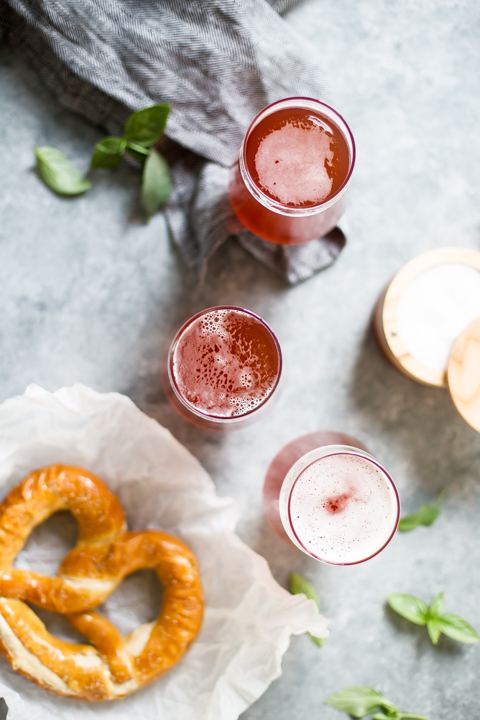 I had a couple of garnishes for this Hibiscus Hefeweizen Shandy in mind, but honestly, these glasses from Magisso are so pretty, they don't need extra decoration. Bonus: they stack for storage, which is important for apartment dwellers like me.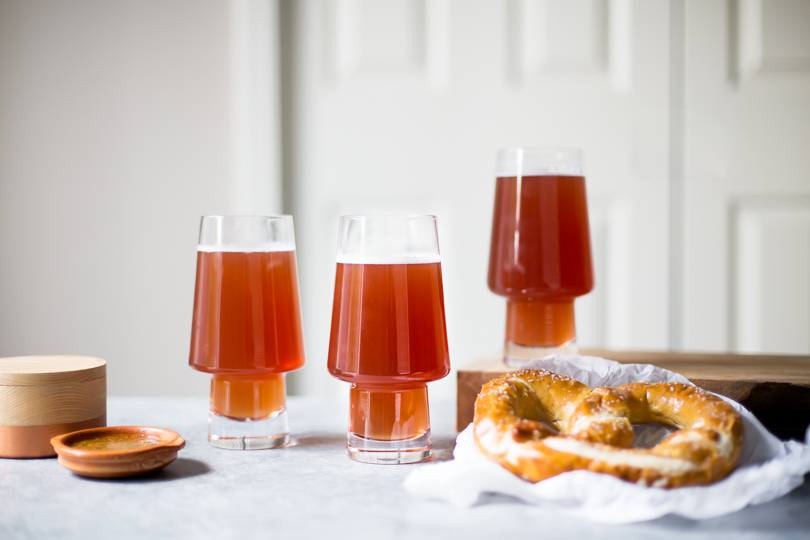 Hibiscus Hefeweizen Shandy
Looking for the perfect fall beer shandy recipe? You have to try this Hibiscus Hefeweizen Shandy!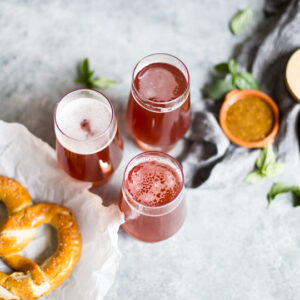 Ingredients
8

oz

Chilled hibiscus tea

12

oz

Hefeweizen beer
Instructions
Do ahead: brew tea according to package instructions, seal and store in refrigerator until well chilled.

Pour chilled tea into a pint glass and top with Hefeweizen beer.