A Classic Niçoise Salad with Fresh Grilled Tuna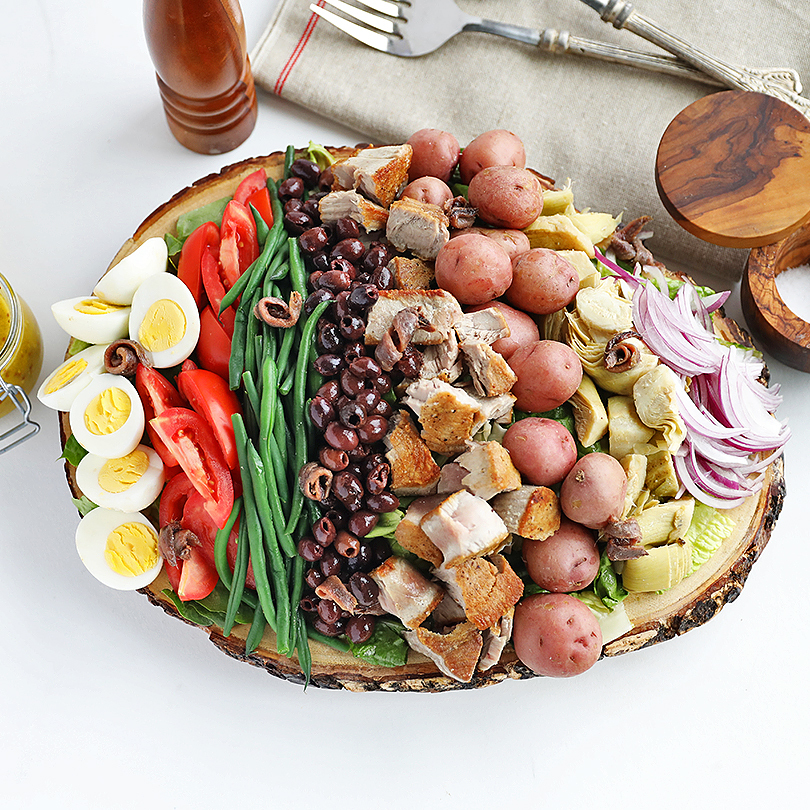 One of my all-time favorite salads is a classic Niçoise recipe. It's simple, it's delicious and it's jam packed with protein, fresh vegetables and greens!
You may look at a picture of a Niçoise salad recipe and think that it is way too hard to pull off, but honestly, you're looking at about 30-45 minutes to make a bountiful salad that makes for the perfect entertaining dish or weeknight meal. While there are some incredibly classic components of a Niçoise salad, you can absolutely accessorize it up to your liking.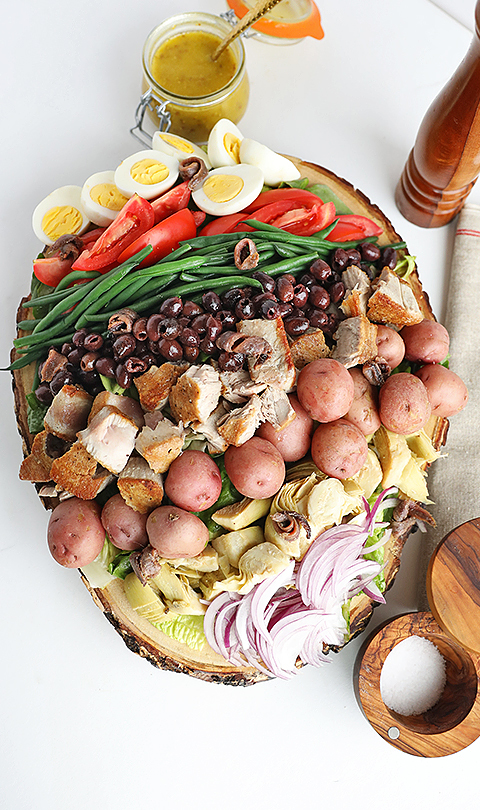 The salad Niçoise originated in the city of Nice, France and the original ingredients consisted of Niçoise olives, hard boiled eggs, tomatoes and greens. Niçoise olives can sometimes be hard to come by, so if you must, Kalamata olives are a solid backup. Hopefully you can access tomatoes and eggs very easily 🙂 Over time, the salad has evolved to include more ingredients and for me that's a good thing, because the thought of eating eggs, olives, and tomatoes isn't exactly exciting. So, here's my salute to the chefs who helped take it to the next level. Fast forward to the 21st century and the basics for a Niçoise salad are greens, green beans, tomatoes, Niçoise olives, red potatoes, anchovies and tuna.
Traditionally, the salad was tossed with olive oil, but I like to take things a step further, so I made and served a very easy lemon-based vinaigrette that will compliment all of the vegetables to perfection! Believe it or not, making vinaigrettes is incredibly easy. Once you start to get comfortable creating them, you will almost never want to buy one from the store.. There are so many times when I taste a store-bought dressing where I feel that it is missing so much; this way you can mix and match your dressing to get it exactly where you want it.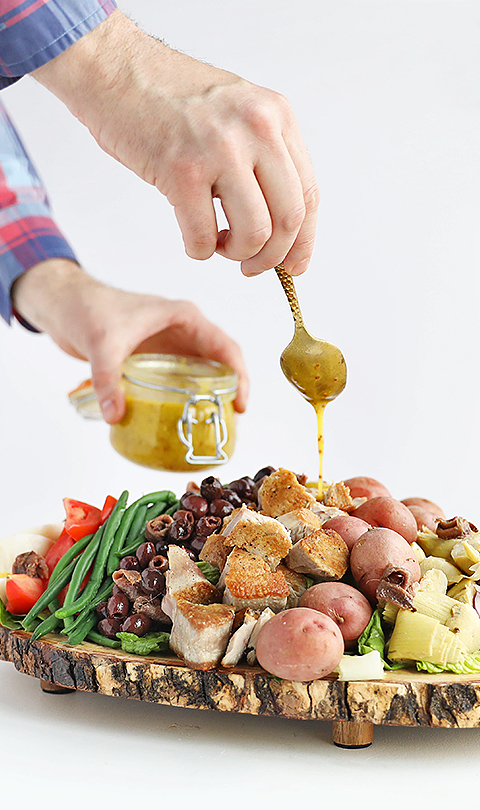 Now, the vegetables. There is a process of cooking vegetables for salads with the most important procedure being chocking them. This is where you cook (or steam) the vegetables in boiling salted water until they reach al dente and then immediately cool them in an ice water bath. This stops the cooking process, so your vegetables won't be mushy by the time they are covering your salad.
I want to finish with this. While the Niçoise salad has evolved over the years, it doesn't mean it needs to stop here. I highly encourage you to add flavors and ingredients that you enjoy in addition to the current staples. I've seen Niçoise salads with roasted peppers, grilled zucchini and squashes, capers, you name it… I've seen it and I love it! Make this salad work for you, your family, and most of all, your palette. Let me know how it turns out.
Niçoise Salad Recipe with Fresh Grilled Tuna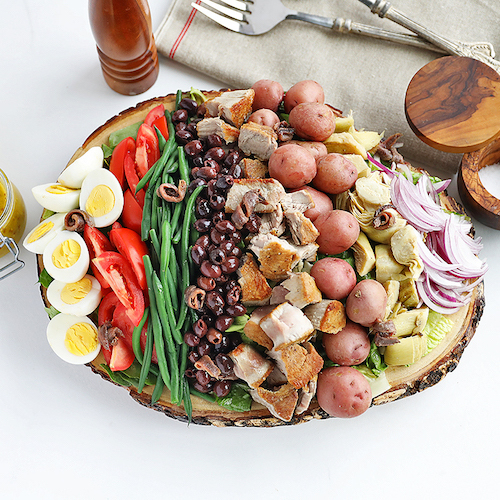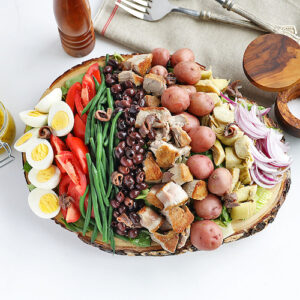 INGREDIENTS
For the Vinaigrette:

Juice of 1 lemon
3 tablespoons of white wine vinegar
1 teaspoon of sugar
1 teaspoon of Dijon mustard
2 teaspoons of grainy mustard
½ cup of olive oil
For the Salad:

2 pounds of red potatoes
1 pound of haricot verts
1 tablespoon of olive oil
1 pound of fresh tuna
1 head each of romaine and Boston bibb, torn into 2" pieces
4 quartered Roma tomatoes
5 hard-boiled eggs, shelled and cut in half
1 15-ounce can of quartered artichoke hearts, drained and rinsed
½ peeled and julienne red onion
1 cup of Nicoise olives, pitted
10-12 anchovies
Kosher salt and fresh cracked pepper to taste
INSTRUCTIONS
Vinaigrette: Whisk together all of the ingredients in a medium size bowl until combined and chill until ready to serve.
Salad: In a large pot of boiling salted water, add in the potatoes and cook for 3 to 5 minutes or until al dente. Remove the potatoes and shock in an ice bath immediately. Remove from the water and chill until ready to serve.
Next, add in the haricot verts and cook for 2 to 3 minutes or until al dente. Remove them and shock in an ice bath immediately. Remove from the water and chill until ready to serve.
Season the tuna on all sides with salt and pepper and set on a plate.
Heat a grill pan over high heat and add in the olive oil. Cook the tuna on both sides until the desired internal temperature is achieved. Remove the tuna and chill until ready to serve.
To Plate: Place the romaine and Boston bib in a bowl or large serving platter and evenly add on the cooked red potatoes, haricot verts, cooked tuna, tomatoes, hard boiled eggs, artichokes, red onions, olives and anchovies.
Serve alongside vinaigrette!