Make Your Last Minute Parties Even Better With a Gorgeous Cheeseboard for Less Than $20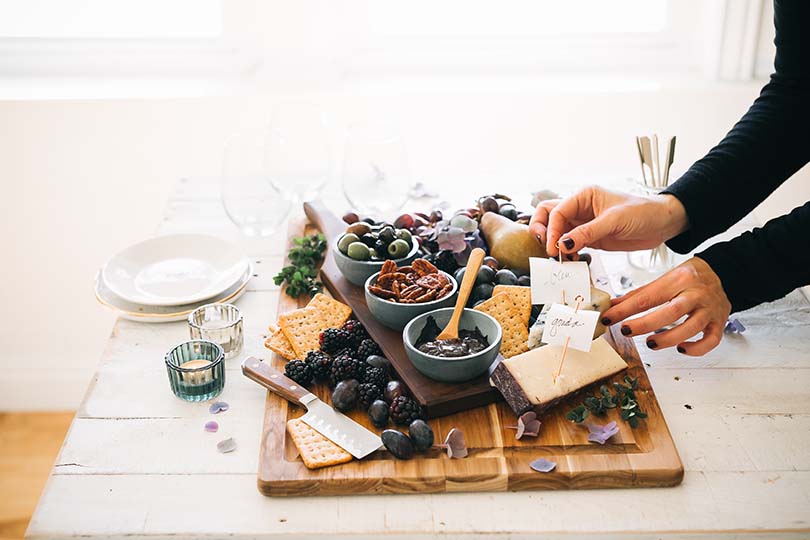 Though I wouldn't call myself a "reluctant entertainer," I am a reluctant party planner. Which means parties are most often afterthoughts, pulled together via text, made in the moment I discover friends are around and without plans, rather than thoughtfully put on the calendar months before. I'd much rather live on a whim than on a schedule. But being a free spirit doesn't have to mean unbeautiful entertaining.
So I've gathered a few entertaining tricks that work nicely for easy-breezy party throwing:
1. Always keep 2 bottles of wine in the pantry.
No need to play bartender all night. Just pop the cork on a few bottles of wine, guests can pour their own drinks. And you can settle in and enjoy them.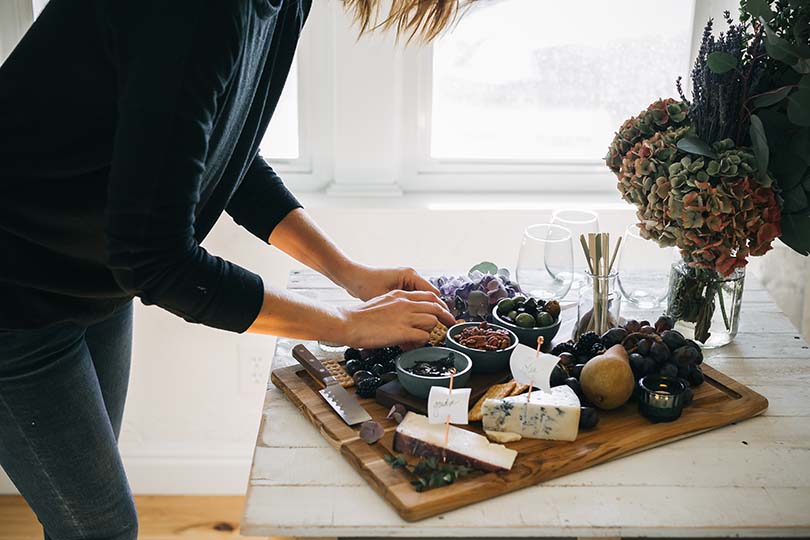 2. Buy pretty party platters whenever you find them.
Gather great crowd-sized kitchen gear, so you've got everything on hand when parties happen. Nothing worse than planning a perfect menu, only to realize that your daily dinnerware is too small for your big party dreams.
The oversized Madeira XL Cutting Board is a must-have. 20″ huge with beautiful edge-grain teak makes a beautiful base for party planners and cheeseboards. Top it with the Sparq Cedar Condiment Trio and the center of your table just begs guests to gather round.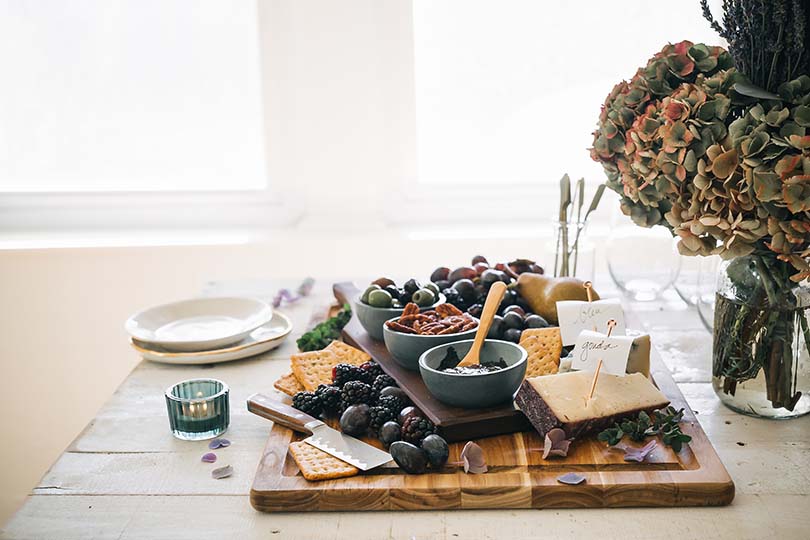 3. Know how to build a $20 Cheeseboard in 20 minutes.
Last minute parties usually mean limited time to craft a menu. So I've learned to lean on giant cheese platters as a low-key main. Once supplies are gathered, you can pull out all the fixins and arrange in 20 minutes or less. Though it's easy to go over the top with party platters (all the prosciutto! all the cheeses!), it's possible to build a beautiful, inexpensive cheese board on a dime.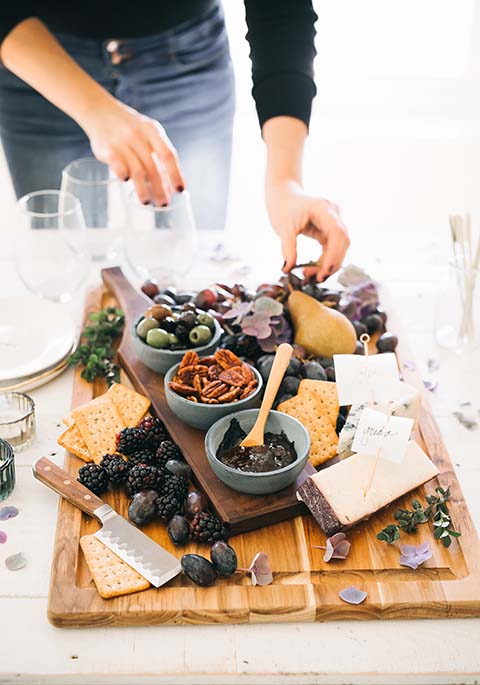 A few quick tips:
Use Seasonal Produce: In season produce is priced best. So go for apples and grapes in autumn, tomatoes and basil in summertime. Grab a bottle of whatever is on sale. The best part about cheese platters is the fruit, veggies, nuts and cheese can all mingle together on the same plate. Plus, there is no right way to make the perfect cheeseboard. Fill the board with bite-sized pieces of produce, crackers and dairy and you've got yourself a party.
Go with the Color Flow: To keep my party platters looking fine, I typically select 3-5 fruits or vegetables of similar color or tone. For the cheeseboard you see in this post, autumn red, browns and purples become the palette. So I hunted down the on-sale blackberries, black grapes and bulk almonds to maximize budget while still creating a visually pleasing platter.
Raid the Odds and Ends: Most grocery store deli sections discount higher-end cheeses when small pieces are left. Look for baskets labeled "Under $5" or hunt down smaller pieces priced from $2-5. For a $20 platter I typically like to spend $10 on cheese, and $10 on "fixins." The cheeses you see here were $4 each, but there was a variety to choose from. Whenever there are cheese options, I always like to select a soft and semi-soft, since they pair nicely with crackers and can be easily cut with a cheese knife like The Cheese Knife from W&P Design.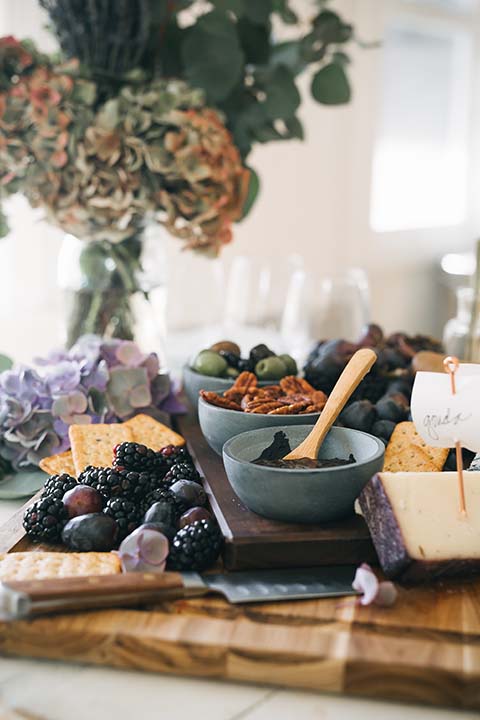 Select Inexpensive Cheeses: If the cheese section of your local grocer has thin pickings, head to the refrigerated dairy aisle and buy a big tub of low-cost ricotta. Spoon into two oven-safe bowls, flavor one with savory herbs and garlic. The other with honey. Then bake until bubbly and serve as a hot dip. So totally delicious, no one would ever know you're on a budget.
Buy In Bulk: Every party platter deserves nuts and olives. So hit up the olive bar and bulk section and buy a few low-cost options. I went for $3 in olives and $2 in pecans. Our local health food store has some great candied nuts, and a half-cup full is enough to round out the cheeseplate without breaking the bank.
Stock Up On Jam & Jelly: Buy bottles of jam or jelly when it's on sale, and keep in the pantry for your cheese platter. Any jelly — even inexpensive grape or strawberry jelly — tastes great with cheese. Spoon a dollop or two onto the platter, or try adding a bit of honey if you have it at home.
Choose Inexpensive Crackers: Though the deli section of most grocery stores now offers dozens of beautiful, craft crackers, head to the pantry section and look for inexpensive butter or water crackers. They taste delicious with cheese, and you can grab several packs for the same price as a single gourmet cracker box.
Create Custom Picks in Seconds: On a small piece of printer paper, use your best handwriting to label cheeses, then pierce with a cocktail pick. The Viski Copper Cocktail Picks make this task a breeze, the copper coloring adds a pop of style to your cheese platter, too.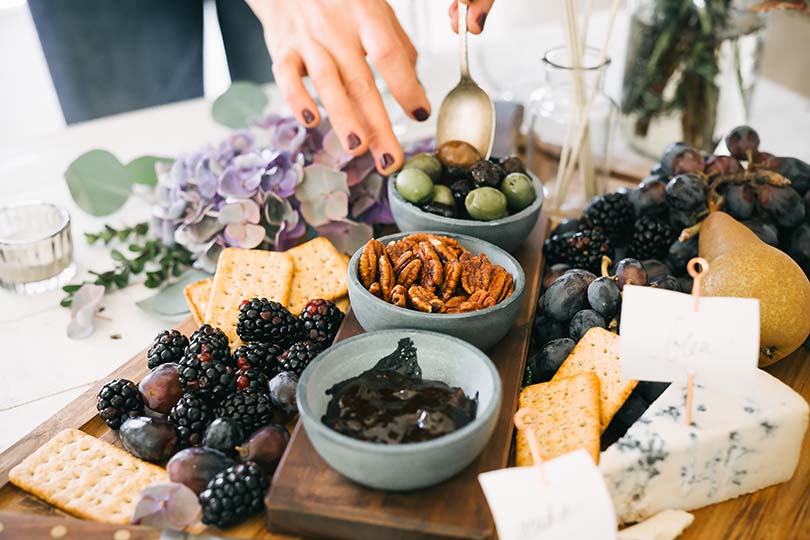 So here's the budget breakdown for my $20 cheeseboard: $8 in cheeses + $2 crackers + $3 olives + $3 pecans + $1 blackberries + $3 grapes = $20.
To round out the party table, I grabbed a bunch of flowers from the grocery store, popped them in a mason jar and peppered the table with blossoms. We added a few homegrown herbs to the edges of the platter, as well. A little greenery on the plate or table is a great way to add a welcoming vibe.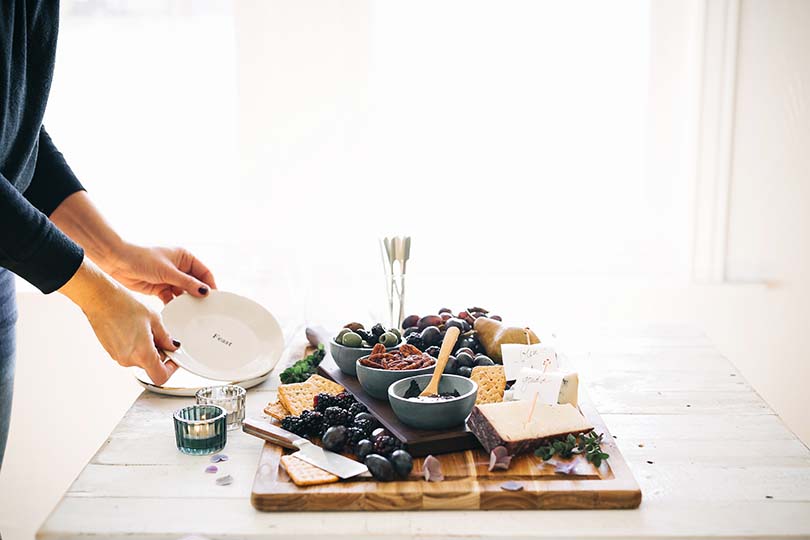 Have you create a $20 Cheese Platter of your own? We'd love to see it! Upload a photo to Instagram and tag us @theinspiredhome_com #INSPIREDhome.