Make This Tasty Wild Rice, Kale and Apple Crunch Salad for Dinner This Week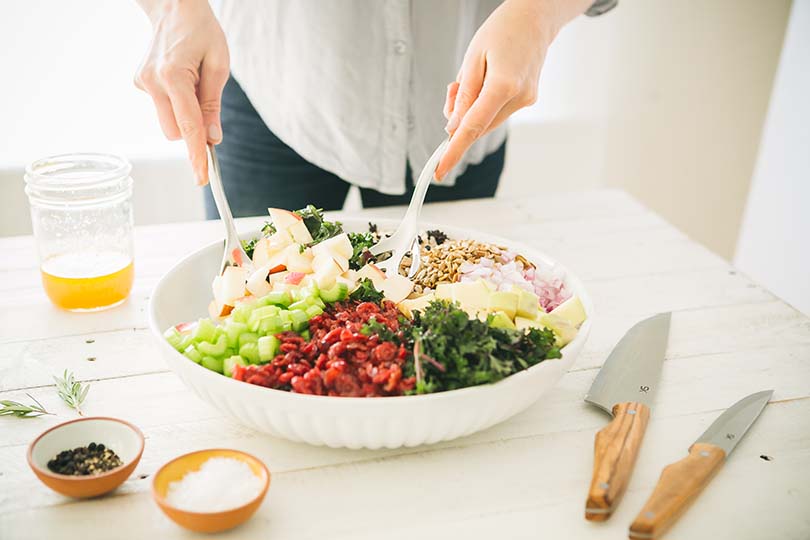 I've seen more Thanksgivings on a "special diet" than a turkey has seen feathers. Whether I'm trying on the latest eating craze (I'm a sucker for trendy diet plans; count me in for vegan, paleo, clean eating, keto, and any other regiment that requires a limited menu) or just trying to balance my natural tendency toward gluttony (oy, brownies and bourbon, how I love thee), staring down the comfort food laden menu on a holiday that celebrates overeating gets me all sorts of motivated.
Motivated to fill the table with food I can eat. Sure, the staples will be there. Grandma's buttery mashed potatoes and Nonna's sausage stuffing. Grandpa Brown's carrot pudding pie and Aunt Paula's flaky rolls. And perhaps I'll have a bite of each.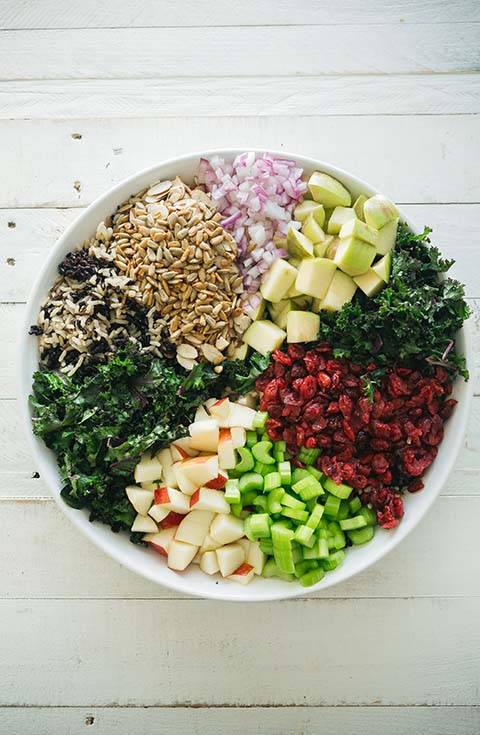 But I'm more excited about the other foods I'll be putting on the Thanksgiving table this year.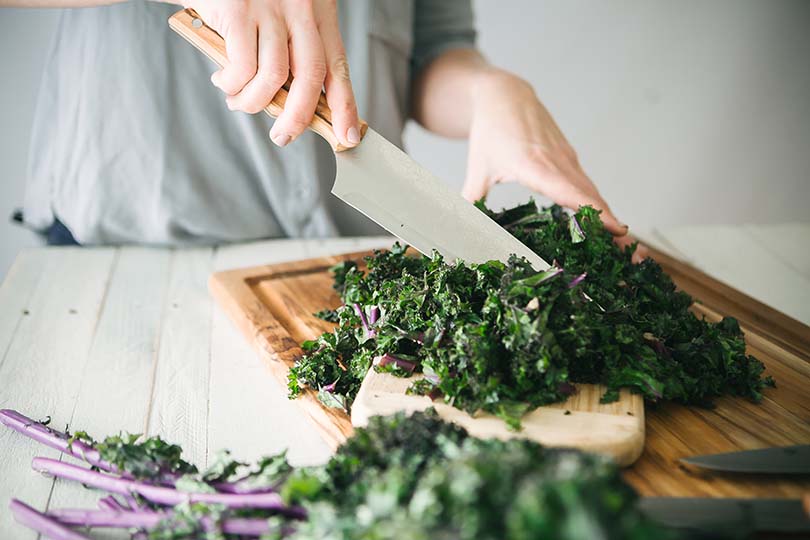 I've started early with my New Year's food goals, and don't want to derail my current clean eating streak. Not to mention, we've got two guests coming who require allergen-friendly foods. So next to all those classic indulgences, will sit this beautiful Wild Rice, Kale and Apple Crunch Salad.
Inspired by my gluten-free BFF, this salad is a combo of traditional autumn flavors with a few fun twists. Apples and celery lend satisfying crunch, similar to a Waldorf salad. But unlike the original, I've tossed in cranberries (instead of raisins) and nixed the classic creamy mayo dressing for a light, maple-lemon vinaigrette.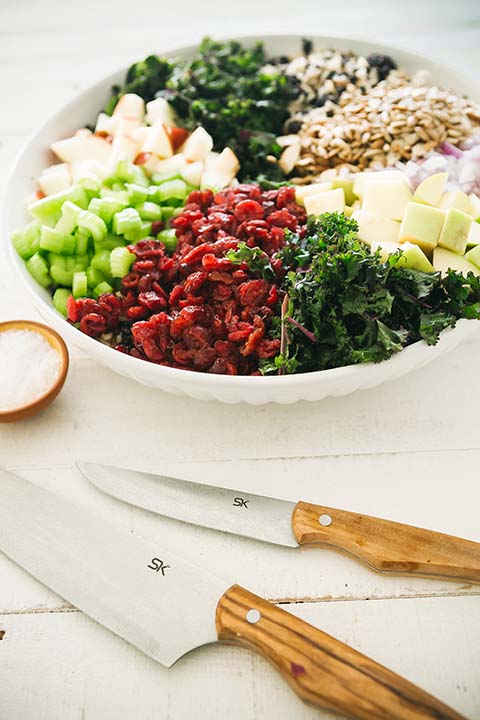 Wild rice and roasted sunflower seeds round out the flavors here, lending mellow nutty goodness. And a hearty fork full of good flavors. The kale is chopped and massaged before being tossed into the bowl. This makes the salad easier to enjoy immediately. But the kale will keep overnight, so feel free to save the leftovers.
When chopping your kale, any old knife could do. But why not treat yourself to the simply beautiful Hampton Forge Skandia Karlstad 4 Piece Cutlery Set. With natural wood handles, modern lines and a beautiful geometric imprint on the blades, this knife set is also an ideal hostess gift for the holidays. I couldn't love it more.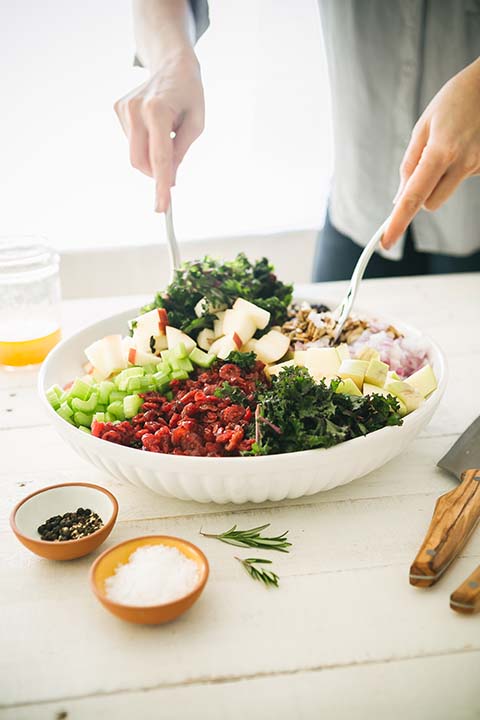 So, this salad. I love it extra especially (hang in there with me, I make up words when I start to get really excited) because it gives the vegetarians (and vegans) (and gluten-free eaters) at your table something to dive into. It's satiating enough to be a main dish, so plant-based foodies won't leave the table hungry. But light enough to play palate cleanser as a standard holiday side dish.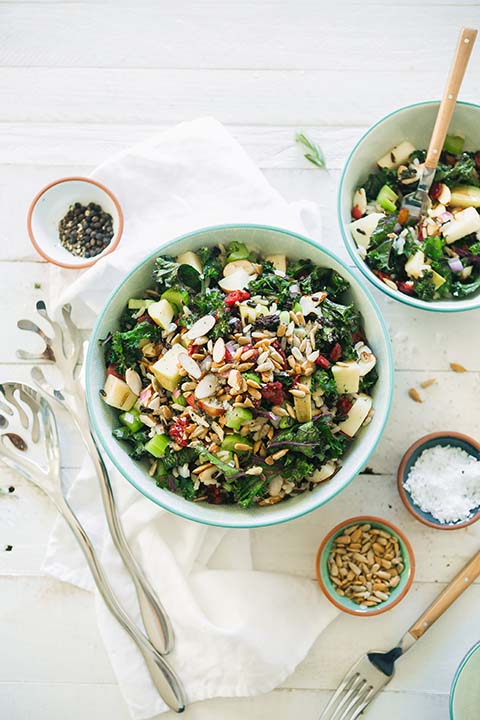 Even better yet, the salad looks like a bowl of autumn confetti. It's beautiful at the center of any Thanksgiving table. Toss the cornucopia and serve the vibrant dish in the beautifully patterned Gaia Group USA Bowls. Linen Chilewich napkins and little Now Designs Pinch Bowls (filled with salt, pepper, and extra sunflower seeds, of course) add a touch of welcome color to your harvest table.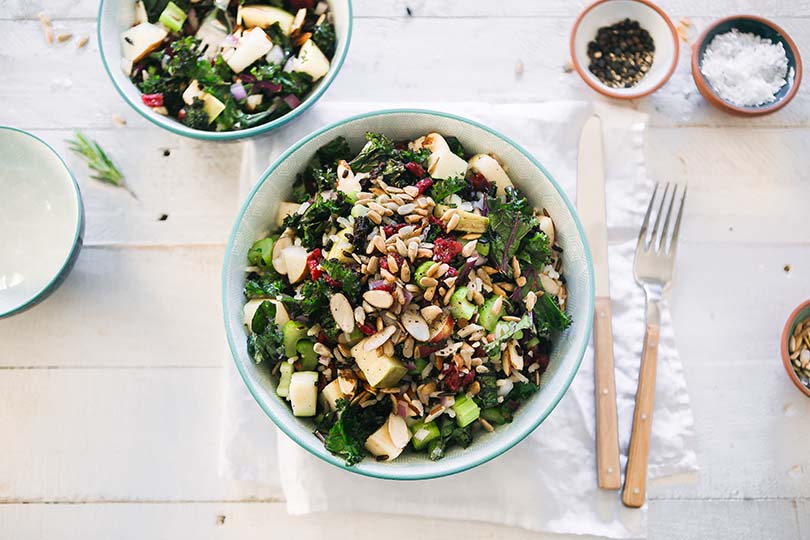 And make your salad eaters feel special with Alessi Mediterraneo Salad Servers. Perhaps I'm biased because the first Christmas and birthday gift my boyfriend ever asked for (yes, Christmas and birthday are on the same day for him) was an Alessi Mediterraneo Salad Bowl. But I think the artistic lines of this set are just stunning. if you're asked to bring the salad this year, why not show up with a set of salad servers and leave them for your party host?
I can hear it already: 'Such a good salad, such great style." You'll be guaranteed first on the Thanksgiving guest list year after year. So long as you don't mind bringing the salad.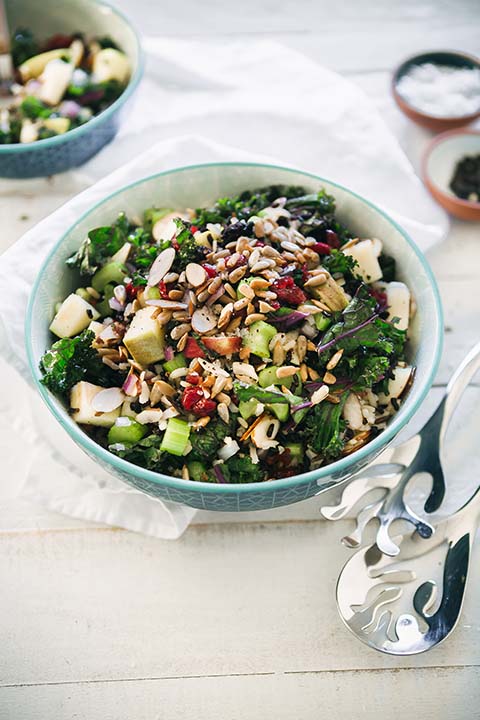 Nutty, crunchy and full of refreshing autumn flavors, this hearty salad makes a great Thanksgiving side dish. Or make-ahead vegetarian meal.
Wild Rice, Kale & Apple Crunch Salad with a Maple-Lemon Vinaigrette
Enjoy this tasty dinner recipe!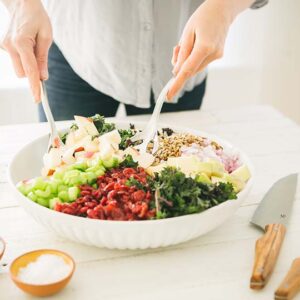 Ingredients
fresh zest of 1 lemon

.25

cups

fresh lemon juice

.25

cups

light olive oil

.25

cups

pure maple syrup

1

large head curly kale, stem removed, chopped

1.5

cups

cooked wild rice (or quinoa)

4

stalks celery, diced

1

red apple, diced

.67

cups

dried cranberries

.5

small purple onion, very finely diced

.5

cups

roasted sunflower seeds (and/or cashews or pecans)

1

green apple, diced
Instructions
In a mason jar, mix together lemon zest, lemon juice, olive oil and maple syrup. Drizzle a small amount of vinaigrette over chopped kale. Massage until tender, about 2-3 minutes. Toss into a large bowl.

Add remaining ingredients. Drizzle with desired amount of vinaigrette. Salt and pepper to taste. Serve immediately, or allow to marinate for 1-2 hours.
Nutrition
Serving:
1
g
Calories:
226
kcal
Carbohydrates:
29.8
g
Protein:
5.4
g
Fat:
9.8
g
Saturated Fat:
1.3
g
Sodium:
16
mg
Fiber:
3.8
g
Sugar:
4.5
g