Roasted Beet and Goat Cheese Soup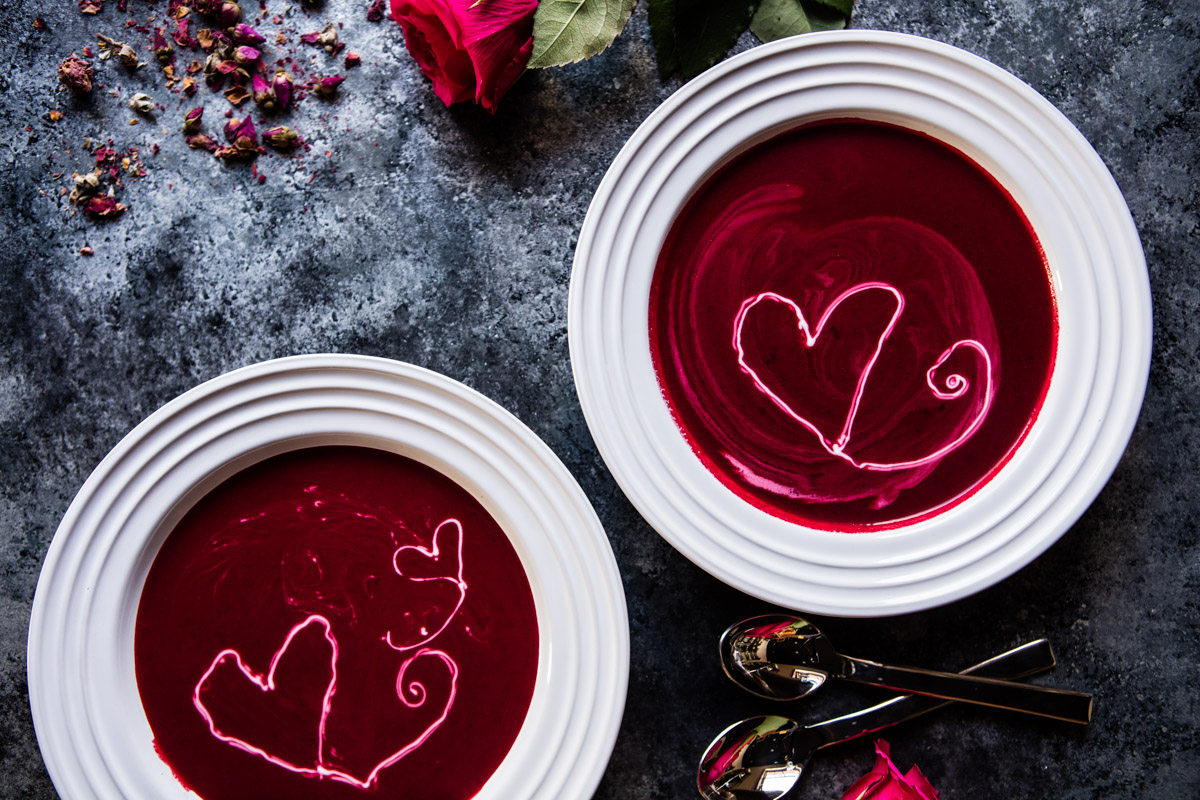 Valentine's Day is one of the two fun winter holidays that I always love to celebrate. This delicious soup is a great addition to any Valentine's Day dinner!
Let's be real, the winter months can be dark, cold, and somewhat boring, so I love having fun with Valentine's Day! Plus, I'll take any excuse to buy some fresh roses, make a fancy dinner and eat chocolate… all day long!
I typically think of either steak or pasta, or maybe even both, for Valentine's Day dinner. This year I was looking for something a little different. I really wanted to create a dinner that was vibrant, fresh and very red in color. The only food that I know will give me vibrant reds naturally is beets! Immediately I thought about a warm and cozy beet soup. Nothing says winter to me more than soup, and this creamy, cheesy beet soup is perfect for cold days and a cozy Valentine's Day dinner!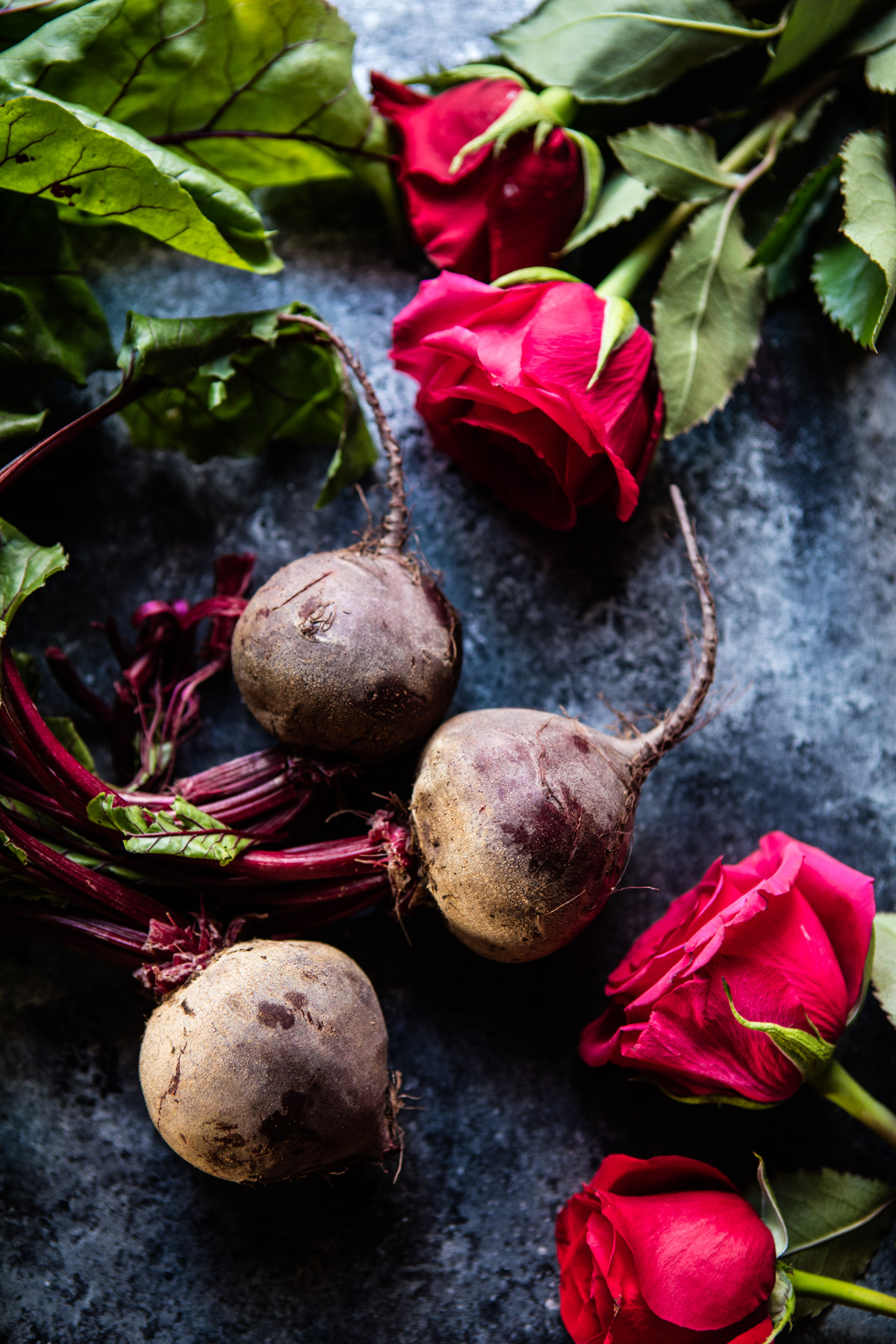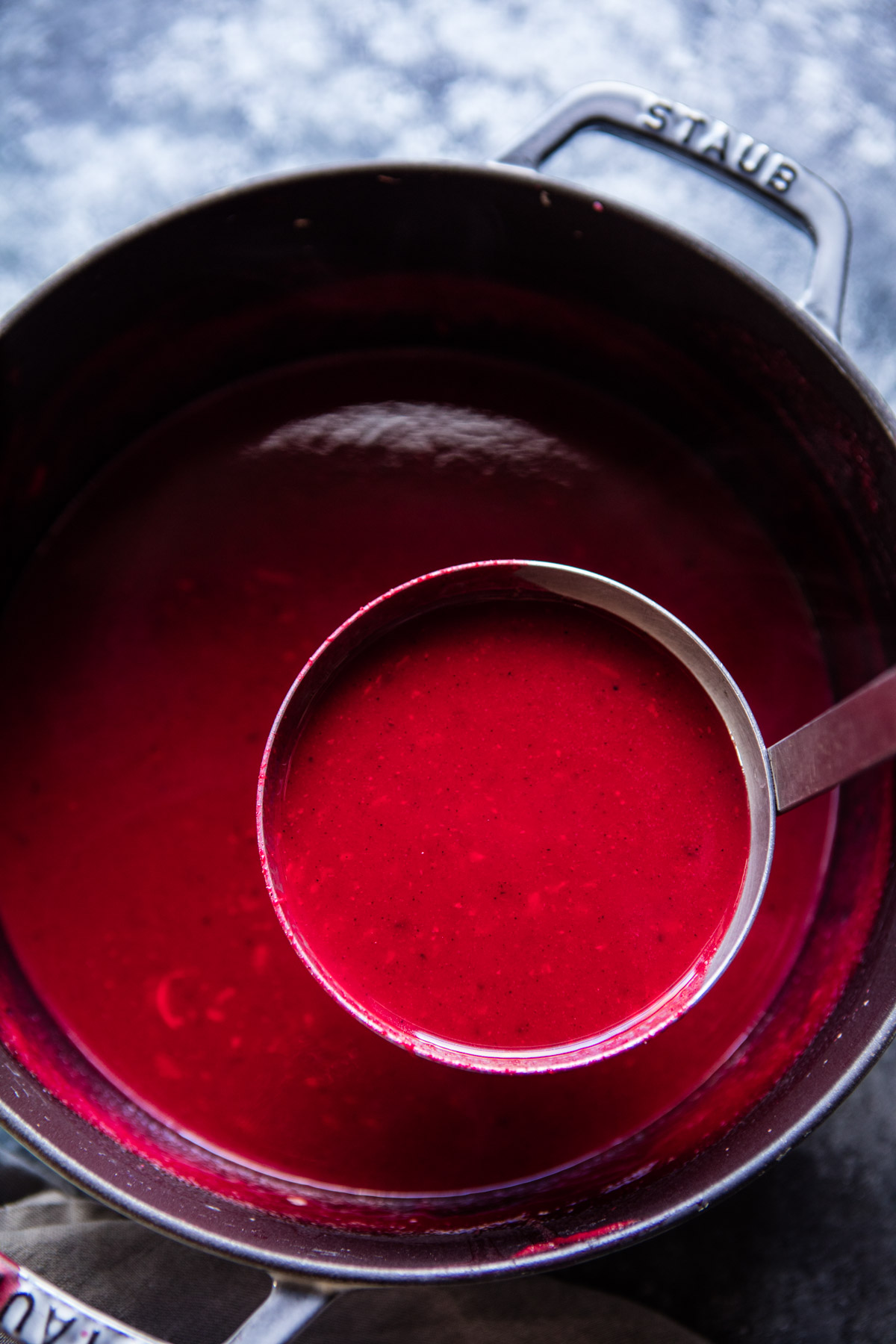 This soup is really simple to make, but it does take a little time, due to the fact that you need to roast the beets. But hands on wise, this soup is very easy! If you're not a fan of goat cheese, I recommend trying something creamy in its place, maybe mascarpone or even Brie! I like to serve this soup with a simple side salad and toasted bread. The salad is optional, but you always need bread with soup!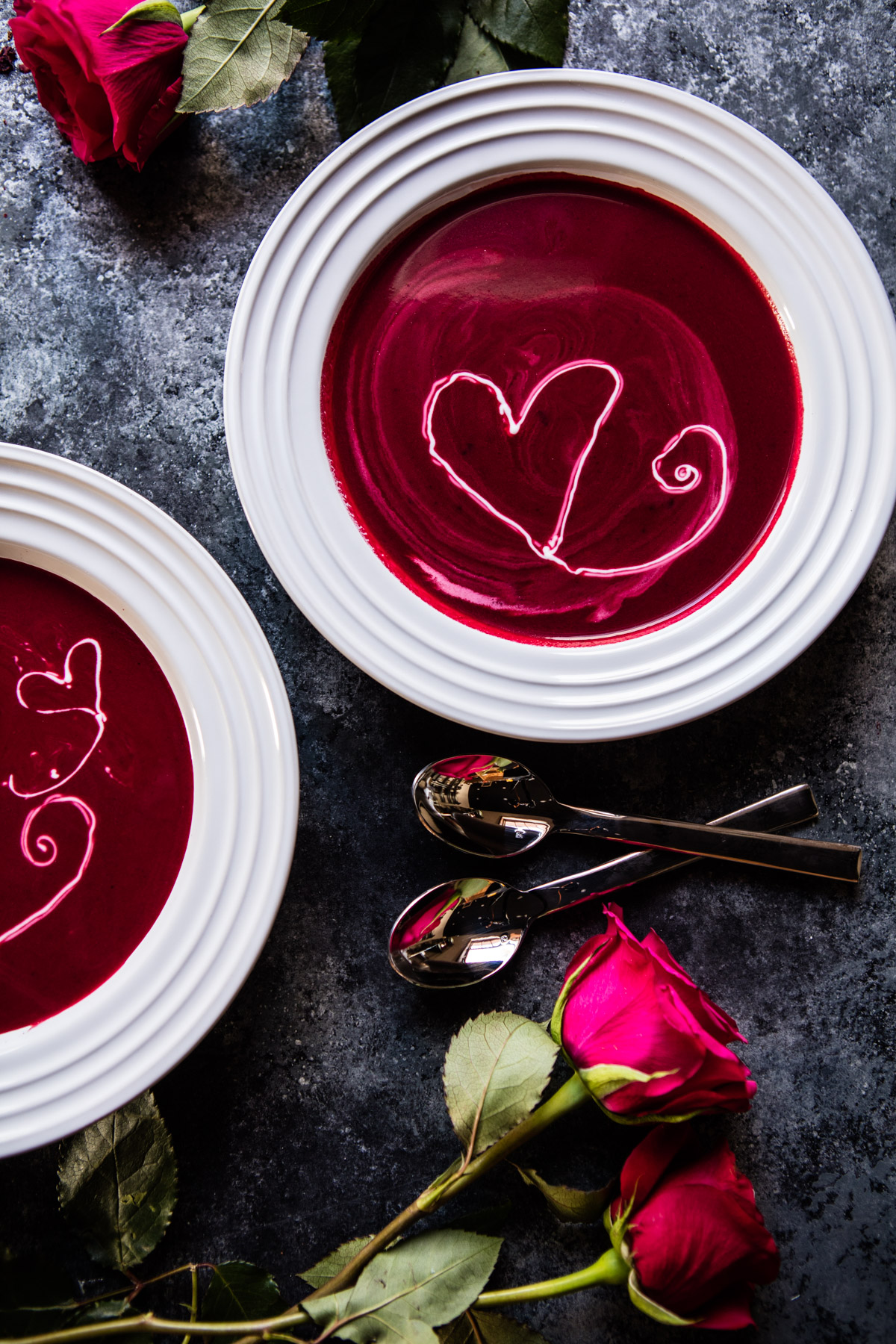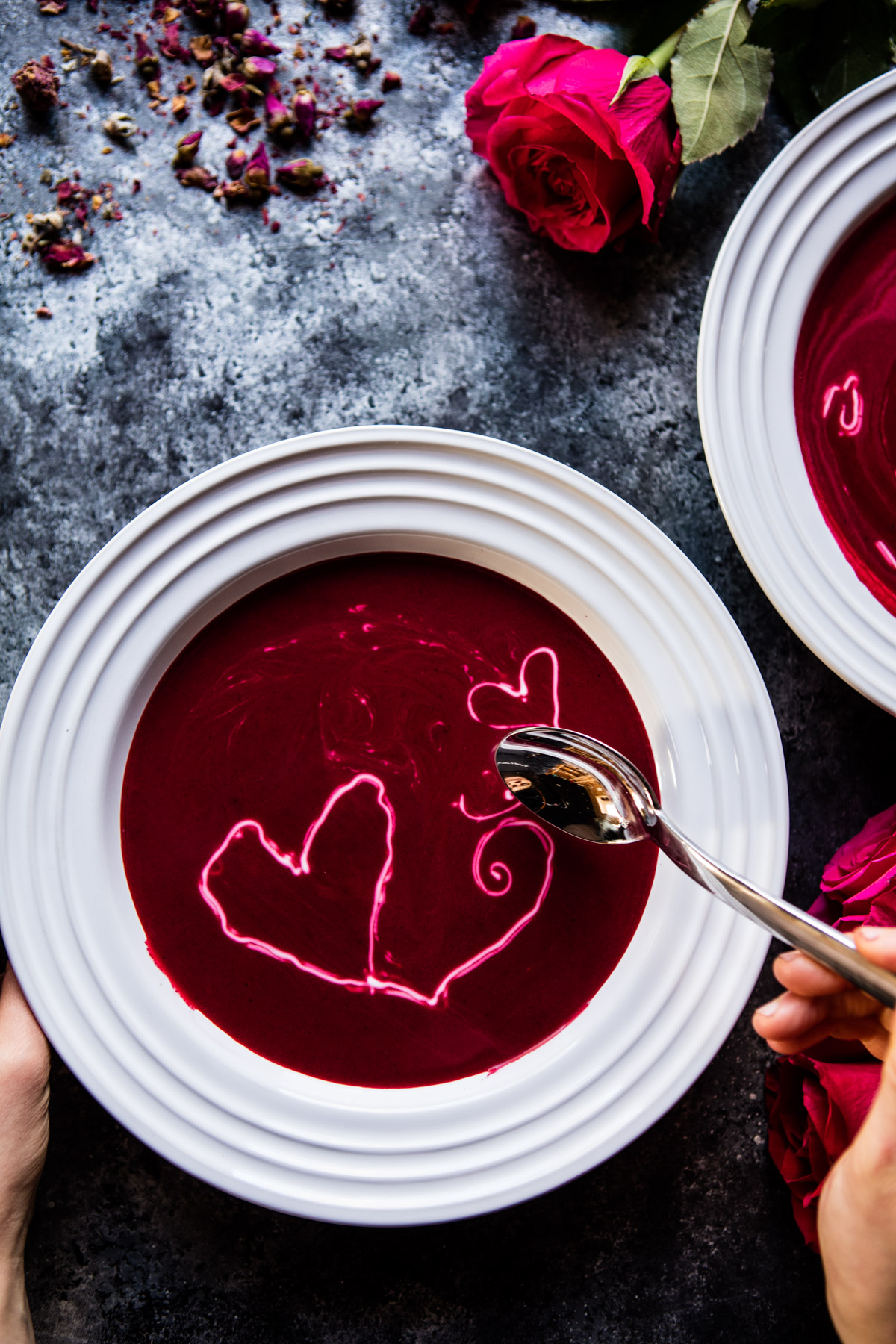 If you do end up making this for Valentine's Day, I used a little Greek yogurt to draw hearts on top of my soup. SO fun and festive and surprisingly easy too!
Hope you all love the soup… have a great Valentine's Day!
P.S. It's best to finish off the night with chocolate. Obviously. 🙂
Roasted Beet and Goat Cheese Soup Recipe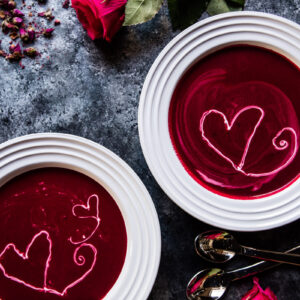 INGREDIENTS
6 medium red beets, scrubbed and cut into quarters
4 tablespoons olive oil
6 large cloves garlic
Kosher salt and pepper
3-4 cups veggie or chicken broth
1 leek, chopped
1 tablespoon chopped fresh thyme
¼ cup whole milk
2 tablespoons aged balsamic vinegar
6 ounces goat cheese, crumbled
Greek yogurt, for serving (optional)
INSTRUCTIONS
Preheat the oven to 400 degrees F.
On a large baking sheet toss together the beets and garlic with 2 tablespoons olive oil and a pinch of salt and pepper. Transfer to the oven and roast for 30-40 minutes or until the beets are tender and the garlic has caramelized. Watch the garlic closely; if the cloves are small, they will cook faster than the beets.
Allow the beets to cool slightly. Remove the skins from the garlic. Transfer the roasted beets and garlic to a high-powered blender or food processor. Add 1 cup of veggie broth and puree until smooth.
Heat a large soup pot over medium heat. Add the remaining 2 tablespoons olive oil. When the oil shimmers, add the leeks and cook until fragrant, about 1-2 minutes. Add the thyme and season with salt and pepper. Pour in the beet puree, the remaining 2 cups of veggie broth, the milk and the balsamic vinegar. Simmer over medium low heat until the soup is heated through and steaming. Add the crumbled goat cheese and continue cooking until the cheese melts and the soup is creamy.
Ladle the soup into bowls. To make hearts, mix the Greek yogurt with a little milk to make it easily drizzle able. Add the mix to a Ziploc bag and snip off a little of the corner of the bag. Draw a heart onto the soup. Enjoy!