Make Sunday Breakfast Just Like Joanna Gaines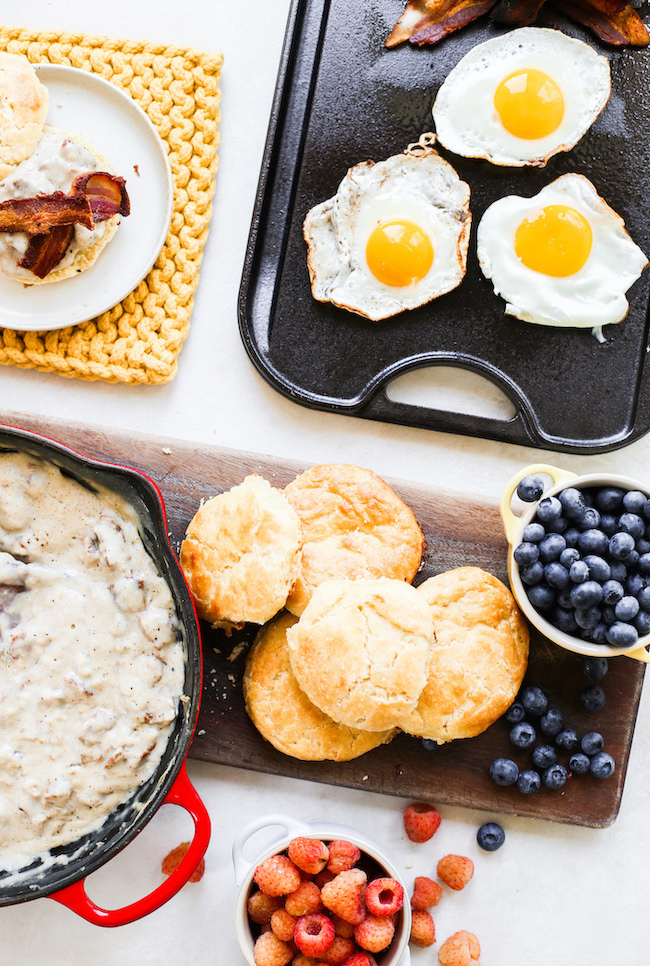 If you love wholesome, simple ingredient recipes then the Magnolia Table cookbook by Joanna Gaines is for you! I was as curious as the next girl when I saw the book stocked at Target. I love watching reruns of Fixer Upper so I knew I was going to have to give my kitchen a magnolia makeover for a morning. There is something about Joanna Gaines that gives me the same feels as Martha Stewart but with a modern farmhouse twist that America is craving this decade!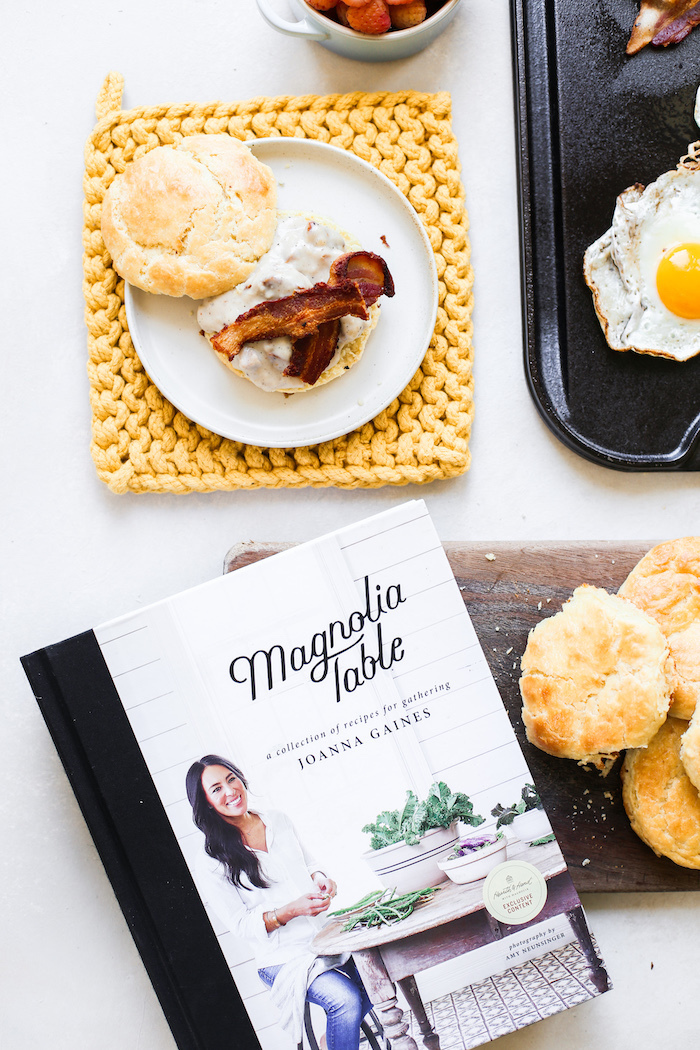 I am here to personally give you my review after making an American-style breakfast just like the Gaines' would. The breakfast chapter of the book to has a heart and soul. Joanna speaks very highly about gathering in the morning for a fresh start and a wholesome meal. Chip has even mentioned that starting the Magnolia restaurant was inspired by his favorite meal: breakfast.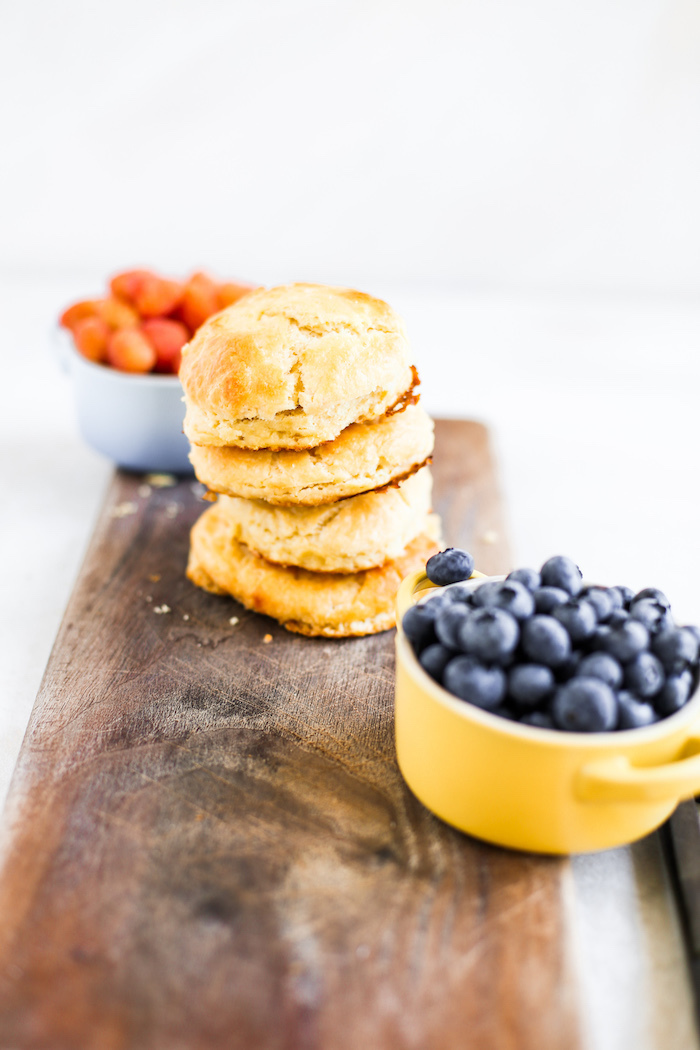 I'm not going to lie, as I ate my savory biscuits and gravy from the Magnolia Cookbook, I could totally picture myself on a big ole' Texas farm surrounded by animals and greenery. The book's recipes encompass an elevated simple twist on farm meal classics.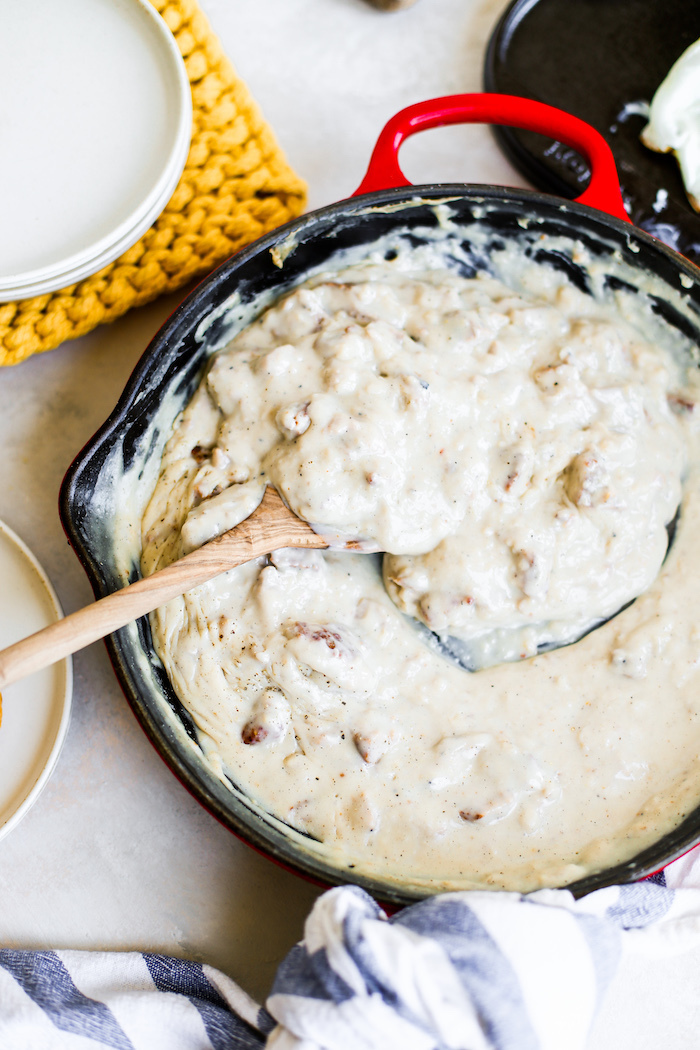 The first recipe I made was Jo Jo's biscuits. Living in California, a full breakfast on Sunday usually consists of some kind of smoked salmon and an omelet that is covered in avocado so this was a fun switch for us! I was pleasantly surprised at how quickly the biscuits came together. I think a lot of people opt out for can biscuits but these really are worth it. Joanna also gives tons of tips throughout the book on how you can make a recipe 75% the night before and finish it off in the AM, which is great for busy lifestyles.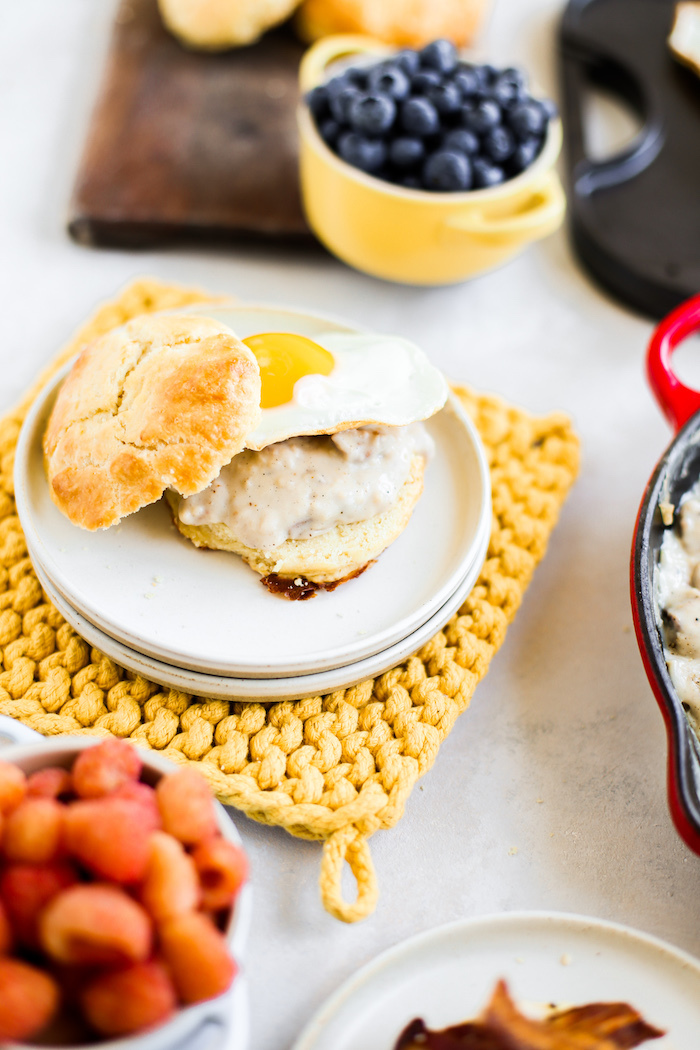 The Verdict: If you're on the fence about picking up this farmhouse recipe bible, I would go for it! If you love classic recipes it will totally be recipe test stained in no time!
If you love wholesome, simple ingredient recipes, then this recipe from Joanna Gaines for homestyle biscuits is for you!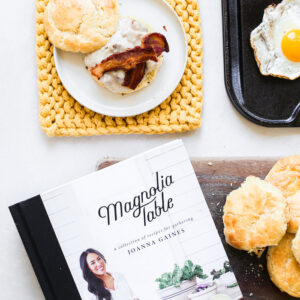 Ingredients
4

cups

self-rising flour, plus more for the work surface

2

tbsp

baking powder

1

tsp

baking soda

3

sticks salted butter (¾ pound), cold, cut into ½-inch pieces or grated

2

large eggs, beaten, plus 1 large egg for brushing

1.5

cups

cups buttermilk, or as needed, plus 1 tablespoon for brushing

strawberry jam or gravy, for serving
Instructions
In a large bowl, whisk together the flour, baking powder, and baking soda. Add the butter and use a pastry blender to cut the butter into the flour until the pieces are even and about the size of peas.

Stir in the beaten eggs with a wooden spoon until combined. Stir in 1½ cups buttermilk until the dough comes together into a sticky mass. If it is too dry, add more buttermilk 1 tablespoon at a time, mixing after each addition, until it reaches the correct consistency. Cover the bowl and refrigerate for at least 30 minutes and up to overnight.

Position a rack in the middle of the oven and preheat the oven to 400°F. Line a baking sheet with parchment paper.

Scrape the dough onto a floured work surface. Use your floured hands to press it into a round roughly 14 inches across and about ½ inch thick.

Use a floured 2¾- inch round cutter to cut out about 20 biscuits. If necessary, collect and pat out the scraps to cut more biscuits.

Transfer the biscuits to the prepared baking sheet, arranging them so that they all are touching.

In a small dish, beat together the remaining egg and 1 tablespoon buttermilk. Brush the mixture on the top of the biscuits.

Bake until golden brown, 15 to 20 minutes. Let cool slightly in the pan on a rack.

Biscuits are best the day they are made (and ideally fresh out of the oven!). Serve with strawberry jam or gravy, if desired. Store leftovers in an airtight container at room temperature for up to 2 days.

NOTE: For longer storage, arrange the biscuits about ½ inch apart on two parchment-paper-lined baking sheets and freeze until solid. Transfer them to a zip-top plastic bag and freeze for up to 2 weeks. There is no need to thaw them before baking.
Nutrition
Serving:
1
g
Calories:
248
kcal
Carbohydrates:
23.1
g
Protein:
5.6
g
Fat:
15.1
g
Saturated Fat:
9.3
g
Cholesterol:
58
mg
Sodium:
240
mg
Fiber:
0.7
g
Sugar:
3.4
g
From Magnolia Table by Joanna Gaines.