Make-Ahead Vegetarian Meals that Make for Relaxed Weeknights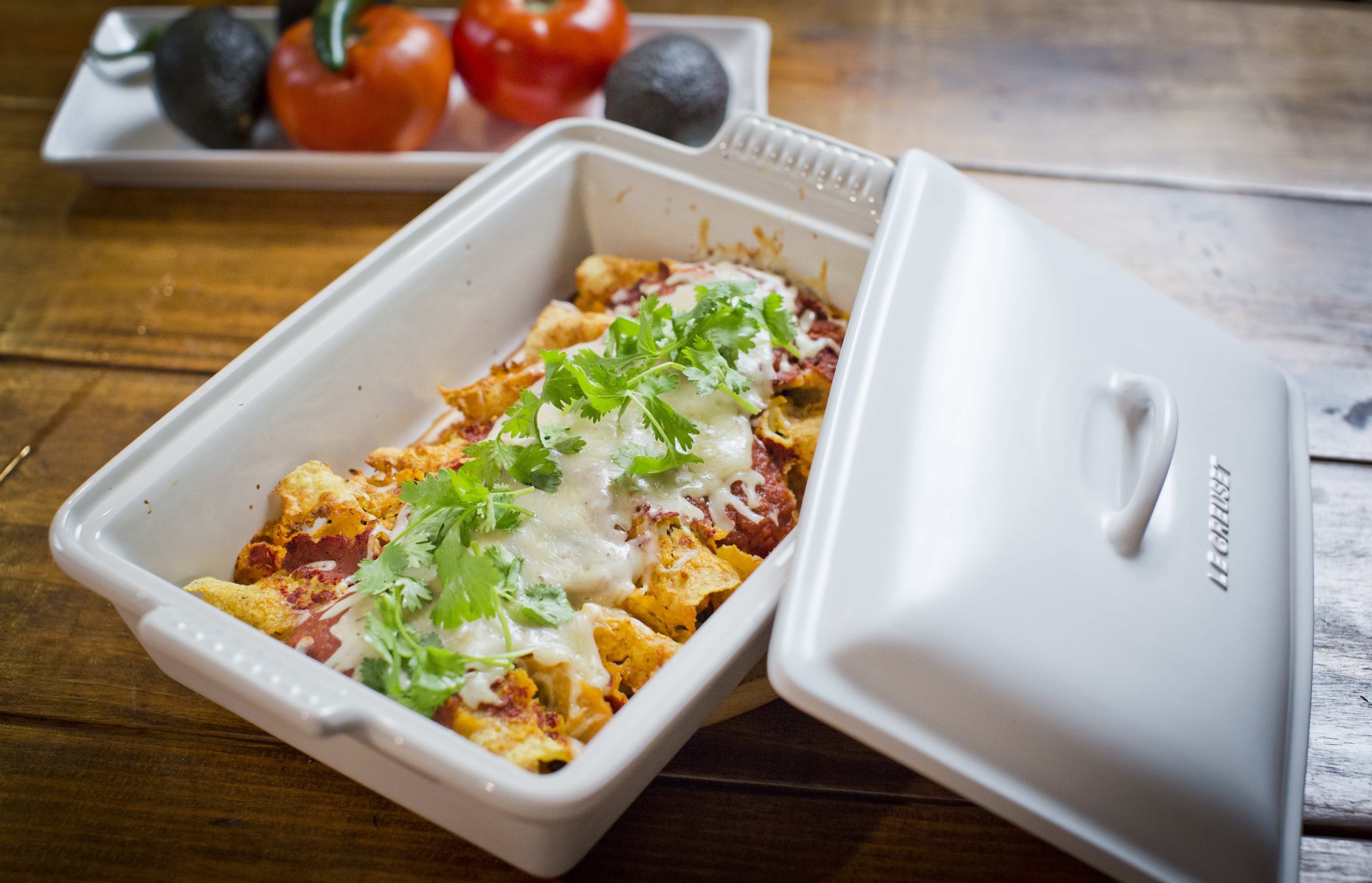 It's always a shock, that moment when the long, lazy days of summer suddenly morph into the breakneck pace of our family's fall schedule. We find that often it's the sit-down, home-cooked meals that get cut from the end of the day, and sadly, we'd find ourselves just grabbing a bite to eat. Maybe it was bean tortilla chips and cheese dip for dinner, or possibly dinner was handed to you through your car window.
Since healthful, home-cooked meals are a priority in our home , this year we came up with a solution: cook once eat three times. We pulled two vegetable-packed recipes from our forthcoming book, The Chubby Vegetarian: 100 Inspired Recipes for the Modern Table (Susan Schadt Press, 2016). Both recipes yield 6 to 8 hearty servings and freeze beautifully.
For presenting our Sweet Potato, Kale, and Black Bean Enchiladas, a Le Creuset Covered Casserole made our dish look so beautiful.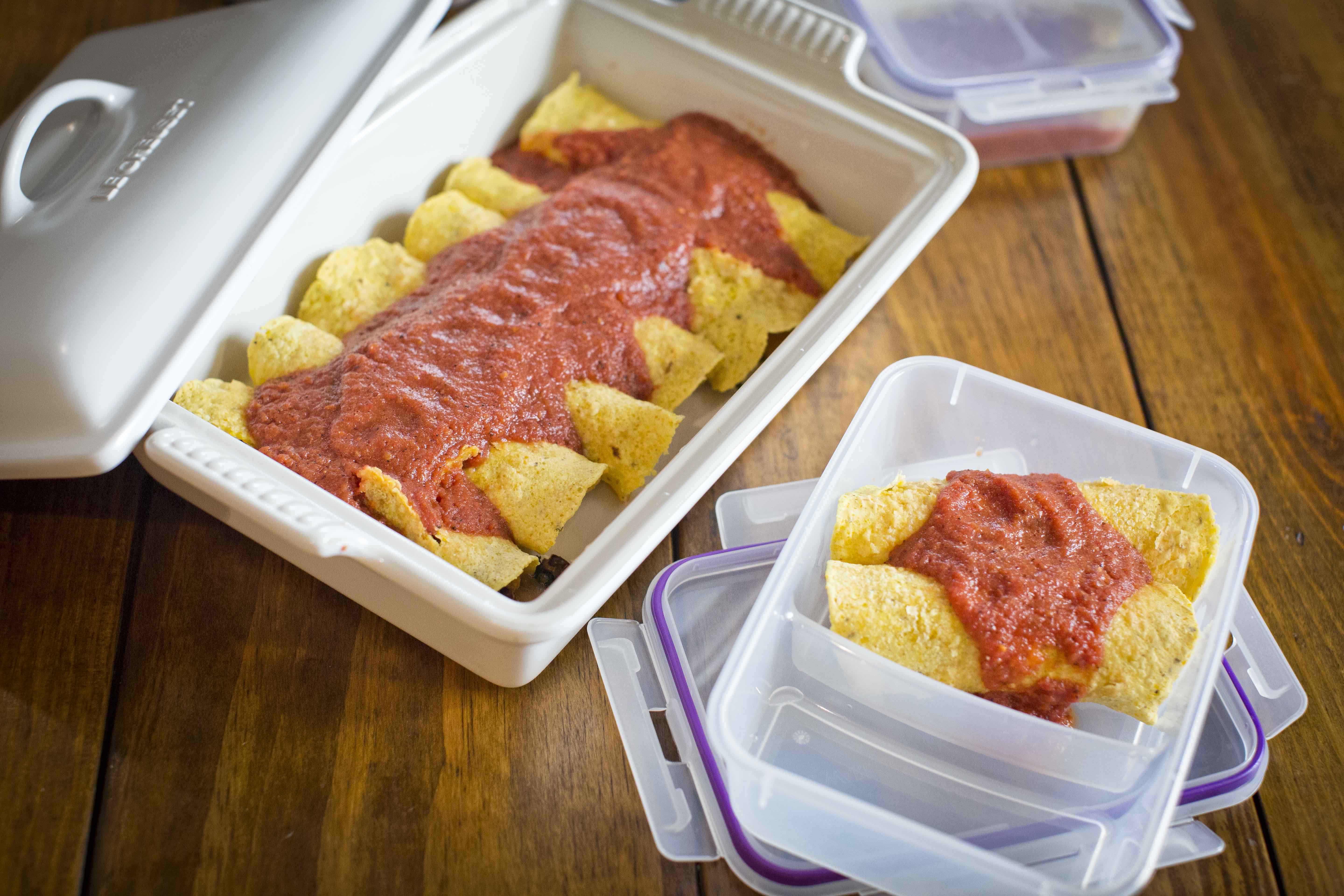 We filled the enchiladas and placed them snugly in the casserole dish, enjoyed a couple of servings for dinner, and froze the rest in separate serving-size Snapware Airtight Containers. Our container set allowed us to store portions of each of our make-ahead dishes for easy reheating or transport; in addition, the array of container sizes offered an organized way to arrange the stacked containers at eye-level in the freezer.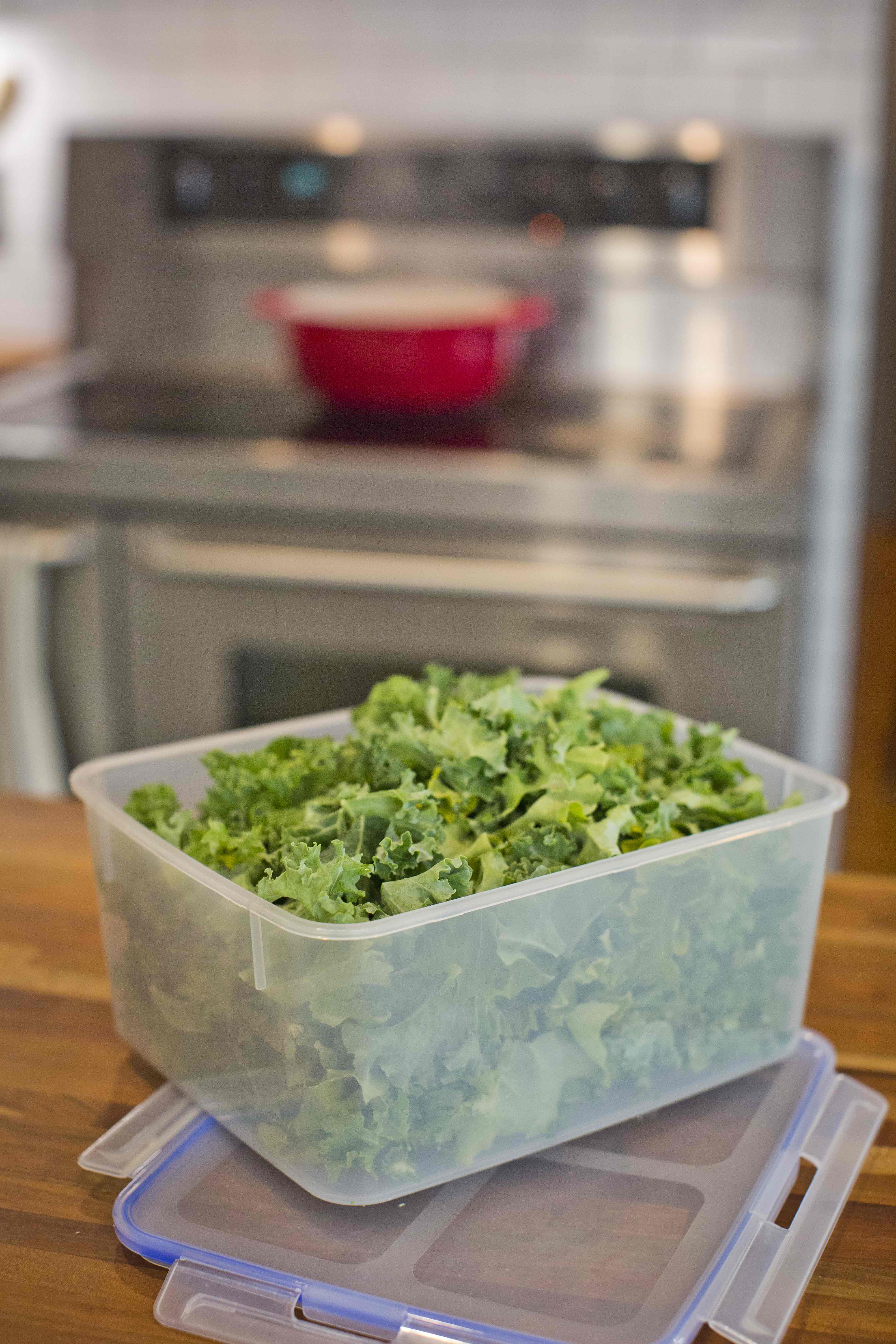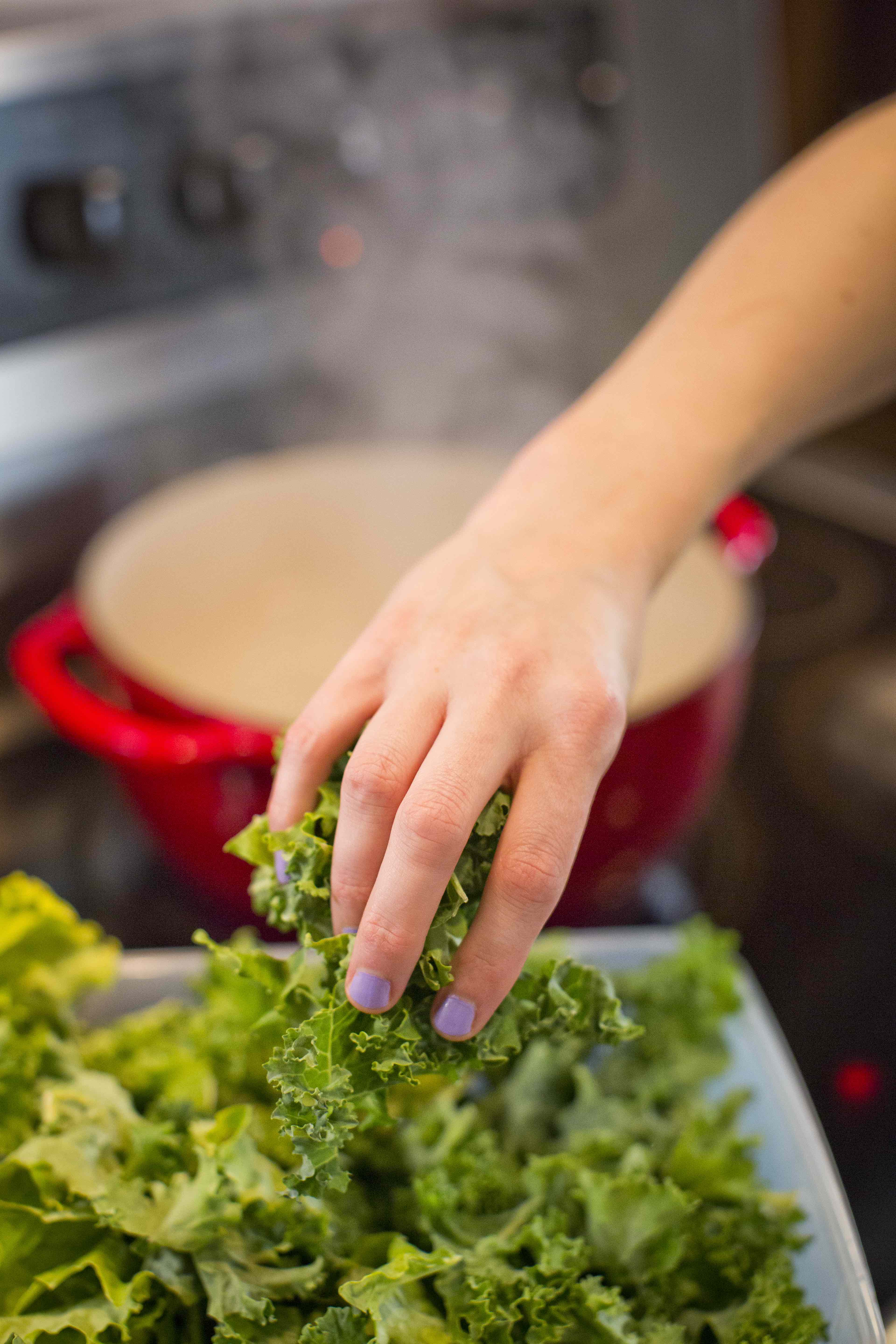 We used a Lodge Soup Pot for one of our favorite make-ahead meals, Vegetarian Mulligatawny: An Indian-Inspired Vegetable Stew. It's the perfect large size for a big batch of stew or simply blanching greens.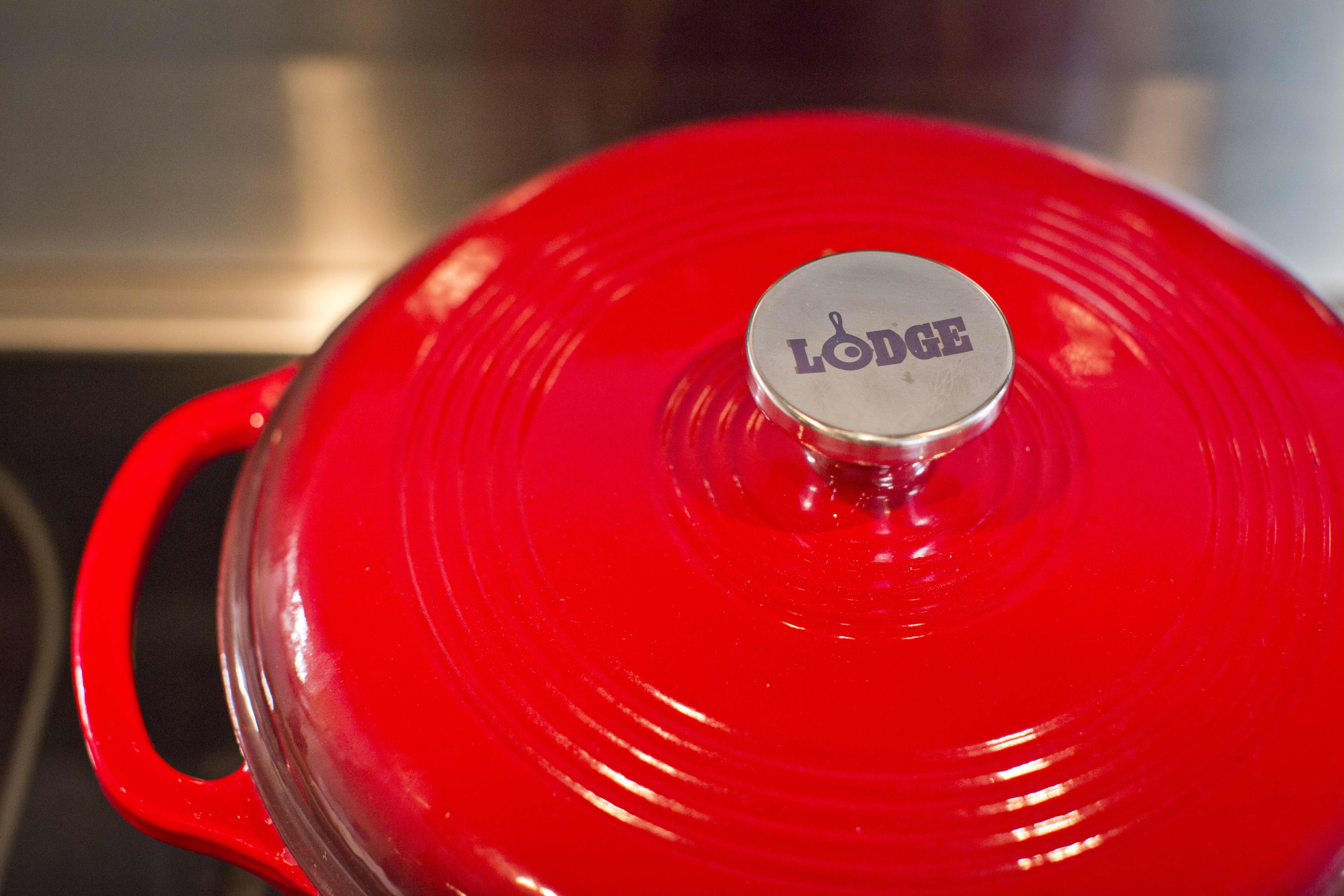 Never ones to skip dessert, we made the dough for a good-sized batch of Energy Cookies, cooked a few on our Silpat Non-Stick Baking Mat and froze a couple of rolls of dough for later use. Cookies, we believe, are best when they're made and eaten the same day; it's sad not to have time to make a batch on a weeknight once an intense craving hits, so making your own cookie dough rolls ahead of time solves that challenge. We always try to realize we're never going to check off all the things we want to accomplish on a weeknight, but it feels so relaxing to at least bake something great without any effort.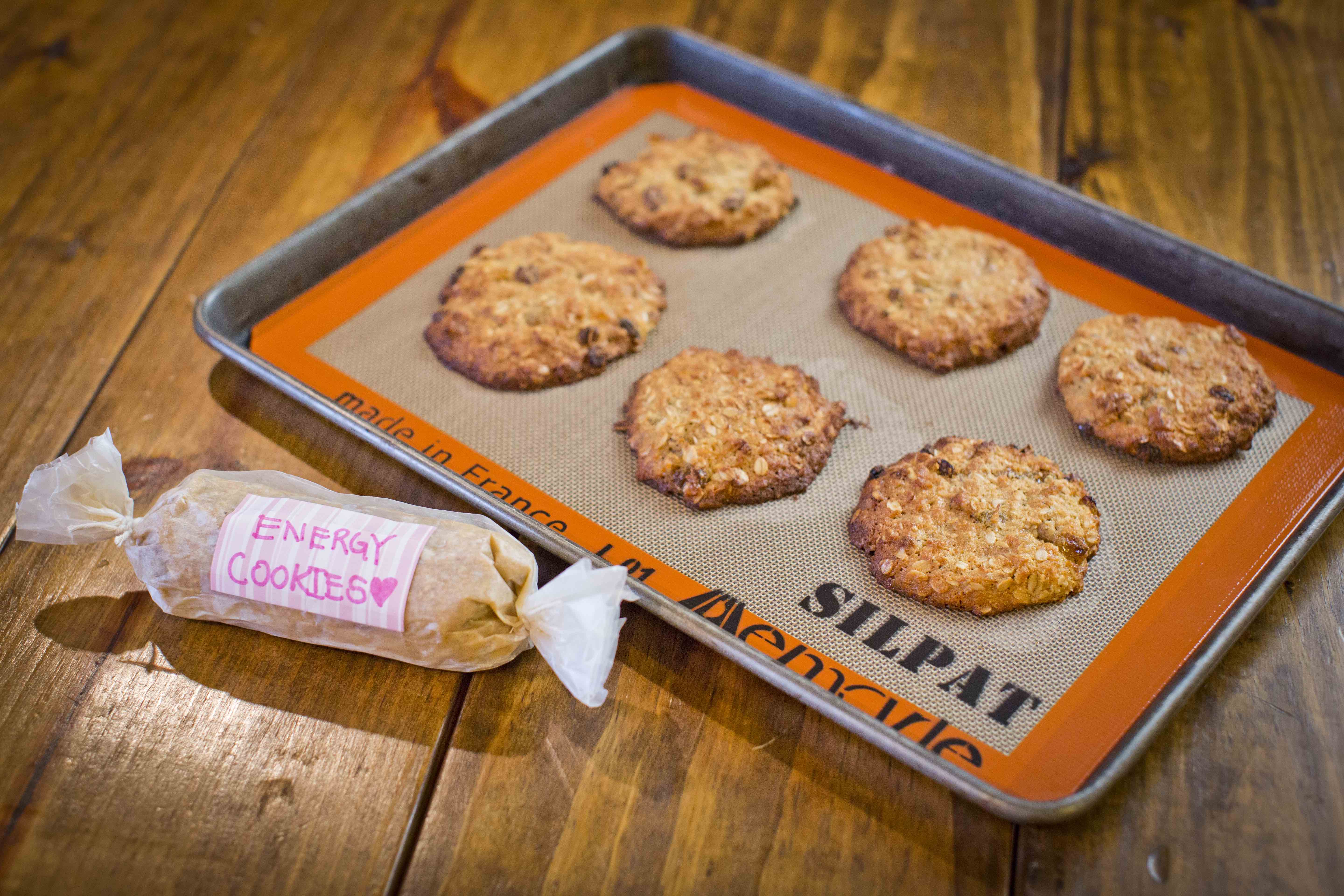 How nice it's been to start to wonder what's for dinner at home or for lunch at work and choose something good in a flash! Make the dream of a no-effort home-cooked dinner happen at your house, too, by cooking a couple of things over the weekend and setting aside half of what you made for later.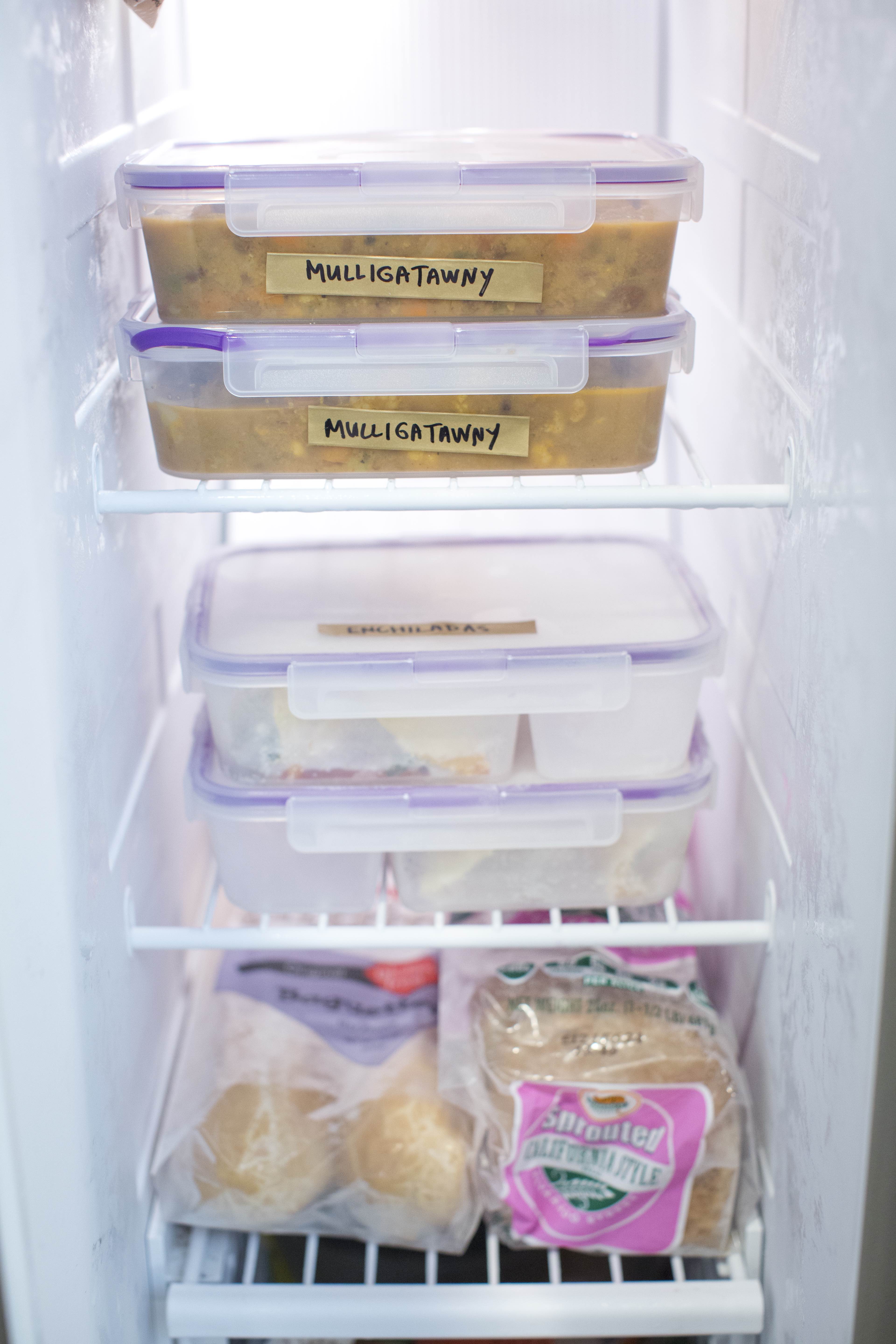 We now love checking out what's available in our freezer and have found that there's nothing better than catching up on the day's events over a meal you didn't have to come home and figure out on the fly.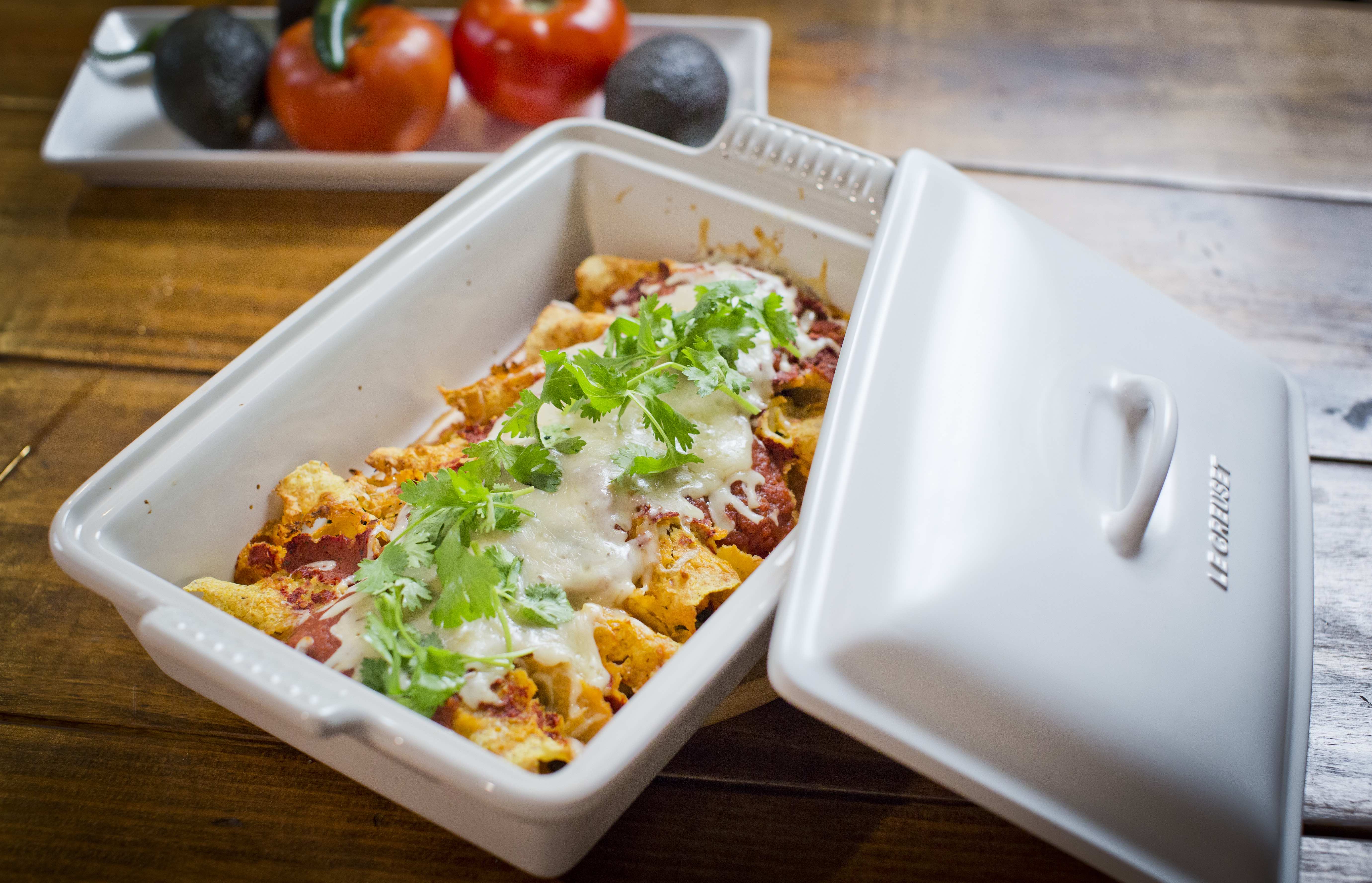 Sweet Potato, Kale, and Black Bean Enchiladas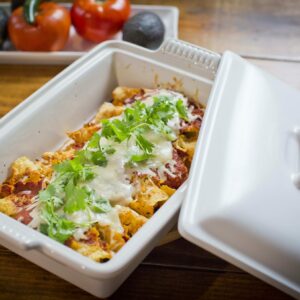 INGREDIENTS
Chipotle Enchilada Sauce (recipe follows)
1 tablespoon olive oil
1 medium sweet potato (peeled and diced, about 2 cups)
½ medium red onion (diced, about 1 cup)
2 heaping cups de-stemmed, finely chopped kale
1 teaspoon cumin
1 15-ounce can of black beans
1 teaspoon sherry vinegar
Kosher salt and cracked black pepper (to taste)
8 small corn or flour tortillas (warmed)
2 cups shredded cheddar cheese
Optional toppings: Greek yogurt, chopped avocado, cilantro, sliced radish, chopped green onion, and Mexican hot sauce
INSTRUCTIONS
Make Chipotle Enchilada Sauce according to the recipe and keep warm in a saucepan until ready to assemble the enchiladas.
In a large skillet over medium heat, add the olive oil and the diced sweet potato.
Cook, stirring often, until sweet potato has softened and is beginning to brown (about 10 minutes).
Add the onion and cook until it starts to soften. This will take about 5 minutes. Add the kale, cumin, black beans, and vinegar. Season with salt and pepper to taste. Stir and cover until heated through and the kale has wilted in about 6 minutes.
Preheat the oven to 350 degrees. Into a 9 x 12 casserole dish, add 3/4 cup of Chipotle Enchilada Sauce and spread it around the bottom in a thin layer.
Lay the tortillas out on the counter and divide 1 1/2 cups of the cheese among them while reserving the rest to sprinkle on top. Divide the filling among the tortillas; each tortilla will get about 1/4 cup. Roll tortillas and place seam-side down into the casserole dish. Repeat until all tortillas are wrapped.
Top with the remaining Chipotle Enchilada Sauce and cheese.
Bake for 20 minutes or until the sauce is bubbling and the cheese has melted.
Serve topped however you'd like; we usually have some combination of the ingredients in the 'Optional Toppings' listed above in the recipe. Place the leftover in a lidded container and freeze them for an easy and delicious weeknight dinner.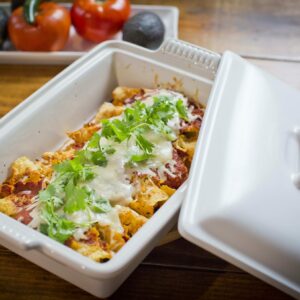 INGREDIENTS
1 28-ounce can diced fire-roasted tomatoes
1 clove garlic
1 chipotle pepper (from a can)
1 teaspoon sherry vinegar
INSTRUCTIONS
Into a blender or food processor, place the tomatoes, garlic, chipotle pepper, and sherry vinegar.
Blend until smooth. In a saucepan over medium heat, warm the Chipotle Enchilada Sauce through and then turn off the heat.
This can be made ahead of time and refrigerated up to 5 days or frozen up to 6 months. (Makes 3 1/2 cups.)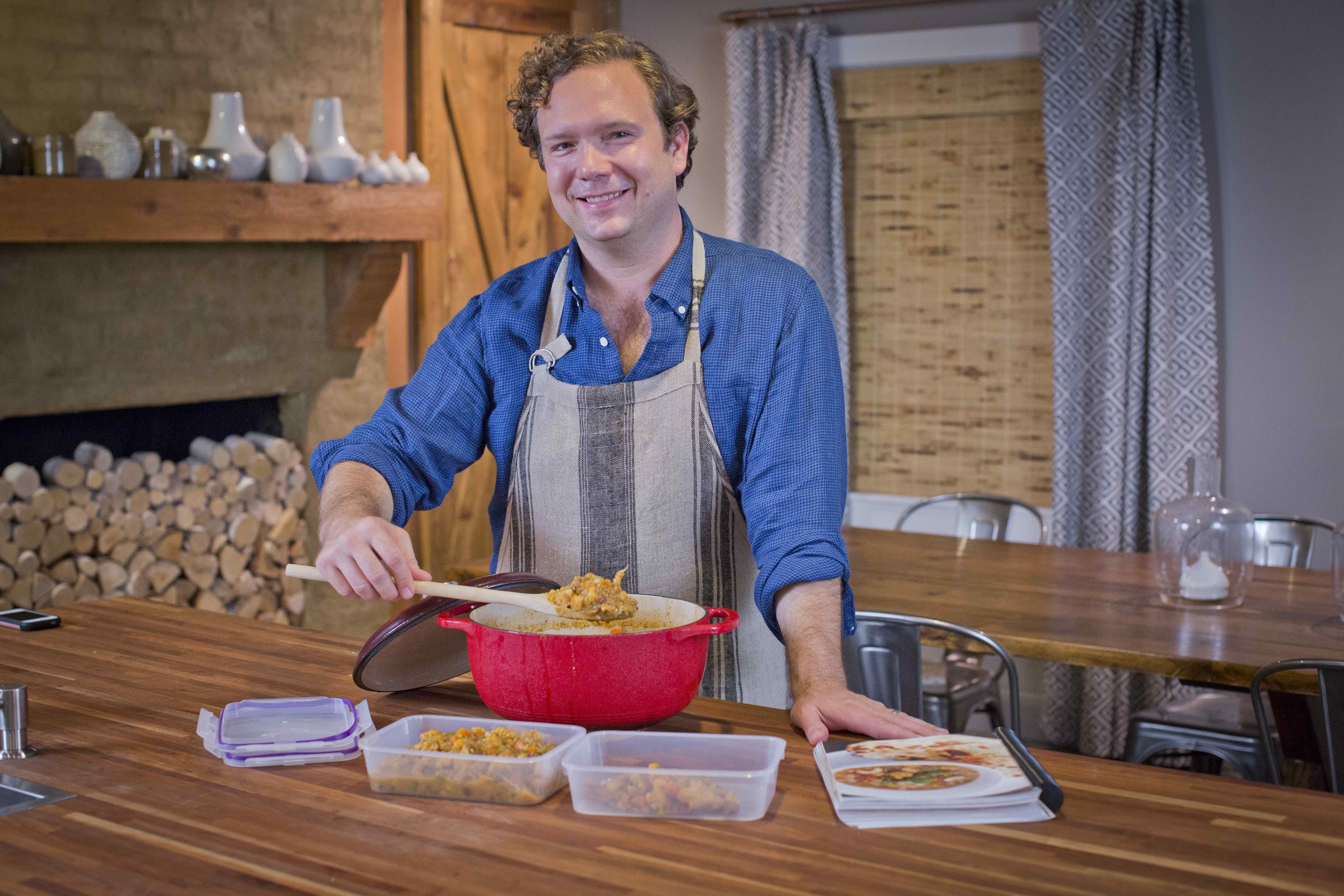 Vegetarian Mulligatawny: An Indian-Inspired Vegetable Stew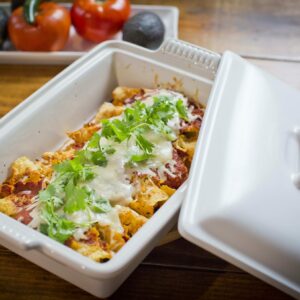 INGREDIENTS
1 medium onion (roughly chopped)
1 2-inch piece fresh ginger
8 cloves garlic (peeled)
1 medium tomato (cored)
2 tablespoon curry powder
1 teaspoon coriander
1 teaspoon cumin
½ teaspoon cinnamon
1 tablespoon sambal
1 tablespoon sugar
1 tablespoon white vinegar
1 ½ tablespoons unsalted butter
½ cup lentils
3 cups vegetable broth (more if needed)
1 tablespoon soy sauce (we like Bragg's)
½ cup chopped dried cherries
1 medium Russet potato (peeled and diced)
1 medium green pepper (peeled and diced)
1 medium head of cauliflower (broken into florets)
4 medium carrots (diced)
1 can coconut milk
Kosher salt and cracked black pepper (to taste)
1 cup salted whole cashews (to garnish)
½ cup cilantro leaves (to garnish)
Frozen Jasmine rice (optional)
INSTRUCTIONS
Into a food processor place the onion, ginger, garlic, tomato, curry powder, coriander, cumin, cinnamon, sambal, sugar, and vinegar. Blend until a loose paste forms and all ingredients are throughly blended.
In a large soup pot or Dutch oven over medium-high heat, melt the butter and add the curry paste. Cook, stirring frequently, until most of the moisture has evaporated and the paste becomes very thick.
Add the lentils, broth, and soy sauce. Stir, cover, and allow mixture to cook for 10 minutes to soften the lentils. Add the cherries, potato, pepper, cauliflower, carrots, and coconut milk. Add salt and pepper to taste.
Cover and reduce heat to a simmer. Cook until vegetables are tender. Serve garnished with cashews and cilantro leaves and, if you like, add rice and a side of naan.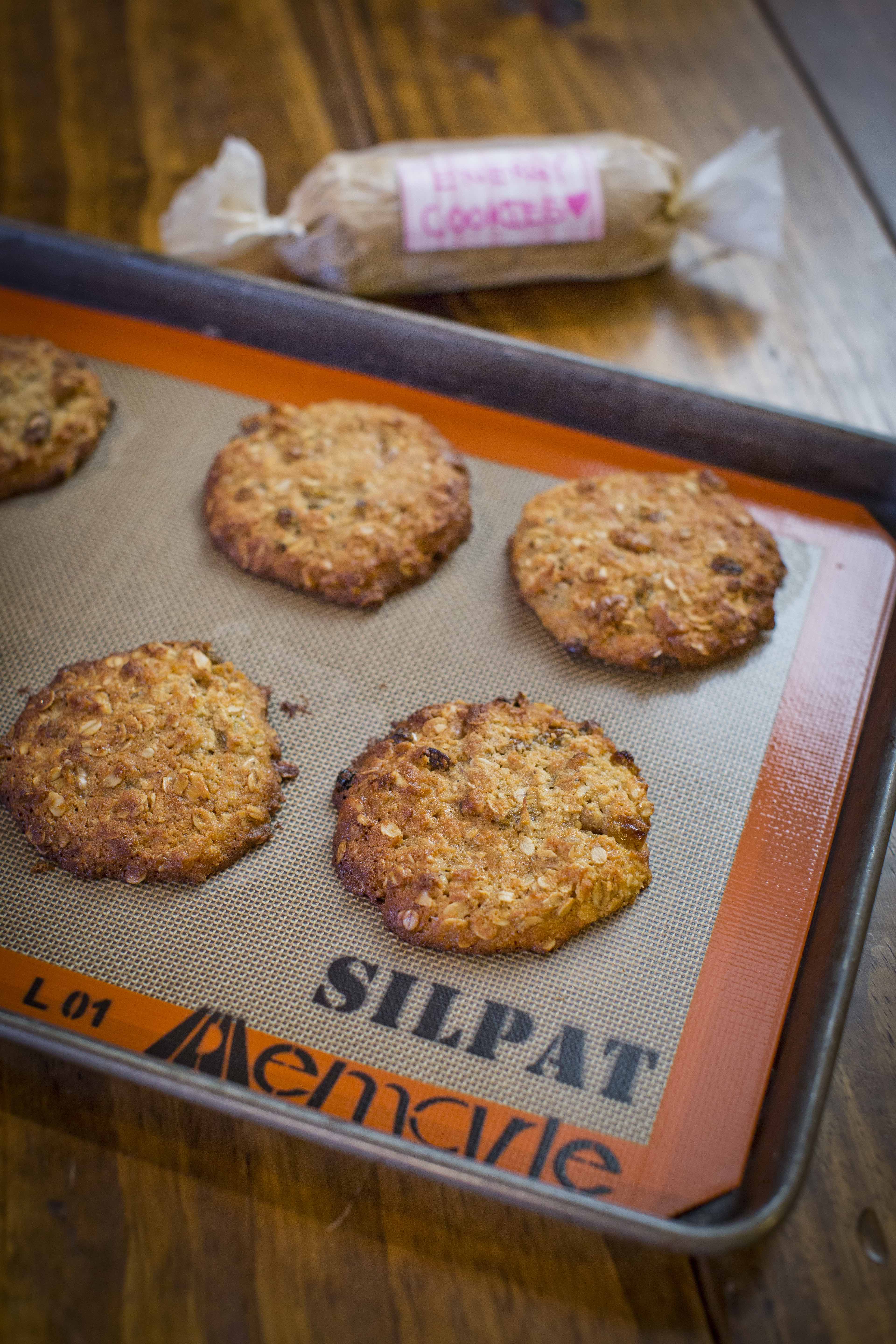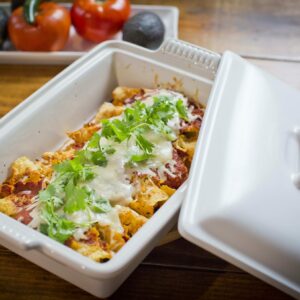 INGREDIENTS
1 cup rolled oats
¾ cup almond flour
1 teaspoon baking powder
2 teaspoons iodized salt
1 ½ teaspoons cinnamon
1 teaspoon ground ginger
½ teaspoon nutmeg
½ cup honey
½ cup coconut oil (melted and cooled)
2 large eggs (beaten)
2 teaspoons vanilla
¾ cup raisins (golden and regular)
1/3 cup dried cranberries
2 tablespoons rum
1 cup grated dried coconut
2 tablespoons crystallized ginger (finely diced)
1 cup raw walnuts
INSTRUCTIONS
Preheat oven to 350 degrees. Stir together the oats, almond flour, baking powder, salt, cinnamon, ginger, and nutmeg. Set aside. Combine the honey, coconut oil, eggs, and vanilla.
Microwave the raisins, cranberries, and rum for one minute, let them cool a bit, microwave for one more minute, and set aside. Combine wet and dry ingredients and then add the fruit and rum mixture, coconut, ginger, and walnuts.
Shape into large, flat cookies and place on a silpat-lined baking sheet. Bake for 10-15 minutes until edges are lightly browned.