A Lowcountry Seafood Boil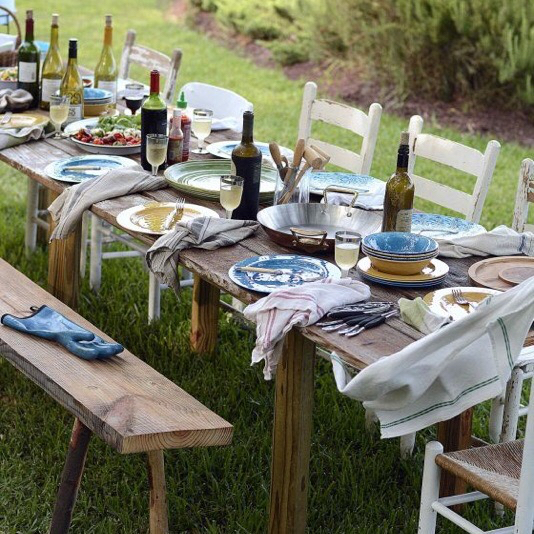 Airline travel today isn't easy. Anyone who is a road warrior knows this well. And, even if you just fly infrequently, you know that it's a lot of work, waiting, headaches, long lines, security, schlepping from concourse to concourse. The glamour days of jetting around the country or world are over unless you have your own bird that flies. However, and there's always a caveat, the one thing that makes flying worthwhile for me is the people I might meet. Sitting next to someone who's interesting and chatty is a way to create a few hour relationship, or a lifetime (my husband and I met on a flight!).
Usually I have my laptop out and am editing food photos or writing up a recipe. Seeing how you're less than a foot apart, it's not hard to know what that other person's doing. I was flying home from a food gig and next to me was this robust burly man in camo attire and his camo baseball cap. Think Duck Dynasty. He hadn't missed many meals in life. After a few minutes, he remarked in his distinctive Bayou drawl, "Mam, that food looks mighty good." I smiled. And the conversation triggered.
Well, one thing led to another, and after nearly two hours of chattering, we knew some things about each other. His work was intriguing — helping control the wild boar explosion in the Southeast and Texas. I never knew there was a wild pig association or that wild boars were such an economic menace to farmers and others. I asked question after question. Then we talked food. I wanted to know more about his Louisiana food — beignets, oyster stew, shrimp creole, wild boar Bolognese. Yes, he had his favorite long-time family recipes stored on his cell phone, which he whipped out and proudly shared with me. While we had many common threads in food, the crawfish boil and our South Carolina Lowcountry boil seemed to be the hot topic. And, as oftentimes happens, I was reminded that much of a region's history lies in its food. Yes, food defines who we are, where we come from, how we collect together and break bread. From BBQs to potluck and covered dish church dinners, sharing food creates camaraderie and powerful memories.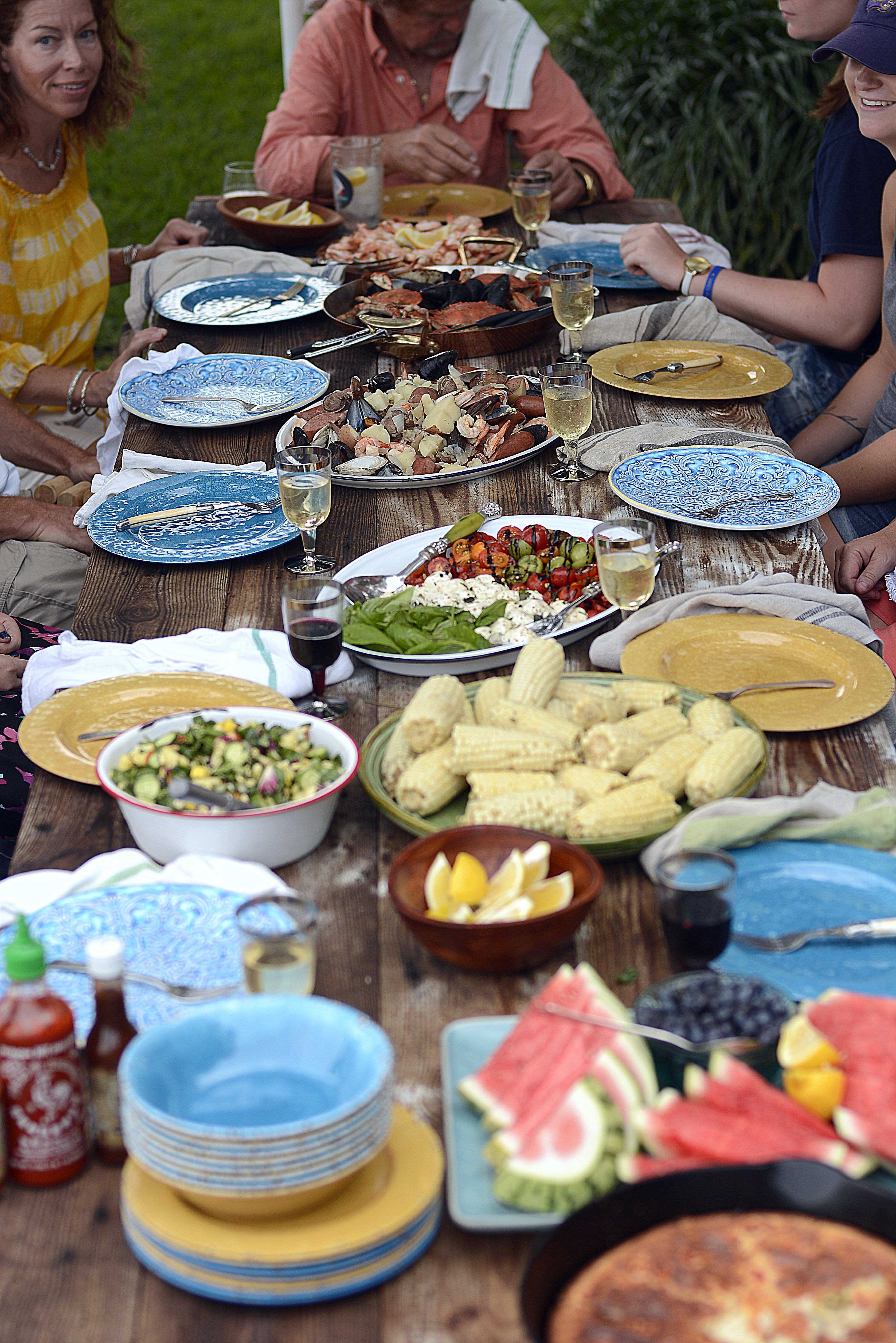 From New England, The Chesapeake Bay, and Louisiana, to Georgia and South Carolina, one hugely traditional common thread joins us. We love our seafood boils. And, having lived in South Carolina's Lowcountry for decades, we've done our share of boils and been to more than I can count. Depending on the region, the boils vary, but all contain shellfish and a variety of sides indigenous to the area. Of course, most of the time these seafood boils are sometime between Memorial Day and Labor Day with July 4 being the holiday for having a boil that's as popular as a the traditional BBQ.
New Englanders usually have clam bakes or boils, which can include potatoes, corn and sausage.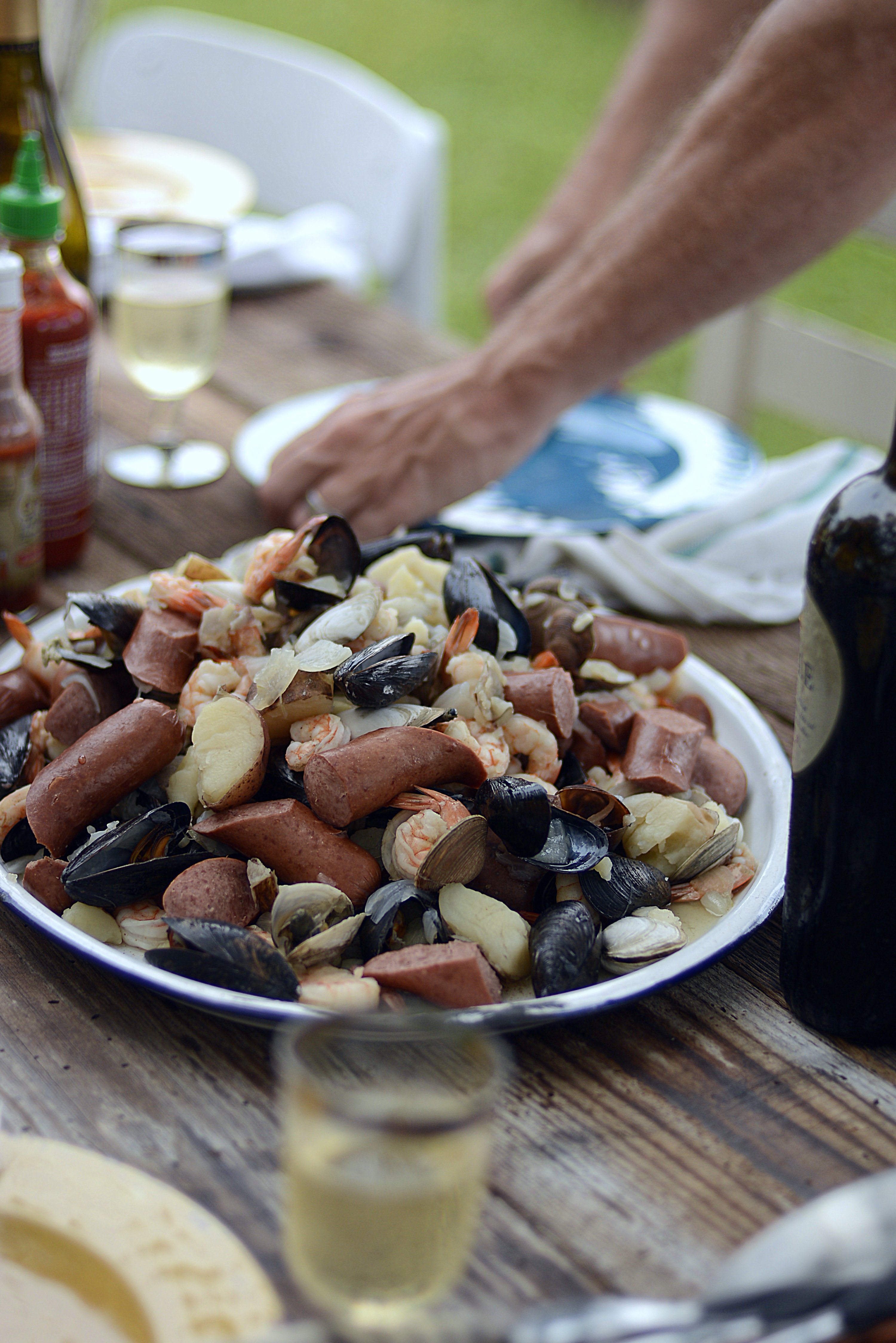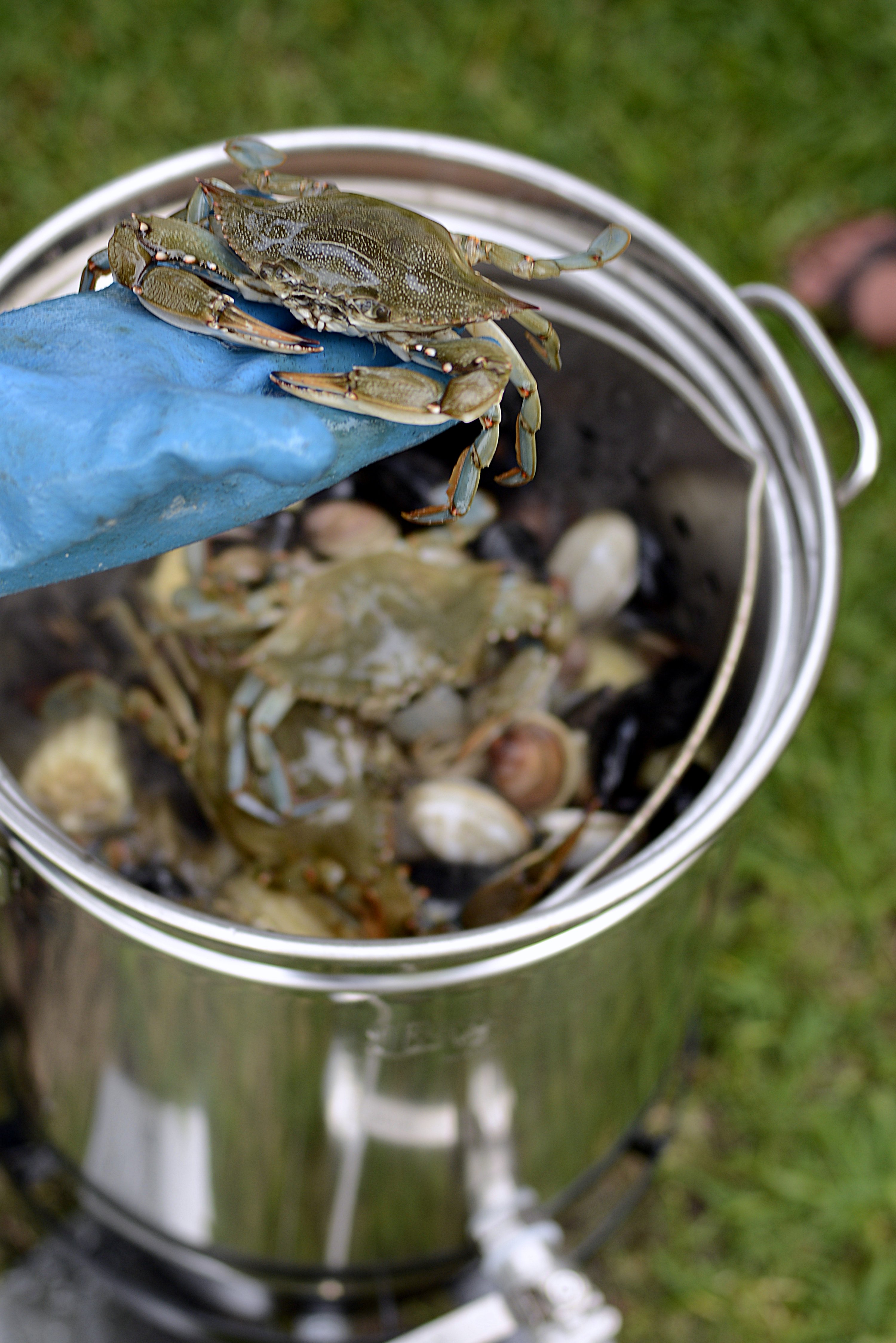 The Chesapeake Bay is known for the blue crabs, clams and Old Bay seasoning. Add to that coleslaw and corn on the cob, and you have a feast.
Louisiana means crawfish, shrimp and crabs. Crawfish festivals are a religious happening and the "boil master" is king. You'll see plenty of cayenne, Tony Chachere seasoning, lemons, and cocktail sauce.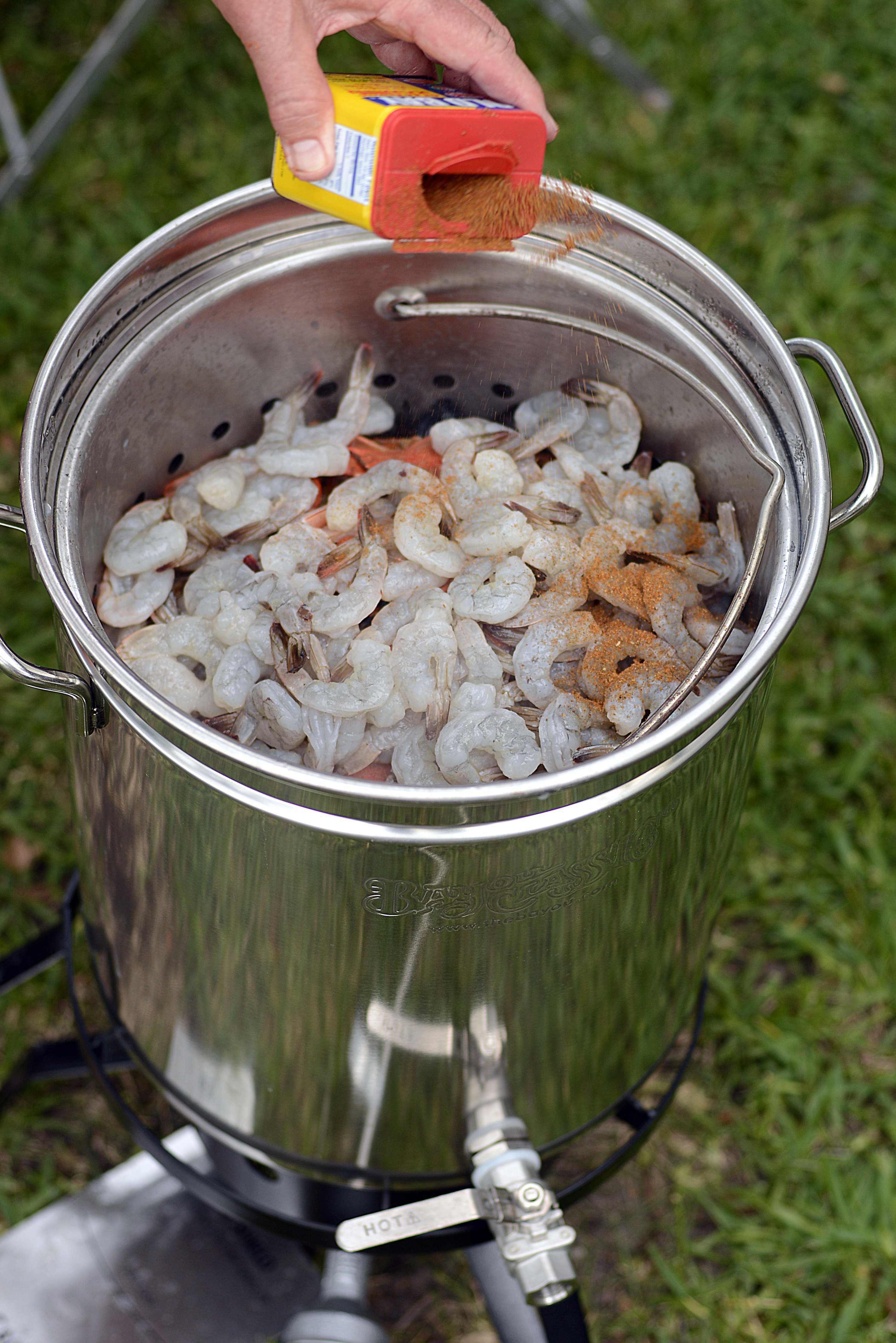 In Georgia and South Carolina, we define this shellfish gathering as Frogmore Stew or a Lowcountry Boil. Maybe a tad bit less spicy than the Louisiana version, we still love our healthy dose of Old Bay, and there's got to be onions, sausage, potatoes and corn. Make that Silver Queen in season corn.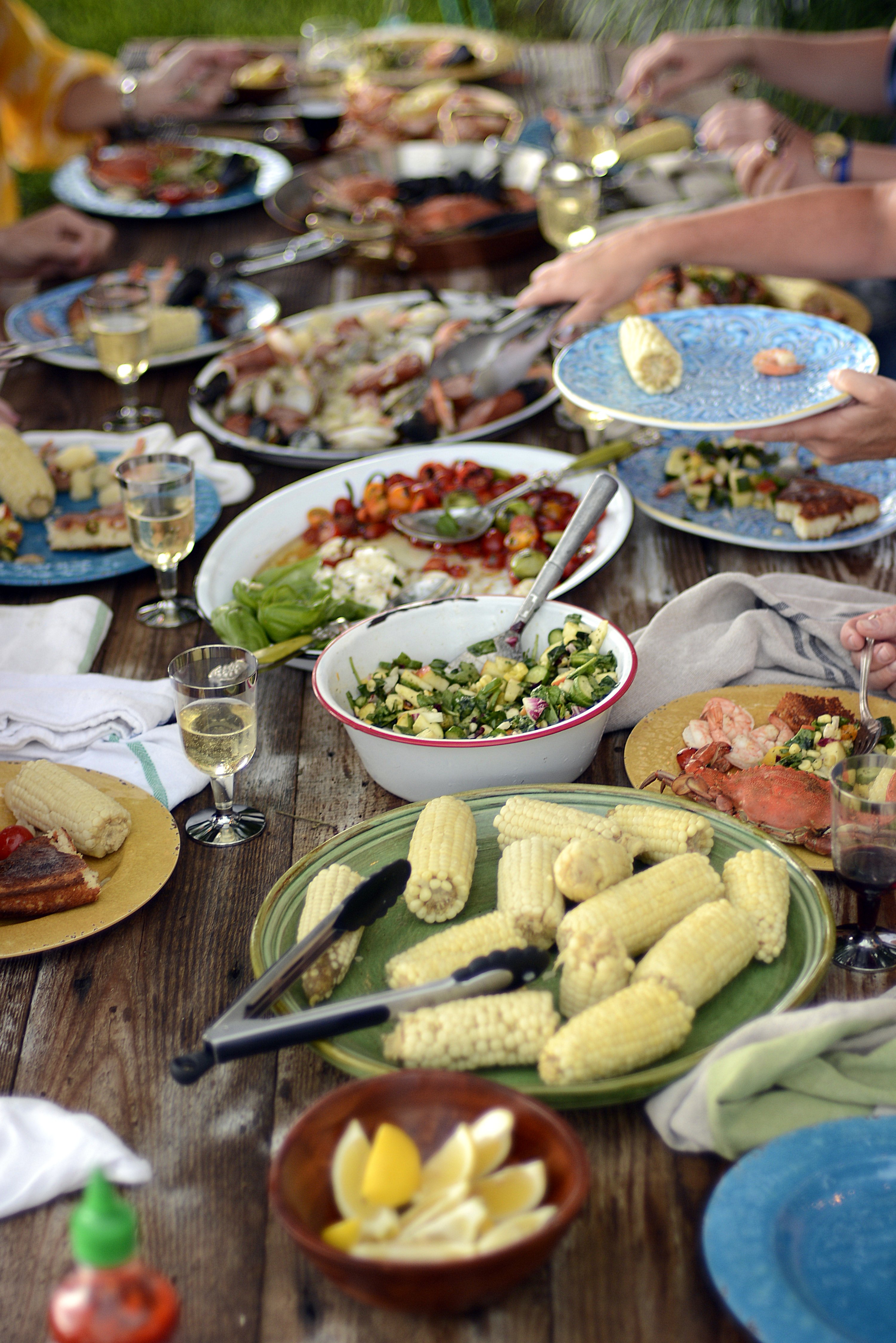 In my book, if you're going to have a Lowcountry Seafood Boil, then there're a few simple priorities:
1. Lots of friends and family. It's a big gathering. You don't make just a small pot of seafood boil.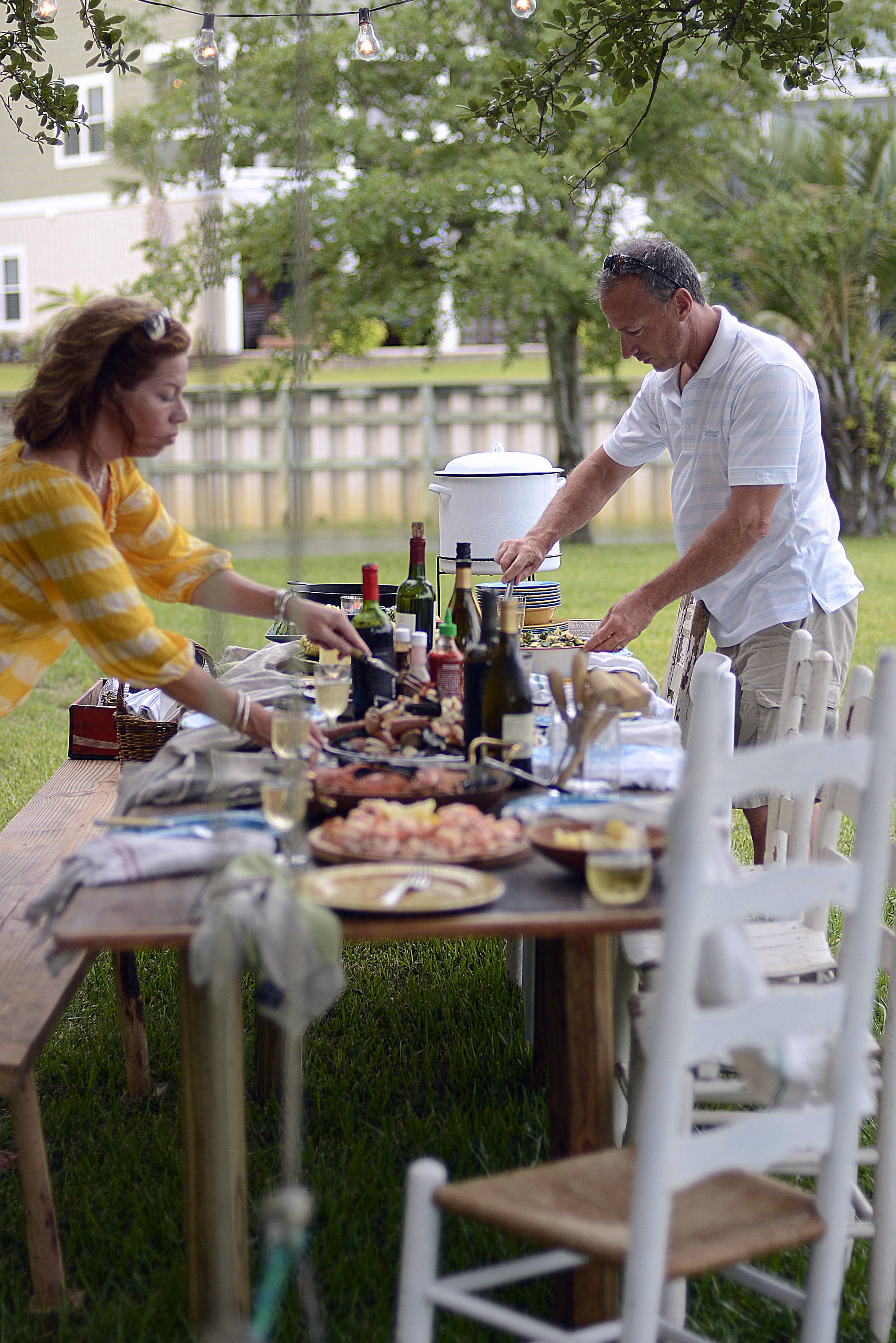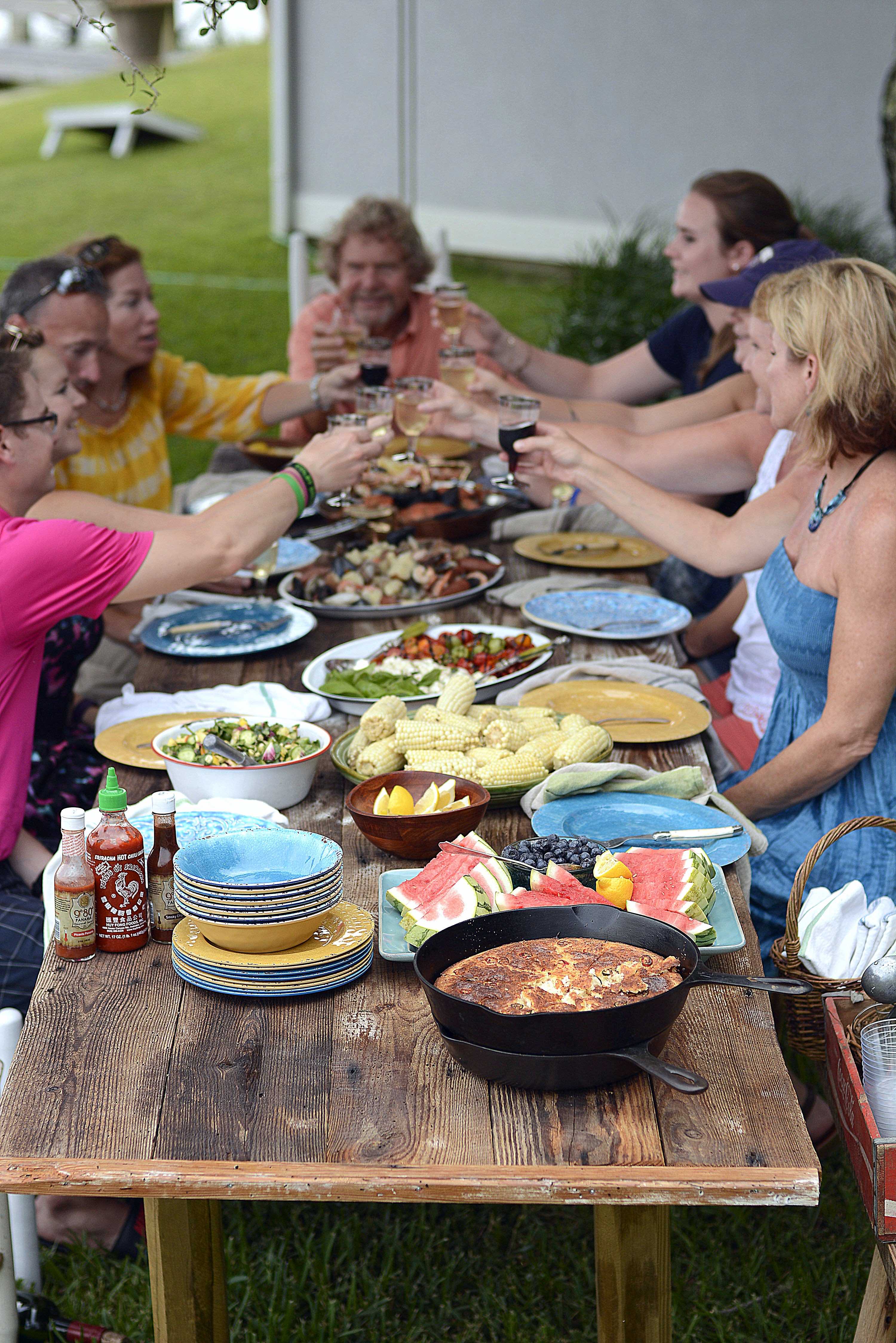 2. A big table. A great big pot for cooking with a full tank of propane. A paddle and a big draining scoop. Lots of shellfish—shrimp, crabs, clams, mussels.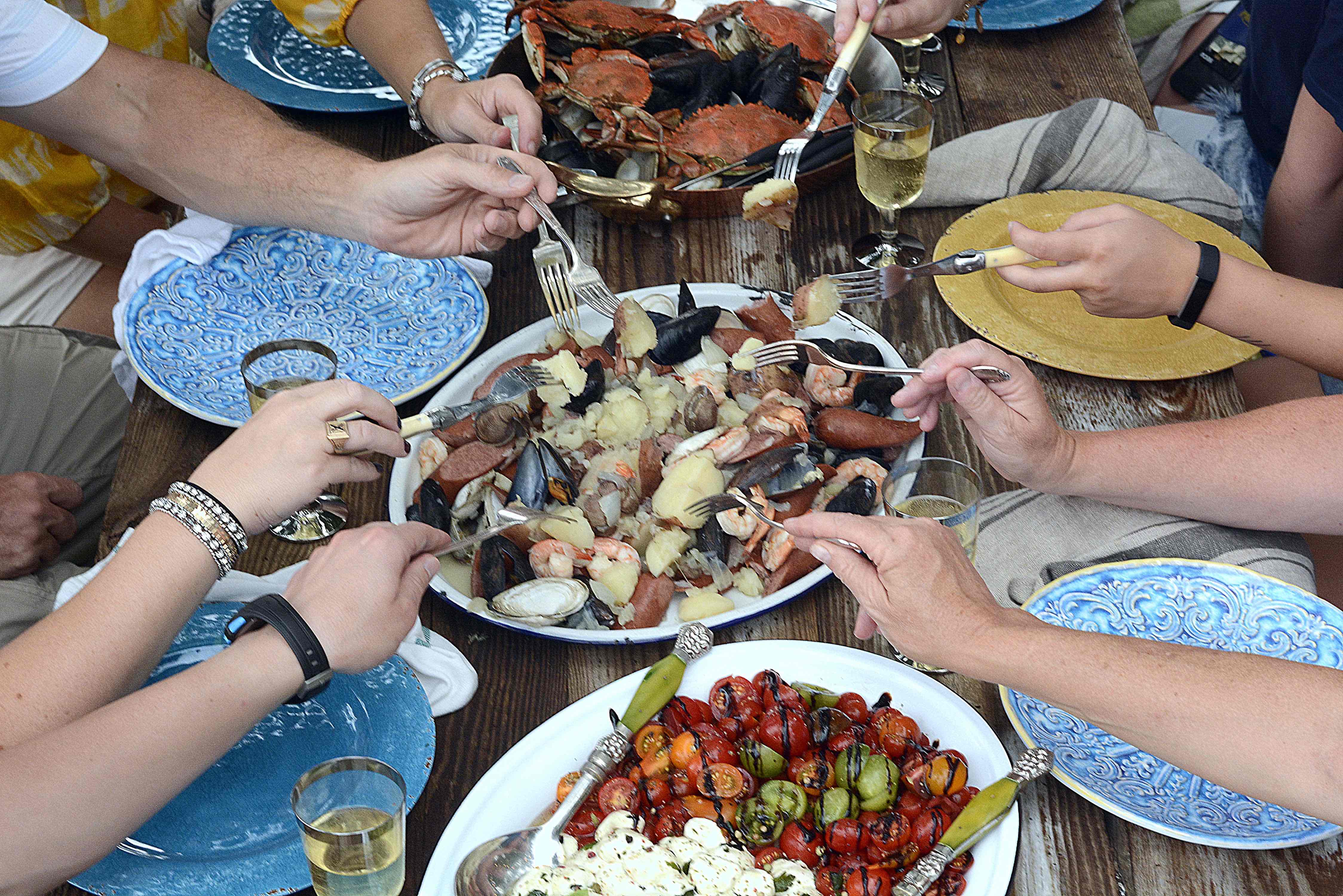 3. A few sides. Farm fresh salads. Fresh fruit. Coleslaw. There's always buttermilk thin crispy cornbread that's served right from the hot skillet(s).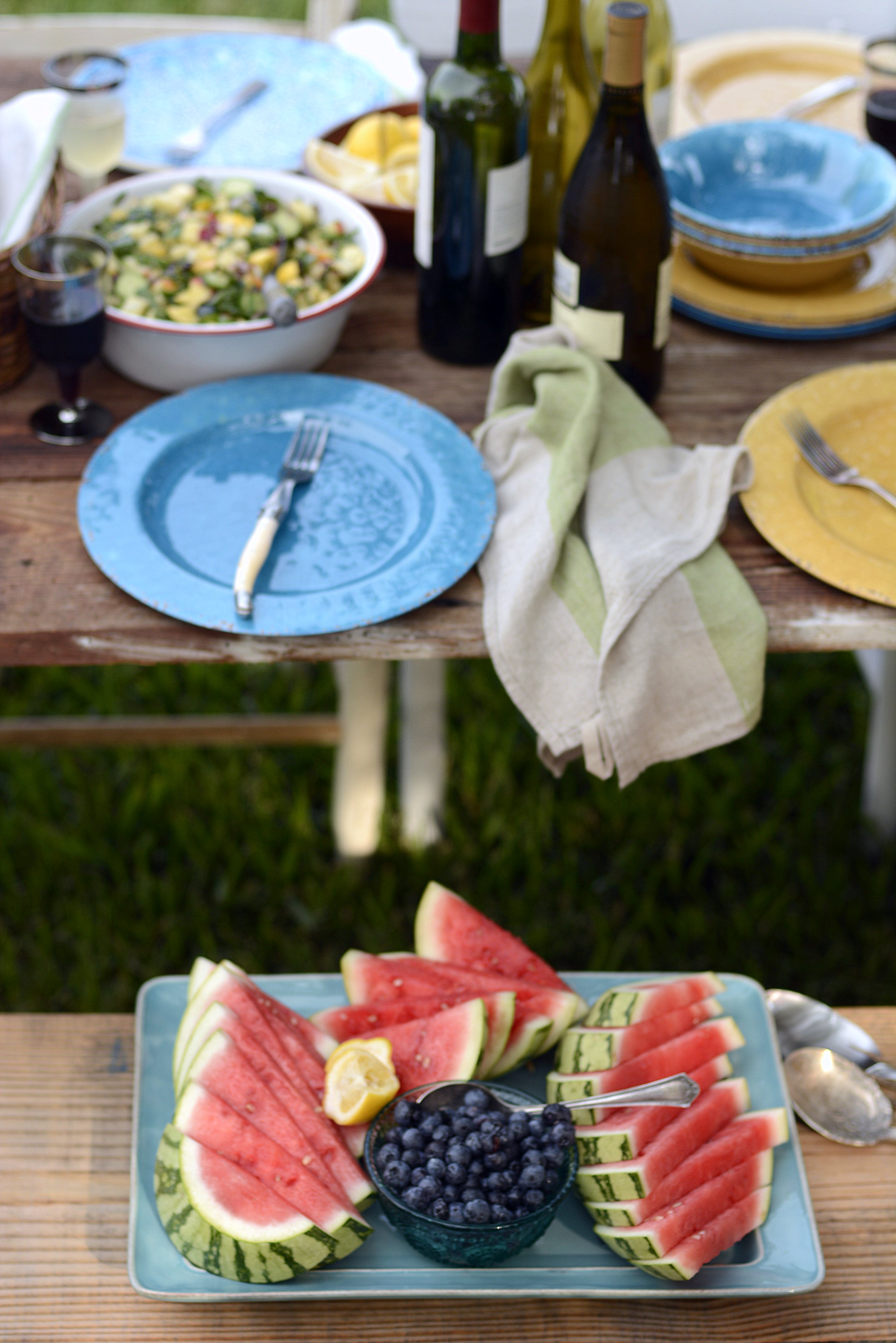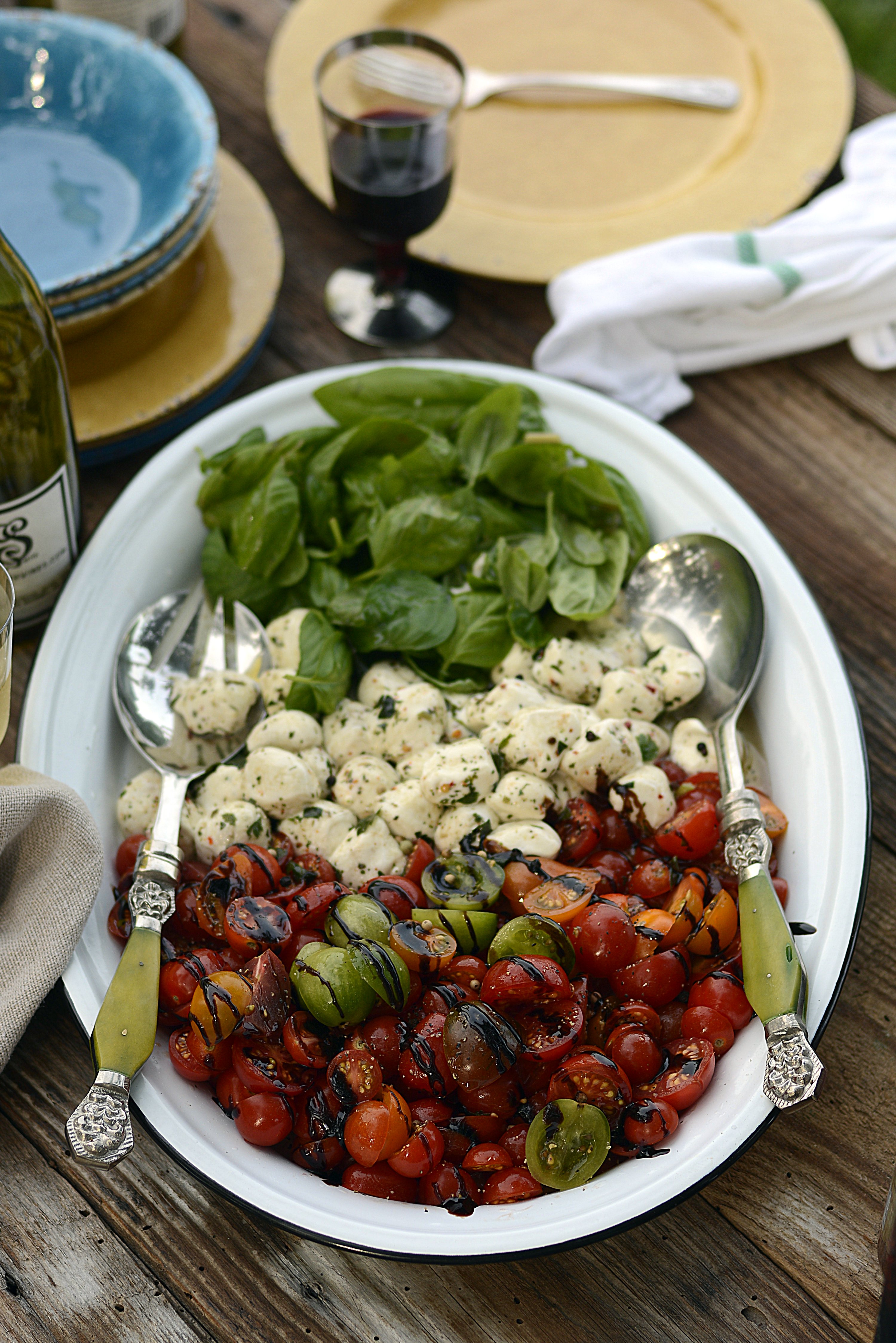 4. Beer. Wine. Lemon Mint Water. Just water.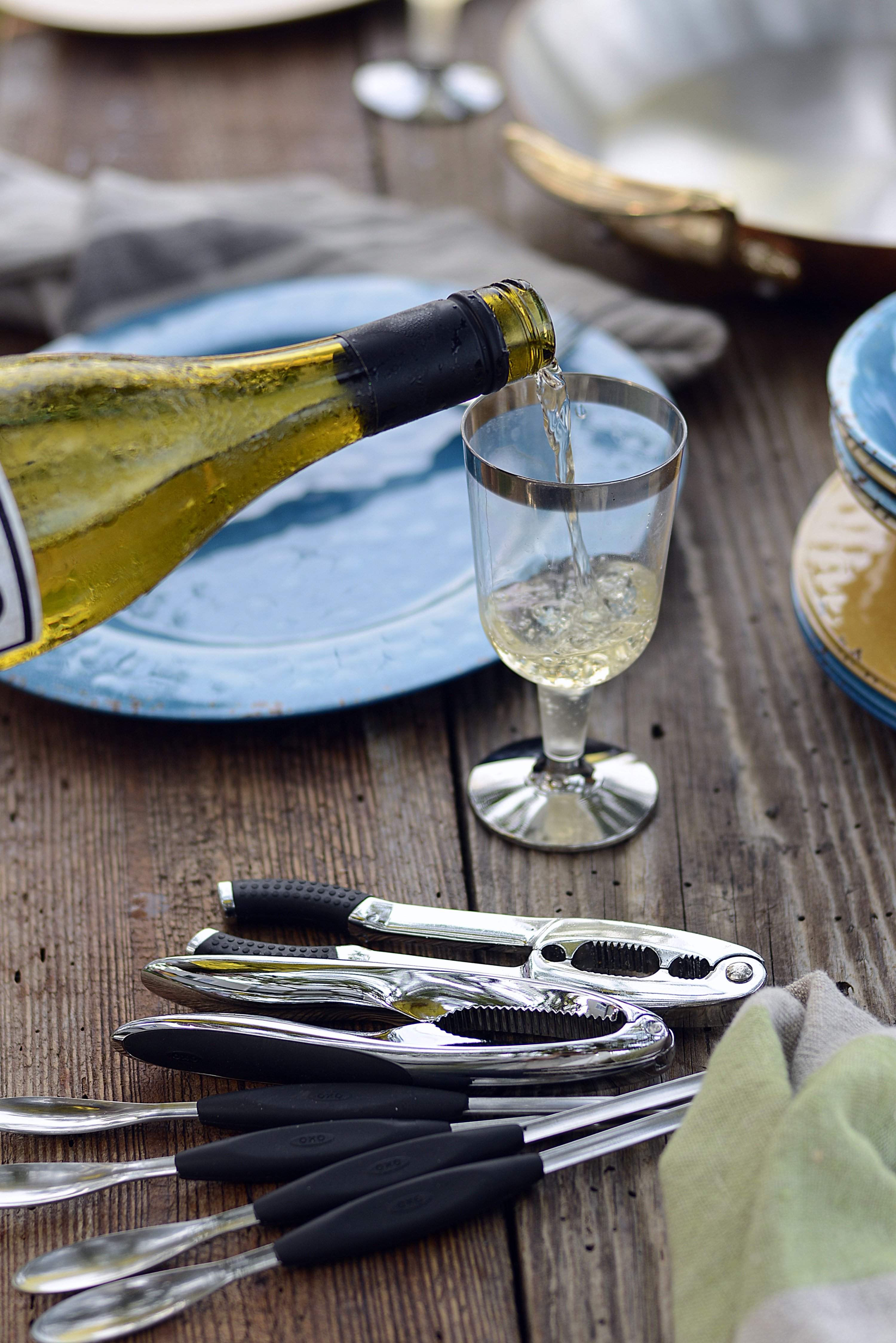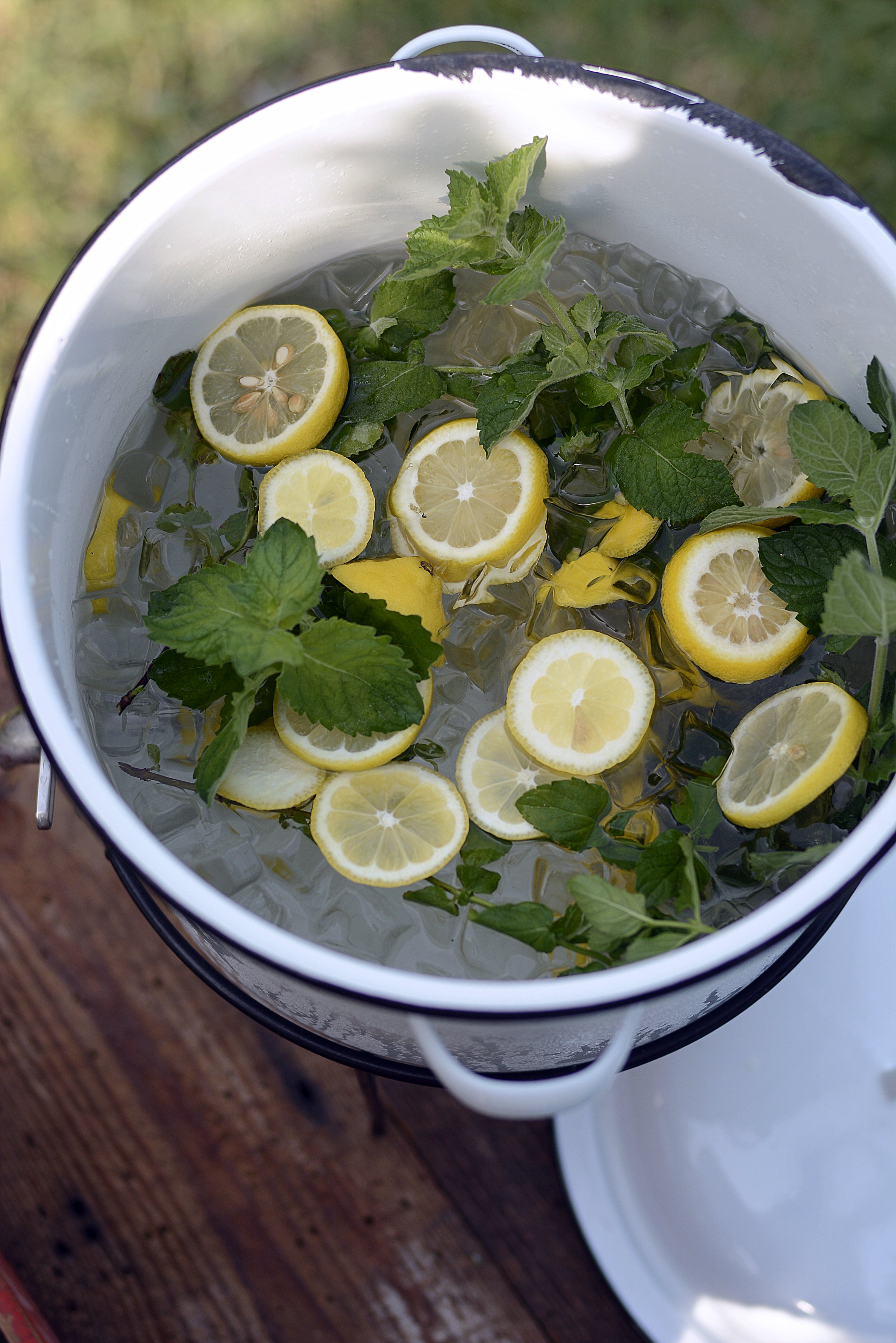 5. No cell phones.
Our version of the seafood boil is to cook it all together in the large stock pot then 'deconstruct' it to some extent onto platters for serving making it easier for hungry guests to decide which shellfish they prefer and what they want to put on their plates. Then there's a platter devoted to everything that won't be separated — tender potatoes, onions, sausage, maybe some rogue shrimp, clams and mussels.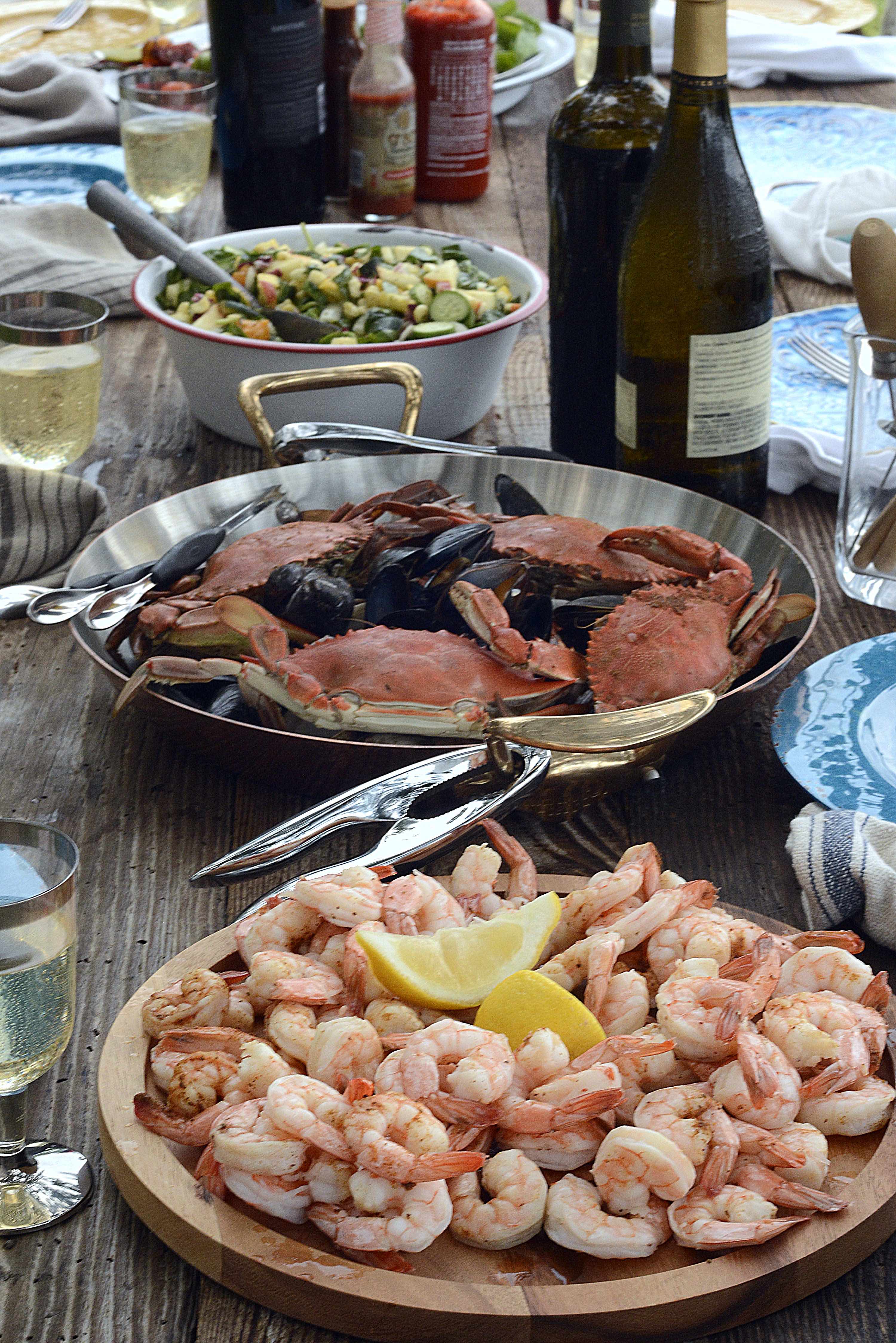 Sometimes, however, we shift to the more rustic version of the seafood boil and spread newspapers on the harvest table. Then the tasty boil is drained and piled high down the center and everyone dives in with their hands. No utensils or plates might be used.
Keep in mind that there's a feast that's being served. It's outdoors most all the time. So you want to have dinnerware that's not breakable. My table is typically colorful. I love to have melamine plates that are vibrant so as to contrast with the beauty of the food and all the textures and hues. Big hearty dish towels (or a couple of rolls of paper towels) are a must. And, don't forget an array of hot sauces, fresh lemon wedges, and cocktail sauce.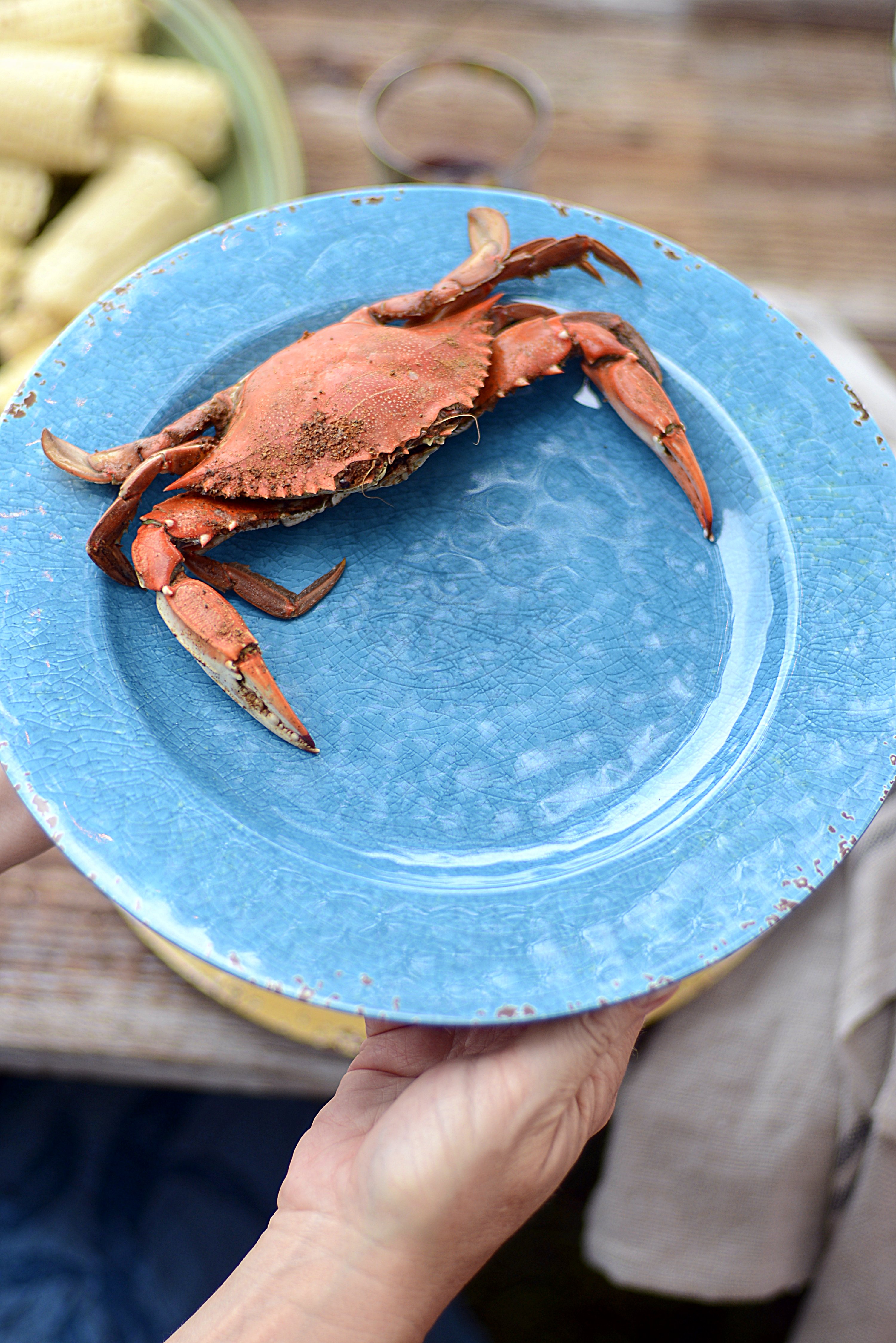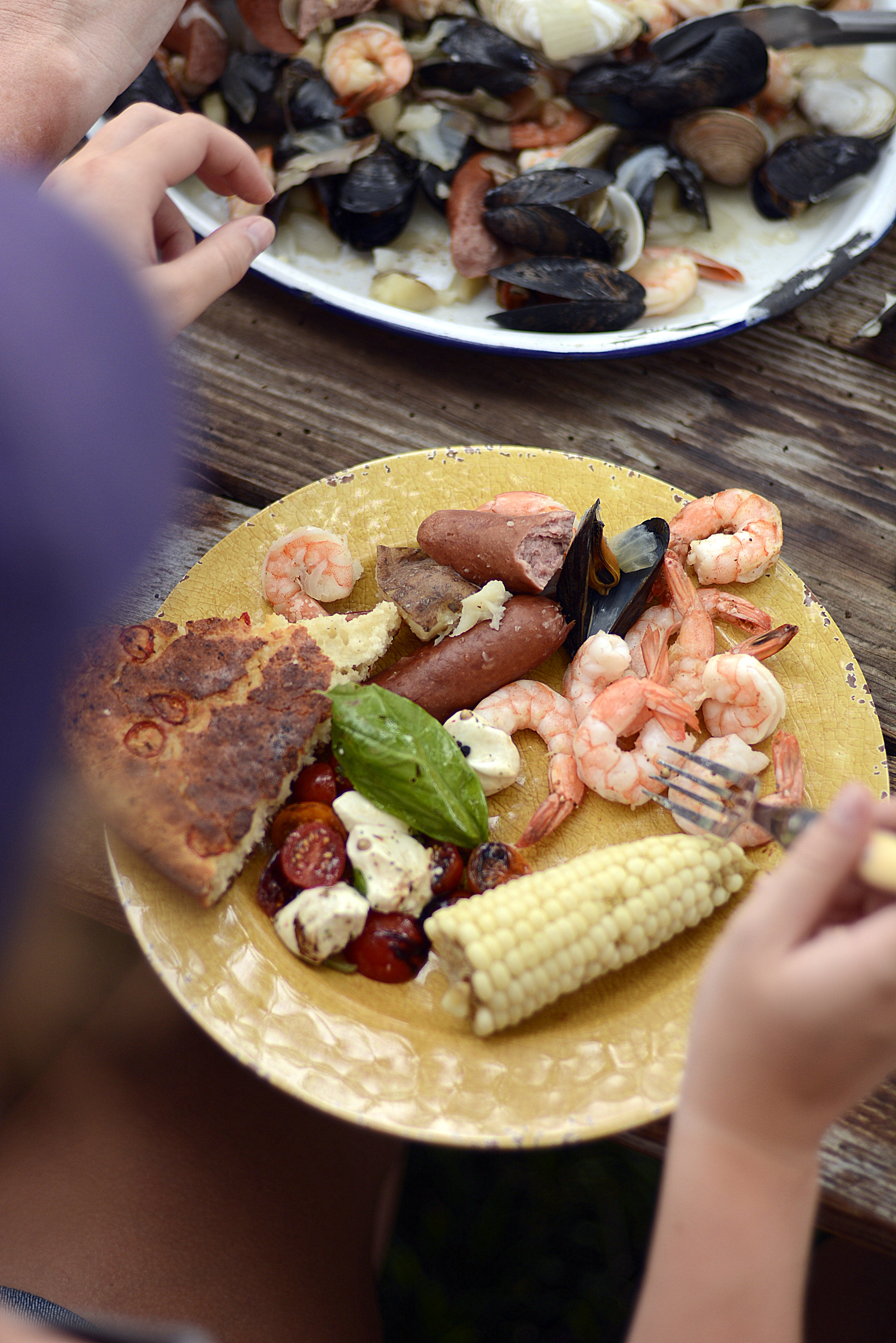 Our seafood boils are a ritual each summer. It's an extravaganza of indulging in the briny water's most precious gifts. Everyone pitches in. Everyone enjoys. Elbows on the table. Eating with your hands. Corn kernels in your teeth. Filling your plates again and again.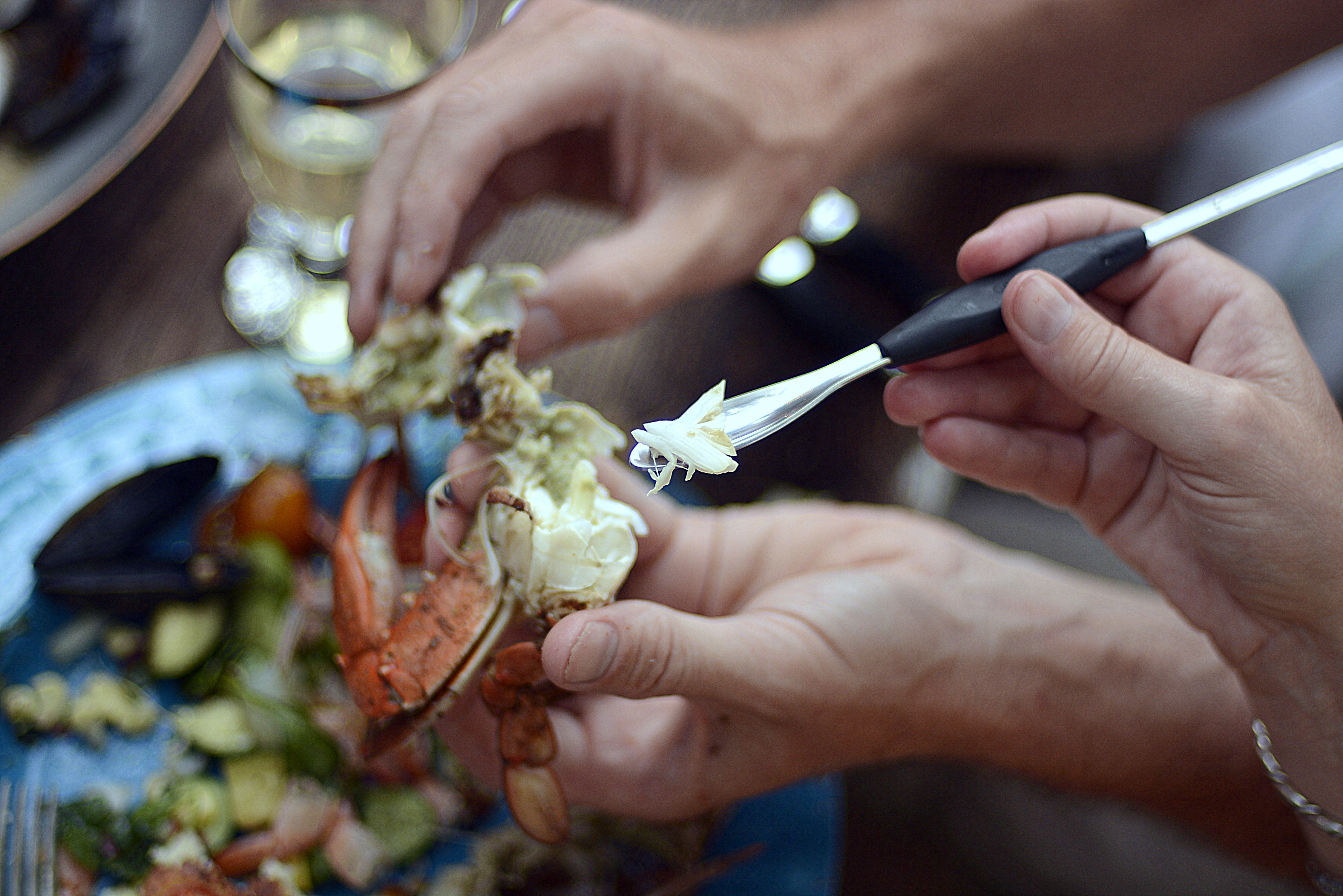 As the sun sets and the temperatures cool, maybe a balmy breeze begins to gently blow, the conversation and camaraderie continue as we break bread and taste Mother Nature's finest. And, what follows that? Well, there's cornhole until dark sets in. Teams vying to take the bragging rights! Then there's dessert. Something Southern. A peach cobbler. Homemade ice cream. Root Beer floats. A fresh blueberry pie with whipped cream. Maybe all of these things.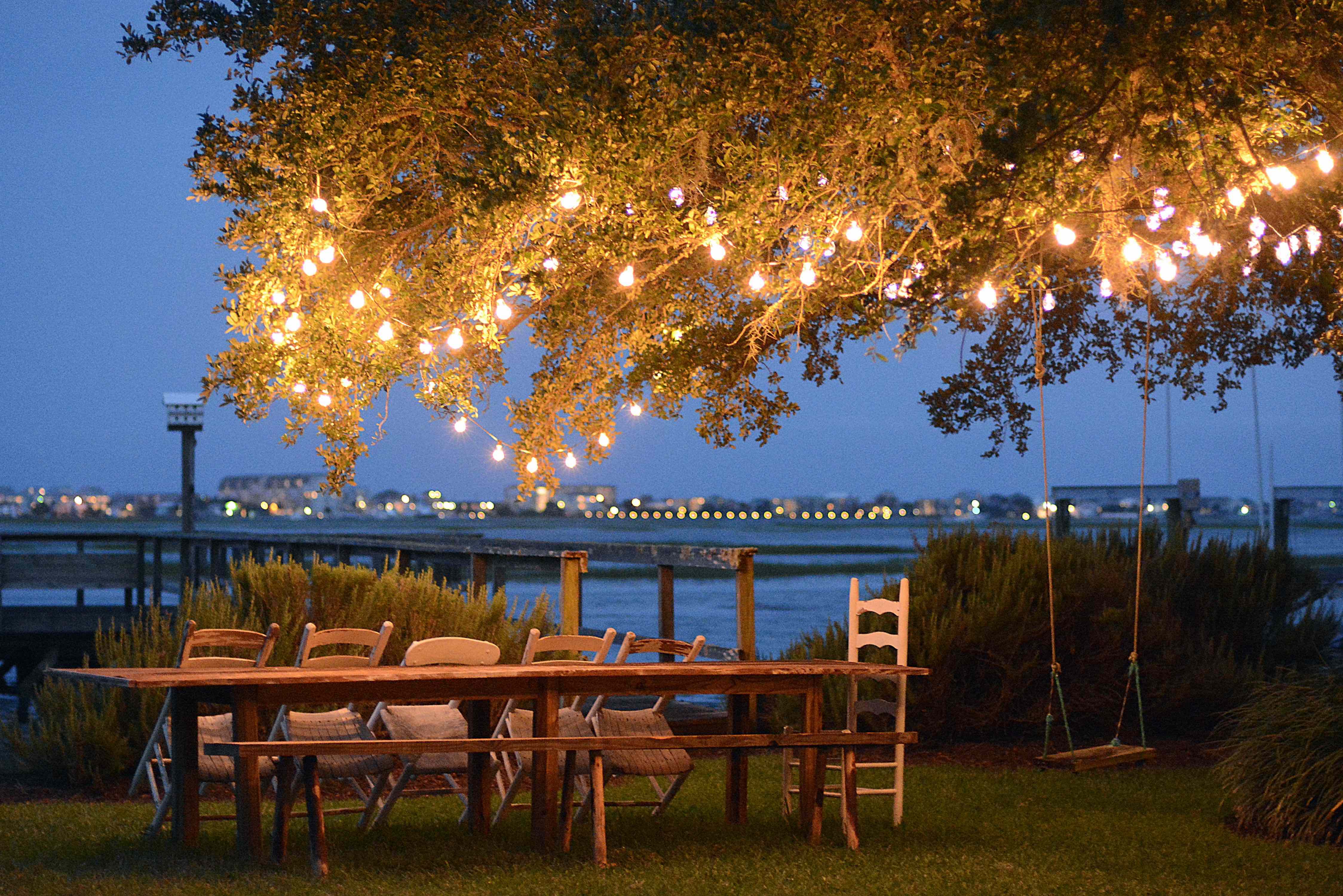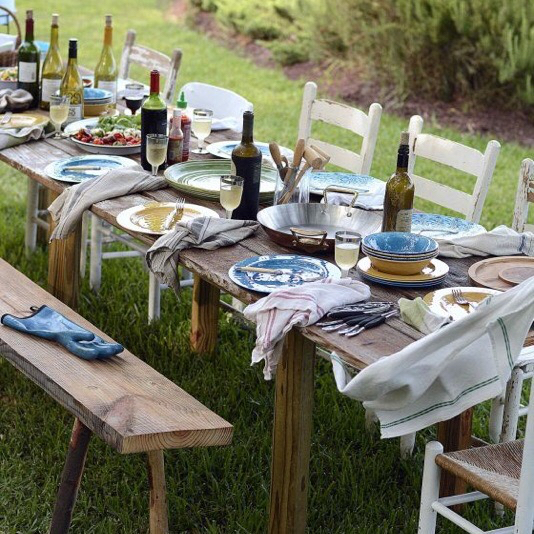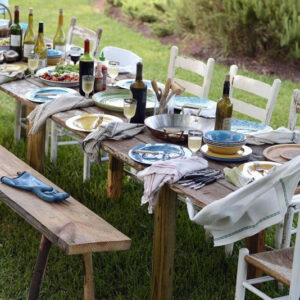 INGREDIENTS
8 oz. Old Bay Seasoning, divided
3 lbs. red potatoes, medium size and cut into halves
3 lbs. kielbasa, cut into about 2" pieces
4 large sweet onions, cut into large chunks
10 ears fresh corn, broken into halves
1 dozen fresh crabs
2 lbs. mussels
2 lbs. clams, little neck
1 lb. clams, steamer
2 lbs. shrimp, tail on, peeled, deveined, large size
INSTRUCTIONS
Fill the large pot (32 quart) about two-thirds way with enough water to cover all the ingredients.
Add 4 ounces of Old Bay seasoning, cover with a lid and bring to a boil.
Add the potatoes, cover and cook for 10 minutes. Add the kielbasa, onions and corn. Cook another 15 minutes. Stir with paddle.
Add the seafood (starting with crabs, mussels, clams then shrimp) and after each type, sprinkle on some of the remaining Old Bay seasoning. Stir with the paddle to blend seafood into other ingredients.
Cover and cook another 8-10 minutes.
Drain and serve. It's good to have a big slotted scoop with a long handle to make this happen!