Summertime Sippin': Iced Tea & Lemonade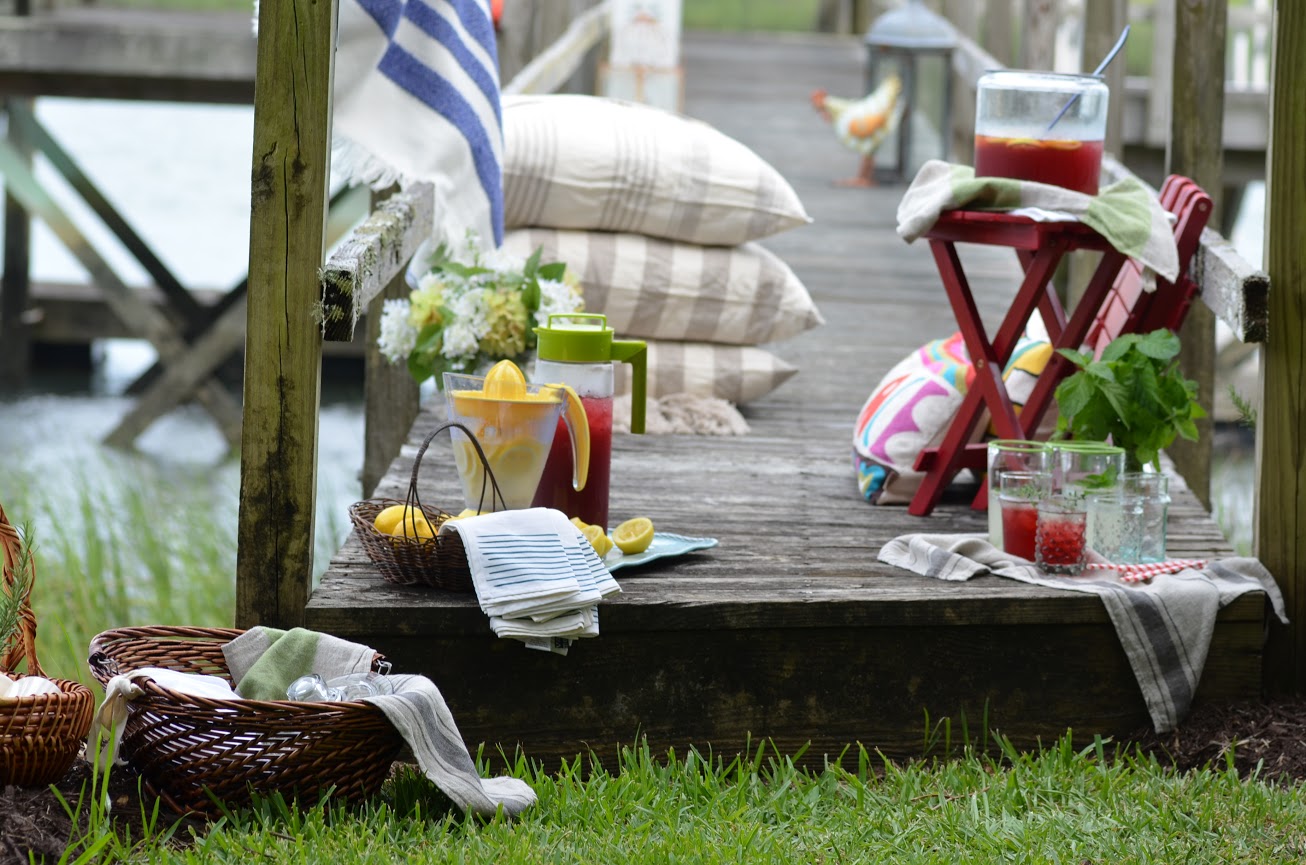 Growing up in the mountains of Southern West Virginia, summertime was the best. Oh, there wasn't much materialistically or monetarily in the way of vacations, traveling, special camps, play groups, and things like that. Unlike today's kids whose schedules warrant a full calendar rivaling business executives, our summers were mostly kid-orchestrated and planned (sometimes along with parents' input)—swimming at Vance's Hole, big gatherings and picnics at the dilapidated old family farm, digging our own "pool" in the backyard complete mixing and pouring our own cement, running in and out of Mom's freshly hung laundry on the line, shucking baskets of corn from our backyard garden, piling into the old Ford and heading to the drive-in movies with our old-fashioned popped corn in brown paper grocery bags—yes, all of these things (and more) were complete with refreshing and mouth-watering iced tea and lemonade! It rounded out the essence of lazy summertime sippin' and relaxin'.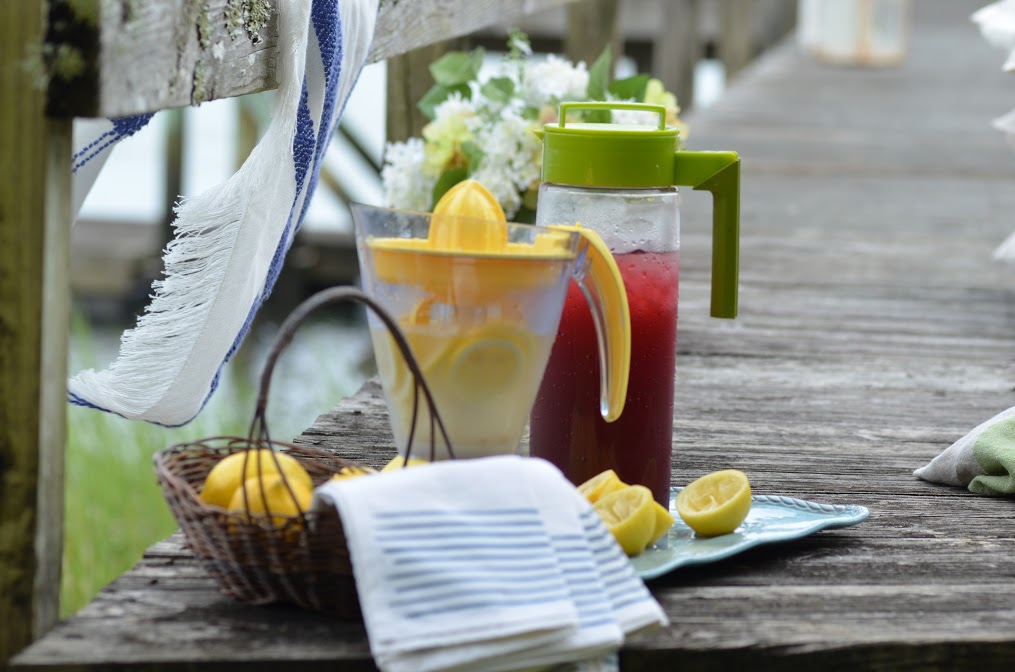 Total entertainment, long evenings of conversation and a beautiful gathering can erupt from simply making chilled tea and lemonade—throw in a few cookies, some cheese and crackers, slices of watermelon and fresh fruit, and you'll have the whole neighborhood clamoring to come. Folks from near and far will show up whether you live on a remote farm in Montana, a high rise condo deck in uptown Manhattan or somewhere in between.
To make today's lazy summertime sippin' and relaxin' easier, there's new technology to tea and lemonade making. Takeya not only lets you make better-tasting freshly brewed iced tea, but you've also got options for kinds and flavors—for my soiree I chose Hibiscus Pomegranate, and I added some fresh thyme when serving. The neat thing about Takeya's revolutionary technique is that it seals in the flavor, nutrients and antioxidants immediately as it steeps the tea or lemonade. It's what they call "flash chill!" The names of the drink mixtures just make you want to sip and relax—"Spring Blossoms." "Hibiscus & Mint Lemonade," "Papaya Kiwi + Lime" and more. These teas and lemonades fall into categories which I just love—Sinfully Social, Family Favorites and Daily Wellness.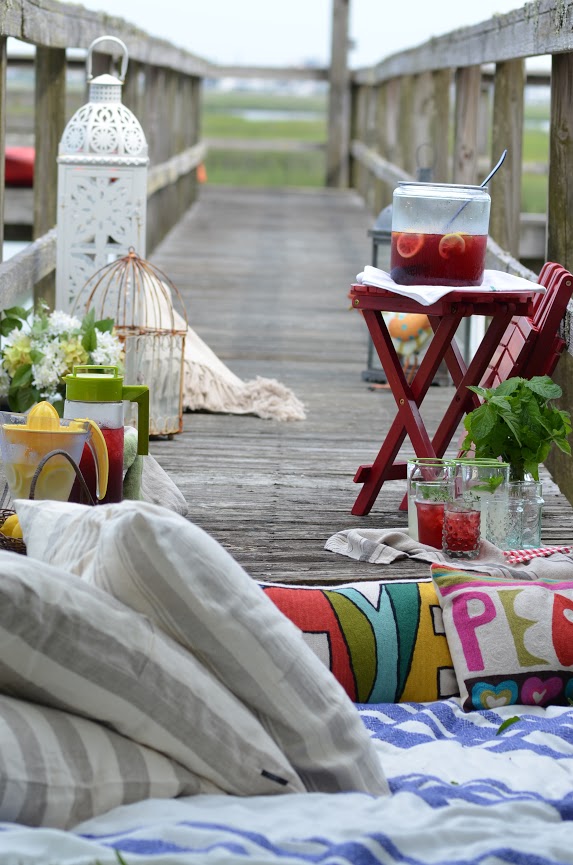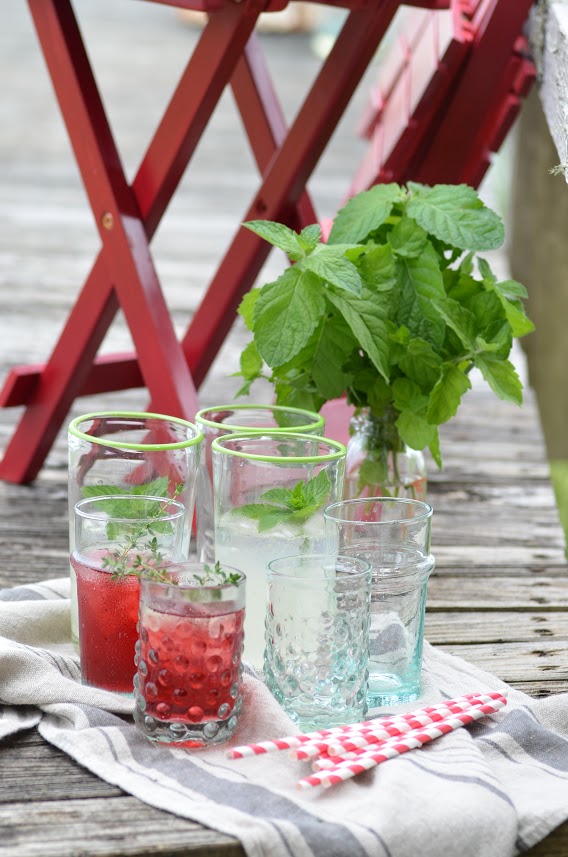 Remember when making lemonade meant twisting and squeezing lemon after lemon? Well, I found a great lemonade maker from Smart Planet : it's motorized, simple, blends the juice, water and sugar, and it does all the work. I literally squeezed 8 lemons in a matter of about 75 seconds and was done! Another thing I like is that I could serve from the same pitcher—yes, it's very attractive.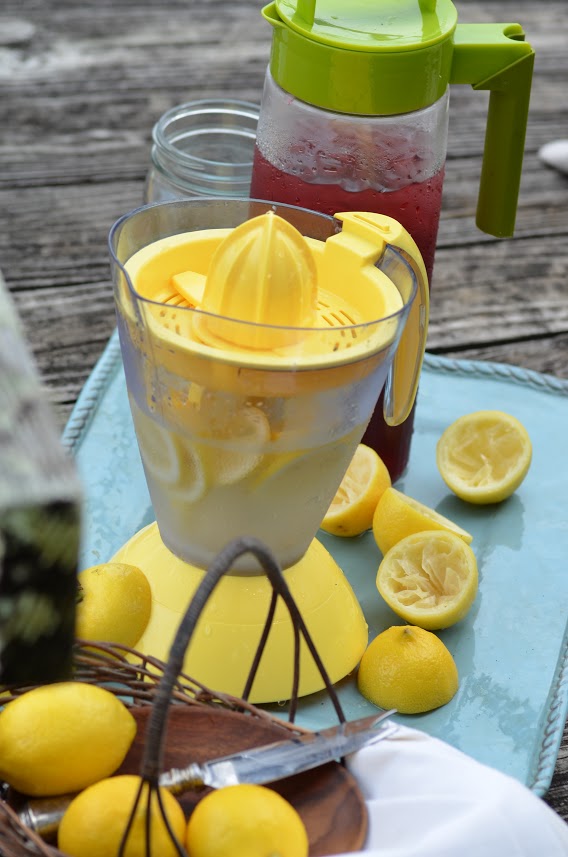 Now I love all the prettiness that comes along with this kind of summertime communal that can be planned or spur of the moment—yep, sometimes the best! Throw spreads, blankets, table covers. Pull pillows from the chairs and sofa. Serving glasses are both large and small—lemonade in the large Dansk glasses with the simple green rim and then a sprig of fresh mint. And the ruby red gorgeous tea is served in the Moroccan hand-blown Canvas glasses with fresh thyme. For a crowd and self-serving, put your tea or lemonade even in cookie jars like this one from Anchor Hocking—all I added was a vintage French blue ladle for dipping.
And, always, yes always, throw in rustic and practical napkins and tea towels. Because even sippin' tea and lemonade should be an 'adventure' and one that you can create. I love the linens from Canvas Home—they bring out the really 'special' in life that doesn't require a passport, schlepping through long security lines and flying to France! Probably the best thing about having dual purpose kitchen/dining textiles like these (yep, I use the kitchen dish towels as napkins!) is that they get better and more beautiful with age with just some simple care.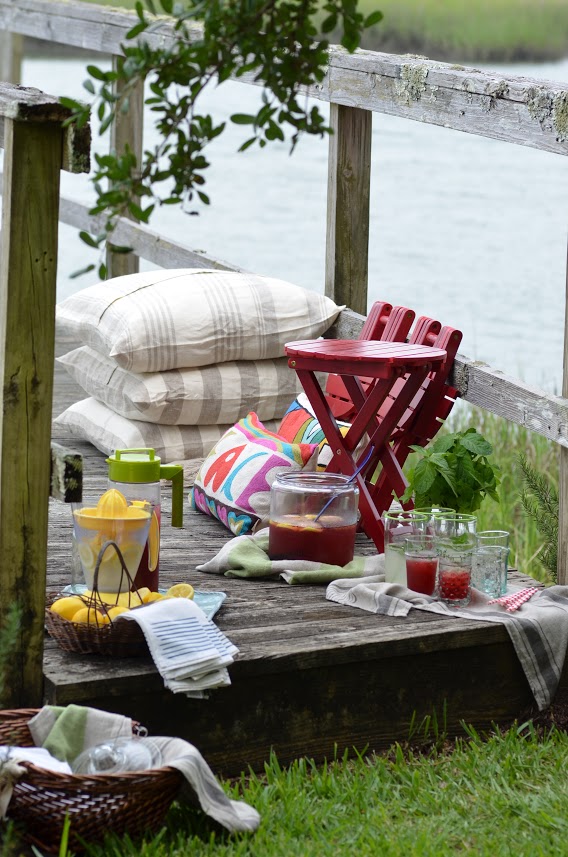 Your setting is your choice—for mine, I decided to use the long catwalk off the dock. That's the fun of being boho and hippie chic—you make the rules, and, for me, it was a catwalk! As the sun sets and night sky creeps in darkening the heavens, start lighting candles, turning on twinkle lights you may have strung, and witness the sparkling chill and slow dripping of the melting ice, sweating in the evening's summer heat, as another lazy summertime sunset winds down. There could even be a wiping of the brow with a beautiful linen napkin—go ahead and swish it like a fan making your own breeze in the Deep South's humid heat. More pouring of libations and fresh ice clinking in tall glasses. Indelible memories being etched with flavors of tea, lemonade and the sharing of your special soul and spirit and your place in this world—sweetness and simplicity says it all.