Your New Favorite Healthy Super Bowl Snack: Loaded Vegan Nachos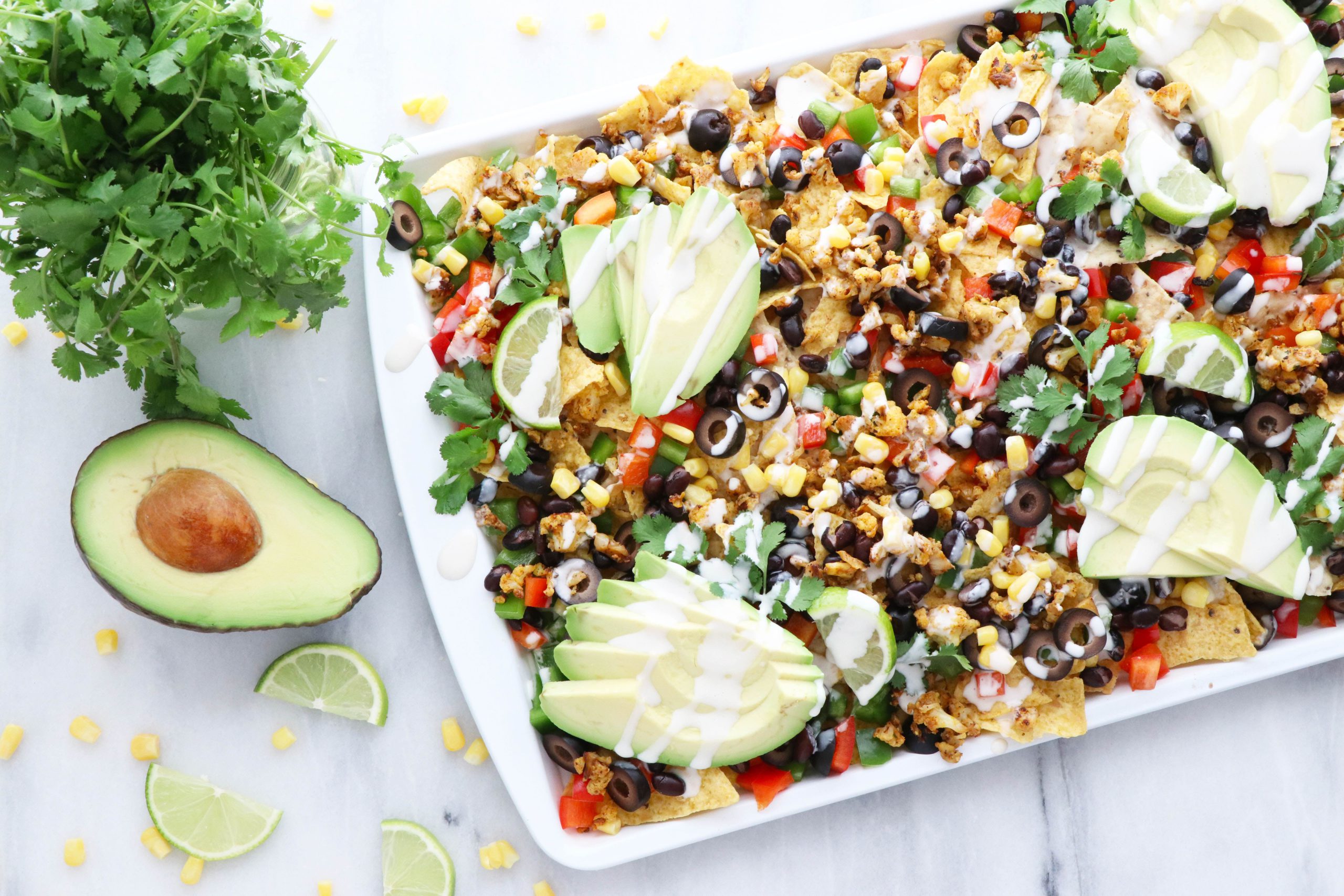 Whether you are looking forward to the Super Bowl or the Oscars… it's that time of year where entertaining events are happening on TV! That calls for gathering with friends and enjoying good food. Today I'm sharing how to make the ultimate vegan nachos that will fill you up, not out! Your guests are going to love these too – so you may want to make a double batch!
Star Ingredient… Cauliflower Taco "Meat!"
One of the key ingredients of these nachos is the Cauliflower Taco "Meat." Cauliflower saw a huge rise in popularity in 2017, and I believe it will continue to be a go-to in 2018 for healthy eating! Cauliflower adds hearty texture, filling fiber and easily takes on the flavors of seasonings or foods it is cooked with, such as taco seasoning.
Nutritionally, cauliflower is a powerhouse cruciferous vegetable. Consistent cauliflower intake alongside a healthy lifestyle and diet has been associated with helping to fight inflammation, reducing cancer risk, aid in weight loss, improve digestion and bowel regularity, support eye health and support hormone health. Cauliflower contains high levels of vitamins and minerals such as the immune boosting vitamin C!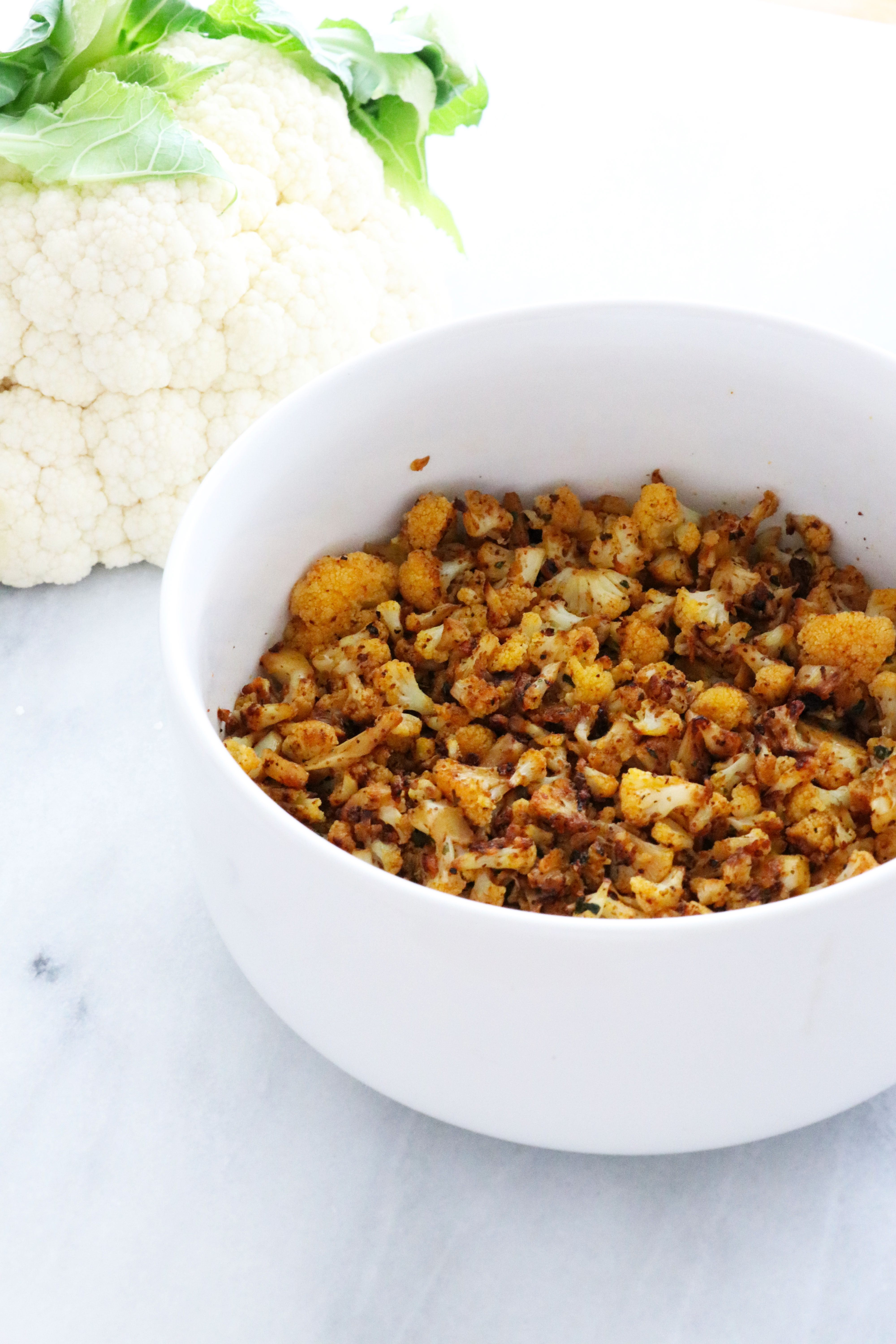 Dairy-Free Coconut Lime Sauce
If you follow a dairy-free diet, the coconut lime sauce is a great way to add a creamy texture to your nachos without any cheese! Coconuts are rich in medium chain triglycerides "MCTS," which are known to digest slowly and be a source of energy for the body. Coconuts also have antibacterial and antiviral properties.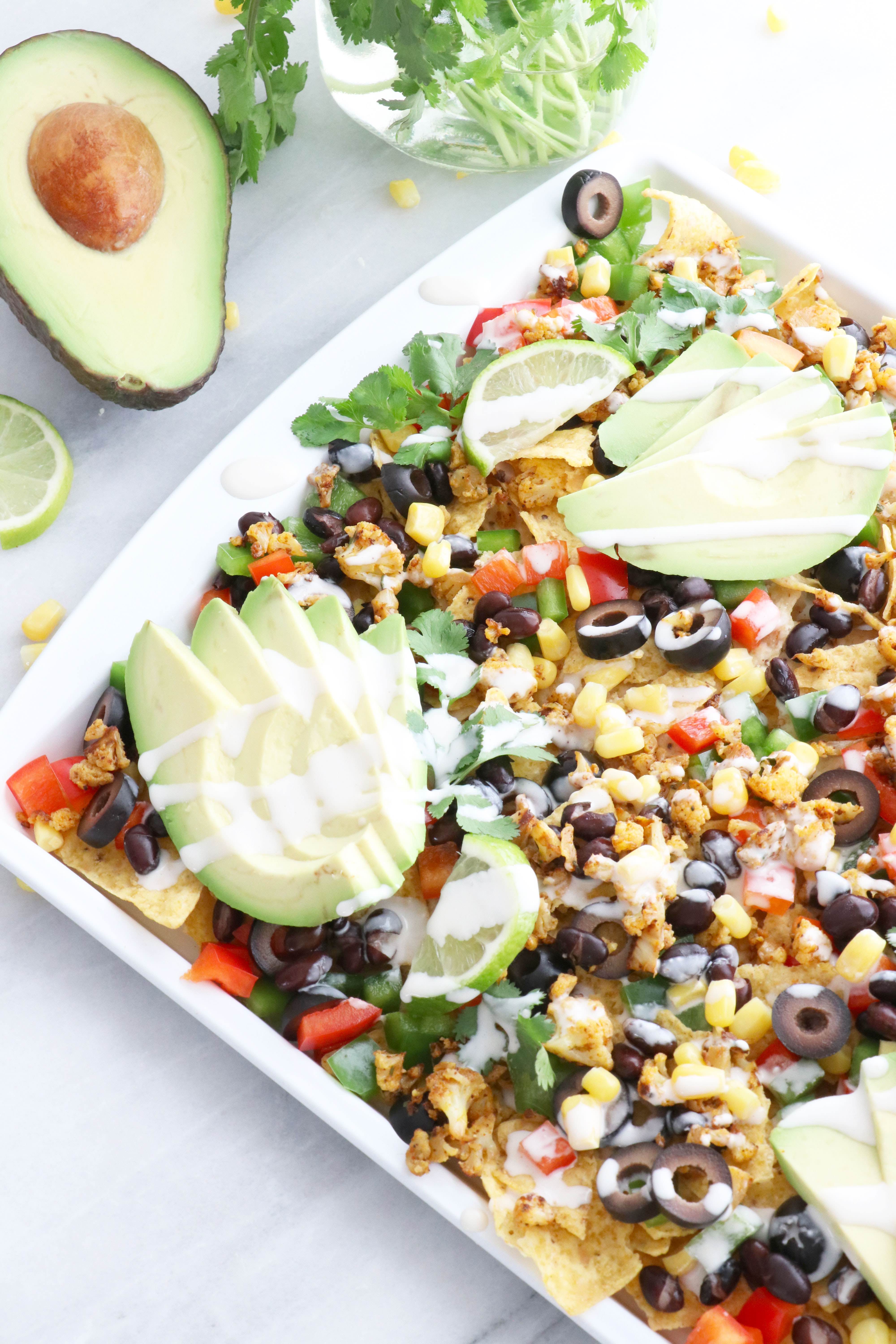 Loaded Vegan Nachos with Coconut Lime Sauce
The ultimate vegan nachos that will fill you up, not out!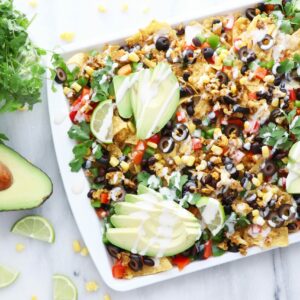 Ingredients
.5

head cauliflower

2

tbsp

cooking oil

1

tbsp

chili powder

.5

tbsp

cumin

.5

tbsp

paprika

.5

tsp

sea salt

1

red bell pepper

1

green bell pepper

.25

cups

coconut cream

1

lime

Favorite Tortilla Chips

.5

can black beans

.5

cups

sliced olives

1

avocado

3

tbsp

fresh cilantro
Instructions
Rinse the cauliflower and remove stems, break apart/diced the florets into pea sized pieces.

Heat cooking oil in a large saute pan over low; add cauliflower, chili powder, cumin, paprika and salt. Cook with the lid on for 15 – 20 minutes, stirring occasionally.

Wash the bell peppers and remove the core/stem and seeds. Dice into small pieces.

Whisk coconut cream and juice from ½ of the lime together in a small bowl and set aside. NOTE: You can often buy "coconut cream" from the grocery store. You can also buy a can of regular coconut milk and leave it in the fridge overnight. When you open it the top will be thick (almost solid) that is the coconut cream, simply scoop it out.

Lay tortilla chips on a baking sheet and top with beans, corn, olives, bell pepper and sauteed cauliflower. Roast in a preheated oven at 350 degrees Fahrenheit for 10 – 15 minutes, watch the chips and remove when they start to brown.

Top with fresh cilantro, avocado, lime slices and coconut cream sauce. Enjoy!
Nutrition
Serving:
1
g
Calories:
585
kcal
Carbohydrates:
65.5
g
Protein:
19.2
g
Fat:
31.6
g
Saturated Fat:
9.1
g
Sodium:
565
mg
Fiber:
20.5
g
Sugar:
7.9
g