Lightened Up Fish & Chips: A Healthier Weeknight Staple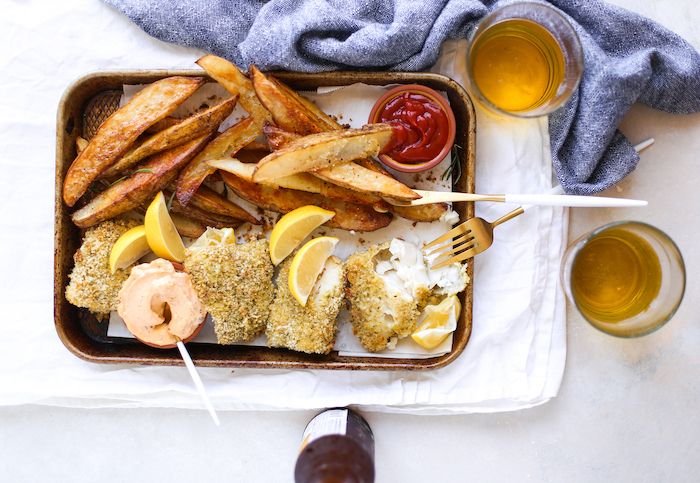 This summer I went to Milford, Pennsylvania for a family vacation. Milford is an extremely small mountain town that captured my heart many years ago… for many reasons. My family makes their annual 'pilgrimage' to Milford each year to stay in my family's long running 'Storybook' cabin. My great-grandparents, grandparents AND my dad were all born in this area of the East Coast.
So why has this little town stole my heart?! Well, whenever I am there I feel an overwhelming sense of family heritage (corny, I know). I also spent my college summers in Milford working as a camp counselor, and met my longtime boyfriend, Jared, at the same camp.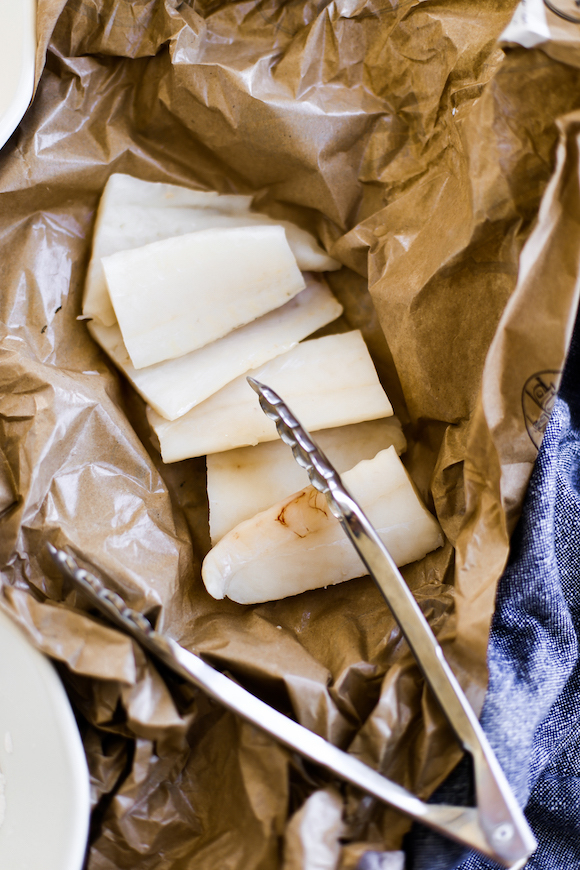 We had a very cheesy, summer romance just like the movies. All odds aside, we have somehow made it to almost 5 years of being together. We even have a golden retriever named Rascal, so you know it's pretty serious.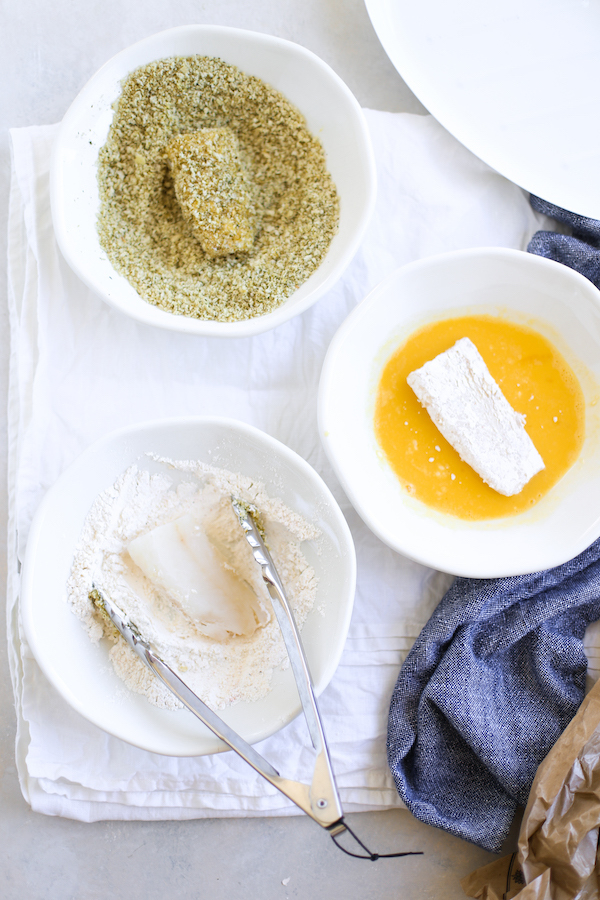 You're probably asking how fish and chips ties into all of this and I promise I'm going to tell you! This summer when I went back to Milford with my family we went out to dinner at a place called 'The Dimmick Inn'. The Dimmick is one of the few good restaurants in this small little town and it also happens to be where Jared and I snuck away from camp for our first 'date'.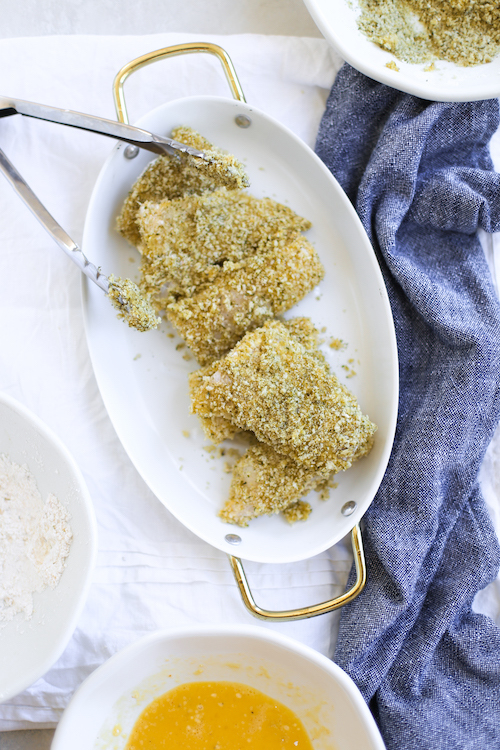 We were sunburned, wearing camp sweatshirts, and so interested in each other. We both ordered fish and chips and sat on the Dimmick's dining porch for hours. Till this day I can never order fish and chips and NOT think of this evening!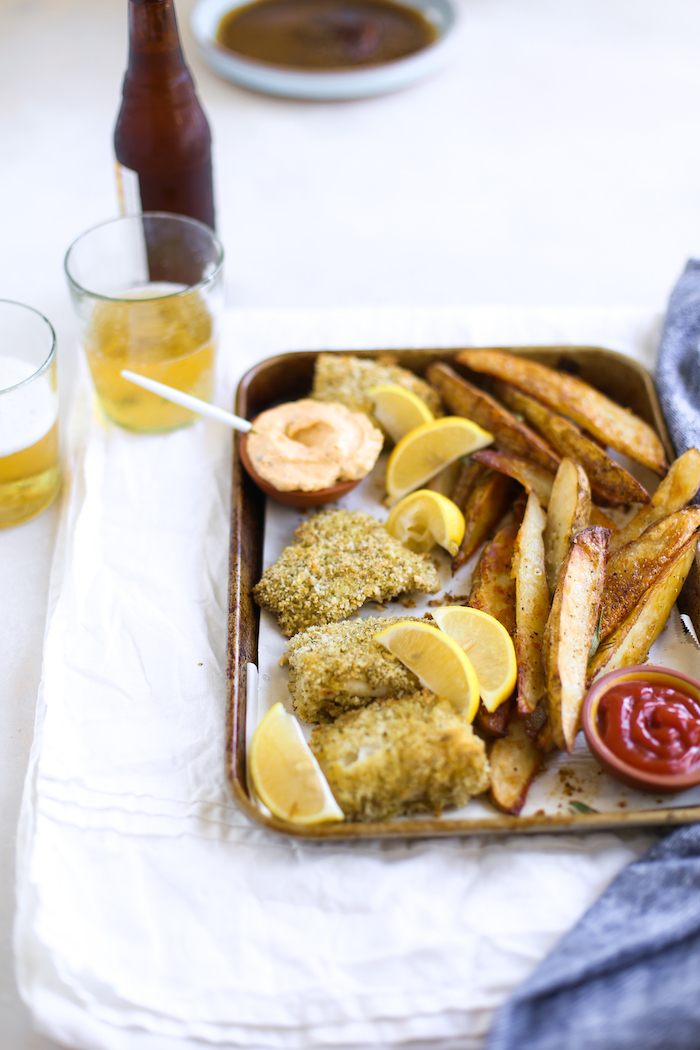 Needless to say I was feeling quite nostalgic when I came back from my trip this summer and decided I needed to recreate this memorable dish. Truth to be told, I don't eat fried food like fish and chips on the regular so I knew I was going to have to give this classic a bit of a healthier weeknight makeover.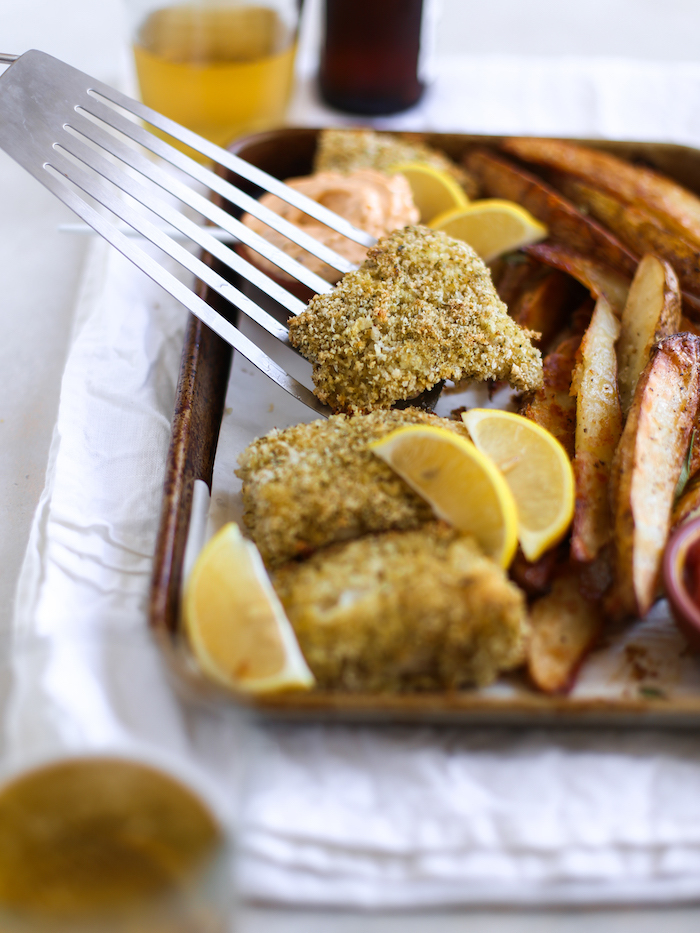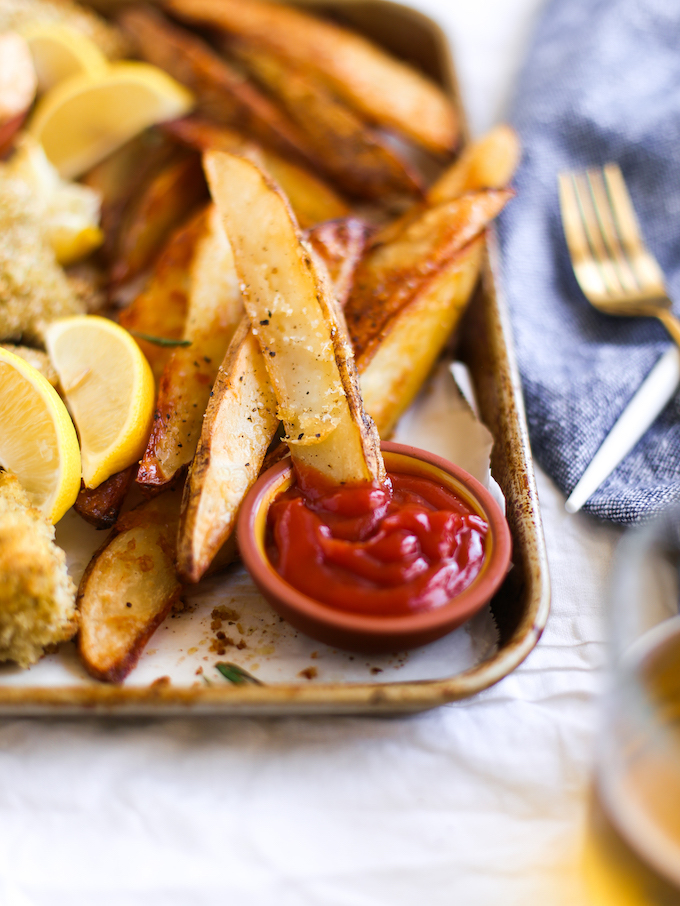 Instead of frying any of the dish, I baked the fish and the chips! The base of the dish is fresh cod fillets dipped in a flavorful panko breadcrumb batter. Served on the side are herb and olive oil roasted chips! Both of these items can be baked right off into the oven just be sure to start your 'chips' earlier than the fish so they finish baking at the same time! I serve this up with my favorite tartar sauce and plenty of ketchup! Grab this easy and healthier fish and chips recipe below!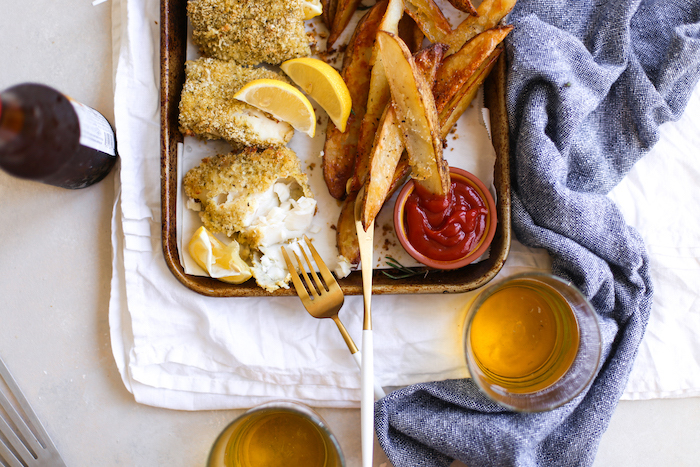 Lightened Up Fish & Chips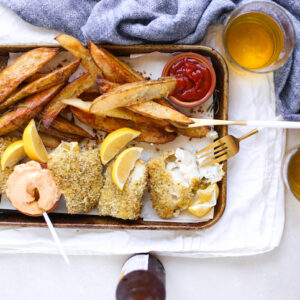 INGREDIENTS
For the Fish:
1 – 1.5 lbs of cod
1 cup of all-purpose flour
¼ teaspoon of pepper
½ teaspoon of salt
¼ teaspoon of cayenne pepper
3 eggs
1 tablespoon of milk
1 ½ cups of Italian seasoned panko breadcrumbs
For the Chips:

2 lbs. of russet potatoes, washed and cut into wedges
3-4 tablespoons of olive oil
1 teaspoon of minced rosemary
1 teaspoon of fresh thyme sprigs
1 tablespoon of minced garlic
3 teaspoons of kosher salt
½ teaspoon of freshly ground black pepper
Tartar sauce, ketchup + lemon wedges for serving
INSTRUCTIONS
Preheat oven to 425 degrees and line a large baking sheet with parchment paper, set aside.
Toss potato wedges with olive oil, rosemary, thyme, garlic, salt and pepper until well-coated. Distribute potato wedges evenly onto baking sheet and bake for 25 mins.
While potatoes are beginning to roast, begin to bread your fish. In three separate bowls, combine your flour, pepper, salt and cayenne pepper in one bowl and set aside. In second bowl, whisk together eggs and milk and set aside. In the third bowl, pour in your flavored breadcrumbs. Trim cod fillets into smaller handheld sizes if fish piece is large.
Dredge each piece of cod into a light coat of flour, then into a dip of egg mixture, finishing off with an even coat of breadcrumbs. Set each piece aside on a separate plate until all fish is dredged.
After potato wedges have baked for 25 mins, move all potatoes to one side of the baking sheet and place dredged fish fillets evenly onto the empty side. Bake for 10-12 minutes or until the cod flakes easily with a fork.
Serve with tartar sauce, ketchup and plenty of lemon wedges.