10 Home Bar Essentials You Need This Summer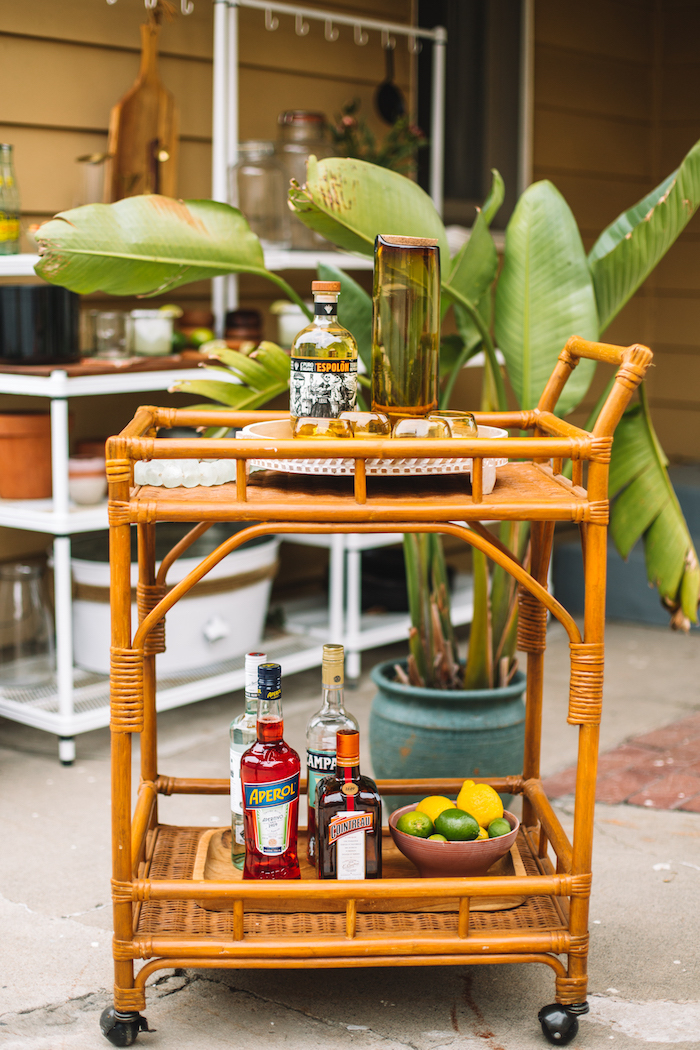 This time of year we are heading outside to the patio for an at-home happy hour at least a few times a week…a little more with all the extra time at home we've been spending!
This season I wanted to make sure our bar cart was stocked with all of our summer favorites for the perfect home bar. With these easy essentials, we're able to make all of our favorite bar classics right in the backyard. Drinks like Aperol Spritz and fresh margaritas are on repeat while the temps reach triple digits. Plus, no tips and all the bar snacks we want, I am SO here for it.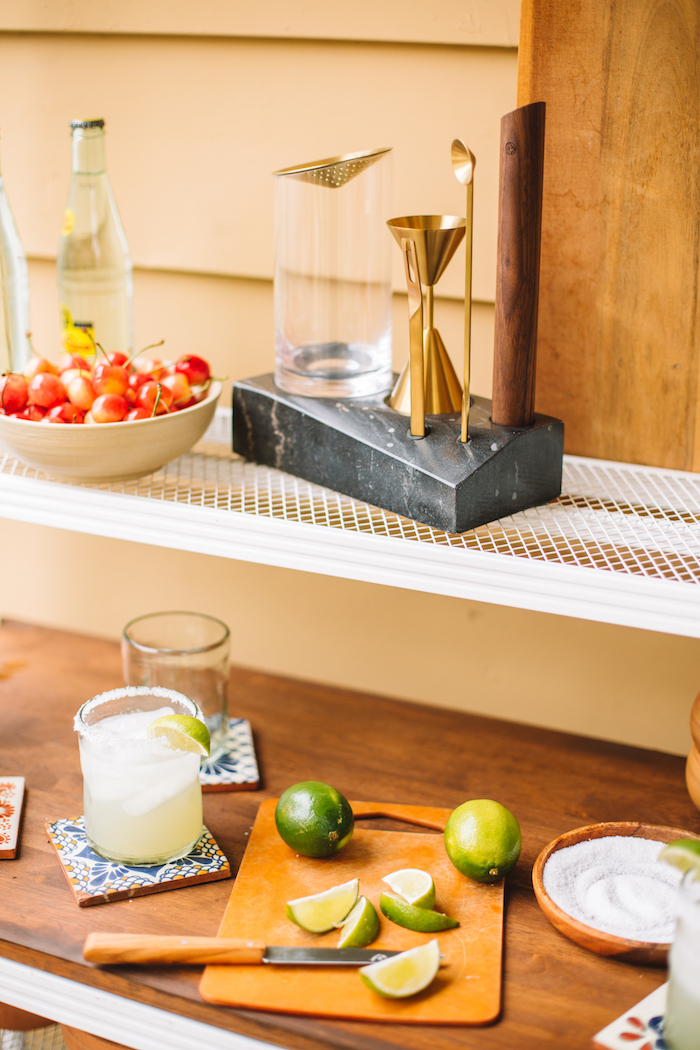 Use this list below as an easy checklist to reference while you're building out your summer home bar essentials.
Bar Tools
Simple Tool Set – Must have tool essentials include a shaker/strainer, jigger, zester, muddler, and some kind of long bar spoon for stirring. This Rabbit Bar Tool Set not only has it all but is so extremely chic.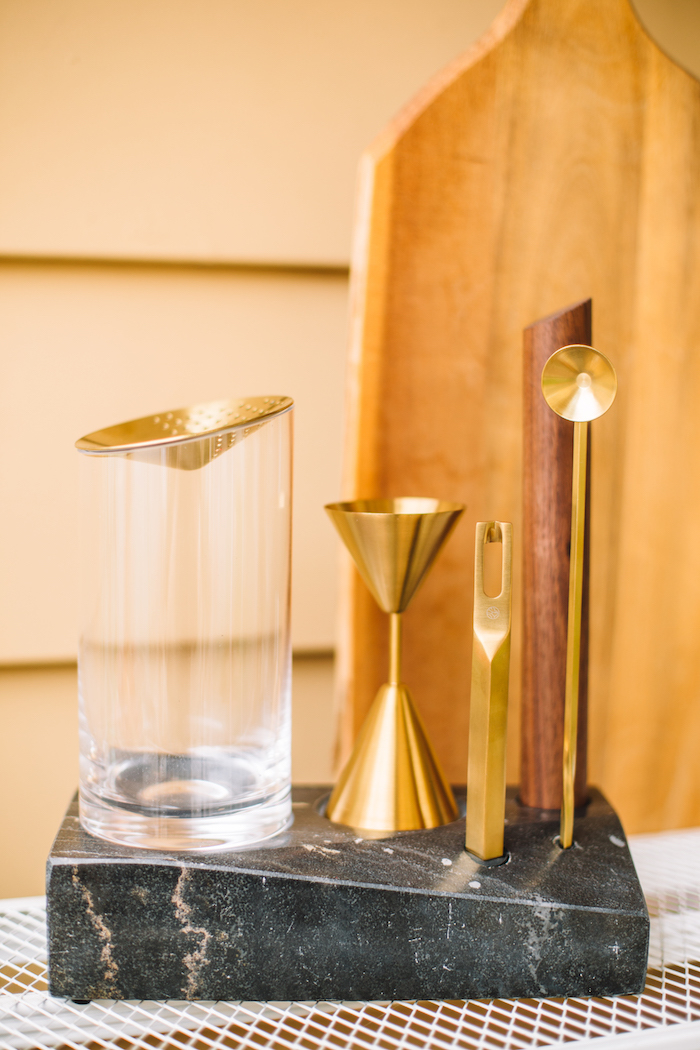 Ice Bucket – During these hot summer months, I always keep a sturdy, well-sealing ice bucket filled with ice. I love double walled ice bucket. It doesn't leave any condensation on the sides and it's big enough to fit a bottle of your favorite wine or champagne.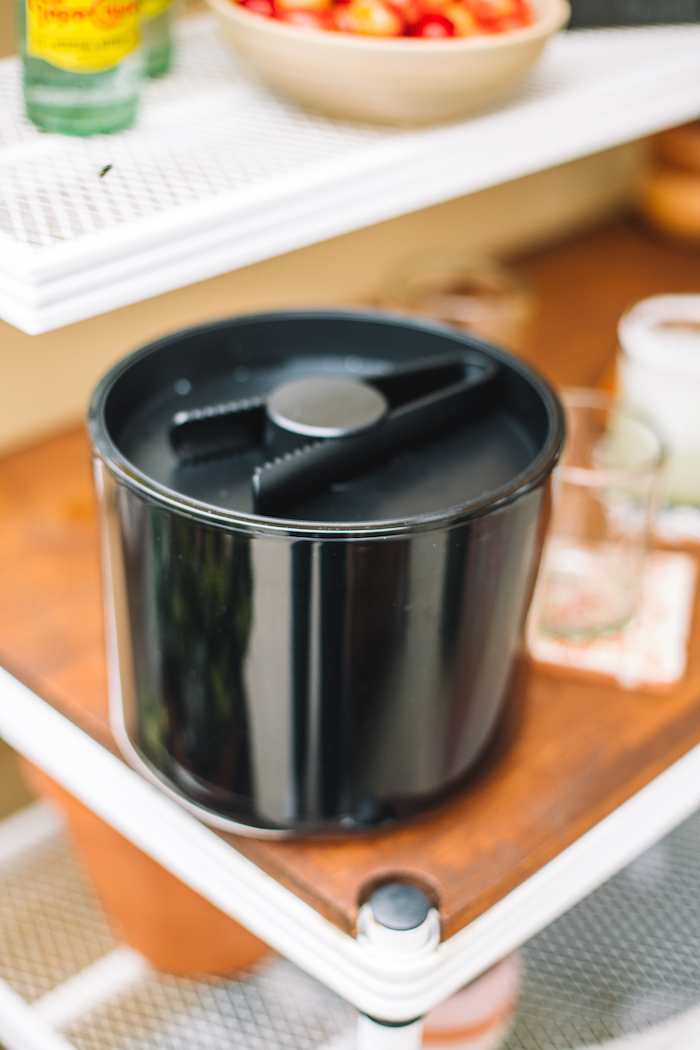 Knife and cutting board – A cutting board and good knife are a must for cracking open fresh citrus and muddling fresh fruit for drinks. Smaller is better for your bar.
Eco Cutting Boards

By Epicurean

Shop Now
Liquor Essentials
Aperol/Campari – It's arguable that the Aperol spritz is the drink of the season. It's light, fresh and herbal flavors are perfect for hot summer days. The Italians stemmed this classic aperitif made with Aperol, prosecco and topped with a bit of sparkling water and a large orange wedge.
Tequila – My drink of choice on a hot summer day is an ice cold margarita. Margaritas are refreshing and bursting with fresh flavor. Tequila is also the base for many other great seasonal favorites like sparkling palomas or a tequila sunrise.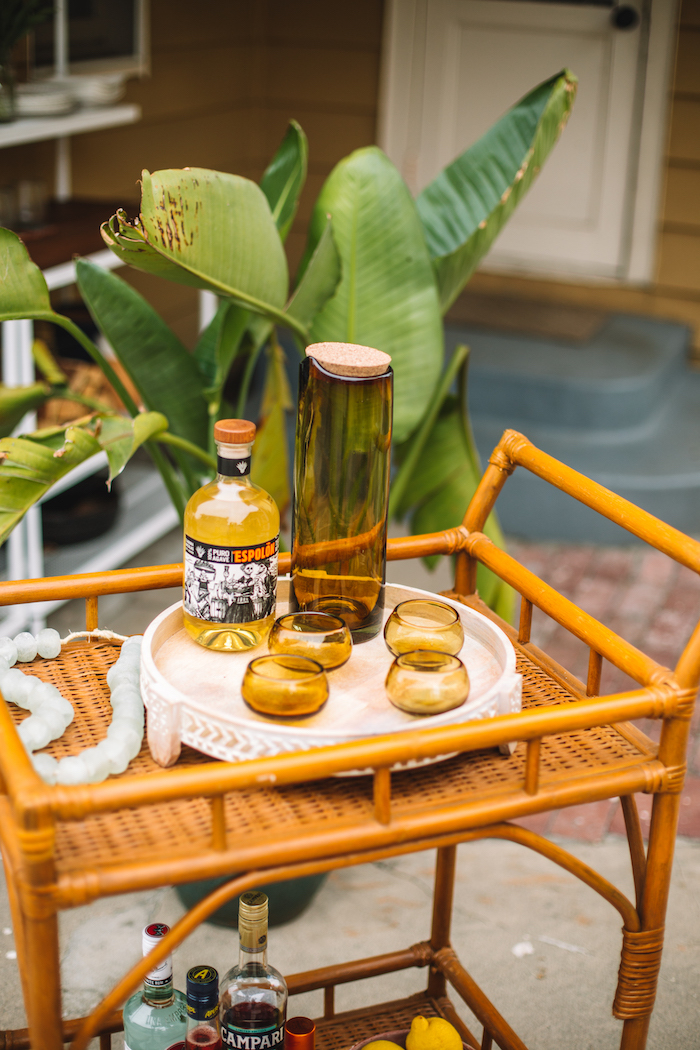 Cointreau – Cointreau is my favorite secret ingredient in summer drinks. It's a bright, orange liquor that gives an herbal freshness to any cocktail.
Light, crisp wines- I go through countless bottles of rose and crisp white wines during summer. This time of year I always pick up a bottle or two on a grocery run so I have plenty for my home stock.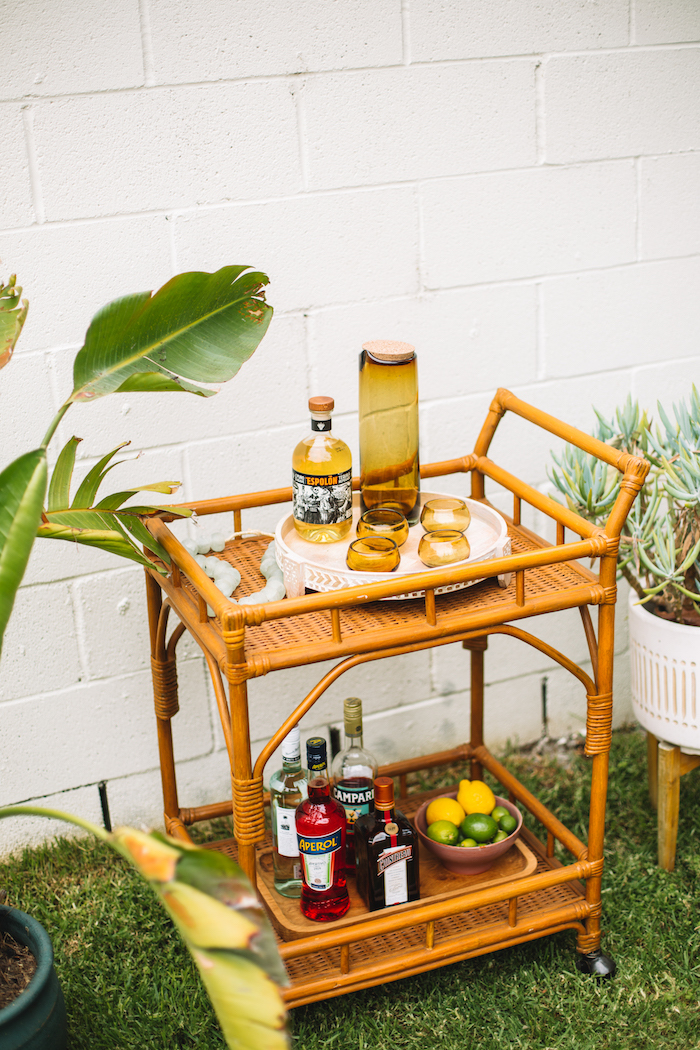 Takara Serving Tray

By Design Ideas

Shop Now
Sparkling Water- Perfect for serving alongside cocktails to stay hydrated or topping off cocktails for a bubbly, lighter taste.
Summer Must-Haves
Tequila/Mezcal Infuser Set – If you love flavored tequila and spirits this infuser set is a must. This time of year summer produce is bountiful and perfect for flavoring your spirits. Use jalapeños, herbs, citrus, and more to enhance your fav spirit. This also makes for the nicest host/hostess gift set.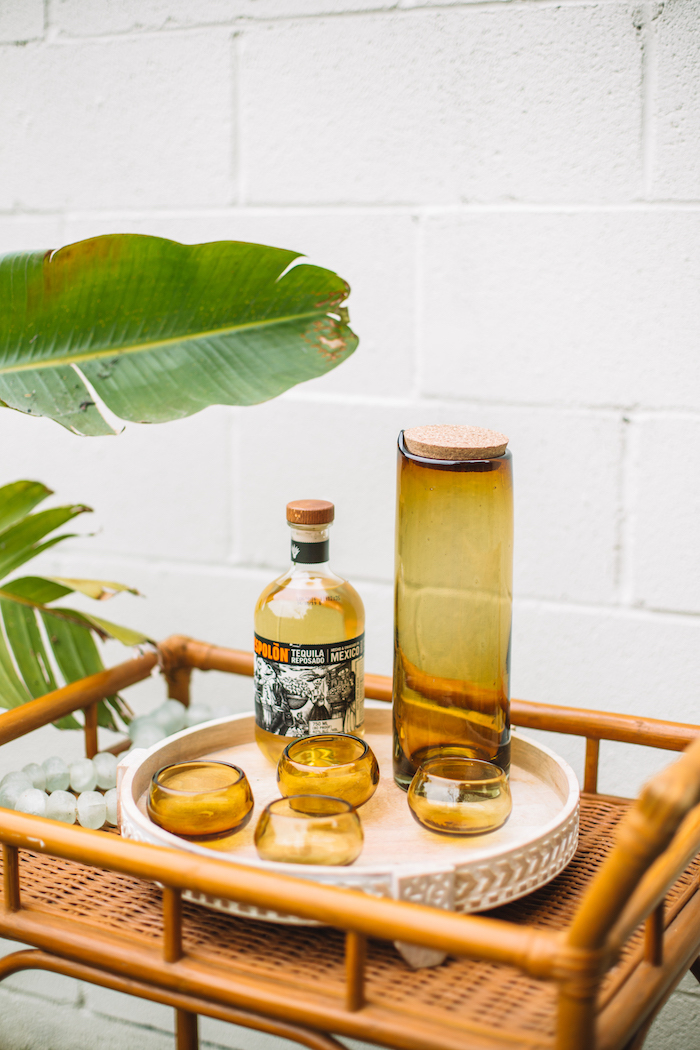 Mezcal & Tequila Infusion & Tasting Set

By Verve Culture

Shop Now
Glassware – If you're using real glassware outside I love to use something stemless that is a bit heartier/thicker like these glasses. Or resort to a melamine or plastic glassware alternative.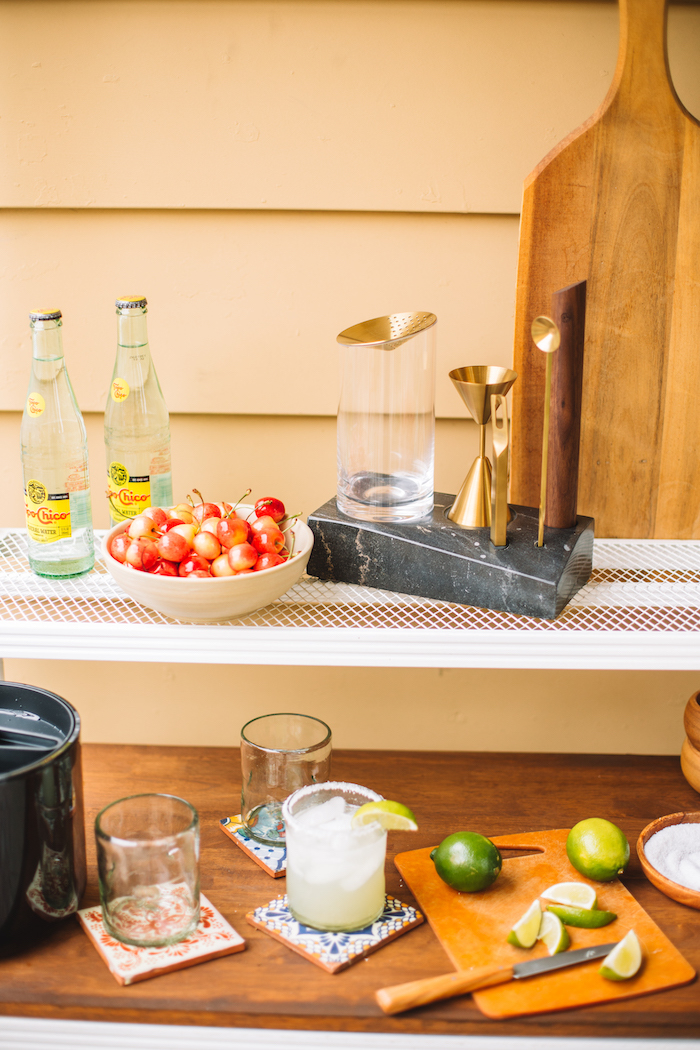 Convention Juice/Whiskey Glass, Set of 6

By Schott Zwiesel

Shop Now