How to Throw a No-Fuss Friendsgiving with Entertaining With Beth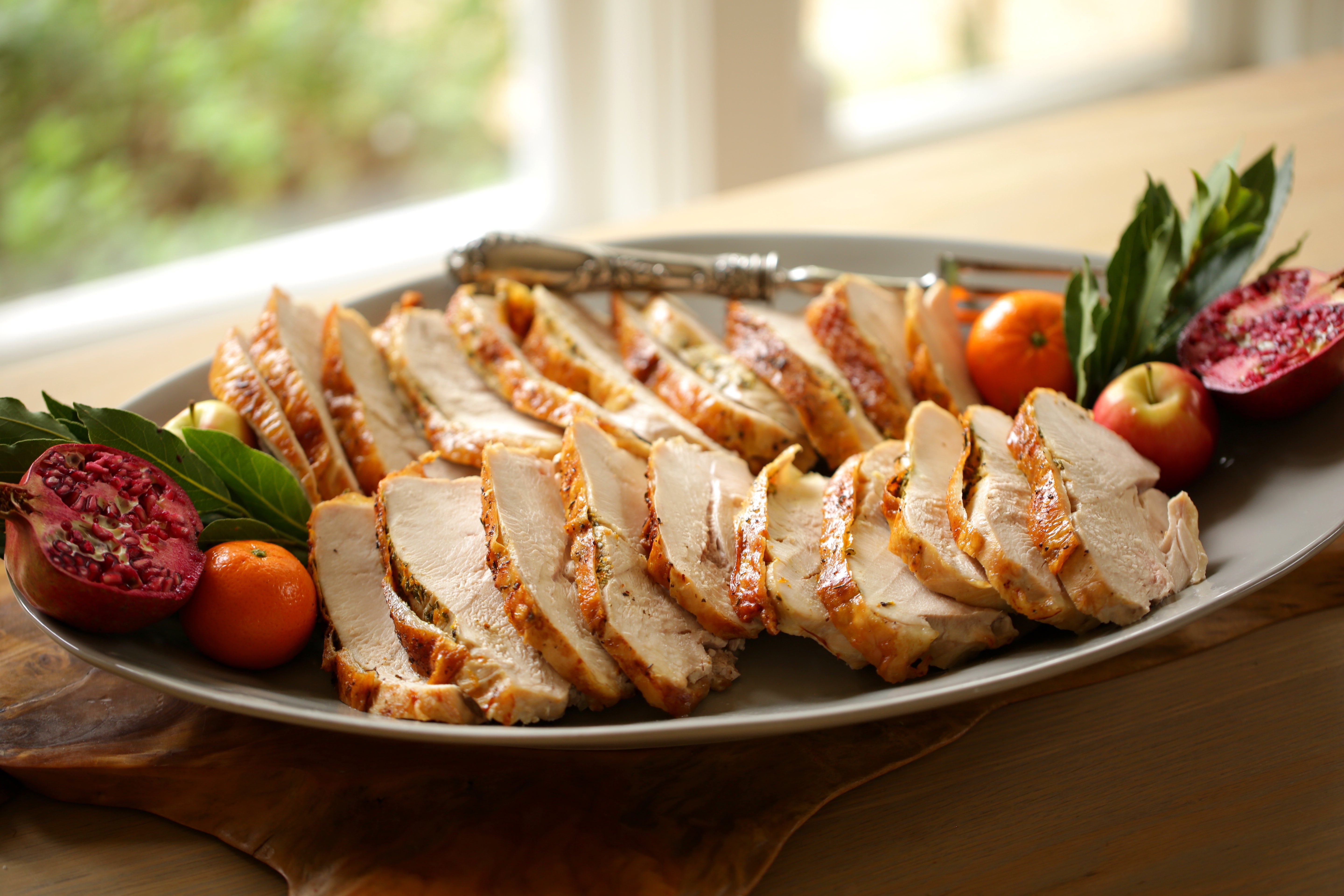 From the turkey all the way down to dessert, Beth Le Manach from Entertaining With Beth has the perfect menu for a No-Fuss Friendsgiving that everyone will enjoy.
Beth's Slow Roasted Citrus Thyme Turkey with Easy Pan Gravy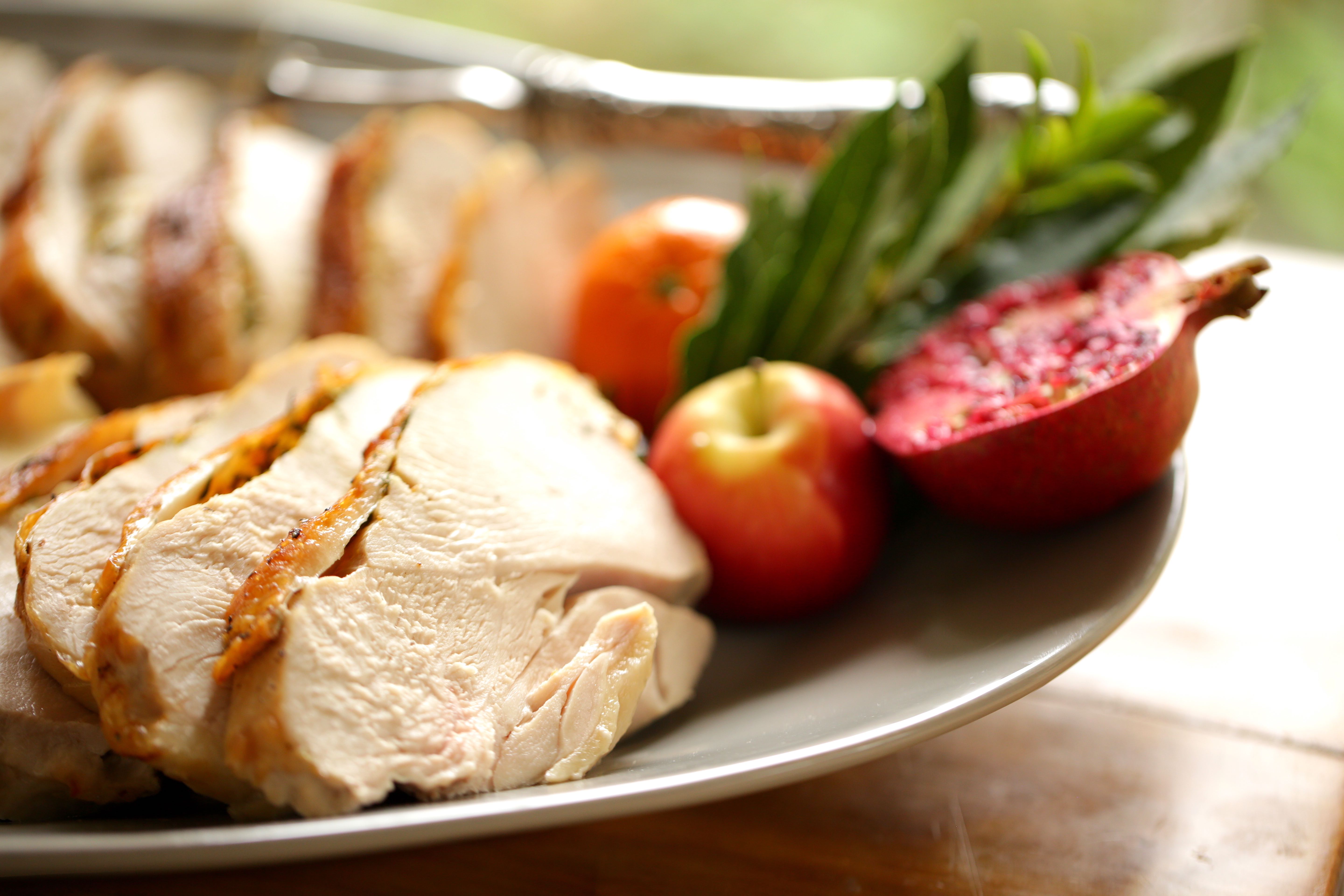 Slow Roasted Citrus Thyme Turkey with Easy Pan Gravy
Perfect for thanksgiving and friendsgiving!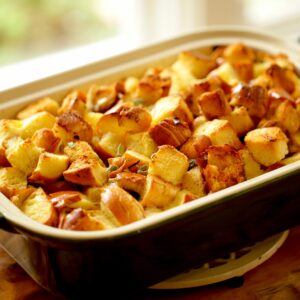 Ingredients
9

lb

Boneless Turkey Breasts, skin on

4

tbsp

butter, melted

2

Navel Oranges (2 tsp zest and sliced into wheels)

4

tbsp

fresh thyme, minced

1

tsp

salt

Freshly cracked pepper to taste

For the pan gravy:

3

cups

chicken broth

1

cups

dry white wine (Chardonnay, Sauvignon Blanc etc.)

1

tsp

Dijon mustard

.25

tsp

Worcestershire sauce

2

bay leaves, fresh or dried
Instructions
Preheat oven to 325F (162C).

In a large roasting pan, prepare the gravy. Add the broth, wine, Dijon mustard and the Worcestershire sauce.

Whisk to combine. Add bay leaves. Set pan aside.

In a small bowl combine melted butter, 2 tsp orange zest, minced thyme, leaves removed with an herb stripper, salt and pepper. Stir to combine and allow to cool slightly.

Loosen the skin under the turkey breast with a spoon or your fingers, keeping the "pocket intact". Spoon 2 tbsp of the butter mixture under the skin of each breast. Brush the skin with the extra butter and place on a roasting rack in a roasting pan.

Slice navel oranges into ¼ inch wheels and place under the bottom of each breast on the roasting rack.

This will allow the meat to be infused with the citrus as it roasts.

Roast turkey for 1 hour and 40 minutes, basting with a spoon or silicone brush, until the skin is golden brown and the internal temperature of the meat registers at 163F via a digital meat thermometer. Remove it from the oven to rest and as it rests it will come up to 165F, the perfect temperature for a moist turkey.

Remove breasts from pan with turkey forks to a carving board and pour gravy through a fine mesh sieve or cheesecloth into a pitcher, transfer to a gravy boat.

Slice breasts on the diagonal, place on a platter, garnish with fresh thyme and small mandarin oranges if you wish, and serve with the pan gravy.
Nutrition
Serving:
1
g
Calories:
1935
kcal
Carbohydrates:
7.8
g
Protein:
434.5
g
Fat:
15.5
g
Saturated Fat:
3.9
g
Cholesterol:
15
mg
Sodium:
629
mg
Fiber:
1.7
g
Sugar:
4.9
g
Potatoes Dauphinoise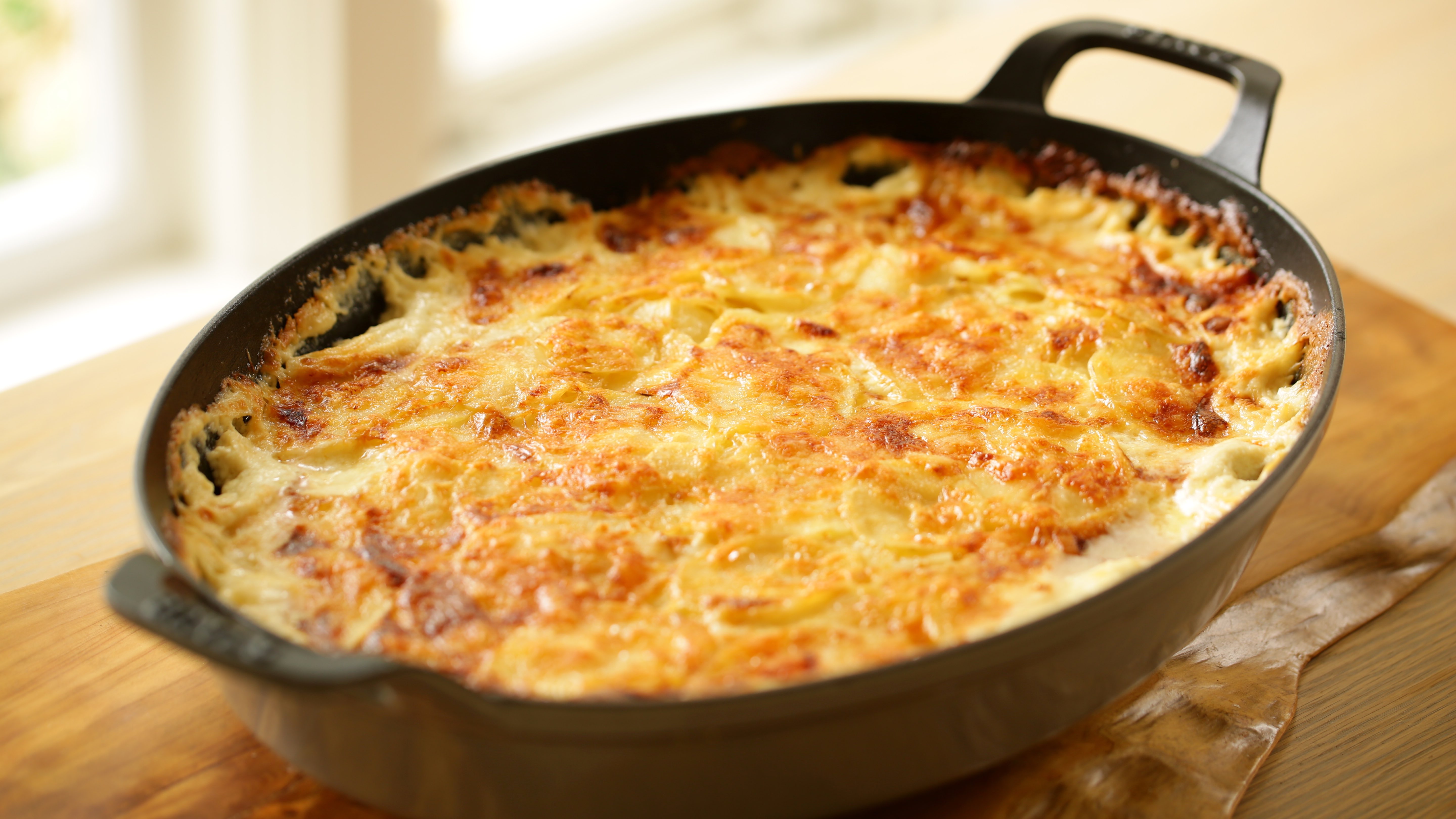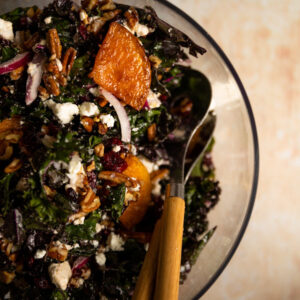 INGREDIENTS
4 large russet potatoes
1 ½ cup heavy cream
1 ½ cup milk
2 tsp salt
4 garlic cloves, minced
freshly cracked pepper to taste
1 ¾ cup grated Gruyere cheese
INSTRUCTIONS
Preheat 325F.
Combine the milk and heavy cream in a large Pyrex pitcher. Add salt and pepper, stir and set aside.
Grease a 14" gratin pan and set aside. Mince garlic with a garlic press and place in a small bowl. Grate Cheese and place in a small bowl
Peel potatoes and slice 1/16 of an inch thick (either with a mandoline or a with a knife). Place one single layer of potatoes in the gratin pan, add ¼ cup of the cheese and sprinkle 1/8 tsp of the garlic, repeat this process, layering potatoes, cheese and garlic until all 4 potatoes have been used.
Slowly pour the cream and milk mixture on top of the layered potatoes making sure it is well distributed in all the nooks and crannies.
Top potatoes with remaining ½ cup of cheese.
Bake uncovered for 1 hour 30 mins until a knife slides easily into potatoes and they are soft and tender. If cheese starts to brown too quickly cover with foil for the remaining duration of cooking time.
Allow to cool completely before refrigerating. Cover with foil and place in fridge.
To rewarm, heat covered for 30 mins in a 375 oven, remove foil and heat for another 10-15 mins more.
Wild Mushroom Bread Pudding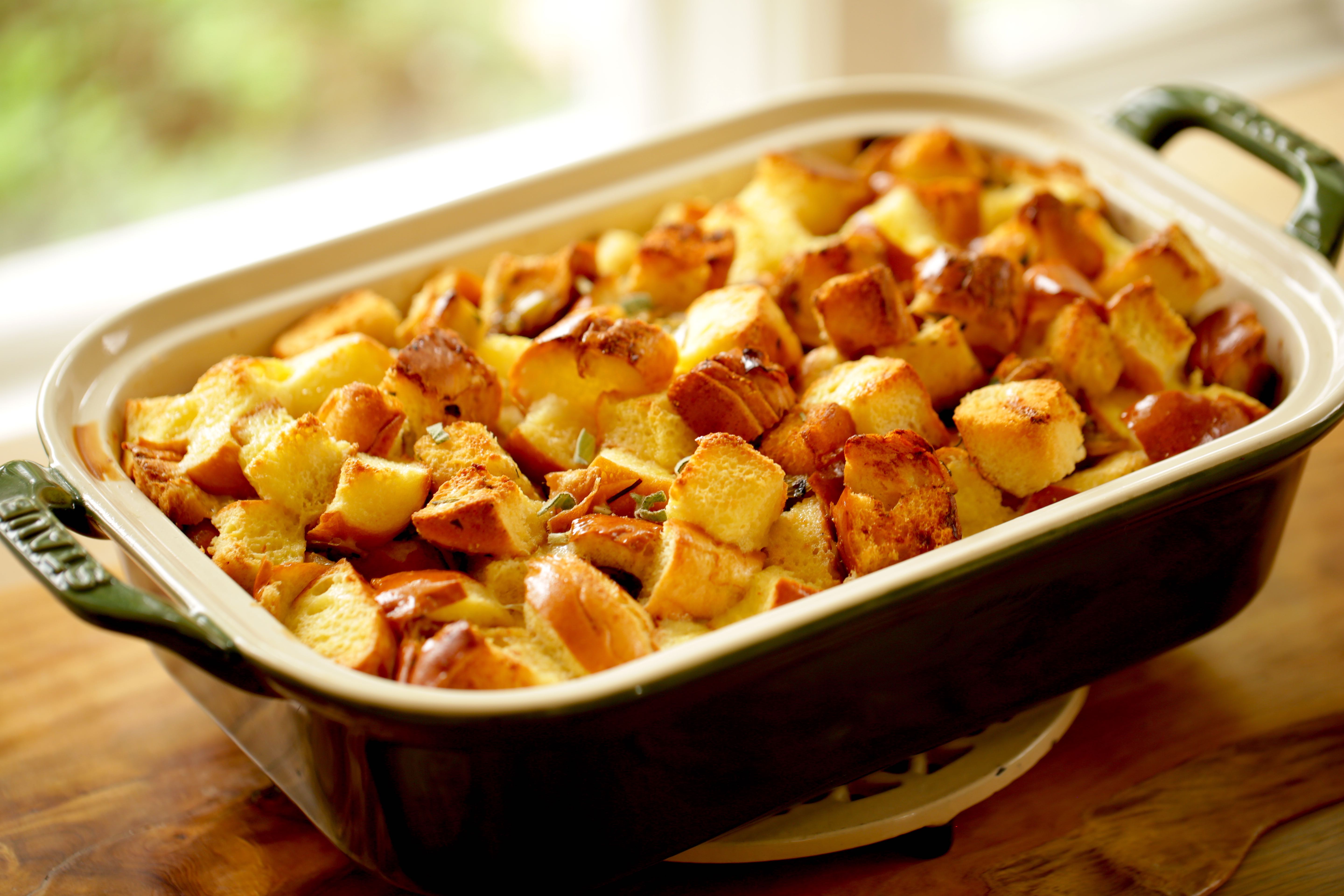 Wild Mushroom Bread Pudding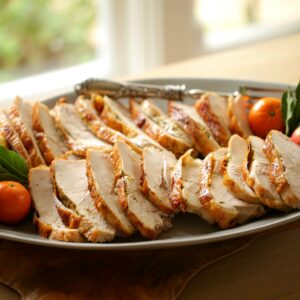 INGREDIENTS
12 cups of brioche, cubed
12 eggs
1 ½ cups milk
½ cup heavy cream
1 tsp salt, separated
1 tbsp olive oil
2 leeks, sliced
4 cups wild mushrooms (cremini, portabella, shitake), sliced
1 cup dry white wine
1 tbsp rosemary, minced
1 tbsp, sage, roughly chopped
1 tbsp, parsley, roughly chopped
INSTRUCTIONS
Preheat oven to 350F.
Heat olive oil in a large skillet, once hot, add leeks and sauté until tender, add mushrooms and cook until they release their juices, add ½ tsp salt, add wine and cook until reduced and most of the wine has evaporated. Add herbs and stir to combine and set aside to allow to cool.
Place brioche on baking sheet and toast for 15 minutes. Set aside and allow to cool.
In a large bowl, whisk together eggs, add milk, cream and remaining ½ tsp of salt.
Add mushroom mixture to egg mixture. Stir to combine, add brioche, stir to combine.
Transfer to a large heat-safe casserole dish.
Bake covered for 30 mins and then uncovered for 20 minutes. Remove from oven and slice into squares if serving right away, or allow to cool completely and cover and refrigerate.
To reheat, bake at 375F for 30 minutes covered and then 10 minutes uncovered.
Roasted Harvest Salad with Blue Cheese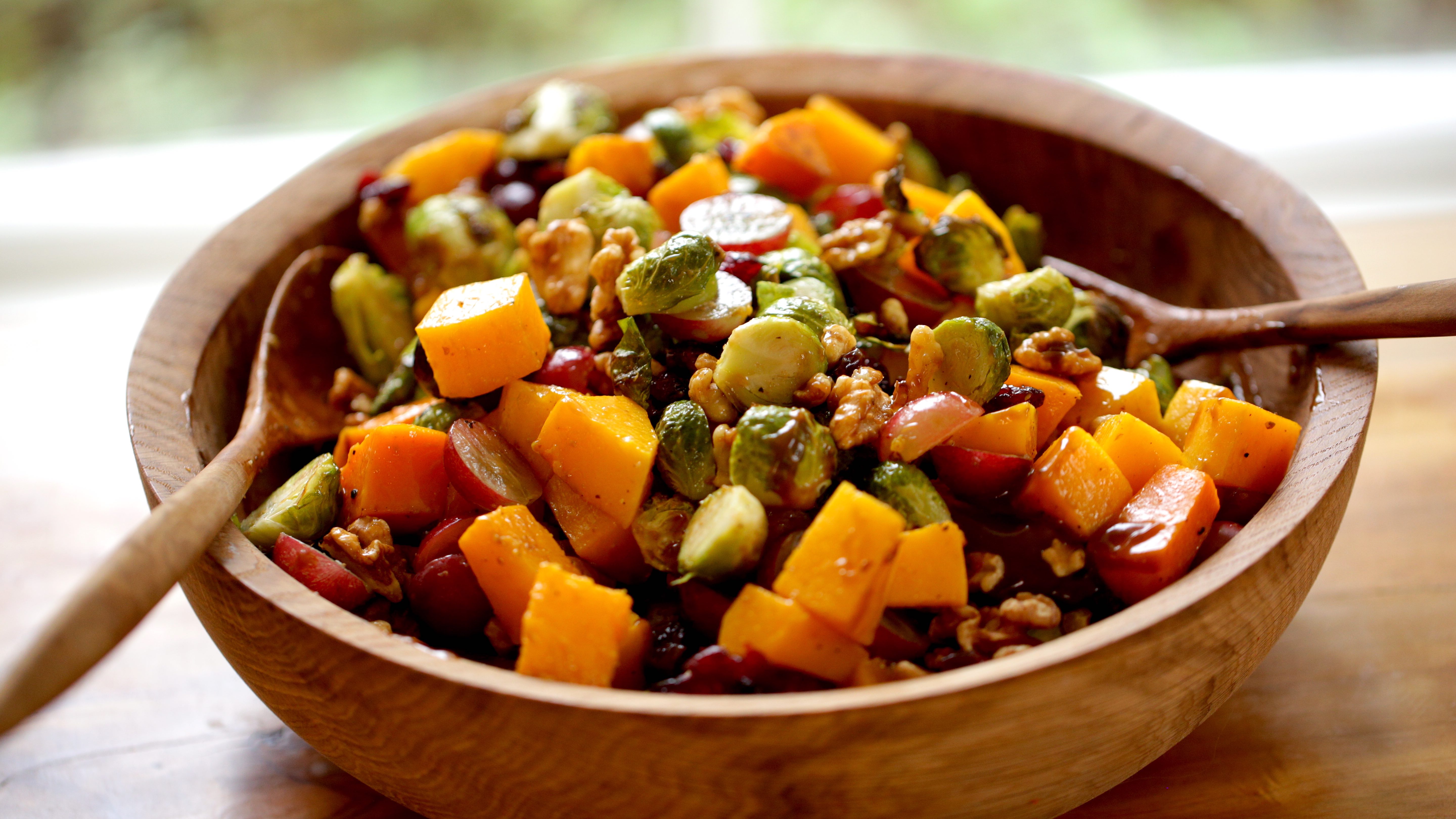 Roasted Harvest Salad with Blue Cheese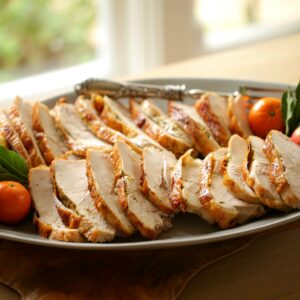 INGREDIENTS
1 ½ lbs Brussel sprouts
4 cups Butternut squash
2 tbsp olive oil, separated
salt and pepper to taste
1 ¼ cups red grapes, sliced vertically
1 ¼ cup whole walnuts
¾ cup dried cranberries
¼ cup blue cheese, crumbled
For dressing:
1 tsp Dijon mustard
2 tsp balsamic vinegar
4 tbsp grapeseed oil
Salt and pepper to taste
INSTRUCTIONS
Preheat oven to 450F.
Prep Brussels sprouts by removing damaged leaves, slicing the bottoms and cutting in half vertically. Transfer to a bowl and toss with 1 tbsp of olive oil and season with salt and pepper to taste. Transfer to a rim lined baking sheet, placing the sprouts cut side down.
Cut butternut squash into cubes (or buy store-bought already cut saves a ton of time!) transfer to a bowl and toss with remaining 1 tbsp of olive oil, and season to taste with salt and pepper.
Place both trays in the oven, sprouts on top rack so the char a bit, and squash on bottom rack. Roast for 15 minutes. Remove from oven and allow to cool.
Slice grapes and set aside.
NOTE: These steps can all be done the day before, placed into airtight storage containers
For dressing, combine mustard and vinegar in a small bowl, whisk to combine and slowly add the grapeseed oil, whisking all the while until nicely emulsified and smooth. Season with salt and pepper.
Place vegetables in a bowl, add grapes and walnuts and toss with vinaigrette. Add cheese on top in large crumbles.
No-Fuss French Apple Tart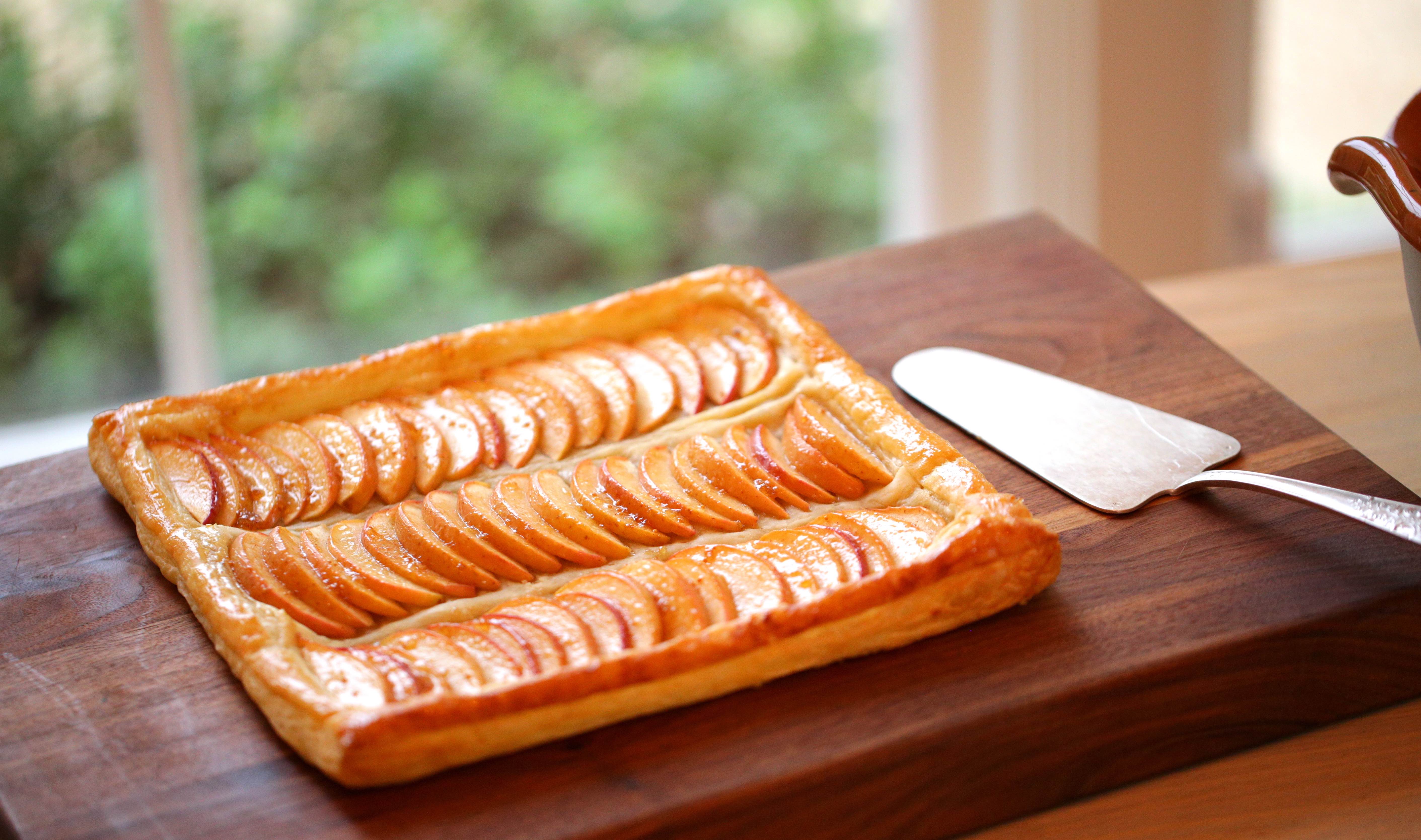 No-Fuss French Apple Tart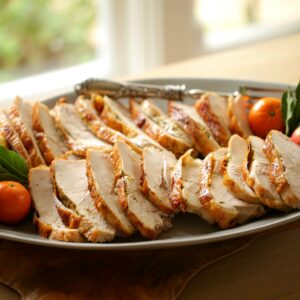 INGREDIENTS
1 package store-bought puffed pastry
2 gala apples
1 tbsp sugar
Sprinkle of pumpkin pie spice
1 egg beaten
1 tbsp Fig Jam, melted (or Apple jelly or Apricot Jelly)
For Cinnamon Whipped Cream:
2 Cups heavy cream
2 tbsp powdered sugar
½ tsp vanilla
¾ tsp of cinnamon
INSTRUCTIONS
Preheat oven to 400F.
Keeping the skin on, slice apples into wedges and then slice the wedges very thinly, about 1/8 of an inch thick with an apple slicer. Place apple slices in a medium-sized bowl. Toss with sugar and pumpkin pie spice.
Roll out 1 sheet of store-bought puff pastry.
Transfer to an insulated cookie sheet lined with parchment paper.
Score a ½ inch border around the pastry to create a "crust" being careful not to cut all the way through. Prick dough with a fork (just the inside not the "crust").
Place apples on pastry in a layered pattern, one on top of the other creating a row. Do the same for the next row, but go the opposite way. Alternate the design until the pastry is filled with apple rows.
Place pastry in freezer for 10 mins to firm up before baking. No need to thaw afterwards, just pop in the oven slightly frozen and bake for 20 minutes.
Allow to cool slightly and then brush apples with melted jam or jelly to create a nice shine. You can also brush the crust as well.
Transfer tart to a cutting board.
Slice into squares and serve with the cinnamon whipped cream.
For Cinnamon whipped cream, combine all ingredients and whip on high with a hand blenderuntil soft peaks form. Keep refrigerated until ready to use.