How to Organize Your Kitchen Prep Area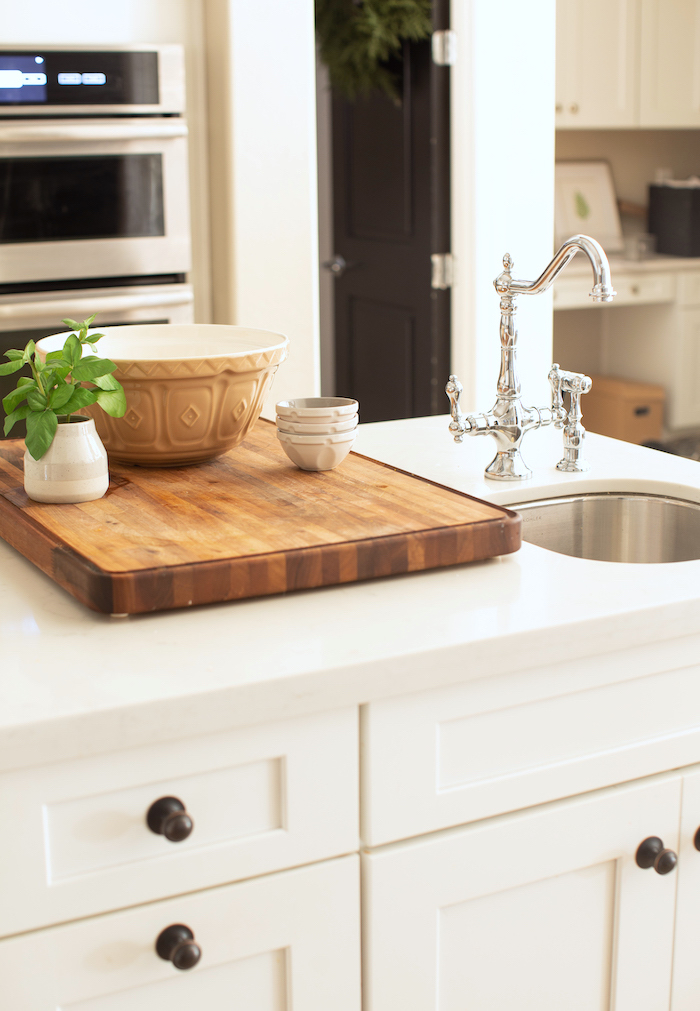 When it comes to setting up your kitchen and getting it organized, it's all about zones. The cooking zone, the cleaning zone, the food/consumable zone, and the prep zone. Today we're going to zoom into the prep zone.
Maybe this zone is in your small apartment kitchen where you have the most countertop space. Maybe you have the perfect spot right next to your kitchen sink were you prep all your meals. Or maybe you're here because you're doing a little research as you renovate your own kitchen and need some ideas!
My prep area happens to be on its own island next to the fridge, close to the stove and has its own sink! But no matter how big or small your prep area is, there are a few necessities, tips and even upgrades you can add to make it more functional.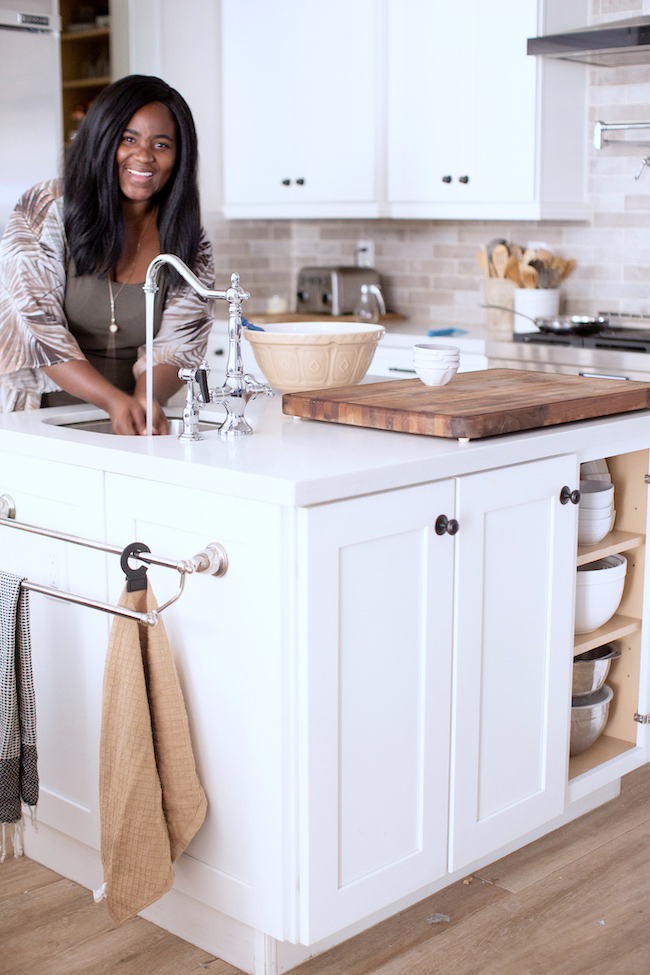 Find a spot!
Ideally this spot will be close to the stove and next to a sink. This way you have access to water to clean and wash your vegetables, meat, and poultry. Oh and your hands! By being next to the stove you won't need to walk very far (if at all) to transfer your prepped food.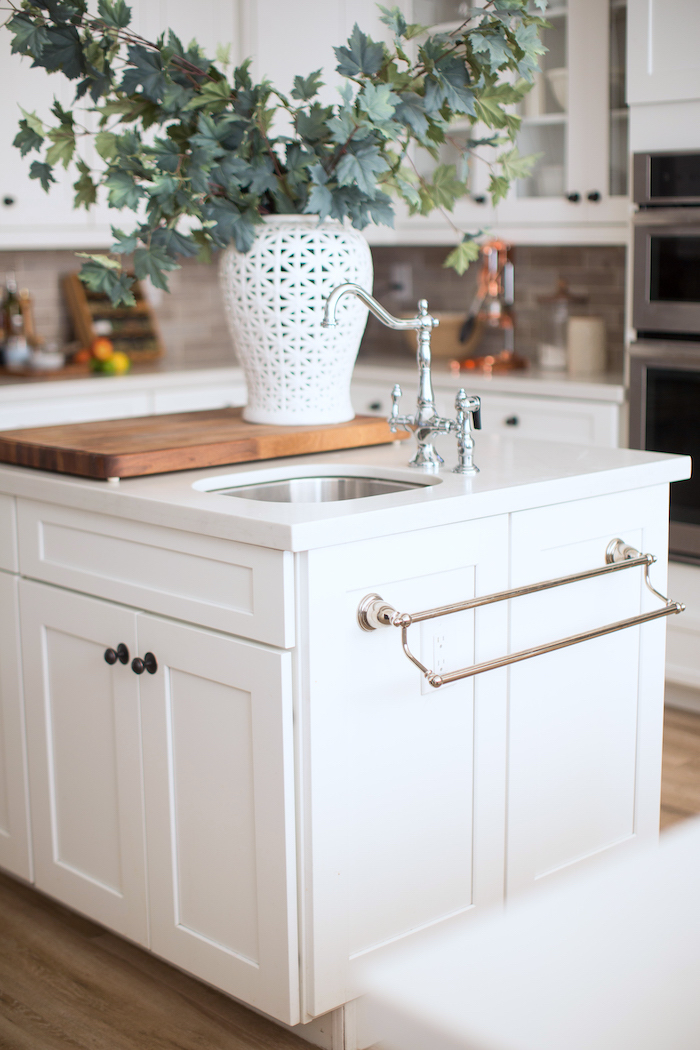 Upgrade Tip: If you have the space, make your island a space for prepping. You can get islands that come ready to use on wheels or you can build one if you're renovating. The reason why islands are so popular in kitchen design is because it really does give you that extra space you need to prep! You can store just about everything you need if you opt for an island. Plus the extra space makes a perfect spot for hanging dish towels!
Storage Space
Knives and Gadgets
Make sure your prep area has the correct storage. You'll need a place to host your knife collection and other prep tools. I use a drawer to store my kitchen knives along with a knife drawer organizer. This keeps them nice and sharp. If you don't have room in your drawer you can hang them on the wall using a magnetic knife strip, or have a traditional wooden block holder. Just keep your knives and tools close!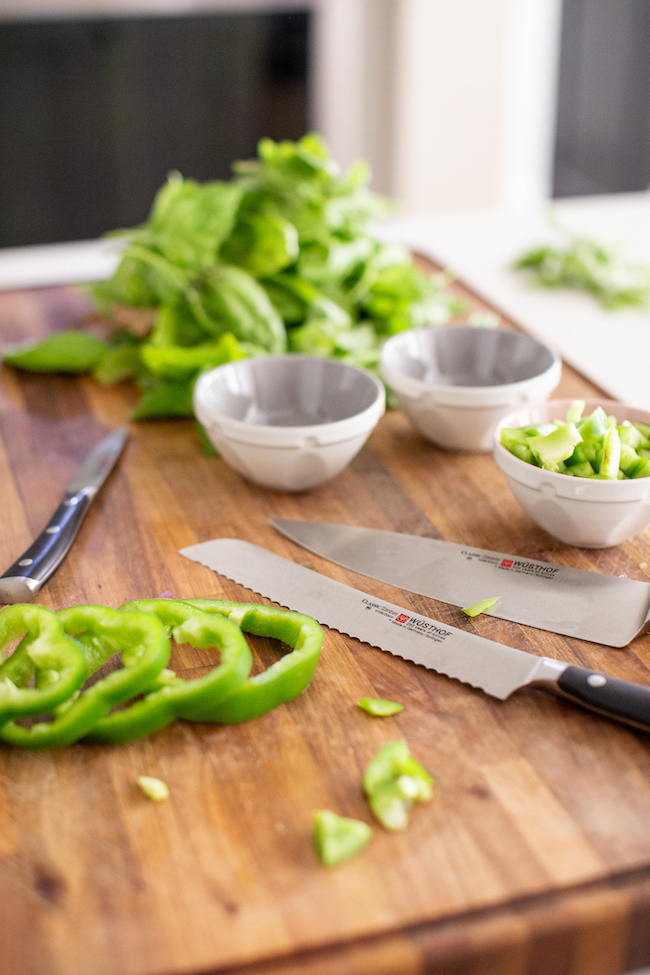 Classic IKON Starter Set

By Wüsthof

Shop Now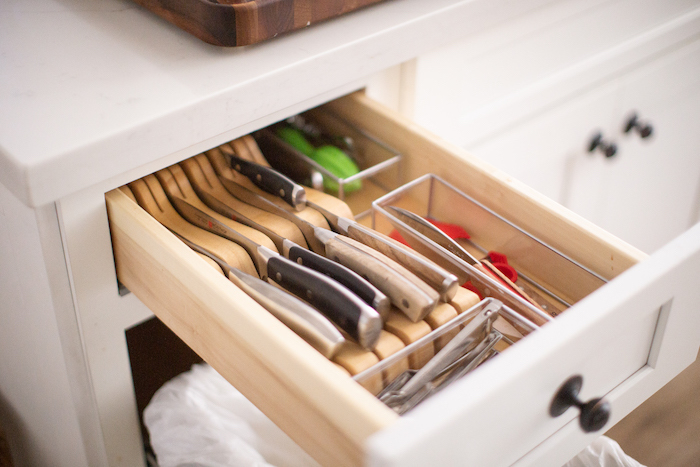 Bowls
Storage above is great for spices and other ingredients that you'll use for rubbing or marinating your meat of veggies.
Below your prep area is a great space to store bowls in all different sizes. Nesting bowls are perfect for maximizing your space. Also a collection of bowls in different sizes helps when you need to prep more than one thing! Mason Cash makes an exceptional variety of mixing bowls and prep bowls. They are always thinking ahead when it comes to making our lives easier as home chefs so they have an entire line dedicated to innovative products like these tilting bowls!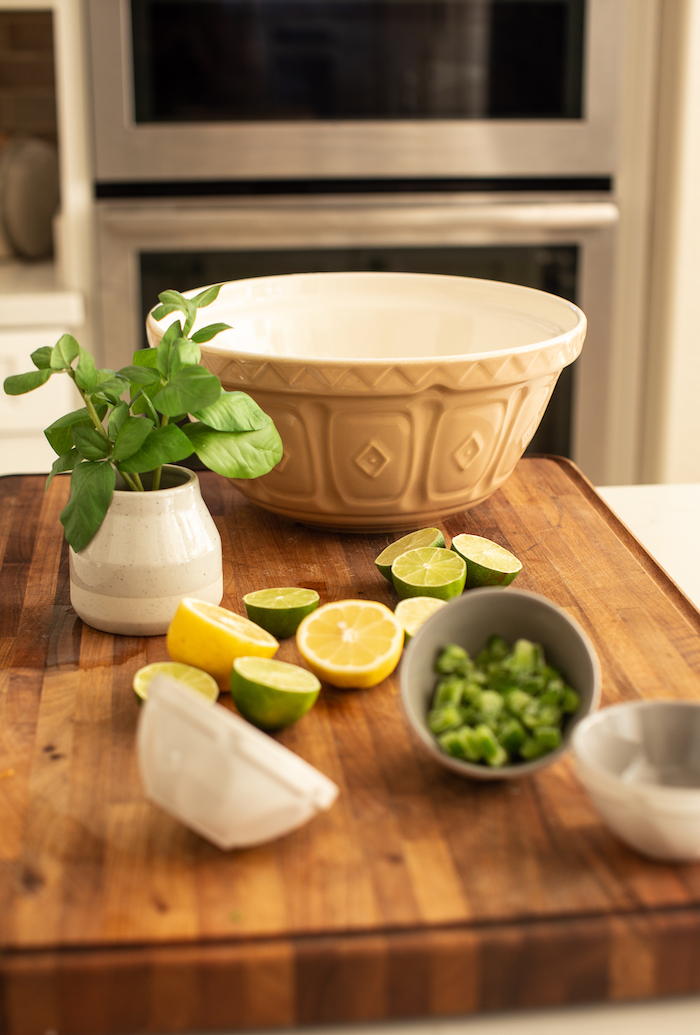 Innovative Kitchen Food Prep Bowls

By Mason Cash

Shop Now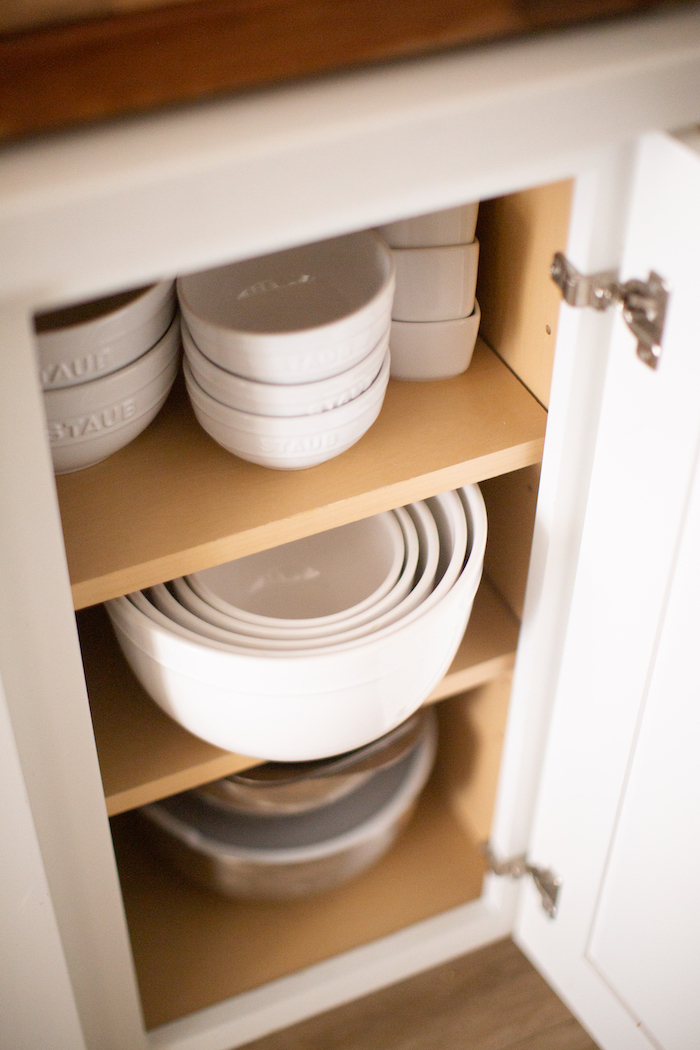 Upgrade tip: If you have the space add a trash can to your prep space. It can be a built in option if your starting from scratch or you can add one to the end of your space or even under your cabinet. Having a trash can near the prep area makes sense! I bet if you don't have one near it right now you're always taking one over for clean up!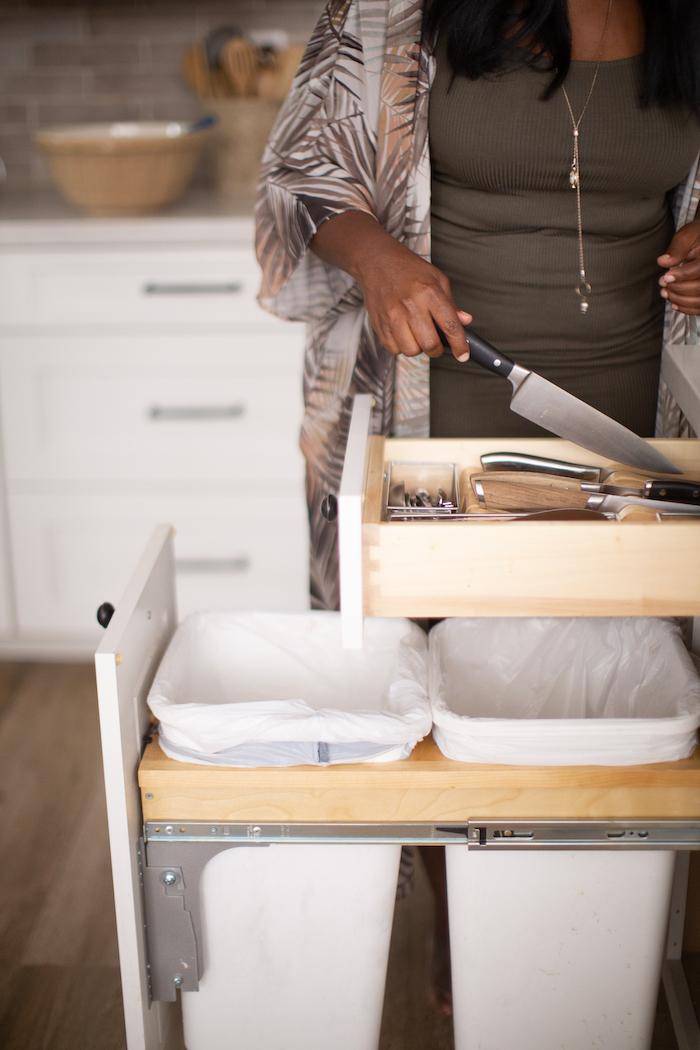 Cutting Boards
Every prep area needs a good sturdy cutting board. If you find yourself prepping daily then I would opt for a cutting board that is stationary. This will stay on your countertop and always be ready to use. If you need to cut chicken or any other meat use a cutting board that can be washed and sanitized with hot water and cleaning products. Keep your meat prepping and veggie prepping sperarate!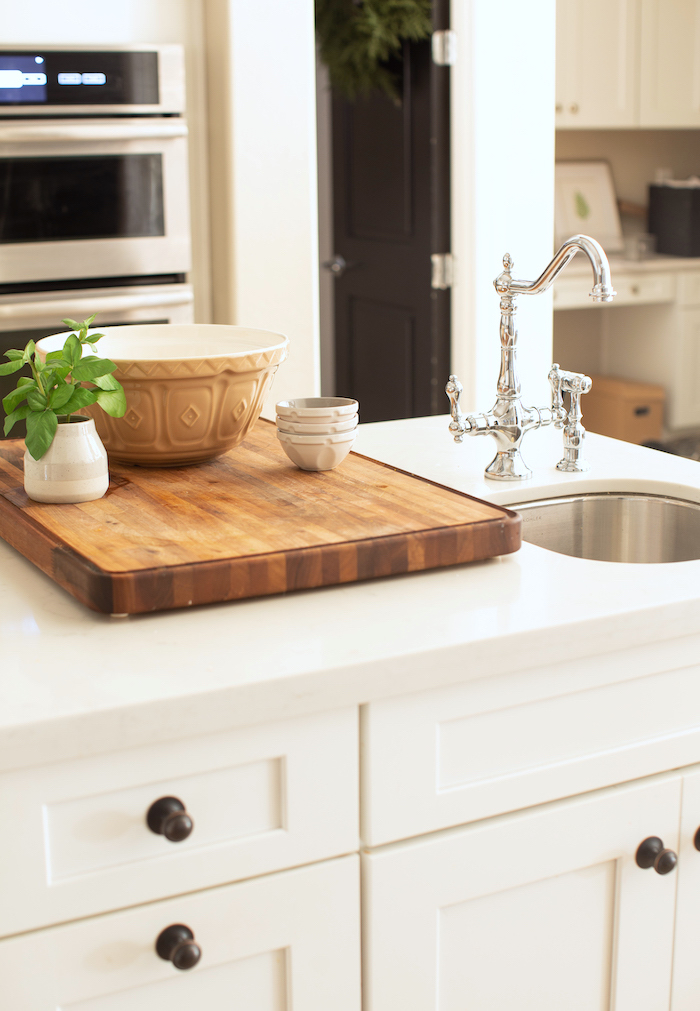 Upgrade Tip: Adding a small sink with a disposal to you area can be bliss. By having a sink next to your prep area you're able to do all the washing of the meat and veggies right next to the prep area. You can also dispose of any extra things immediately. This sink is fitted with a beautiful facet from Kingston Brass that specifically made for a bar area or in my case a prep area.
Heritage Kitchen Faucet

By Kingston Brass

Shop Now
They are slightly small in size so they can accommodate smaller sinks. This one comes with a gorgeous sprayer that also helps with cleaning! If you're looking for something with a gorgeous finish and style then check out all they have to offer. You're going to be amazed I promise!