How to Maximize Your Bathroom Storage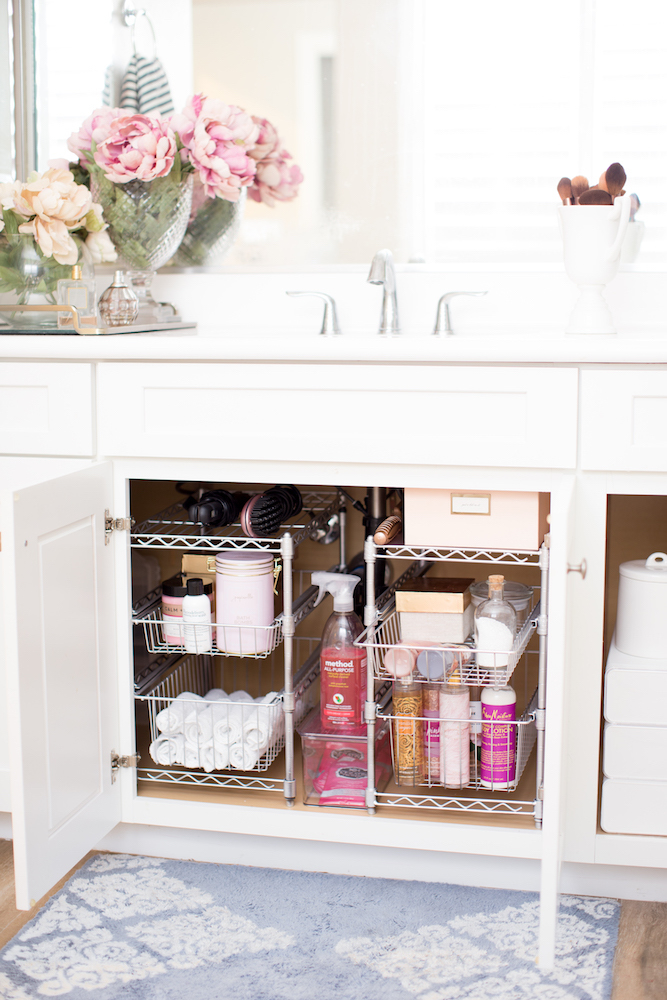 We all have those trouble spots in our homes. You know the areas we let get out of control? That area we let pile up day after day and week after week. The area or space where we close the doors very quickly and never look back?
But there comes a time when we are ready to face the clutter and get things back in order! For me it was under my bathroom sink and my bathroom drawers. I already tackled my kitchen sink a few months ago so I had some confidence and ideas on how to make this space a bit more functional!
Before we moved into our home two years ago, I made sure to purge almost all of my bathroom products. Two years later, I'm happy to say my product collection is still pretty modest. So if you're in need a purge, make sure you do that first so you know what types of containers and organizers you will need for your space. Take inventory and then take into account anything else you may be purchasing. Everything needs a space!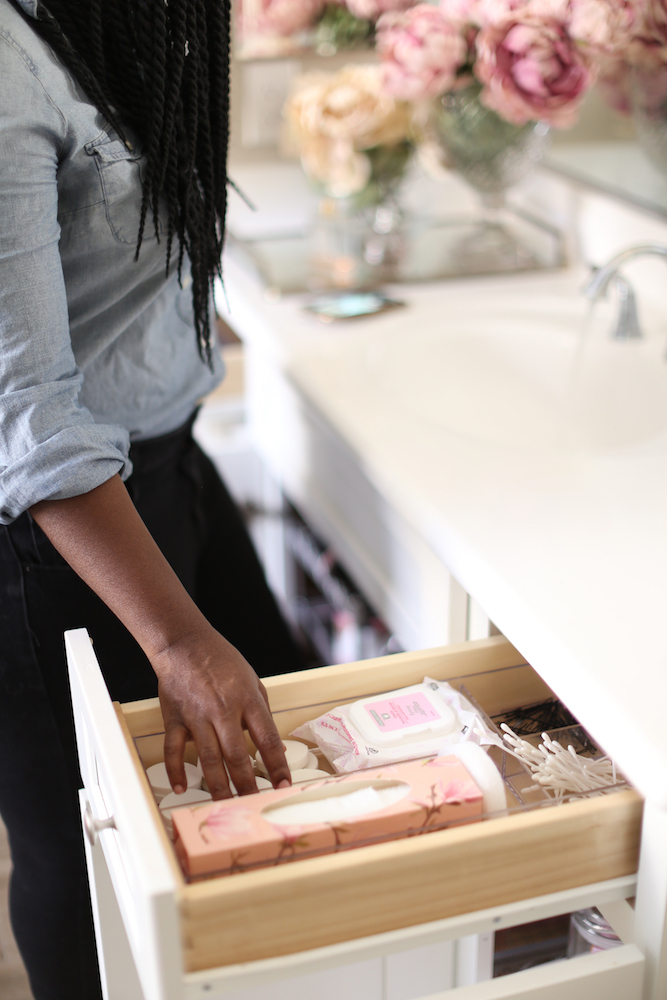 Each drawer in my bathroom is outfitted with clear drawer organizers from InterDesign. You can customize them to fit your drawers based on what you need to store. On one side I have makeup wipes and application products all within one large organizer that splits into four different compartments. On the other sides I have several small organizers that hold most of my makeup and other beauty products.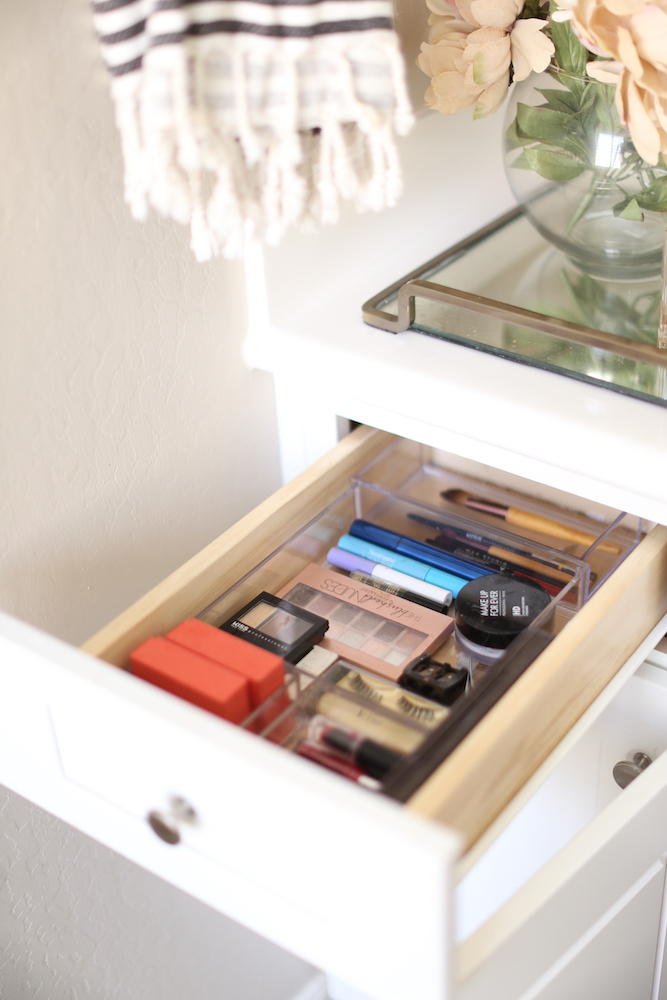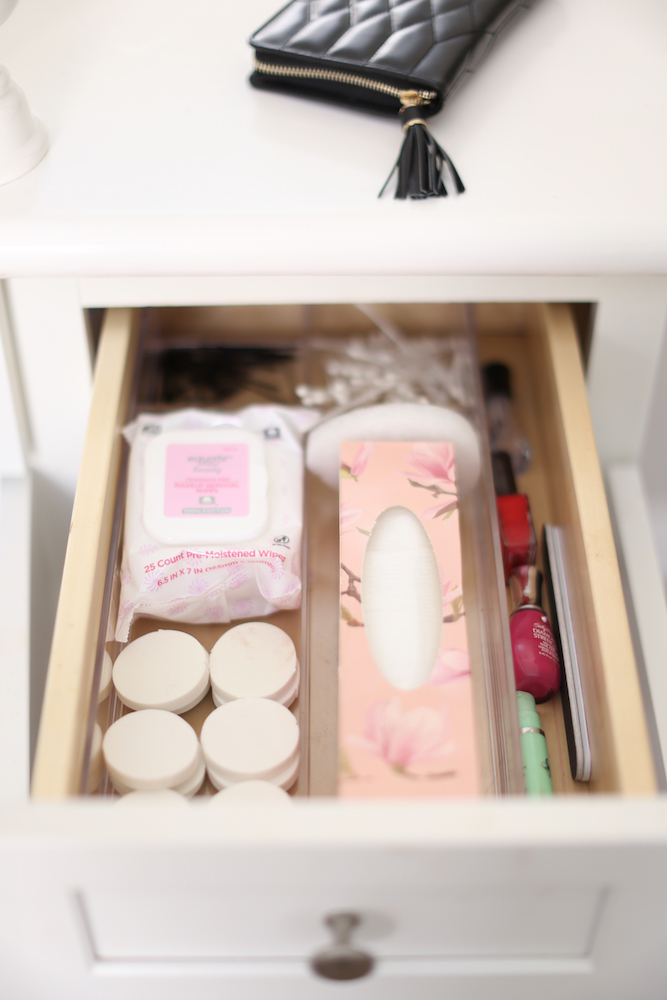 If you really want to maximize the space under your cabinet, go vertical. This little unit from Seville does just that. I put two right under the sink and just like that this space is made completely functional with the sliding drawers. I gave the unit a little makeover to help it blend in with my space a little more! You're really going to love these shelves! The price is right and they easy to put together!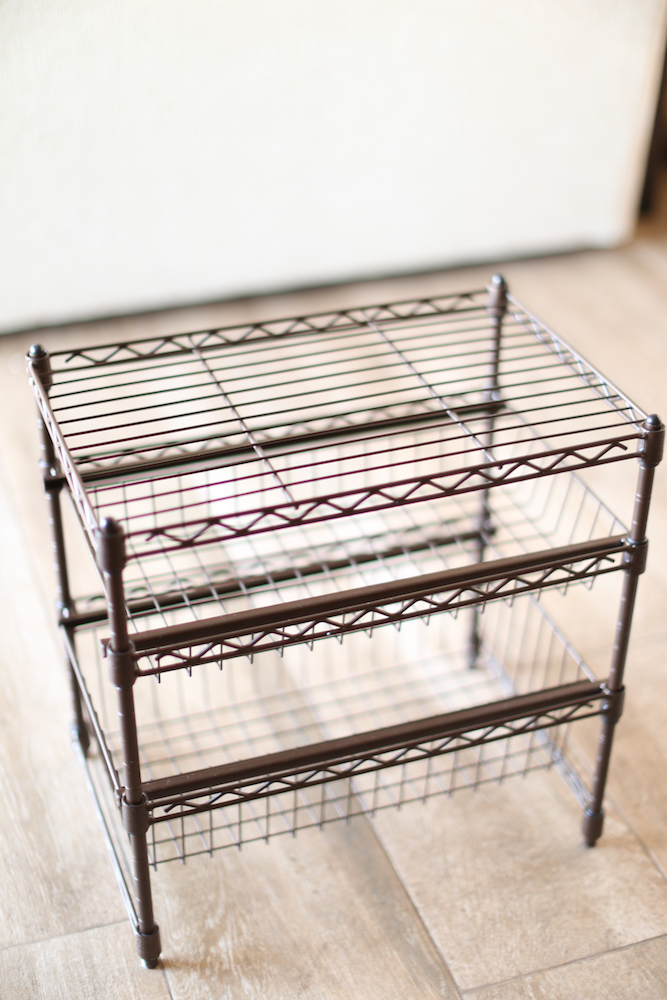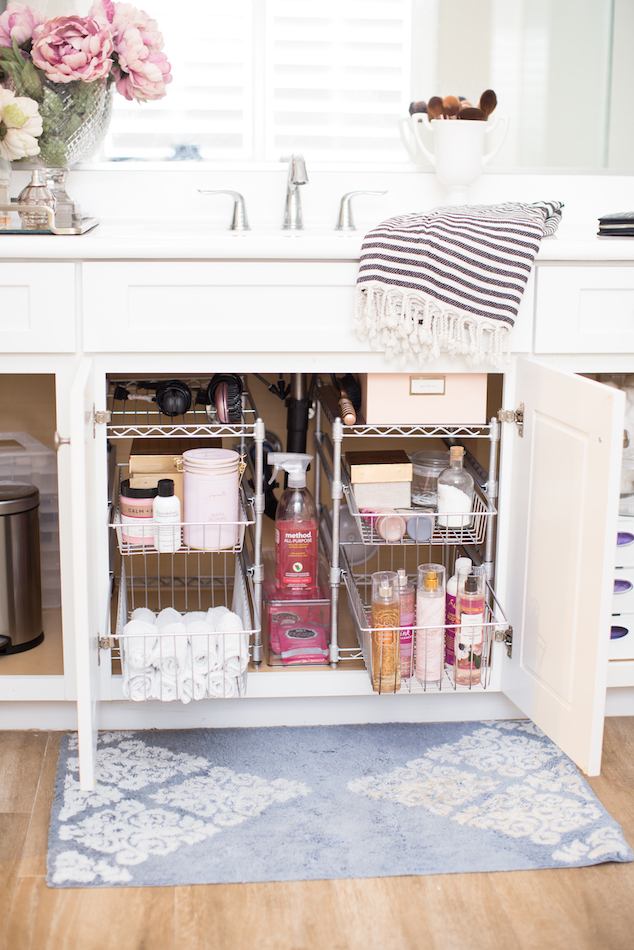 Everyone organizes there space differently but I will walk you through my thought process and how I organized each section!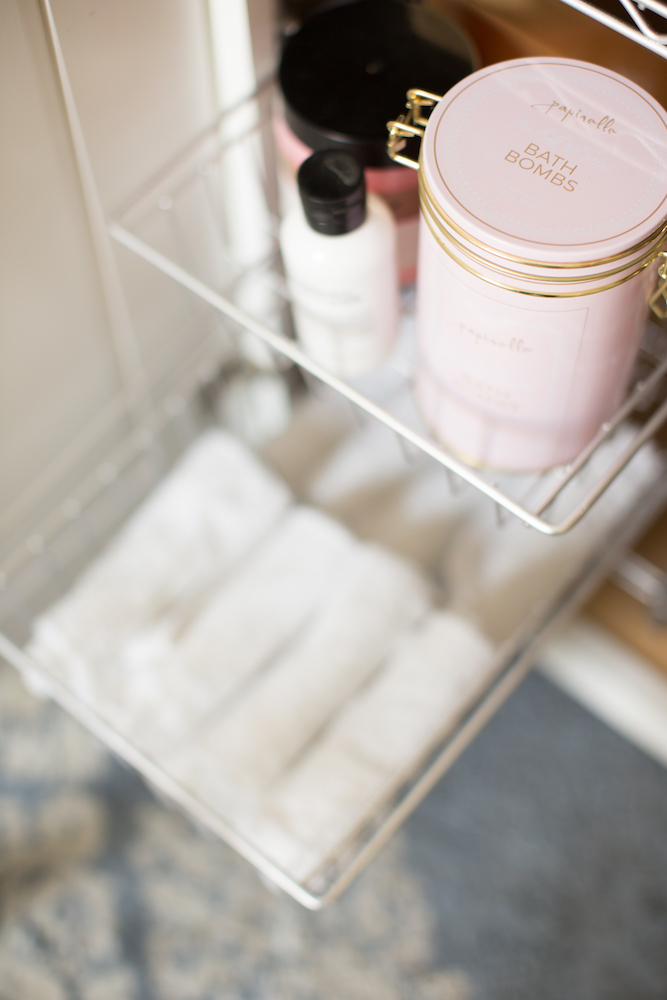 I wanted to keep items under my sink that I use often at reach. My toothpaste, toothbrushes, shampoos, conditioners and other necessities are in my medicine cabinet so that leaves me with a lot of space down here. These drawers really help because I don't find myself digging through an entire cabinet trying to find what I need. This drawer holds face towels for washing and removing makeup and also some extra bath products for bubble baths which a take weekly!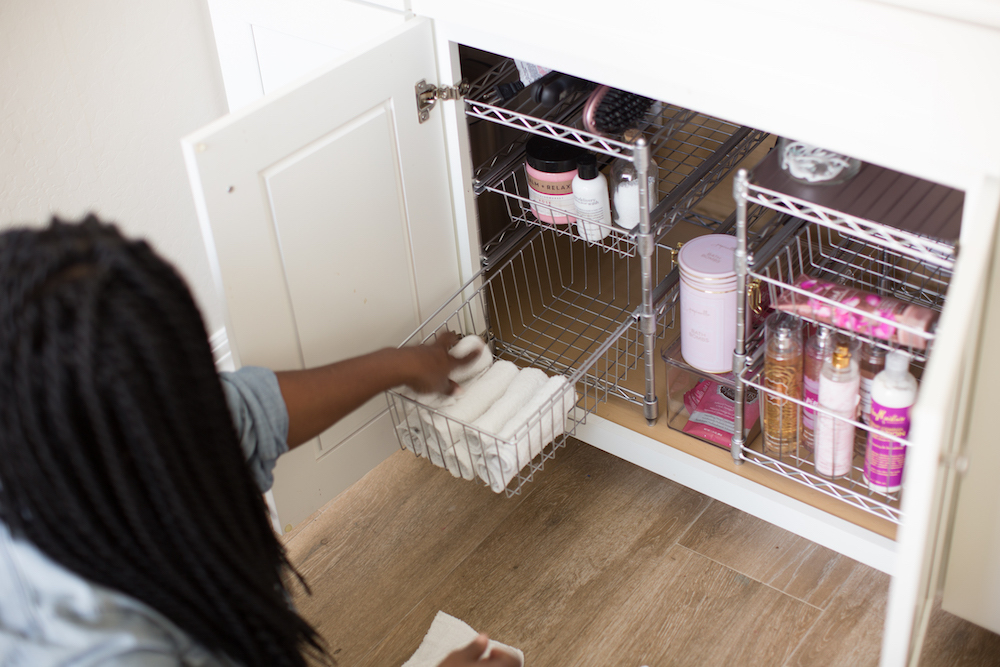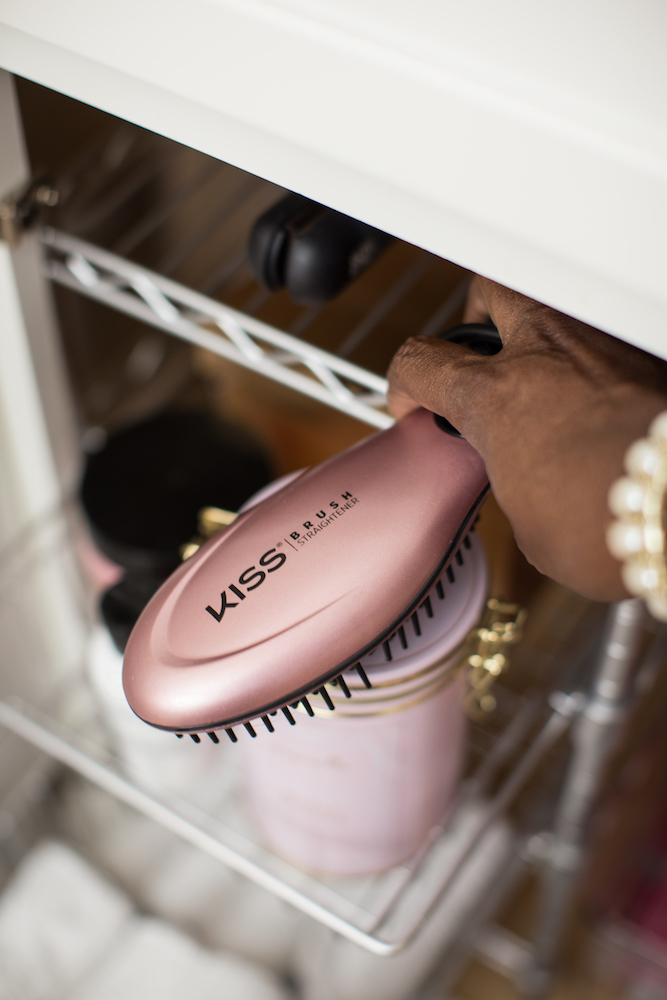 On the opposite side is the same unit holding all of my extra body sprays and lotions. I LOVE collecting all the different scents throughout the season and so I knew I wanted to have a space for them . Again the drawers keep everything contained and within reach!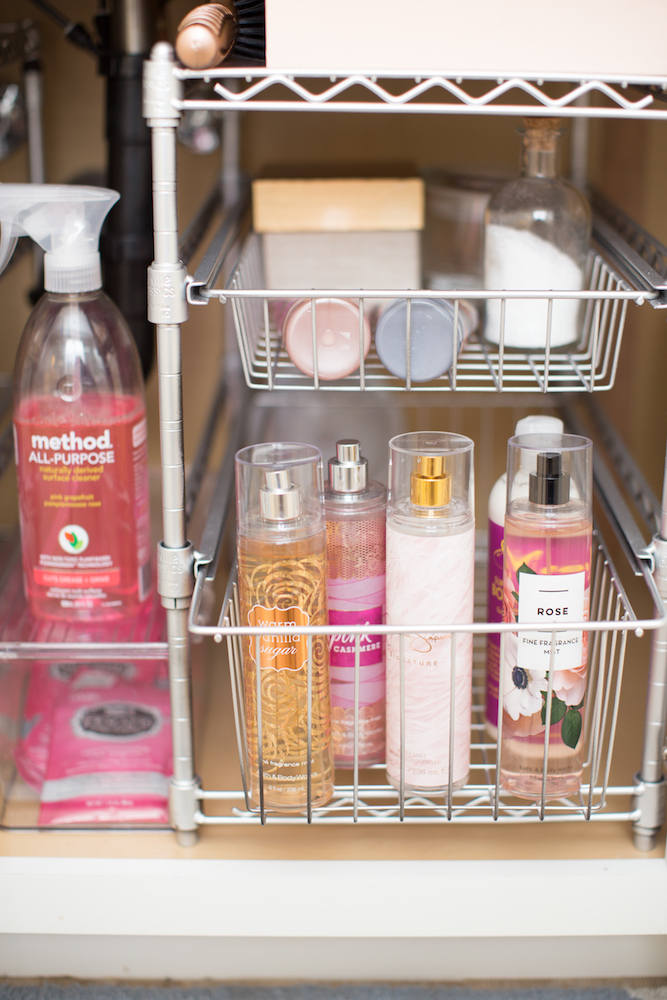 Because I have some extra room, I decided to put a small trash can under the sink. This one by simplehuman is the perfect size for small disposables and can be taken out weekly as needed! I never knew how much I would use it but I do all the time! Plus I love that it has a lid and tucks away so it's not intrusive.
On the other side are glass containers with cotton balls and I usually keep a extra container open for miscellaneous items. Under that are drawers for all my lady stuff that are discreetly stored so know one is surprised when they open the doors!
There is nothing better than having a space that is organized and functional! But remember, from one unorganized person to another, it's not about always having your space perfectly organized. It's really about setting yourself up so that the option is always there for you and your family to live in a more predictable and logical space so that you save time and money!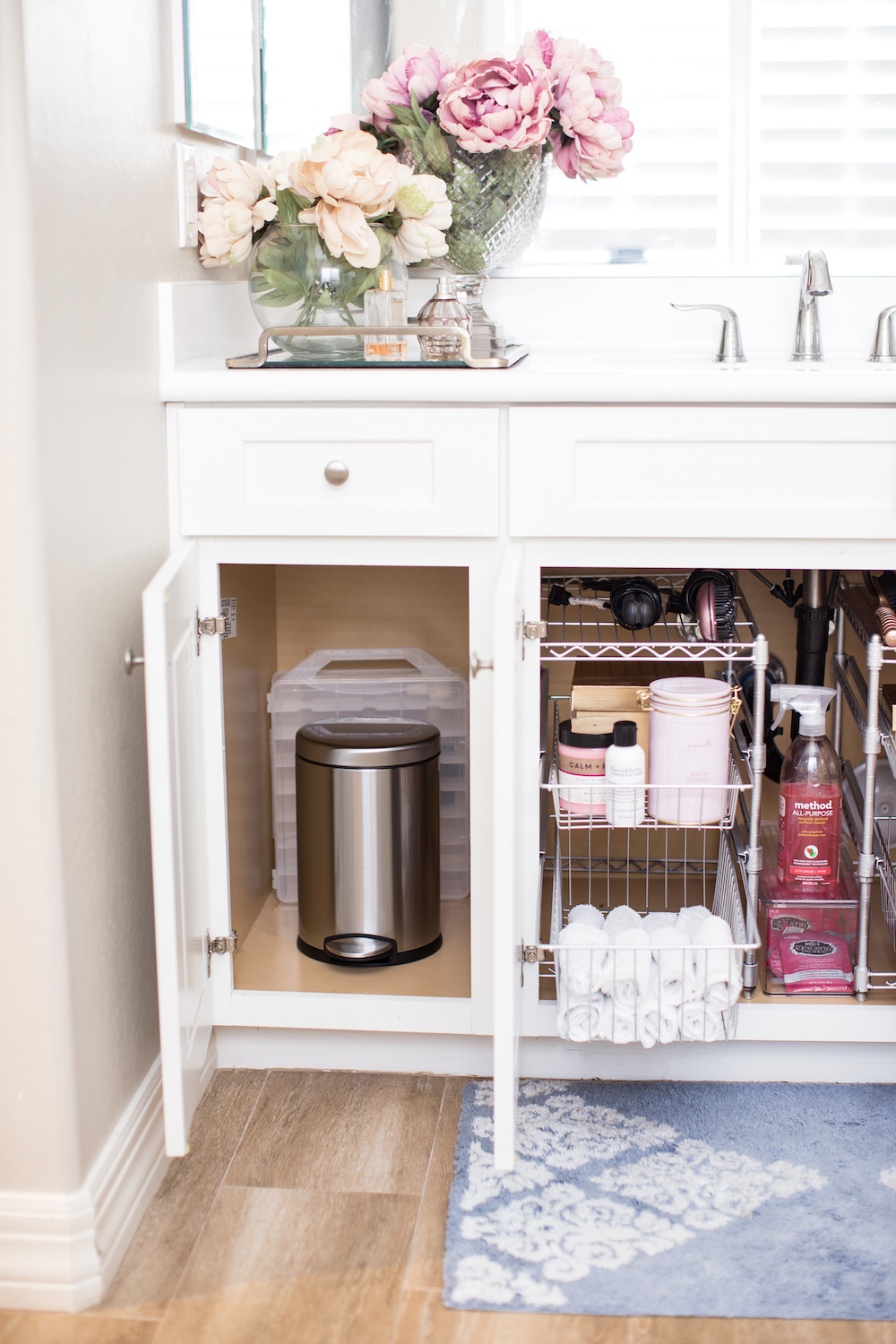 So are you ready to tackle your bathroom clutter? I hope with some help from these products and ideas you'll be on your way to a more functional AND beautiful space!