How to Make Perfect Porterhouse Steak in the Oven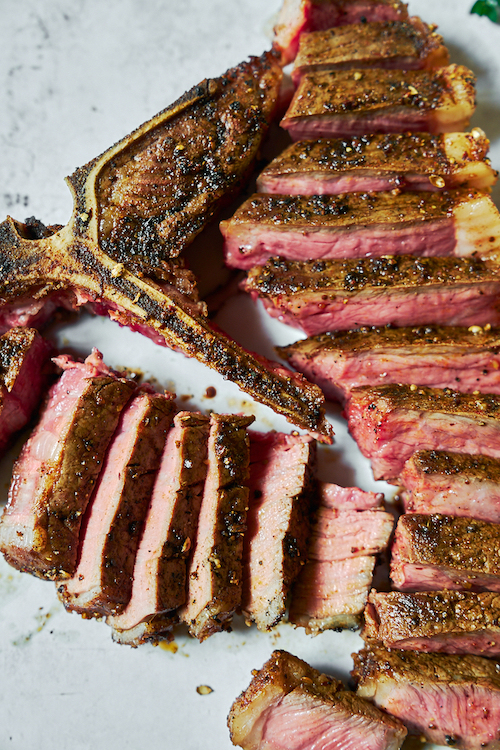 As a dietitian, and an omnivore, people tend to be curious about how I choose to add meat to my diet. We scientifically know that eating more plants and plant-based foods is the best option, so when I do eat meat I have a few rules.
First, I pick quality over quantity. It keeps serving sizes in line with recommendations, but it also helps put my money where my other values lie (for example shopping local, or supporting my local butcher). Second, I think a lot of care should be taken in picking cooking methodologies. Carelessly chucking chicken on the grill to char it to a brick doesn't honor the animal for what it was. To me, there's an element of wanting to do justice to the meat I do decide to eat. So how should you do it?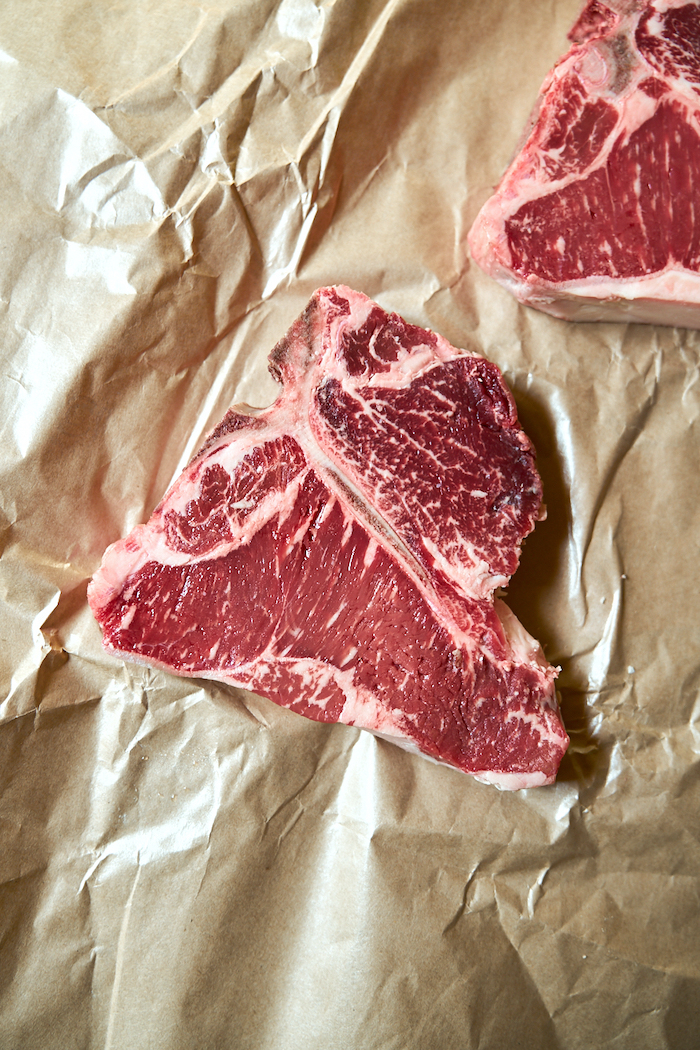 I've always advocated for sous vide cooking. It's the most precise and ensures a perfect turn out every time. And if you have a sous vide precision cooker, I absolutely recommend using it.
You can see previous sous vide recipes on Inspired Home like these Sous Vide Asian Short Ribs with Udon Noodles. However, I'm also practical. And if you just don't see yourself using sous vide for one reason or another, don't spend your money there. Use what you have and make the best of that method.
Cooking a steak on the stove is tricky. Stovetops, and ovens for that matter, are extremely ambiguous. The temperatures are often inaccurate and recipes that are 'cook on high' do not translate at all to your particular stovetop which really would need a 'high plus plus' to get the same results. To control this, we use the oven to cook steak.
First, you'll create a spice blend and crust the steak. You can use a mortar and pestle, but for the best texture, I recommend an electric coffee grinder that you can use for spices. The Bistro model is stainless steel and compact with a transparent lid.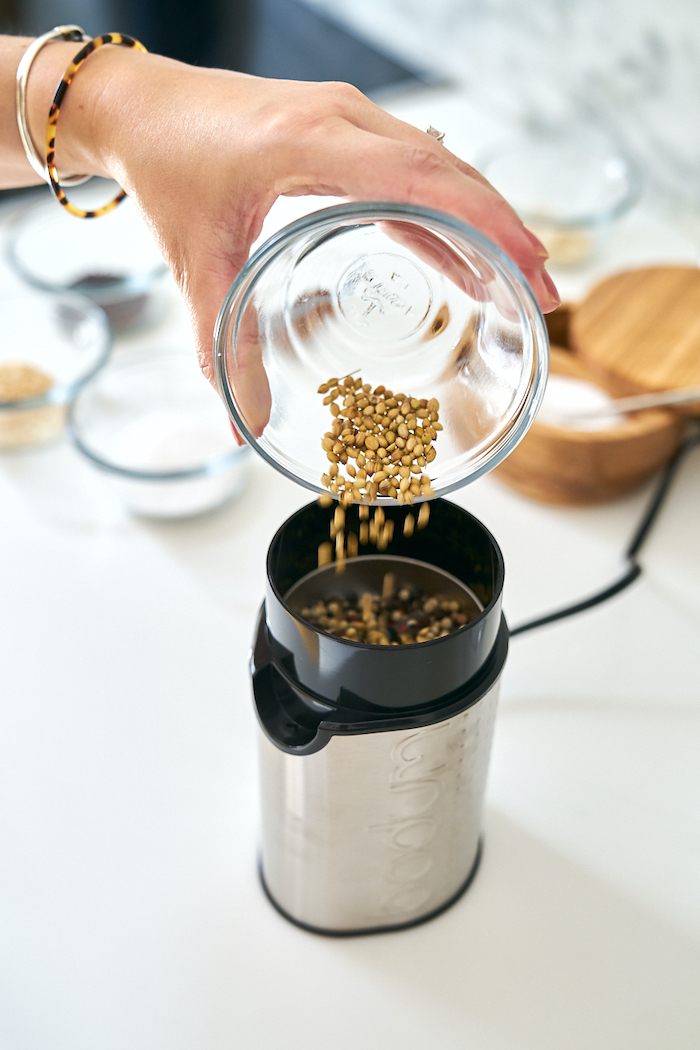 Bistro Electric Coffee Grinder

By Bodum

Shop Now
That means you can actually see when you're getting close to the texture you need without constantly opening and closing the top, spilling spices everywhere and flinging your body across the kitchen to stop your kid or pet from eating rogue peppercorns. The other big benefit is you can pulse vs continuous grind with this model.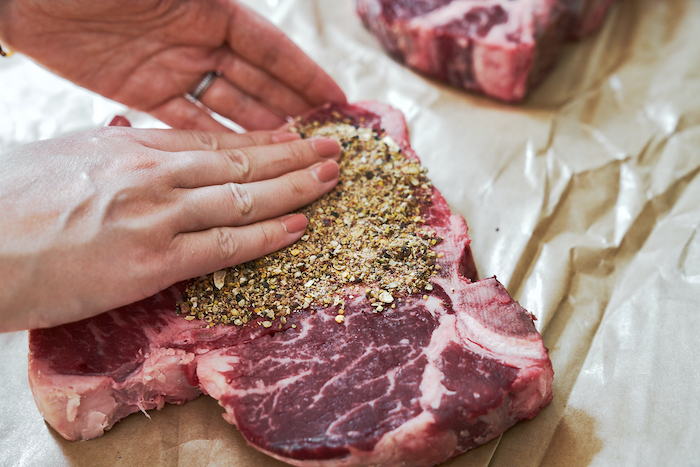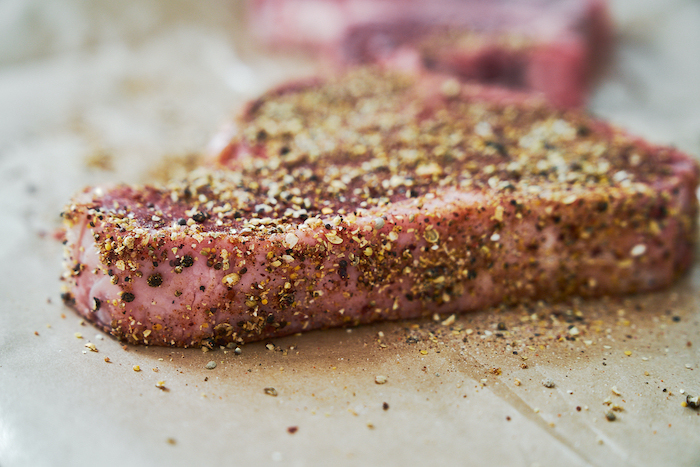 Once your steak is crusted with seasoning, you'll sear it on your stovetop in a cast iron skillet that's super hot. Searing makes a nice texture and color exterior before you transfer it into the oven to complete cooking in a more even way.
But this is the most important part: before the steak goes into the oven, probe it. Probing your steak with a thermometer like this genius OXO thermometer removes the variation in sizing and thickness that you may have dinner to dinner or between various recipes you use. A probe tells you exactly when to pull a steak, without guesswork.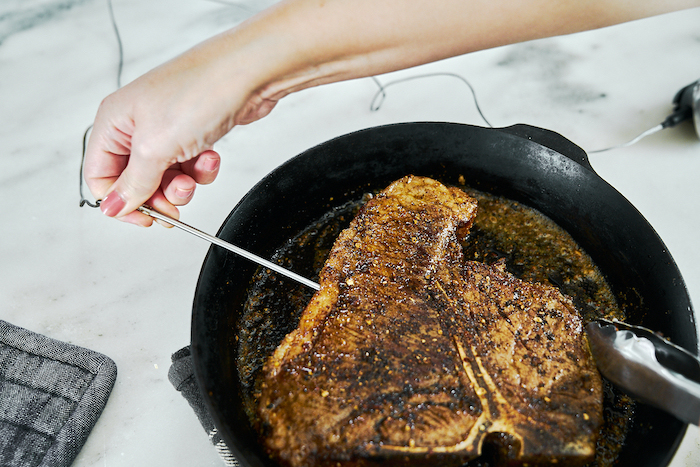 Good Grips Chef's Precision Digital Leave-In Thermometer

By OXO

Shop Now
This particular thermometer is one I use every single week took cook a rotisserie chicken from my CSA. It takes zero work since all I do is season my chicken, place the probe in the chicken and click through the automatic settings to select 'chicken breast'.
It's especially handy if you often find yourself unsure of what the safe internal temperatures for meat are. Once your temperature gets close, the thermometer and screen that's attached to the probe outside your oven will beep and let you know it's time to start watching.
I'll also say this would make a great gift to someone who changes home rentals frequently and loves to cook (there's no waiting to figure out if your oven runs hot or cold in comparison to your previous oven).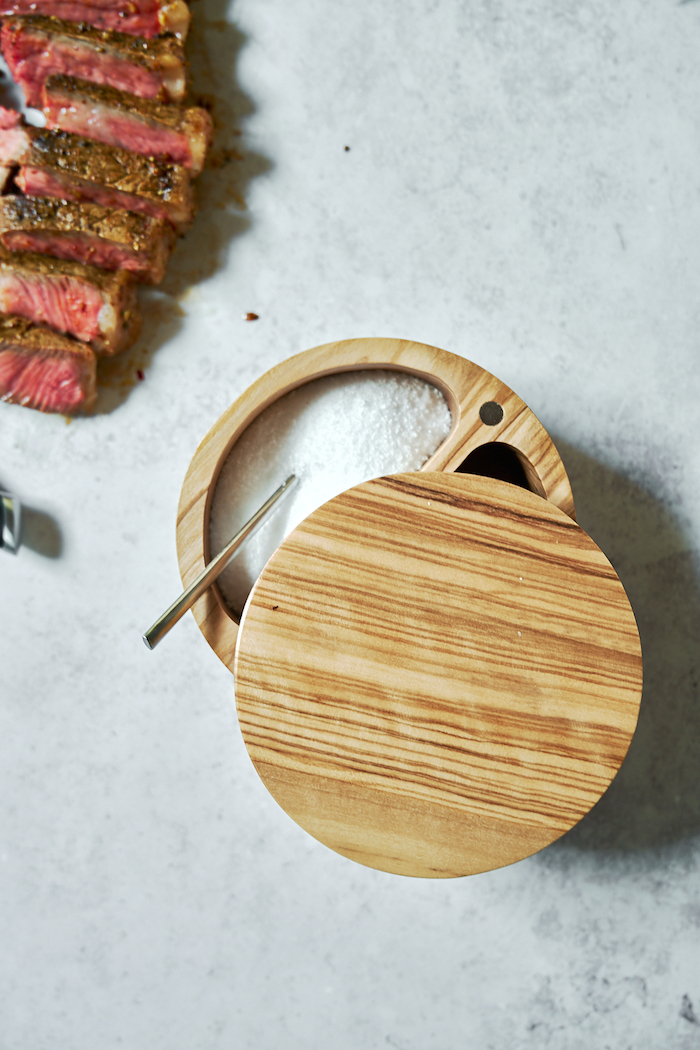 Once your steak is out of the oven and rested, it's time to serve up! That means a sharp, quality knife is a must. For a porterhouse, my husband and I split one steak, so you can cut it off the bone and give each person part of each side of the steak (the strip and the tenderloin side).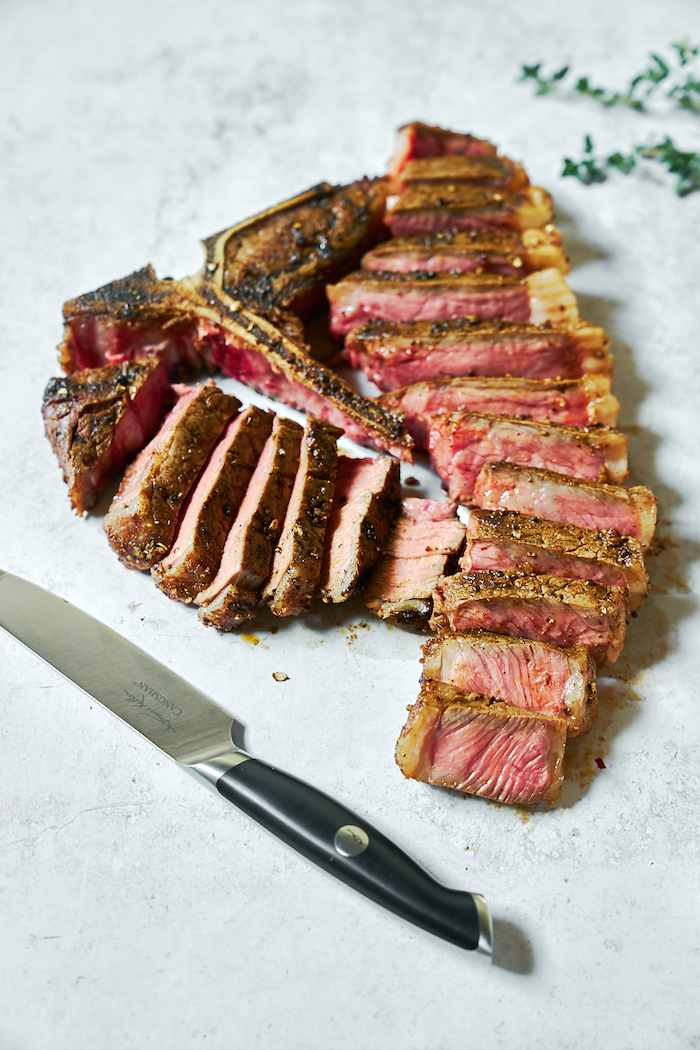 I've seen so many steak knives in my life that are often partially serrated, meaning they're impossible to appropriately sharpen. You want something like this Cangshan steak knife set which is forged full tang (that means that piece of metal goes all the way up the full inside of the handle). They're sturdier and hardier. But most importantly the way this knife is made, you can keep them as sharp as when you bought them.
Thomas Keller Signature Collection 4-Piece Steak Knife Set

By Cangshan Cutlery

Shop Now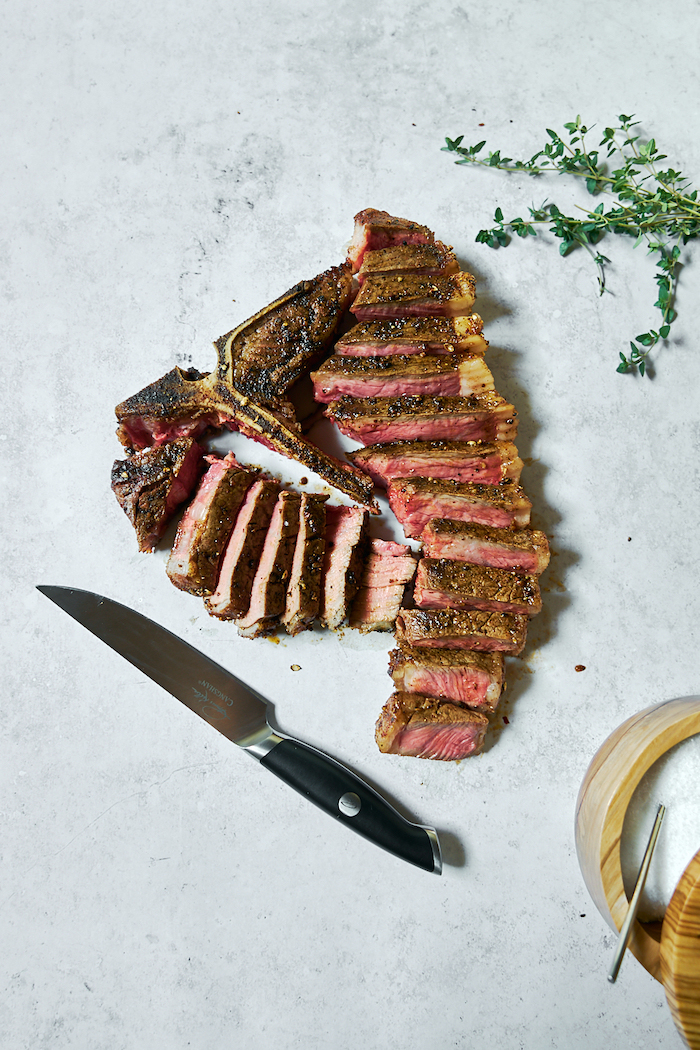 Perfect Oven Porterhouse Steak
Fill your house with the amazing aroma of this fabulous steak recipe!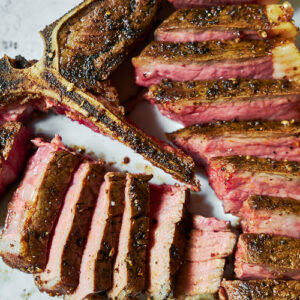 Ingredients
2

tbsp

kosher salt

2

tbsp

peppercorns (four variety peppercorns used here)

1

porterhouse steak (about 1.5 inches thick)

1

tbsp

butter

For the Spice Blend:

1

tbsp

dehydrated garlic

1

tbsp

dehydrated onion

1

tsp

red pepper flakes

2

tsp

mustard seeds

2

tsp

coriander seeds

2

tsp

paprika

2

tsp

brown sugar
Instructions
Remove steak from fridge for 30 minutes.

Place all spices except the paprika and brown sugar in a coffee or spice grinder. Pulse about 10 times until spices are roughly milled (think about the texture of what you'd like to bite into). Add to a small bowl with paprika and brown sugar and whisk to combine.

Cover all sides of the steak with the seasoning.

Preheat oven to 425 F.

Heat a cast iron skillet with 1 T butter until very hot. Add steak and sear for 1 minute on each side, switching, then 3 minutes on each side.

Place the probe into the thickest part of your steak (do not touch the bone). Set the thermometer for 128 F (medium rare- the temperature will continue to climb after you remove it from the oven).

Cook steak in the oven until probe reads 128 F. This won't take more than 15 minutes, so stay close by!

Rest for at least 5 minutes, slice and serve with a thyme garlic compound butter if desired.
Nutrition
Serving:
1
g
Calories:
364
kcal
Carbohydrates:
24.4
g
Protein:
28.3
g
Fat:
18.8
g
Saturated Fat:
7.4
g
Cholesterol:
65
mg
Sodium:
7086
mg
Fiber:
6.9
g
Sugar:
11.5
g