How to Clean and Polish Your Copper Pots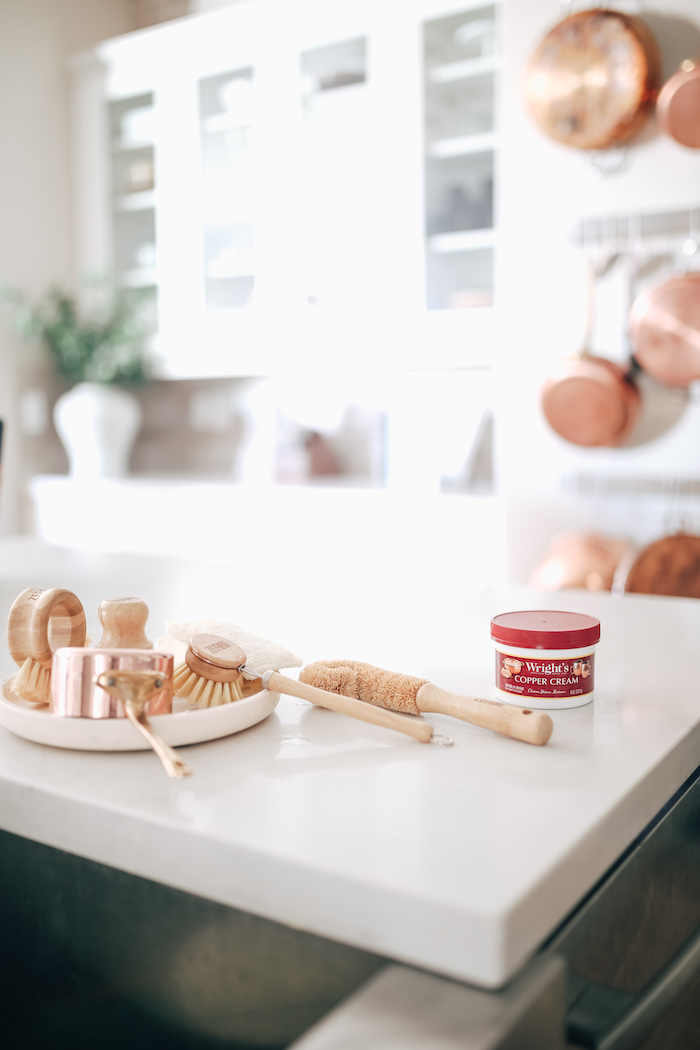 Copper is one of the most classic materials you will find in kitchens new and old. When I flip through old magazines or pin my favorite images on Pinterest, there is one thing all of my favorite kitchens have in common and that's a bit of copper.
One of the reasons why most chefs love to use this material is because copper is a soft metal that is heat-conducting. One of the reasons why home decorators and interior designers love this material is because it gives you that lived in and warm feel every room needs.
If you've invested in a set of copper pots then you already know it takes a bit more care than your other cookware. But a good polish every now and then really brightens up your pots and gives them a new life.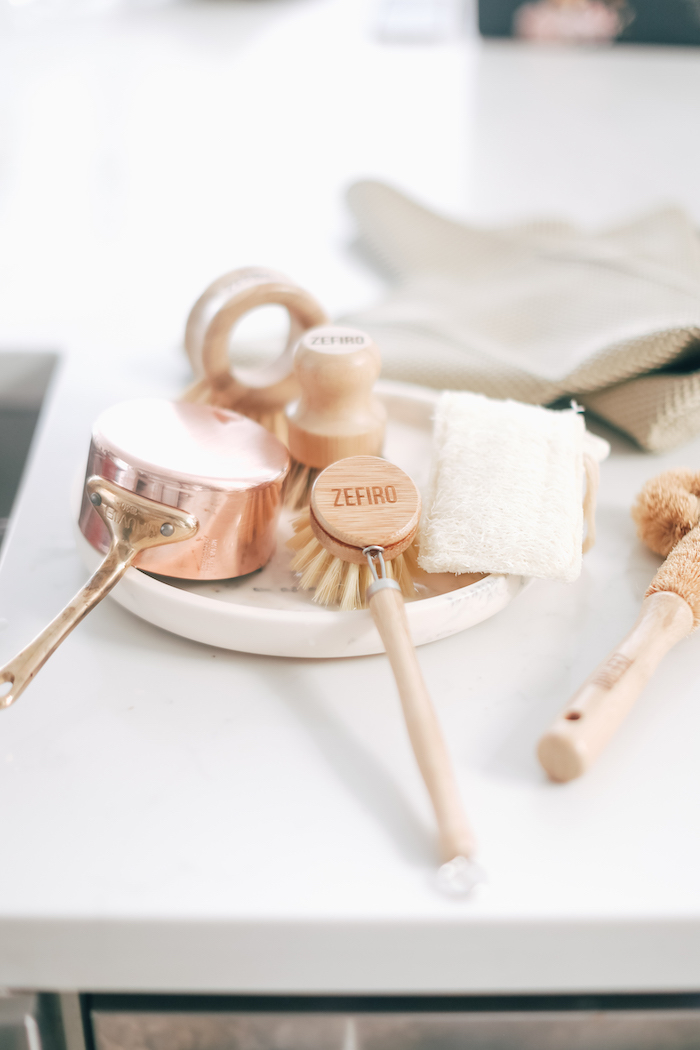 If you don't polish your copper pots, over time they will patina which basically means that they get darker. Which is actually beautiful too! So either way, your copper pots are going to be a great investment. But every now and then give them a good polish and start the patina process all over again.
To clean and polish your copper pots you will need the following materials:
A trusted copper cleaner (I used Wright's Copper Cream)
A soft sponge, cloth, or soft bristle pot brush
Lint-free towel
1. Rinse your pot with warm water.
Make sure your pot is pretty clean before you polish it. This means no food or any stuck-on grime. I like to use a good pot brush.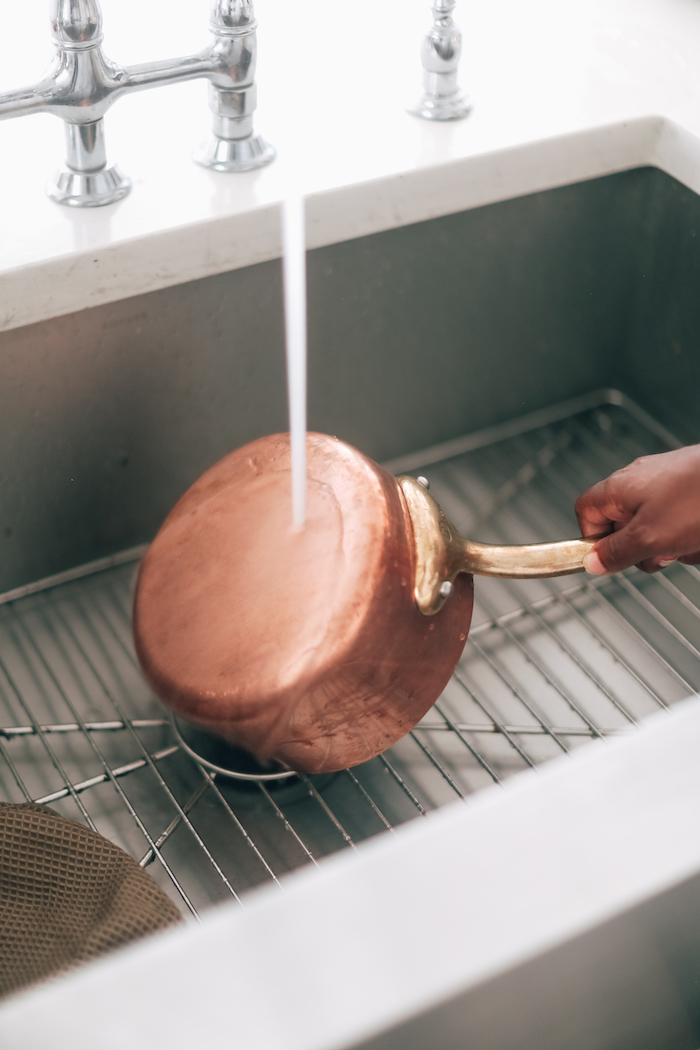 I'm using one from Zefiro which has an entire line of eco-friendly clean supplies that replace your normal sponges and scrubbers. Most kitchen sponges are made of plastic but these are biodegradable, fully compostable, and vegan!
Bamboo & Sisal 4-Piece Brush Set

By Zefiro

Shop Now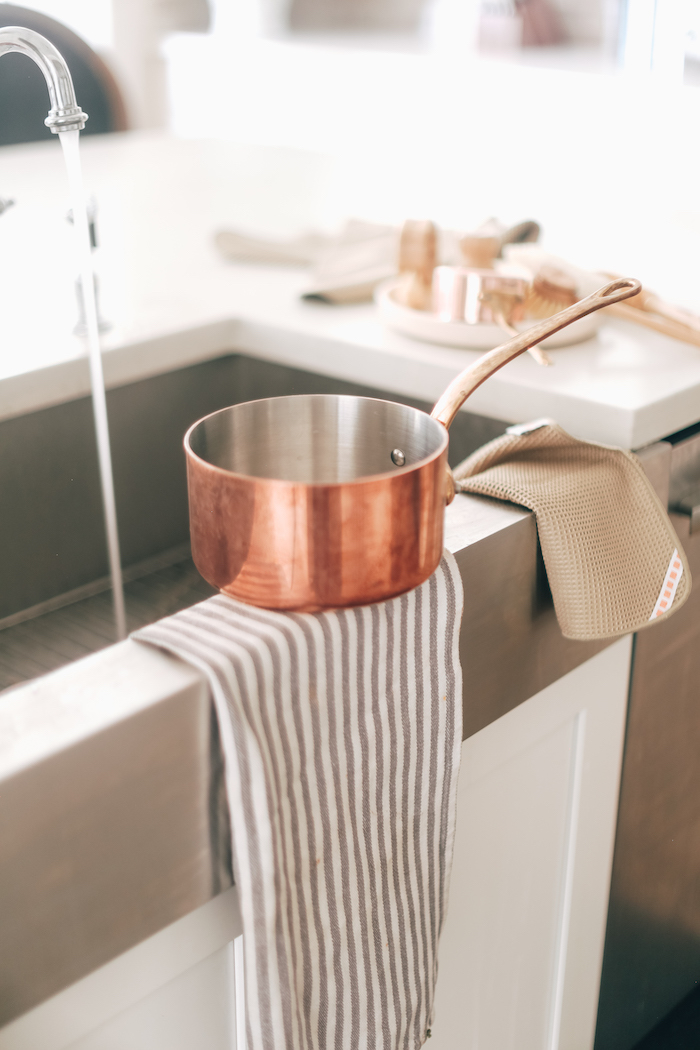 2. Wet your sponge.
I used the Zefiro Kitchen Loofah for the same reasons I mentioned above. It's soft enough to use without causing scratches.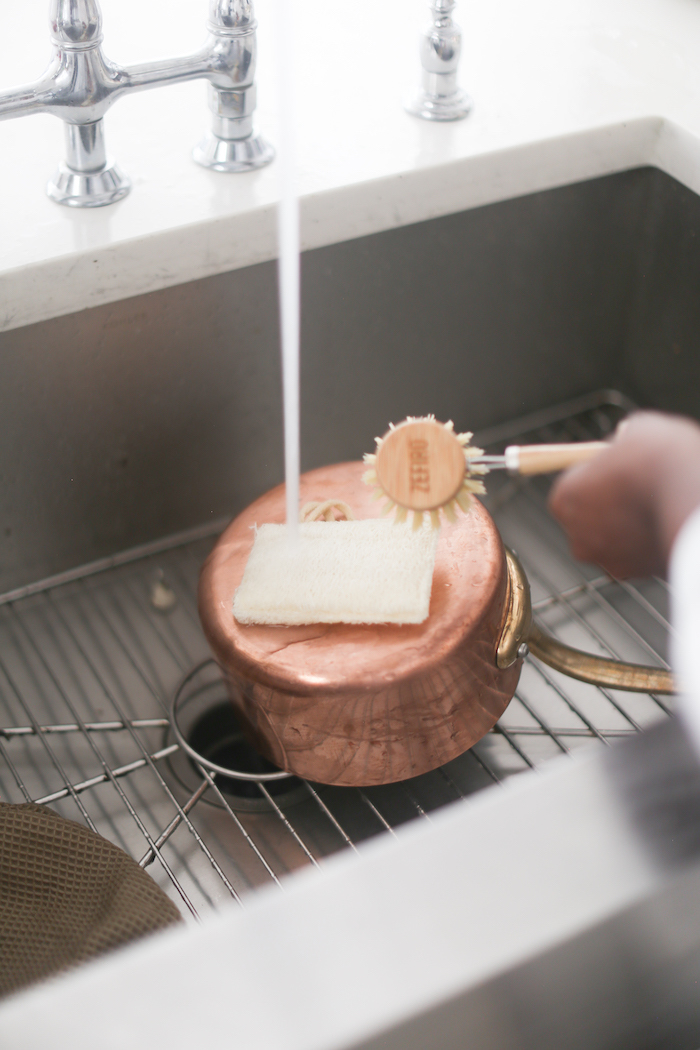 3. Dip your soft sponge into your Wright's Copper Cream and apply it to your copper pot.
Use the sponge in small circular motions to apply the copper cream around the pot. Wait a minute or so and watch the transformation happen right before your eyes.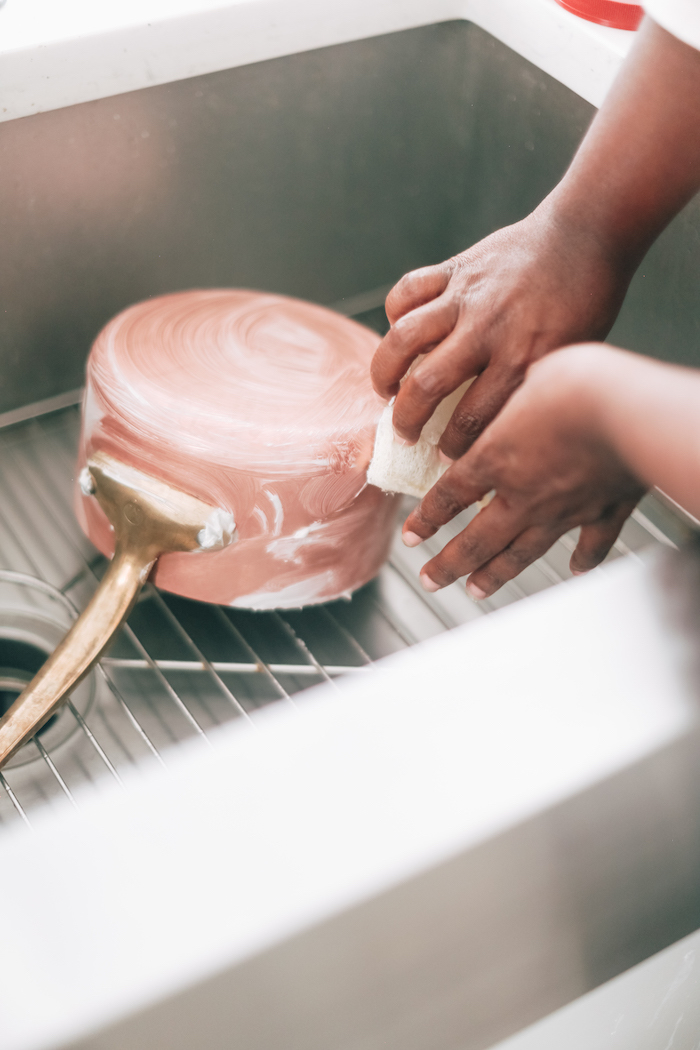 4. Rinse the pot and dry off using a clean kitchen towel.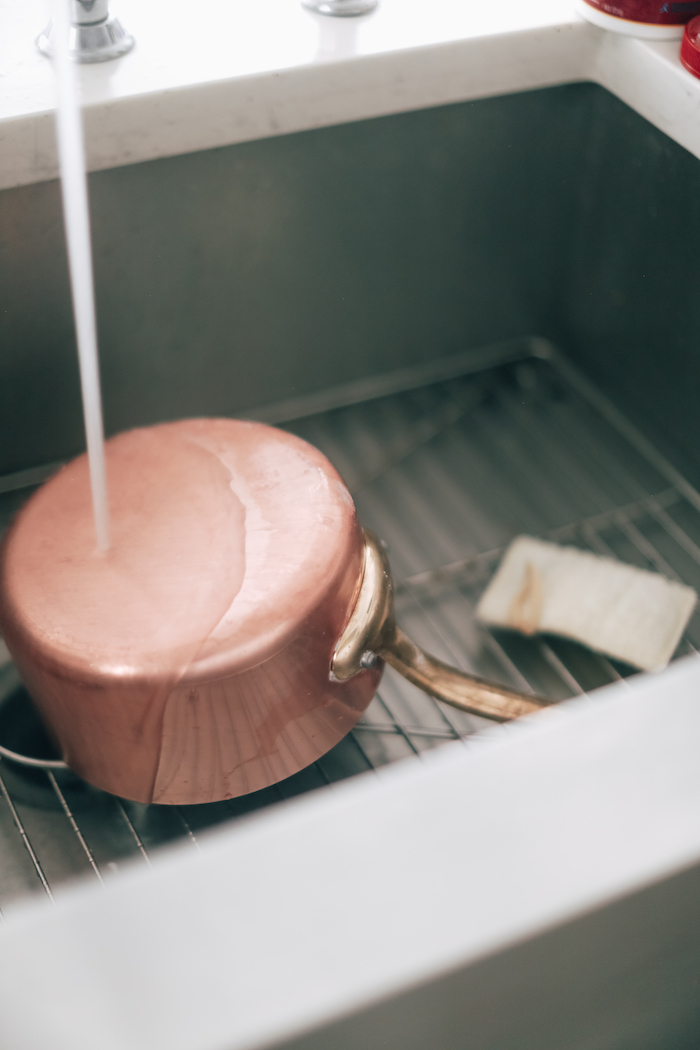 These waffle towels from MUKitchen are lint-free and perfect for polishing.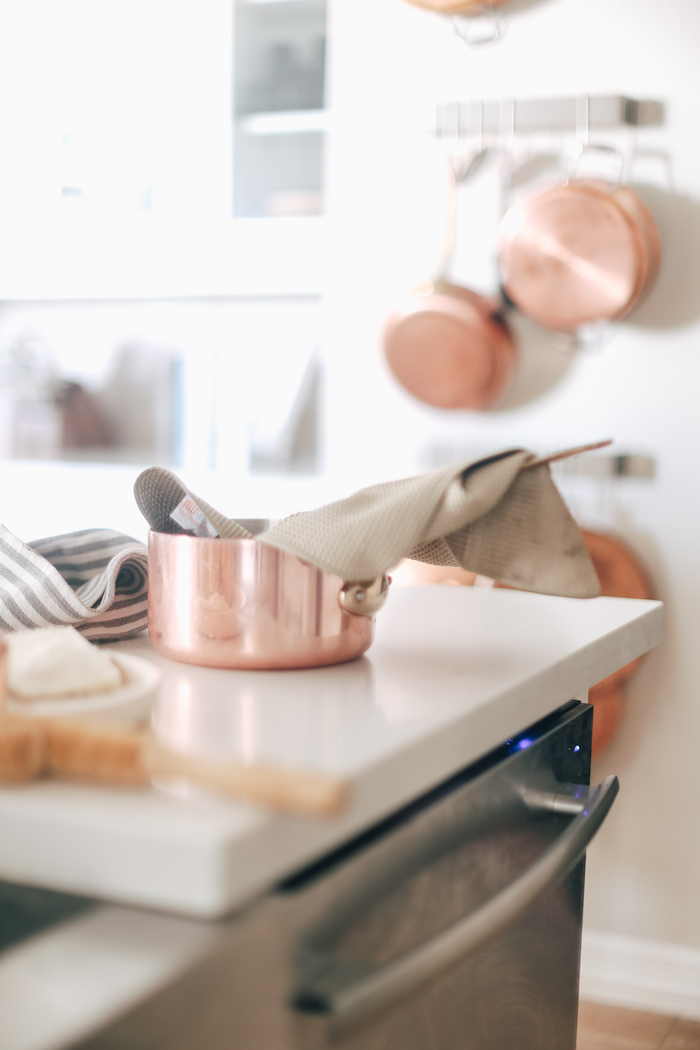 Microfiber Waffle Towel

By MUKitchen

Shop Now
Go ahead and pin this post to your "How To" board and the next time you look at your copper pots and think they need a little lift, come back and follow these easy directions to get your pots looking brand new!
Also, check out my favorite places to get copper pots on Just Destiny Mag.