Host a Holiday Tea Party to Remember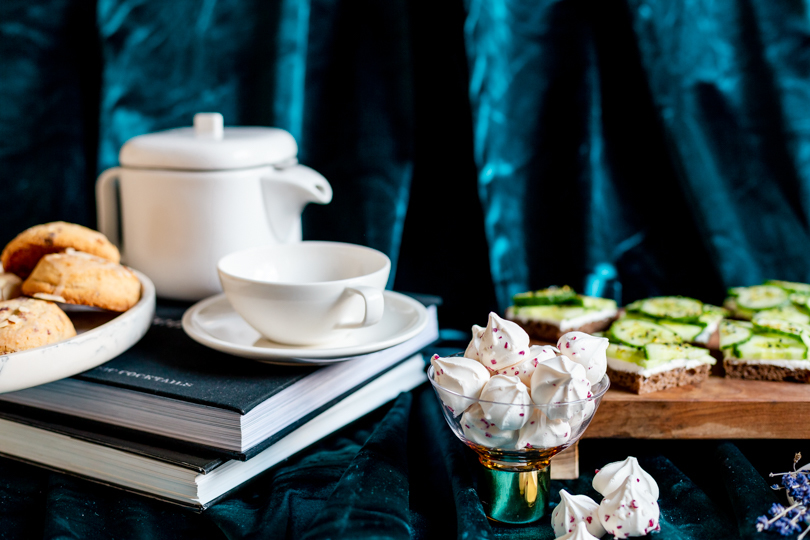 Brunch is overdone. Try your hand at a high tea this year for a holiday event that's as delicious as it is memorable.
If you caught my post on boozy tea cocktails, you know that I'm a reaaaally big sucker for an afternoon tea. I've really never met a tea setting I didn't like: kitschy little shops with Queen Elizabeth doilies, dressed up holiday teas at hotels I can't afford to stay in, artful Japanese tea ceremonies, formal Russian tea services… I've done them all, loved them all, and seek them out whenever I can. The ultimate goal of a good drink, for me, is to slow things down and make room for good conversation, and a high tea delivers these moments in spades.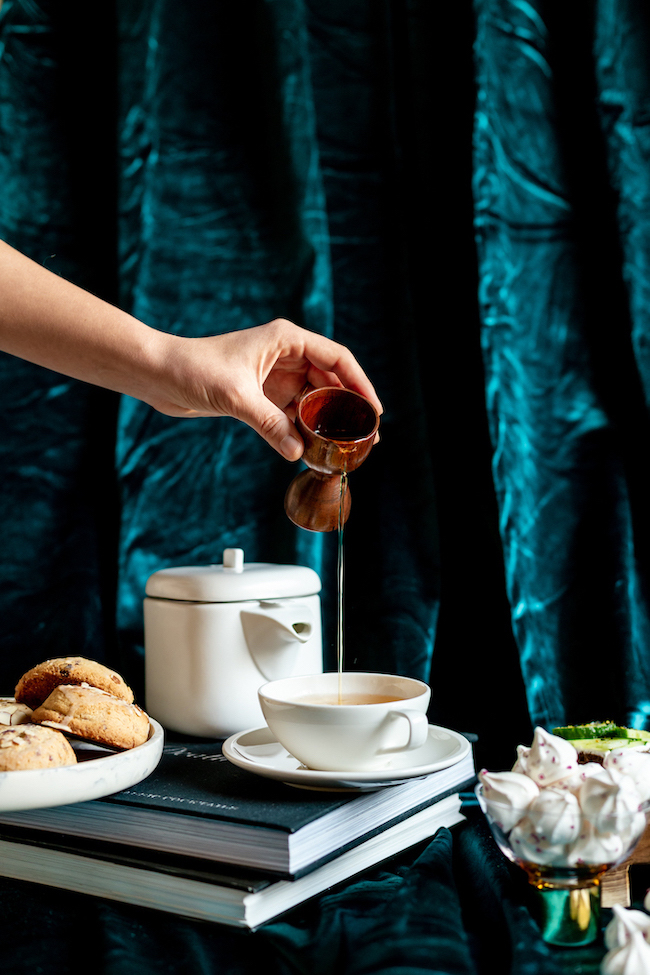 So what better time to host an afternoon tea than the holidays? There's a reason all the hotels promote the heck out of their tea services this time of year — we need to set aside moments to really soak in the holiday spirit, and not get caught up in the holiday madness. So why not bring that moment home? Instead of stressing over a hosting a full meal, trying cozying up with your favorites around warm, steaming mugs and dainty little bites, surrounded by your own holiday decor.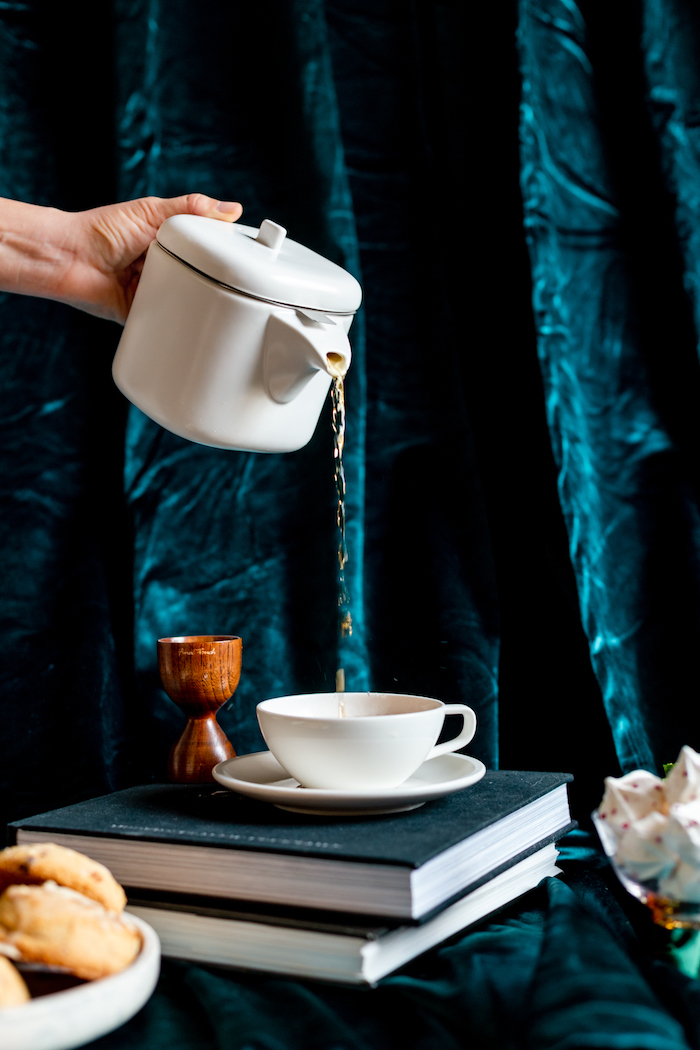 Aside from my sentimental reasons for loving an afternoon tea, there are some very compelling practical advantages. Traditional tea items (sandwiches, scones, tiny desserts) can be quickly and easily assembled or purchased instead of cooked or baked. If you cater a dinner or brunch instead of cooking it yourself, you're looking at a hefty bill. If you pick up some scones and macarons from the store and cut up some cucumber sandwiches, you are not. The spread I photographed here (scones, petit fours, macarons, meringues, cucumber sandwiches) came entirely from Trader Joe's, and came in at under $20. It fed four guests, who were stuffed to the gills — enough said. And you could easily go all out with more sandwich options (apple and brie? smoked salmon? egg salad?) and still not break the bank.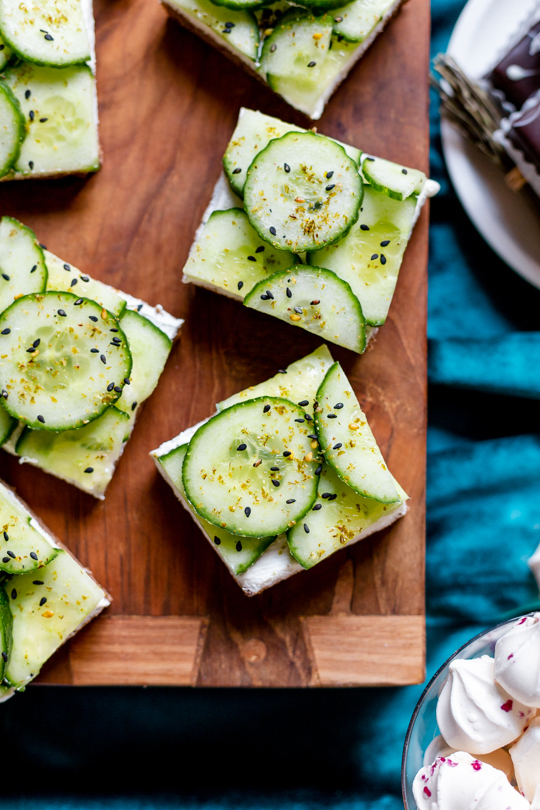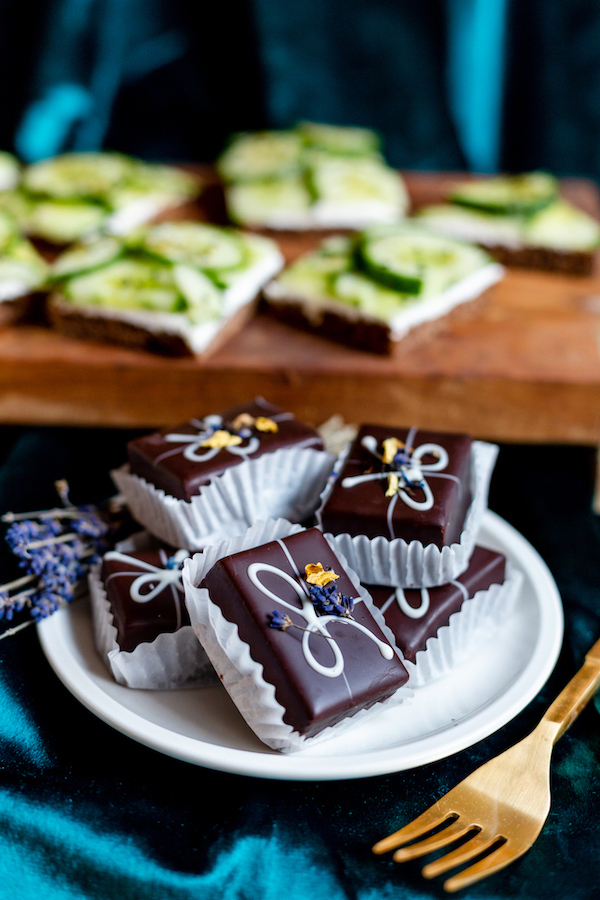 Another huge advantage to an afternoon tea is that it's always very inclusive — early enough in the day that it can be made kid-friendly (so your friends don't have to find babysitters), and accommodating to non-drinkers. Those abstaining can stick to tea, while those who aren't can add a tea-friendly spirit to their cup.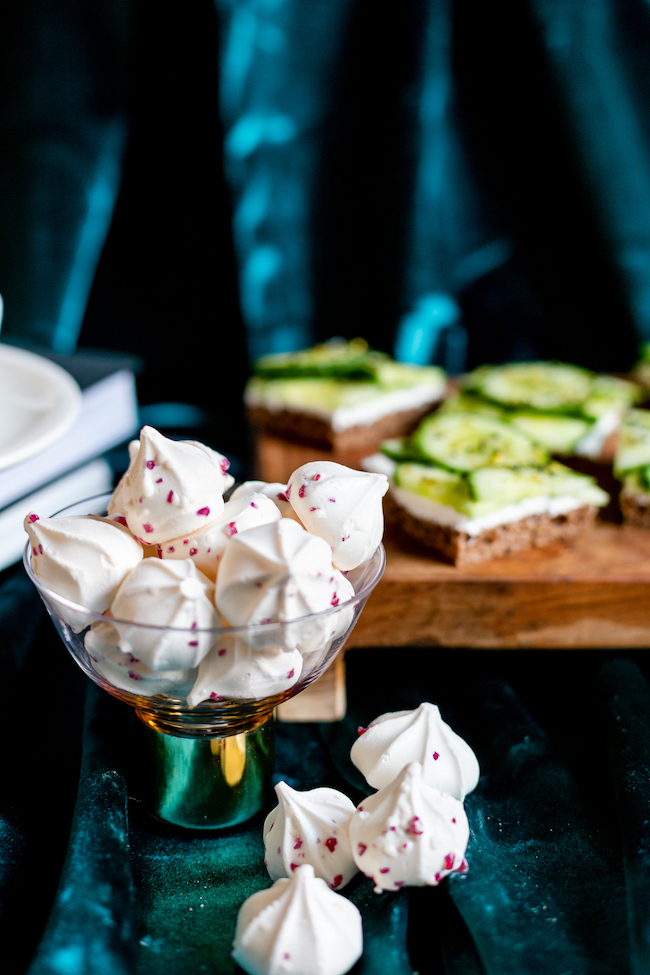 There are a few tricks to getting a boozy tea add-in right:
(1) I like to stick to herbal teas when mixing, because the tannins in black tea can skew really wonky and astringent when liquor is present. Chamomile honestly mixes well with everything, so make sure you've got some on the table.
(2) For heaven's sake, don't eyeball your pours unless you want your guests leaving sloshed. An ounce of spirit per cup (or 1.5 oz if you really want to up the toddy vibes) is generally enough, so put a jigger out that fits that measurement.
(3) Lemon, sugar, and honey — friends of tea — are also friends to a toddy. Add some to your cup according to preference; I love that each guest can adjust the sweetness to exactly the way she likes it.
(4) Don't limit yourself to the regular characters (whiskey, gin, rum) as add-ins. Liqueurs and amari work well in tea, too — Benedictine, Yellow Chartreuse, and St. Germain are a few of my favorites.
(5) Finally, you don't want to concentrate evaporating alcohol vapor into your nose (ethanol evaporates at a lower temp than water), or the drink will seem much boozier than it really is. Whenever you serve a warm alcoholic drink, it's important to use a wide mouth teacup (the wider the better, like these from Villeroy and Boch) to disperse the vapors, NOT a steep sided coffee mug.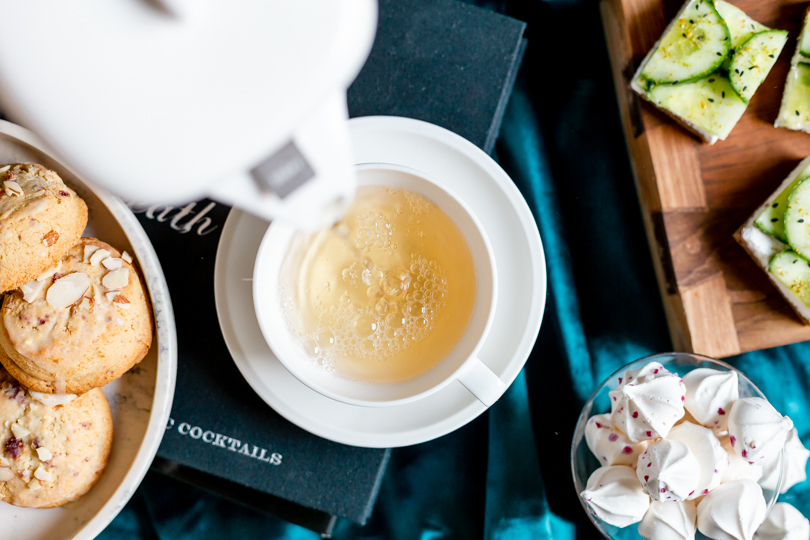 If getting the booze into your tea seems too complicated or you're just not here for hard liquor, do what the hotels do and simply offer champagne alongside your tea options. An invite to a "Champagne Holiday Tea" sounds like a pretty enviable invite to me.