Homemade Sheet Pan Pizza Recipe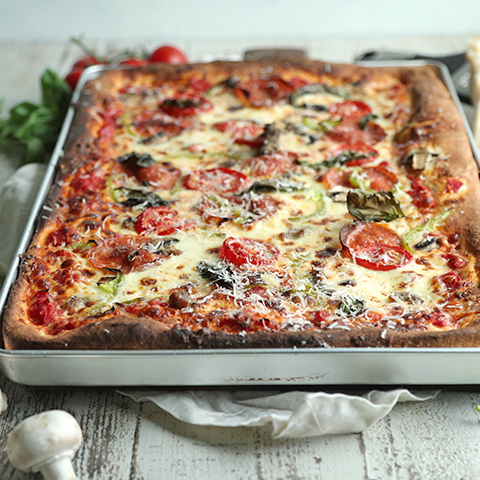 I can't even tell you how many amazing memories of my childhood were brought back while making this super delicious Homemade Sheet Pan Pizza Recipe!
If my Italian grandma was known for 1 thing outside of the famous "S" cookies, it would for sure be sheet pan pizza. I feel like every time I was over at her house she was always baking some sort of sweet deliciousness or making some amazing sheet pan pizza. There may not be one food item from my childhood that I remember more than this.
I also have to admit, that this is one of my favorite pizza recipes of all time. Not that I did anything different, it's just so rich and so good with all the amazing cheeses and toppings. Of course, making any pizza starts with a really good pizza dough, and boy do I have a good one.
In addition to smoking food, I always try a different pizza recipe, and dough, when making it. I've done semolina crusts, rye crusts, wheat crusts, you name it, I've made it. This pizza crust recipe is super simple and you most likely have all the ingredients already in your house. So combine, slightly knead and then wait until it doubles in size.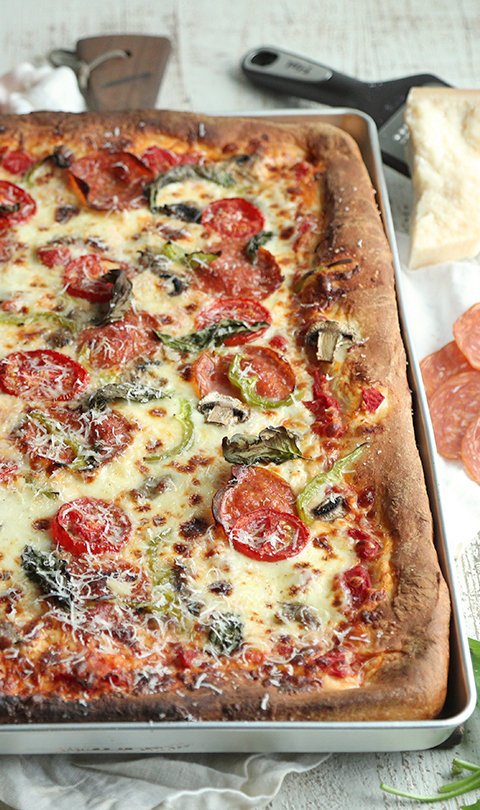 The cool thing about sheet pan pizza is that there is a ton of it, especially with the big Chicago Metallic pan I used. You can also let the dough rise right in the pan, and then once it's doubled in size simply mold it to the pan. From there the rest is totally up to you. One thing that I have stuck with since making pizza as of late is not making a sauce but simply using crushed tomatoes right from the can and then seasoning it with salt and pepper. I also added some pressed garlic to the dough first to give it a little extra kick.
Regardless of what type of toppings you like, for sure this pizza dough should have you well on your way to making an amazing sheet pan pizza. Happy baking you guys!
Homemade Sheet Pan Pizza Recipe Recipe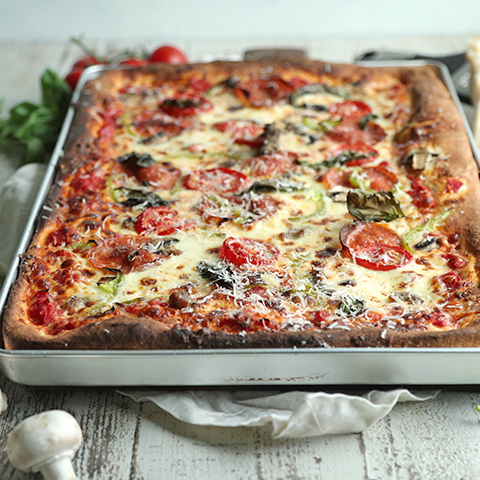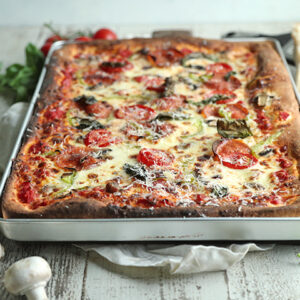 INGREDIENTS
For the Dough:
4 ½ cups of flour
1 teaspoon of Kosher salt
1 packet of active yeast
1 ½ teaspoons of sugar
2 tablespoons of extra virgin olive oil
1 2/3 warm water (110° to 115°)
For the Toppings:
4 cloves of pressed garlic cloves
15 ounces of canned crushed tomatoes
8 ounces of shredded mozzarella
8 ounce ball of sliced mozzarella
Pepperoni slices
Loose Italian sausage
Sliced domestic mushrooms
Sliced green peppers
Fresh basil leaves
Shredded parmesan cheese
Kosher salt and fresh cracked pepper to taste
INSTRUCTIONS
Preheat the oven to 500°.
Dough: Mix together the flour, salt, yeast, sugar, 1 tablespoon of olive oil and water until combined and knead for 2 to 3 minutes. Cover with a towel and rest until doubled in size, about 1 hour.
Add 1 tablespoon of olive oil to a large sheet pan and mold the dough until it fits and covers the sheet pan.
Leaving ½ inch of dough around the outside for the crust evenly spread on the garlic, tomatoes, mozzarella cheeses, pepperoni, Italian sausage, mushrooms, peppers and basil. Season with salt and pepper and bake for 12 minutes or until the crusts is golden brown and the cheese is melted.
Finish by adding on some shredded parmesan cheese.