Homemade Cheese Tortellini Soup with Chicken and Spinach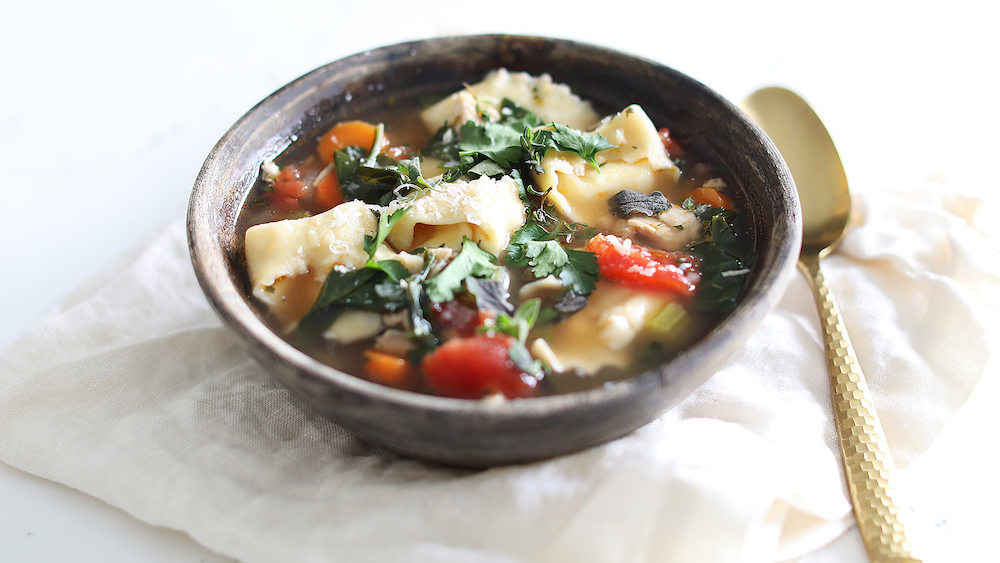 There is nothing, I mean nothing, more satisfying and delicious than making and eating homemade pasta. Pasta making is a bit of a labor of love, but not too intense, and is just so remarkably therapeutic to me. There's something about making a recipe that is hundreds of years old and has been enjoyed by so many different cultures throughout the world. Once you eat homemade pasta, you will always be able to tell the difference from store-bought from that point on. Don't get me wrong, dried pasta has saved my life several times while a hungry screaming kid in the background demands food, but there is still nothing quite like making it yourself.
The internet is flooded with different pasta dough recipes and my best advice would be to try them all. I don't say that because they all work or don't work, but there are just so many factors on whether or not your pasta will turn out. For instance, if the eggs are small or big, if you live in a humid or drier part of the country… catch my drift? Despite these factors, I think I can help you get to where you need to go no matter where you live. Just know that your recipe may need to be tweaked right in the middle of making it.
Truth be told, I had to redo this recipe, while I was off camera of course, because it kept shredding while in the pasta roller which means it was too dry. How's that for vulnerability from a chef? I want you to know though that if this happens to you it's ok, it literally happens to the best of us. After my dough resembled Swiss cheese I called in a true professional, my Italian aunt in Detroit. If anyone can help solve pasta issues it's her; she's literally been rolling it out her whole life and learned from THE pro, my grandma who was from Italy. She told me what I'm telling you, there are a lot of factors at play. The best advice I could give is to make sure the dough is soft and springs back to shape slowly if you press it down before sending it into the refrigerator to cool.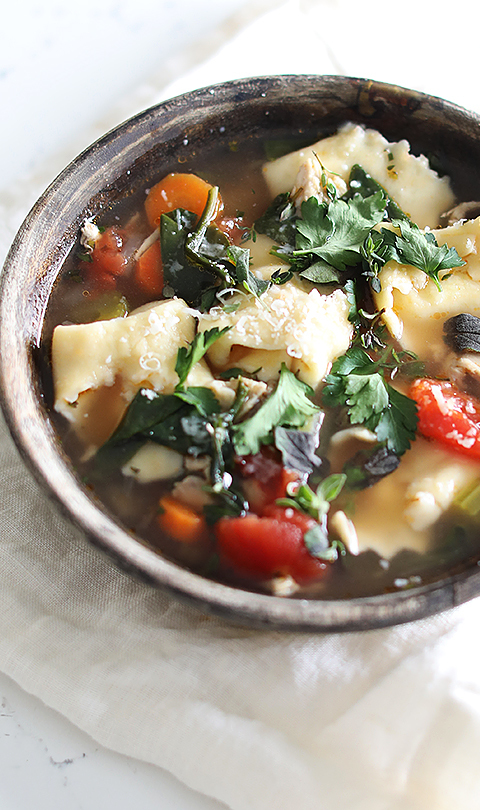 So now that my chef hiccup is out in the open, let's get back to making this homemade cheese tortellini soup! Once your pasta is rolled out, you want to put very small dollops of the delicious ricotta and parmesan cheese fillings all over it, while giving it about an inch of space around it. Next, you want to cut them using the ravioli cutter and then fold them over and bring the edges together, and voila, you have homemade cheese tortellini.
You want to let them dry out a bit before cooking them, and you can either pre-cook them in some boiling water and serve them to order with a bowl of delicious soup or you can cook them right in the soup. I'm going to advise that you do the first procedure because that way if you are letting the soup sit all day you risk the chance of the tortellini's breaking up and cheese and random pasta dough parts swimming through your soup. Par-boil them, chill them, toss in oil, and serve to order, simple as that.
The soup is incredibly easy to make and just like any delicious soup it has to start with a good base. I've been making chicken stock a lot more lately just because the flavor is ridiculously more robust than that of what comes in a box from the store. Chicken stock traditionally is made by roasting up chicken carcasses and simmering them over low heat with veggies and herbs. Since we are going to use the chicken as the main protein in this soup, we are going to cook the chicken whole with veggies and herbs. I actually like this because the skin and fat from the chicken adds so much flavor to the stock, in fact I like it better than the old traditional way of using bones but in the restaurant industry who's got that kind of money to boil off whole chickens?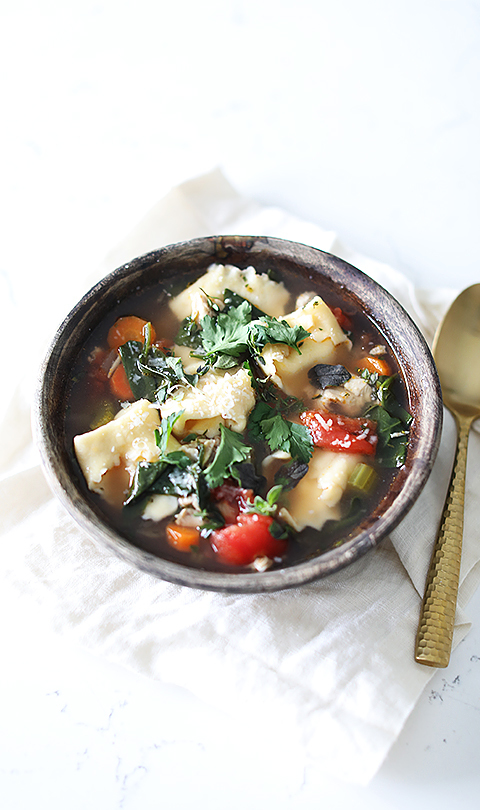 When the stock is done, drain it and pull the chicken meat apart from the chicken body and add it into that strained stock along with veggies and let it simmer until they are tender. Finish off the soup with salt and pepper, herbs, baby spinach, and cooked homemade cheese tortellini to order!
This soup is seriously nothing short of amazing and I promise you will love the final outcome making this 2 to 2 ½ hour recipe all worth it. Happy cooking you guys!
Homemade Cheese Tortellini Soup with Chicken & Spinach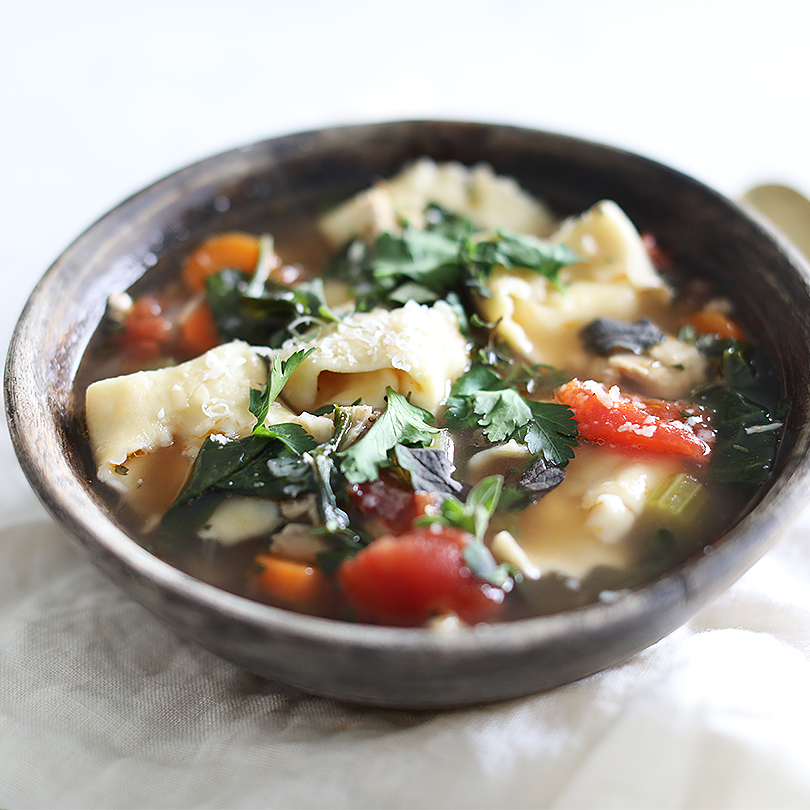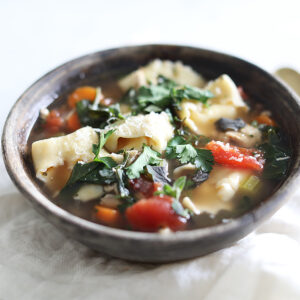 INGREDIENTS
For the Tortellini:
3 cups of 00 or high protein flour
4 eggs
Water as needed
16 ounces of whole milk ricotta
1 cup of shredded Parmesan cheese
Kosher salt to taste
For the Stock:
1 whole roasting chicken
4 roughly chopped carrots
4 roughly chopped stalks of celery
1 roughly chopped yellow onion
4 garlic cloves
8-10 sprigs of parsley
8-10 sprigs of fresh thyme
1 bay leaf
Water
For the Soup:
1 gallon of fresh chicken stock, reserve the rest for a later day
1 pulled and roughly chopped poached chicken, skin and bones discarded
5 peeled and sliced carrots
5 sliced stalks of celery
½ peeled and small diced carrot
3 finely minced cloves of garlic
1 28-ounce can of whole peeled tomatoes, drained and squeezed
4 cups of packed baby spinach
1 tablespoons each chopped parsley, thyme and oregano
Kosher salt and fresh cracked pepper to taste
Cooked tortellini
INSTRUCTIONS
Tortellini: Add the flour to a clean surface and make a well. Add the eggs to center of a well and whisk using a fork.
Gradually bring in flour from the outside until it is combined. Use a bench knife to scrape together all of the ingredients and knead for at least 7 minutes. You may need to add a bit of water if the dough is too dry.
Once the dough is kneaded form it into a ball and wrap in plastic wrap, and chill for 30 minutes.
While the dough is resting mix together the ricotta, parmesan and salt until combined and chill until ready to use.
Next, divide the dough into 3 sections and roll out each piece using a pasta roller with hand crank on the lowest setting. Fold the dough over and repeat. Next, turn the setting to 3 and roll the dough. Fold it and change the setting to 6 and roll it again. The dough should be a long thin sheet. Set aside on a floured surface and repeat with the other 2 dough balls.
Add a very small dollop of the ricotta-parmesan cheese blend all over the rolled out dough sheets with about a 2 inch radius from the center of the cheese. Using a ravioli stamper cut the dough around the cheese and then fold the bottom corner up to the top. You may need to seal with some water. Next, fold the other 2 corners together and pinch.
Let the tortellini rest for about 20-30 minutes before par-boiling in some boiling salted water until they are floating. Cool, coat with oil and chill until ready to serve.
Stock: Add all of the ingredients to a deep stock pot and add enough water until it covers the chicken by 4 inches.
Simmer the stock for about 45 to 60 minutes or until the chicken is completely cooked throughout.
Strain the stock and discard the veggies and herbs. Return the liquid to the stock pot and on a burner over low heat.
Soup: Remove the skin from the chicken and pull the meat away from the bones. Roughly chop and add it to the stock pot along with the sliced carrots, celery, onions, garlic and tomatoes and cook until the veggies are tender, about 20 to 25 minutes.
Finish the soup with the spinach, herbs and salt and pepper and serve with some cooked tortellini.