Spinach, Chile, and Green Onion Chicken Quesadillas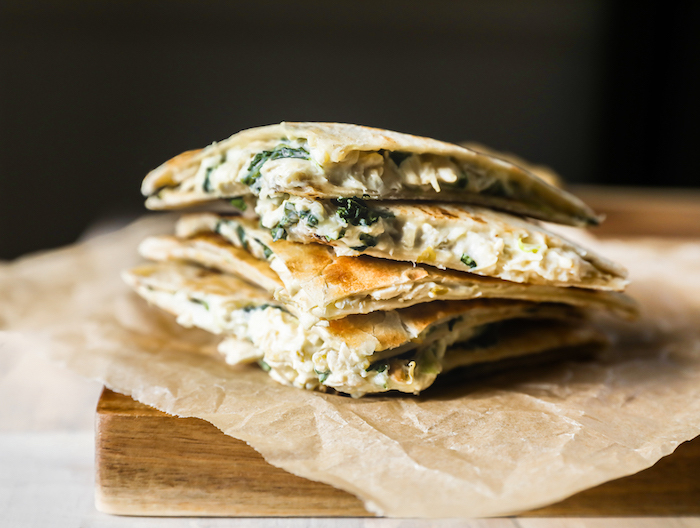 When I first sat down to write this recipe, the direction I had in my head was a veggie-forward, corn, and black bean kind of deal. It sounded great in theory, but my heart didn't want me to do it. I wanted to write a quesadilla recipe that honored spring in all its glory, but asparagus didn't fit, and how many times has a black bean and corn quesadilla been done? I decided to let my mind wander over the list in my head of some of my favorite things about spring produce. All I could see in my mind was beautiful, fresh, green-colored plants.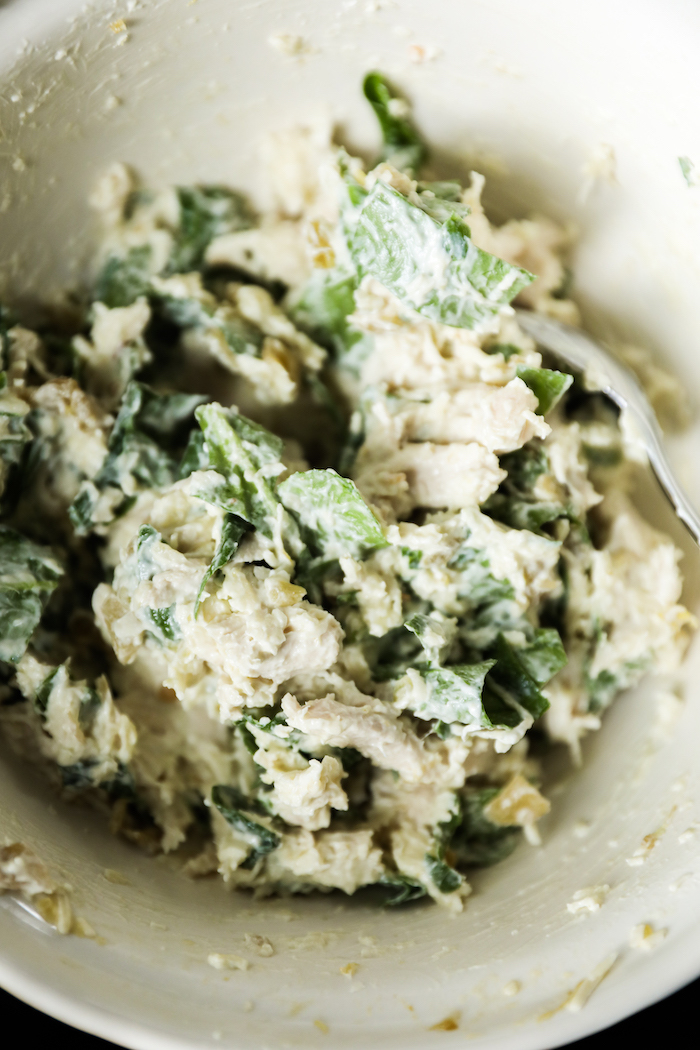 This quesadilla recipe is a tribute to eating with the seasons, without making it too complicated on yourself. I love a quesadilla for a fast, balanced meal that leaves you feeling satiated, both mentally and physically. Grab whatever veg you can find in season and you can make something new and different every time. This will keep food feeling exciting without stretching your brain-space too far.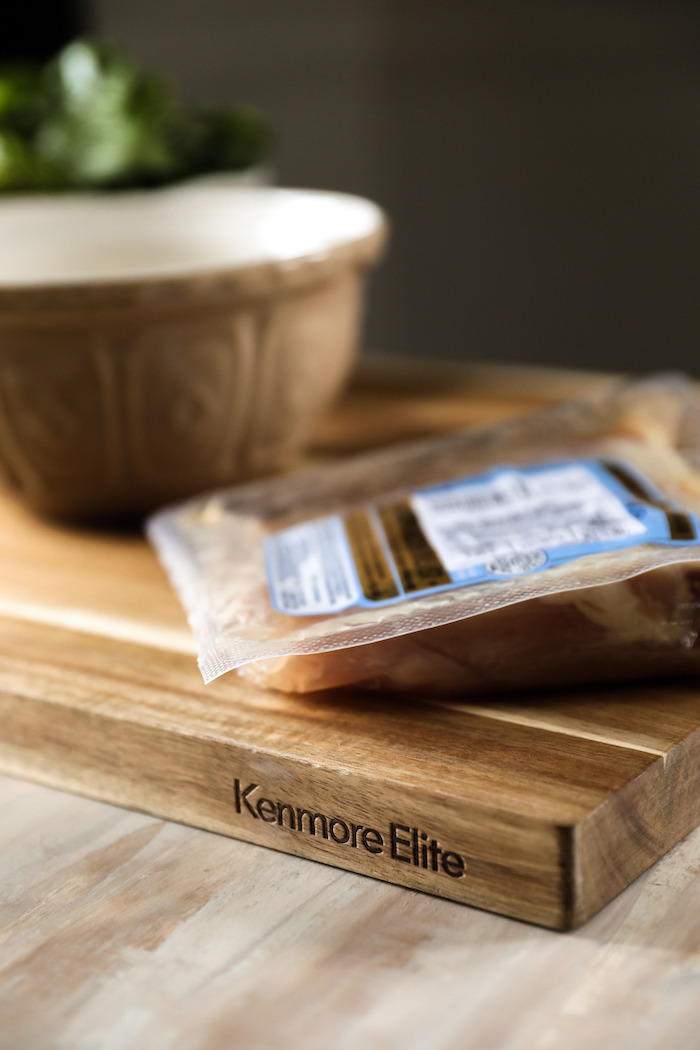 Acacia Kenosha Cutting Board

By Kenmore

Shop Now
Think of this creamy and delicious spring quesadilla as your gateway to spring eating: is comforting and yet it's new, it's a bit green and it will absolutely make you happy.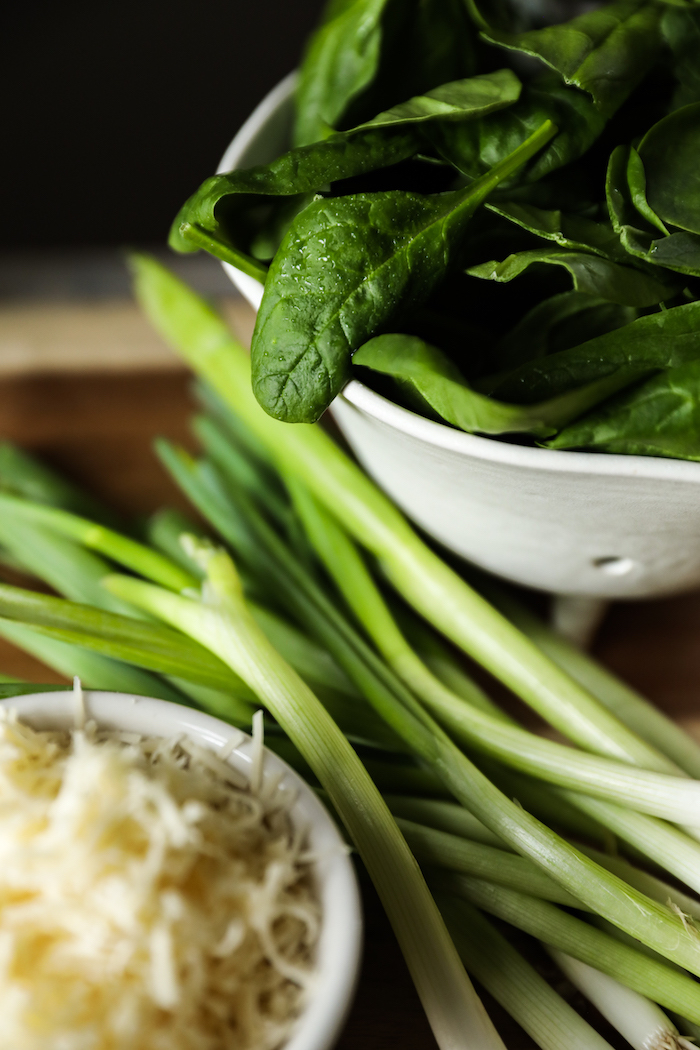 Alaska Mini Bowl Set of 4

By Tuxton Home

Shop Now
Recipe Notes
Chicken. The recipe calls for 1 pound of boneless breasts. A tip for the quantity is if you can't find an exact pound, grab an amount or package on the smaller side.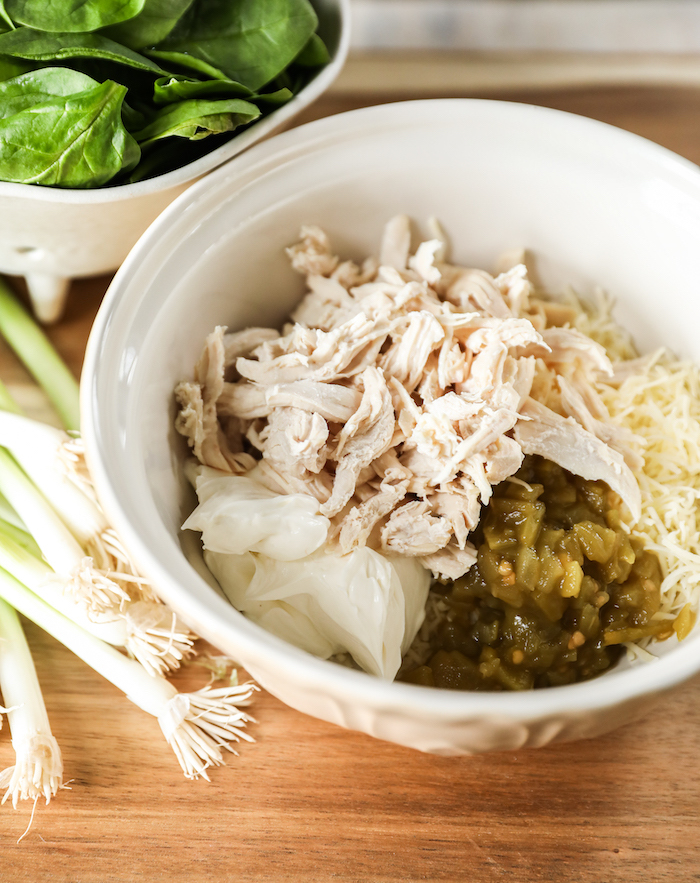 Cane S30 Mixing Bowl

By Mason Cash

Shop Now
Chiles. I photographed this recipe with mild chiles, however, I really enjoy medium or even hot. Pick whichever heat level suits your tastes best. If you can't get your hands on the canned variety, grab a few jalapenos or a poblano pepper and roast them under the broiler until charred. Wipe off the burnt skin, remove the stems and a few seeds, then chop finely. Proceed with the recipe as written.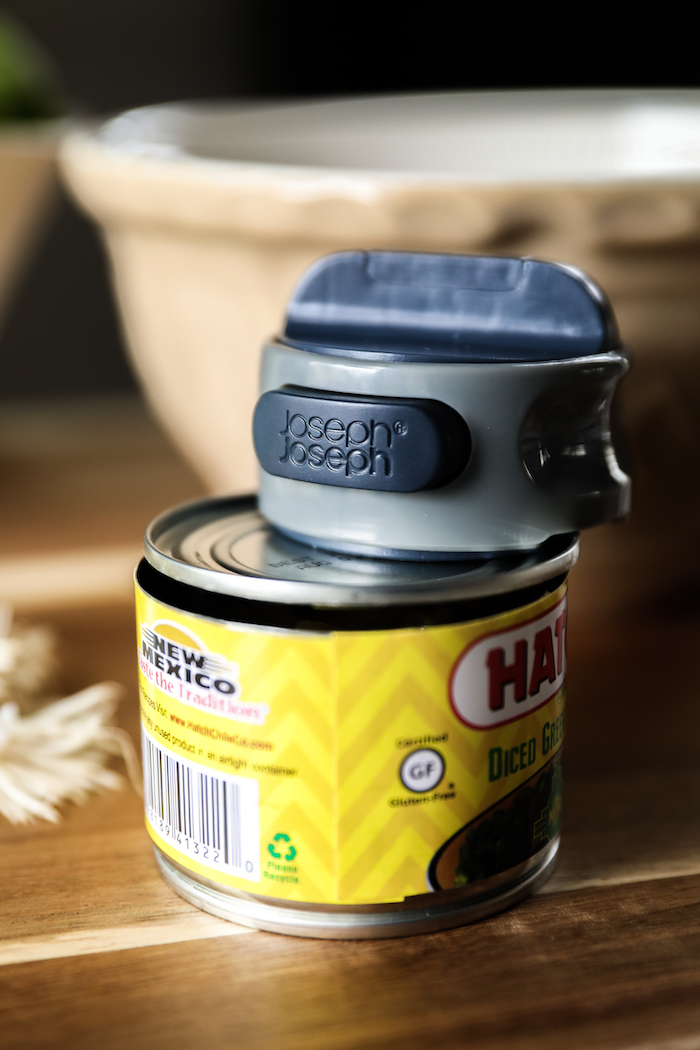 Can-Do Can Opener

By Joseph Joseph

Shop Now
Spinach. I call for fresh local spring spinach in this recipe which can be slightly larger than baby spinach. Spinach is a cold weather green, and one of my favorite transitional crops as the spring starts up here in Maine. Now, if you can't find local spinach and can only find baby that will absolutely work, so long as you chop it before you mix everything together. The key is not too small, so that it doesn't get lost, and not so big that you create a soggy mess.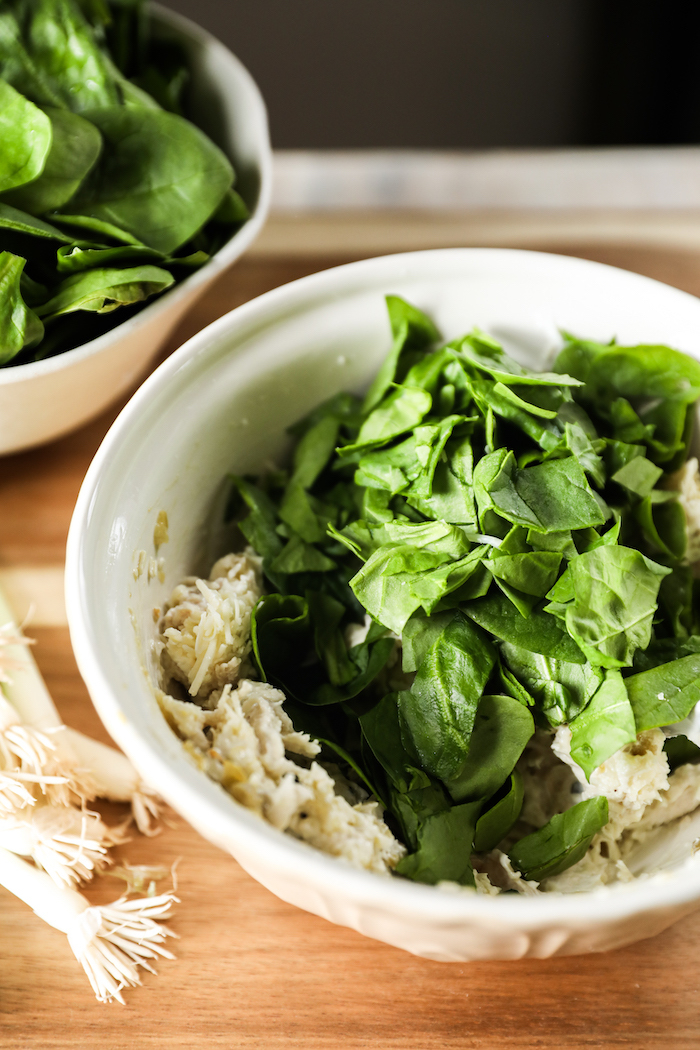 Cream Cheese. The beauty of this recipe is it's fully cooked before you assemble the quesadilla, so you are able to taste as you go, which really means you can eyeball the ingredients based on what you have in the house. If you want to leave the cream cheese out altogether, that will absolutely work. If you happen to over-do it on the cream cheese, just be warned that it'll suddenly turn into a dip between two tortillas, rather than a stretchy-cheese quesadilla. The texture before assembly should be shredded cheese heavy with a slight creaminess to incorporate the spinach and chiles.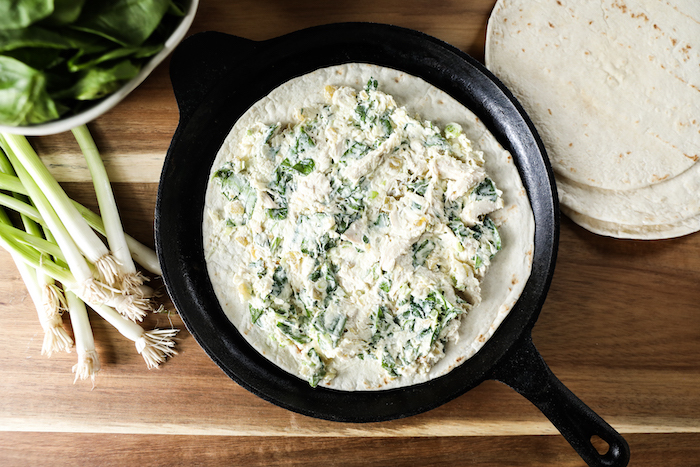 10.5″ Cast Iron Griddle

By Lodge

Shop Now
Green Onions. Another lovely green spring produce, green onions make their seasonal debut this time of year. Even though they are grown and available year-round, spring onions are absolutely the best. If you can get your hands on some ramps, even better!! Swap ramps for green onions and you will have a truly delightful spring seasonal quesadilla.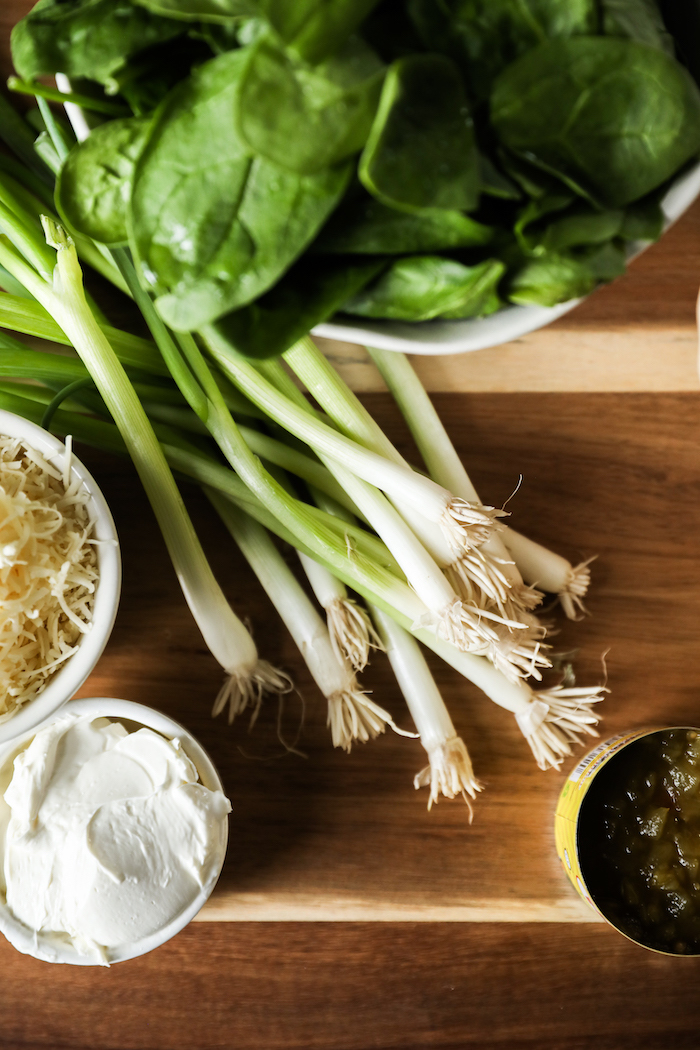 Fortaluxe Accent Ramekins, Set of 12

By Fortessa

Shop Now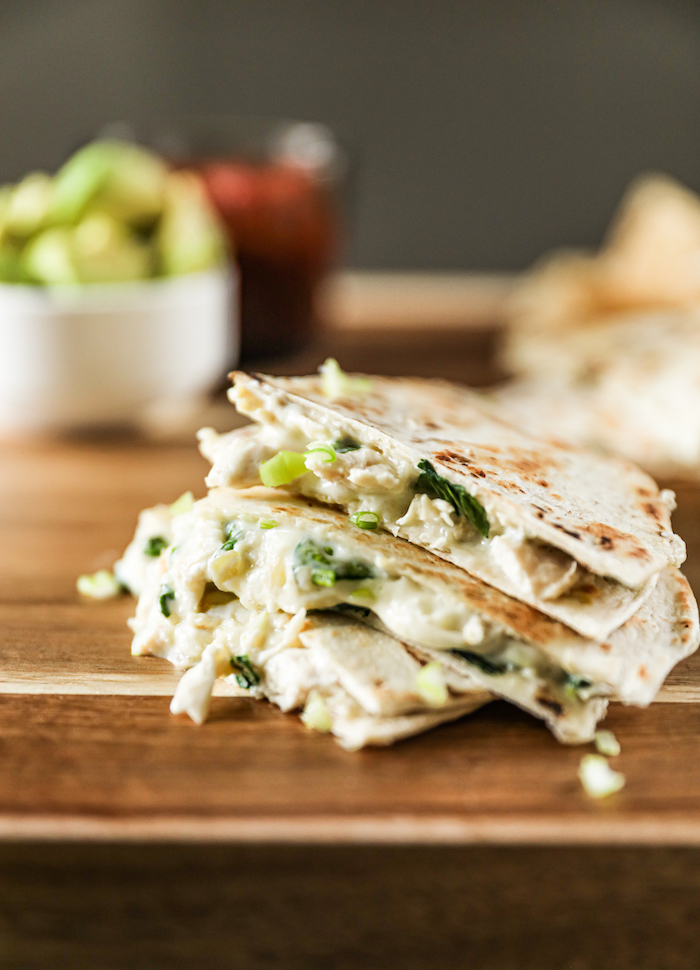 Spinach, Chile, and Green Onion Chicken Quesadillas
Think of this creamy and delicious spring quesadilla as your gateway to spring eating: is comforting and yet it's new, it's a bit green and it will absolutely make you happy.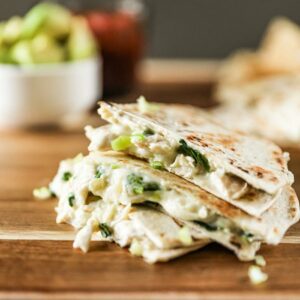 Ingredients
1

lb

chicken breasts, roughly 2 breasts

2.5

cups

shredded Monterey Jack or sharp white cheddar cheese

2

cups

spinach, chopped

.33

cups

cream cheese

4

oz

diced green chiles, drained (1 can)

2

green onions or ramps, minced

.5

tsp

salt

14

medium flour tortillas
Instructions
In a medium pot, bring 6 cups of water to a boil. Trim chicken breasts of any skin and fat. Gently place chicken into boiling water and turn down the heat. Cover until the water returns to a steady simmer. Cook until internal temperature reaches 160 degrees, or until it has cooked about 10-15 minutes. Once cooked through, remove the chicken from the water, let drain and rest for about 5 minutes. Using your hands or two forks, shred the chicken.

In a medium bowl, combine cooled chicken, cheese, spinach, cream cheese, drained chiles, and green onions. Mix until combined.

Heat a cast-iron pan over medium-high heat. Place one tortilla down and spread about 1/3-1/2 cup of the mixture evenly across the tortilla, leaving about one inch from the edges. Cover with a second tortilla and cook until browned on each side and the middle is well melted. Transfer the quesadilla to a wood cutting board and continue to assemble and cook quesadillas until you've made your desired amount.

Cut into triangles and serve with your favorite salsa and chopped avocado. Enjoy!
Nutrition
Serving:
1
g
Calories:
508
kcal
Carbohydrates:
23.4
g
Protein:
37.6
g
Fat:
32.2
g
Saturated Fat:
15.3
g
Cholesterol:
138
mg
Sodium:
642
mg
Fiber:
3.3
g
Sugar:
1.1
g
Looking for more Mexican inspired recipes?